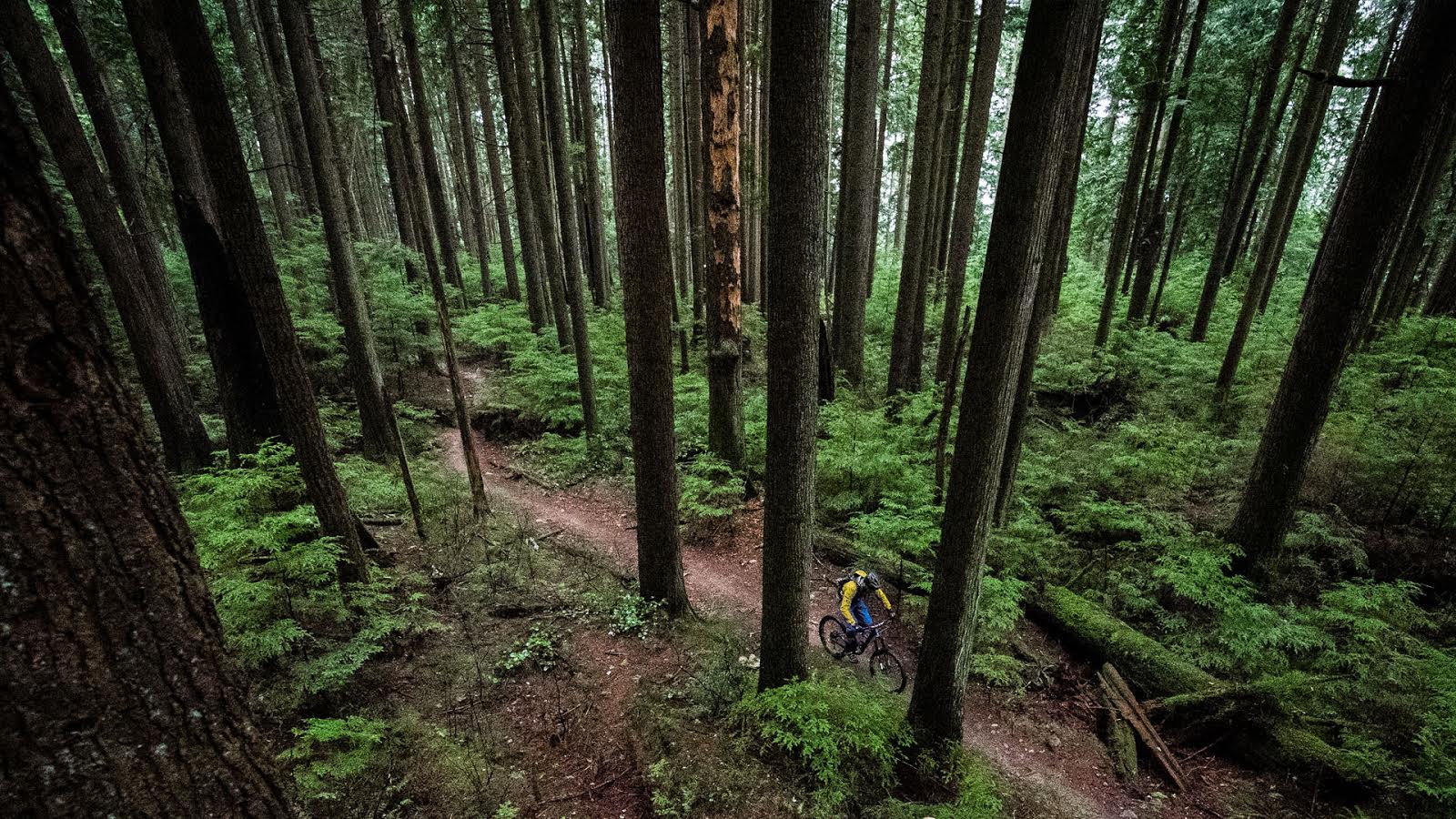 Big Trail Building Summer Part 3
Big Trail Building Summer Part I here
Big Trail Building Summer Part II here

Sorry to be a let down, but I didn't finish Powerslave last fall. I was busy ok. I was building another trail our there in the mountains as well. And it snowed. Elora and I got 5 or 6 solid days in right at the end, some time around mid-october, and were literally right there! So close…..but you know, it will be good to finish the alpine stuff up in June once the snow melts off her. I'm going to build berms! Berms in the alpine, with views of Nelson, and everything else in a 360 degree viewscope.
Myself and two logger friends are going to get a chopper lift up to the top in June and finish the alpine ridge, and build a long network of log rides on a certain portion. There are a bunch of huge Spruce trees lying on the deck and we are going to rip them all into a nice wide ride-able face, will probably end up being about 12-16 inches wide or maybe even wider. We will suspend them only 2 feet off the ground, so they won't be scary, kind of like the ones at Whistler the guys ride really quickly in 'Seasons.'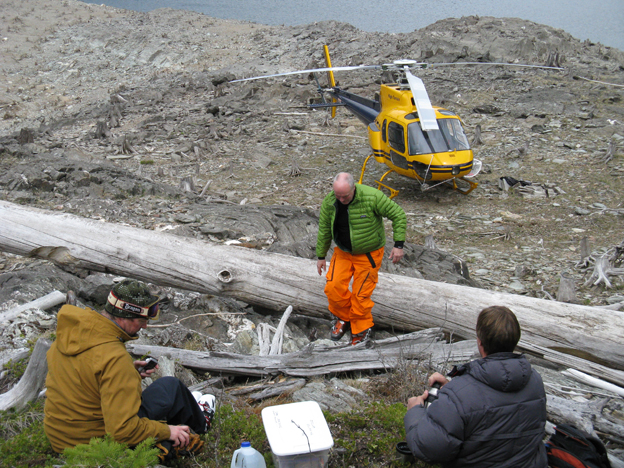 Heli Skiing attracts guests from all over the world to BC's amazing terrain.
After dropping off the peak you ride a beautiful ridgeline descent for about 1.2 kilometers before entering the trees. There is a long flat ridge after this for a bit, and this is where we are going to build the spruce bridge system to spice things up a bit. With a trail this long it encountering a few climbs and flat parts is inevitable. I wish it was different but Mother Nature doesn't always give out perfect handouts. 

 Riley deep in the woods, 2000 vertical feet down and a couple thousand more to go.
But you know what? After dropping off a peak at 7,700 vertical feet and descending an alpine ridge with perfect views of downtown and the lake, a little climb will feel pretty good. I dropped off the peak a few times last fall all by myself, feeling all esoteric and epic, and really enjoyed the little climb after the section where the Spruce bridges are going to be, and that was bushwacking. You only climb for 5 minutes and then gain this sub peak, called 'Small Peak' and all of a sudden you are totally in the alpine again surrounded by little sparse trees. The way the ridge curves around a big bowl feature forms a deep space between Small Peak and the Proper Peak where you have descended from. I like it.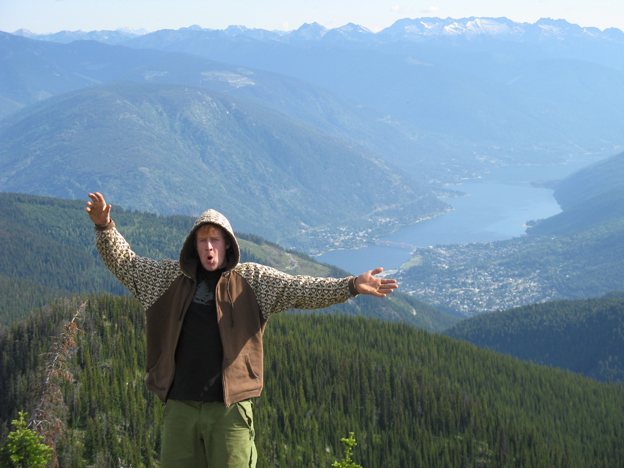 Riley happy that Nelson is so far below, because a lot of trail is in between.
From there Powerslave continues another 5 kilometers before descending into the second saddle, where another little climb awaits. This 150 vertical foot, 4-6 minute hike a bike gets you on top of 'Morning Mountain,' where the true full-on, no-uphill descent begins. The views of Nelson are still epic from here, and it is really cool because you can look back on the drop off point and also Small Peak. It looks really far behindyou by this point let me tell you, and the 4,500 descent awaits. You have already dropped over 1,000 vertical, probably a lot more when you mix in the 2 little climbs. 

 The bridge crossing the saddle on the way up to the top of Morning Mountain.
I must say the ultimate dream is a 7,000 (or 8,000, or 9,000…) foot descent with zero uphill. Sam Brown's trail, 'The Monster' in Kaslo, is the best example of this I know of. That trail truly drops 4,000+ vertical feet with no uphill. However, a more 'epic' style trail with ups and downs, views, interesting things of note, etc, is becoming more and more appealing. For example I added a tiny bit of climbing to Powerslave but in return you ride through an old mine site with big old shafts, tailings, rusty things, all sorts of cool sidenotes.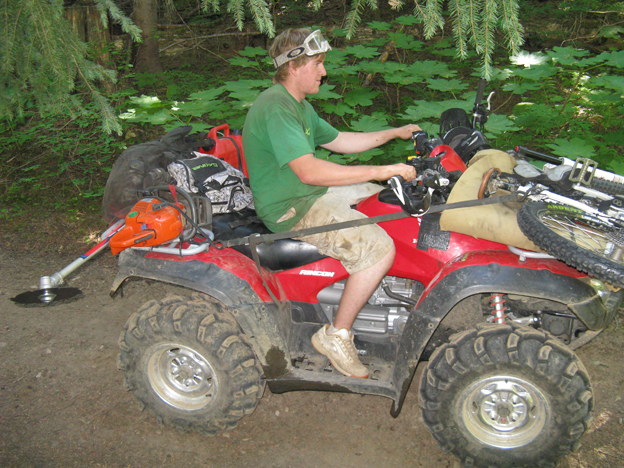 Riley's brother Kelyn all loaded up on the way to work on Powerslave.
So Powerslave will be finished late June, and I will post up a 'Big Trail Building Summer Part IV' sometime around then to fill you in on how the berms up top go, and the Spruce ride-alongs.
Evan Schwartz and I will be filming for Derek Frankowski and Ryan Gibb's upcoming film, 'Life Cycles,' on a certain portion of Powerslave. My plan is to take about 10 days in late May and put all my energy into that one section. I am keeping with the plan to build all my trails as close to an 'intermediate' level as possible, so I won't be building any big jumps and features like I have built for the New World Disorder movies in the past. However, I would like to build a really cool roller coaster that we can gap like a double jump, some really good dirt berms, and maybe some kind of creative thing that can be ridden all gnarly but is still fair game for intermediate level riders. I don't know what that could be, maybe some kind of multi-steepness wall ride wood berm or something, who knows. Hopefully Evan has some better ideas, hah!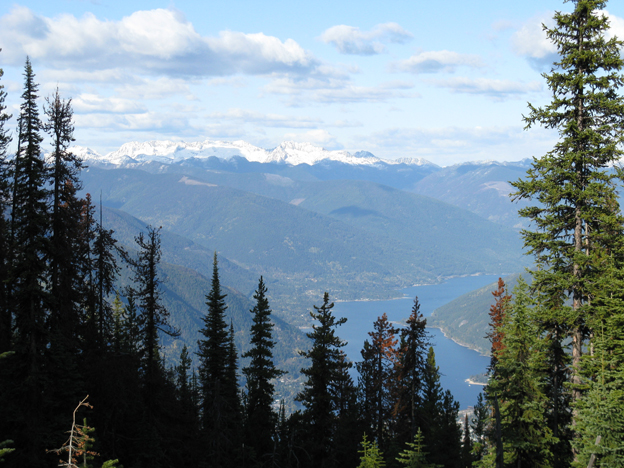 The view of Nelson from the Top of Morning Mountain, after having already ridden for about an hour.
I wish Sam Brown was still alive because he and I used to have some awesome brain storming sessions for new trails, stunt designs, chainsaw techniques, etc. Let me tell you that guy had some serious exploring under his belt, by motorbike and snowmobile. He had trail ideas that were way off topic. Now it's up to me to try and continue them!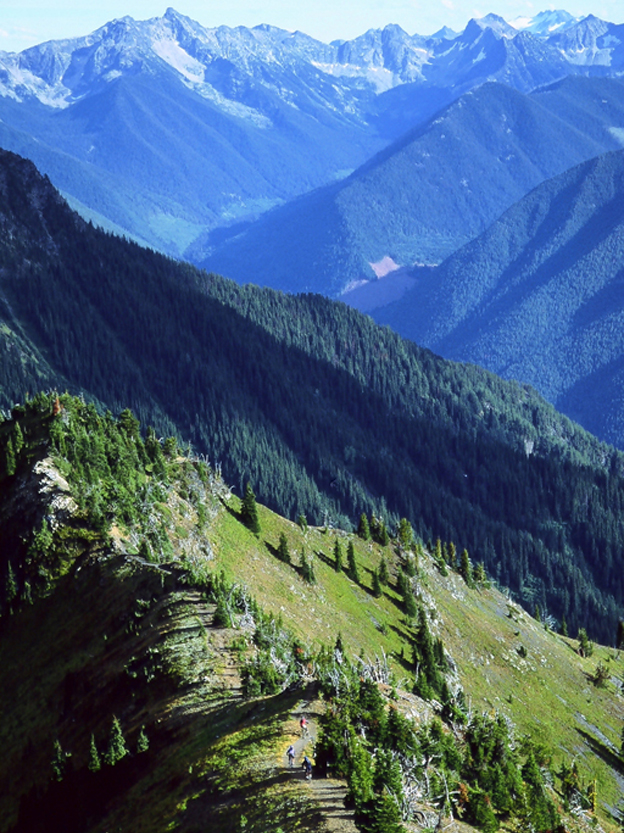 The West Kootenay area: terrain like Lord of The Rings. Photo ~ Peter Moynes

Over the last bunch of years I have made a certain portion of my income through mountain biking. I never tried to be a 'pro' because frankly I don't have the balls to ride the really scary stuff. I have been successful with some trail building stuff though and for awhile even wanted to start a consulting business similar to what Gravity Logic from Whistler is doing. I think they are a quite a bit more knowledgeable on the bike park subject so I am stoked to see they are doing it.
What has really been brewing in my mind is the concept of a mountain bike lodge based tourism business. Within the Nelson area is the world's highest density of cat ski operations, some of which I have worked at. The cat ski operations do a brisk business, hire lots of locals, foster an amazing local guiding scene and snow science knowledge. The mountain bike terrain and logging roads system accessing huge vertical carries with it huge potential for biking. I have always thought I could take this same concept and develop it for mountain bikers.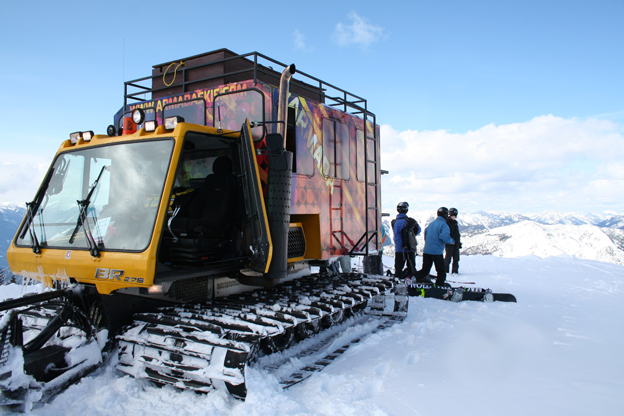 Cat Skiing in the West Kootenay is big business, utilizing perfect terrain and lots of snow. Here guests get ready to drop in at Retallack.

The big dream is to build an amazing network of trails as close together as possible, to create a 'mecca' and ride the hell out of it. My goal is to build big descents that aren't too steep, gnarly, or crazy. I've really noticed that I enjoy shredding berms and dicing through the trees feeling not-so-scared compared to creeping into jagged nastiness all jaw-clenched.

 Nothing but contours and crown land: BC is made for Mountain Biking!
A really neat thing about this area is the huge spiderweb of 100-year old mining trails at our disposal. It's pretty amazing to be riding a perfectly smooth 'singletrack,' only to stop, look around, and realize you are actually riding a grown-in 10 foot wide road bed. It's even cooler when you stop for a break and notice a rusting and rotting old horse cart resting amongst the re-growth. We are just touching the tip of the ice berg around here with utilizing this resource. The riding in Nelson is awesome, but very steep and difficult. My dream is to build long descents that are much more low angle, bermy, not so steep and ass clenching. This is of course much harder because you have to criss cross steep slopes a bunch of times instead of just plunging down them. But it's worth the work.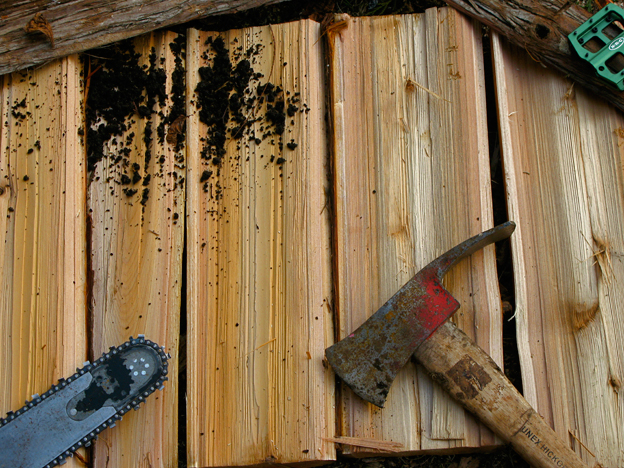 Some key elements to trail building.
Mountain bike tourism in this province is something I really believe in. I attended the 'BC Mountain Bike Symposium' in Chase, BC this fall, and was inspired by the group of people working to turn mountain biking into a legitimate tourism resource for the province. The problem lies in the sanctioning of trails built on crown land and the responsibilities and liability involved. But the Ministry of Sports, Tourism, and Arts is working on a Mountain Bike Trails Policy so that is a start! A lot of positive mountain bike related development has occurred in the Sea-to-Sky corridor, and an economic impact study demonstrated that in the summer of 2006, 10.3 million dollars was generated between the communities of North Vancouver, Squamish, and Whistler. In the town of Nelson, I counted 36 people who are directly employed within the mountain bike industry.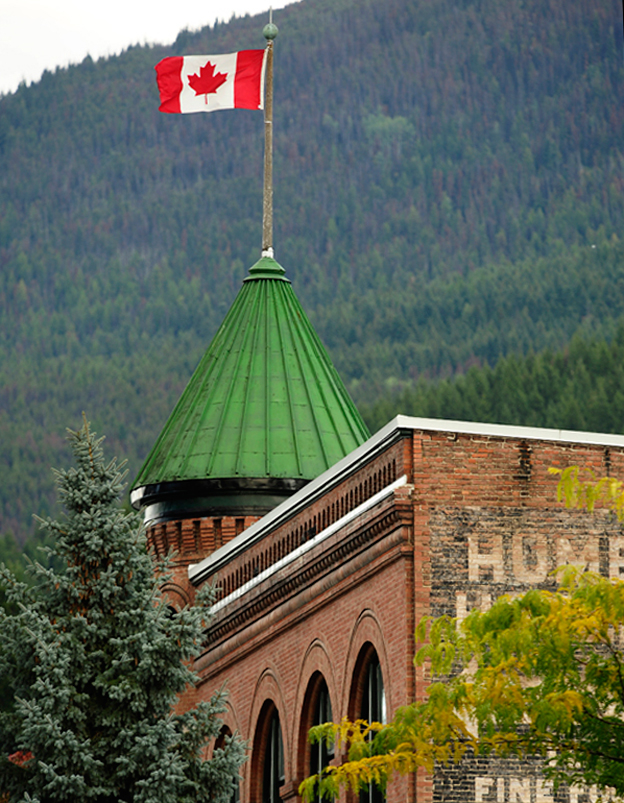 Canada means good mountain biking eh. Photo ~ Mattias Fredrickson
We are very lucky to have the Whistler Bike Park in our province, because it is an example of what 'could' and 'should' be happening for mountain bikers all over the world.  When I started going up to ride the Whistler Bike Park on the weekends when I was 15 years old, every guy in the lineup looked like he could have been one of the Vancouver Canucks. Mismatched body armor, half broken bikes, blood dripping. A decade later and the lineup is full of a wide diversity of riders. Last year I met a large group of doctors from Idaho staying at the Westin, riders from many countries, many women, middle aged men. When I started riding at Whistler the trails were old hiking trails. Now there are these smooth, low angle trails that are very accessible and realistic to beginner riders, especially when riding a Stab Garbanzo downhill bike.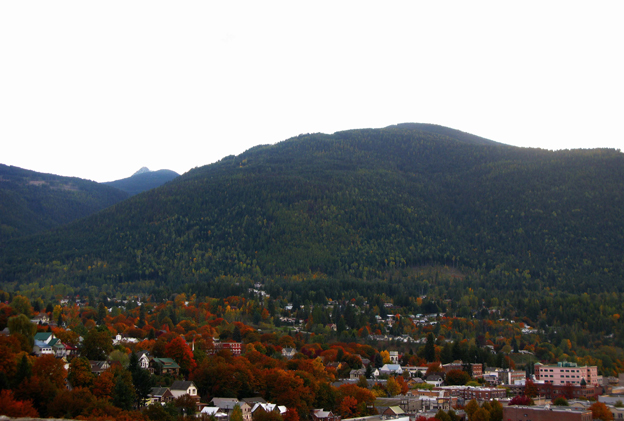 See that little pointy peak in the back there? That is the top of Powerslave. 5500 vertical feet above downtown.
My point is that mountain biking doesn't have to be a crazy extreme sport. It doesn't have to be super mellow cross country riding either. We can have it all! 5,000+ descents in the mountains, not crazy steep, on these 'big full suspension bikes' as Thomas Vanderham says in 'Seasons.' In that film he shows us what can be done with these amazing bikes available to us. But the flip side is when you apply that same style of bike (6-8 inch travel freeride bike) to a winding, curvy trail the doors open to riding that is much safer than when I started going to Whistler 10 years ago. Bumps are absorbed, corners are gripped, speed is controlled with 4 pistons and 8 inches of rotor, and the door is wide open to your best idea of what speed and flow is, with the ultimate progression being Thomas's huge jumps in the Nicola Valley, which I would suggest are not for everyone.
Back to Powerslave. This is just the beginning. The Nelson area encompasses just too much terrain and potential. The opportunity for multiple 'dream trails' is so huge. And we already have dozens of great rides.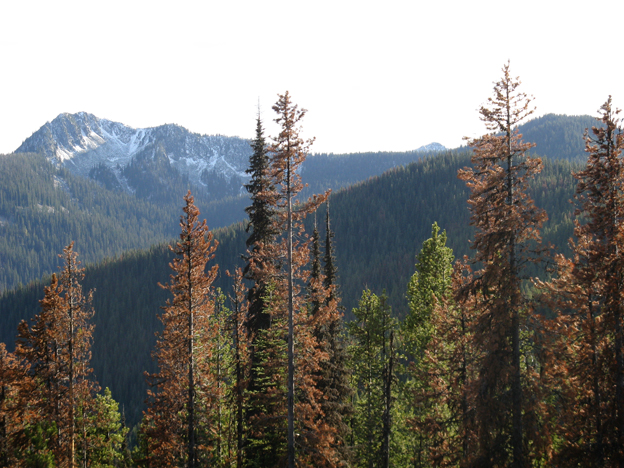 The view from the top of Morning Mountain back to where you started from……

I am hoping to have a 'trail opening' helicopter accessed ride in early July on Powerslave. I am able to offer riders the cheapest possible chopper rate for this one day event. We will try and make it into some kind of party and throw in someone's birthday or something to make it a celebration. A portion of everyone's Helicopter fee will go to Project Rwanda, an extremely awesome project spearheaded by Tom Ritchey, one of the dudes who invented the bikes we like to ride.
 
Check out projectrwanda.org
Also check out some info on Rilor Wilderness Mountain Biking – a civilized way to ride in wild places.
Ride on,
Riley
What do you think about Riley's vision for Nelson?  How about his trail building philosphy?  Weigh in here…