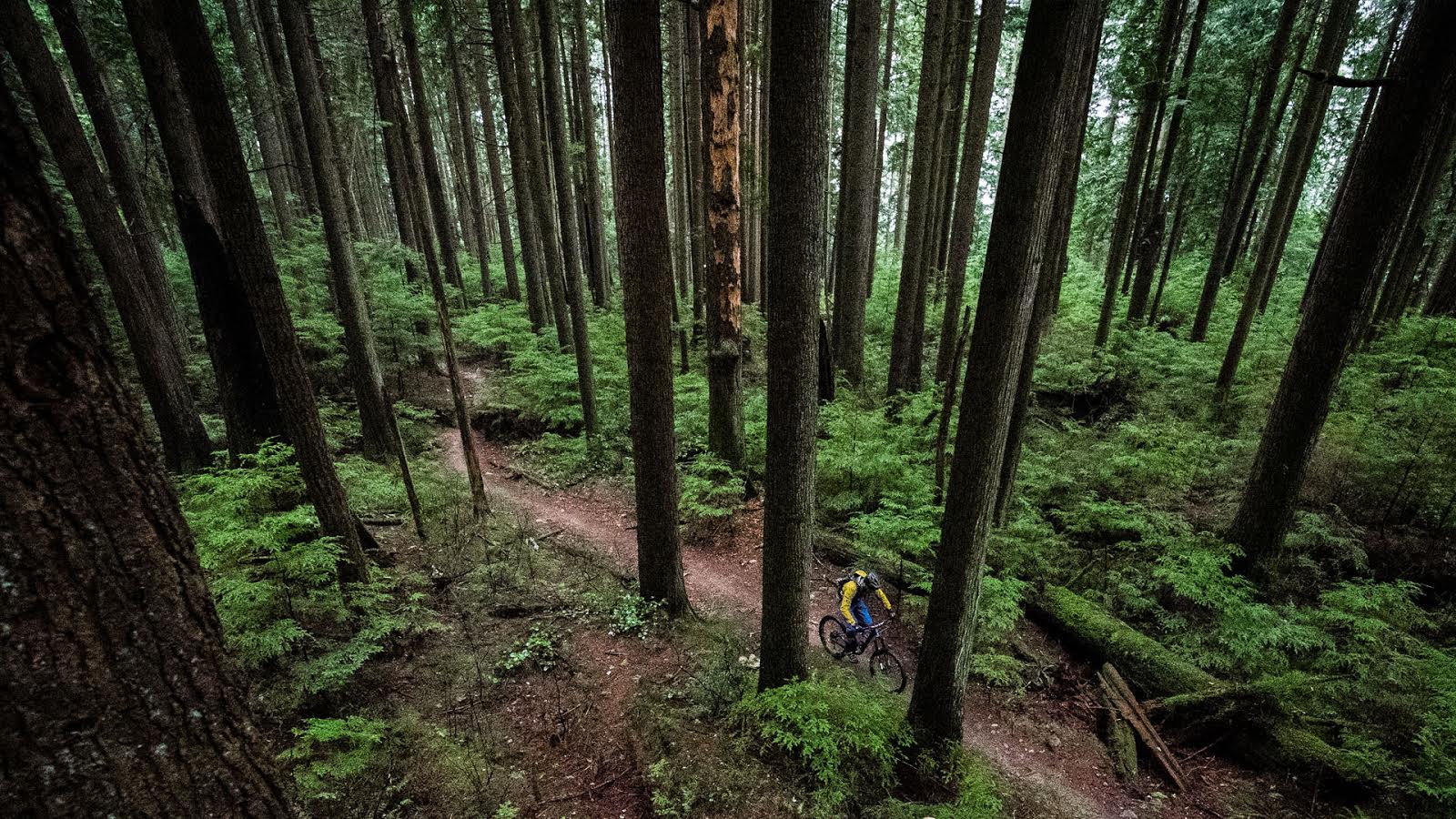 Gear Shots #53
2009 Norco Fluid LT2
Words and photos by Dan Austin
In the past, riders paid a significant weight and performance penalty riding their long-travel bikes uphill just to have that DH performance pay off on the way down. Norco, like several other major manufacturers, is responding to the demand for bikes that can be ridden uphill and still offer solid downhill performance with its Fluid LT line of bikes.
Introduced last year to tap into the growing all-mountain market, the Fluid LT (LT=long travel) series of all mountain rides represents the evolution of Norco's original 5" travel all mountain bike, the Fluid, into the long travel domain (6"+). Improvements to the bike in year two of production include things like a redesigned rocker and seatstay and spec changes, showing that Norco is commited to producing a more refined product.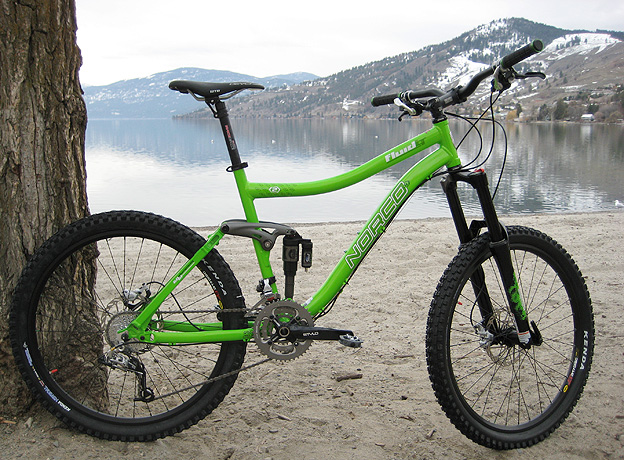 Lime Crush, taking a break by the lake. This is one sweet working man's ride.
I'm testing the Fluid LT Two, a more "blue collar" version of the LT series than the One, and it's what I expect to see out on the trails on a regular basis. Rather than spec'ing it with a "cost is no concern" build like its blingy brother the One, Norco opted for a functional and dependable build that keeps the Two's performance up and price down. For most of us buying a bike is a big, often huge, deal and the LT Two appears set up to give the working-class rider a taste of the good life.
The LT frame, the same for all three LT models, is hydraformed aluminum with a 1-1/8" head tube, 137-158mm of travel (only 2.5mm less travel than a Norco Six!), and a 135x10mm rear end with replaceable drop outs. It has been updated a little from last year's edition with things like better tire clearance, a lighter downtube, forged link plates, reinforced seatstay and a chainstay that now includes a forged clevis.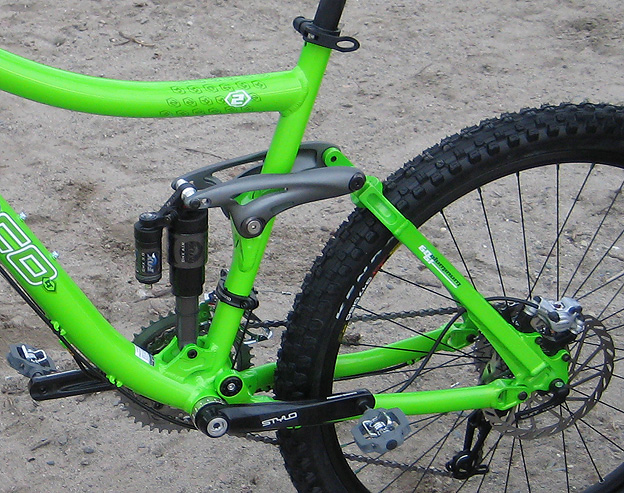 The new rocker and forged clevis on the '09 Fluid LT are going to make a big difference to the bike.
With seat and headtube angles of 73° and 68° respectively, the LT blends slacker headtubes of DH world and the pedaling ergonomics of XC frames into a very ridable package. Combine this mixed geometry with the FSR Horst Link suspension system, an uninterrupted seattube and low standover height and you have a bike that is well suited to the varying demands of an epic all-mountain ride. With the size large LT weighing in at around 32.5lbs on my hyper-accurate digital bathroom scale, you have yourself one pretty impressive package.
The LT Two has a well rounded build. The drivetrain, aside from the XT front derailleur and KMZ chain sports SRAM X-7 shifters, X-9 rear changer, and an 11-32T cassette. There is a smattering of other quality SRAM parts including Truvativ XR stem, Stylo bar, bottom bracket and cranks (42/32/22), as well as other notable bits like an alloy FSA Orbit-X sealed bearing headset, WTB Devo saddle, Race Face Deus XC post, green Pro Palm Lock-On grips and Crank Brothers Smarty pedals.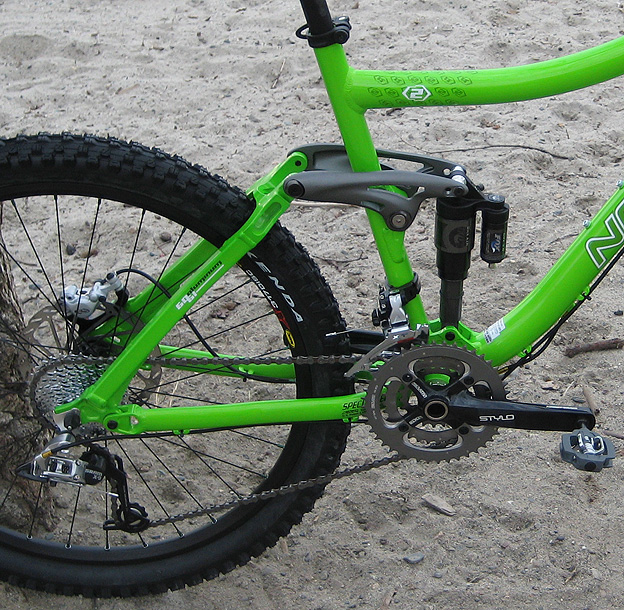 Drivetrain goodies on the Fluid include a full compliment of parts from the SRAM family, and Crank Bros. pedals.
The major component choices for the LT Two are based on tried and true equipment. Stopping is provided by Avid Juicy 5s with 185mm rotors front and rear. The wheels are Shimano XT centre lock hubs laced to black Mavic XM 317 with butted stainless steel spokes and green alloy nipples dressed in Kenda Nevegal Stick-E 2.35" tires with downhill casing. Tire choice has been switched from last year's Nevegal 2.1 to the 2.35. When we tried out the LT One and Two last year, the 2.1s left our testers wanting a little more. Norco apparently agreed and responded by increasing tire clearance and upsizing the Kendas to the 2.35s with a more durable casing.
Suspension is provided by a Fox DHX Air 3.0 with factory set platform and rebound adjustment out back and the Marzocchi 55 ATA (Air Travel Adjust) up front. The 55 ATA has 120-160mm of air sprung travel, with 40mm of infinite position travel and external rebound control. It also sports the TST2 system allowing for compression adjustment and lock-out. The 55 uses Marzocchi's 20mm tool-free axle system called the QR Torque Axle.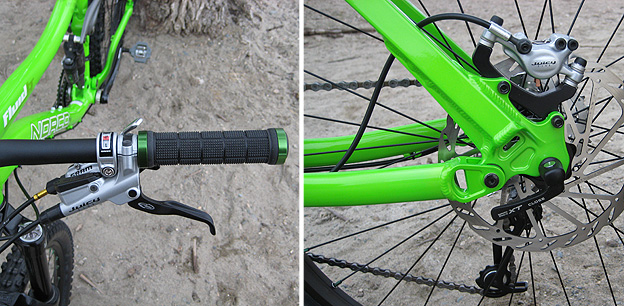 The Fluid LT gets all sorts of matching parts, including green ano clamps on the grips. The beefed up seatstays and chainstay clevis should be able to take anything you can throw up at them.
My initial impressions of the LT Two are positive. It's a nice looking bike with a great part spec and a proven suspension design, and the LT Two package is hard to argue with. With 5.4"-6.2" of adjustable rear, and 4.7"-6.3" of adjustable front travel, it can be tailored to meet the challenges of just about any trail. Posting a price tag of $3699, this bike is ready for action at a reasonable price and is available in sizes from X-small to X-large. The one drawback I can see is that it's only available in a single, very green, lime crush (as dubbed by the editor) color. But I have to admit, it's growing on me.
With the snow finally fading away and the LT's inaugural ride under my belt, I can say that it's going to be super fun bike to test. I look forward to filling you in on all the ups and downs of my LT experience very soon, so stay tuned. Let's just say…big grins so far.
---
Geax Booze Light tires
Words by Matthew Dennison
With spring just around the corner, dirt jumps and skate parks are beginning to dry up. The ground will remain soft so you'll want to run tires capable of rolling fast and keeping traction. Choosing the right tire can drastically alter the performance of your rig – and the choice can be very personal. New from the Italian tire company Geax are the Booze Lights.

There's a little man on my tire.

Designed for dirt jumps, park and everything in between, the Booze Light tire features a low, checkerboard profile for minimal rolling resistance. The tread pattern closely resembles a stretched out and slightly more aggressive BMX style tire. The versatile design allows for easy transition between different types of terrain. Weighing in at 590g, the tire is lighter than most of its more well-known competition.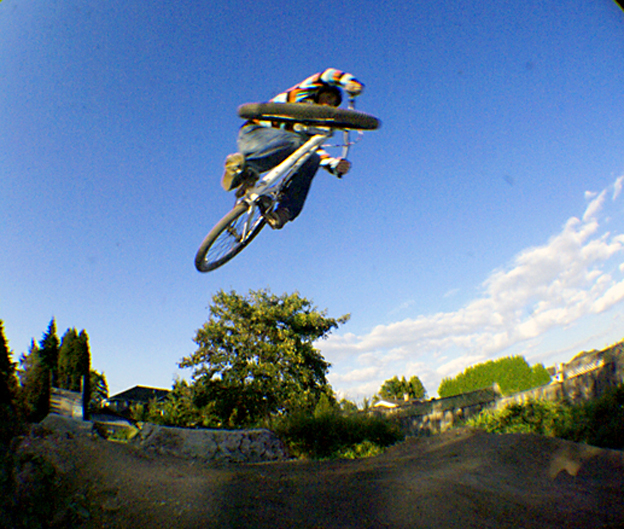 With the low weight comes the disadvantage of thin sidewalls. Although this means easy installation, it leaves the fear of patch kits and the long walk home from the djs. However, if the PSI of your tires is properly adjusted to adapt to your riding style, pinch flats shouldn't be a major concern.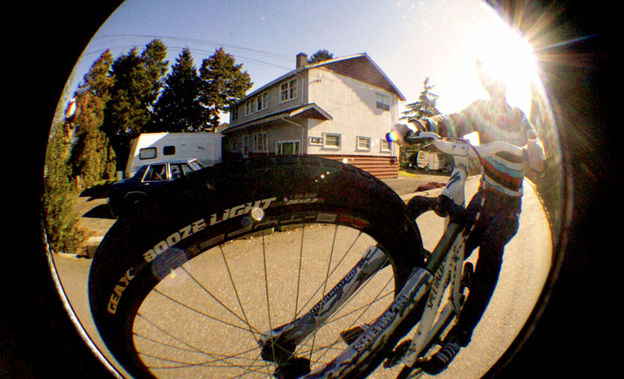 If you plan on using them for slopestyle you will want to go with a more aggressive tread. The low profile doesn't supply that extra bite needed to grip loose and unpacked dirt. The tires are made from 50 ShoreA Sticky Soft Compound, the softest material Geax has to offer. The compound allows maximum grip and slower rebound, cushioning your landings.
Geax also offers a wire bead model of the Booze Light, which is nearly twice as heavy at 950g. The 2.3″ Booze Lights are available for a MSRP of CDN $50.99, €32.50 and USD $40.99.
---
Dakine XXL gloves – Cross-X and Convert
Words and photos by Stuart Kernaghan
Dakine has been making riding gloves for some time now, but the boys from Oregon just recently started making gloves for those of us with big paws. Behold – four different models of XXL gloves from Dakine.
Riders who are looking for more room than they get in a typical XL glove in terms of finger length and width, and overall hand width, will find it in the new XXL Dakine selections. And because Dakine knows that you need choices, you can get extra extra big hand protection in Ventilator, Cross X, Convert and Highwire flavours. Colour selection is limited to black, but us big guys need as much help being stealthy as we can get so black gloves are a good start.

A pair of XXL Convert gloves, unsullied and ready for action.
The Convert gloves have a one-piece Clarino synthetic suede palm, a breatheable nylon mesh back panel, and terrycloth thumb panels (a.k.a. snot wipers). They also have neoprene knuckle flex panels, and silicone gripper fingertips. Convert gloves slip on, and have a neoprene cuff around the wrist.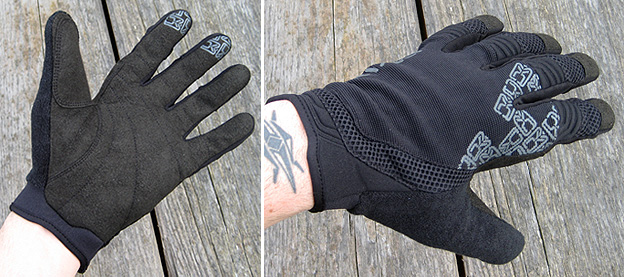 The synthetic suede palms and grippers (left) provide protection in the event of stacking, while the neoprene knuckle flex panels and nylon mesh back make the Convert comfortable enough for all-day riding.
The other XXL glove that I'm taking for a spin are the well-known Cross X gloves. You've seen them on freeride stars like Darren Berrecloth and Richie Schley, and now they're available for larger lads.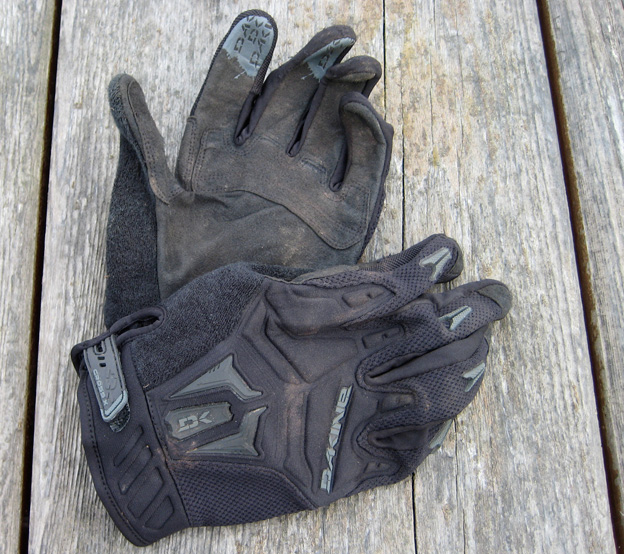 A slightly dirty pair of Cross X gloves. Yes, I know – I should have taken a picture before riding.
The Cross X gloves have the same synthetic suede palm as the Convert, but they have an additional level of protection at the base of the fingers. They also have molded finger and knuckle protection, silicone gripper fingertips, neoprene knuckle and cuff panels, snot wipers and a hook-and-loop closure system.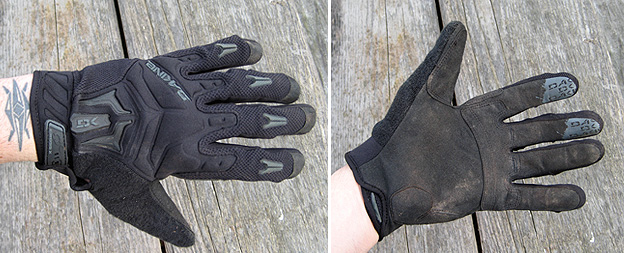 The Cross X gloves from the top and bottom. The XXL size is a nice option for larger riders. 
Dakine gloves are available at billions of bike stores around the planet. Price will be about US$30 / CDN$40 for both styles of gloves (Cross X may sell for less in Canada), but check with your LBS for the exact cost. This obviously isn't a long-term test, but I've always had good luck with the durability of Dakine gloves. And I'm happy to have a pair of riding golves that actually fits my giant mitts. I suspect other large riders will be as well.
Love the lime green colour of the new Fluid LT2? Wish it had one of those fancy new 15mm forks? So happy that someone finally makes XXL gloves so you don't have to ride with bare hands any more? Take your joy to the boards.