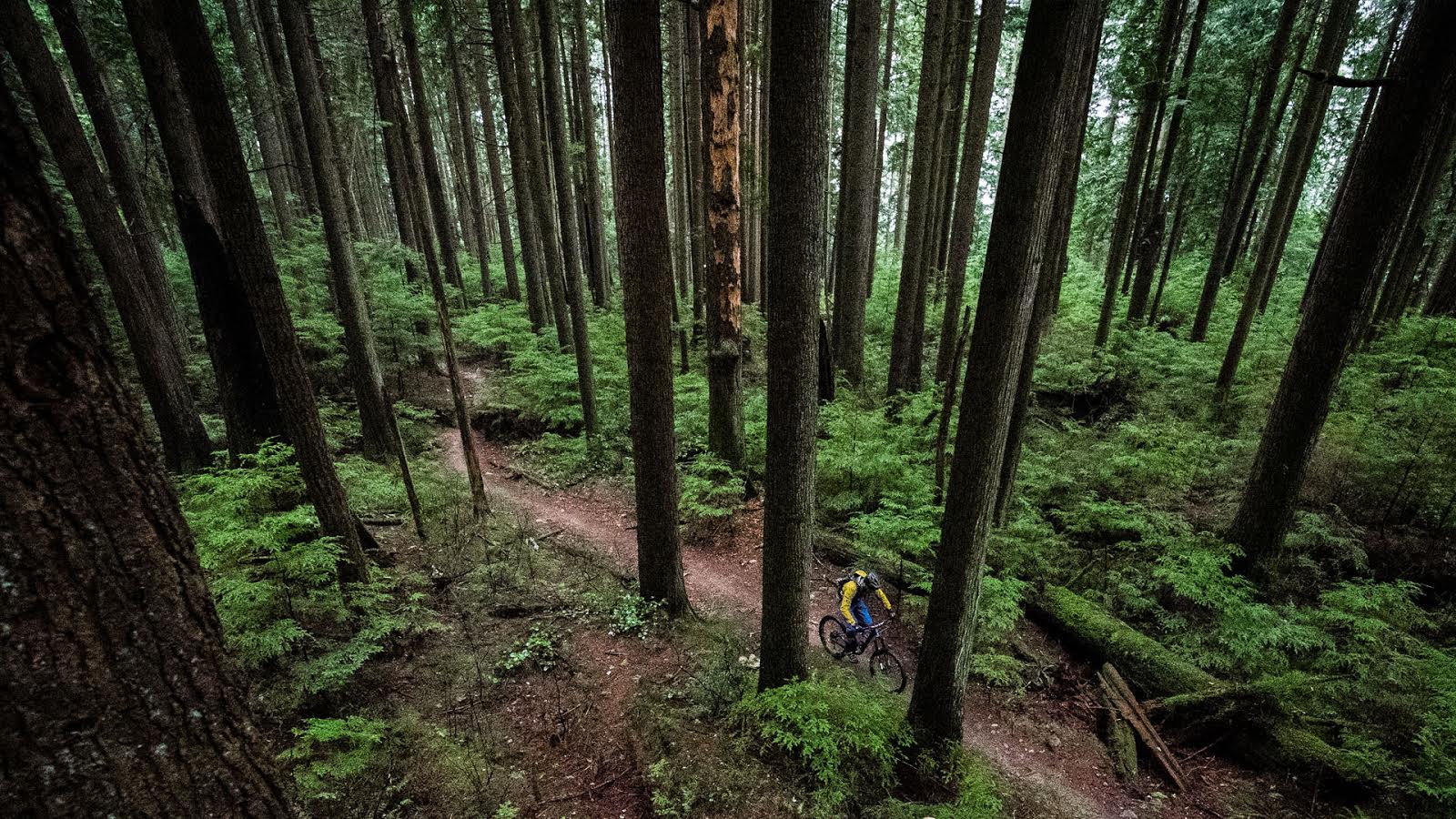 Sam Hill's Demo 8
Meeting the people behind the products is one of the bonuses of working in the bike business.  Specialized engineer Jason Chamberlain is one of those people.  He's been passionate about bikes for a long time and I think that comes through in the bikes he designs.  No stranger to Whistler or the North Shore, Jason likes to ride challenging terrain and he builds his bikes accordingly.  Jerry Willows and I asked Jason some questions – with a focus on the bike you'll see under Sam Hill in 2009.

nsmb: Hey Jason!  First off would please tell us how you got into mountain bikes and how that lead you to a career at Specialized designing bikes?
Jason Chamberlain: I grew up in Colorado and had started hearing about "Beach Crusiers."  People called them that because they came from California. I began riding mountain bikes in high school just as they were becoming popular. I loved the freedom of riding wherever you wanted with those low gears.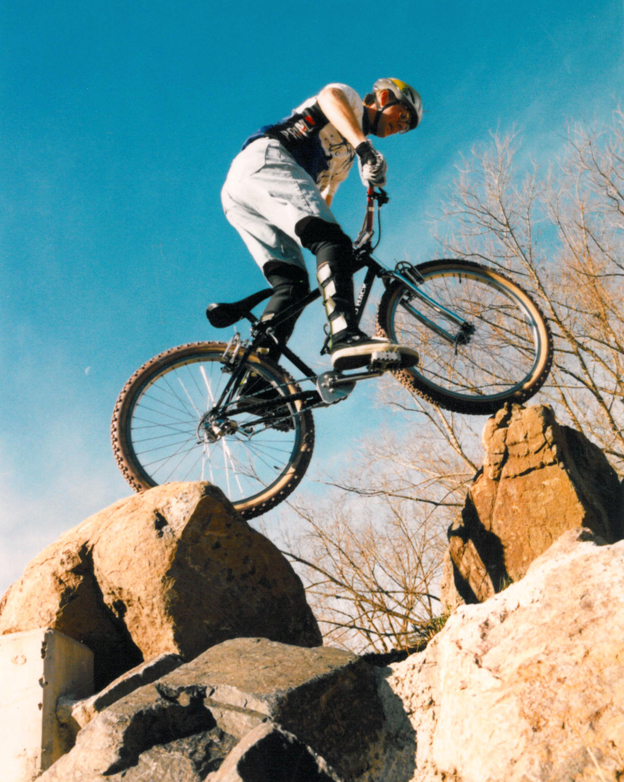 Jason Chamberlain riding trials circa 1991.

In '91  I  was blown away by a Hans Rey trials demo I saw  in Vail.  I immediately built a stock trials bike and started practicing. This was before DH rims, tires, etc. existed.  We had to run cheap rims, because they were the only things that were wide. We also ran motorcycle bars because they were wide and strong despite the popularity of really light weight bars. I eventually tied for 1st Place  in the Colorado State Championship series.

I went to college where I studied mechanical engineering. My first job was running the test lab at Specialized. That was back in the Shawn Palmer days.  I was picking apart every aspect of the designs, looking for ways to enhance the durability and performance of bikes.  I became so good at breaking things that the President Mike Sinyard finally said "Why don't you design something."   So I did.  At this point, I've designed over 30 unique platforms for Specialized and have 13 patents.
I also designed the "ORE" down tube. You know, the tube that bends right behind the head tube? You will never see one earlier than 2000. Now that tiny feature is on virtually every bike made. 

 Jason along with product managers Brandon Sloan and Joe Buckley and tire engineer Chris Wyatt make a point of coming up to ride on the Shore every year.  Here's Jason riding Salvation on Seymour back in 2006.  Photo ~ Cam McRae
nsmb: There are a lot of different suspension designs out there, what makes Specialized design different than other 4 bars ?
Jason Chamberlain: The Specialized FSR is one of the few designs that has stood the test of time.  People keep thinking we need to change it just to appear to be new or cutting edge. In reality, the FSR does everything a serious rider could ever want. The suspension is fully active and independent, light, stiff, and strong. Every other design out there is merely trying to achieve what we've been doing for 15+ years.
nsmb: Can you tell us how Specialized and Sam Hill hooked up and his initial thoughts on the Demo8 ?
Jason Chamberlain: Sam and the Monster Team were looking for a new sponsor. Last year we had 5 world champions, but very little presence in World Cup DH.  When the fastest man on earth became available, we wanted to talk to him. We talked with him for some time, and of course he was exploring all his options. He was impressed with the initial bike we gave him, and I think the final factor was seeing myself and several of other Specialized employees at Whistler last fall.  He saw that we are real riders who are passionate about the sport, not just a bunch of desk jockeys.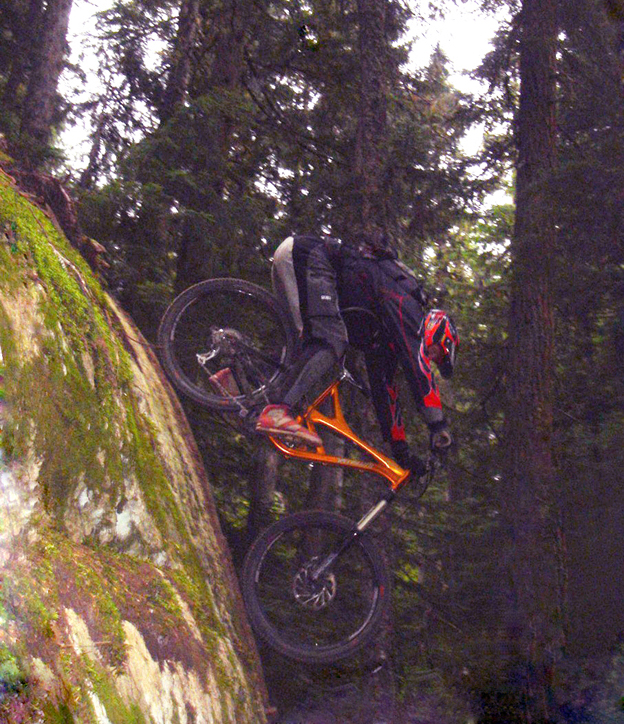 "Not just a bunch of desk jockeys…"  Here's Jason on the Manager in the Whistler Bike Park in 2008. Photo ~ Ryan Folkman.
nsmb: There have been lots of rumors of Sam Hills race bike for the upcoming World Cup season.  Care to give us the details and how it compares to the production bike ?
Jason Chamberlain: There are only a few deviations from the 2009 Demo 8. The BB is 1" lower, which is one of the lowest BBs on the market. Travel has been reduced from 8.5"to 8". And lastly, the head tube is 1.5 (like the Demo 7) which allows him to run a semi-integrated headset to achieve a lower bar height.
nsmb: How much truth is there that Sam's bike will be a production model for 2010 ?
Jason Chamberlain: We are hoping that Sam's presence on our development team will help make our bikes even better.  The goal is for the general public to be able ride what Sam rides.
nsmb: His numbers are quite specific to his riding style.  Do you think Joe Rider will benefit from riding Sam's geo?
JC: I've never met Joe Rider, but the low BB is the biggest performance difference and would help anyone corner better. Beginning riders will just need to be aware of their pedal position, which is something they need to learn anyway.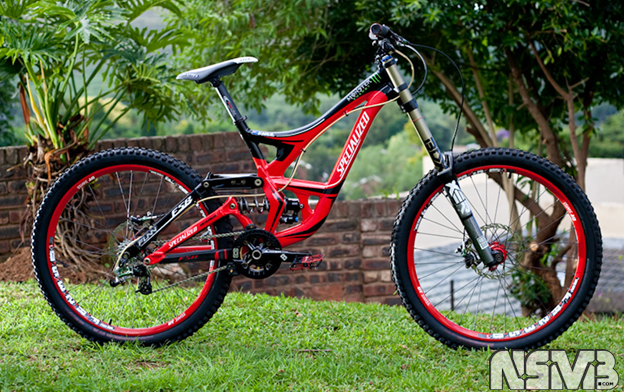 Sam Hill's Demo 8 ready for World Cup Action this weekend in Pietermaritzburg South Africa.  Photo ~ Fraser Britton
nsmb: Joe is good people.  You'd like him.  How much feedback has Sam been giving you back on the Demo8 ?
JC: I have only heard that he loves it.  In fact, he recently told a Spanish magazine and The Mountain Bike Show Aussie podcast that it is the best ride he has ever had.
nsmb: How many protos did it take to get to a finished product that Sam was happy with?
   
JC: We tested 2 rear ends at different lengths. Ultimately, he liked the shorter chain stays best, which is what we've always run. Once he decided he liked the short rear end, we didn't change anything else.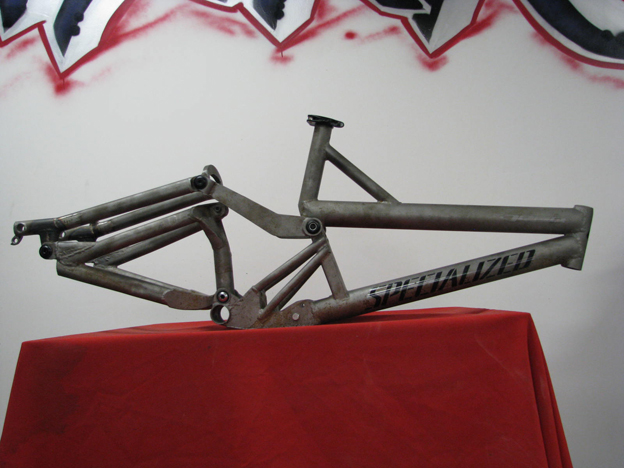 The very first Demo frame was made of steel and it weighs about 40lbs without a single component on it.
nsmb: What are some misconceptions about the Demo from what you've read on bike forums?
JC: A lot of people seem to think it is a Freeride bike. In reality, the Demo 8 has always been spec'd as a DH bike while the Demo 7 is the Freeride version.
Some people seem to think that it must be heavy. Weighing in the mid 8 lbs, it is on the lighter side of DH bikes without compromising any durability.
Also, I am frequently asked why we have so many seatstays and chainstay, but I'll address that later.
nsmb: What kind of testing does Specialized perform on suspension bikes ?
JC: We perform significant destructive lab testing and extensive field testing.  We have one of the biggest and most comprehensive bicycle test labs in the world. We have tested and captured stiffness data for all our competitors.  We destroy hundreds and hundreds of frames per year to ensure unrivaled durability.  And we use on-board data acquisition to understand the loads and suspension performance from the field. We even know the exact differences in stress between average riders and professionals.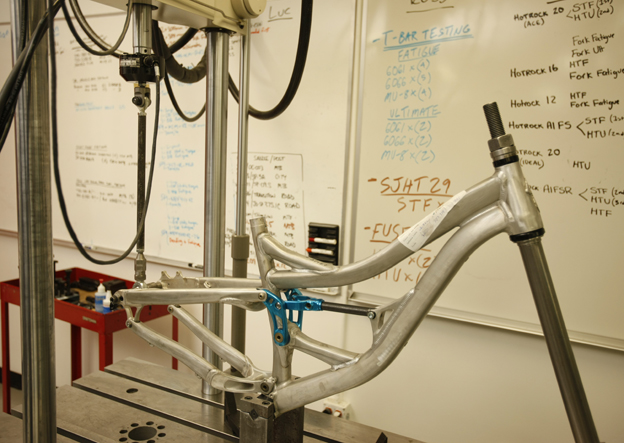 A 2009 SX Trail being torture tested at Specialized headquarters in Morgan Hill California.  The piston attached to a rear axle cycles up and down simulating thousands of hours on the trail.  Photo ~ Forrest Arakawa.

nsmb: What are we going to see from Specialized in the future for downhill suspension ?
JC: That's classified! You'll have to wait like everyone else. We have things in the works. Sam's '09 Demo won't be the last race Demo that you'll see from Specialized.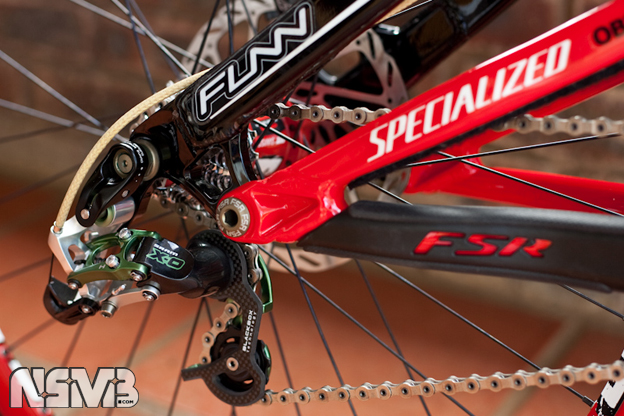 Sam will again be running the SRAM/Rock Shox/Truvativ trifecta.  Check out the new FSR chainstay protector. Photo ~ Fraser Britton
nsmb: The demos have come a long way from the original proto (I have a photo from our tour) and yet the bones are very similar to the original. Does the original design lend itself well to geometry changes so the bike can be used for freeride, recreational DH as well as under a World Champ like Sam?
JC: At its core, the Demo layout is simply a 4-bar FSR. That system can be designed to suit anyone and everyone, from XC racers to DH and everything in between. In the Demo configuration, we simply drive the shock from the Chainstay member, instead of the shock link. This places the shock low in the frame to lower the center of gravity and produces  a number of other advantages. It's naturally stiff from the addition of "sub seatstays" which don't add much weight and keep the rear end narrow. Three little tubes do a better job than one big one. Also, the leverage curve is ideal in this location.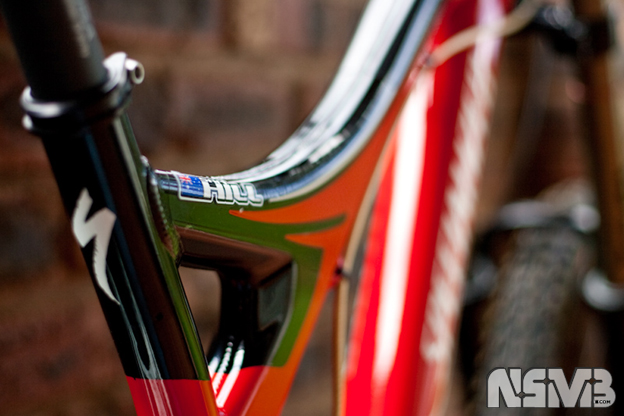 This is indeed Sam Hill's bike. Photo ~ Fraser Britton
nsmb: What are the strengths of the design that make it so adaptable?
JC: The FSR pivot locations are very versatile.  Small changes in the pivot placement allow you to tune the performance to whatever goal you have in mind. In the case of the Demo, we wanted maximum cush and suppleness. At the same time you have fully independent braking which keeps the rear wheel in contact with the ground, even when the brakes are on. You can't really stop if your rear wheel is skipping off the terrain – you need constant contact to keep traction and braking control.  It also provides a stable yet independent pedaling system for the courses that require it.
nsmb: I have seen that the BB height, headtube and seattube angles have changed. 
What are the new angles/BB height?  How were the changes (BB height, headtube and seattube angles) achieved?
JC: The BB is 1" lower than the 2009 Demo 8 and gets a cold forged 1.5 head tube (just like the Demo 7). The seat tube is kinked to make room for the swingarm when bottomed out, but the saddle position with the post raised to the riding position is in the same location.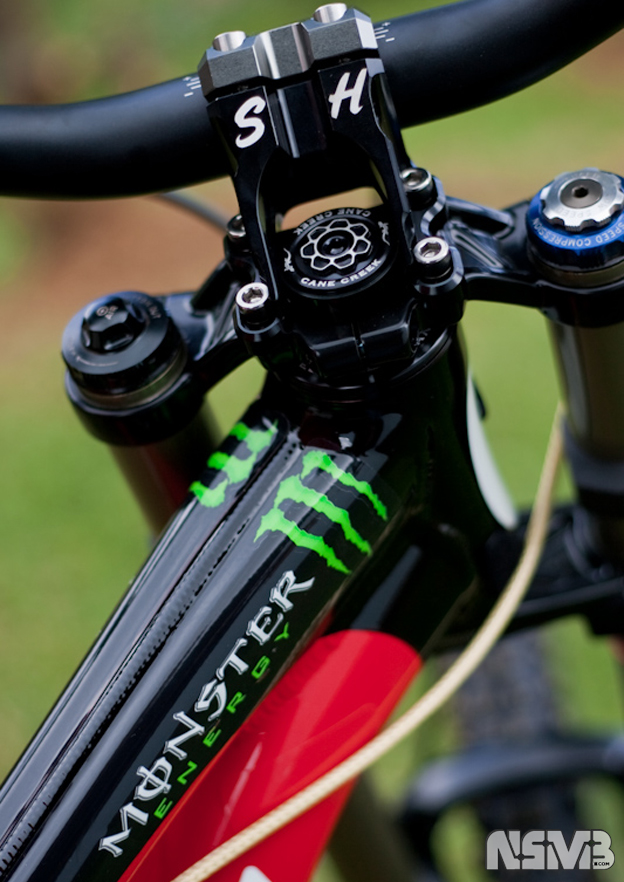 And we thought the whole bike would be green…  Photo ~ Fraser Britton
nsmb: Can you tell me about some other differences?  Is the shock eye to eye the same?  Is the frame lighter than stock – how much does it weigh?  Rear travel the same?
JC: The shock size remained the same. Travel was decreased from 8.4" to 8.0".  With the low BB you want to stay high in the travel and 8.4 produced a little too much sag. It's also slightly more progressive to stay up in the travel.  Sam's frame, fully painted is 8.6 lbs. You can BUY a stock anodized frame with no paint that is even lighter.
nsmb: The geometry adjusting "shuttles" were eliminated. Sam's geometry is perfect. Why would anyone want to change it? This also saved a bit of weight. No need to adjust – lean, mean and dedicated. 
A popular topic right now involves geometry adjustment without affecting shock leverage ratio. All Demos have had this feature since day one. It's a nice feature for a Demo 7 that might see a wider range of uses. Sam's Race geometry is the true holy grail for World Cup racing.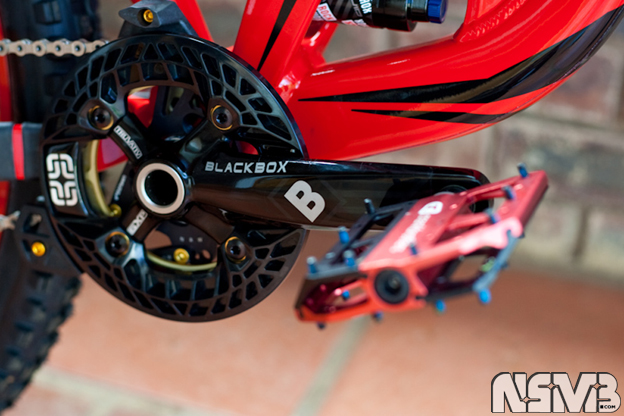 Truvativ Blackbox Cranks.  I'd like to get my mitts on a set of those.  Photo ~ Fraser Britton
nsmb: Obviously Sam is looking to go as fast as possible but can you tell me what sort of handling characteristics he was out to acheive?
JC: He wanted a bike that best fits his style. He rides a little more over the bars and steers the corners from the front. Short chainstays compliment that weight balance very well. Cornering is critical in racing, so the low BB and short chainstays make the bike turn like it's on rails. And the pedaling independence keeps the wheel in contact with the ground when sprinting.  It's the perfect recipe for going fast and maintaining control.
nsmb: Have you ridden the new geo?  What are your impressions of it when compared to the stock ride?
JC: I am still waiting my turn. The only other person besides Sam and Brendan to ride the new geo is Product Manager Brandon Sloan.  I can't pry one away from any of them!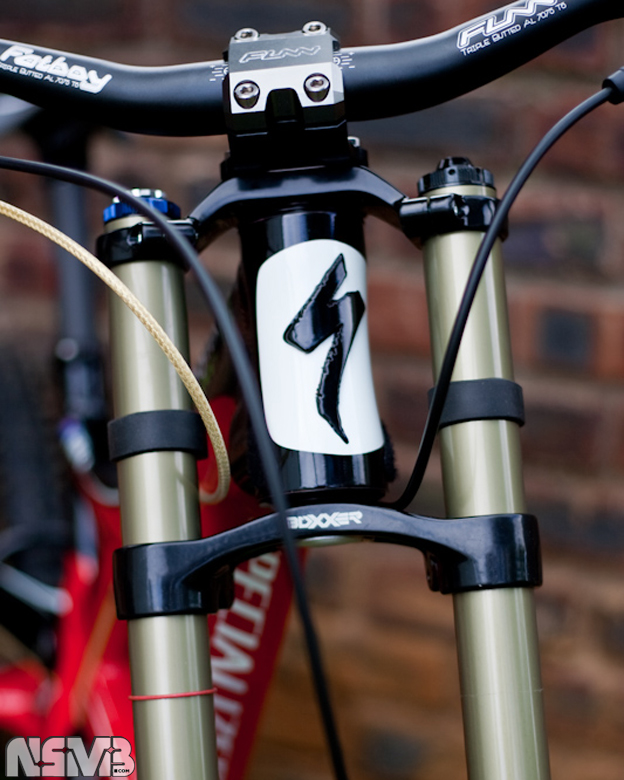 Sam's Demo 8 has a 1.5″ headtube.  Photo ~ Fraser Britton
nsmb: Will we see you on the NorCal race circuit this year as well?
JC: No, but you may see me at a Trials Event. It's coming back!
nsmb: I did not know that. Some riders are very articulate and can easily communicate what they feel is right or wrong with a bike and why while others – like me – are terrible at this.  Where does Sam fit in?
JC: Sam may be quiet, but he is very clear on what he wants. He wants to win races and we gave him what he wants.
nsmb: Thanks for giving us what we wanted Jason!
Is Specialized giving you what you want?  Keen on trying a new Sam Hill Demo?  Love it or hate it – let's hear what you have to say here…