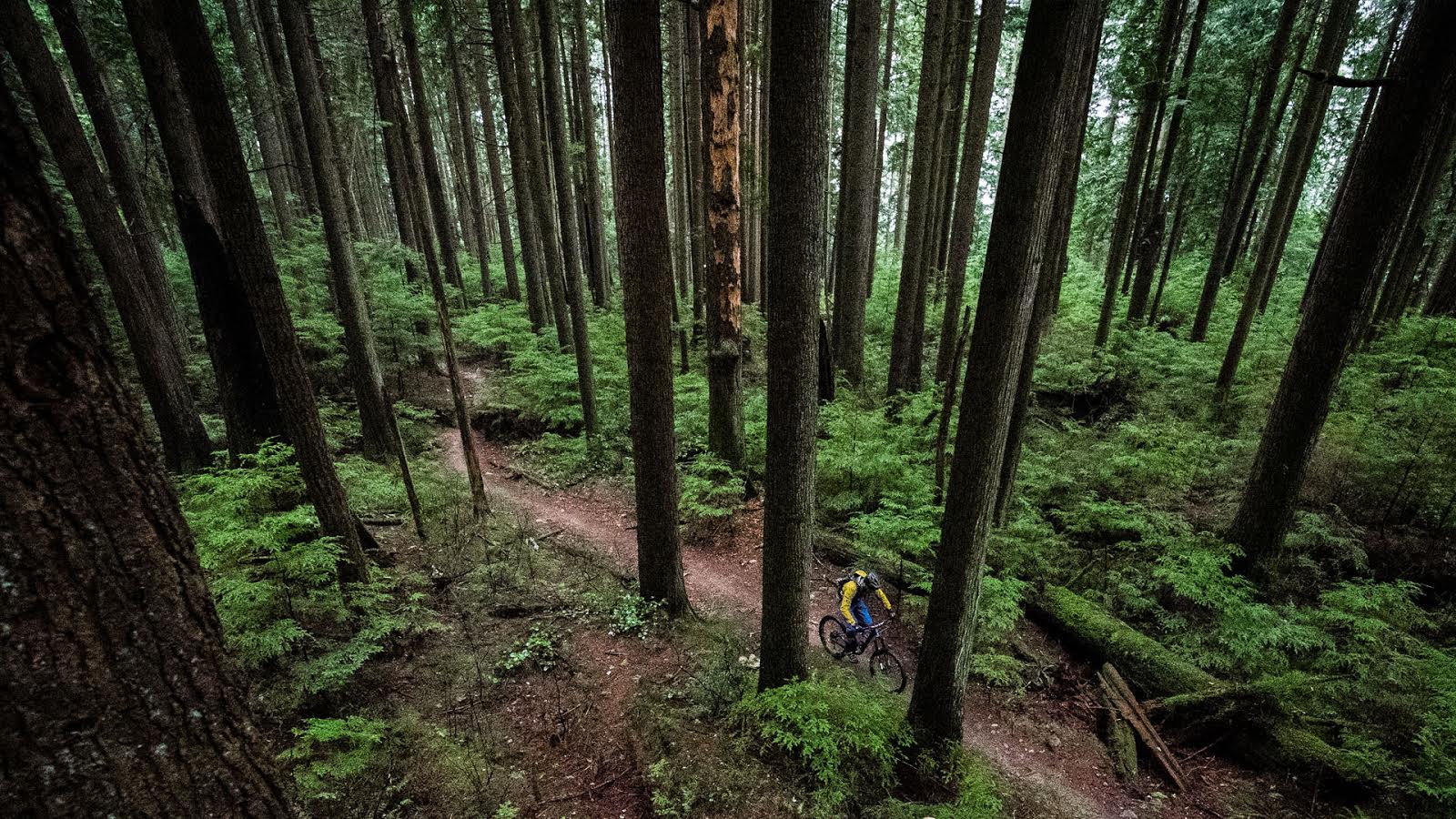 Test Shot -Santa Cruz Driver 8
With improved technology, materials, and designs mountain bikers have become a hard crowd to please.  Am I right? We want it lighter but stronger, agile yet stable, sexy yet functional, the list goes on. As if that wasn't enough, we want it all in one bike – a do-everything bike. If your idea of everything includes technical descents, stunts, trails, bike parks, and climbing the new Santa Cruz Driver 8 awaits you.

 The Driver 8 in Norcal racing green. Lots of travel, with relatively steep angles, makes for a versatile machine. Photo ~ Scott Pilecki
Santa Cruz took its venerable 8" VP-Free long-travel freeride bike out of the line-up [over a year ago], leaving a hole between the 6+" Nomad and the 10" V-10. That has been remedied with the all-new Driver 8, named after the company's now-deceased canine mascot.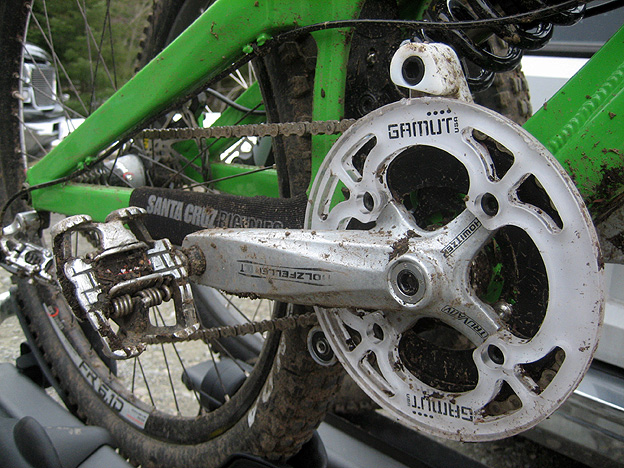 It's tough to fault the spec on the Driver. Photo ~ Connor Macleod

The Driver 8 relies on 8" of next-generation VPP travel, which seems to work for the likes of Greg Minnaar, Steve Peat and the rest of Syndicate team. Up front is one of the best looking 1.5″ head tubes I've seen. I haven't always been a fan of the large tube – it just seemed overkill, but I realize its benefits (stiffness, larger surface area for welds) and with smooth integration it gets on the Driver 8, I can learn to love it. Other frame features include an 83mm wide bottom bracket for a spot-on chain line with ISCG05 mounts and a 150mm rear end with a RockShox Maxle thru-axle.
Having a bike that comes stock with everything you want and nothing you don't is about as rare as sashimi. At a glance, though, it appears the Driver 8 has done just that. The bike takes the best from each school of riding: from DH, we have the Gamut 36T chain guide, SRAM road cassette and RockShox's Vivid shock. From freeriding, Santa Cruz equipped the Driver 8 with a RockShox Totem and a burly FR6.1D DT Swiss wheelset. All-mountain parts include Avid's Elixir disc brakes and a Thompson seat post with 7" of adjustability.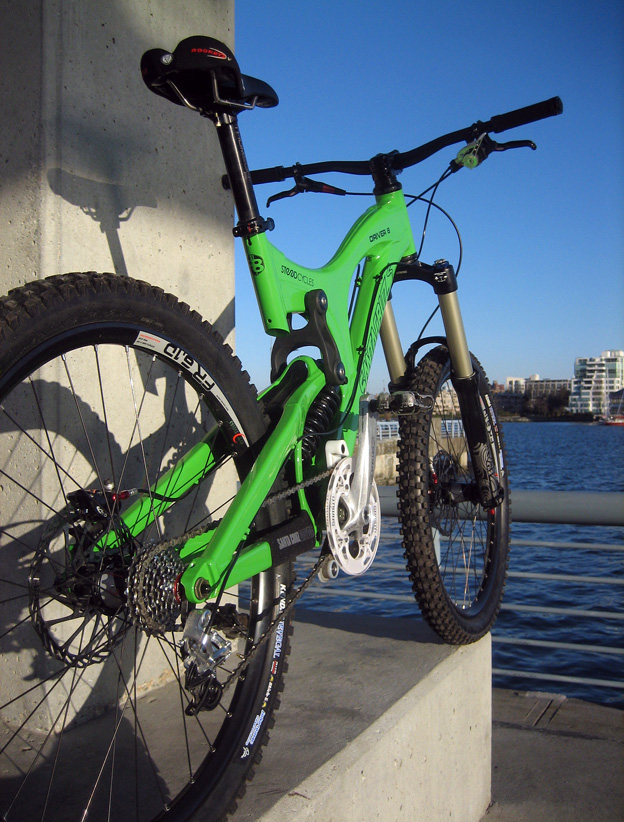 Is the Driver 8 really the best of all worlds?  Photo ~ Connor Macleod
I like how the parts spec on the Driver 8 is consistently high-end and complementary. I think it's also aesthetically pleasing. Traction comes in the form of Kenda Nevegal tires, with a 2.35 in the rear and a 2.5 up front. As a diehard Maxxis fan, I was hesitant putting my trust in anything else; however, the Nevegals were sticking even in the nappiest roots and were confidence-inspiring and consistent in the corners.

  Connor may be a born-again Kenda Nevegal fan.  Here he is taking a short cut. Photo ~ Trenton Zoobkoff

Santa Cruz Bicycles thought you might enjoy spending more time in the saddle rather than fixing your ride, which is why they built the Driver to be as tough and reliable as it is versatile. It features beef in all the right places, and a handful of sexy highlights such as a carbon upper link, integrated mud guard and bodywork even Chip Foose would approve of.

  The VPP bikes have come a long way.  Grease pivots keep things moving smoothly without the help of your mechanic. Photo ~ Scott Pilecki
The upper linkage pivots on four beefy radial contact sealed cartridge bearings, while the lower links works their magic with eight angular contact bearings. There is also a grease port to keep it running smoothly sans mechanic; the Driver ships with its very own grease gun. With all this beef, grease and "set it and forget it" design, you'd think we're talking about the Ronco Rotisserie.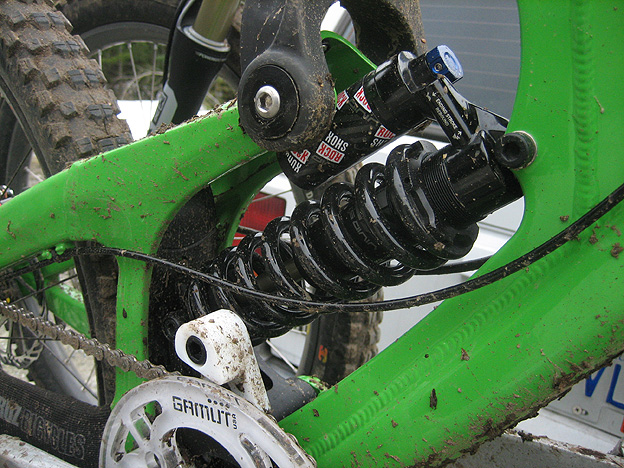 Rear bounce provided by Rock Shox and their Vivid 5.1 Coil shock. Photo ~ Connor Macleod
Build quality on the Driver 8 is what we have come to expect from Santa Cruz – high end. It's one of those bikes you can look at in the back of your truck after a great ride and just discuss every inch of detail, because of the attention detail that has gone into this bike. I don't know if it's the welds, hydro formed tubing or carbon link but you can't help but touch it – like an expensive watch that just feels good in your hands.
Despite a winter that kept on giving, I managed to fit in some hot laps on the Driver on Cypress' finest. The Driver 8 was simply a pleasure to ride and handled even the gnarliest sections of Firehose with ease. My first impression was its great stability and ability to track any line. Climbing and pedaling over chunder was surprisingly efficient, making the bike feel lighter than it is (we'll get back to you on how light it actually is).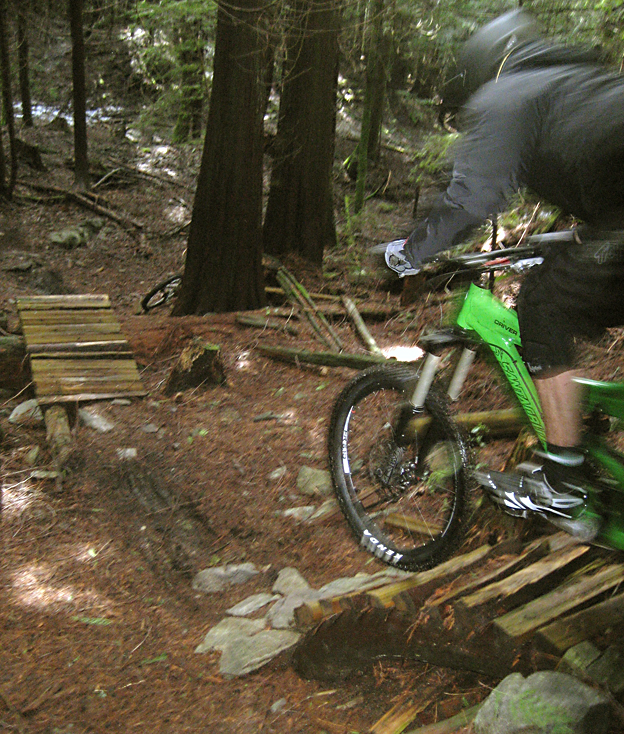 Connor getting all old school.  Photo ~ Scott Pilecki
The Driver 8 shares many similarities with its big brother the V-10, but offers a very different riding experience. Most noticeable is the livelier rear end, designed for maximum fun on the trails. Rather than absorbing everything in sight, the Driver 8 likes jumping, popping, long walks on the beach, oh – and cutties!
With the suspension located where it is, the center of gravity is both low and balanced, making for effortless handling and ego-boosting cornering. The fact that it's not as long as a full-on DH rig further adds to the Driver's tight cornering abilities. I'm not sure if it was the bike or the rider, but the Driver 8 felt consistently smooth and quiet – allowing you to focus on what's important; the ride.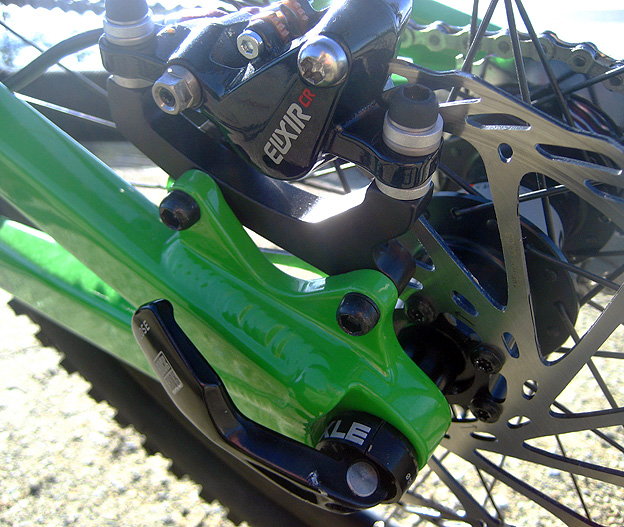 The Driver sports Avid Elixir CR brakes and a 150 mm Maxle rear end.  Here on the North Shore Steed Cycles is your Santa Cruz dealer. Photo ~ Scott Pilecki
Until now, I have been sceptical of "do-everything bikes", as they spread themselves too thin and lose the ability to do anything particularly well. Kind of like Pontiac's short-lived Aztec SUV / camper /minivan (sorry Aztec owners). I believe Santa Cruz has done it with the Driver 8 though. I think you are going to have as much fun on this bike in the bike park as you are riding your local trails and throw less wrenches in the process. Stay tuned for the long term review and eye candy courtesy of Derek Dix Photography.
Frame only Pricing:
| | | |
| --- | --- | --- |
| Powder coat with Rock Shox Vivid 5.1 coil | CAD $2,649.99 | US $2399 |
| Powder coat with Fox DHX RC4 coil | CAD $2,849.99 |   |
| Annodized with Rock Shox Vivid 5.1 coil | CAD $2,869.99 | US $2599 |
| Annodized with Fox DHX RC4 coil | CAD $3,069.99 |   |
Connor will be back in a few weeks with a full test of the Driver 8. How do you like it so far?  The Driver 8 is a bike that needs to do many things well to fit the bill.  Is Santa Cruz on the right track for the trails in your town?  Do tell…