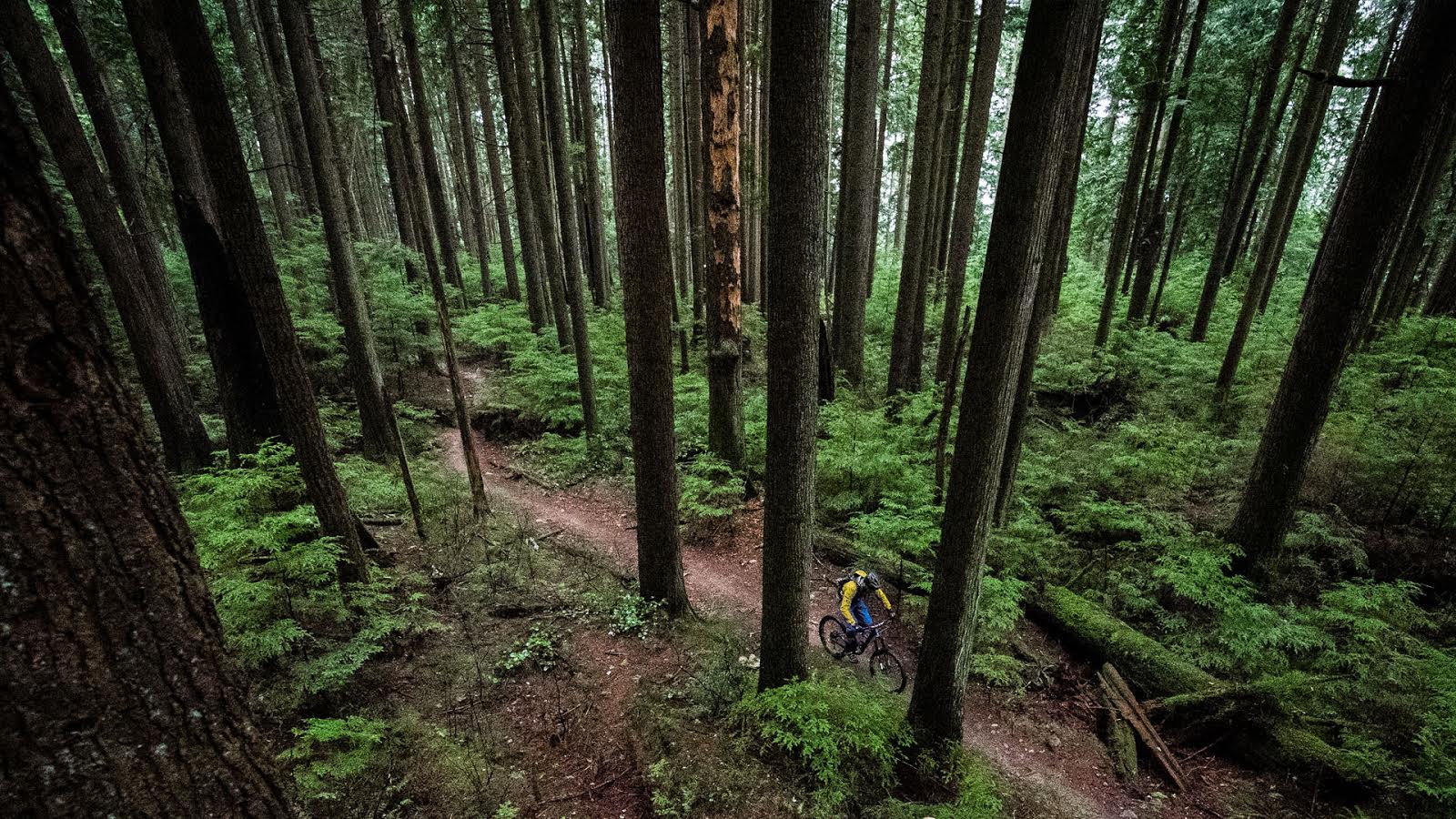 The Bicycle Café heads to Costa Rica
This has been one of the longest and most depressing winters in recent memory.  Continuous cold weather, an extreme lack of snow – and the down turn in the economy – has left everyone with cabin fever and tired of hearing bad news. The only reasonable solution to all of our problems is to take a biking trip to a warm place. So with a bit of planning Taylor and I, along with our two friends Greg and Denise, boarded a jet plane bound for Costa Rica.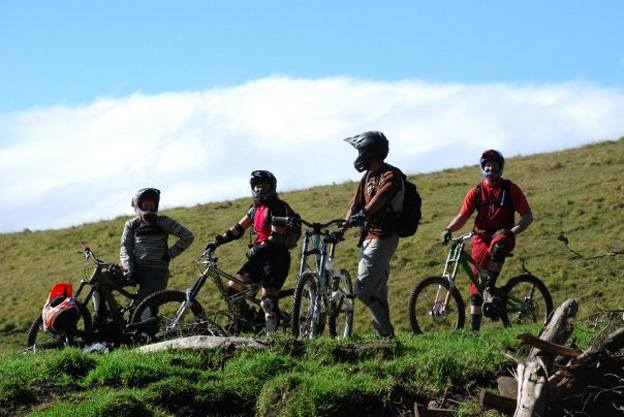 Happy sunshine for friends in the middle of the winter.
We made some poor travel decisions and we ended up on US Airways for the flight down. They have a good track record for landing in rivers but their bike and sporting goods charges are what made our airline choices hard to swallow. $125 per bicycle followed by a charge for every additional piece of checked luggage made me regret not reading their small print more carefully. They recently discontinued screening movies and no longer offered as much as a sip of water free of charge for coach customers. This trip was definitely off to a rough start. Everyone survived though, and we landed in the city of San Jose at about ten o'clock that evening.
Stepping out of the plane and into the summer night was a welcome feeling. We battled the taxi drivers and had to give up our luggage carts at the door of the arrivals building but luckily Paulo (world famous rider and guide) was standing there waiting for us. Paulo helped guide us through the madness and into his truck. We drove through the massive city of about 1.6 million people to our first hotel where we finally got to eat some dinner. Paulo had called ahead and made sure the kitchen was still open which made me realize this trip was going to be amazing. Anything we needed was taken care of immediately by Paulo and his network of friends throughout the country. After forgetting about the long flight and filling our empty bellies, we had only a few more tasks left on the to do list. Get some rest and ride some bikes!

   Taking a break to enjoy the view and make friends with the locals (cows aren't as friendly as you might think)
Our first day in San Jose started early with a rooster cock-a-doodle-doing to alert us of the new day at around four in the morning. We weren't easily deterred from sleeping and managed to sleep in until at least seven. Waking up to a world of sunshine and lively summer vegetation was a feeling I think we had all missed. We then built up our bikes in the sunny court yard next to the pool, loaded them in the truck and took off for our first day of riding. We hit the local trails immediately and tried to shake the cob webs out of our riding. The trails were slick from the rain the days before but we were glad to be out there and riding after hibernating in Canada for so many months. Cruising the trails in San Jose was a perfect way to start our vacation. The trails were smooth and not too technical and we even rode through a field of coffee plants. The sun was shining and we were having fun on our bikes again. Living the Pura Vida.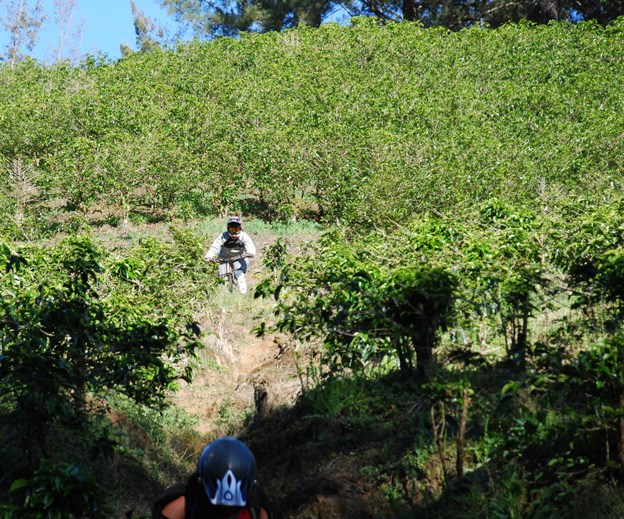 Cheryl and Denise, when they weren't drinking coffee we were riding through it.
From San Jose the rest of our trip became a fantastic blur of exploring the Costa Rican landscape. Over the next week we would travel to various cities, riding different trails and eating amazing food. First stop, Santa Maria. This town was easy to summarize. Fast, sweet and flowy. The trails were tacky and coming from a dry place like Kamloops, we really enjoy moist dirt! Taylor also found one of his trip highlights while in Santa Maria when a nice woman at a café presented him a hot cocoa decorated with a crème smiley face on top and arguably the best chocolate cake in the world. After making sure to get some on his nose we were off to Provedencia.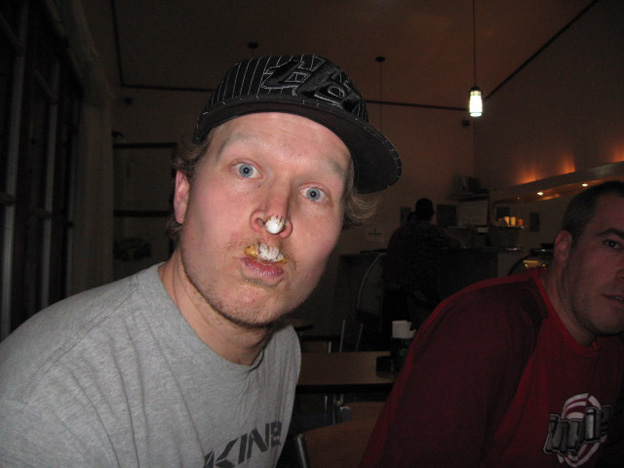 Taylor stoked! Never had a better cup of coffee in our lives as in Santa Maria.

Our time in Provedencia provided us with three amazing trails to experience. Another action packed day started off with a trail very similar to riding on Vancouver's North Shore. The bulk of this trail featured steep and extremely technical rock lines. One highlight feature was a long technical decent down a very exposed ridge through near death defying rock gardens. This trail was a real test of our riding skills, especially after only two days of warming up. The next two trails we would ride in Provedencia were a little more up our alley. Just like our trails at home they were fast, wide open and flowy. After the first trail having been so challenging we found ourselves feeling more confident and on the ball. We rode really fast and hard until the sun began setting on another glorious Costa Rican day of riding.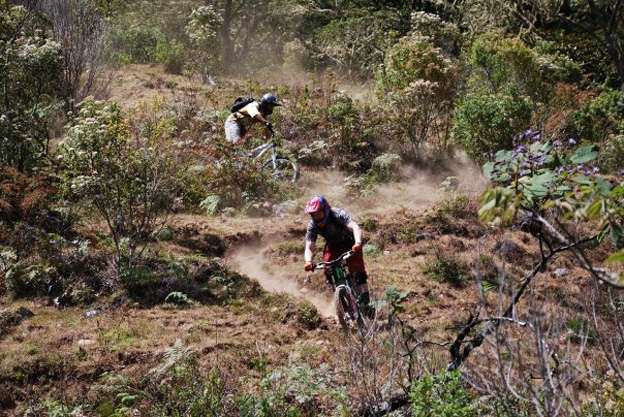 Taylor and Paulo shredding the switch backs in Providencia.
When the sun started sneaking out from behind the hills once again, we were off to Pico de los Muertos or "The Peak of the Dead" to ride down Costa Rica's highest bike trail. With an elevation of nearly 11,000 feet we were expecting 2.5 hours of continuous downhill riding.  Our drop in time was postponed briefly as Taylor developed altitude sickness. After a bit of help from our guides Taylor stopped feeling dizzy, his brain started working again and we were off on our ride. Dropping into the trail we found ourselves once again navigating down steep and wet rock lines. At this point I was thinking anyone from Vancouver would probably have a blast here. Our friends Greg and Denise were at home on these trails. Toward the end of our ride we all had our fair share of arm pump and were getting very tired. The Kamloops riders did two runs over two days but our coastal friends snuck in an extra run up there. Having ridden our longest descent ever, we were on the road back to Santa Maria to stay our last night in Costa Rica at Celia's Cabins featuring her Matthew McConaughey suite (named after McConaughey who had stayed there in the past).

 Denise Britton feeling at home on the steeps.

We had a lot of great experiences in Costa Rica, both on and off our bikes over twelve days. We were treated to a lot of interesting opportunities and one of the best was going on a coffee tour. We were able to see the whole coffee making process all the way from a plant in a field to a cup in our hands. We also went to a local fair and hit up the local night club for some dancing. All these experiences made lasting memories and really let us see the real side of Costa Rica. Locals will tell you most of the Coast Lines have been bought up by tourists and are very commercial – but we did not see that side of the beautiful country. We were shown the small town and local side of Costa Rica. People were more than inviting and made us feel like friends rather than tourists. Somewhere between the riding, the weather, the food and the people, this became one of the best trips any of us had ever been on. Pura Vida was an amazing experience and the perfect way to wash away some winter blues. My one complaint is waiting a whole year to go again! 
All this talk about Costa Rica has me jonesin' to go.  Anything to say?  Can you tell us about an airline that treats mountain bikers well?  Had your own exotic riding adventure? Slide over here…