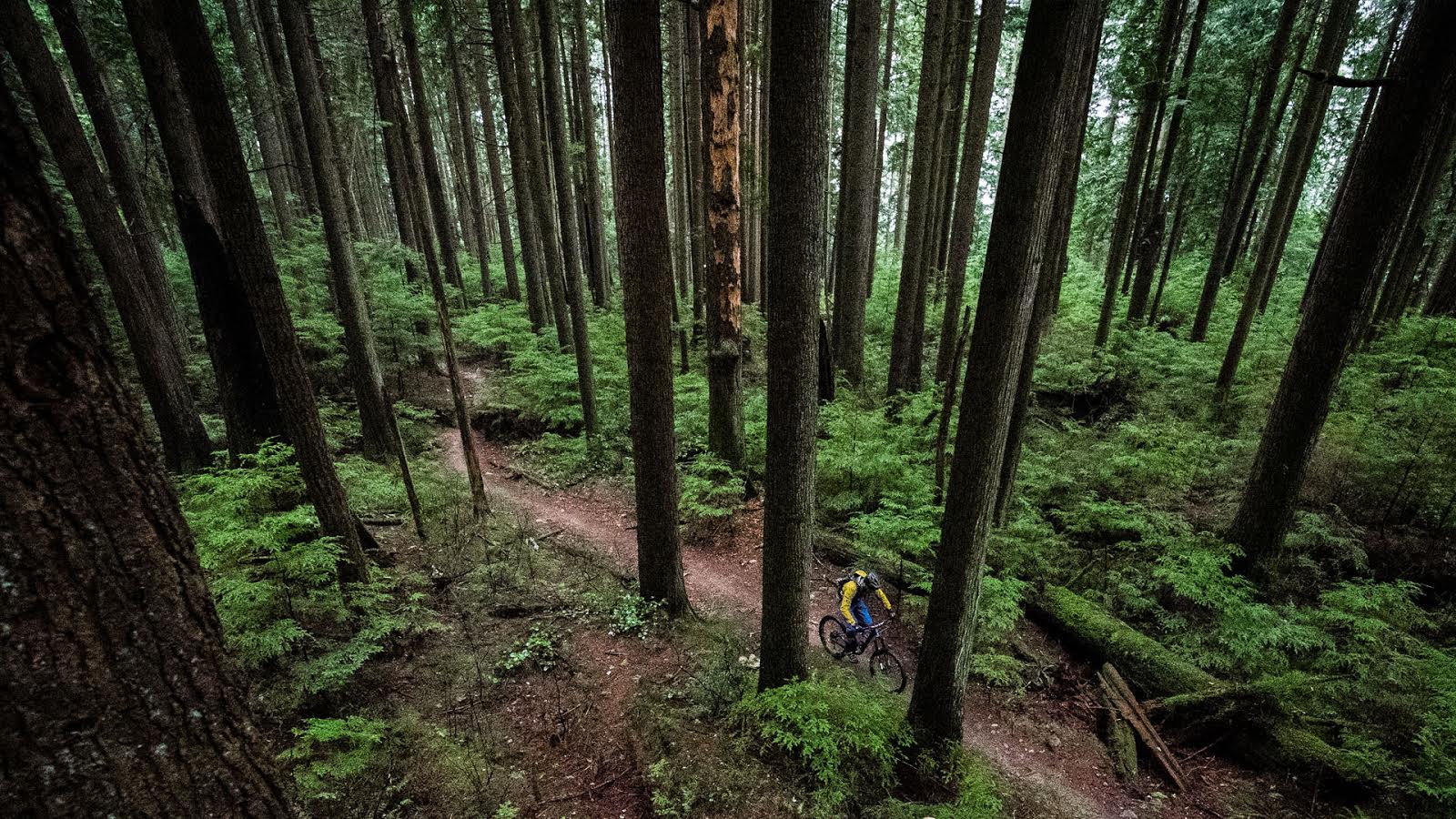 Trevor Hansen Bike Check
Where I live, at the base of the infamous Mt. Fromme at the top of North Van, I need a bike that I can climb through steep singletrack that accesses the Fromme fireroad. I can do it on my Specialized Demo 8 but I would need a granny ring, lung implants and quadricep motors. I also wanted a light ride that I could use for quickies out my door to the trails and back in under an hour. I figured the lighter the bike the more vert I could get for my limited time. I am lucky enough to get two frames from Specialized so I can enjoy the luxury of a big one (my Demo 8) and this light one.
When James Wilson of Obsession Bikes was testing a carbon Specialized S Works Enduro a few years ago I tried it out. The thing weighed 31 pounds with big wire bead tires and it ripped the uphills and, best of all, it sliced nice through all the downhill stuff we were riding. I figured if James was taking it down everything on the Shore I could too, without a lot of red hair and funny soul patches getting in the way:)
My 2009 S Works Enduro is basically the same frame as my 2008. I was tempted to go with a Talus for travel adjustability but I am such a slut for coil/oil I couldn't stop myself from getting another Fox 36RC2. The fork is plush, has plenty of travel at 160 mm and is beefy enough to get me through all the gnarl I roll this bike down. I am also lucky enough to have James at Suspensionwerx to tune it super fine.

For 2009 team nsmb will be rolling on Maxxis tires.
My rear shock is a 2009 Fox RP23 with the bigger can for a smoother ride. I usually set it to the #1 propedal position  for climbing trails so I can get some traction and the #3 position for a stiffer feel on roads. I hopefully remember to open it right up for the descent. I am told it doesn't matter which setting it is on when you open it up as it rides the same. It is smooth, can handle medium sized drops as long as they have nice transitions, sucks up little bumps at speed and works well on steep corners. I plug about 140 psi into it (I weigh 175. This is no oil/coil but what it saves in weight is totally worth it. I took Cam McRae's 09 SX Trail tester out last month. I climbed my usual steep uphills, the fireroad and then hit some quick downhills back to my place. I put it away and took my Enduro up the exact same route. The Enduro climbed way better and was only a small amount less controlled on the downhills. That comparison was all I needed to convince myself that I chose best for my needs.
I have chosen the lightest components available from Syncros. Since I have been testing them for the past 5 years I am confident that they are strong enough for the rigours of the riding I take them on. That said I use this bike for high speed rips on the three North Shore mountains with forays into Squamish and Whislter/Pemberton's all mountain style rides. I don't drop anything over 6 feet or take it down big lines like GMG or some of Cypress's gnarlier runs.
I use a Syncros AM carbon bar, FL stem and AM headset in the cockpit.
My wheels are the FL23's that are rated for XC but they are bomber enough for all the various rides I take them on. They stay true and don't dent or crack. Me likey.
I used to alternate between Syncros BHT 2.5 wire bead tires and a prototype kevlar with the BHT tread design. Both sets worked well in all conditions with the wirebead excelling more in the wet, rooty steep stuff. This year Syncros is staying out of the tire market so the team team has picked up Maxxis as our rubber sponsor. The Advantage tire in the photo will be the first one I try. So far they are light and grippy in the snow. I only have two short rides on them in the goopy soaking dirt and they held great.
My rear FL23 is set up with a super lightweight and stiff FL hub and my front uses the FR hub since Syncros only makes their FL front hub in 9mm.
I run the new Meathook pedals from Syncros on my Demo but I go for the lighter magnesium model, Syncros Magnesium Mental Pedal, for the Enduro. I ride Five Ten shoes so I only use four pegs in each pedal because of the extremely sticky sole.

With 5 Ten shoes T Bone only needs four pins in his pedals.
I plant it on the Syncros FL saddle which I thought was going to be an ass killer but it's pretty comfy. It is bolted on an FL MicroAdjust seatpost.

I love the stopping power and light weight of the Avid Juicy 7 Carbons that I run.

I chose RaceFace's Atlas AM crank for light weight and extra strength.

My drivetrain is strictly SRAM – and XO spoiled rotten at that.

I do love having the double bike option. I know it is excessive on one hand but man it's so nice. This way I don't have to think about which bike would be best for all the riding I do. I can't wait for the snow to clear so I can get back on this sexy beast and rip.

Photo ~ Jerry Willows.
Trevor is indeed a lucky bastard. Anything you'd change about his set up? Would a Specialized Enduro be tough enough for the riding you do? Time to move up to Carbon? Do tell…