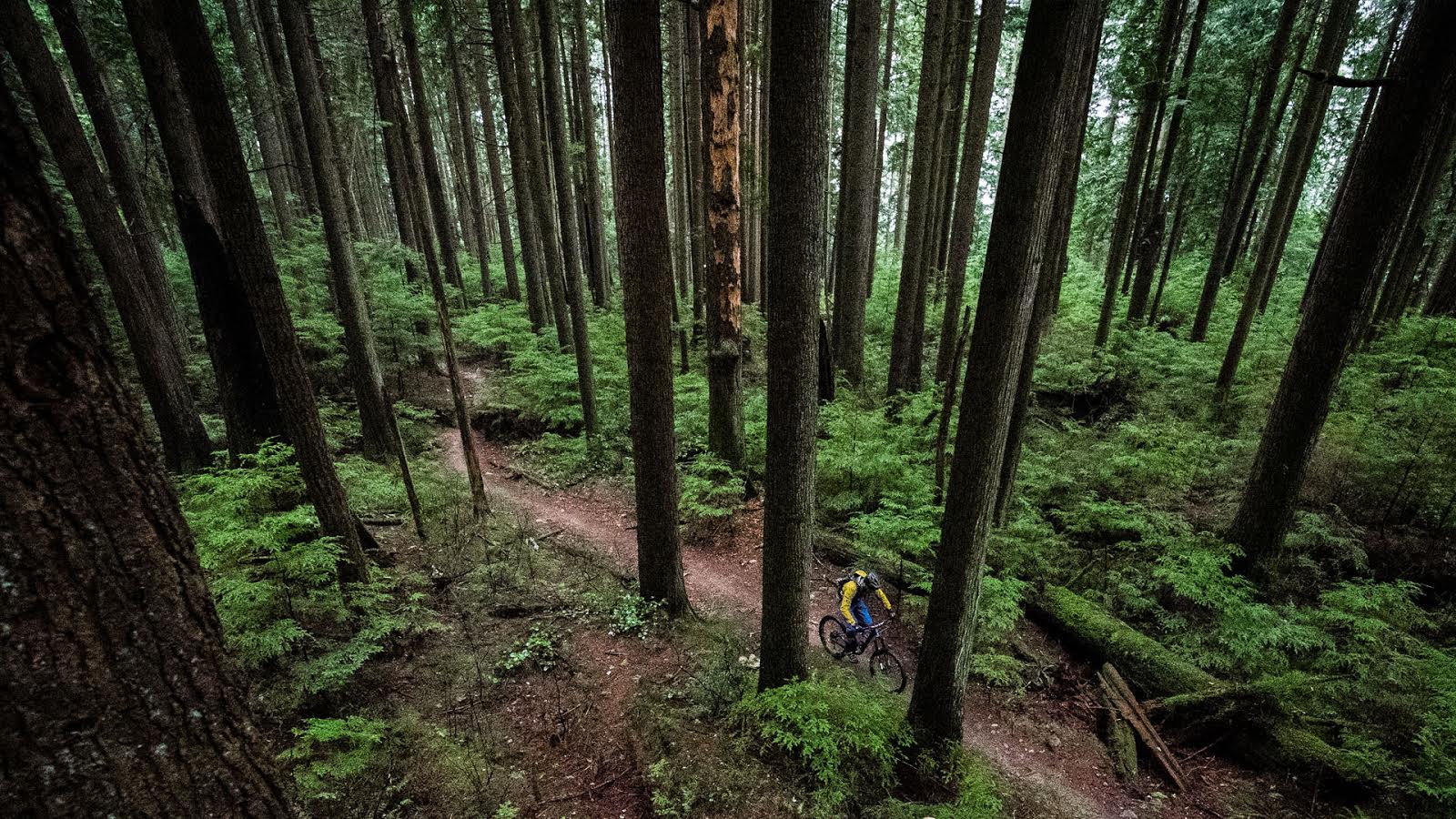 Bikes of My Life
This article was originally published in March 2009. It's more than just a collection of bikes, as Jerry recounts his history and that of the trails and bikes through the story. Jerry's story of bikes continues with his 2013 Demo 8 Carbon and a new Enduro EVO in the works…
---
Here it is mid March and its snowing outside !?!?  So, instead of riding I thought I would write a mini biography about the mountain bikes of my past and present, and the stories behind them all. It all started when I was a wee lad in Vernon and used to race BMX with the likes of Richie Schley and Wade Simmons from Kamloops.  After getting my driver's license like most kids at the time, the BMX bike started collecting dust and was eventually sold.  Ten years later, I rode my first mountain bike and I was hooked.  After nearly 2 decades, riding is still one of my strongest passions in life and I happen to live in the best place on the planet to ride mountain bikes…North Vancouver!
1993'ish Marin Mountaineer
This was my very first mountain bike and I got it when I moved from Edson, Alberta to Ladysmith, BC.  I bought it from a roommate for $700 and it pretty much started my obsession with mountain biking. No suspension, canti brakes, skinny tires, optional pannier; I was rocking even though it was big at 19″, but I didn't care.  I would ride behind the house I rented after work and on weekends and I would even venture off to Nanaimo or the Cowichan Valley.  There was so much to ride in the area I was stoked.  After a few months riding full on rigid, I purchased a RockShox Mag21 with 2″ of plush travel!!  Here's a quote from a 1996 review of the fork: "These shocks rule! They're great all around shocks, but I use them for DH".  Times may have changed but I was just as stoked to ride then as I am now.
1995 Brodie Nucleus
The owner of the local bikeshop kept bugging me to upgrade my bike as the Marin was sized too big for me.  I eventually cracked and purchased a Brodie Nucleus as Brodie had the best bikes at the time, especially the Sovereign.  I rode that bike until it got stolen outside the 7-11 in Nanaimo while I was getting a slurpee, some things never change.
1997 Cove Hummer
After the Brodie got nabbed, I needed a new bike and the legendary Deep Cove Bike Shop had the best selection of bikes and reputation around.  I was still on my hardtail kick so I got a DC Hummer with Magura hydraulic rim brakes and Judy SL's up front as I wanted to keep my bike nice and light. I remember riding my bike from Deep Cove to the Horseshoe Bay ferry for its inaugrual ride..I was still living in Nanamio then. With my new ride I was introduced to the famous "North Shore".  I remember riding 7th Secret, Neds and Stupid Grouse and thinking those trails were so gnarly at the time. While I had the DC Hummer, I lived in Nanaimo, Vernon and finally in Castlegar.  When I lived in Castlegar most of my riding was done in Rossland and I remember being in awe of locals Chris Lawrence, Dave Swetland and Elladee Brown.  Trails like the "Flume" ruled the day and all the riders were friendly and always up for a rip.  This was also the time of the first installments of NSX, Kranked and the NWD series which inspired me and my style of riding.
During this time, I took a spin on a full suspension bike for the first time and I knew I had to have one. It smoothed everything out and allowed me to go faster…much faster.  It was all about speed and stunts and structures were pretty much non existent in the Kootenays at the time.  I do remember seeing the trail "Five Knuckle Shuffle" in Nelson and couldn't believe what I saw.  8 feet to flat…. would have made Dangerous Dan proud.
2000 G-Spot
The G-Spot was my first full suspension bike and I actually had the first production G-Spot which was cool.  I was really stoked to have it as Shandro and Wade were the test pilots.  Living in Castlegar at this time, I also started to build trails.  "Dirt Diggler" was my first trail, followed by "Twinkle Toes" with the help of local ripper Shawn Von Diebitsch. I also moved from Castlegar to Mission and finally to North Vancouver for schooling. I had to get a stiffer spring up front and higher bars after going down a certain steep old school north shore trail.
2001 Norco Team DH
After spending many hours working on and riding my beloved G-Sport, I was in need of a new ride…something a bit more more burly for the rugged North Shore. I got my first big travel bike….  8″ front and rear.  I bought the bike from Gerricks Cycle in Kelowna as one of my riding bros Colin worked at the shop. Of all the bikes I've owned this ride got me the most excited.  This bike could handle it all and was quite reliable but noisy as hell.
2002 Norco Team DH
My 2001 Team DH alignment in the rear was off from the factory so I got a warranty replacement for a 2002 Team DH.  This was the time when I started my 3 year project, "Jerry-Rig" on Mt. Fromme.  I wanted to build a trail that was challenging and have features that have never been done before.
2003 Norco Shore
I'm not sure how or why I got this bike but I did and really enjoyed it. This is also the time I finished most of the "Rig" and started to film with Digger and his NSX series.  We also rode Circus and GMG around 30 times that year.  Skinnies were in!
2005 Demo 9 / SX Trail / P3
The Rig was finally completed with the help of Digger, Dave, Cam and Fred. I got hooked up with the NSMB Freeride Team as well as Ryan Newman and consequently we got to ride the new freeride bike from Specialized…  the infamous Demo9.  I was actually introduced earlier to the Demo on the trail Platinum where I came across Brandon Sloan (Specialized Product Manager) and Cam McRae who were riding a prototype.  Also new from the Big S was the SX Trail, arguably the best all around mountain bike.
Here's a 5 min vid with me and Gully on GMG:
[Unfortunately this video's no longer hosted on google video… if anyone's got access to it, let us know! -ed]
2006 Demo 8 / SX Trail
Something lighter and more racy, the Demo8 was introduced in '06 and I got a new ride. The SX Trail was re-worked and a much needed coil shock from Fox was introduced.
2007 Demo 7 (early production)
I was fortunate to be asked to be a test pilot for Specialized during the summer of 06 and was given a Demo7 in the fall to test out.  Biggest changes were 1.5″ Head Tube and a more rearward arc in its travel for square edge hits.
Current Rides (March 2009)

2008 Demo 8 / 2009 SX Trail (early production)

Next bike:
2010 Demo 8 (Proto) – coming soon…
Fast forward to 2013… Jerry's on a 2013 Demo 8 I Carbon as seen in Matt Dennison's video here, and has a 2013 Enduro EVO in the works.
---
Want to share your bike history with us?  How many bikes have you owned?  What was your first mountain bike?  How about your favourite? A lot of people chimed in with their own bike history in the original comments thread here; feel free to add to the discussion there or leave a comment below…