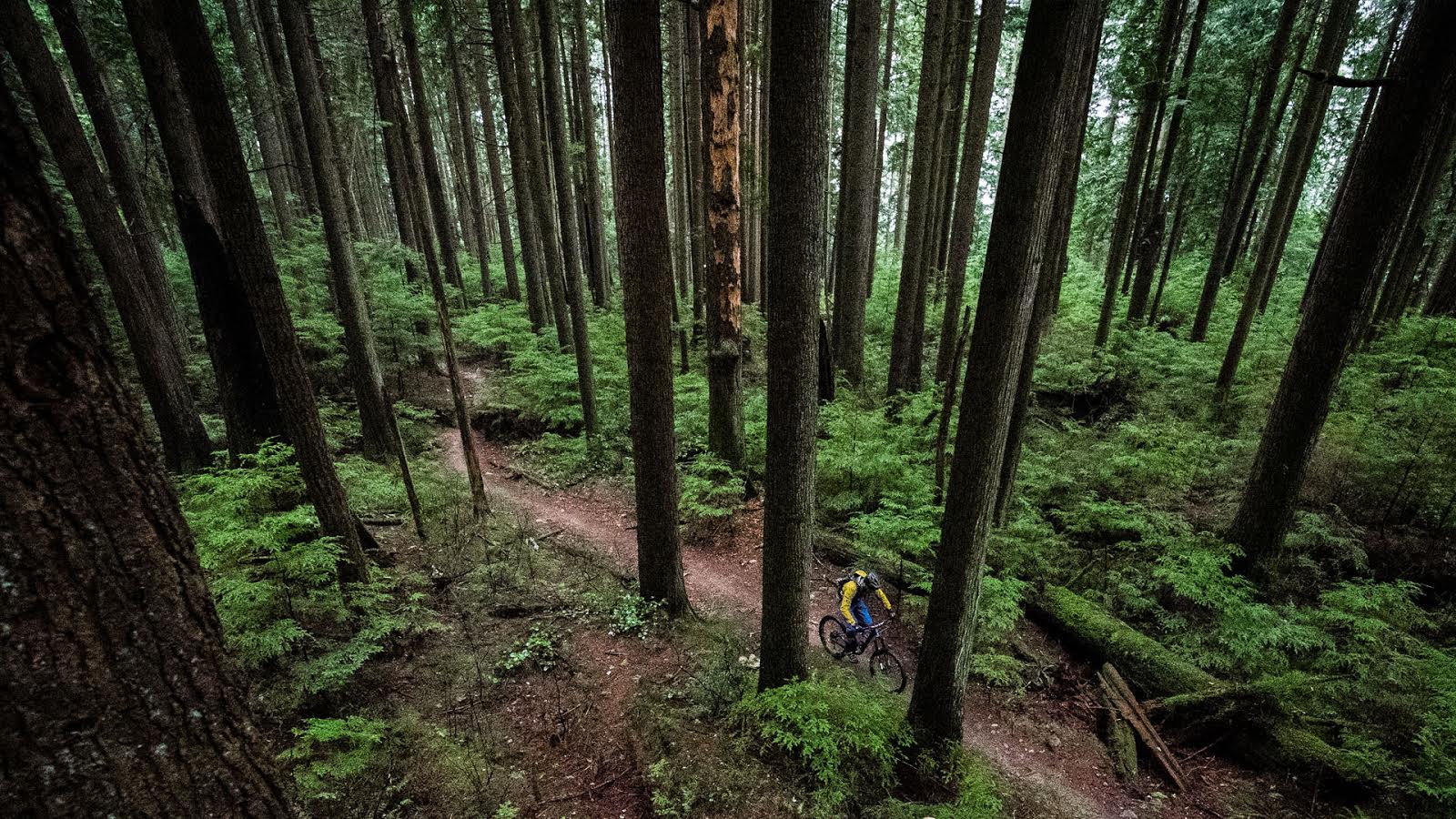 REVIEW – 2009 Norco Vixa
The first word
I have to be honest – when I first laid my eyes on Norco's new women's-specific Vixa freeride bike, I thought it looked a little soft. Mint green (Norco calls it Medical Green), gold pedals and gold chain reminded me of those fresh white sneakers you got as a kid and couldn't wait to jump into a mud puddle with. Once I sat on the Vixa and felt how well it fit my height and size (5'2"), I warmed up to the design and looked beyond the aesthetics.
The 152mm / 6" travel Vixa was designed by Norco team rider Darcy Turenne as a light freeride bike or heavier all-mountain bike specifically for women. That means lighter tubing, smaller frame sizing and a shorter top tube than you'd find on the men's version, along with women's colours, component selection and detailing. 

The 2009 Norco Vixa, relaxing before hitting the trails on the Shore
The Vixa is available in Xtra Small, Small and Medium. I opted for the small frame and found the set up compatible with my stature. I could tell immediately that this bike was going to be extremely manoeuvrable on the North Shore trails that are full of skinnies and tight technical sections that often leave big DH rigs a bit out of sorts. I could also tell that on the steep sections that are often encountered (where you are close to hitting straight vert) that I would need to work this bike… no big bike picking up the slack, oh no… look alive Aimee, look alive.

The ride experience
Critiquing a bike is going to be highly skewed by a few factors that I had to keep in mind; the bike you currently ride, what trails are your fave and your skill level. I am a definitely a generalist type of rider who can adapt to different types of bikes on a variety of terrain. So, let's see what someone like me thinks of a bike that is made for the diverse terrain that can be experienced on a day's outing on the West Coast.
Climbing
The first ride on the Vixa was a classic pedal up and descent down Fromme (one of the three North Shore mountains. The climb is about 7km from the start point to the top trail. – Ed.) The concept of sitting on my seat for the climb up had become a foreign concept for me over the last little while. I have gotten used to riding my other bike up Fromme and Seymour (another Shore mountain that can be shuttled or pedalled to the top) in a standing position, grinding my way up with a 36T ring and a short seatpost. Enter the Vixa and voila, I was sitting on my seat again and spinning, with the option of either a 32T or 22T chainring combo. This was definitely a more comfortable position, and the fact that the Vixa weighs in at 36lbs. wasn't really an issue.
I had been pedalling a fair bit last fall so there was some fitness there, but the option of spinning was a welcome change. Plus, the shorter top tube put me in a comfortable, upright position for the pedal up. It was easy on the back and the fact that I didn't have to grind up the hill made it easy to keep a conversation going, which helped the climb time go by.
Flowy XC-style fun
With all of the snow falling, sticking and staying on Vancouver trails a lot longer than we are accustomed to, I had to hunt around for some trails that were rideable to get some more quality time on the Vixa. I found some cross country trails that would have been a breeze on a light bike, but they were just as awesome on the Vixa. I had a blast, pumping the bike and using momentum where a cross country rider may have chosen to pedal their 26lb. bike.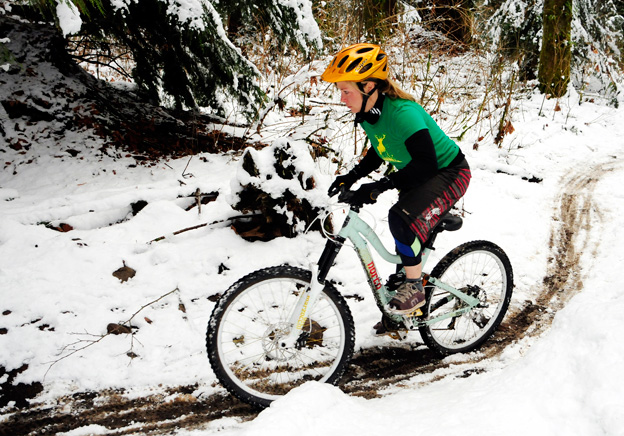 Aimee and the Vixa doing XC duty in the snow. If it was fun in the snow, imagine what it'll be like in the summer.
The Vixa was light enough for me to propel up and down a cross country trail, but I required more momentum, foresight and trail knowledge since it is still 36lbs., and not easy to jumpstart if I stalled on an uphill section of trail. I wasn't trying to keep up to a riding partner equipped with a true cross country ride, so my fun was all my own. The whole package made it possible to enjoy cross country trails in Squamish and the North Shore.
 
Skinnies and tight spots
On the structures and skinnies I found the Vixa's shorter top tube lead to a more stable feeling on the bike. I am fond of skinnies on a bigger bike but on the Vixa it was almost playful, especially when I got the hang of the bike and realized how agile and stable I felt manoeuvring the it in these areas. The bike definitely has a freeride friendly set-up for Shore-style riding.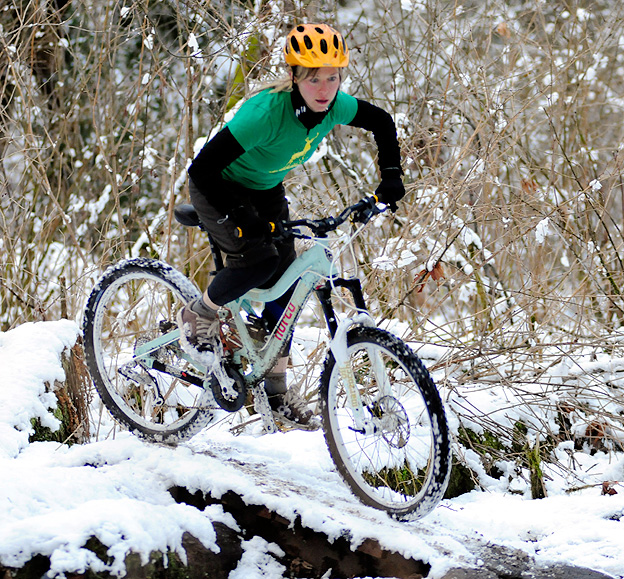 Skinnies, in the snow? Are you crazy? Apparently anything's possible on the Vixa.
I was learning the Vixa's strengths on technical terrain, but I'd already figured out that this bike wouldn't give me a false sense of confidence that bigger bikes often do when tackling chundery point-and-shoot type terrain.

The chunder
When the Vixa and I hit the rougher trails of the Shore, I found that I had to slow down more than I would have on a big bike. That didn't mean the riding experience was compromised though. As you would expect on a bike equipped with 6" of travel and a less slack set up, you're going to have to check your speed in the chunder. The Vixa just requires wiser line selection and smoother terrain choices to keep your flow and poise while riding. If blazing speed is what you are after, an all-around freeride bike probably isn't your cup of tea anyways.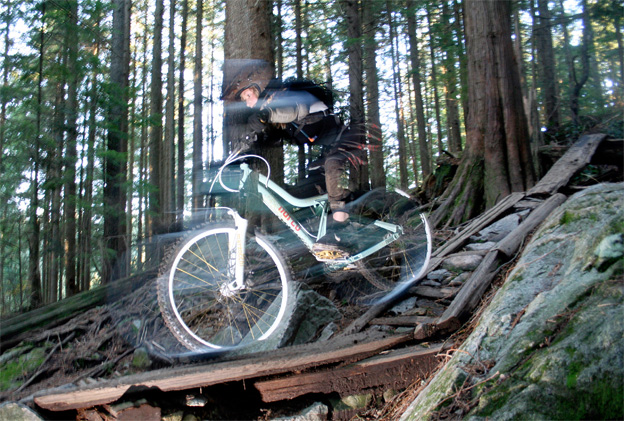 Line selection is important on a bike with 6″ of travel. You can't simply plough through things like you can with an 8″ bike.
Unfortunately, the set-up that works well on a majority of the North Shore / freeride terrain didn't work as well on the very steep and technical trails of Cypress (the third Shore mountain and arguably the most technical). Coming from an 8" bike with a double-crown fork and a very slack head angle, I found the a slightly steeper head angle and single-crown fork on the Vixa compromised my stability on the gnarlier and sustained steep sections.
I was bucked forward more readily and caught a bit off guard moreso than on my usual Cypress bike – in an unsettling way at times – and it made it difficult to feel the same confidence and flow. I was forced to slow down and carefully select my lines on the terrain that I was about to tackle. I did like how the Vixa felt, however, on Cypress' tight corners and stunts that required agile manoeuvres.
On the gnar of Cypress, with its steep lines and rugged natural terrain, the Vixa would take time to adapt to and understand the limits of the bike design. Cypress is not your typical mountain, though, and in my opinion is a bit of a unique situation.
Drops and stuff
Before the snow arrived, I hit up some of the jumps in my neighbourhood trails with the Vixa. Being a light set-up, the bike was easy to lift off yet the suspension was stable and plush for the height I was reaching (up to 6'). I would also be confident taking this bike on a few bigger jumps that I have experienced in other locations. The key is landing smoothly and knowing that I didn't have a big, slack bike to suck up my misfires. In other words, I had to make sure I was on task – something we all aim to be, regardless of the bike.
With an ability to lock out the Marzocchi 55 ATA fork and Fox DHX Air 3.0 rear shock, you could add some tire pressure and this bike would be a fine dirt jumping bike. A package that is light enough to manoeuvre and shorter top tube design gives you the upright positioning and control you look for in a DJ bike. The Vixa isn't the ideal bike if DJ is your thing, but for the occasional session this will do the trick.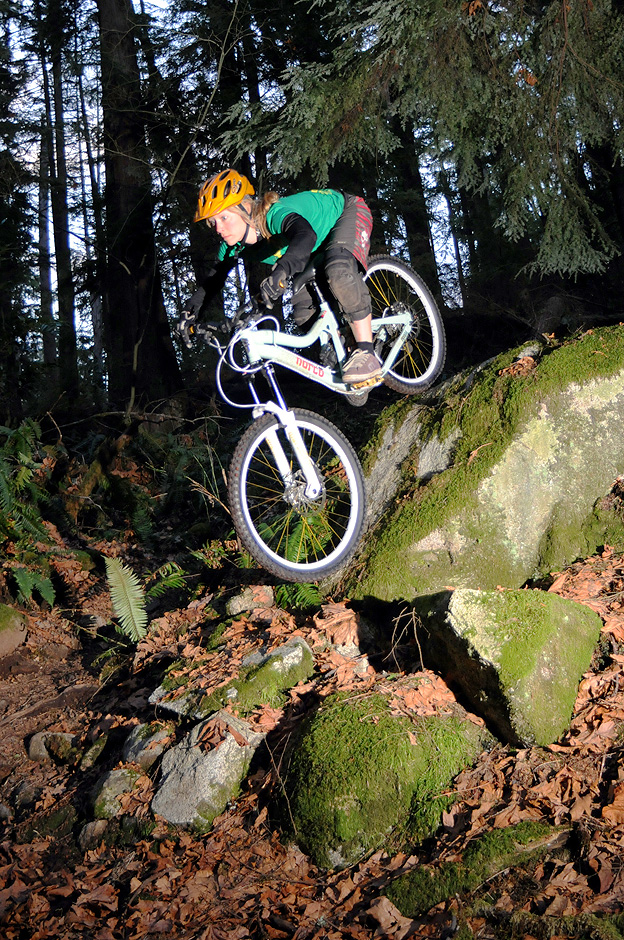 The Vixa is equally at home on rocks and logs, especially once you have some time behind the bars and learn the bike's strengths.
Due to the time of year, bike park testing isn't an option. It's safe to say, though, that the lightweight manoeuvrability of this bike will lend itself nicely to A-Line type trails and tight corners found on trails like Ninja Cougar in Whistler.
Sun Peaks is a favourite bike park of mine with the steep, loose and gnarly trails. I wouldn't pick the Vixa for maximum riding enjoyment in the Peaks if I had a choice, but if this were my only bike, it would be just fine. It would not be the quickest rig down the mountain on the techy trails, but with some time on the Vixa, you would be able to handle the chunder without too many problems. As I mentioned above, the Vixa is probably best enjoyed with careful line selection and some finesse with your bike handling skills.

The nuts and bolts
In my opinion, bike components can be argued until you're blue in the face. What you get with a stock bike is important but it is also a very subjective topic that often comes down to cost versus value versus weight. I am not a tech wiz so my opinions on the stock set up could (and will) be argued I am sure… That's the beauty of having your own… opinion, that is.
The parts provided on the Vixa are mid level, and are geared towards a lighter rider who either wants an out-of-the-box, do-it-all bike that they can pick up and hit the trails without changing anything, or a rider who may ride at a higher level but is smooth and rides with a high level of finesse on gnarlier terrain. 

 A solid out-of-the-box build makes this kind of riding possible, without having to drop money on upgrades before you leave the shop.
The bike is equipped with Avid Juicy 3 disc brakes with 7″ rotors, which are an adequate set up with ample braking power for the all-around riding experience the Vixa is geared for. I had no issues with how they performed and found the modulation adequate and steady. The SRAM X-5 shifters and X-7 rear derailleur were smooth, quick and responsive with a wide range of gears making all-mountain riding enjoyable and sustainable when climbs were encountered.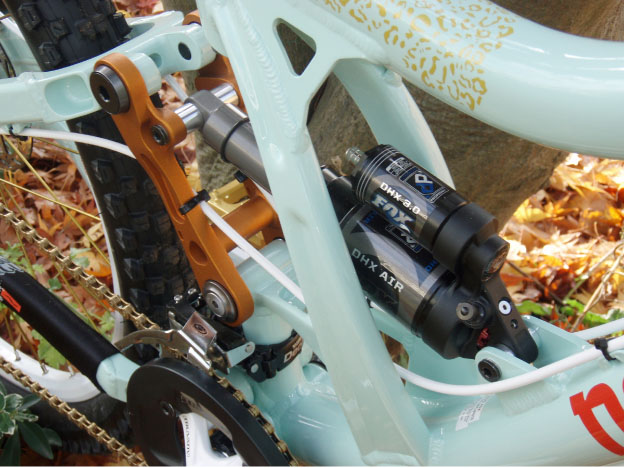 A close-up of the seat mast assembly and rear shock on the Vixa. Even the cable housing is colour-coordinated on this bike to match the fork, rims and cranks.
The Fox DHX Air 3.0 shock in the back was a good weight saver and responded well. The Marzocchi 55 ATA fork with 120-160mm of travel has rebound and air preload adjustments, and once I achieved the appropriate set-up, I found the suspension that worked well with my weight and size. I did have issues when my rebound setting was off, especially due to the steep angle of the bike, but the ride greatly improved once this was rectified. 

Lock and unlock are good options to have on your fork. That TST stuff is cool. So are gold spokes.
The compression adjustment on the fork comes equipped with a thumb tab, providing a simple lockout switch for climbing and descending (a great feature for climbers). I found that there were times when the tab was knocked into the wrong position in error on the trail, and I think it could use a more rigid design.
To be honest, if you are a rider who needs the best of the best, you may be unsatisfied with the component selection on the Vixa. For the price and weight-saving aspects, however, the components show that Norco has done a great job of tailoring this bike to a female rider. It's a simple and effective selection of parts for the right price.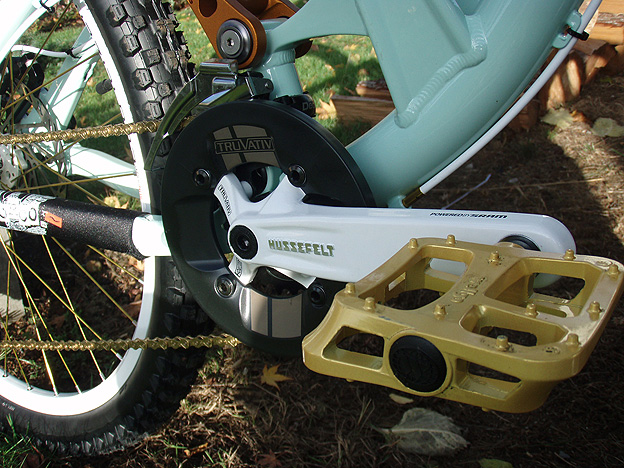 More quality parts from well-known brands. And they're gold, too.
If price is not an object, you may want to keep the frame but upgrade the build kit. If you are riding five times a week, hitting big gaps, tackling constant gnar and going large this set up will get beat up, especially without some major finesse. But for the $3,070 price tag on the Vixa and the fact that you can take this bike straight out of the box and ride, this is a great bike for the right rider.
 
The Vixa is the first of its kind for Norco, so it will be interesting to see how Norco evolves from here with the Vixa and its specific female design. Who knows what may come next? Perhaps the market will be strong enough to warrant a specific cross country, downhill or dirt jump design just for the ladies.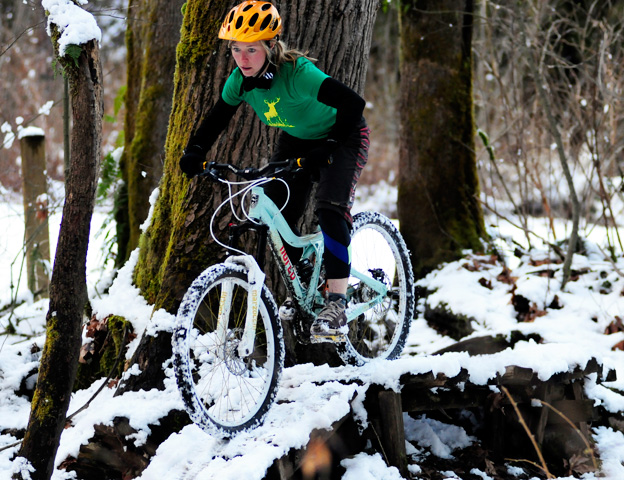 The author, looking serious about choosing her line on a snowy day on the Shore.
In summary, the Vixa would be a great ride for someone who is looking for one bike to suit the many types of riding they enjoy, rather than owning a few bikes to satisfy different days and types of terrain. This bike would be a good choice for the all-around rider who is happy to have that one bike that allows you to enjoy singletrack, climbs, dirt jump parks and techy descents while taking up minimal room on your bike rack. Plus, the fresh look of mint green on a dreary day kind of grew on me.
Is this a bike women should buy over a unisex bike? In my opinion and based on how the bike has been presented, I think so. The Vixa does a good job of addressing a number of the key issues for the general female rider: parts selection, price, weight and standover room.
I'm looking forward to some spring and summer riding months to play on the Vixa. Now hurry up snow… melt already!
Pros
The fit was great for my stature as a female – a good option for ladies who do find men's bikes too slack
A do-it-all bike that provides a wide range of riding options and can withstand a variety of terrain
Components versus weight versus price is reasonable
I can lift it onto my roof bike rack no problem!
Cons
Not a bike for a rider that is terrain and style specific (i.e. downhill racer, cross country fanatic, etc.)
Head angle is not ideal for super-steep terrain

The 2009 Vixa is available from your local Norco retailer for an MSRP of $3,070.
Want to share your thoughts on the new Vixa? Think it's the perfect bike for you? Wish they made a frame that colour for guys? Take it to the boards.