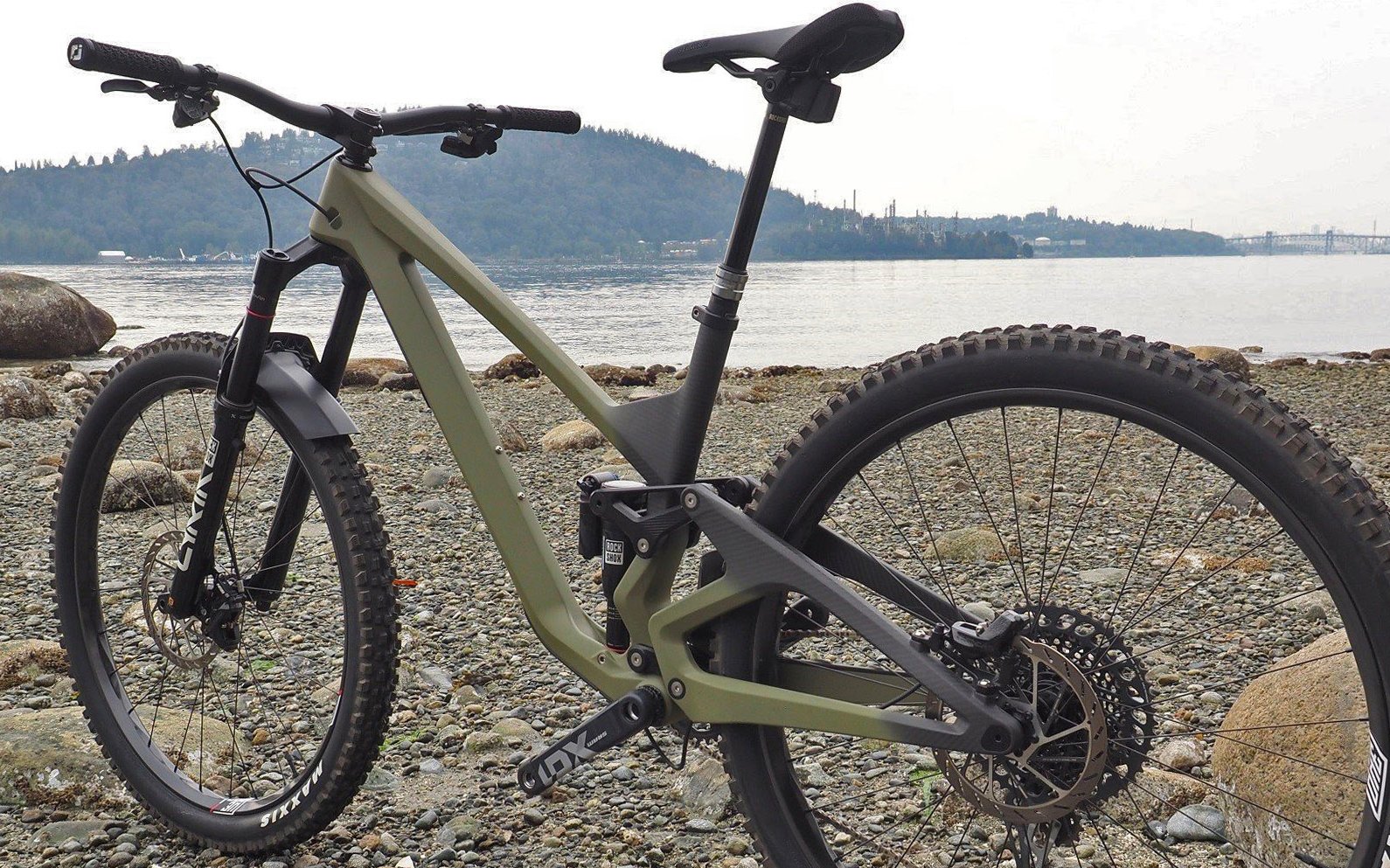 FIRST IMPRESSIONS
2023 We Are One Arrival 152
Seductive Stories
The other day I was visiting my friend Mark, a prolific volunteer trail builder, at his automotive repair shop in Burnaby. Parked in front was the sweetest classic Alfa Romeo I could imagine. I'm not a car person in the least, and generally my reaction to anything with four wheels is "meh" but this little red fighter plane blazed itself onto my consciousness. "Mark, this Alfa Romeo is gorgeous. Is it yours?" He laughed and replied in the negative, it belongs to a customer. He has longed to own one like it for years though.
The car has been tearing up corners in the back of my brain since. It is plated as a daily driver and the owner uses it a lot, but it flaunts a collector-level trim and finish. It's truly functional art, not just a sometimes showpiece. It's a very rare case, for me, where it doesn't matter if the vehicle isn't practical for my lifestyle or even close to being in my budget. As someone who loves learning the tales behind objects, old or new, that A.L.F.A. leaves me yearning to know more. It's more than just a bold little lion of a car, it's an artifact of supreme interest. I should have taken a photo.
I'm a sucker for a seductive product story and that's where this We Are One Arrival 152 slots into the narrative. Like the Alfa Romeo, its silhouette beautifully balances being unmistakable and subtle at the same time. Its shape is eye catching, pleasant, and purposeful and the first words it whispers are "I am what I am."

Similarly, you can love or dislike the look of this bike and I'm certain neither the machine nor its creators care. This is the form that was already buried in the carbon before they made the mould, or however it is that sculptors explain the form that they free from the stone. For example, I could jump right in here and say that the Arrival bikes are deserving of bright, bold, and beautiful paint tones much more in our faces than "Avocado and Toast" and my opinion wouldn't matter five cents to anyone.
Okay, okay, so the colours are part of the bikes' stories, since "these earthy tones match those of our hometown Kamloops, B.C.'s landscape, where they are entirely manufactured and assembled" but you know another colourway that would fit the 'loops landscape? Baneberry Blood Red. I dig the Cerakote to carbon-weave fade finish; I just think a bold bicycle needs a bold finish and this arrival is painted like a transport truck instead of a rocket ship. A Corvette Yellow to carbon-weave fade on the other hand, that's a finish worthy of this mountain bicycle.
This is always an issue with the highest-end machines. The more boujee the bottom line, the more seductive the story, the more I think the pedigree should be reflected in the level of customization in colour and spec.
The good news is twofold. First, We Are One now sells the Arrival as a frame only, and hopefully as with the completes, the spec. will be updated to ditch the Float X2 shock in favour of the RockShox Super Deluxe Ultimate.
Also, the build kit of this SP1 level Arrival 152 makes a strong argument for its eye-watering, 11.5K CAD price tag. For that money you pick up a Made In Canada carbon fiber frame and rims and handlebar. The We Are One Convergence rims are laced to premium Industry Nine Hydra hubs that are made in Asheville, North Carolina. Shifting is handled by an X01 Eagle AXS drivetrain with an X01 cassette and chain. Yes, really, they didn't downgrade the chain and cassette. Perhaps most impressive of the whole spec though is the Cane Creek 110 headset. It's actually shocking that the folks at We Are One didn't spec a Cane Creek 40-level headset and pocket the difference.
When you consider that We Are One sells a frame and shock for 5,500 CAD, the Hydra-equipped wheelset for 2,000 CAD, and Da Package bar and stem combo for 400 CAD, and that folks buy all those things regularly from what I see riding on the North Shore, the complete bikes are a strong value for someone in the market for a super bike. RockShox Ultimate suspension, an X01 Eagle AXS drivetrain, Maxxis rubber, AXS dropper post, Code RSC brakes, the high-quality headset even decent saddle and grips for an extra 3,600 CAD seems like a really good deal.
Yeah, I'm laughing too. There's a less expensive GX Eagle AXS build version, still with the in-house carbon frame, hoops, and cockpit, that's selling for 9,300 CAD. It's still a sold build with Industry Nine 1/1 hubs, RockShox Select+ suspension, and Code R brakes but even for 2.2K CAD less of an investment we're talking about a premium amount of money for a premium level machine. Just driving around with the Arrival on the back of my car feels entirely off-brand to me. Especially because I see that trunnion-mounted shock in my rear view, taunting me every time I look back to satisfy my paranoia that the bike is still there. I'm almost scared to ride it never mind take it anywhere.
As personally not-me as the Arrival is, with it's carbon this-and-that and battery shifted drivetrain and dropper post, why did I agree to take a stab at reviewing this bike? Look at it! Consider We Are One's creation story. How could I say no?
Super Boost Done Right
I've already written about the future of hub spacing but this is the first time I've specifically reviewed a We Are One product so I want to touch on it again. Yes, we're being slowly boiled into Super Boost, but go shift the SRAM drivetrain on the Arrival and then shift the same setup on any other bike on the market and prepare to be amazed. Using the combination of a Boost-spacing chainline and a Super Boost-spacing for the rear hub We Are One provides a much straighter chainline in the highest torque, highest wear, gears on your drivetrain. If you climb a lot your chains will last longer and your drivetrain will run quieter and this is awesome.
I, and many folks like me, accomplish the same thing by running a standard chainring offset with a Boost-spacing rear hub but that surrenders too much real estate around the bottom bracket area for most companies, especially those making carbon bikes, to surrender. Even if the Arrival isn't your glass of beer, make a mental note of We Are One's take on Super Boost. You will be seeing more and more of this setup, either with a 52mm or 55mm chainline, in the future.
Minor Frame Changes
Other than the colour We Are One has effected only two changes to the Arrival 152 frame to go with their updated build kit. The lower linkage now has a more 'small batch machined' look to it and the upper link shaves 50 grams of weight thanks to the switch to a three-piece bonded setup with a carbon center tube.
Predicting some comments below, yes I know this will disappoint a number of riders who were really hoping for taller headtubes, especially on the larger sizes. I agree that the respective head tubes - 95, 100, and 105mm for medium, large, and extra large - are itsy-bitsy-teenie-weenie but please see my comments regarding paint colour. The team from Kamloops are doing their thing and it either works for you or it doesn't.
In my case I enjoy the aesthetics and reactions from running a righteously tall riser bar. That's another way of saying that the 27.5mm rise Da Package handlebar and 105mm headtube combination are never going to align to give me a tall enough front end on a 160mm forked bike. The stem and bar look beautiful but where Dustin Adams, the proprietor of We Are One, is a super-fast former DH thoroughbred, I'm an aging joey who likes to ride expensive toys in the forest. I will note that this is in no way a unique criticism; the majority of frame manufacturers have not increased their Stack heights sufficiently for how much long Reach numbers have become and at the same time I think we will see this changing soon. In the meantime there are many solid options for higher rise bars like Chromag's FU50 or ProTaper's 76mm Riser.
Miracle Meat
Cold or hot, everyone loves the new SRAM. Having had the opportunity to look inside the MY23 RockShox Ultimate forks and MY23 RockShox Ultimate shocks, I'm excited to have my first chance to ride them on familiar trails. At the time I'm writing this I've had all of one parking lot test on the Arrival but compared to my previous Arrival parking lot tests I have to say that, at least for this bike, the Super Deluxe rear shock eats the Float X2 for lunch. The bike feels significantly more plush and active. I've talked to a few folks who bought the Arrival last year and are waiting for 170mm links to up the plushness in the rear, but having admittedly never ridden the 170mm, I still wonder how much of the 'overly efficient' feeling they've noted could be resolved just by swapping a rear shock?
The good news, for those wondering the same, is that this isn't NSMB's first rodeo with the Arrival and Cam has had time on the 170. His impressions on the Arrival 170 will be online late this evening.
AXS Economics Redux
I'm going to circle back to my past writing on the economics of AXS. Not GX AXS this time though, XO1. So the rear derailleur is even more expensive. AXS is not for me. I remove the batteries in transit less one go missing but even then, due to my schedule, I had the Arrival double-locked to the back of my car for ten minutes while I picked up my daughter at her elementary school today and spent the whole time wondering if some asshole with a T-25 hex key had stolen my shifter, dropper remote, and the AXS Reverb. Then I started thinking with a quick-link tool and a hex key they could be off with the X01 rear derailleur in less than 30-seconds.
I recognize that it would only take 31-seconds to steal the cable version of the rear derailleur along with the shifter too, but to me cables just add that little extra degree of deterrence. The fact is though that someone who can afford to pick up either the SP1 or SP2 level Arrival build can probably afford the very unlikely occurrence of a shifter or dropper post going missing. In the same vein, if you destroy your rear derailleur there's no NX option that you can just plug-in, so make sure you can pay-to-play before plugging your card in for the top-end wireless drivetrain.
If you can afford AXS and don't mind the motors, the shifting is something else and the derailleurs seem to take a beating. Folks love the effortless action of the dropper post as well, though I can think of a few options that I think are better aside from that. It is really nifty, as I mentioned earlier, that We Are One went with the full X)01 drivetrain including the chain and cassette. However I personally feel about individual choices of parts spec, one thing I do love about the Arrival is that I can clearly see either build representing the collective parts choices of the top brass at the company. It's crazy to me how many 'rider first' companies put out bikes with spec that their employees clearly would not choose for themselves.
Dreaming Of Old Standards
I'm going to be very brief here. I look at the custom brake mount on the back of the Arrival and I don't understand why they didn't just go with an IS brake tab and a nice machined adapter. It looks clean, there's nothing proprietary about it, and it means fewer threads in your carbon frame. There's possibly something I don't understand about carbon manufacturing going on, as I noticed that Guerrilla Gravity has dropped their very clean IS brake tab setup for their one model with a carbon fiber back end, but I've certainly seen it implemented in the past on plenty of carbon rigs.
"Did you consider just using the existing IS tab standard" is a question I'll be posing to We Are One as part of my review along with some in-depth questions about long term product support and a move to repair rather than replace carbon product after a failure. The other old standard I wish they'd used was a rear shock with eyelets instead of Trunnion mount. That said, if anyone can pull off the necessary QC/QA to make a decent Trunnion setup I'd believe it's Dustin's team building frames in house. I'll be keeping a close, close, eye on the Trunnion bearings over the course of my test.
We Are Two
Short of the minor changes to the linkages and the new spec this Arrival isn't different from the past iterations we've tested at NSMB. If anything I imagine most folks will be more interested in Cam's experience comparing the 152mm and 170mm travel options as that will be a tough decision for plenty of prospective purchasers. On the other hand, this rig sits squarely outside the more budget-friendly, entry level, and min-maxed themes that are my regular stomping grounds and is probably a more elite level ride than what a guy who's quite happy plunking around on his basic Marin Rift Zone, or fully rigid rig, is going to push to its limit.
The good tidings for folks that are keenly interested in one of these rigs are that Cam and I will both be writing about the Arrival over the next little while and he has some experience on the 152mm version and is on the 170mm regularly now. The nature of the timing of these things is that I've barely had a chance to play with sag, never mind cheat the pistons forward on the Code brakes, charge the batteries, or get the tires dirty. I've certainly spent too much time today, when I was supposed to be writing this, looking at it though. The Arrival frame, like We Are One the company, is truly unique to B.C. and the bike industry as a whole.
I'll present a second look once I have a my setup dialed in.
Editor's Note on Pricing
When the original We Are One Arrival was released as a complete bike there were just two models; the SP1 and SP2. They were priced at 12,969.69 CAD and 9999.69 CAD respectively in late 2021. The price for each now is 11,499 CAD (9,199 USD) and 9,299 CAD (7,399 USD). You could argue that some money has been saved, with Chris King headsets being replaced with Cane Creek and Magura brakes swapped for SRAM Codes, but the tires have improved as have the rims and the prices have gone down by 1477 CAD and 700 CAD. Considering most other manufacturers, who produce their bikes overseas paying lower salaries, have increased prices for identical bikes in that time, this is a remarkable accomplishment. Compared to many big brands, We Are One's prices are a bargain for similar spec levels, despite much lower production numbers and built in North America frames, rims, handlebars, stems, and hubs. This is a remarkable achievement and a commitment to value that's rarely seen in current markets. - Cam McRae
Complete spec and more info here