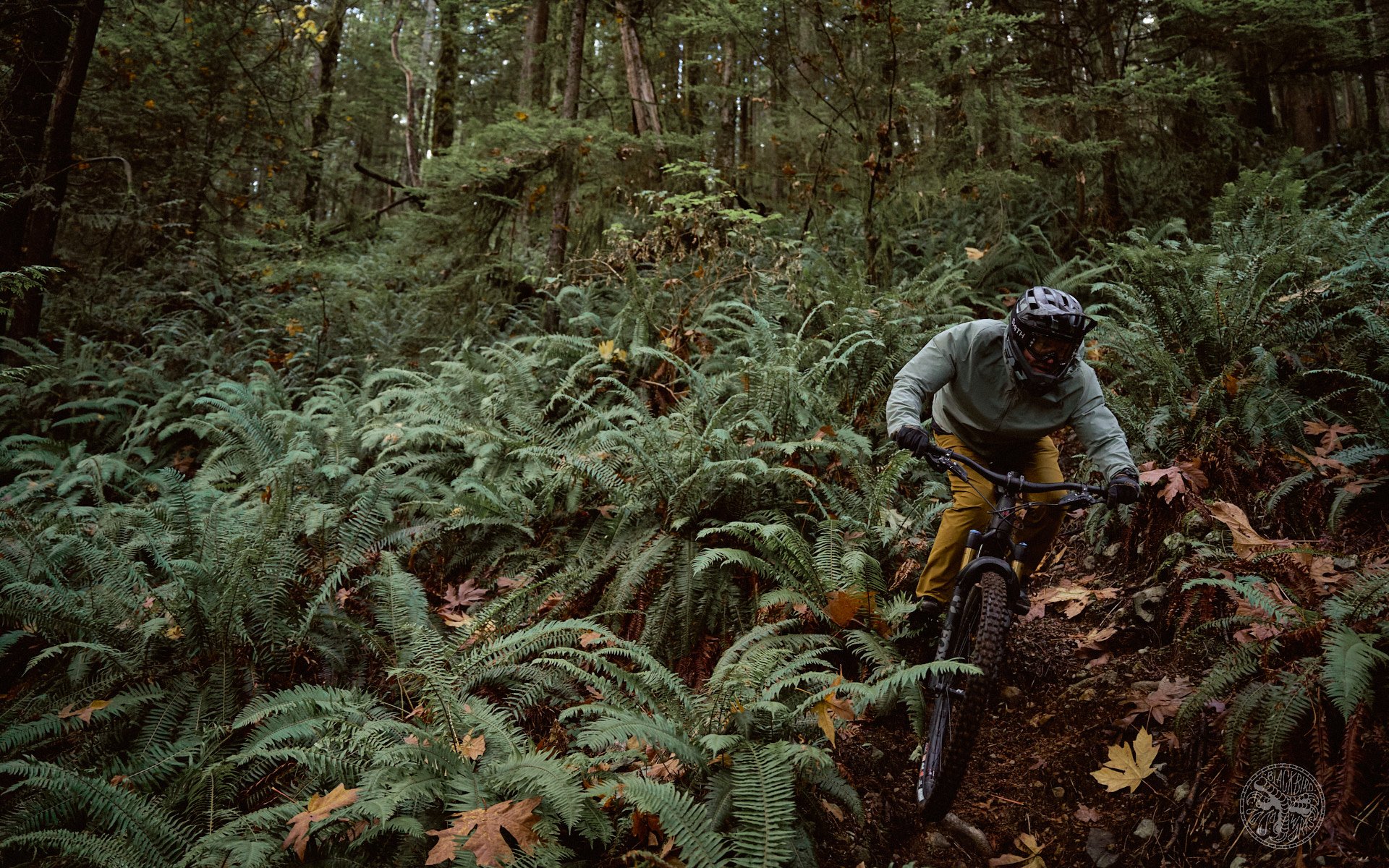 REVIEW
2023 Santa Cruz Nomad Review
The more things change the more they stay the same ... except with the Santa Cruz Nomad. After 17 years the Nomad is on its sixth edition. The latest version, released in August of last year, went through a complete redesign. As I mentioned in my first impressions article, the only thing that didn't change was the size of the back wheel: 27.5" - which adds another mullet bike to the Santa Cruz lineup. In addition to the mullet set up, other changes included lowered anti-squat for increased traction and decreased pedal kickback, in-frame storage, and size-specific chainstays, seat angle, and frame stiffness. Having spent a great deal of time on the Nomad 5 I was excited to ride gen 6 and experience all of the changes. I was not disappointed.
I got the Nomad one afternoon during Crankworx. The Santa Cruz guys set up the bike based on their suspension setup chart recommendations, set the tire psi and seat height and voila, the test began. I made a few adjustments of my own: cutting down the Santa Cruz 35 carbon bars from 800 mm to 760 mm, swapped out the WTB Silverado Ti saddle for my favourite, the Specialized Bridge, inserted Tannus inserts and changed some suspension clicks and tweaked air pressures in the fork and shock (outlined below). I transferred the contents from my Enduro's SWAT box into the the tidy glove box purses in the Nomad and I was set. I had the bike for a few months and racked up 43 rides before sending it back.
Let's start with the means (the climb) that lead to the ends we all ride these things for - the descents.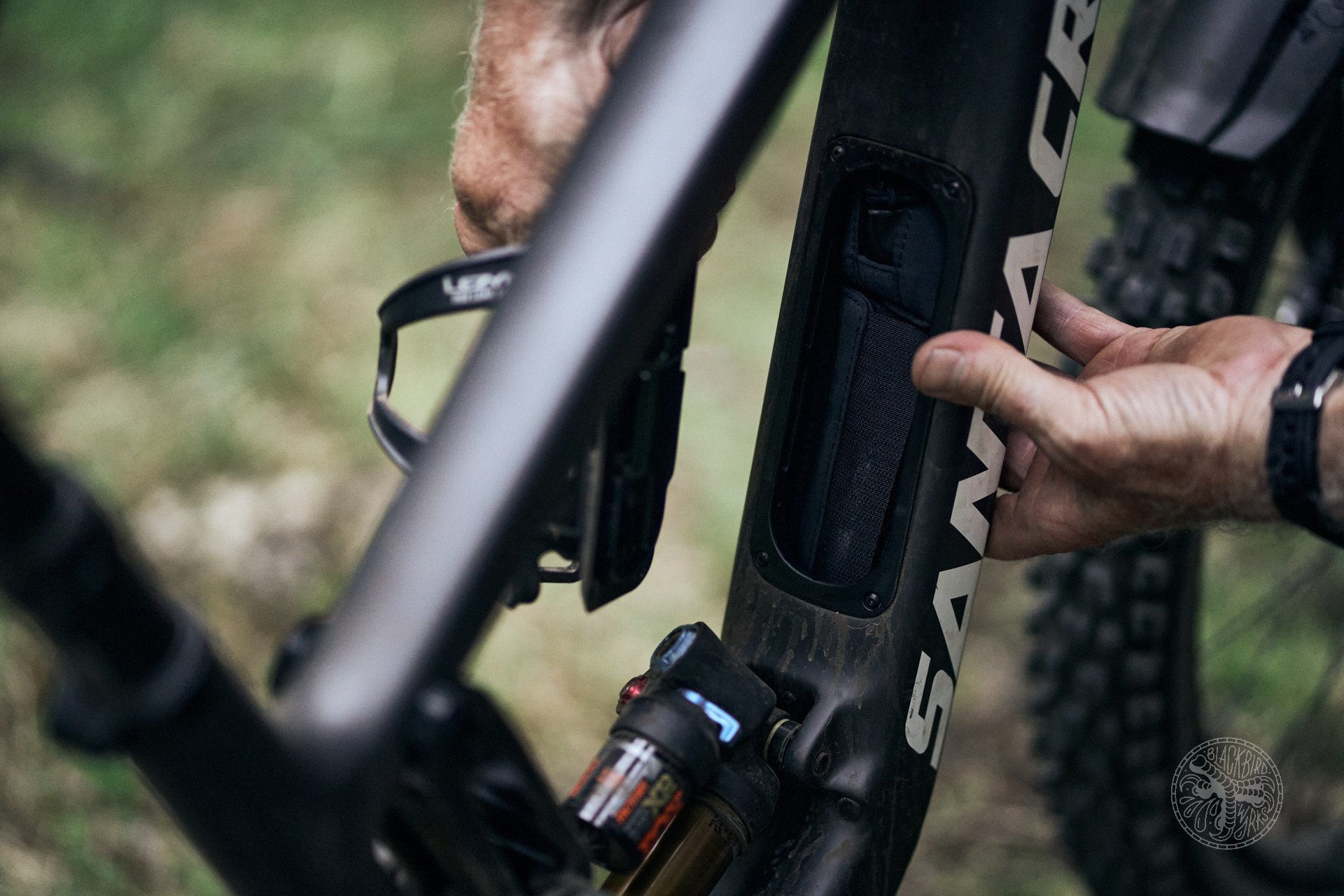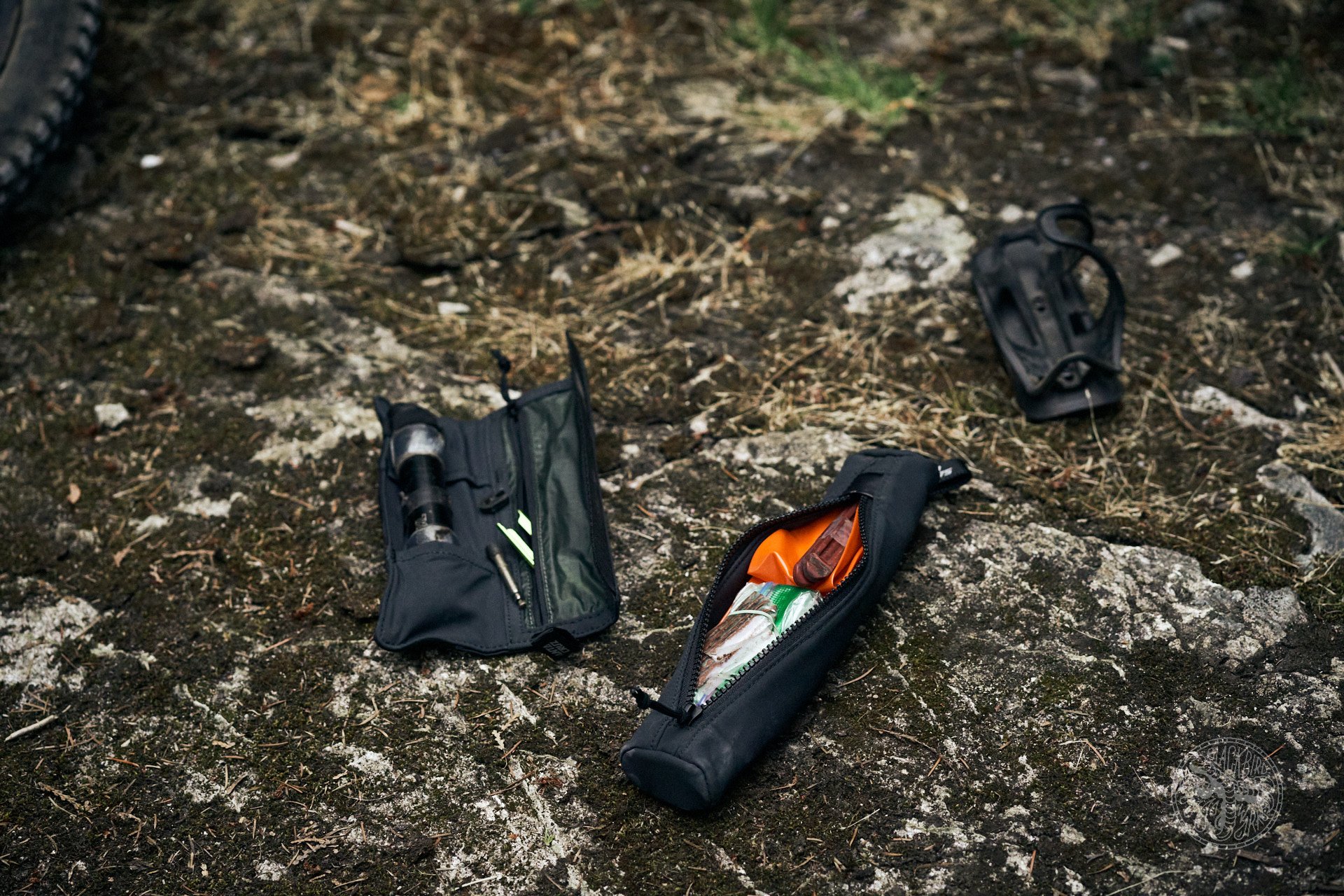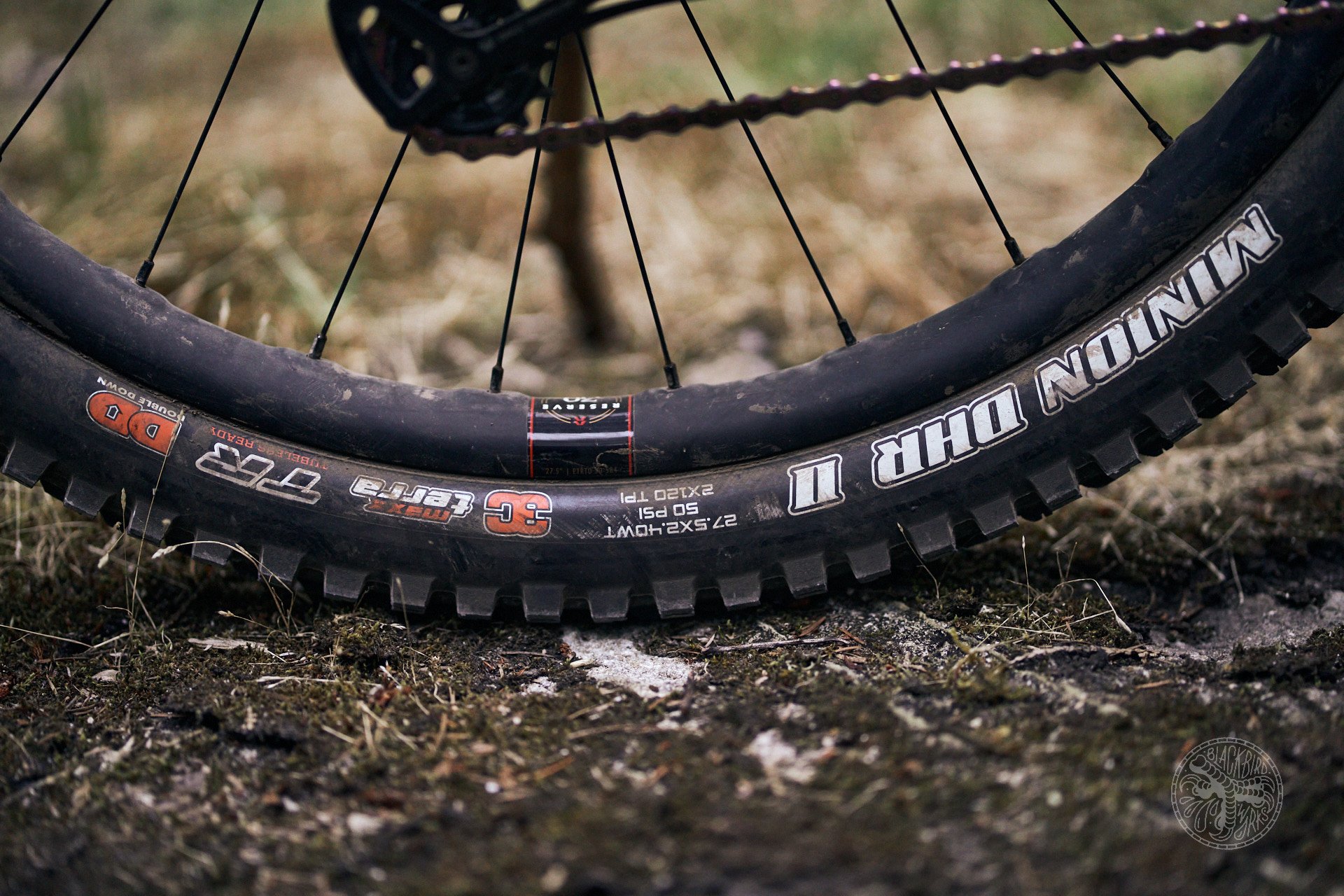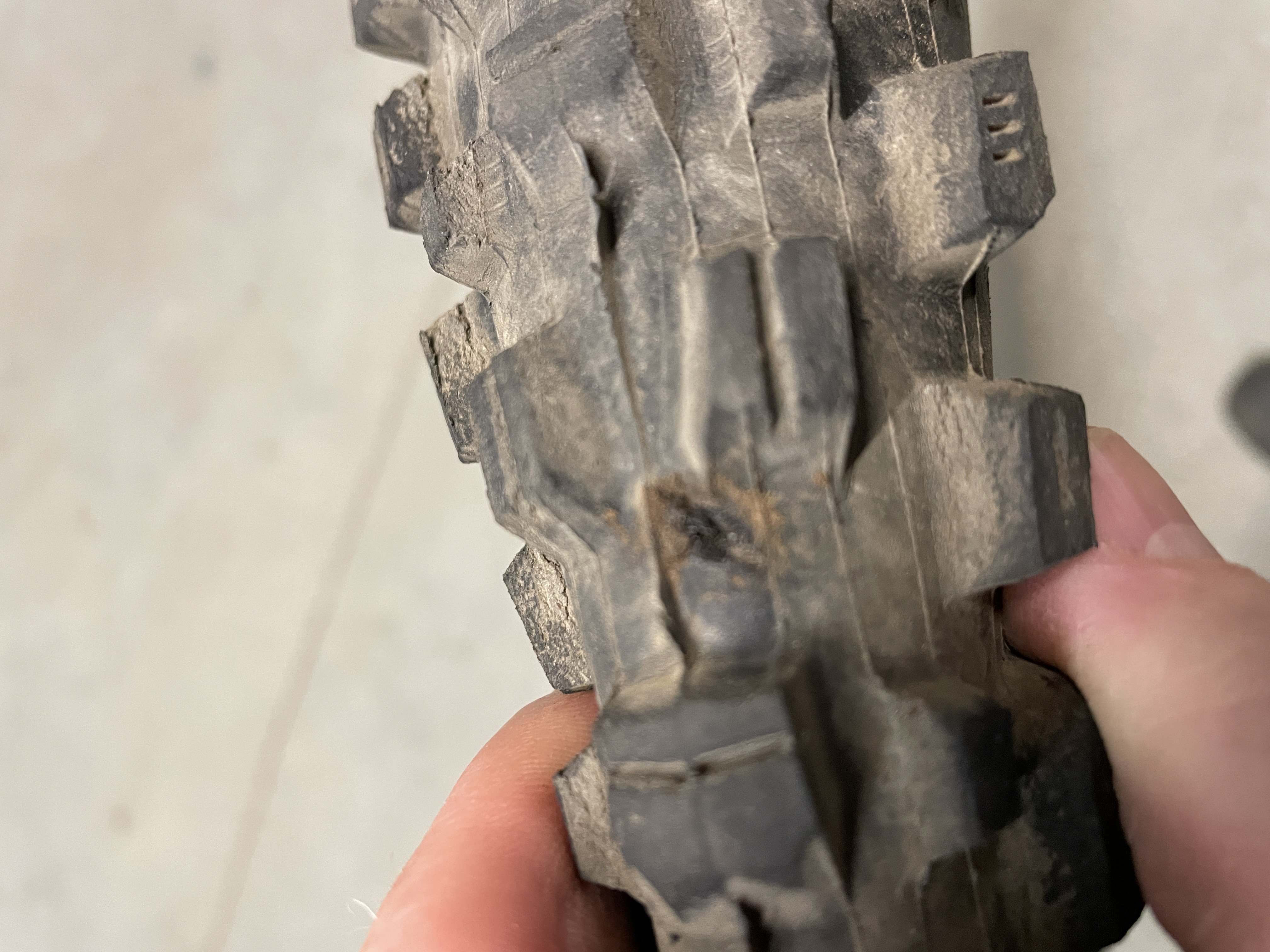 Climbing
Before adding pedals and inserts I weighed the bike at 33.3 pounds. At that weight and with 170 mm of trail smashing suspension I had no dreams of it being a spry climber. Spoiler: it is not a spry climber.
The Nomad's updated anti-squat helps keep it from bobbing on the climbs. Like most bikes in this category, my medium tester's 1239 mm wheel base, slack (63.8º) head angle, and steep (77.4º) seat angle create generous traction on steep, technical climbs. I found that if I left the Fox X2's compression open, my traction increased but so too did the increase in BB strikes and the feeling that I was going slower than my normal slow pace. Because of that, I kept it closed on most tech climbs and all fire roads, gravel and paved climbs. Even with the X2 closed the Nomad's uphill traction was excellent.
It may have been my mind playing tricks on my cardio but I felt like I was climbing more slowly than on other bikes I have pedaled lately (Enduro, Hightower, Yeti SB 150). I noticed the same thing when I mulleted my Enduro - the smaller back wheel was slightly slower. I have not done back to back timed runs but the smaller wheel feels like it contributes to a slightly slower climb than a 29r rear wheel. The smaller rear wheel is more easily influenced by trail imperfections like dips, holes and log rollovers. Whether it was a significant difference in climbing speed isn't as important as the fact that it could be used as a semi-passable excuse on group rides. Not that I verbalized it (wait, I just kinda did) because we know what happens if you speak your excuse truth to a crew of mountain bikers...
Regardless of the 27.5" wheel, the Nomad 6 is a decent climber for an enduro bike. I never felt weighed down, dragging nor wanting to blame the bike for my climbing speed and effort. The bike easily climbed steep switchbacks, holding a firm line. Now, like all climbs, that's out of the way and we can move onto the fun.
Downing
In my first impressions article I liked the bike after 14 rides but I wanted to play with the suspension settings to soften the bumps and reduce the small but noticeable trail feedback I felt through hands and forearms. I expected the stiff frame, with its beefy counter-rotating links designed to reduce lateral flex, would give some trail feedback. Having ridden Reserve 30 carbon wheels I also expected some extra feedback from these strong stiff wheels. I was never thrown off my line but I wanted to see how plush I could make this bike ride. I made a small change to the suspension settings that Santa Cruz recommended for my size and model. Opening up the high speed compression, speeding up the rebound and reducing the fork's air pressure all contributed to a much smoother ride at high speeds (the numbers are outlined below).
The Nomad 6 excels on the chunky, rooty trails. Regardless of the grade, the bike eats everything up. I felt like I was able to hit these lines with confidence knowing the Nomad would stay on track and grind through the messes. After the suspension tweaks the bike still gave a small amount of trail feedback but it was the right level of responsiveness that I could still carve and hold a line, pop off mini hits and try to keep my fast riding buddies in sight.
The 29" front wheel gives this Nomad the ability to push through trail depressions and over bigger roots and rocks. The 27.5" rear wheel gives me that mullet feeling: pushing into and out of corners with more control and speed than I get on 29ers and keeping the rubber from buzzing my buzz - that smaller wheel may have felt a bit slow while pedaling, but not when descending. The Nomad's stiff chassis helps the bike excel in cornering, holding an edge and exiting with confidence. The medium model fit me perfectly and that definitely has a lot to do with the confidence I felt rolling into corners knowing that my position on the bike was balanced.
One issue I had with the VPP suspension was the exits on steep rocks and rolls. A couple of my usual big moves had me a bit worried because I got bucked off so much that my feet left my pedals and my adrenaline spiked through my roof. I increased my high-speed rebound from 5 to 7 clicks and the bucking went away.
My settings
All damper clicks are measured from fully closed. My settings are listed first, Santa Cruz (SC) recommended setups are included in parentheses.
Fork: Fox 38 Factory
Air spring: 95 PSI, standard 2 tokens installed. (SC = 97 PSI)
HSC: 3 (SC: 5)
LSC: 8 (SC: 10)
HSR: 4 (SC:4)
LSR: 5 (SC: 5)
Shock: Fox Float X2 Factory
Air spring: 205 PSI, (SC: 210)
HSC: 6 (SC: 8)
LSC: 11 (SC: 13)
HSR: 7 (SC: 5)
LSR: 10 (SC: 9)
43 rides later
Before going into the results of all the test riding this bike received, I can say it is in great shape. The frame survived without paint chips, blemishes, cracks or any other issues. All of the parts were left working very well.
The rear tire spec on this model is a Maxxis EXO+ DHRII but my tester came with a DD DHRII. The DD is a good spec for this bike but a funky warp occurred on my tire. Maxxis sent me a new one and our local Santa Cruz LBS, Steed Cycles, installed it; there were no problems for 30 rides after the replacement was installed. I asked Steed if it was my error related to the Tannis insert I had installed - I was told it is a Maxxis problem specific to DoubleDown casing DHRIIs: a problem a couple of my riding buds have also encountered.
The SRAM AXS shifter and derailleur were a treat. My first experience with an electronic AXS shifter and derailleur was positive (see what I did there). I never thought I would like electronic shifting as much as I did. Being able to shift under load, hit multiple shifts in one hold and have the gearing trim of the XO1 AXS's clean, crisp and concise shifting stay the same throughout the test's 43 rides in tough conditions was a wonder. Would I pay 7 or 800 for an upgrade? I doubt it as I think my cheap-o-meter would not allow me, but I can see the appeal for those with the budget.
The best surprise of all the componentry was the Fox Float X2. The shock rode excellently the whole time: no blowouts, no leaking, just great performance. Recent X2s have been prone to durability issues, but mine was problem-free.
The Fox 38 Factory fork ran smoothly and trouble free. Compared to the Fox 38 Factory 180 on my Range VLT and the RockShox Zeb Ultimate 180 on my Enduro, I did not notice the slightly shorter travel. The 170mm version had the stiff, solid feel I am used to with my 38. The new Zeb Ultimate with buttercups is definitely a smoother ride than the 38 but I have always found that to be the case with RockShox compared to Fox.
The Reserve 30 rims stayed true, dent and crack-free.
The Reverb seat post continued to work flawlessly throughout the test period. Since giving back the Nomad I miss the smooth and steady ups and downs of the Reverb compared to my Enduro's OneUp post that I keep meaning to service. I did not need to bleed the Reverb. But let's face it, it's only a matter of time until all of our suspension and parts, both bike and body, are going to need work...it's just how long we can procrastinate from doing the work that matters.
Also in 'the no issues' category were the SRAM Code RSC brakes (I didn't notice any jacking or other issues) and noise (the only thing I could hear were the voices in my head). The SRAM HS2 rotors stayed straight and true.
The only issues I had were with the tire I mentioned above.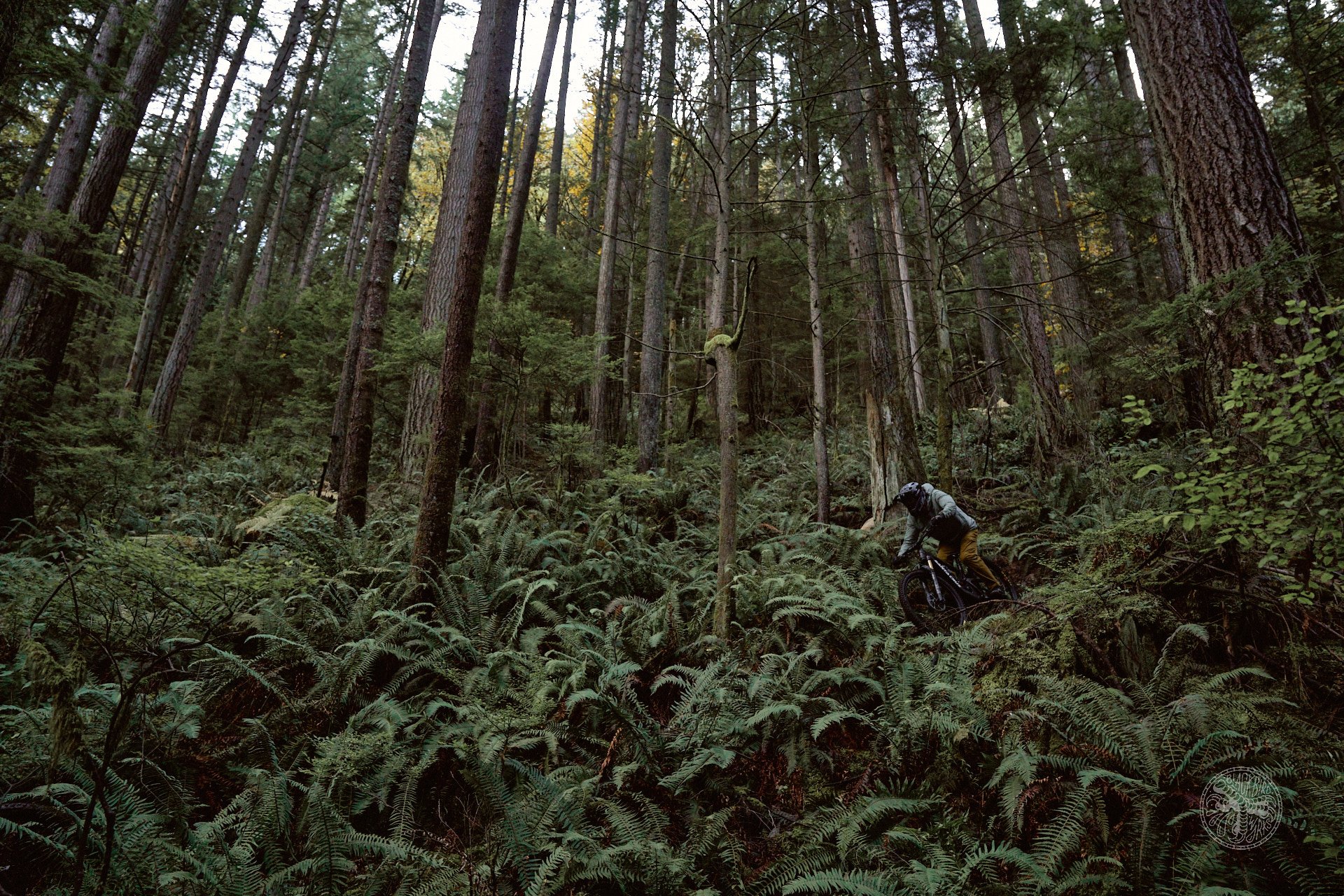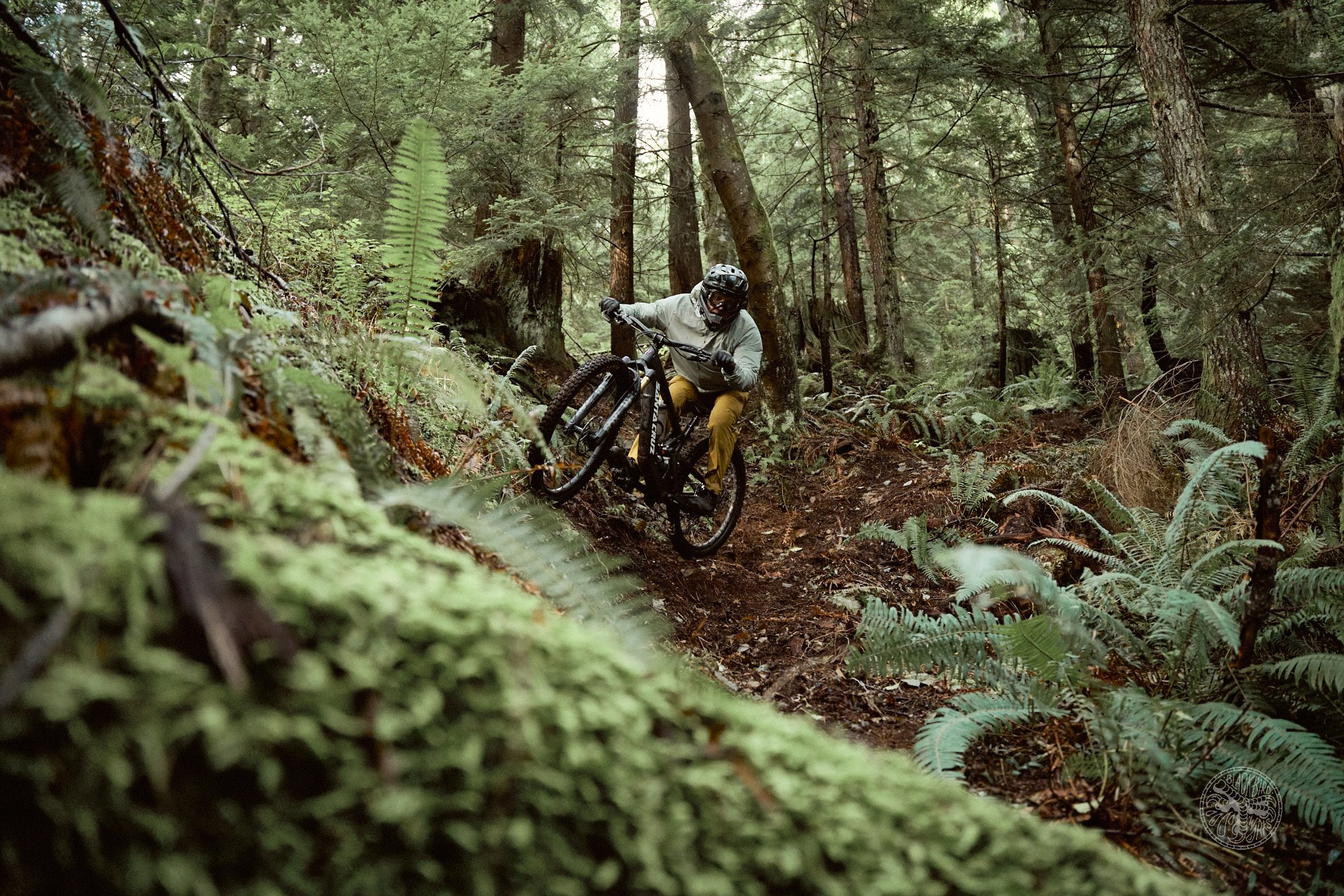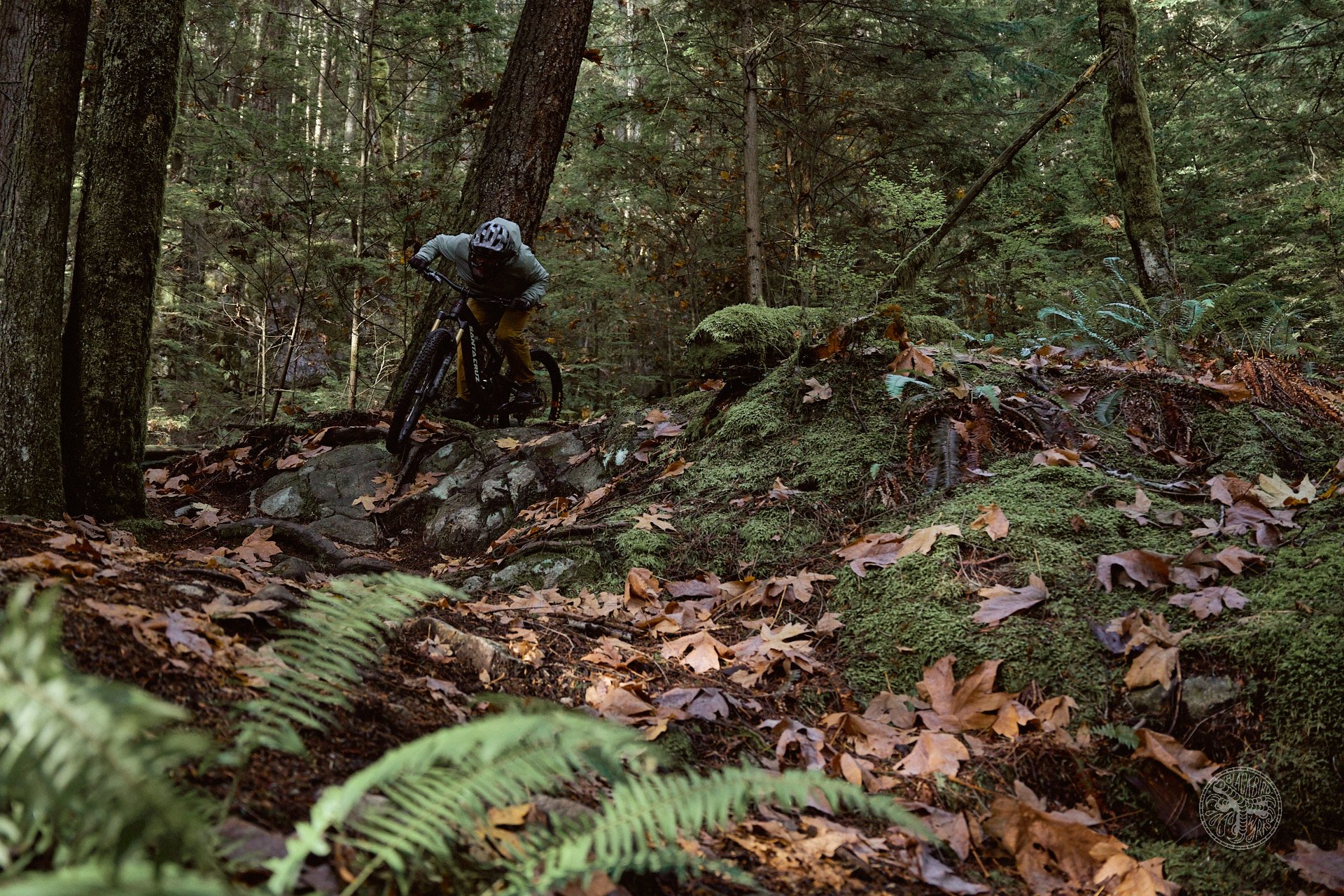 Comparison
While testing the Nomad I was constantly making comparisons with my daily driver, a 2020 Specialized Enduro configured with a WRP mullet link. Both bikes excel in the high-speed technical chunky stuff, they are playful and poppy which is probably due to the mullet and each bike's suspension platform. They both carve into and out of turns with precision and speed, again perhaps due to the mullet. They handle steeps with control, hold lines on bench cuts and pump rollers fairly well considering the travel they sport. My Enduro is equipped with a fresh RockShox Zeb Ultimate 180 and a SuperDeluxe Select with a MegNeg can. I found that when I did back-to-back tests with both bikes the Enduro was smoother and more supple than the Nomad which is most likely the Zeb with all its newness and the Buttercups and 10 mm of extra travel. Roots, rocks and holes were slightly easier on the wrists and forearms when riding the Enduro on the same trails as the Nomad. Not by much, but enough that it was noticeable.
When comparing the high-end Enduro to my high-end tester, the Enduro S-Works costs more at 15,899 CAD, however, it comes with a Reverb AXS seat post vs the Nomad's Reverb Stealth. The AXS post retails for about 600 CAD more than the Stealth which does not explain why the S-Works is about 1,400 CAD more than the Nomad. At the lower end, the Enduro Comp GX model costs slightly less at 7,300 CAD vs the Nomad R at 7,784 CAD. Regardless of price differences at both ends of the pricing spectrum, on the back-to-back runs and the last 20-ish Enduro rides post-Nomad test, I can say I have a slight preference for the Enduro over the Nomad...but not by much.
Conclusion
The Nomad VI handles steeps and high speed chunky trails with excellent control and traction. It carves corners with precision, due in part to the smaller back wheel, VPP suspension and stiff frame. In addition the bike climbs adequately considering its weight and travel.
The latest Nomad handled everything I took it down over the 43 ride test period. It tracked well at speed on all the trails I rode from pumpy flow trails to high speed loamers to steep technical gnarly trails. I felt confident every time I rode the bike. Having tested the Nomad V, I applaud the changes to the Nomad VI. This is an excellent bike that performs exceptionally well on all the trails I love to ride.
The XO1 RSV model I tested retails for a whopping 14,649 CAD. Admittedly, this is a lot of money for a bicycle. Similar high end models (Trek, Specialized, Rocky, Yeti) in this category are priced similarly.
At the lower end, the Nomad is slightly pricier than most similar enduro bikes but Santa Cruz's lifetime warranty on frames and free bearing replacements coupled with the high quality of the carbon frame and its design might have something to do with that.
The base model Nomad R, with the carbon C frame rather than the Carbon CC, costs 7,784 CAD (5,649 USD) complete. It's no slouch either, with Maxxis Minion rubber, a RockShox Zeb R fork, RaceFace AR rims, a SRAM NX 12x drivetrain, SRAM G2 brakes with 200 mm rotors front and back, and a WTB Silverado saddle.
The Nomad 6 XO1 RSV I tested retails for 14,650 CAD* (11,200 USD) but hey, you are worth it; if not, the base model R lists for 7,450 CAD (5650 USD). * SC has a big sale on now - prices on their site as of March 8 are much lower.
Trevor Hansen
Age - 57
Height - 5'9"
Weight - 175lbs
Ape Index - 0.992
Inseam - 31"
Trail I've been stoked on lately - Bukwus
Bar Width - 780mm
Preferred Reach - 465-480mm