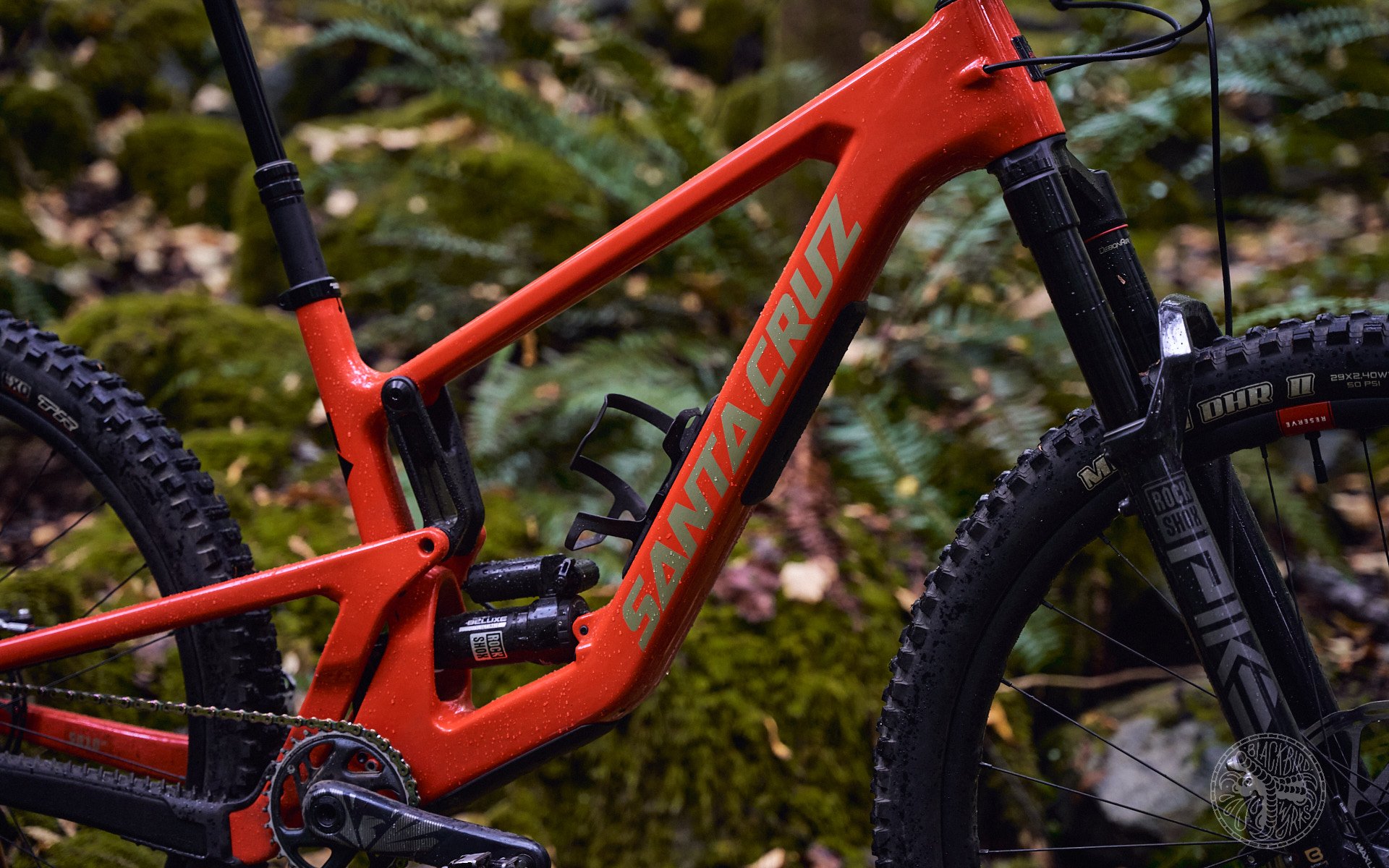 FIRST LOOK
2023 Santa Cruz 5010 MX
Editor's note: Today, Santa Cruz and Juliana are concurrently releasing the 5010 MX and Furtado, respectively. As with past models, geo is the same (a size M Santa Cruz has the same numbers as a size M Juliana) but spec, shock tunes, colours, and contact points differ. We worked with Santa Cruz and Juliana to have coverage of both bikes for launch day, to be followed up in the future with more detailed reviews. Below are Deniz Merdano's first impressions of the Santa Cruz 5010 MX. For Karin's thoughts on the Juliana Furtado, you can head over here. For complete details on the new bikes, including geo, spec, pricing, and photos, you can go here.
---
2023 Santa Cruz 5010 MX
Back in Oakridge, Oregon during the recent Santa Cruz Hightower launch, I was pulled aside to a shady spot behind the demo trailer. The idea was to trick me into riding another "soon to be released bike" from Santa Cruz. The 5010 was being revamped and they already had production models ready to party on the wicked Oakridge terrain in June. I was already jelling really well with the Hightower at this point in the media camp. 'Why change a good thing?' I said to those that were trying to lure me on to a new bike. "Just freaking do it", they told me.
A medium, matte grey 2023 Santa Cruz 5010 emerged from the back of the trailer. I sat on it and everything felt immediately familiar. It was like I was still sitting on the Hightower that I had been spending time on for the previous couple of days. Set the shock to my body weight and the 140mm RockShox Pike to 75 psi and off we went to ride some trails.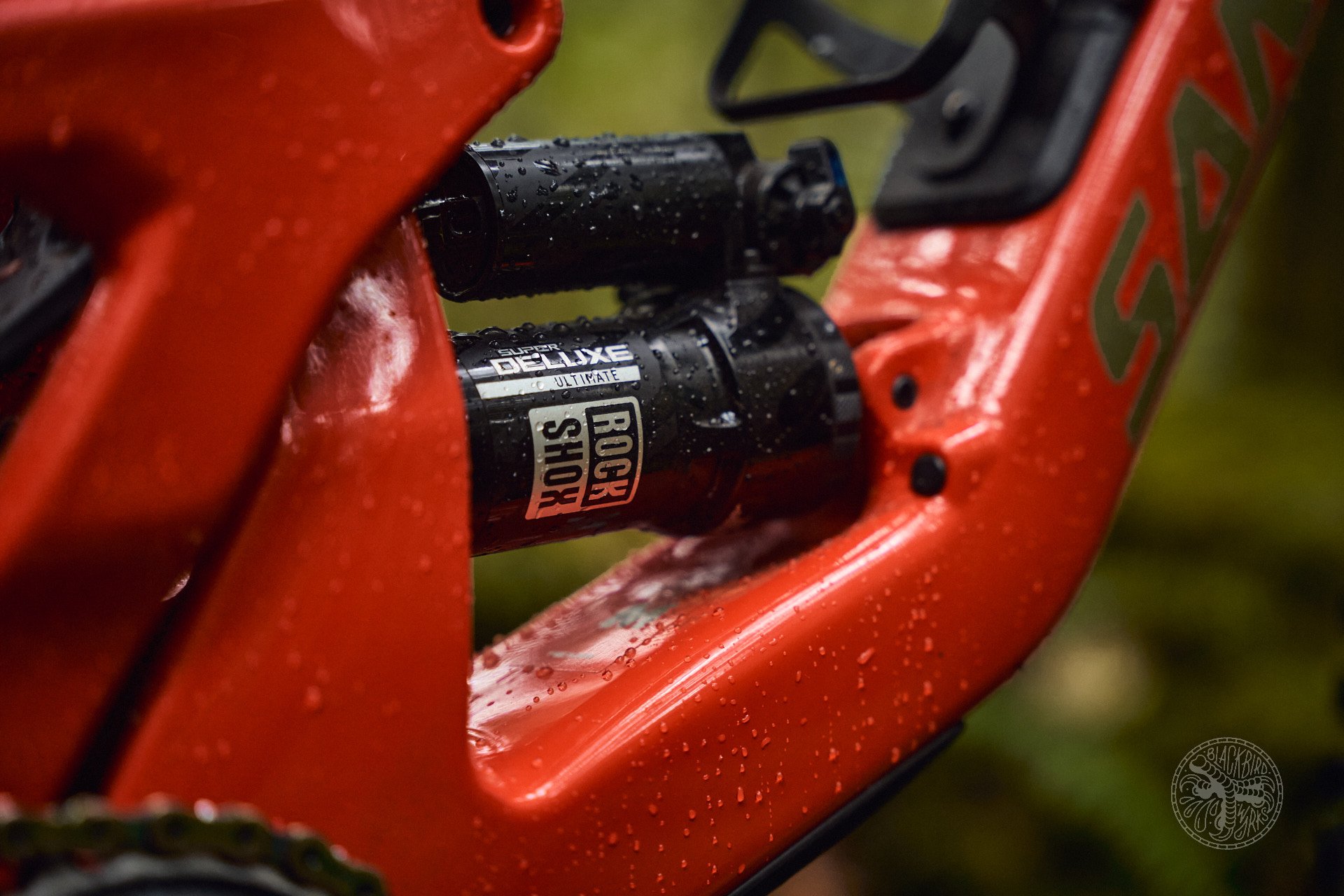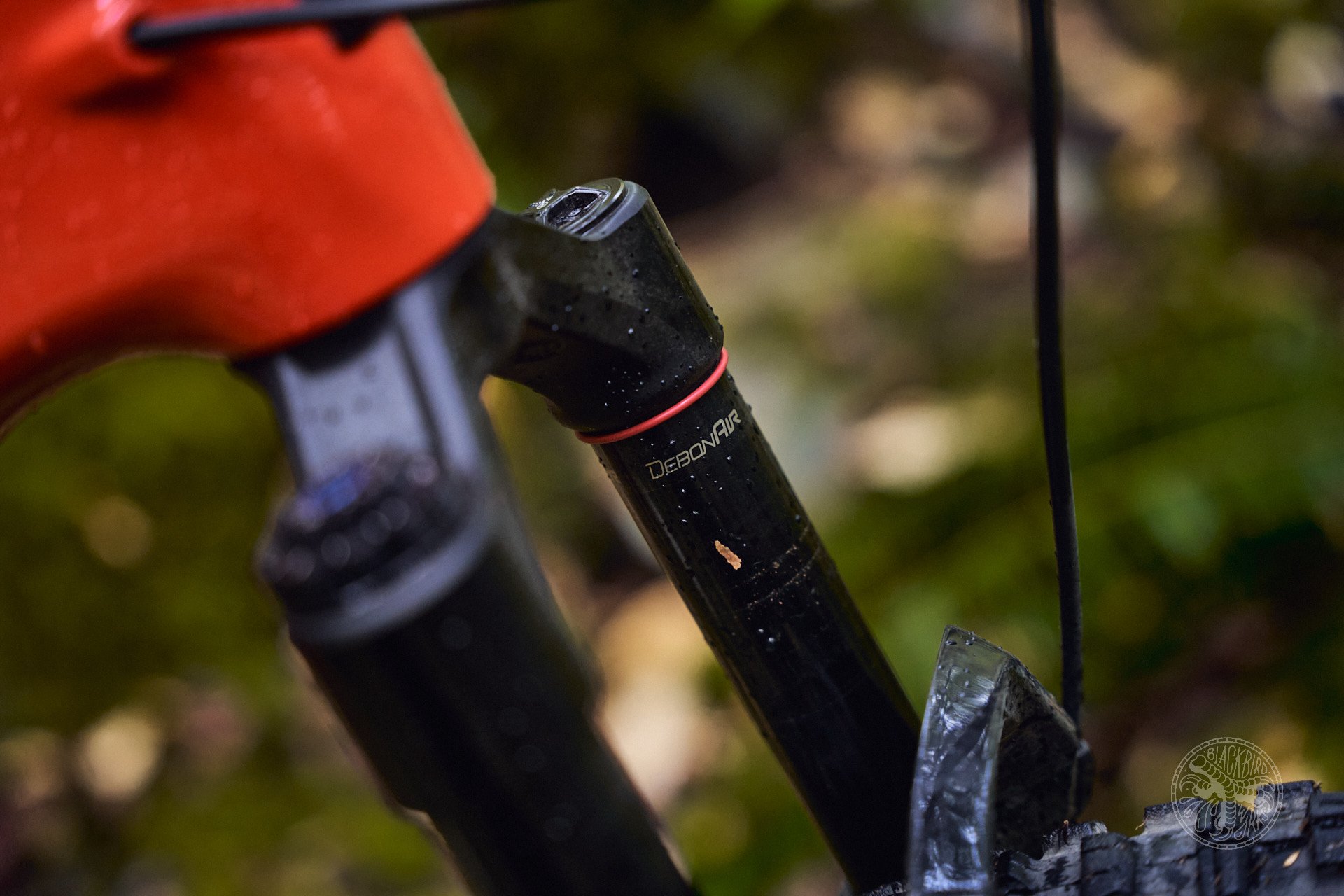 This pretty looking bike is visually inline with all the current offerings of the Santa Cruz brand: stout down tube with Glovebox storage compartment, low slung top tube for exceptional standover height, new gen VPP suspension design that tucks the shock in the lowest possible spot on the frame. There may not be clear visual clues to what Santa Cruz model you are looking at but there is no mistake that you are indeed looking at a Santa Cruz. Generally known for their fun colour combinations, the Gloss Red delivers on this front while the matte grey has a classy finish that I personally preferred. If I was being honest, the Juliana Furtado that mimics the design of this 5010 has the upper hand when it comes to colours. That Aquamarine Furtado is a sight to be seen.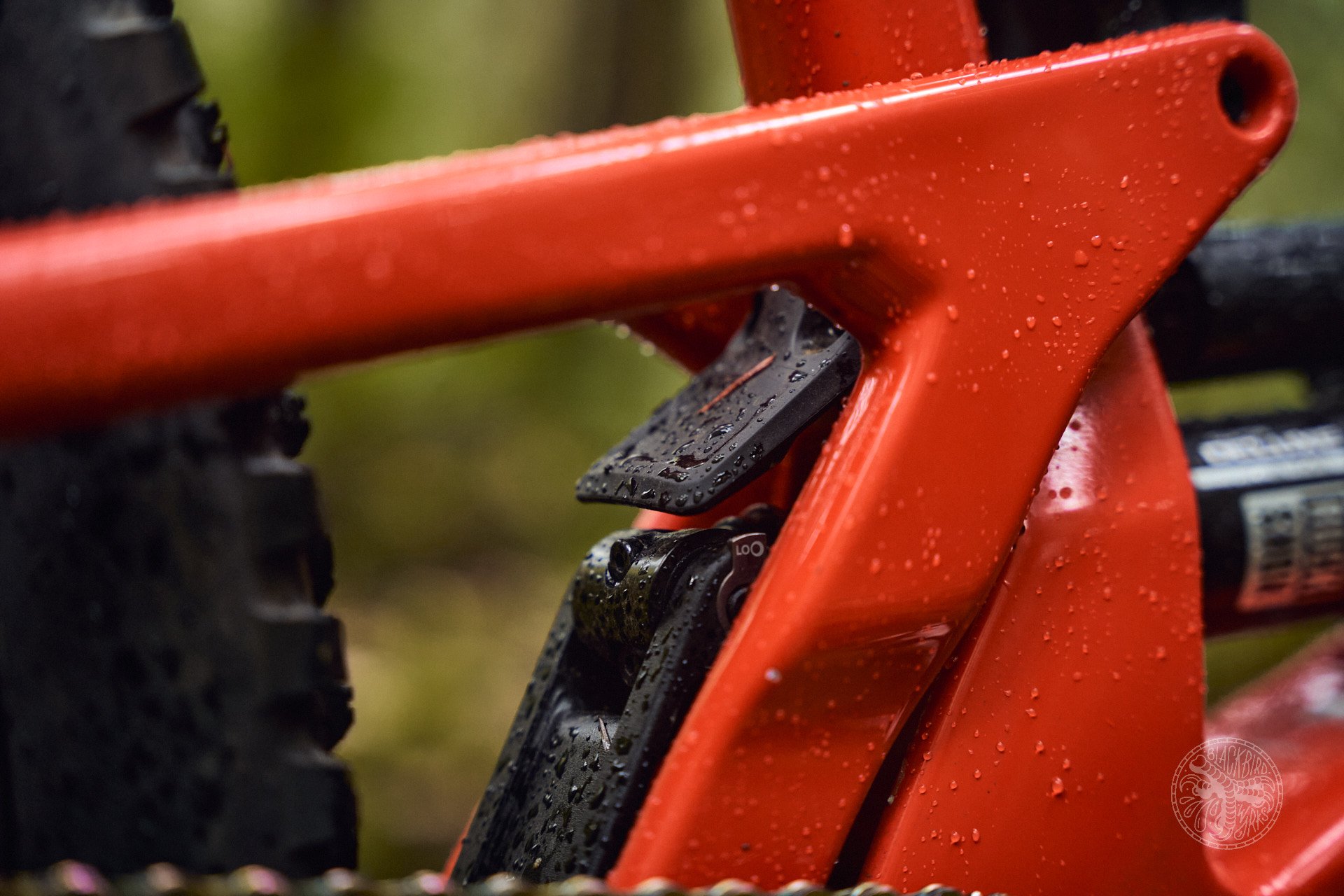 The ingredients that make the 5010 and rest of the Santa Cruz bikes lovable are still there.
2.5" tire clearance
Boost 148 Spacing
Post mount 200mm front/180mm rear rotors
Threaded BB
Universal Derailleur Hanger
Lifetime Bearing replacements
Lifetime Frame and Wheel Warranty (original owner)
There are 8 build kits in the line up, with two of them being aluminum. This is pretty exciting on all fronts. Big brands that offer alloy options seem to do well in this segment and Santa Cruz did not skip a beat with offering an entry level option.
What would have been killer is a higher end alloy option that comes in around 6000 CAD. At the time of writing, I was not presented with MSRPs for the 5010 models, but we'll update those as soon as we have them.
Apart from the 29er front wheel, the geometry of the 5010 received a few tweaks too. This will be received with mixed reactions but the change was necessary to make the already fun bike a little more capable in a wider variety of terrain.
The head angle was slackened to 64.9° in low mode for the Gen 5 from the 65.4° of the out going 5010. The seat tube was steepened to 77.1° in the low setting. Reach for a medium in low mode is a spot on 456mm for me, and the size specific rear center is 434mm. The size-specific rear center is a Santa Cruz specialty that changes in 3mm increments between sizes. You won't be getting boundary pushing long rear centers here on a play bike, and that's perfect.
The 115mm head tube on a medium is an exciting choice. On a shorter travel bike like this, it allows for a wicked high front end for attacking the steeps. Perhaps not the bike's primary intentions but nice to have a tall front end in my neck of the woods. 20mm rise bars look right at home above a 15mm stack of spacers. This would not work as well for me if it wasn't for the 115mm head tube.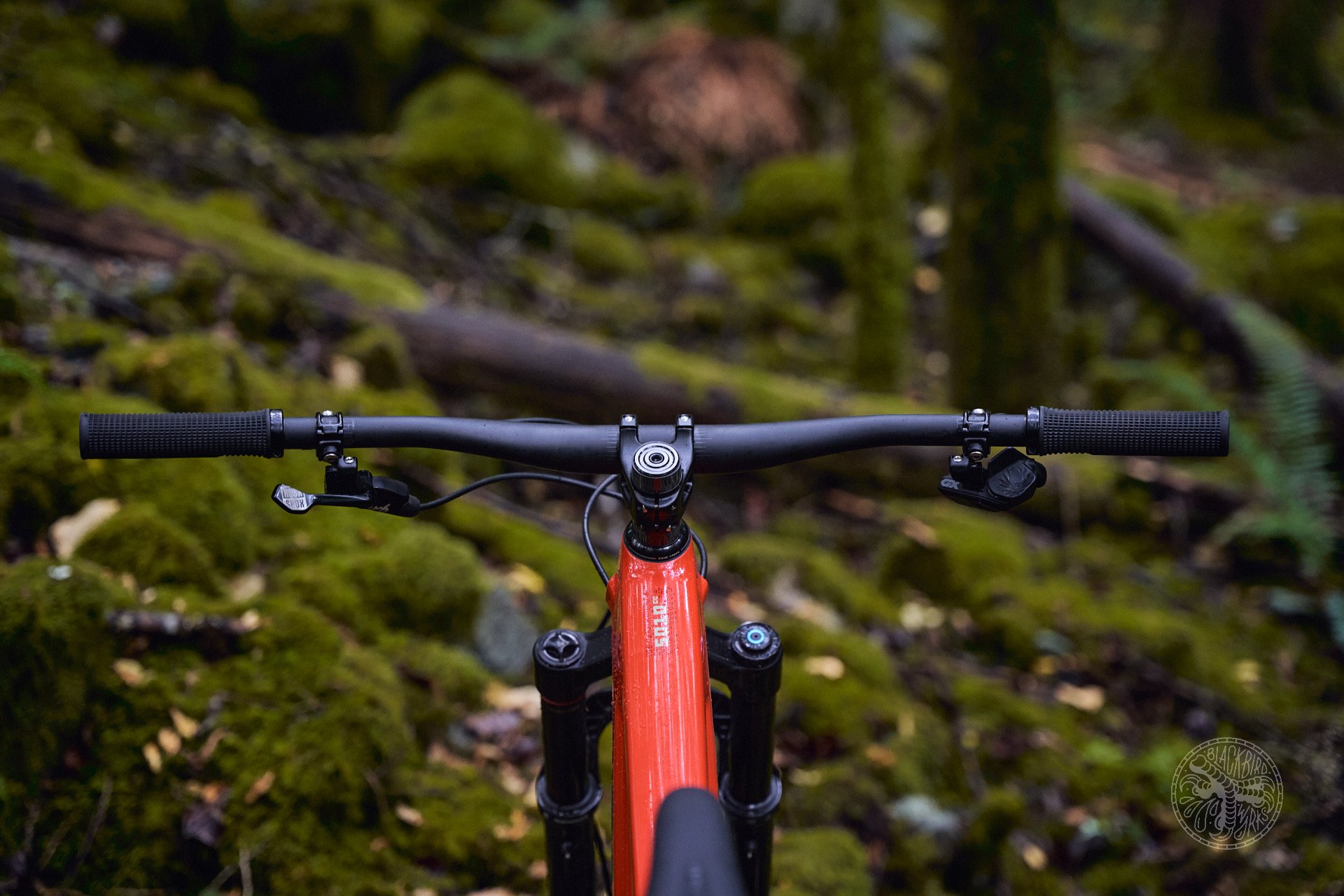 Suspension
Suspension kinematics can be very touch and go for a shorter travel platform like the 5010. You want a progressive leverage curve but you don't have a lot of sag to play with. 130mm travel can be eaten up rapidly if the initial part of the travel is too soft. The 50mm stroke eyeleted shock is nice to see. There are no space constraints, which means no trunnion mount shocks. 210x50 is a common size if you want to use something else. Coil, perhaps?
Rockshox's Super Deluxe Ultimate does a great job staying active and offering platform to push off of. The bike stays playful and lively, eager to move in and out of travel. The 5010 is a bike that begs to be ridden with a wide open rebound. We'll see how it does on the chunky, awkward North Shore terrain I will be piloting it through for the next while.
Is it a mini Bronson? a Micro Nomad? I am not sure. It's definitely towards the play side of of the spectrum than the "race" side, but that didn't stop me from setting a couple of climbing PRs on the first few rides. The suspension feels active on roads, but provides decent traction on the loose dusty switchbacks. The shorter rear center and small rear wheel should make easy work of uphill switchbacks. I won't be reaching down for the lockout lever all that often. First of all it is impossibly far away and secondly, I don't climb on the road much. I don't mind a slight bob on singletrack climbing if it means I will be maintaining ground contact with the rear tire.
What I like
I like the Reserve HD 30 Wheels. I have tested them - thoughts here - and like them quite a bit. They are responsive and light. Backed with a lifetime warranty. Laced to Industry 9 1/1 hubs they are quick in engagement and easy to work on.
It's great to see a Maxxis DHR II front and rear combo with a MaxxGrip front. The EXO casing is fine for this category of bike and helps keep the overall weight down - which is 32 lbs including pedals (Time Speciale 8). The 2022 RockShox Pike and Super Deluxe are excellent performers. At 140mm front, and 130mm rear the suspension needs to do its job right to keep pointing you in the right direction. They work well with just the right amount of adjustability. The XO1 AXS derailleur is a sweet piece of engineering that shifts great no matter the conditions. The 10-50t cassette is good to see as I dislike the jump on the 52-tooth version. A 32T chainring is on the toothier side for around here but this lightweight bike gets away with it just fine.
What I don't love
The 150mm Rockshox Reverb and the 1x lever feels archaic on this bike. Hydraulic actuation is fast and instant but I know the fate awaiting that seatpost. An AXS version or any other cable-actuated cartridge post would have been better than fine.
The tube purse is useless for anything but a tubolito or an aerothan tube. Keep other things in it... get creative.
Organic Guide Pads on the front. I get it, front rotors don't heat up as much as the rears. Even less so when they are 200mm up front, so to keep noise to a minimum, the organic pad was chosen. They seem to be doing OK for the first few rides. I will probably change to metallic pads on the next service interval.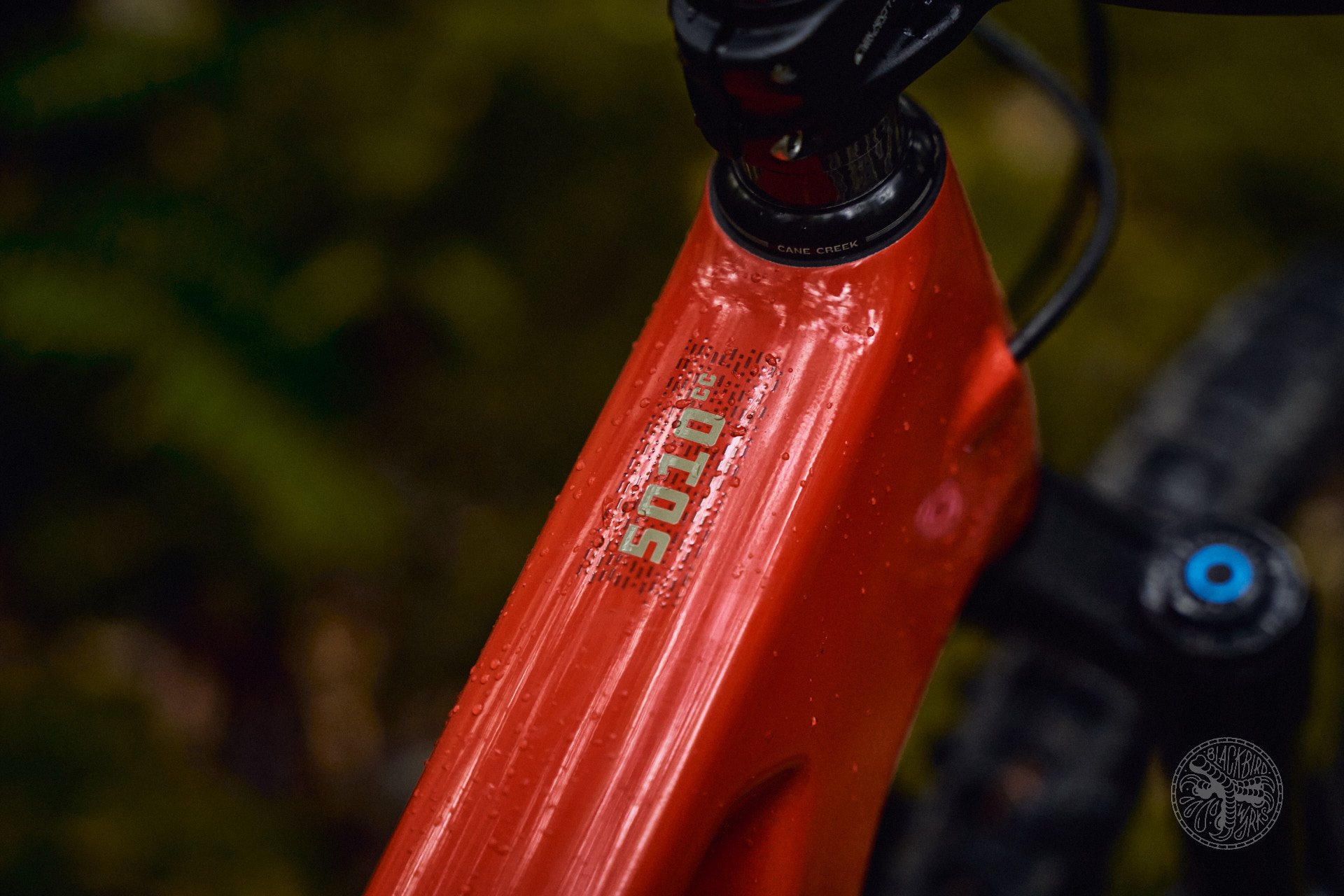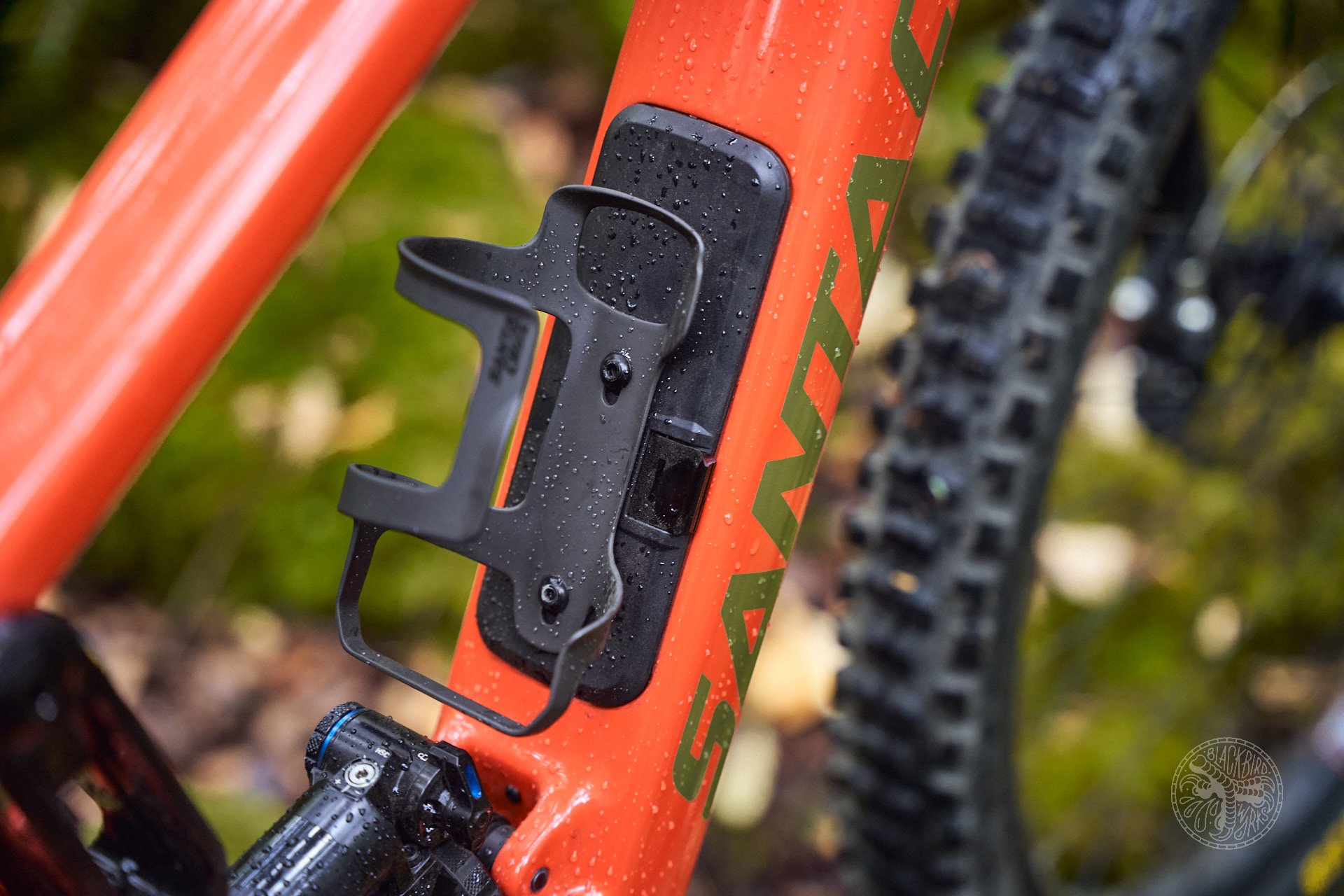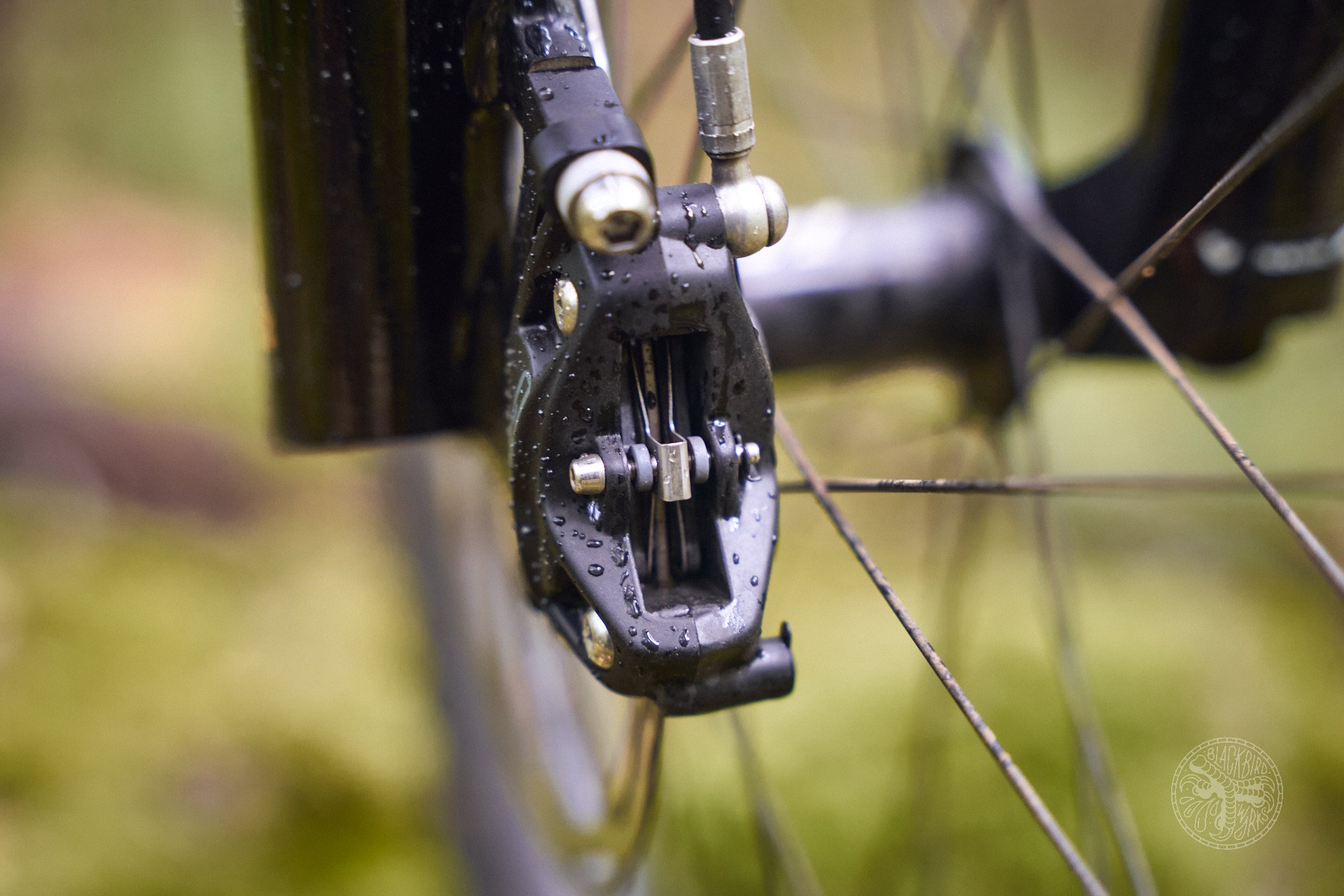 After a few pad-glazing laps on the 5010 in Oakridge, I made a firm request to have one of these delivered for testing right away. Ask nicely and you shall receive. I am very much into this platform for a long term tester. Quick lap rocket ship or a skatepark/DJ jibber. I can't wait to put a ton of miles and smiles on the 5010. I think we'll get along well. I will ride it back to back with the Hightower I have in the stable as well to pick them apart and find similarities and differences.
Stay tuned and let me know what you are curious about with the new Santa Cruz 5010 MX.