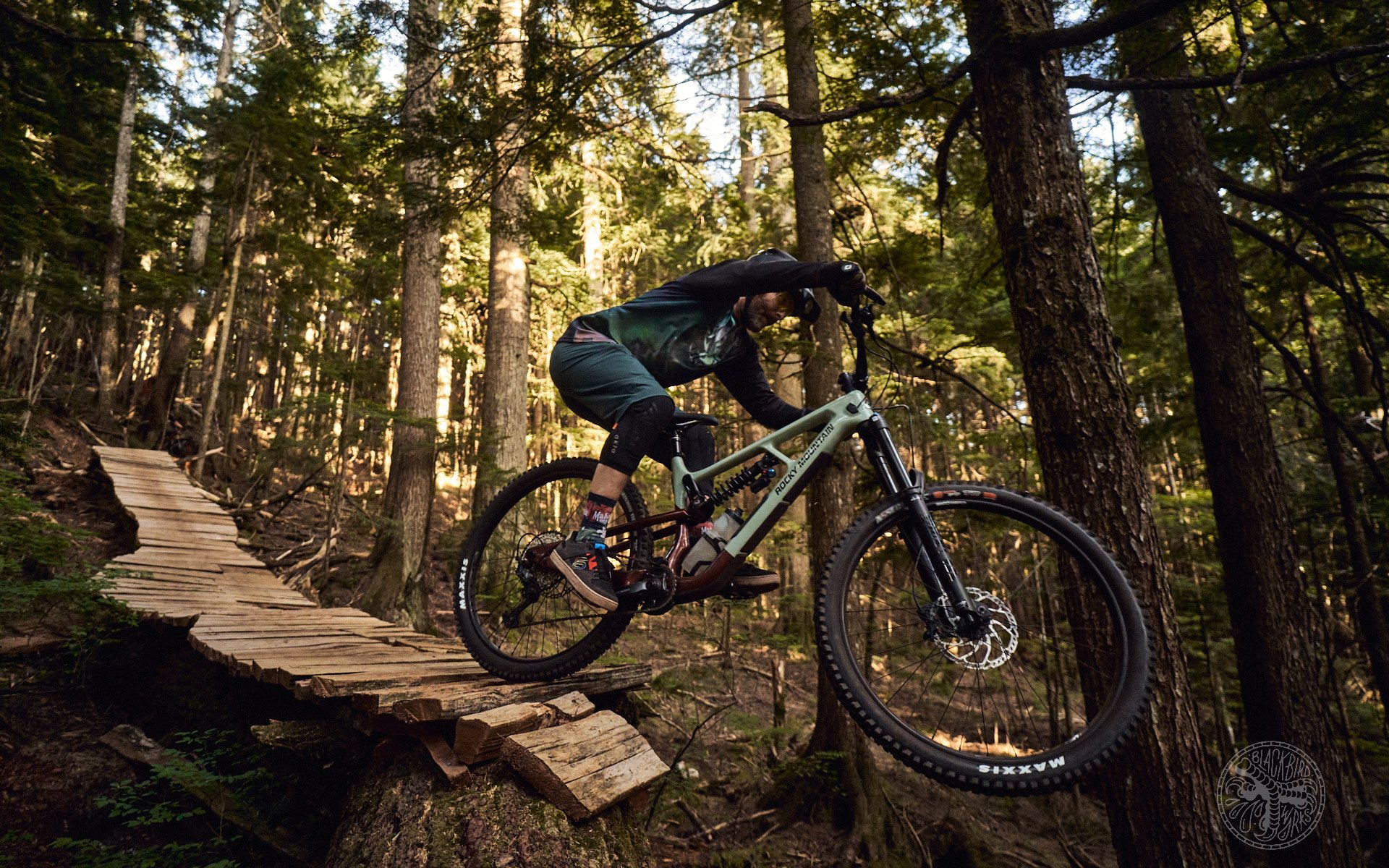 First Look
2023 Rocky Mountain Slayer
Hallowed Ground
Not that it ever went away, but the Slayer is back - bigger, meaner and sharper than ever, and it's packing new weapons up its villainous sleeves. It's no secret that Rocky Mountain has some very deep roots here on the North Shore, and for a brand whose history is steeped in freeride, it doesn't get any more freeride than the Slayer.
First introduced in 2001, the Slayer has always been geared towards progressive riding and pushing limits on what was possible on a mountain bike. When the Maiden DH frame was put out to pasture in 2020, the Slayer became Rocky Mountain's flagship of gravity, providing a common platform for freeriders, bike parkers and sometimes racers.
The Slayer saw its last update in model year 2020, and I remember vividly those distinctive red and black bikes popping up just as the world began shutting down and hoarding toilet paper. What a ride that was! For 2023, the Slayer gets the longer, lower, slacker treatment across the size range, while small and medium sizes now come mullet-wheeled as standard. Large and XL bikes roll on two 29" wheels, but are mullet-compatible. Likewise, small and medium bikes can be set up full 29er. Going from 29er to mullet (or vice versa) requires swapping out the shock link.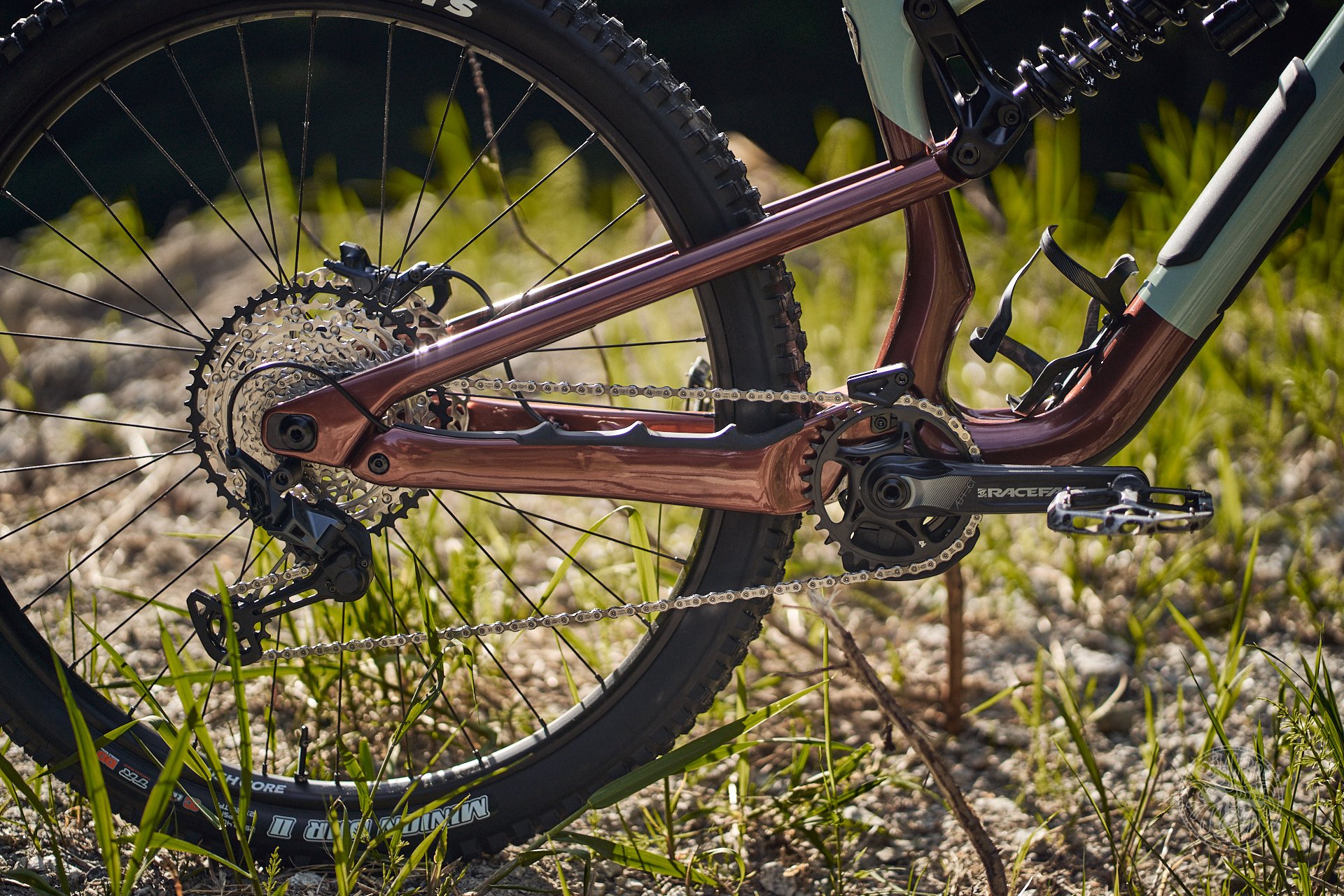 Also new for 2023 is the full carbon frameset now found on all Slayer Carbon models - no more alloy stays bolted to carbon front ends. The previous Slayer, with its beefy alloy stays, was known to be a bit on the heavy side, so the full carbon construction helps trim some grams. Our size large Carbon 50 test bike weighs in at just under 38 pounds - fairly respectable considering the build. If carbon ain't your bag, fear not - the Slayer is available in a few alloy versions as well, including a dual crown-equipped park bike. All models feature 180mm travel at both ends, except for the park bike which gets a 200mm Boxxer.
Rocky Mountain bikes are known for being among the most adjustable bikes on the market, and the Slayer is no different. I mean, it's no Geometron, but with the inclusion of Rocky's Ride-4 linkage chip and adjustable chainstay length, plenty of geometry options are available. From low, slack and long to lower, slacker and longer, the Slayer has you covered. And if a 63.3° head tube angle isn't slack enough for you, don't worry - that's the steepest setting. Reach and seat tube angles have also been modernized from the previous Slayer, although they aren't pushing the envelope quite like the head tube angle is. While the chainstay length is adjustable from 439mm to 449mm, there is no variation in length from the small to XL sizes.
The PenaltyBox
This new Slayer also marks Rocky Mountain's first foray into the world of in-frame storage. The PenaltyBox is Rocky's take on this indispensable feature, and they're doing it a little differently than everyone else. Rather than bolting the water bottle cage to the access door, Rocky decided to separate the door and bottle mount entirely, with the access door located just above the cage mount. The PenaltyBox door clips into place with a trick magnetic latch. Very cool stuff, but only available on the carbon models. I'm a huge fan of in-frame storage, and it's a feature that I just don't want to live without anymore. Can we draw a line in the sand and just agree that any major bike manufacturer not offering some kind of in-frame storage as of 2024 should be shamed and ridiculed into doing so? There are only so many clever, G-rated "box" monikers to go around, so get on it!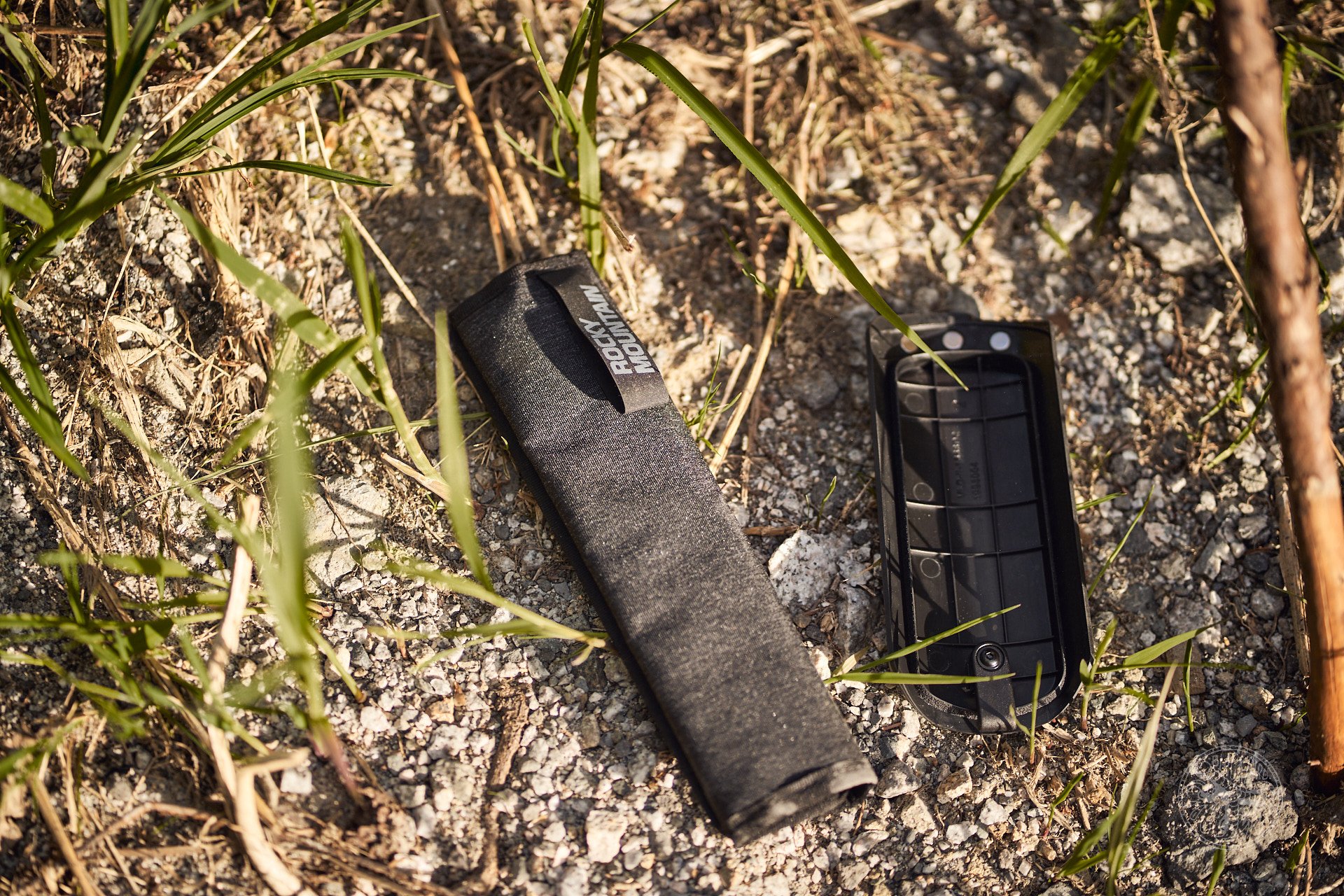 Slayer Carbon Builds
At the top of the heap lies the Slayer Carbon 90, adorned with Fox Factory suspension, Shimano XTR everything, and a Race Face ARC Carbon 31 wheelset. Stepping down a rung is the somewhat less eye-watering Carbon 70, which comes with a bit less carbon, a lot less Kashima, and is a mostly Shimano XT affair. Next in line we have the Carbon 50, which is the trim I will be reviewing over the next few months. The 50 comes equipped with SLX brakes and drivetrain, WTB ST i30 rims, and a smattering of Race Face Aeffect and Rocky house brand bits and pieces. Suspension duties are handled by a Fox 38 Performance Series fork, which includes the basic GRIP damper, while the rear end sports a DHX2 Performance Elite coil shock. I self-identify as a suspension snob, and among my list of first world problems, it's not very often that my bicycle suspension doesn't say "Ultimate" or "Factory" somewhere on the wrapper. I'd like to think my snobbery is well-earned though, as excellent suspension has literally saved my ass from catastrophe on many occasions. That said, I'm looking forward to finding out where the ragged edge lies for this "Performance" level bounce from Fox.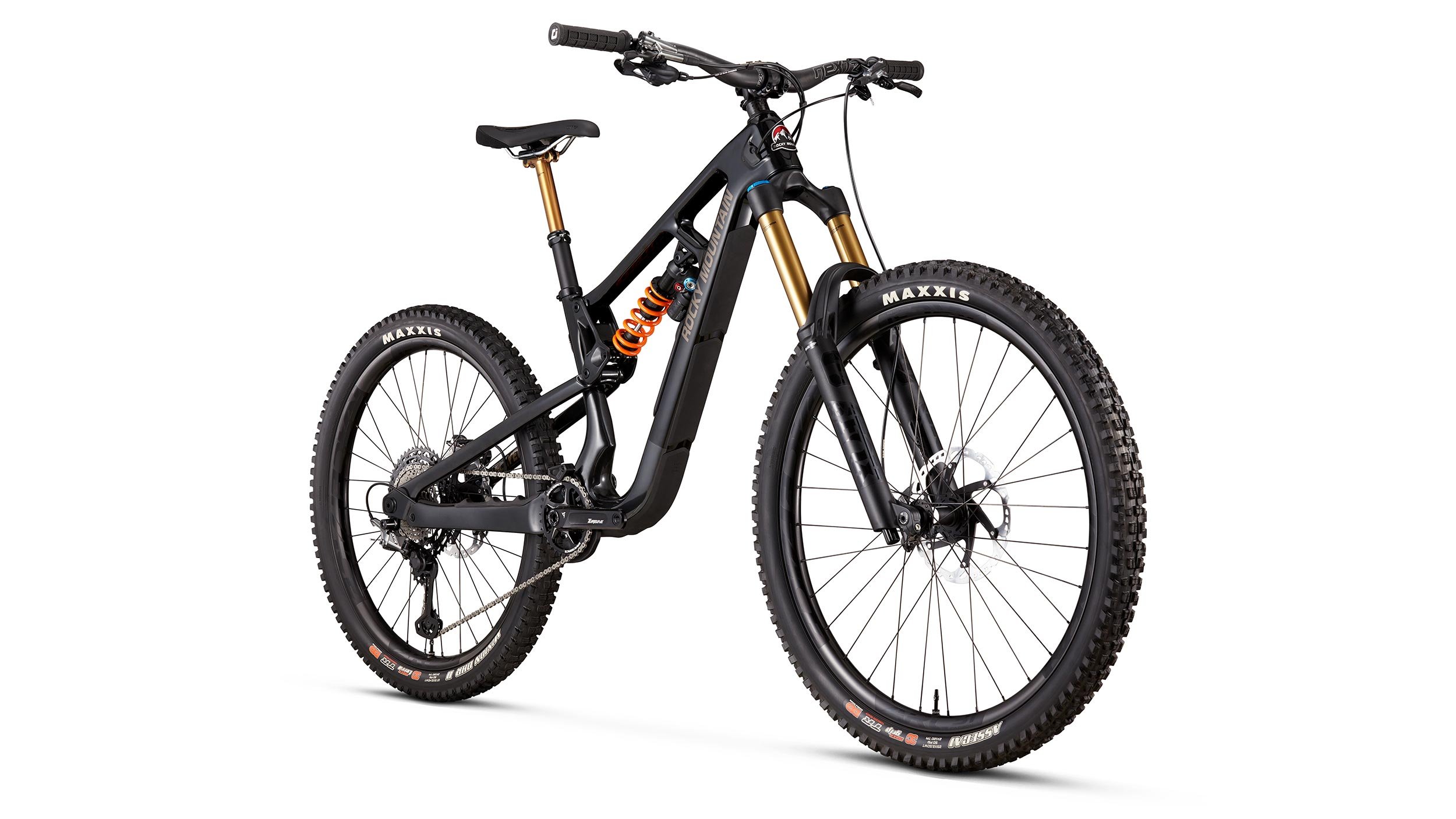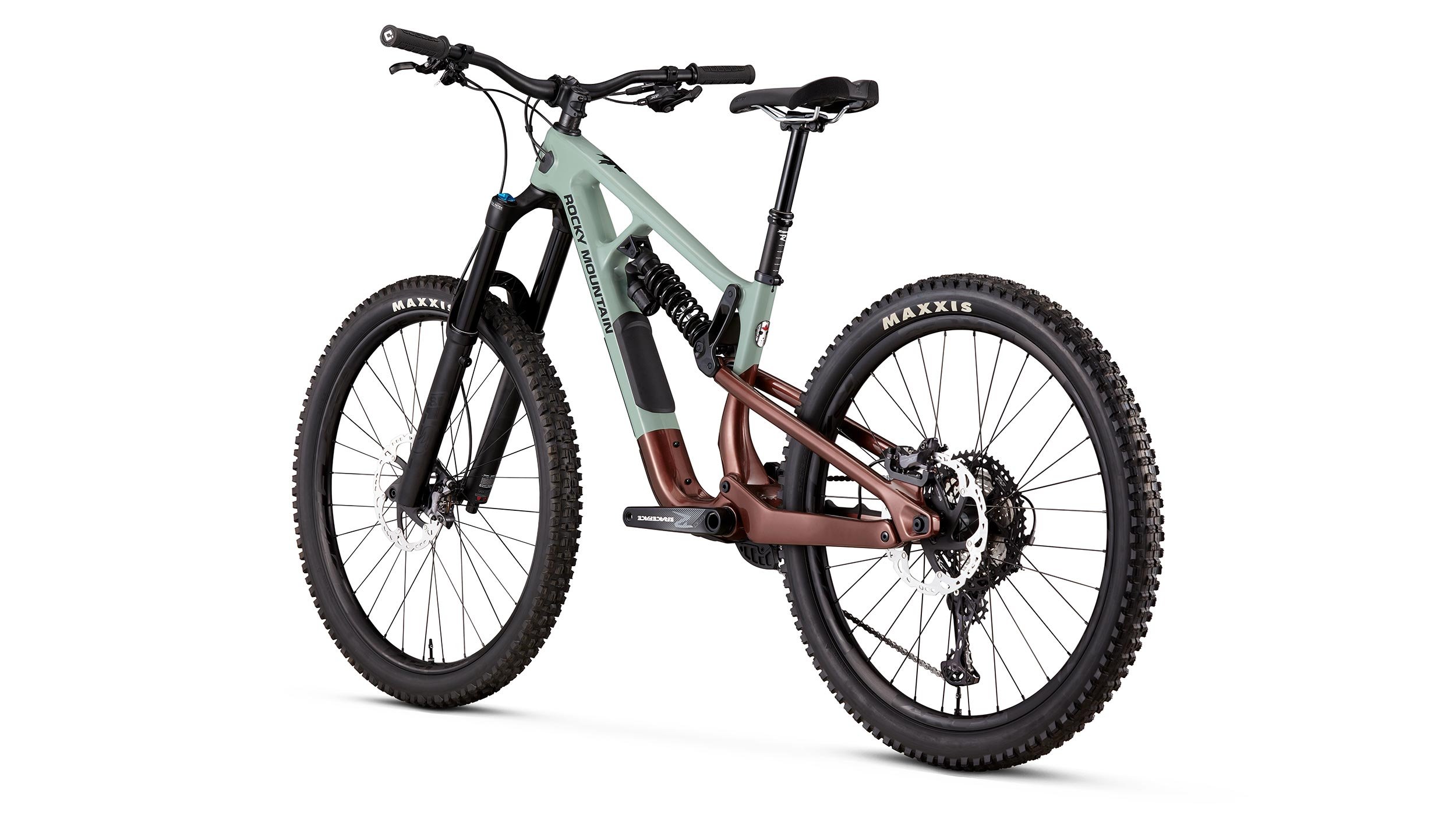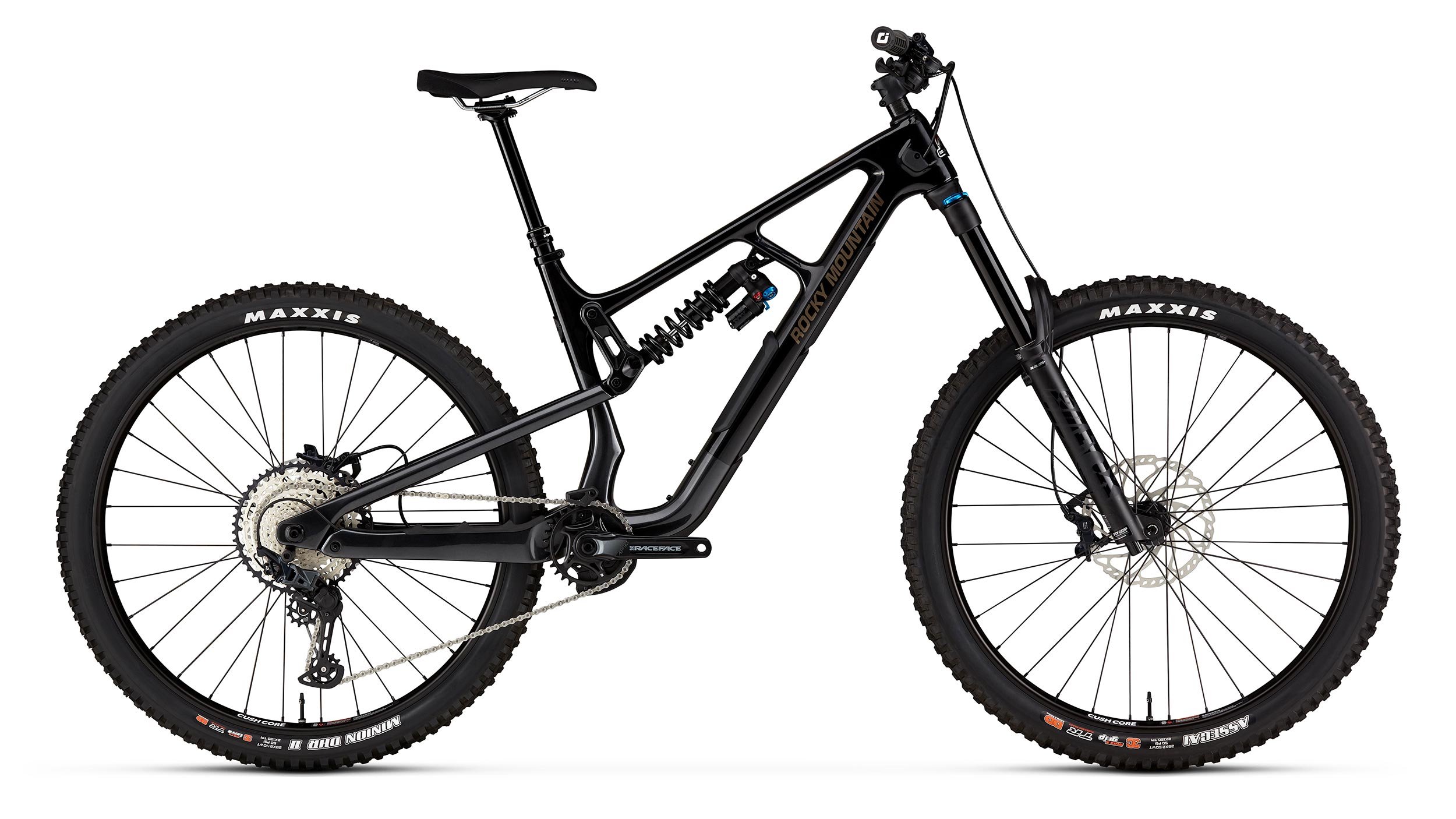 Before I dig into the alloy models, I need to talk a bit about tires - specifically, I need to talk about how Rocky deserves a standing ovation for including proper tires on every Slayer model, all the way down the line. From the Carbon 90 all the way down to the Alloy 30, you get a Maxxis Assegai MaxxGrip DD up front, and a Minion DHR II MaxxTerra DD out back. If I were out shopping for Maxxis rubber, this is the exact combination I'd spend my money on. The lone exception is the park bike, in which case you get Maxxis Minion DH casings front and back, both in MaxxGrip compound. And while a MaxxGrip rear tire can likely measure its lifespan in minutes in the bike park*, it's still great to see quality tires across the entire range.
*Pro tip: Save that MaxxGrip DHR II as a replacement front tire - they work great up there!
CushCore comes standard
Along with excellent tire spec, Rocky Mountain also ships every Carbon Slayer with CushCore XC tire inserts pre-installed. This is a very progressive move, and while it's not totally new to Rocky (they already offer CushCore inserts as stock equipment on their Altitude Rally and Altitude PowerPlay models), I'm not aware of any other brand offering tubeless tire inserts as OEM equipment for mountain bikes. While I generally have nothing but praise for good tire inserts, I know a fair amount of very skilled and aggressive riders who don't get along with them. I've also not yet tried Cush Core XC inserts, and while I understand they are much lighter than their Pro counterparts, if they don't provide nearly the same support and protection, then Rocky has just given some riders an annoying chore to do (removing or replacing those inserts). Time on the bike will tell, and I'm cautiously optimistic that the DD tires along with XC inserts will strike a good balance between protection and weight.
Slayer Alloy Builds
At the top of the metal Slayers lies the Alloy 50, which sees a lot of the same parts as the Carbon 50, although RockShox steps in with a Zeb Select RC up front, and a Super Deluxe Coil Select+ out back. The Alloy 30 steps down to mostly Deore level kit, with a RockShox Domain RC fork and Marzocchi Bomber CR coil shock. Last but certainly not least, we have the Alloy 30 Park, which gets you a 200mm RockShox Boxxer up front, Race Face ARC HD rims, SRAM Guide brakes and a 7-speed SRAM GX DH drivetrain.
If none of the above tickle your fancy, build the bike of your dreams by starting with the Slayer Carbon Frameset, which ships with a Fox DHX2 Factory shock and OneUp chain guide and bash guard.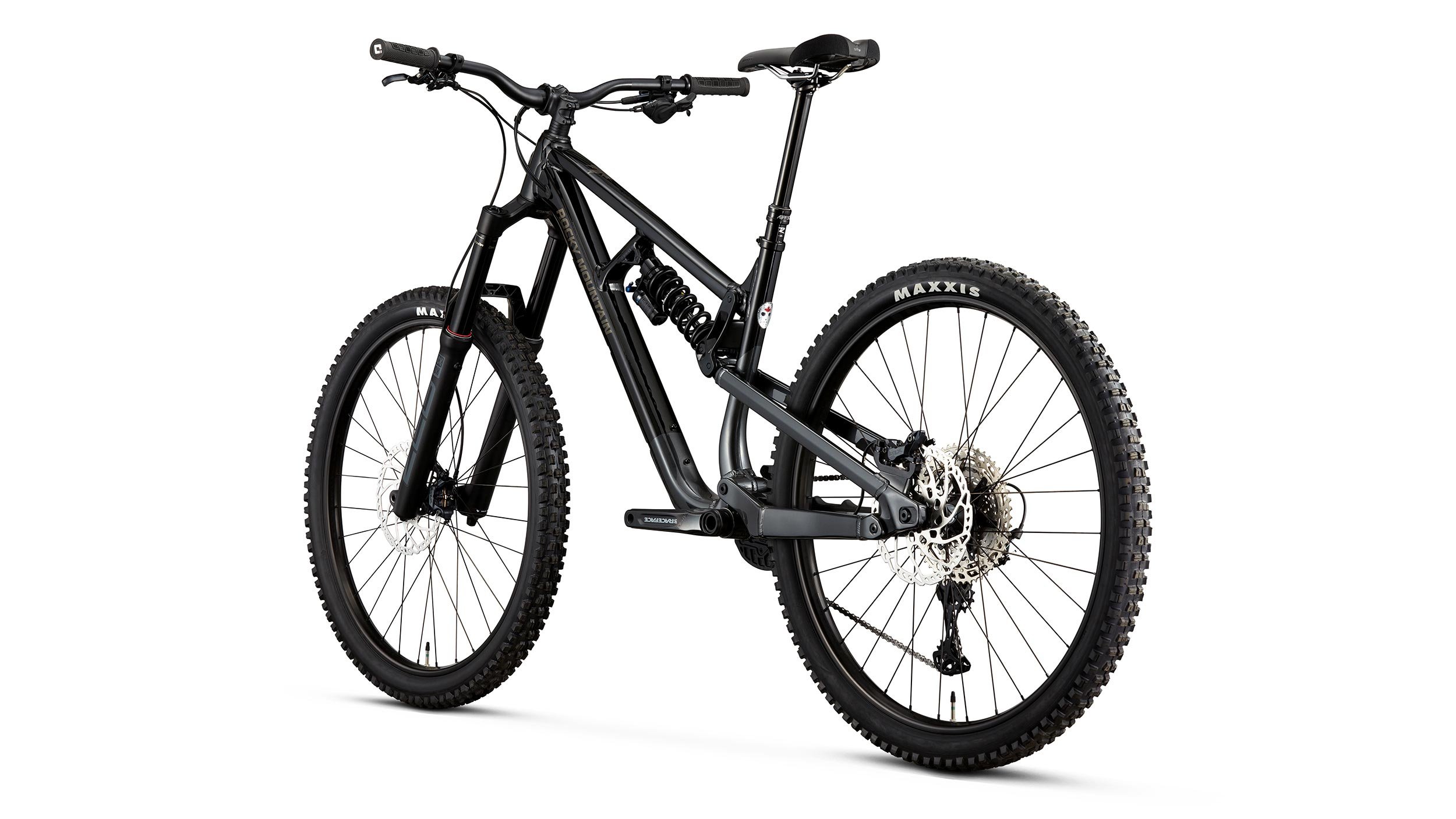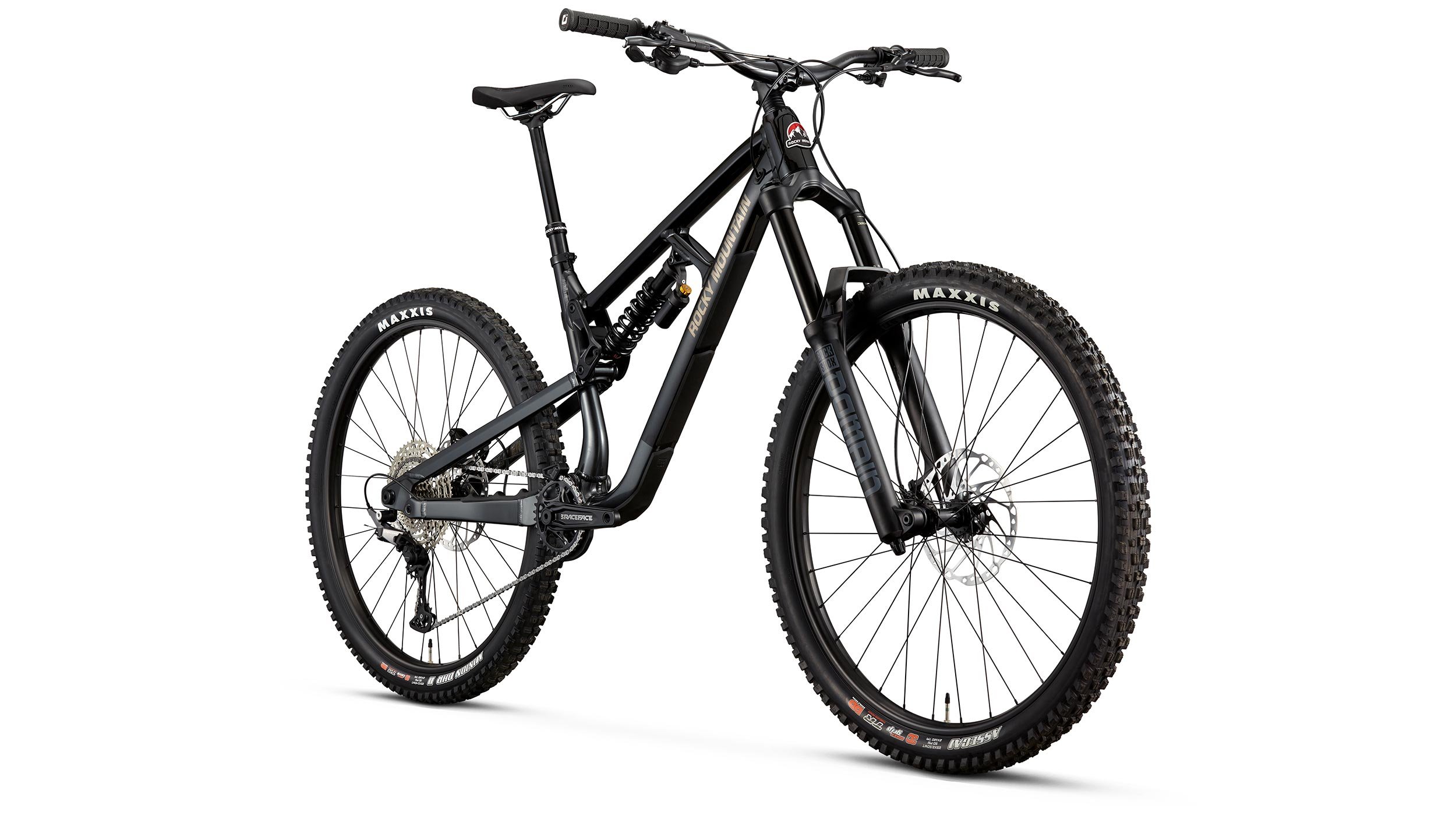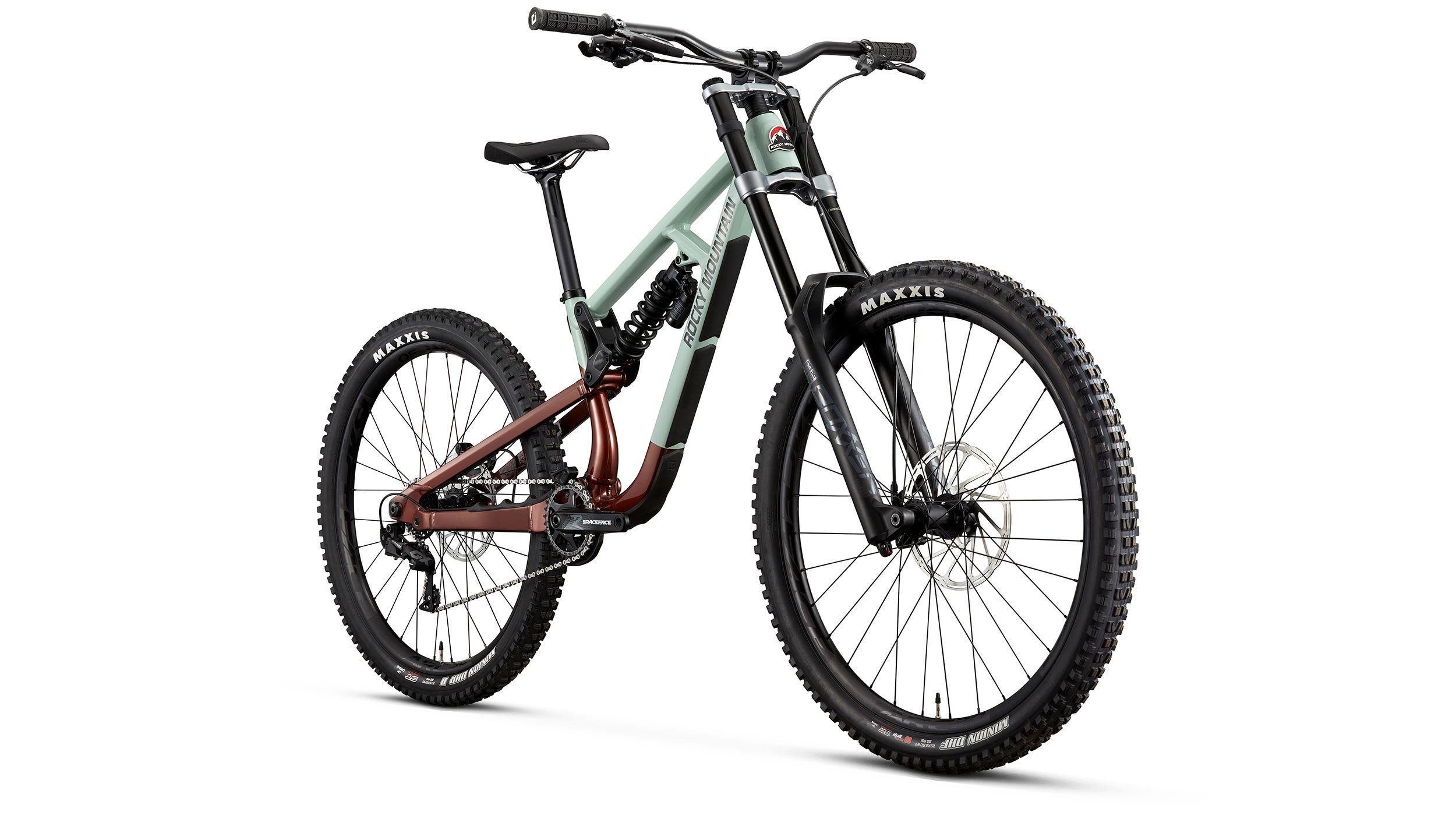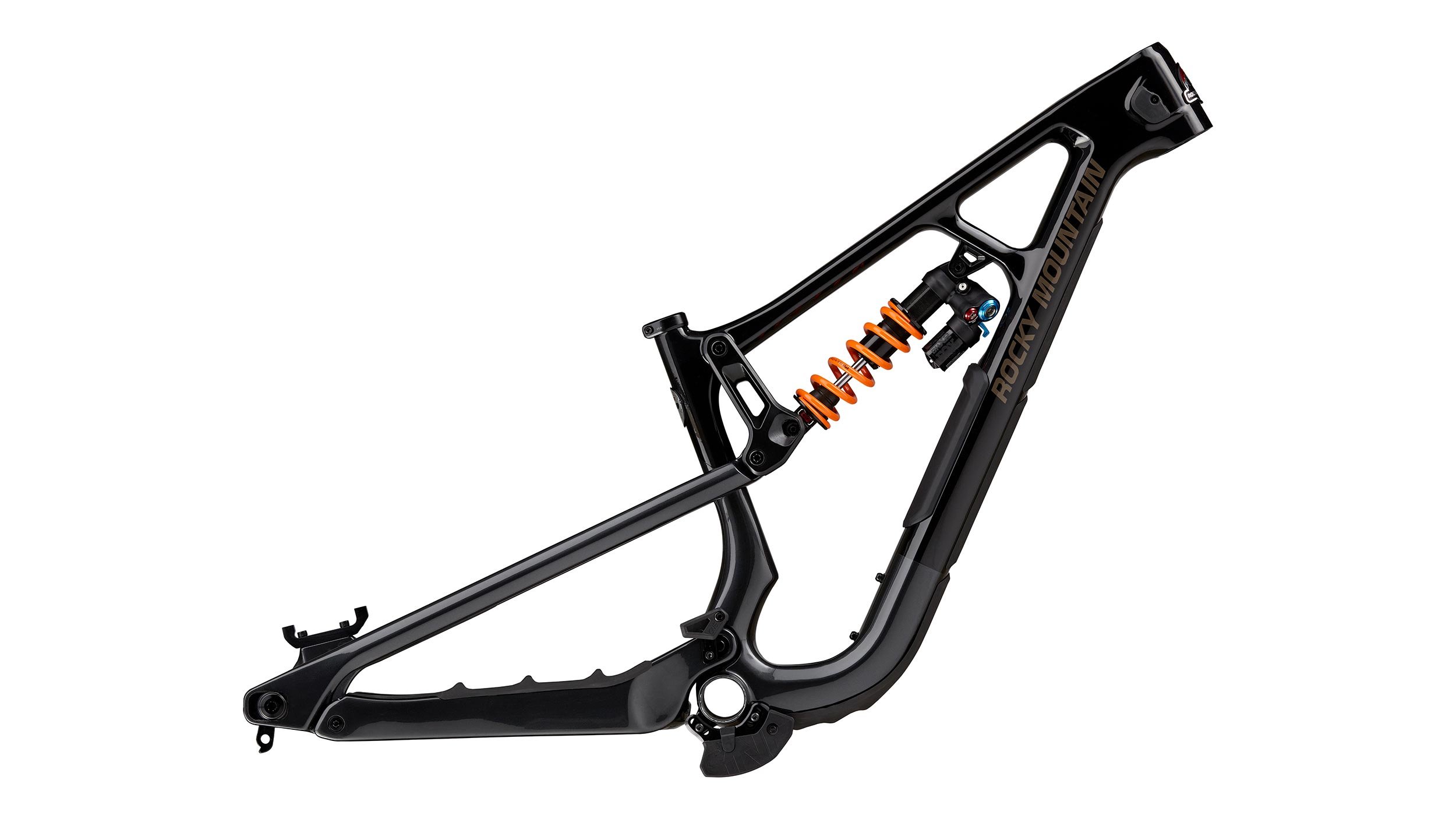 Slayer Carbon 50 - First Riding Impressions
As this first look article goes live, I have had the Carbon 50 review bike less than a week, with only two rides under my belt. Even though we've barely gotten to know each other, there are a few things I can already share about the new Slayer.
While it shouldn't come as a surprise to anyone, the Slayer is a bike that loves to eat, and if you can't feed it a steady diet of turbo-gnar, it's not the right dinner companion. Rocky markets the Slayer as a "freeride" or "big mountain" bike - the word "enduro" is nowhere to be seen in the press copy. Whereas some bikes in the 160mm travel range can feel sporty, the Slayer just wants to monster truck straight over everything - the faster, the better. To make it a better fit for tight and twisty North Shore singletrack, I've kept the chainstay length in the short position, while keeping the Ride-4 "neutral". This makes for a bike that is plenty slack up front for charging the steeps, but still manageable when changing directions on janky, awkward corners. This geometry combo has been working very well so far, but I'm sure that the longer chainstay setting would be the ticket in the bike park.
Suspension
While the Carbon 50 trim would not be my first pick if I were considering this bike, the mid-range parts hung on this frame reveal just how strong the Slayer's bones are. Getting back to the Fox Performance suspension, while both ends pump out a whopping 180mm of travel, it's clear from the get-go that both dampers are undergunned for the capabilities of this bike. They do the job, and will serve intermediate riders well, but they have a hard time keeping up with seriously aggressive riding - the very kind of riding the Slayer was designed for.
The large Carbon 50 comes stock with a 450-lb spring, which was far too soft for my weight and riding style. The 550-lb spring I threw on was worlds better, but resulted in me having to dial the rebound adjuster fully closed, and it's still a bit too fast - keep this in mind if you are over 190 pounds and ride aggressively, you may find that the stock shock tune is too light. Rocky claims that: "Size Specific Tune ensures that riders of all sizes get the right balance of small-bump compliance, mid-stroke support, and end-stroke progressiveness. Our design team does custom shock tunes based on real world field testing, and adjusts each tune for specific frame sizes." I'm perplexed by this statement, as I don't think my 190 pounds is out of the ordinary for a size large, but I clearly fall outside the range of the stock rebound tune on the shock. Out of curiosity, I wound the rebound adjuster fully open, and found the return speed so fast, it would be unrideable even with a very light spring installed, so I'm not sure how Rocky arrived at this particular rebound tune.*
*One thing to keep in mind regarding the 550 lb spring, is that Ryan is a very hard riding lad. He uses more volume spacers in his fork than anyone we know and always seems to ride his suspension very firm indeed. - Ed.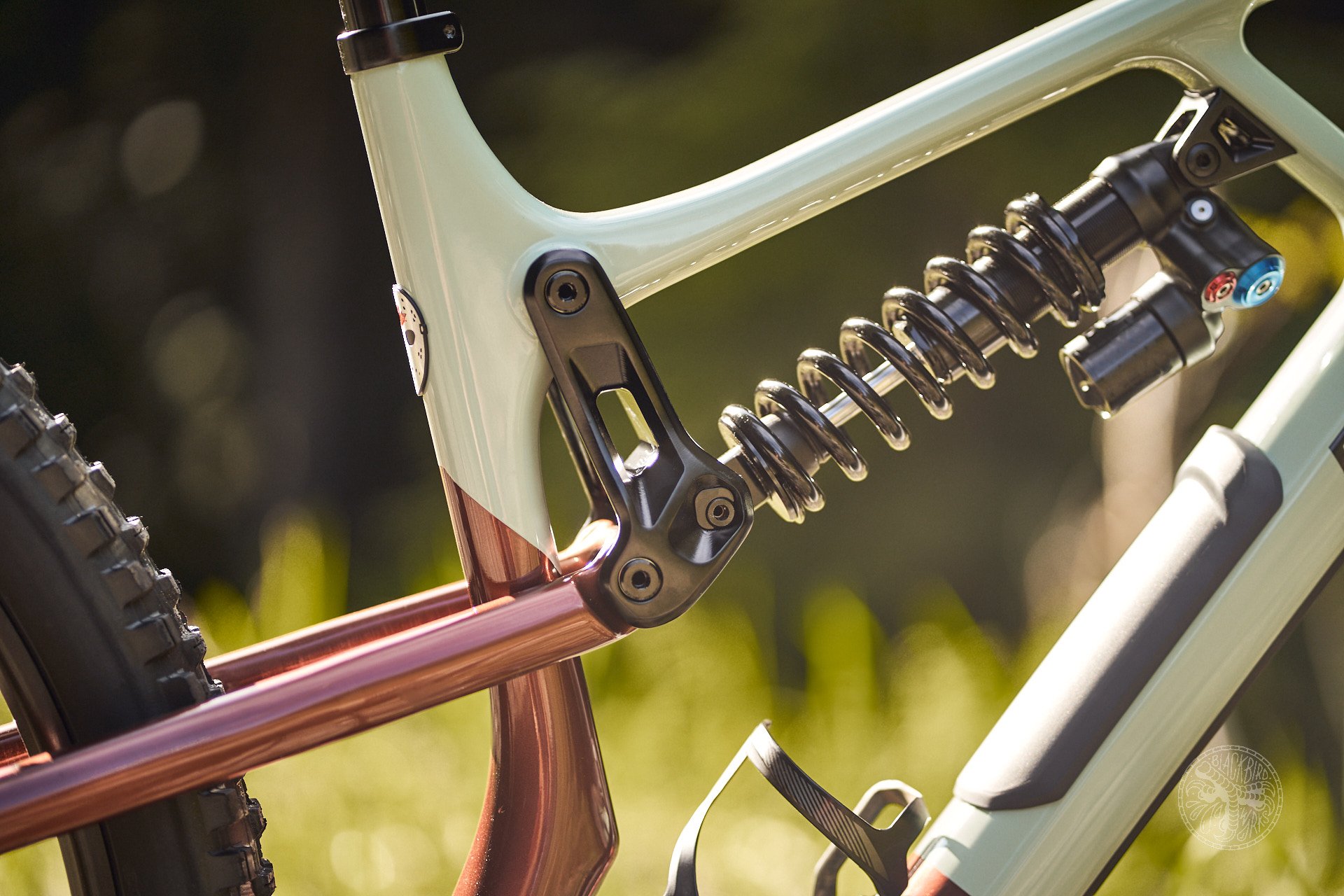 The fork has been a bit easier to get where I want it, but I'm still bracketing my pressure and volume spacer settings. The Fox 38's GRIP damper is eager to get the fork moving, but the more sophisticated GRIP2 damper found on the higher trims has far more composure when things get hairy. Overall, I can already tell that the suspension will be the trickiest thing for me to figure out going forward. In spite of the suspension's shortcomings, the Slayer's geometry and kinematics have brought up the slack, and I can only imagine what the Carbon 90 must ride like…
Shimano SLX Drivetrain & Brakes
The SLX drivetrain is functional, and has a very mechanical feel to it - even for Shimano. I can't complain though because it hasn't skipped a beat over the course of two rowdy rides. By far, the most pleasant surprise on this bike has been the 4-piston SLX brakes - with nothing fancy, and minimal adjustments, these brakes are just plain fantastic. Lever feel isn't as tight and crisp as with higher-end Shimano units, and the pads rattle in the calipers (a common Shimano gripe that is not unique to SLX), but their power delivery and modulation have been excellent so far. There is a slight "buzzy" feedback that can be felt through the levers when braking, and I'm convinced this is caused by the rounded edges of the SLX rotor cutouts, but I don't find it all that bothersome. Initially, I thought I'd be quick to swap out the 203mm front rotor for a 220mm, but now I'm not even sure I need to. And did I mention they're very quiet?
Not much more I can say after my first week with the Slayer. I'm looking forward to really shaking this thing down over the summer, and finding out if the Carbon 50 spec can be considered a good value for the hard chargers out there. At the very least, the Slayer Carbon 50 can be viewed as a good starting point for aspiring freeriders, with a frame that seems well worth upgrading in the future.
Head to their site for more about the new Rocky Mountain Slayer.
Rocky Mountain Slayer Pricing
Slayer Carbon 90 - 12,999 CAD / 10,299 USD
Slayer Carbon 70 - 9,699 CAD. / $7,799 USD
Slayer Carbon 50 - 7,799 CAD. / $6,299 USD
Slayer Alloy 50 - 6,199 CAD. / $4,999 USD
Slayer Alloy 30 -4,699 CAD. / $3,799 USD
Slayer Alloy 30 Park - 5,599 CAD. / $4,599 USD
Slayer Carbon Frameset - 5,499 CAD. / $4,199 USD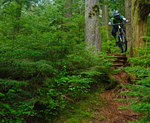 Ryan Walters
Age : 40
Height : 1803mm
Weight : 86kg
Ape Index : 1.03
Inseam : 787mm
Bar Width : 780mm
Preferred Reach : Pretty comfy at 487mm these days.