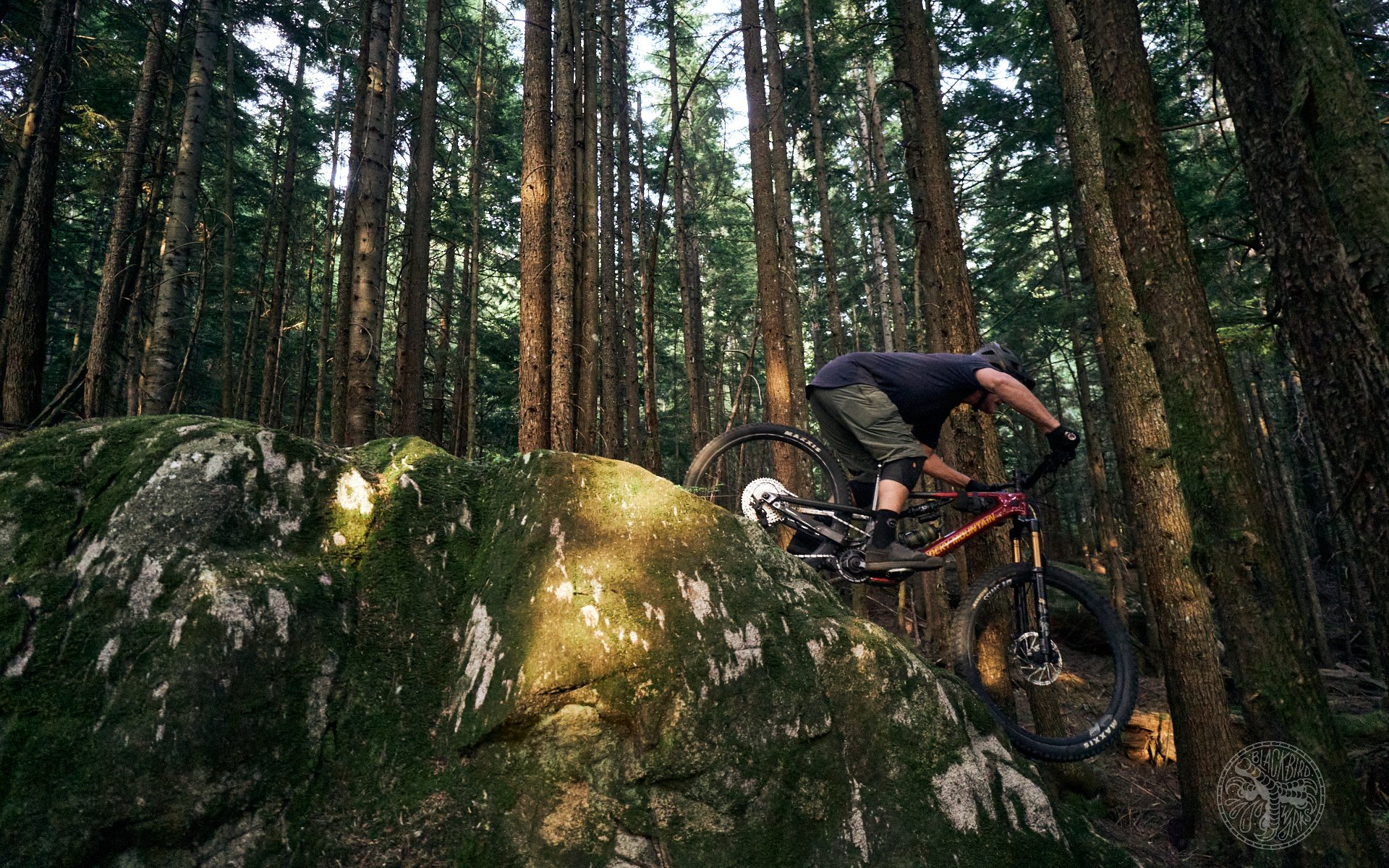 A Review + Modifications
2023 Rocky Mountain Instinct Powerplay
The Project
The way I see the world of motorized biking, there are three categories of eMTBs. Firstly, there are the eMTBs with heaps of power, battery life and weight. I have reviewed one of these big bikes, had a look at another and ridden two others: aRocky Mountain Altitude Powerplay and a Norco Sight. I used each as reference points for my Range VLT review. The second major category is lighter bikes with smaller motors and batteries providing less torque and ride time in exchange for lower weight and more maneuverability. I have not yet ridden any of these bikes. The final category are eMTBs doing double duty as commuters. I will go into how I used the Instinct to commute 55 kms to and from work. The Instinct to Altitude project encompasses two of these three categories.
The goal of this project/review was to take a trail eMTB, the Rocky Mountain Instinct Carbon 70 (150mm /140mm suspension), ride it stock for several rides, make a few modifications and then ride it with each mod several times. While this was going on I was to use it as a commuter bike a few days per week. I have a set of spare wheels equipped with slick fast tires, rotors and a cassette. This article will focus on the Instinct during each of these iterations. The next step is to convert the Instinct to an Altitude (170mm /160mm suspension) and ride it like that, and then try it with a mullet set up. I will continue to swap out wheels when I want to commute to and from work and I will compare and contrast the Instinct and Altitude Powerplays this fall. For now, here are the Instinct Carbon 70 Powerplay pre-modifications.
Going Back
I have lusted for Rocky Mountain bikes since I first got into mountain biking in the nineties. The Altitude was the first Rocky I wanted and eventually got about 20 years later - as a city bike. The first Rocky I bought was the original Pipeline back in the mid nineties. This was my first dually and it blew my mind, but until recently I had not ridden a Rocky on trails since that Pipeline. I was excited to start riding the Instinct Powerplay after spending a short time on Cam's Altitude Powerplay tester last year.
Going for More Power
Rocky Mountain launched the Instinct Powerplay in May of 2017. That first edition had two models: Instinct (150/140 mm travel) and Instinct BC Edition (160/155mm travel). Last fall Rocky introduced the updated Instinct Powerplay but this time there was no BC Edition. The biggest changes to the new model has to be the new Dyname 4 motor. This motor was developed in partnership with Propulsion Power Cycle, a Canadian company based in Québec. With most eMTBs using Shimano and Bosch, it is refreshing to see Rocky continue with their own motor. Of course the downside to this is accessibility to parts and service since you are restricted to Rocky Mountain bike dealers.
The biggest difference between the big two motor manufacturers (Shimano & Bosch) and Dyname is the latter's massive 108Nm of torque and a solid 700 watts of power. These features are very noticeable (and appreciated) on steep climbs. Compared to its predecessor, the Dyname 4 is smaller and 18.5% lighter, with larger bearings for increased durability. The Dynamo 4 is also much quieter than the 3. It's nothing like the whisper sounds coming out of the Trek Fuel EXe Cam recently reviewed but it is not too obtrusive. The motor sound is more like chains and pulleys doing their job than E motors whirring. I concur with Cam's analysis of the Dyname 4 sound: "The sound is also more pleasant to my ears, apparently because the motor operates at lower RPM resulting in lower frequency sounds compared to the whine emitted by other motors I've ridden."
The combination of the 108Nm of torque and the ability to add even more power using the easy to program Power Assist feature on the Jumbotron display makes this one fast toy. I did 5 rides with Rocky's stock settings then added +2 to the Power Assist, set it in Ludicrous mode (Rocky for Boost) and vroom vroom, off I went. Like most eMTBers I don't like using anything less than boost/Ludicrous on climbs. Kind of a 'when in Rome' thing except ride with as much power assist as possible instead of do as the Romans do.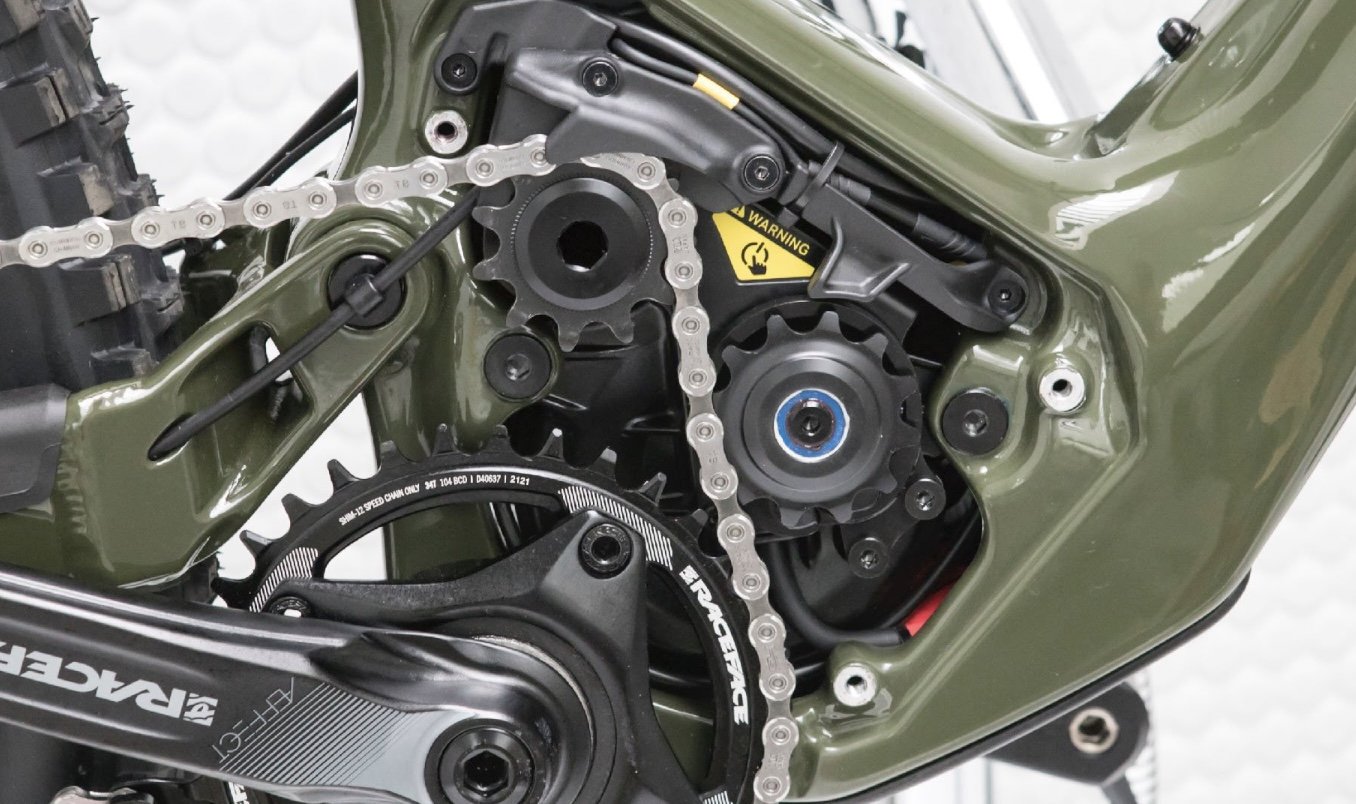 Rocky has their motor's torque sensors reading chain tension to decrease lag. The concept is to make pedalling feel natural - like a regular bike. I have to agree, in all settings, even Ludicrous, I did not feel that step on the gas and fly off the line feeling like I have felt with Shimano motors.
Instinct Powerplay Carbon 70 Features, Improvements, and Highlights
The 2022 Powerplay bikes use RMB's chainstay flip-chip, which provides 10mm of wheelbase adjustment. Longer for high-speed stability, shorter for quicker handling and easier popping. RMB designed a brake adaptor that can be flipped for each setting to allow for rotor placement.
A new derailleur hanger, which in long mode is compatible with SRAM's UDH. The dropout hardware includes a 200mm brake mount (Shimano-equipped models are spaced to 203mm) that flips around to work in Long or Short mode.
The RIDE-4 adjustment system allows riders to quickly fine-tune their geometry and suspension with a single Allen key. Four configurations are possible thanks to one rotating chip. More below on ride characteristics for these settings.
The modular shock mount allows for future suspension kinematic updates however it is only available on carbon models. During the second phase of this project I will be using this feature to "Altitude" the Instinct and then to mullet the Altitude.
Rocky's Powerplay bikes now feature a larger 720Wh battery to replace the outgoing 672Wh unit. If that's still not enough wattage, the bikes are compatible with RMB's Overtime pack, which weighs 2kg and adds another 314Wh of capacity (1034Wh total). The battery can easily be pulled out of 2022 frames by simply removing the cover and one retaining bolt.
The Jumbotron display unit is easy to use, plenty bright and offers easy access for simple tuning tweaks.
Weight - RMB reports it as 50.8 lbs without pedals. My scale showed 52.3 lbs with my OneUp aluminum pedals. This is a welcome diet compared to my 60-pound Norco Range VLT.
The frame comes in carbon or alloy versions.
Instinct and Altitude Powerplays have received similar tuning updates: Their revised Smoothlink linkages feature a mid-high main pivot that provides a more supportive leverage curve than previous models, and adequate anti-squat to ensure efficient power delivery to the rear wheel. The new linkage on both bikes also follows a more rearward axle path to help smooth over smaller bumps. Rocky Mountain also offers size-specific shock tunes, so the out-of-the-box bike setup should be in the ballpark for any rider.
Boost-spaced 148mm rear axles (and 110x15mm front), 30.9mm seat masts, press fit BBs, and clearance for tires up to 2.6" wide. Cables/hoses are all routed internally, and the frame has cable trays inside with tie-down points to prevent rattling.
Fast charging*: 100% Charged in 3:55 (4A), 7:35 (2A) |  80% Charged in 2:55 (4A), 6:05 (2A). *Numbers from RMB.
Jumbotron
The Jumbotron display is easy for my fading eyes to read and easy to operate on my faded brain. It is the same Jumbotron Cam took a whopping 21 photos of the myriad screens available with this display. I was lucky to get this bike 6 months after its release because I learned about workarounds on issues previously troubling this motor. Firstly, I had experienced the motor slowing down on a 25º C day after 30 minutes hammering up a road in Ludicrous mode. The display came on showing a message that power would be reduced until the motor temperature was below 75c. This meant that the assist backed off a lot but not completely and I got worried and pulled over for some chilling in the shade. This was a nice forced break. After 10 minutes the error message disappeared and off I went. I did not receive the message again.
Lyle Vallie, R & D coordinator at RMB, hooked up his computer to my bike, changed out the 2022 Jumbotron for the 2023 version, tapped some codes into his keyboard and voila, I got the update. According to Lyle,"Basically [the change] comes down to wording and behavior of the temperature warning. The drive system will auto throttle itself at high temperatures to ensure no damage is done to the controller or motor wiring, so we tried to make the error warning more friendly, since nothing is actually wrong with the bike. Additionally, the warning only appears the first time the motor windings exceed 80°C, and once dismissed doesn't reappear so long as the bike is not shut down, so you don't have to dismiss it more than once per big ascent." So now the message says, "Looks like you're riding pretty hard. We reduced output but consider lowering your assist or boost until temp is below 75c."
Secondly, I learned that it is important to recalibrate the system every week or so. I have had zero issues with anything motor, battery or display related. In addition, I was told that if an error occurs during start up, just power off and on again. This worked for me every time.
Lastly, I figured out how to +2 my power boost for maximus Ludicrous.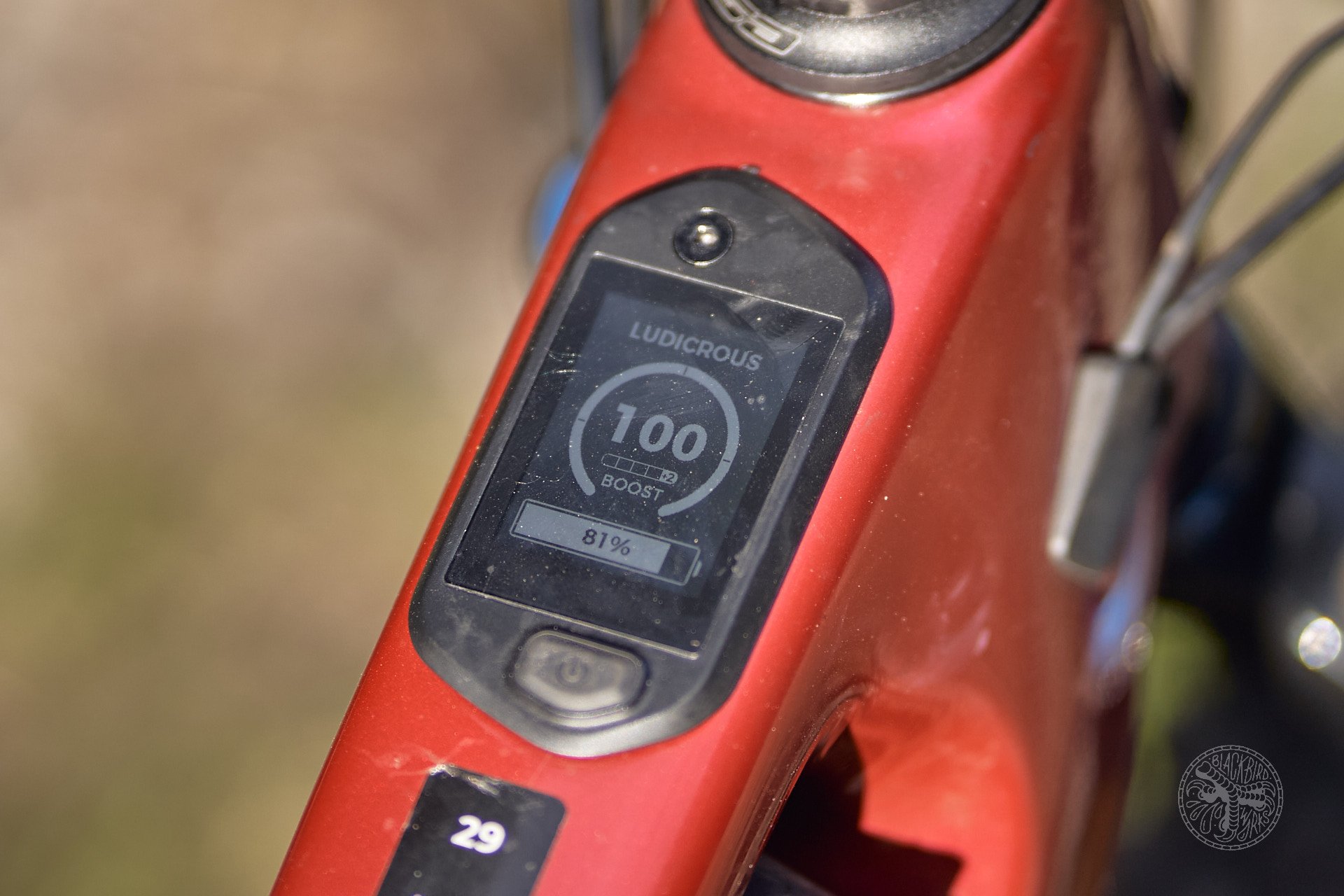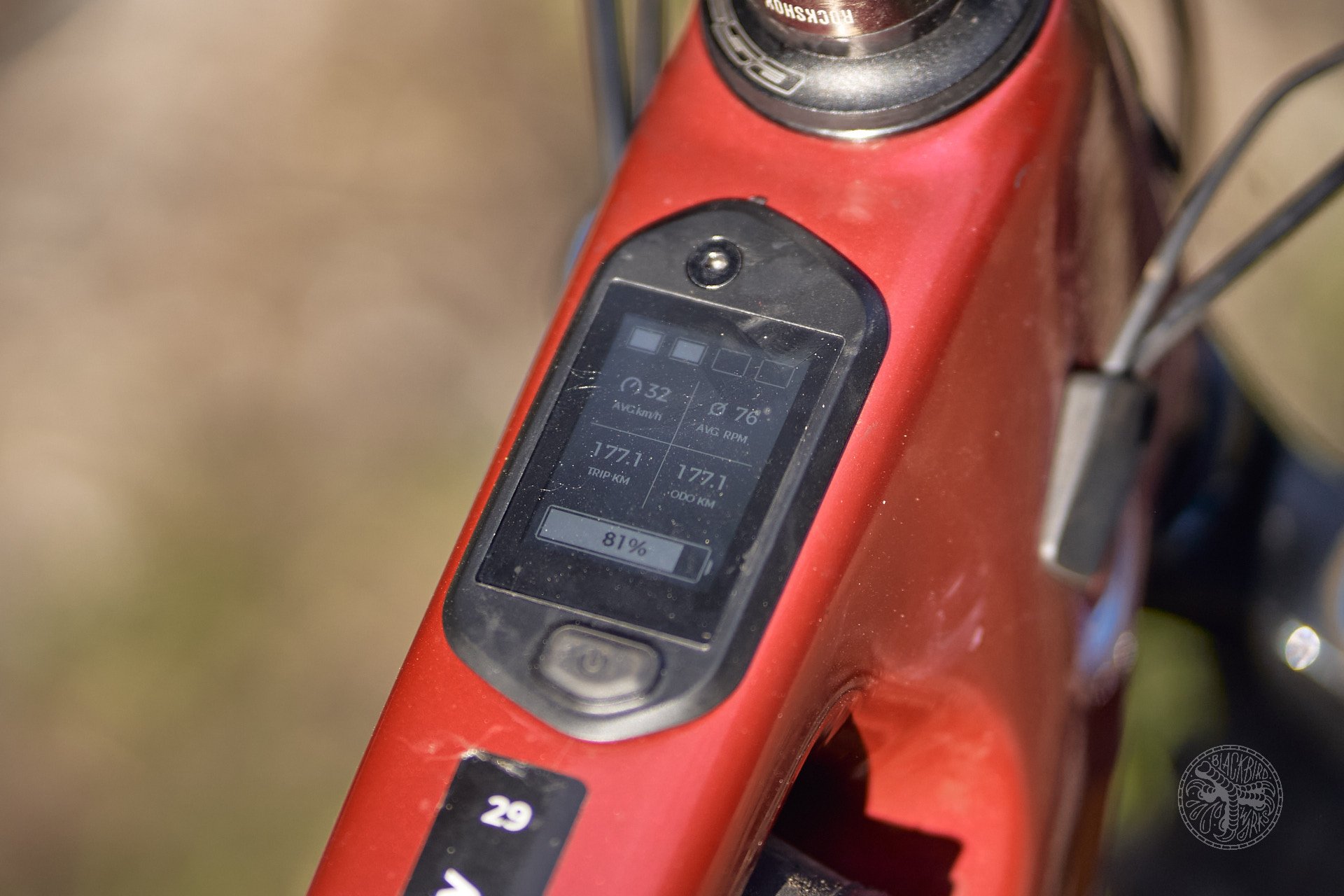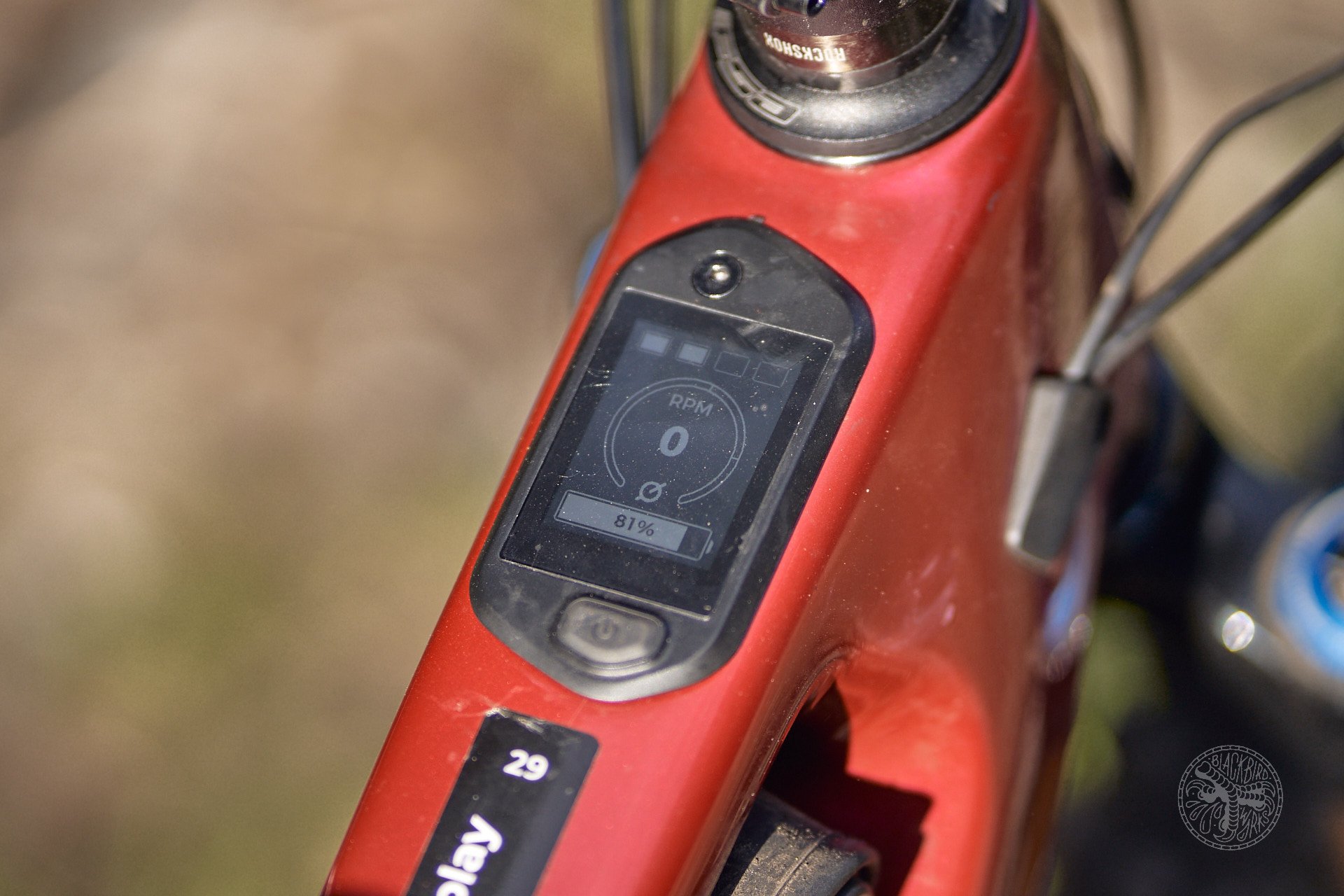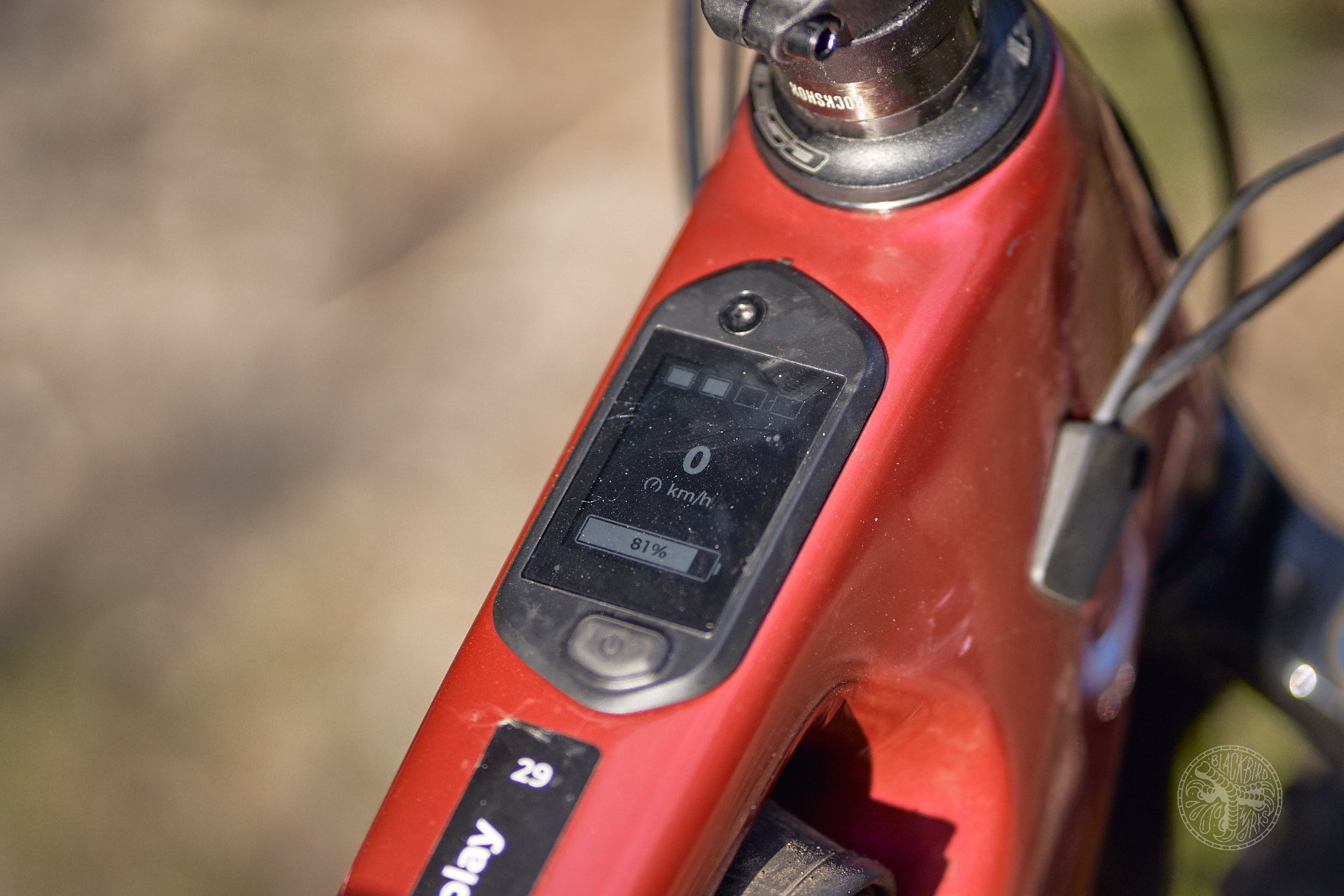 Geometry
Instinct Powerplay Carbon 70 Specs
The Carbon 70 model (currently on sale at 11,779 CAD) sent to me by the most interesting man in mountain biking, Dre Hestler from Rocky, is the second tier of 6 models. The Carbon 90 is the top tier and most expensive model, currently on sale at 14,719 CAD. The second tier Fox 36 E-MTB Float EVOL GRIP Performance 150mm fork and Float X Performance shock have felt excellent since I dialled them into what seems to be a good set up (more on that in "Going down").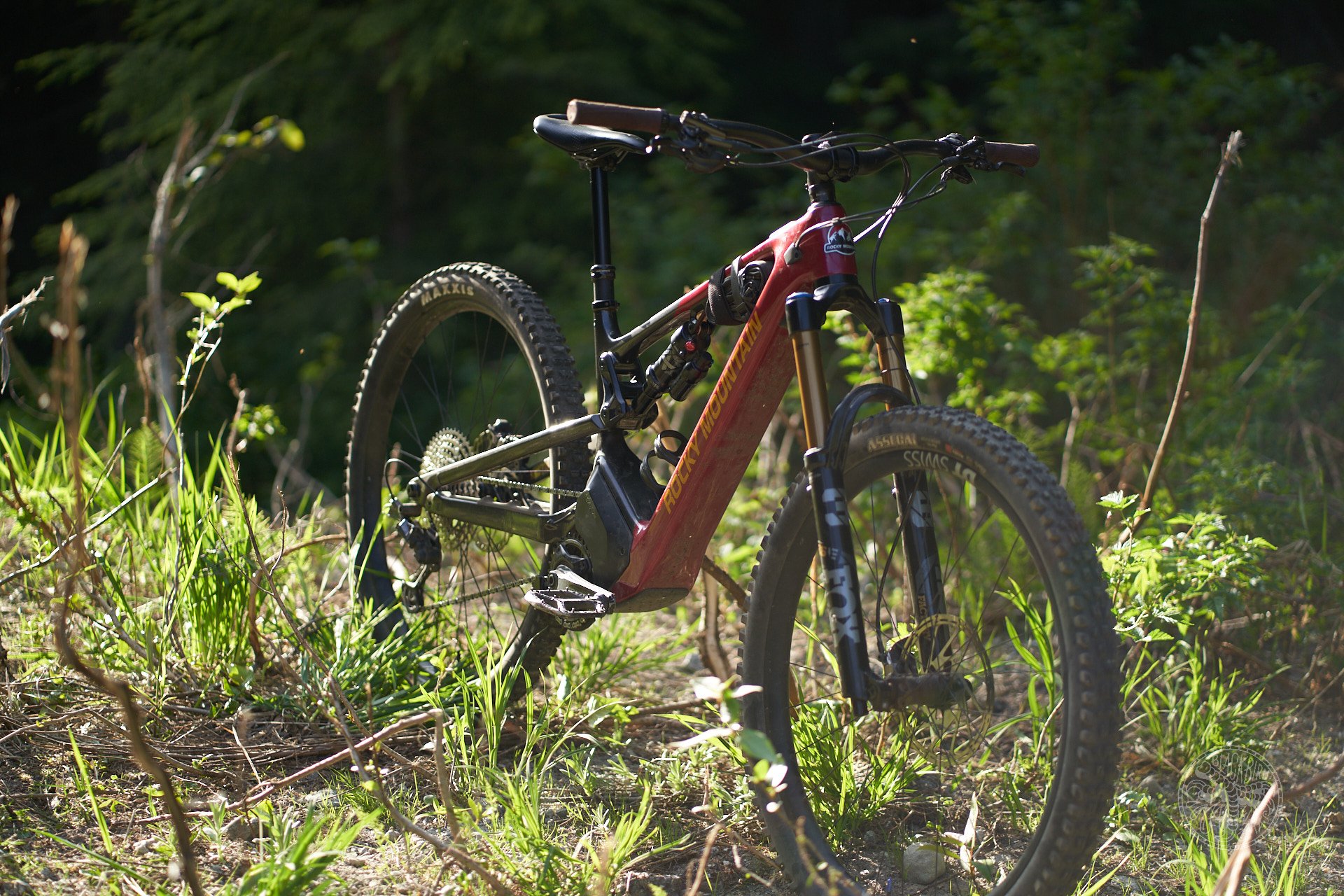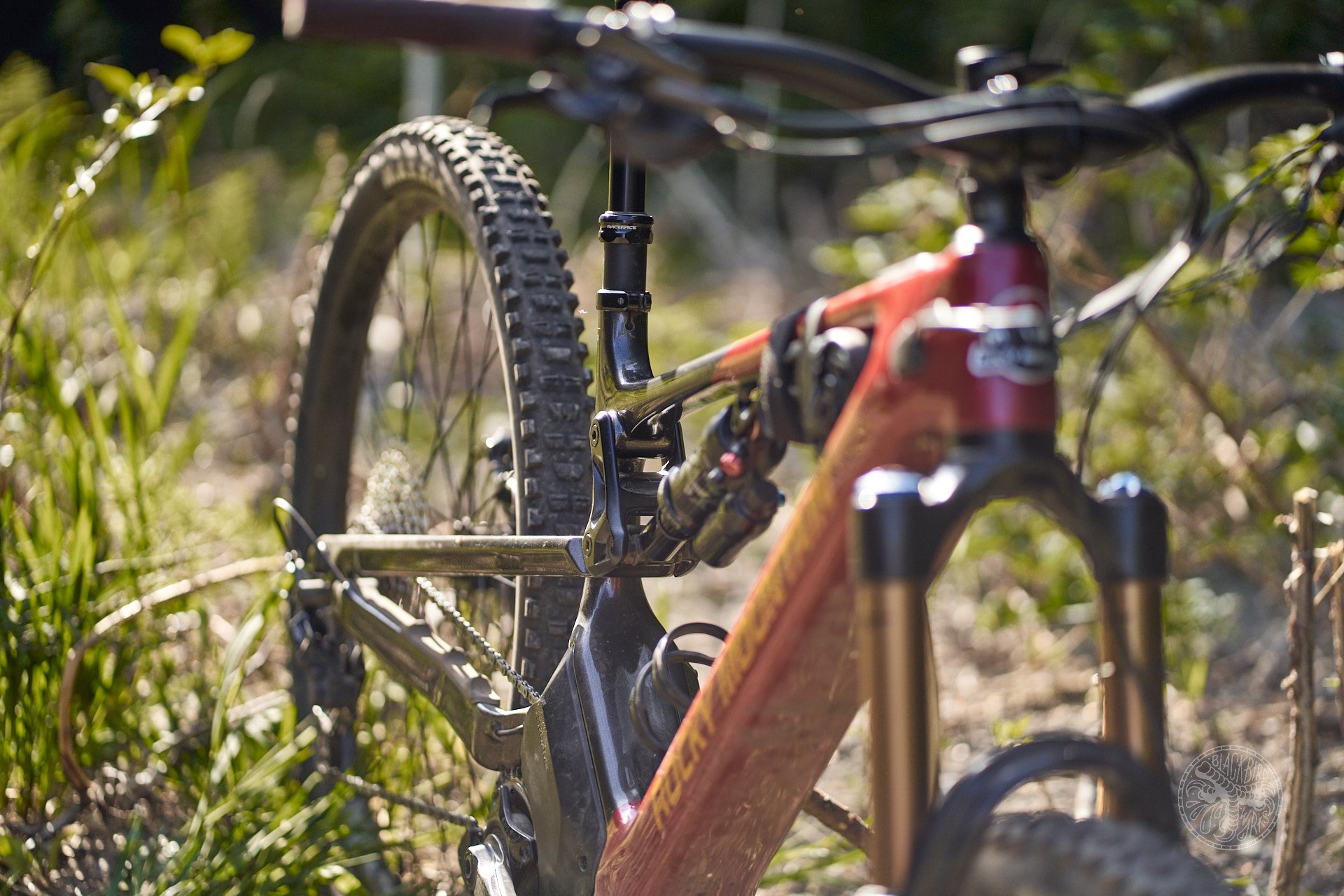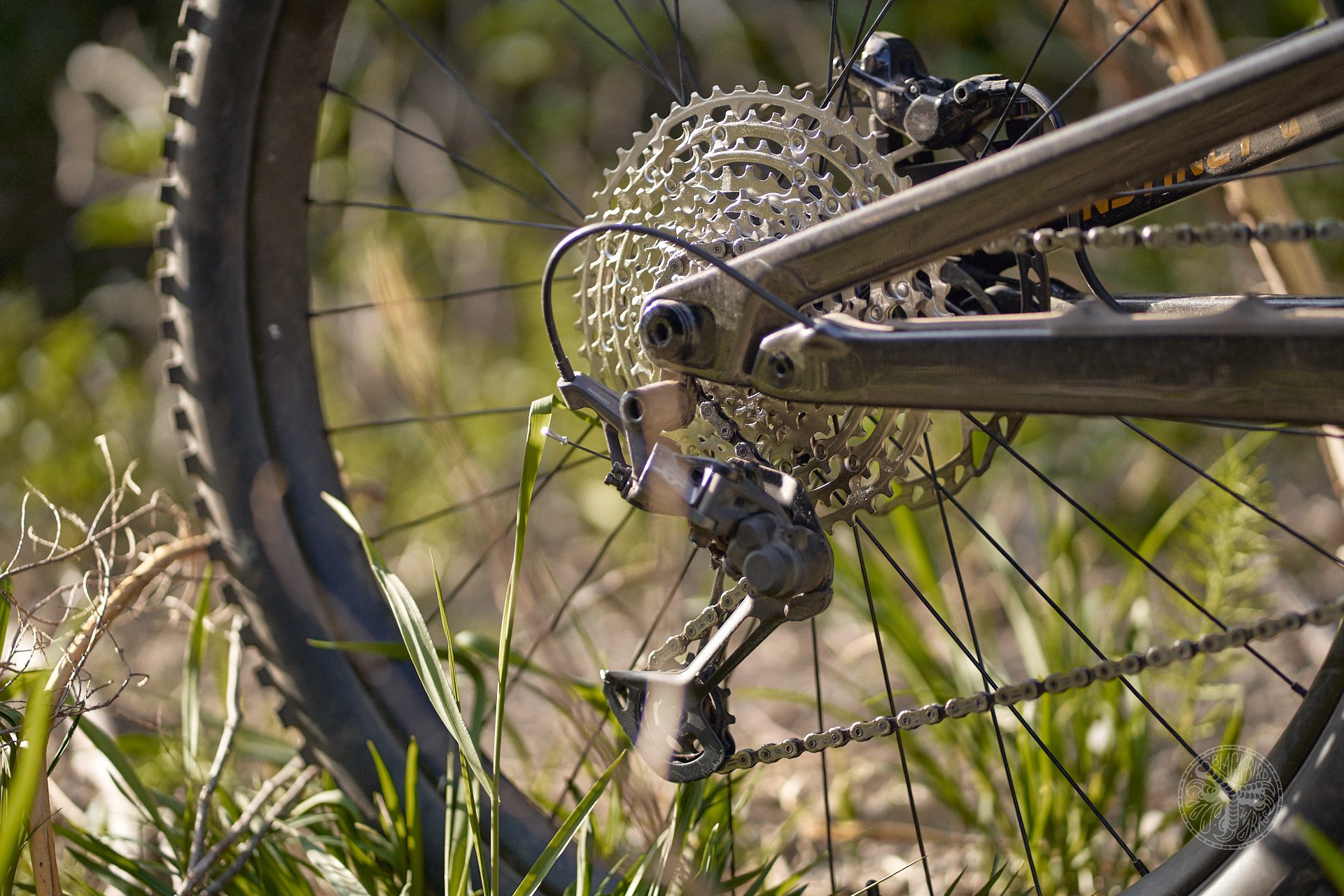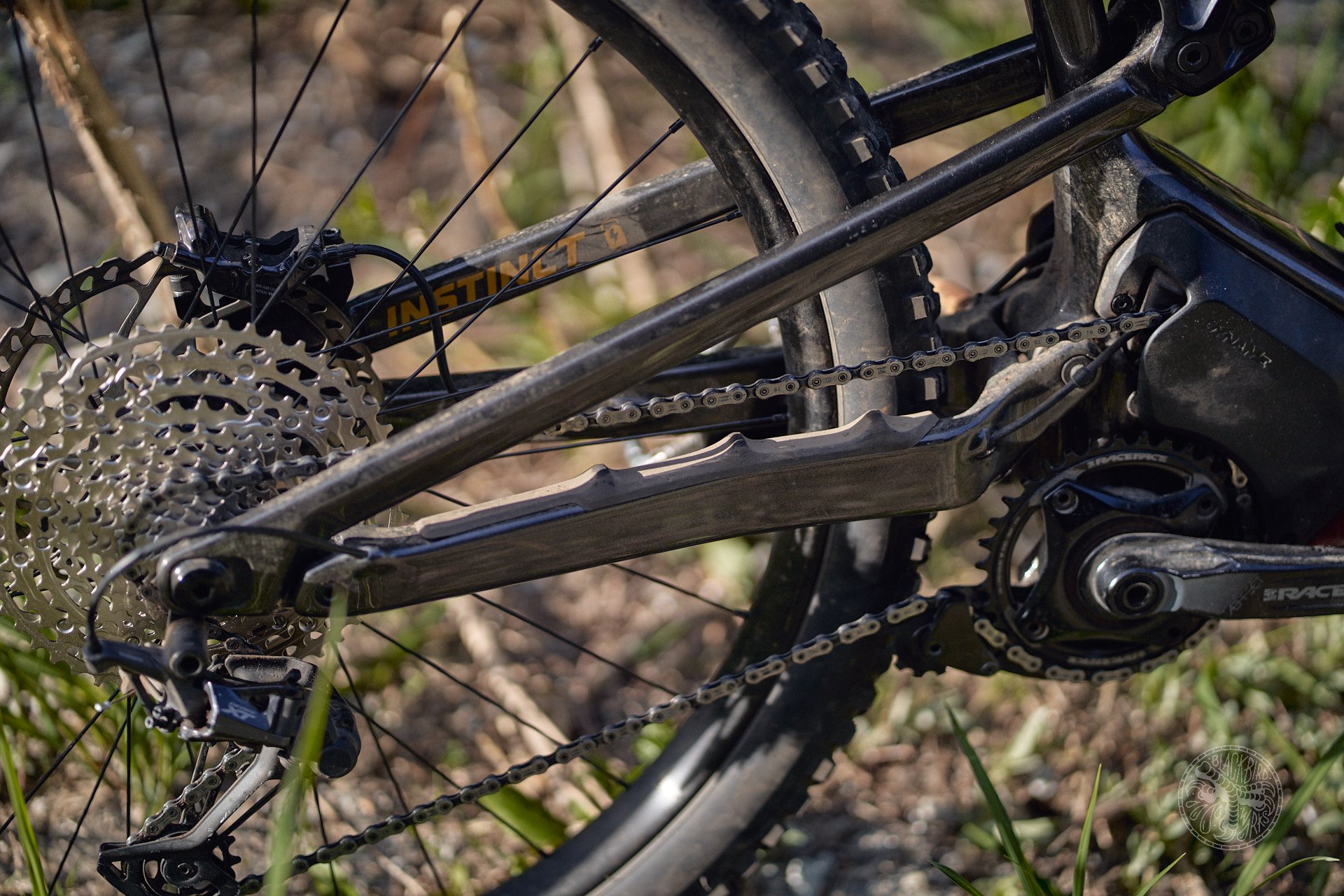 Going from Stock to Modified
The bike came to me with inner tubes in the tires like it was 2010. Altitude 70 and 90 Powerplay models come with Cushcore Pro installed but this doesn't apply to the Instincts. I did a few rides on dry trails with 23 and 25 psi and I was quite surprised at how well it played. I did not want to test my luck further so I installed an old Cushcore Pro in the front and a Tannus tubeless insert in the rear. Other mods included swapping out the WTB Volt Race 142 saddle for the new WTB Devo w/pickup saddle, stacking the spacers under the stem for a taller cockpit and adding a Haf-Clip spacer. The bike felt great climbing and descending but the suspension felt rough in the back, and loose with a lot of diving in the front. I used the RMB set up chart and the Fox tuning guide, starting with 210 psi and 7 clicks of rebound on the shock and 99 psi for the fork. I immediately bumped up the shock to 220 psi which smoothed out the square edge hits. On my fourth ride, I took my shock pump up to one of the trails I maintain for repeat laps to dial in my suspension. This trail has most of the features I ride on other trails so I figured it would give me a set up that would transfer well for most of the rides this bike would see.
After 7 laps of adjusting pressures, rebound and compression, I settled on 225 psi with 12 clicks of rebound in the shock and 102 psi with 8 clicks of rebound and position 2 in open for compression. I used this set up for the next 6 rides and the Instinct lit up. After the eighth ride, I decided it was time to increase front travel to 160mm, so I borrowed a Factory 36 E-Optimized Grip 2 160mm fork from Cam's tickle trunk of test gear.
Going Down
Rocky calls a the Instinct/Altitude platform a medium high pivot design. The result is a more rearward axle path to help with square edges. It is still progressive enough to give a somewhat bottomless feel, once I got the suspension figured out. I found the Instinct to be exceptionally responsive and nimble for a 52- pounder and even a bit playful. Spending a lot of time on my size large 60-pound Norco Range VLT definitely made the Instinct seem to ride lighter and poppier. I found the medium frame geometry fit my 5' 9" frame perfectly. This also contributed to my enjoyment of maneuvering the Instinct all over the trails I rode. I have been on trail bikes and felt the same characteristics on those rides. Having a lighter, lower travel bike yields a whole different package of ride fun than my usual big rigs do.
The Instinct excelled on almost all of my usual trail suspects; carving and popping flow trails, speeding through low and medium-grade loamers, picking through trail armour and jank, sailing through pedally intermediate level trails, and blasting into and out of berms with precision and stability. Where the bike suffered was on the steeps, in big rollovers and loam holes, and when trying to keep up to friends on enduro bikes. This is no surprise as the bike is aimed at trail riding not enduro/downhill riding. That will be explored when I turn the bike into an Altitude Powerplay.
For my first four rides, I used the Instinct's Ride 4 chip in the neutral position (3) and the chainstay chip in long mode. The geo for those settings are: 64.7° head tube, 463mm reach, 76.7° seat mast, and a 437mm chainstay length. From ride 5 until now I have had the Ride 4 chip in its slackest setting (position 1). This brought the reach to 457mm and the head tube angle to 64.2˚. I noticed a slight change in that I felt a bit more confident on steep rolls and rocks. Perhaps the reach made it easier to negotiate tight uphill switchbacks but that could be the placebo chip in my mind talking. I did notice a significant difference when I flipped the chainstay chip to short mode. The Instinct was easier to pop and rail out of corners but traction suffered on both the ups and the downs. I didn't care about it as much on the downs, after I rode with the 160 mm fork, and I prefer having a bit more pop and play than the small amount of extra traction the long mode provides.
Going Up
I read somewhere that the Dyname 4's high torque made it hard to control the bike on steep and technical ups. I would concur for situations where the trail is steep with either loose conditions or slimy roots and rock. I found the bike climbs these conditions best in trail mode instead of Ludicrous. At times I would hammer up in Ludicrous mode, and upon approaching problem areas I would drop down to trail+ or even trail. This got me over the tricky bits without spinning out with too much torque. The immediacy of the Dyname's torque response, and how smooth the application of force is, puts this system in a different class than the other eMTBs I have ridden. I remember struggling to keep up to Cam when he was testing the Altitude Powerplay. Now when I ride with him, I deliver some Dyname 4 Ludicrous boost+ payback. I am still amazed by how much faster I make it up to the top of the mountain compared to my Norco. Not that the extra few minutes of free time is used for anything productive, just more amazement.
The bike's geo fit well when I was speeding up tight switchbacks but I did find the reach had me pushed closer to the bars than I like on steep tech climbs. This is a small price to pay for all the times I appreciated the bike's fit.
I tried all my regular climbs with the shock in both open and closed positions and eventually I settled on open for ease and because there was not a lot of difference other than a bit more traction in open. I did not have any issues with BB strikes nor pedal strikes in either position. I kept the switch closed during all commutes however.
Going to Work
Monday to Friday, I'm employed as a physical engineer (aka high school Phys. Ed. teacher) in Richmond, 27 km from my home in North Vancouver. I made the decision to live where I love rather than where I work and make the sacrifice to commute. I used to travel to and from work by bike occasionally but, by the end of the day, I had little desire to do the ride home. In addition, the commute took away my energy for mountain biking and I couldn't have that. I came up with what I called compromise rides, where I would put the commuter bike on my car, drive halfway, then park and ride the bike the rest of the way which gave me a mental break from traffic.
When I experimented with riding the Norco Range VLT to work, I found a happier place. I repurposed an old set of wheels, bought a new cassette, rotor and magnetic wheel sensor, and then installed a set of WTB Byway 44 slicks. With a 6mm Allen key I could swap out the wheels in two minutes and create a Franken-E-commuter. It looked crazy with a 180mm Fox38 fork and a Fox DHX2 coil but I was free from the car. This gave me an even better mental health break from soul crushing drives.
When I got the Instinct Powerplay, I had Rocky hook me up with their rotor magnet ring and set it up as an Ecommuter. The problem with these eMTBs is that the man restricts them to 32 km/h. Just when I get a spin going, the motor stops working at 32 km/h and I have to actually work hard for all speeds above that. I noticed on my road bike that my usual speed when I get moving is 37 km/h to 40 km/h. I don't want to get into a debate about the speed restrictions because for the general population of beginner to intermediate cyclists, limits are probably a good idea. At least it is not as low as the UK and Europe which sits at 25 km/h. Regardless, the bike gets me to work in about 50 minutes compared to 40 minutes in the car. I can get away with riding to and from work on a single charge but I use the entire charge.
I did a few commutes where I got home, charged the bike while re-charging myself for a couple of hours, then swapped the slicks for knobbies and ripped a big trail ride for another hour and a half.
Going Forward and Looking Back
Looking back on my time with the Instinct Carbon 70, it is an excellent eMTB that works very well as a trail bike. It is easy to pop, carve and maneuver on almost all trail types other than steep technical descents. The 150mm/140mm set up works fine but the 160mm/140mm makes the Instinct a more versatile ride, making steeps, tech and big rolls more accessible. If these three characteristics are not important to you, the 150mm fork pairs well with the 140mm shock. In either setup, the Dyname 4 motor makes this the best eMTB climber I have tried.
The next step in this project is to install an Altitude shock mount, which allows riders to easily change shock sizes. This will take the Instinct from 140mm to 160mm of rear travel. Fox has generously provided Altitude-specific suspension: a 230 x 62.5 mm X2 shock and 170mm 38 fork for this next phase of the project. Both bits will receive Rocky's Altitude-specific tune. After several rides I will swap out the Altitude's 29" shock mount for Rocky's mullet mount and see how I like that setup. I will continue using the bike as a commuter when school starts up in the fall. Until the part two review comes out in September, I am going to do my best to take these different bike variations all over as many trails as I can.