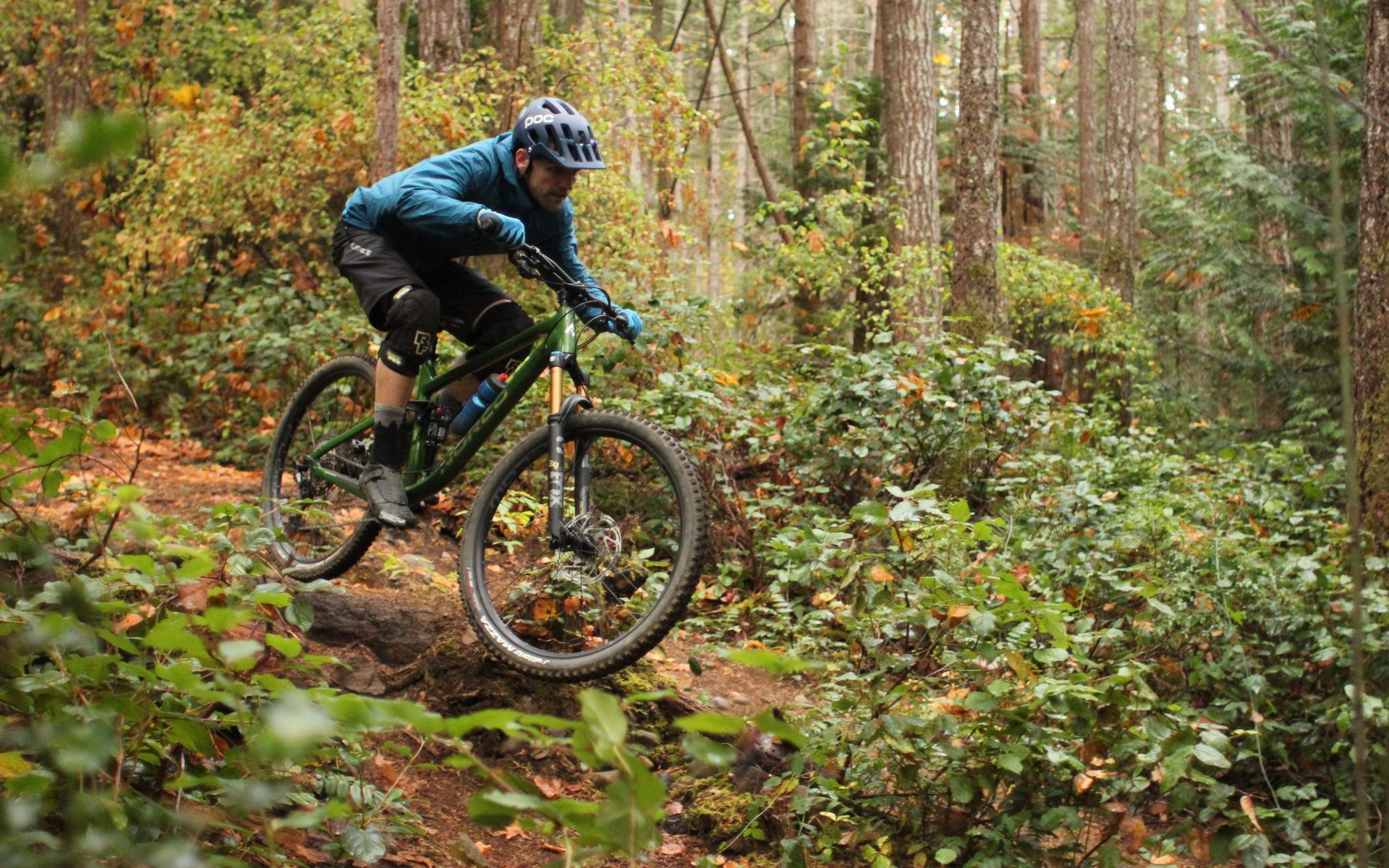 Trail Bike Review
2023 Norco Fluid FS A1 Long-Term Review
I have a confession to make. I've lost interest in new mountain bike tech. All the big problems have been solved already. Anything new that's been introduced in the last 2 or 3 years feels to me like it's either a marginal improvement or simply a way to raise the price ceiling of the mountain bike market. One day we'll look back and argue when exactly the bike industry peaked. Was it 2020? I took delivery of a new trail bike that summer and it certainly feels to me like there isn't much left to improve. So little does the bike leave to be desired that it more or less disappears while riding, allowing me instead to focus on the riding itself.
Meanwhile, much of the mountain bike world continues to focus on bikes that want to stand out rather than disappear. It's often either about high-end (read: expensive) or niche (read: weird). It takes a certain Zen mindset to ignore the noise and appreciate the mountain bike purely as a tool that enables us to have great riding experiences. From this perspective, a middle-of-the-road, utilitarian trail bike with all the proven tech but without all the unnecessary distractions, could be seen as the pinnacle of mountain bike development.
This is where the new Norco Fluid FS comes in. Rather than trying to stand out with something new but unnecessary and expensive, Norco specifically intended the Fluid to combine the best of the previous Fluid and current Optic platforms, and make it available in an affordable, accessible package for a wide range of riders. The first impressions review has all the details on Norco's approach to achieving that goal, as well as the Fluid's geometry and model range. It also contains an extensive walk-around of the test bike and its components as well as my initial riding impressions.
In this long-term review I'll describe how my setup and riding experience on the Fluid evolved as I got more time on it, how the bike and its components held up during the test period, and how it compares to the Canyon Spectral 125, a seemingly similar bike I reviewed earlier this year. Testing was done over the course of four months, split between Vancouver's North Shore (Cypress, Fromme, Seymour) and Vancouver Island's Comox Valley (Cumberland, Forbidden Plateau). Apart from one or two damp rides on the Shore, conditions were warm and dry for the duration of the test.
Setup
In terms of setup, testing the Fluid was not without challenges. As described in the first impressions review, Norco's recommended settings for my height and weight were a good starting point but I struggled a bit balancing my weight between the front and rear in some situations. Dropping the fork pressure helped mitigate that issue and I rode the test's first month or so on the Shore with settings that were still very close to the starting point. They felt adequate on the Shore's steep, chunky, and relatively slow descents, if not yet perfect.
Then I moved to the Comox Valley on Vancouver Island and was faced with very different and mostly new-to-me terrain. Compared to the Shore, there are more faster trails here and often they are not so steep and contain more chatter than chunk. The weight balance issue came back and the fork felt a bit over-damped in "Shore mode," and the rear bucked. I noticed I was lacking confidence and holding back. Without a frame of reference for these trails, it took some experimentation but eventually I think I figured it out. I ended up completely opening up the fork's low and high speed compression and dropping even more pressure. I also dropped the pressure in the rear shock a bit and dialled in a touch more rebound damping. Finally I rolled the bar backwards a bit. Combined, these changes made me feel much comfortable and in control and able to pick up much more speed.
The final settings were as follows:
Cockpit
Bar width: 790 mm
Stem length: 40 mm
Spacers under stem: 15 mm
Bar roll: rise in line with steerer / head tube
Fox 34 fork
Air spring: 70 psi (25% sag)
LSC: fully open
HSC: fully open
LSR: 7 clicks from closed
HSR: 7 clicks from closed
Fox Float X shock
Air spring: 180 psi (30% sag)
LSC: 7 clicks from closed
HSC: 8 clicks from closed
Vittoria tires
Mazza 2.4" Trail front: 20 psi (tubeless, insertless)
Martello 2.35" Trail rear: 25 psi (tubeless, insertless)
Riding Impressions
Climbing
Climbing on the Fluid is quite pleasant, with the rear suspension feeling nicely balanced between being active and supportive. There is just enough anti-squat to give that encouraging feeling while pedalling but at the same time lots of traction is available and the Fluid motors up technical climbs. I never felt the need to firm up the rear shock using the climb switch. The initial weight balancing issue I had in some climbing situations was solved by the adjustments in fork setup and bar roll, as mentioned above.
Gravity's pull on the Fluid's 15.5 kg (34 lbs) weight was noticeable but not a real problem in practice. To be honest, the only situations where I was annoyed by the Fluid's heft were lifting the bike on my car's roof rack and carrying it up the stairs of my apartment building.
Cross Country
The Cumberland trail network has quite a few relatively flat, meandering trails that I would qualify as cross country and the Fluid did OK on them. It wasn't super exciting but it wasn't boring either. Just pedal and go with the flow.
Descending
The Fluid proved to be both capable and forgiving going downhill. I really liked that it can accommodate a wide range of riding styles, from easy going to hard charging. My first rides on the Fluid were immediately fun and lively, despite still feeling out the unfamiliar brakes and tires and experimenting with setup.
Once I had nailed the suspension and cockpit setup and had become familiar with how the brakes and tires behaved, I started feeling comfortable letting go of the brakes, picking up some speed, and finding opportunities for a little air. The Cumberland and Forbidden Plateau networks have some very fast trails, mostly more chattery than chunky but there is some rougher terrain to be found as well. I was pleasantly surprised by how composed the Fluid stayed at speed.
Of course, 140 mm travel up front and 130 mm in the rear have their limits and if you keep pushing harder, at some point you'll run out of travel. The Fluid is still a mid travel trail bike and feels most at home on mid travel trail bike terrain: moderately fast, moderately steep, moderately technical blue and single black trails. However I would not hesitate to ride it on all but the most extreme trails that I consider within my riding ability.
Overall the Fluid's geometry and suspension felt very well balanced in most situations and a good match for the amount of travel available.
Comparison
Earlier this year I reviewed the Canyon Spectral 125 and, at least on paper, it appears to be after a similar riding experience as the Fluid with both travel and geometry very close between the two.
A closer look at the two bikes' specs however, reveals some details that hint at different intentions. The Spectral, with its 125 mm rear travel, 64° head tube angle, and Fox 36 fork up front, is just that little bit more aggressive than the Fluid's more moderate 130 mm, 65°, and 34 fork. Those different intentions become apparent on the trail. The Spectral 125 always wanted me to go faster but also required me to be at the top of my game in order to keep the short travel under control. When the stars lined up, it was a very rewarding experience. When they didn't, it was tiring at best, dangerous at worst. On the more mellow trails, the Spectral 125 could feel outright boring. In contrast, the Fluid showed a much more forgiving nature. Going fast on chunky trails, I still ran out of travel at some point but it felt less harsh. The Fluid was also more fun to ride at slower speeds or on mellower trails. While this is mostly positive, its friendly character makes the Fluid a little less engaging than the Spectral 125.
Interestingly, despite the Fluid carrying almost a kilogram (2.2 pounds) more heft, I found it a more pleasant climber than the Spectral. I attribute this to the Fluid having a touch more anti-squat; just enough to make it feel a bit more spritely. Both bikes offer plenty of traction when climbing technical terrain.
Summarizing, the Fluid is clearly the more balanced bike of the two, while the Spectral 125 is more niche. If the Fluid suits a wide range of riders, from less to more experienced, the Spectral's range is narrower and partly overlaps that of the Fluid on the more experienced end but also extends a little further beyond it.
Technical Report
There wasn't a single functional issue with the Fluid during the test but after about a month or so it developed an intermittent creaking noise. As the warm and dry summer progressed it became more prominent and eventually I figured I should look into. The noise seemed to occur under pedalling load, mostly while seated but sometimes also standing. Reluctantly and not so systematically I worked my way through the usual suspects, cleaning everything, applying fresh grease or threadlock where needed, putting everything back with the correct torque spec. After tearing down and rebuilding the suspension pivots, the noise appeared to be gone but returned halfway through the next ride. Another time I thought I might have found the culprit in a completely dry direct mount chainring interface but alas, a film of grease made no difference there either.
Eventually I gave up and decided to see this as an opportunity to practice some stoicism, ignoring the sound and focusing on the trail and on my breathing and pedalling rhythm instead. The good folks over at Norco agreed I did everything I could and promised to investigate the bike when they get it back. In the meantime, they are not aware of any serious creaking/noise issues with production Fluids out in the wild. For now, that's good enough for me and I'll put this down as an isolated issue with the test bike. I'm also keeping the possibility open that it's something stupidly simple I completely overlooked.
Components
All the components on the Fluid performed as expected during the test and there were no issues. Below are some things I wanted to point out. Components not mentioned, like drivetrain and cockpit parts, simply did their job with nothing more to say about them.
Fox Float Factory 34 GRIP2 140mm fork - The 34 felt great right from the start. In terms of stiffness, obviously a 34 has less of it than a 36. It wasn't a problem for me anywhere really but I'm not a super aggressive or heavy rider. For those who do fit that profile, I imagine a burlier fork (perhaps at 150 mm) would suit the Fluid very well too.
Fox Float X Performance Elite rear shock - The Float X has LSC and LSR adjustments with a sensible range and I felt like the shock performed well and matched the bike nicely. The climb switch was obsolete on the Fluid.
TRP Trail Evo 4-piston brakes - The TRPs required some getting used to. The pads took their sweet time to bed in and the levers' ergonomics are a bit different from Shimano and Sram brakes. The bite point is quite early in the stroke and the shorter end of the lever reach adjustment is still quite far out. Once I got used to the TRPs, I felt completely confident about them. They were quiet with pleasant modulation and their braking power was more than sufficient in the dry conditions during the test. Unfortunately I wasn't able to really test them in the wet.
Wheels: Stan's Flow S2 rims on Bear Pawl hubs - In the comments on the first impressions article, some expressed they saw these wheels as the "min" in Norco's min-max spec. All I can say is that for the duration of the test, the rims stayed true and the hubs kept spinning smoothly and without play. I didn't notice any significant flex or stiffness, these wheels felt just right to me.
Vittoria Mazza 2.4 (front) and Martello 2.35 (rear) tires - I had been interested in these tires for a while so it was good to finally be able to try them. The Mazza up front looks and behaves similar to a DHF or Butcher. The Martello's knob pattern and ride characteristic is reminiscent of a Nobby Nic. It rolls well and provided adequate cornering grip and climbing traction in the dry summer conditions. Based on the one or two damp rides on the Shore early on in the test, the tires handled wet roots and rocks reasonably well, although perhaps a touch less so than a typical DHF/DHR2 Maxxterra combo and not even close to their Maxxgrip variants.
TranzX 200 mm dropper post (out of spec) - Production bikes come with an SDG Tellis dropper so I won't hold the TranzX's slow return speed against the Fluid. I just want to add that the 200 mm drop was very welcome and provided the necessary space to move around on the bike with its 77° seat tube angle. I wouldn't want less drop on this bike.
Final Words
It's not carbon, it's not a mullet, it doesn't have a high pivot, it doesn't have anything electronic, it doesn't even have a steering stabilizer. It leaves all that to those chasing the bike industry's next high-end trend. It's also not steel, not a hardtail, not even rigid, it doesn't have a weird handlebar, and it's not made by a guy in a shed. It leaves all that to those gravitating towards the niche end of the bike industry.
Here's a trail bike for those of us in the middle, who just want something that has all the tech that makes modern trail bikes great and none of the bullshit that makes them expensive, with options for all body heights and wallet sizes. Some of us may be relatively new to mountain biking, while others may be more experienced. The Fluid can accommodate all of us, no problem. It's an excellent platform that can grow with us as our riding evolves.
I think Norco hit it out of the park with the new Fluid. It's a very well-rounded trail bike that can suit a wide range of riders and handles all but the most extreme types of terrain with grace. The size-dependent geometry and sizing range from S to XXL make this an especially compelling option for the small and the tall.
Of course any bike, especially one designed to hit a certain price point, comes with trade-offs but in case of the Fluid I can think of few. Weight-conscious riders may be put off by the Fluid's heft, especially the lower-priced models where heavier components are going to add up. Norco's min-max mindset applied to component spec may or may not align with yours. Perhaps the internal cable routing is a deal breaker for some. None of these things bothered me during the test, I was too busy having fun.
Bottom line, the Fluid is a bike I can recommend to anyone in the market for a short to mid travel trail bike.
--
More information at norco.com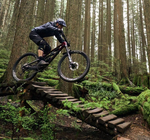 Niels van Kampenhout
Height: 6'2" / 187 cm
Weight: 172 lbs / 78 kg
Inseam: 35" / 89 cm
Ape Index: 1.005
Age: 42