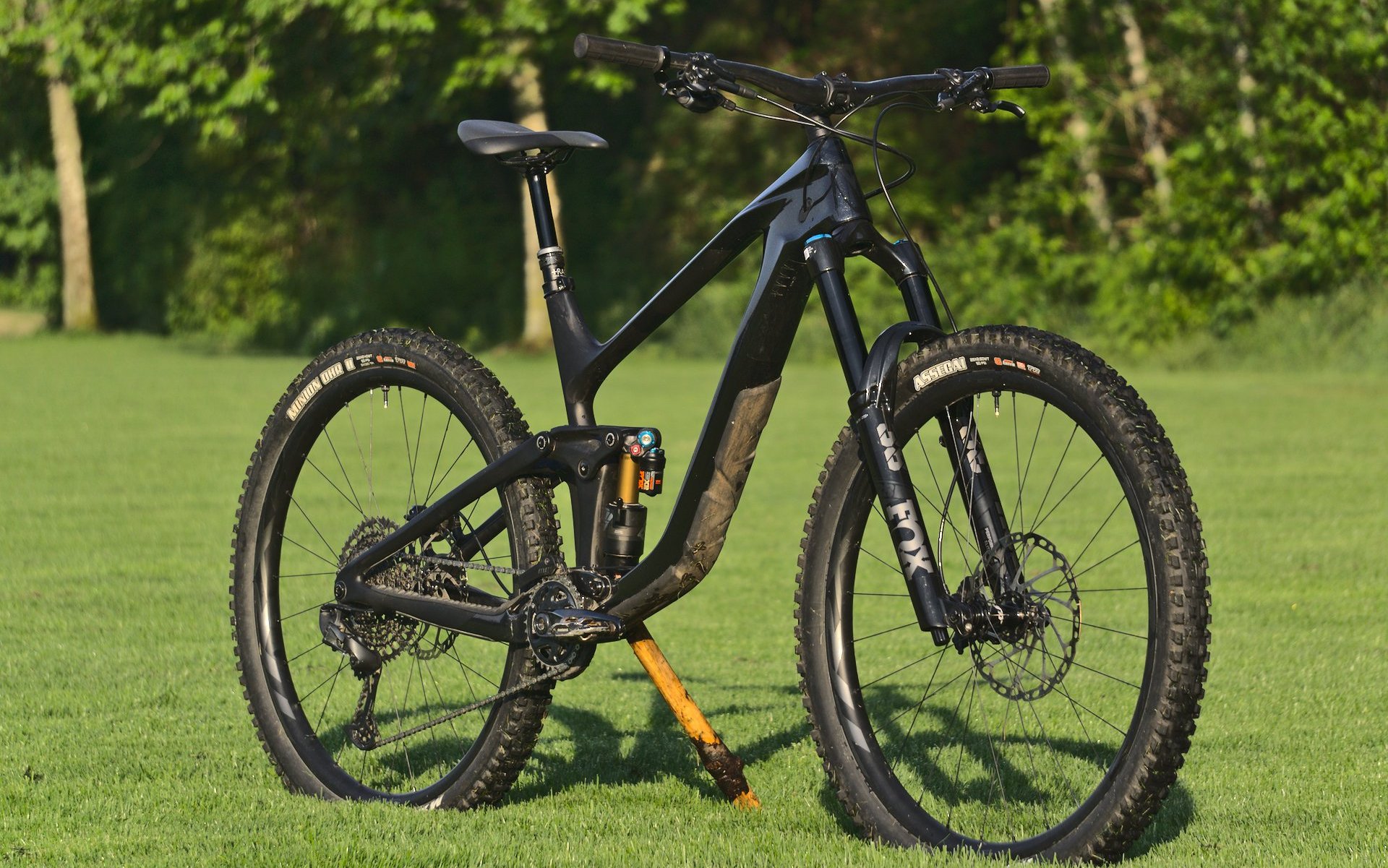 First Impressions
2023 Giant Reign Advanced: a First Look
Back in 2014, as the enduro hype was running full steam, Giant introduced a brand new Reign that was fully on trend with 27.5" wheels and what was then considered long and slack geometry. It was and still is a popular bike on the Shore. As geometry at the rowdy end of the trail bike spectrum kept getting pushed to extremes and finally embraced 29" wheels, subsequent iterations of the Reign leaned toward conservative and left the hard-hitting crowd a little unsatisfied.
In 2020 the Reign made the jump to 29" wheels and with 146 mm of rear travel and a not-so-slack-anymore 65° head tube angle. It was an excellent all-round trail bike but not quite the ruthless enduro weapon it could have been. A rather large gap in reach between the M and L sizes left riders of average height scratching their heads.
Being the world's largest bicycle manufacturer may provide some leeway in having to keep up with the Joneses in the mountain bike industry but Giant eventually got moving. The new 2023 Reign, announced last December, returns to the enduro realm with contemporary race-ready geometry, rear travel bumped back up to 160 mm, a flip chip unlocking 3 geometry variations, and the option to run a 29/27.5 mullet setup. As if to prove a point, Luke Meier-Smith raced the new Reign to a win in the first Enduro World Cup in Tasmania last March.
My Reign Story
I have very fond memories of the 2015 Reign 27.5 I owned. I immersed myself in the enduro hype for a while and even enjoyed quite a few park days on it but ultimately, I longed for something more all-round.
A 2020 Reign 29 turned out to be that something more, and it's still my personal ride today. It's a great fit for 90% of the riding I do but every so often I find myself on a rowdy trail longing for that dreamy feeling of floating over rough terrain that a proper long travel sled provides. Having reviewed shortish travel bikes like the Canyon Spectral 125 and Norco Fluid in the past year, I've also been a little out of touch with the latest geometry developments in the enduro category. So when an opportunity came up to review the new Reign, I jumped on it.
Geometry and Sizing
Glancing over the numbers, the new Reign appears to be smack in the middle of present day enduro geometry with very little left to be desired. 160mm of rear travel is paired with a 170mm fork up front. Flip chips in the seatstay pivots let you switch between three settings with a 63.5, 63.9 or 64.2-degree head tube angle and corresponding 78.3, 78.7 or 79-degree seat tube angle. Reach and stack numbers are in line with the competition.
The Reign can be run as a full 29er or as a 29/27.5 mullet in all three flip chip positions, for a total of 6 different configurations. The mullet setup combined with the high position is very close in numbers to the 29er setup in the low position.
The Reign comes in sizes S-XL, with the same chainstay length across all sizes. With more and more brands offering size-specific chainstay lengths, I feel like Giant falls short here. Curiously from a brand named Giant, there is no XXL size.
At 187 cm (6' 2"), Giant's size recommendation puts me right in between L and XL. I decided to request an XL which has similar reach and stack numbers as the XL Norco Fluid I tested last year but a slacker head tube angle and longer chainstays (and wheelbase). It's longer and slacker than any bike I've ridden for an extended period.
Giant Reign Advanced Pro 1 - Frame and Suspension
The Advanced Pro 1 on test comes in a "Gloss Black Diamond/Matte Carbon" colour combination with very understated branding, yet has that familiar Giant look with their well-known Maestro suspension layout with two short links connecting the carbon front and rear triangles.
New are the flip chips in the seatstay pivots. The bike comes with two sets of chips: one set for the neutral middle position and another set providing low and high positions.
Also new in this iteration of the Reign is a storage compartment housed in the oversized downtube. Access is through a door with a twist-lock and inside you'll find a neoprene sleeve to hold a few tools and spares.
Conveniently, the storage compartment door also provides access to some guides to zip-tie the internally routed cables to for a cable slap-free experience.
Up front a Fox 38 Performance Elite with GRIP2 damper delivers 170 mm of travel.
The rear suspension is fitted with a trunnion-mounted Fox Float X2. Although our test bike came with a Factory level unit, it should have had the Performance Elite model which has all the adjustments of the Factory but forgoes the gaudy Kashima coating in favour of classy black.
It took me a while to find the HSR (hi-speed rebound) dial hidden in the recess in the downtube. It's practically impossible to reach without removing the shock.
It's an understatement to say that the X2 has a mixed reliability record among the NSMB test crew. We'll see how this one holds up.
Drivetrain
In the drivetrain department, Giant went with a complete SRAM GX Eagle package. Although the combination of the 10-52t cassette with a 32t chainring may make sense on paper, personally I would have preferred a 10-50t with a 30t for closer spaced gears at the low end.
Brakes
Stopping power is provided by Shimano's 4-piston SLX brakes with 220mm (front) and 200mm (rear) RT-66 rotors.
Shimano brakes are supposed to be a boring but solid choice but inconsistent reports of wandering bite points and mysteriously underperforming rotors have cast a shadow over their reputation from time to time. Will these brakes be able to stop me from flying out of control down some rowdy Forbidden Plateau descent?
Wheels and Tires
The Reign rolls on Giant's own TRX 2 carbon wheelset. The 30mm rims are laced to nondescript hubs. Giant's website specifies "3 pawl 30T" but I counted 34 points of engagement. I was happy to see standard J-bend spokes and 6-bolt rotor mounts.
The wheels are shod in 29" Maxxis rubber, specifically an Assegai 2.5 in EXO+ casing up front and a DHR2 2.4 in DoubleDown casing in the rear, both in MaxxTerra compound. Clearly some thought was put into tire choice with a tougher casing in the rear although some may wish for a stickier compound up front.
Cockpit
Housebrand parts make up the cockpit of the Reign. The 800mm wide carbon bar has 20mm rise and is clamped by a 40mm stem. The grips are of the lock-on variety.
I'm used to a little more backsweep than the 7 degrees of this bar and it feels very straight to me. There may be a bar swap in the Reign's future.
The Giant Romero SL saddle sits atop a TranzX dropper providing 200mm of drop that can be reduced by up to 30mm in 5mm increments by unthreading the collar and adjusting a plastic bushing. Neat but unnecessary as I appreciate having the full 200mm.
The dropper remote feels a little heavy at the lever but it works fine on the trail.
First Ride Impressions
As I write this, I have two weeks on the Reign and my first impressions are largely positive.
Being familiar with Maestro bikes and Fox dampers it didn't take long to find a good base suspension setup. For now I settled on 30% sag in the rear and 25% up front with middle-of-the-road compression and rebound settings. It's not perfect yet but that floaty feeling is already there.
Cockpit setup is turning out to be a little more difficult. The low backsweep bar feels a little awkward and I experienced some hand and wrist discomfort so a swap for a bar with more backsweep is imminent.
I can already say that the Reign pedals quite well. As was initially the case with the Norco Fluid, I'm still struggling a bit with distributing my weight over the long wheelbase on steep or technical climbs.
The bike arrived with the flip chips in the low position and on the first descent my steering, braking and weight shifts were all off. This bike likes to go fast and straight! From the second ride on, my brain started adjusting and the bike's handling started to feel natural.
What's next?
Now that I'm up and running with the Reign, I have a daunting task in front of me. Between the 3 geometry positions, 2 rear wheel sizes, and the 4-way adjustability of the fork and rear shock, there are a lot of variables to play with.
Channeling my enduro alter ego, I've started seeking out the more challenging trails in the Comox Valley and I'm eagerly awaiting the opening of the Mount Washington bike park for some back to back laps in different configurations. It should be an interesting summer!
---
The 2023 Giant Reign model range runs from CAD 4,299 CAD / USD 3,600 to a staggering CAD 13,299 / USD 12,500. The Reign Advanced Pro 1 we are testing goes for CAD 7,999 / USD 6,800. Specific model availability differs per region, see Giant Bicycles for the full model range available in your country.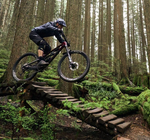 Niels van Kampenhout
Location: Comox Valley, Vancouver Island, BC
Model Year: 1980
Height: 6'2" / 187 cm
Weight: 176 lbs / 80 kg
Inseam: 35" / 89 cm
Ape Index: 1.005
Riding style: Zenduro(TM)