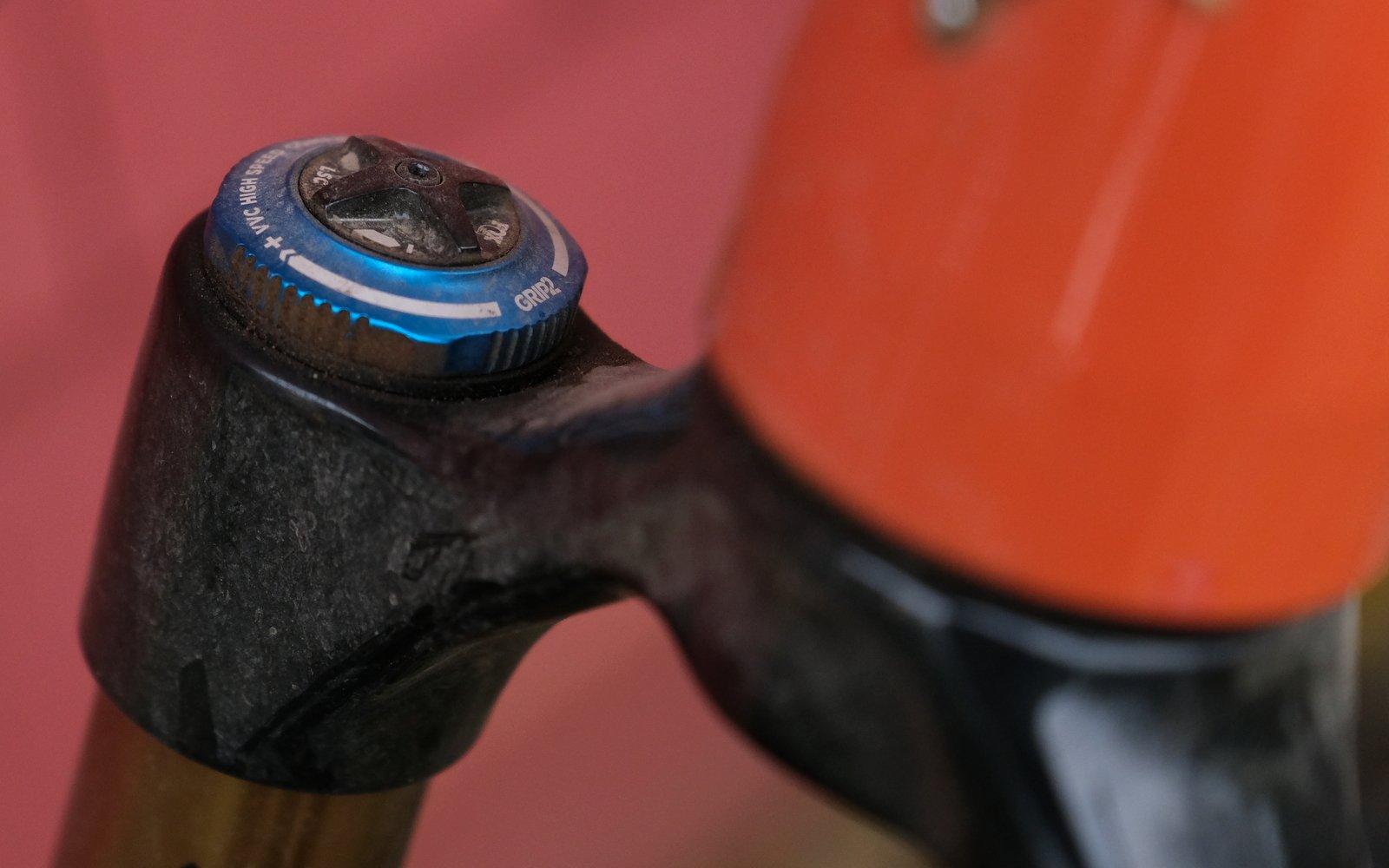 Review
2023 Fox Factory 36 Grip 2 - 160 mm Fork
At this point in my life as a bicycle tester, I've been questioning why I am doing things. Am I adding value? Does the process create enjoyment? Do I know what I'm talking about? With certain things, the answer is "yes", and with others, not so much.
Testing forks is one of those things that I tend to avoid. I feel like there are only so many things that I can say about a suspension fork, and only so much nuance that I can sense out of the front of my bicycle. As well, I truly hate the phrase "mid stroke support." I'm happy to think about it in the context of a bicycle review, but typing up a bunch of words about a fork doesn't excite me.
So reviewing the new Fox 36 didn't feel like something I wanted to do. What could I possibly have to say about a fork that was just slightly different than one I'd already ridden and talked about a bunch? That felt like torture, and I steered away and eventually forgot the conversation. And then a truck showed up a month later and deposited a brand new 36 on my doorstep. Life's a bit weird when the prospect of running a brand new US$1149/CAD$1499 fork fills you with angst and trepidation.
The Basics
You could be forgiven for looking at this fork and wondering what is "new". First, it looks a whole lot like the MY2022 version of this fork. Next, well, I've taken my sweet time writing this up, so you've probably already seen a few dozen or more out on the trail.
The biggest change is in the crown. "Increased steerer-tube overlap at the CSU" which improves stiffness and durability, all while dropping a bit of weight, is what the website tells us. " But why would Fox need to increase durability on a fork that was just released within the last few years?" you ask. Find a burly guy in the parking lot on your next ride and ask him. And in case you're wondering, axle-crown heights remain the same.
Next…well…there might not be a next. Are there other changes? Let me check in with Fox.
For MY23 the FOX 36 receives an update in the form of a new crown with updated design and engineering for more steer tube overlap improving durability and maintaining stiffness while dropping 20 grams.
Okay. So that's the only change.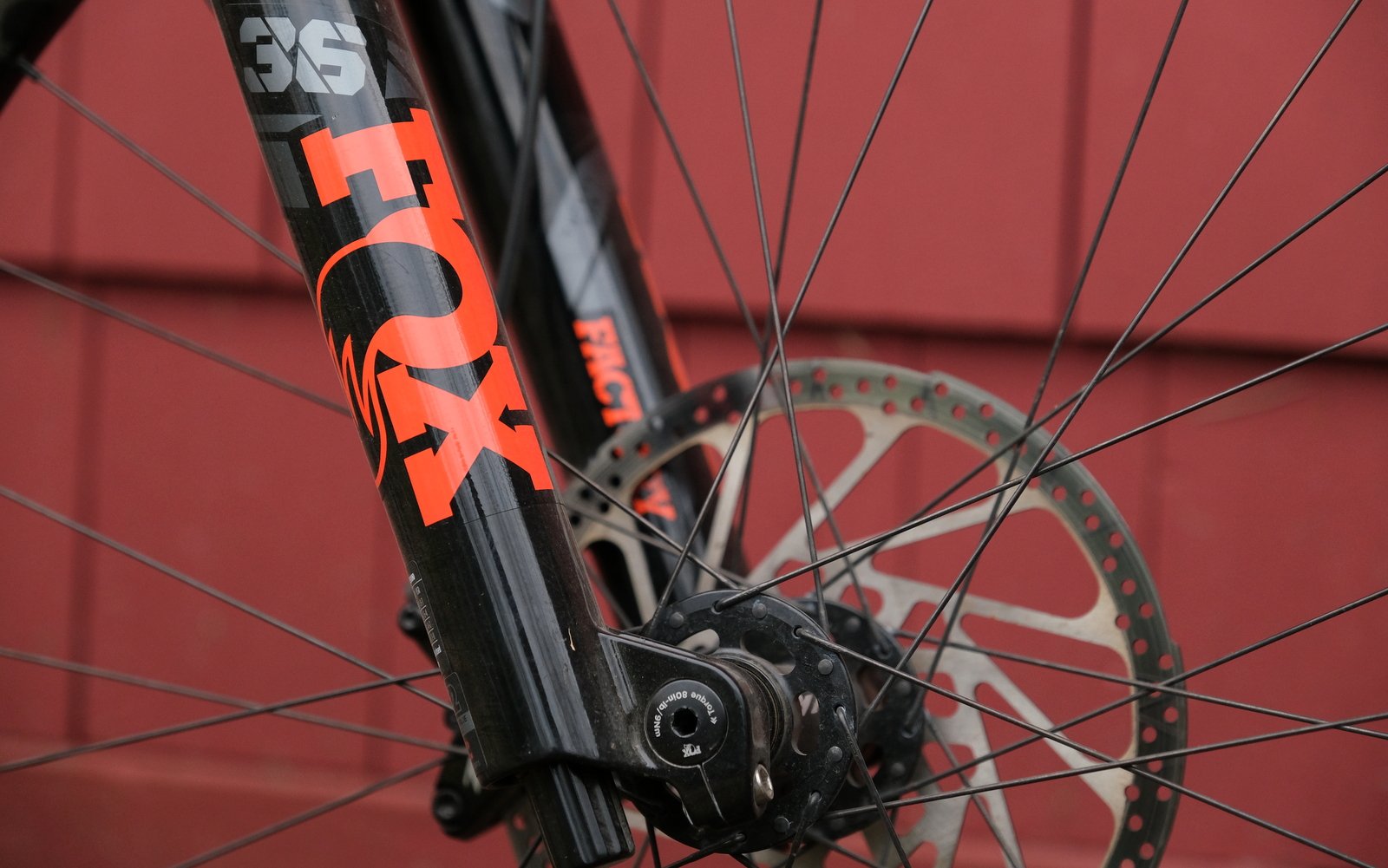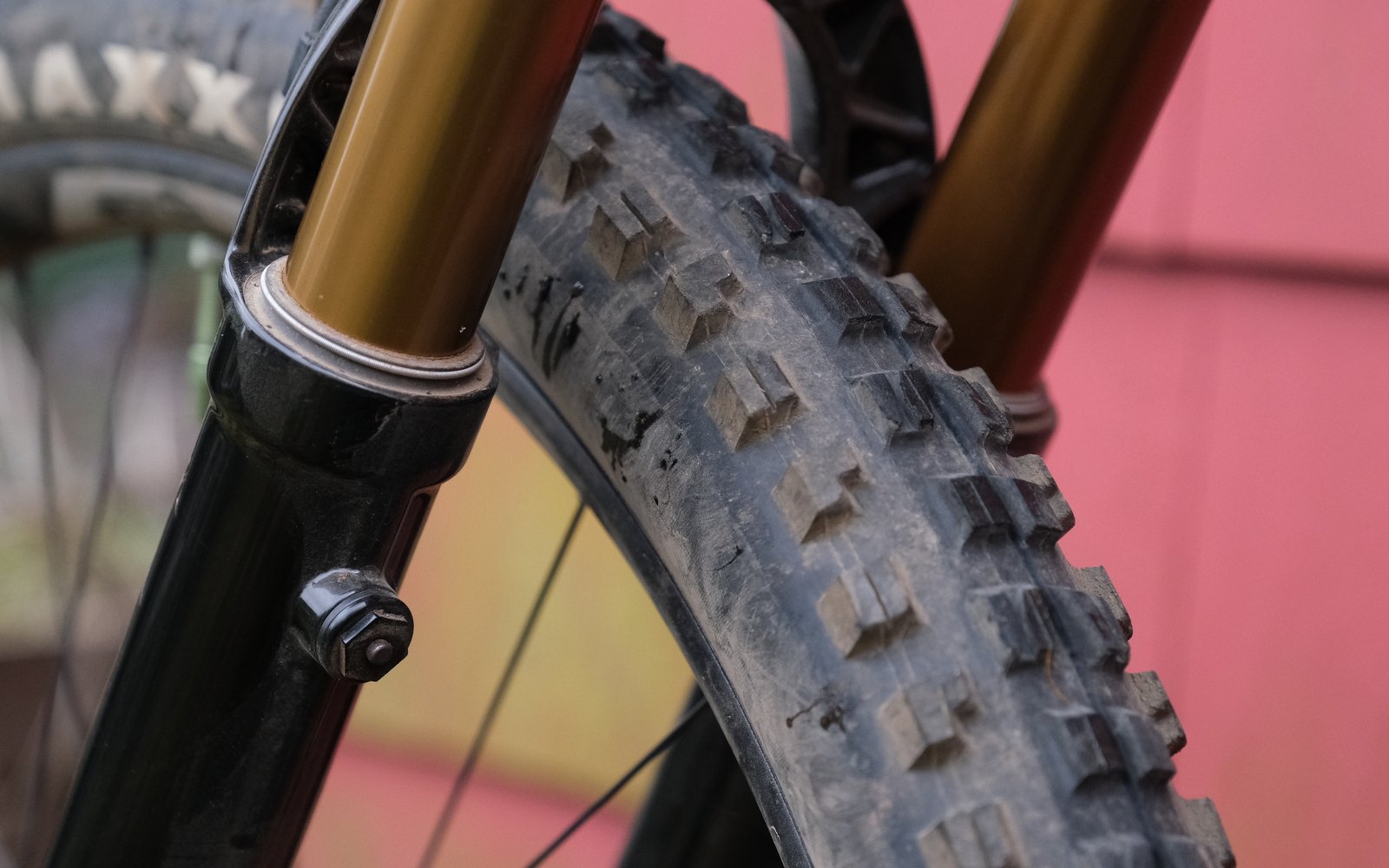 Touching and feeling and setting up
So, we've received the fork now, and we've understood what has changed. But how did the fork make me feel? Well, pretty darn good, actually. Pulling that glossy, shiny, black and gold mound of expensive metal out of the box and flashing it around in my front yard turned my bad attitude around a little bit. I mean, maybe at that price they could include the aftermarket mudguard in the box, but that's about the worst I can say about the experience. So, I was impressed, and as I was cutting the steerer tube with a hacksaw my neighbor came out screaming "What are you doing!" He was impressed too, apparently.
Once the steerer was cut, the fork found its way onto the front of my trusty Ibis Ripmo AF. This bike is still kicking around in my storage locker and it has seen a fair amount of riding time both during and after the testing period. The 36 is replacing a DVO Onyx with the same travel measurements.
Post install, I dusted off my 36 settings and prepared to dial them into this fork. As mentioned above, I have very recently ridden what feels like several 160mm travel 36's with the Grip 2 damper, one on the front of the Spectral 29, one on the front of the Arrival and I feel like a couple more that have slipped my mind. I ran the Arrival fork a touch stiffer than on the Spectral, so I thought I'd split the difference. But I caught myself. Every new suspension product deserves to start with the base settings as supplied by the manufacturer.
Not that this was a huge departure. My past experience with the 36 had me running the recommended clicks (give or take), removing any installed tokens and running a smidge under the recommended air pressure. This hurts my ego a tiny bit (as max tokens and pressure is where it's at, people say), but I've learned a few things about my riding style over the last few years and I've come to accept that I tend to run rear ends a little harder and front ends a little bit softer. "You need to be more centered in your stance, Dave" is something that is said to me on occasion. That may be true, but there's also just something about running XL bikes with shorter rear center ratios, and having long-assed legs, that leads to me being a bit more rear-biased than the average individual. My experience with stock Fox settings is that I tend to struggle to use full travel, which leads to the adjustments discussed above. So, this time around, rather than diving into that comfortable little rut, I left the stock token in and kept the pressure where it was.
First Rides
To give myself as much to work with as possible, I rode the same lap two days in a row, once on the DVO Onyx and the next day on the new 36. I wantedl to limit my variables and have the DVO fresh in my mind. This isn't a totally fair comparison for the DVO as it has quite a bit of mileage without much maintenance save for a couple of lowers services, but it is my baseline.
Pretty immediately I noticed that the 36 is a lot less supple than the Onyx. The ability to dial in the top end of your travel is one area where DVO really stands out. I've seen a few people online complain about the OTT adjustment not working all that well for them, but for me, this isn't the case. The DVO is super smooth off the top and I feel it must have something to do with the coil negative spring.
Once the speed picked up though, I had to recalibrate. Experiencing a fresh 36 on the front of a familiar bike was a bit of an eye opener. Putting it another way, the 36 really is a spectacular fork. It has been over-shadowed by the 38 in recent years, but on the terrain that I'm facing on the Ripmo, it works exceptionally well.
Where it stood out the most was on faster, repetitive hits. It always feels like it's ready for whatever is coming next and is great through the fast and the rough. My typical struggle to use full travel at stock pressure remained, but the renewed confidence I had with the bike through the rough supported my little experiment with stock settings.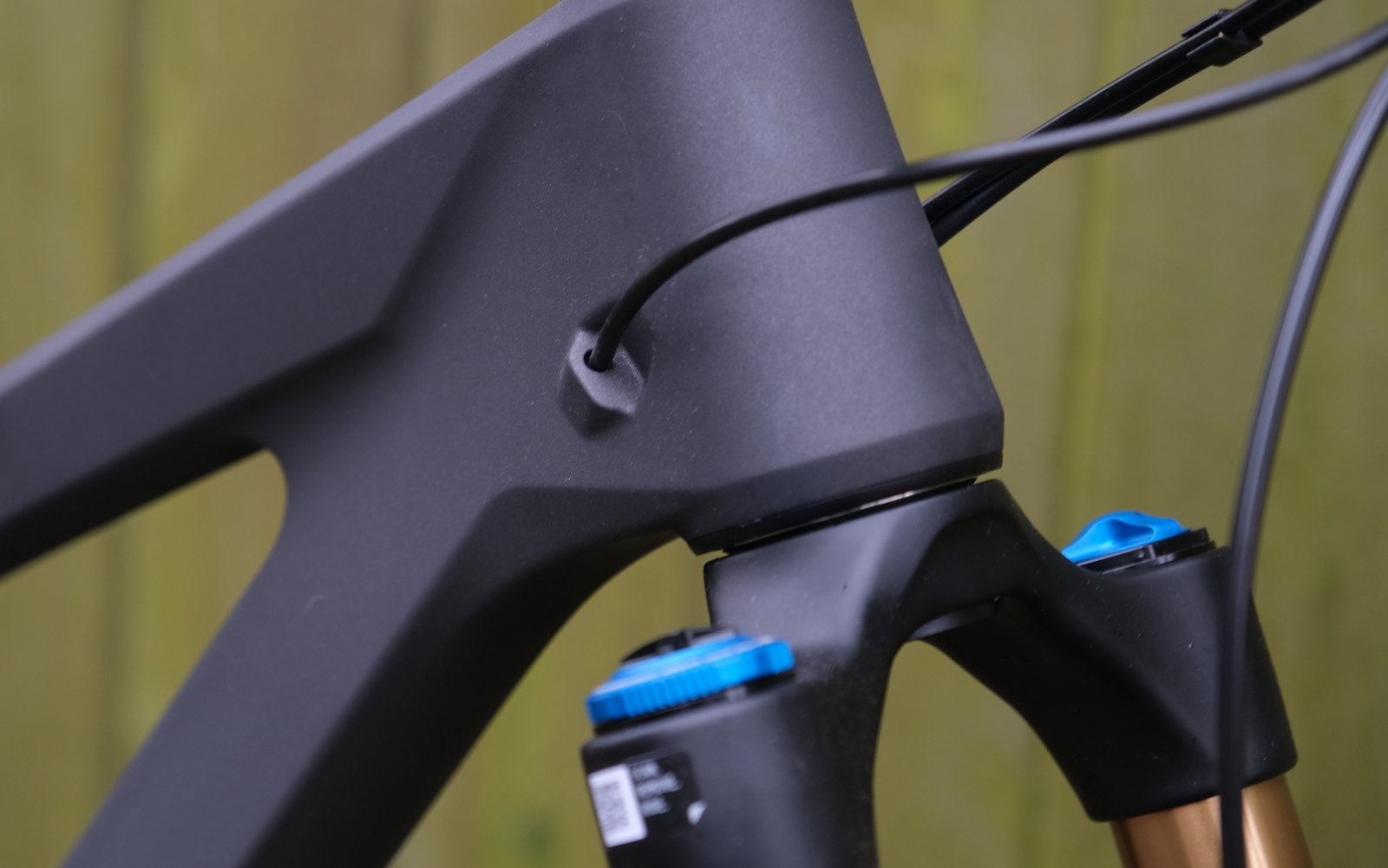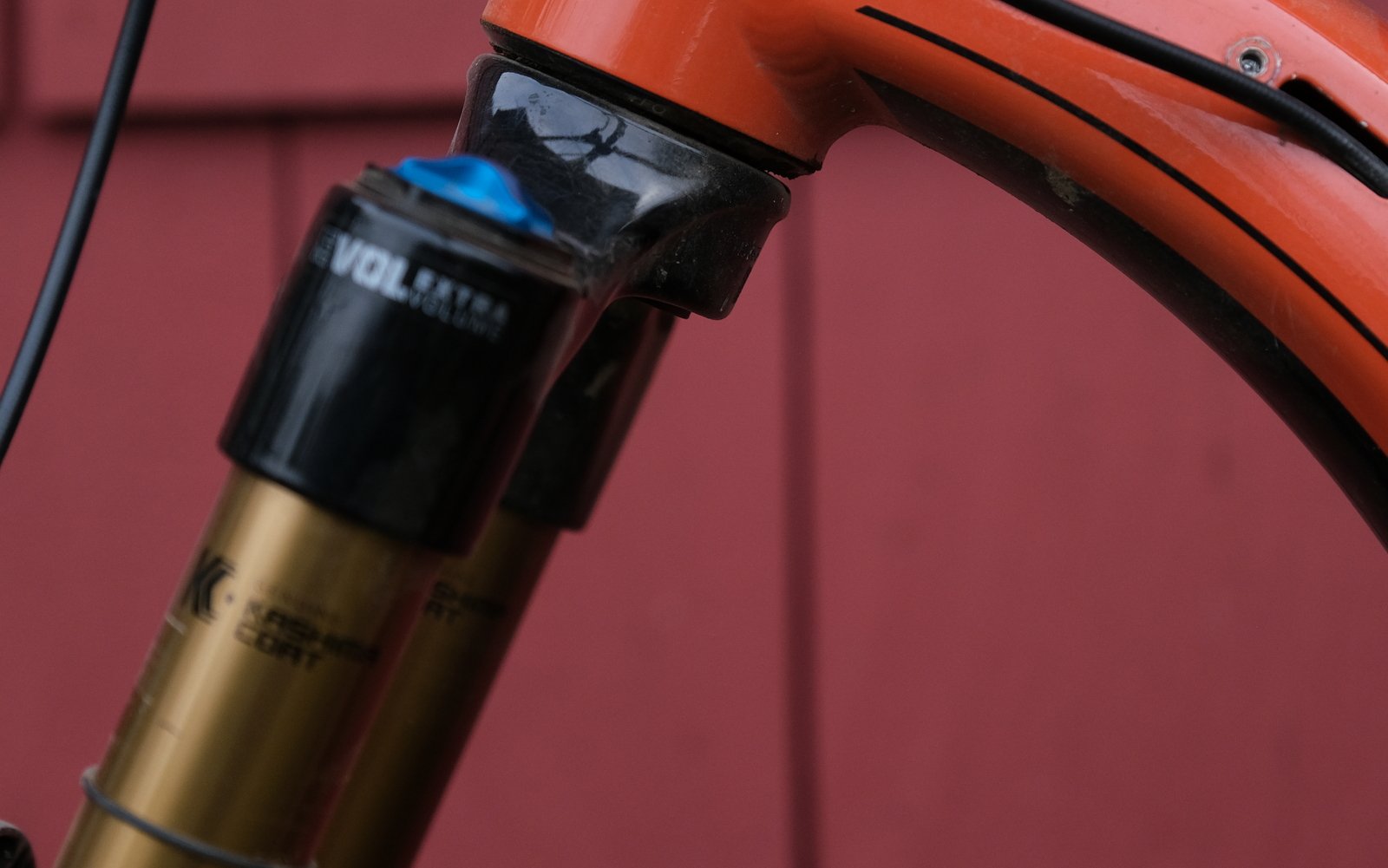 36 FACTORY GRIP2 FORK FEATURES
Upper Tube Finish. Kashima Coat
Air Channels Yes
Bleeders Yes
Floating Axle Yes
Rotor Size 180 direct Post Mount, Up to 230 compatible
Mud Guard Mount Optional FOX 36/38 Mud Guard with sturdy 4-point direct-mount attachment
Air Spring FLOAT EVOL
Steerer 1.5 TaperStarting
Weight 4.28 lb / 1942g (F-S 36, 29", 160mm Travel, KaboltX 110, 3 Pos-Adj)*
* Fork weights shown are at 165mm steerer length with star fangled nut and disc brake guide installed.
Longer Term
It's also a good idea to ride a fork a few times before you start going too crazy on settings. I've experienced a few forks lately that felt quite different after a few rides after they broke in, and it can drive you crazy if you try to chase settings through this time. After 3-4 rides on the 36 I felt comfortable enough to start making a few tweaks. I had decided that I really liked the additional support of a few extra psi and a spacer, but I was leaving a fair amount of travel on the table on the majority of my rides. I decided to open up the HSC a few clicks.
This proved to be all that I needed to hit the sweet spot on this fork. I still had all of that nice, firm support at higher speeds, but things were just a bit more forgiving and I was now using a more acceptable amount of travel. I still had a nice hunk of travel in reserve, which came into play once things got a little bit spicy. It felt like the right balance.
We've talked a lot about the fork being firmer, and at no point has that felt like any sort of compromise. While I mentioned above how plush the DVO is off the top, this isn't something that I've ever put any particular effort into chasing, or something that I feel has much of an impact on my riding. So, there's nothing all that noticeable about how this fork handles small stuff early in the travel, but it doesn't seem to matter all that much.
Comparing the 36 to a chunkier single crown like a 38 or a Zeb, my perspective has shifted a bit as well. I've liked pretty much every bike that I've ridden with the new crop of chonky forks on the front, and I'm pretty sure that's not a coincidence. I think long travel single crown bikes have gotten better since Fox and Rock Shox introduced these forks. All of the added girth just works better when terrain gets nasty, both in terms of keeping your wheel pointed in the right direction and with suspension performance. Why I mention this is that it seems like the reputation of the 36 (and Lyrik) has taken a hit since its big brother came on the scene. It's no longer the fork you look to for the nastiest riding. Of course, some CSU tweaks and a few extra psi hasn't fundamentally altered the 36, but at the same time I feel like I'm re-evaluating this fork a bit. I'm certainly not proposing putting one on the front of a Norco Shore, but I am feeling pretty confident about having one on the front of the Ibis Ripmo. It feels like the absolute perfect tool for the job that this bike does. It handles everything that I want to throw at it on this bike, without feeling like overkill.
On the durability front, I had no challenges with this fork. It's trucking along nicely after a long summer/fall of riding with no creaks or groans. I didn't have a challenge with any of my previous Fox 36 CSU's, but if you're the kind of rider that did, well, it's stronger now.
Conclusions
Similar to what I said with the Marzocchi Bomber Rear Shock, upgrading your suspension is an expensive way to improve performance. If you have a decent fork or shock on your bike already, you're going to get more bang for your buck by pursuing maintenance and tuning rather than new parts. Yes, the brand new 36 felt nicer than the somewhat tired DVO Onyx that came off the bike, but my tuning strategy was also different. If I were to re-mount the Onyx on the front of this bike, I'd probably send it in for service first and then start fresh with settings, taking what I learned with the 36 and applying it to that fork. I'm confident that this re-calibration would leave me pretty happy with the end result.
Now, if you are looking for a new fork or have one coming on a new bike, the 36 won't leave you much to complain about.
The new(ish) MY2023 Fox 36 is available in specific combinations of 27.5 and 29" wheel sizes, with 150 or 160mm of travel, in Factory or Performance Elite models, with 37, 44 or 51mm offsets, and Grip2 or Fit 4 damping. Prices start at US$889/CAD$1149 and go all the way up to US$1149/CAD$1499