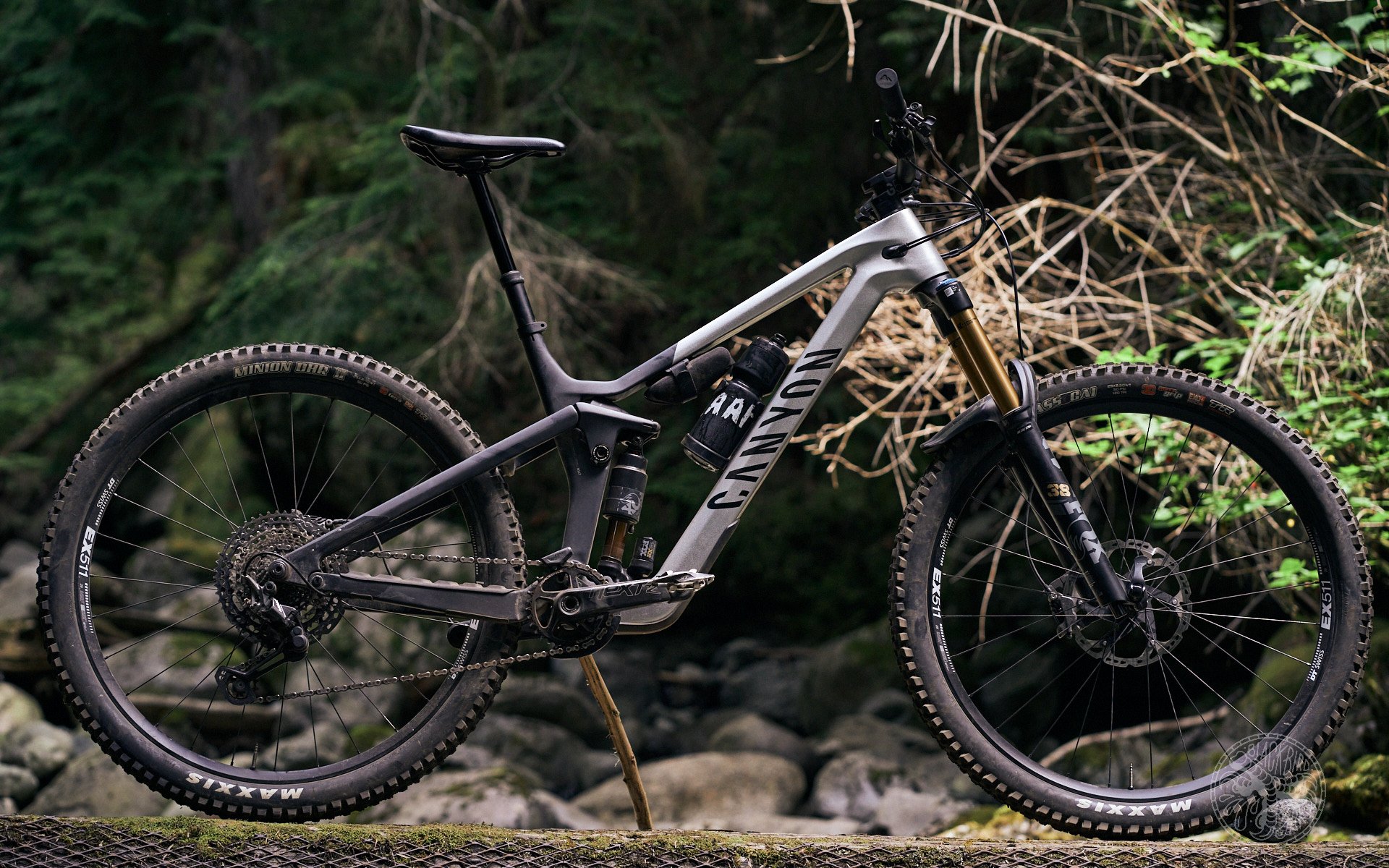 Review
2023 Canyon Strive CFR
Canyon released the second generation of the Strive, their dedicated enduro bike, back in April of this year. The Strive only comes in Canyon's highest tier, CFR carbon construction and is now intended to be a full on race bike. Canyon tells us the bike is optimized to give you the fastest possible race time. You can catch all the geometry, suspension kinematics and build details in our launch article, or on Canyon's website.
One day I came home after work to find a Canyon box just cold chillin' on my porch. Eeeek! Canyon says they have signature on delivery as standard, but UPS didn't get that memo, and just tossed 'er on the old porch till someone showed up. Thankfully no one in the 'hood pulled a five finger discount on a brand new Canyon Strive CFR!
Canyon Strive CFR Highlights
ShapeShifter bar mounted travel + geometry adjust between Shred Mode and Pedal Mode
160 mm rear travel in shred Mode, 140 mm rear travel in Pedal Mode
29" Wheels only
63° Head Angle in Shred Mode, 64.5° Head Angle in Pedal Mode
435 mm rear center on all sizes
Size large wheel base is 1,291 mm with a 505 mm Reach (2 smaller, and 1 larger size available)
Front center can be adjusted +/- 5 mm
Weight: 15.8 kg or 35 pounds
Build and Assembly
With any direct to consumer bike I think it's important to chat about the unboxing and assembly process. The Canyon packaging is impressive, and comes with a nice little torque wrench, a shock pump, some assembly paste, and detailed assembly instructions. But there were some issues. The rear brake lever was significantly bent and there was some surface damage to the frame. Undeterred, I got to assembling the bike.
Canyon provides excellent instructions for assembly, and a nice unboxing/assembly video online. I got the bike assembled, and carefully straightened the lever. A bounce on the ground off the bike stand and there was a strange rattle. After some investigation I found the cranks weren't correctly installed/preloaded. I got that fixed, but then the brakes felt spongy and inconsistent, so I bled the brakes. I asked Canyon about this, and they were quick to respond. The issues I had were likely due to the media bikes launching from a separate facility. The regular consumer bikes go through more QC before being released. If you did have an issue you can return the bike for a replacement, or minor issues can be repaired at a local bikeshop at Canyon's cost, or repaired by Velofix if you're in North America. This seems reasonable, but it's worth mentioning that while direct to consumer can be cheaper, dealing with small problems could be time consuming and frustrating.
Sizing and Fit
I'm riding the size large, and there is an even longer XL available. "Aahhhhhh," listen to the angels sing! I think it's great that manufacturer's are finally making bikes that fit actual tall people. I shouldn't be on the longest size. Front center-wise I like the fit of the Strive. It's roomy, with a slack head angle, and a steep seat tube. The seat position is perfect for climbing, striking a nice balance between comfort, ergonomics and front tire weighting.
Once descending I found I needed to add a bunch of headset spacers due to the relatively short stack height. I also kept the Strive in the longest front center option, which felt the most comfortable for me. Canyon elected to use one chainstay length across all the Strive sizes and while Canyon has other models where the rear center changes with frame size, they claim their enduro racers all felt the relatively short 435 mm rear center with the roomy front center provided the fastest overall platform. Canyon's thinking is that the longer front center provides the lion's share of the stability, while a shorter rear center improved agility, losing little time in the rough sections, but making time in the slow awkward sections.
Issues / Durability
The only issue I had with the Strive CFR over the test period was the frame creaked when cranking on the pedals after a descending section. It's almost like there is a small amount of play somewhere in the suspension, and with high chain forces there is a small initial creak, but not on every pedal stroke. Once the bike is wet, the creak went away. The Canyon mechanics at Crankworx said it was likely in the ShapeShifter linkage. Getting into the ShapeShifter linkage isn't trivial, so I never managed to check. This wasn't a major issue, but a minor quirk worth mentioning. Other than that all the pivots stayed tight, the ShapeShifter worked flawlessly, and there were no issues with the frame.
The ShapeShifter system worked as advertised and I asked Canyon about service intervals. They recommend servicing the ShapeShifter at a Fox Service Center every 200 hours. Under most conditions however the service intervals could probably be longer as there is very little motion and stress on the unit. If it were my bike, I'd probably send it in at the same time as getting the rear shock for an annual service. If you're changing the dropper cable, it's probably worth changing the ShapeShifter cable as well to keep the system running smoothly.
Component Check
The build on the as tested Strive CFR leaves little to be desired. The Fox 38 fork and Fox DHX2 shock were flawless. I like the 38 a lot and is a perfect fit with the Strive. The DHX2 shock felt great, and even though there isn't a Climb Switch on this unit, I was able to find a great compromise setup. The Shimano XTR drivetrain was excellent, with nothing but crisp positive shifts and the Race Next R cranks worked great. The XTR brakes have a lot of initial bite feel to them, offer gobs of braking torque per finger force through the mid range, and then struggle a bit at high torque when they get hot. They're getting a bit spongy now, and also have the occasional siesta after getting hot that requires some panic pulsing of the levers before they wake up again. A bleed will likely fix this. I was skeptical of the EXO+ casing Maxxis tires, but the MaxxTerra DHR2 rear and MaxxGrip Assegai front choice is spot on. While I'd prefer a DoubleDown casing rear tire, I had no flats or issues with the tires over the review period. The DT Swiss EX511 wheels were up to the task as well, and had no major issues. I really liked the Canyon house brand G5 cockpit bar, stem and grips. Lastly the Canyon G5 dropper post worked perfectly and the Ergon SM10 saddle was comfortable.
Ride Impressions
What you've all come to read... What's it like to ride? In pedal mode, which reduces to travel 140 mm, while significantly stiffening the feel, the seated position is just about perfect for me. The bottom bracket raises up, and the head angle steepens to 64.5°. This makes pedaling up technical sections much easier with the nimbler handling and more pedal clearance to the ground. The Fox X2 shock on the Strive doesn't have a climb switch, and with the ShapeShifter, I never once wished for one. In pedal mode the Strive felt firm and efficient, and even on long road sections there was minimal pedal induced movement in the suspension.
A push of a button and we're straight in to shred mode. The bottom bracket drops, rear travel increases to 160 mm, and head angle slackens to 63°. Braaappp! In shred mode the Strive has a strange sensation of stability, while also being lively and agile. I think I'd prefer a longer rear center, as I think it'd make a better balance for me, but I can see what the race team are banging on about. The Strive forces you to ride more forward in the chassis, weighting the front end, and offering great front end bite in the corners. The back end is easy to rotate into corners as your weight is already forward in the chassis. The Strive suspension feels like it's on the efficient end of the spectrum. This means the Strive isn't the biggest bump eating machine out there, but pedal efforts are rewarded with ample forward acceleration regardless of what mode the Strive CFR is in.
On sections of trail that curls up for a bit, or get tight/janky, a quick push of a button to pedal mode transforms the Strive back to a firmer, more agile and efficient bike. I particularly liked the extra pedal clearance for the technical pedal up or flat sections in pedal mode, another click of the ShapeShifter, and you're straight back into shred mode. I raced the Strive a few times in the local Fiver series, and found the ability to switch the bike for the punchy or janky sections was an advantage. I couldn't quantify that advantage, but on a longer EWS style event l think those smaller savings would add up over a day. Outside of racing I found I really enjoyed the ability to switch between shred and pedal modes where having a shorter, more agile, 140 mm bike was more fun, or on trails that had small ups mid trail that I'd normally just grunt through.
Bike Setup
Strive CFR:
Front center in the longest reach
20 mm Headset Spacers
190 psi in the ShapeShifter
Fox 38 Fork:
Air Spring: 108 psi with 3 tokens
HSC 2 clicks out
LSC 6 clicks out
HSR 5 clicks out
LSR 5 clicks out
Fox DHX2:
Air Spring: 225 psi with stock air volume
HSC 5 clicks out
LSC 6 clicks out
HSR 5 clicks out
LSR 6 clicks out
Maxxis Tires:
Assegai MaxxGrip EXO+ Front: 23 - 25 psi (no inserts)
DHR2 MaxxTerra EXO+ Rear: 27 - 30 psi (no inserts)
Conclusions
It's hard to deny that the Canyon Strive CFR offers incredible value for money with an asking price of 7,699 CAD. To be fair you have to pay an additional 1,000 for duty, $99 for shipping and $29 for the box. So you're in for 8,827 CAD + local tax (another $1,000, which you'd pay on any new bike). While this is significantly more than the website sticker price, it's still very reasonable for an XTR / Fox Factory spec enduro race bike. If you don't want to built it yourself you can pay an extra $150 and have Velofix build / deliver the bike for you. For some, not having to involve a bike shop might be a plus, while for others, not having that bike shop support could be problematic.
I've spent a few months riding the Strive CFR all over British Columbia now and it makes a compelling argument having two bikes in one. One day I'm blasting laps down the Whistler Bike Park and the next I'm smashing out an XC ride on Hornby Island, and having a great time on the Strive CFR in both settings. I was skeptical of the ShapeShifting Strive, thinking it'd be a bit gimmicky, but I came away impressed. The execution of the ShapeShifter concept is excellent, and the resulting changes to the bike are exactly what you'd want. In an enduro racing environment I can see a tangible benefit in being able to switch the travel / geometry mid stage to optimize the bike to that section of trail.
While the Strive CFR might be intended as a dedicated enduro race bike, I think it covers a wide range of use cases that non-racers will also like. It's pretty fun having two distinctly different bikes available at the push of a button. There might be some additional maintenance costs and weight/complexity with the ShapeShifter, but for many that complexity will be worth it. I'd personally prefer a longer rear center, but otherwise the Strive CFR geometry is spot on. Besides an on-power creak in the suspension, and the Shimano XTR brakes having a personality, the bike proved flawlessly reliable.
The Strive CFR isn't a master of any one thing, but it proved to be a very effective tool at devouring an entire network of trails regardless of what direction it's pointed in. The Strive CFR won't be for everyone, but if you're looking for a versatile, aggressive 140 - 160 mm travel bike, I think it's well worth a look.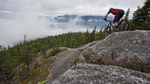 Tim Coleman
Age: 40
Height: 183 cm / 6'
Weight: 89 kg / 196 lbs
Ape Index: 1.055 / +10 cm
Inseam: 81 cm / 32"
Preferred Riding: Enduro and Downhill
Bar Width: 800 mm
Preferred Reach: 500 - 520 cm (but this is stack and head angle dependent)