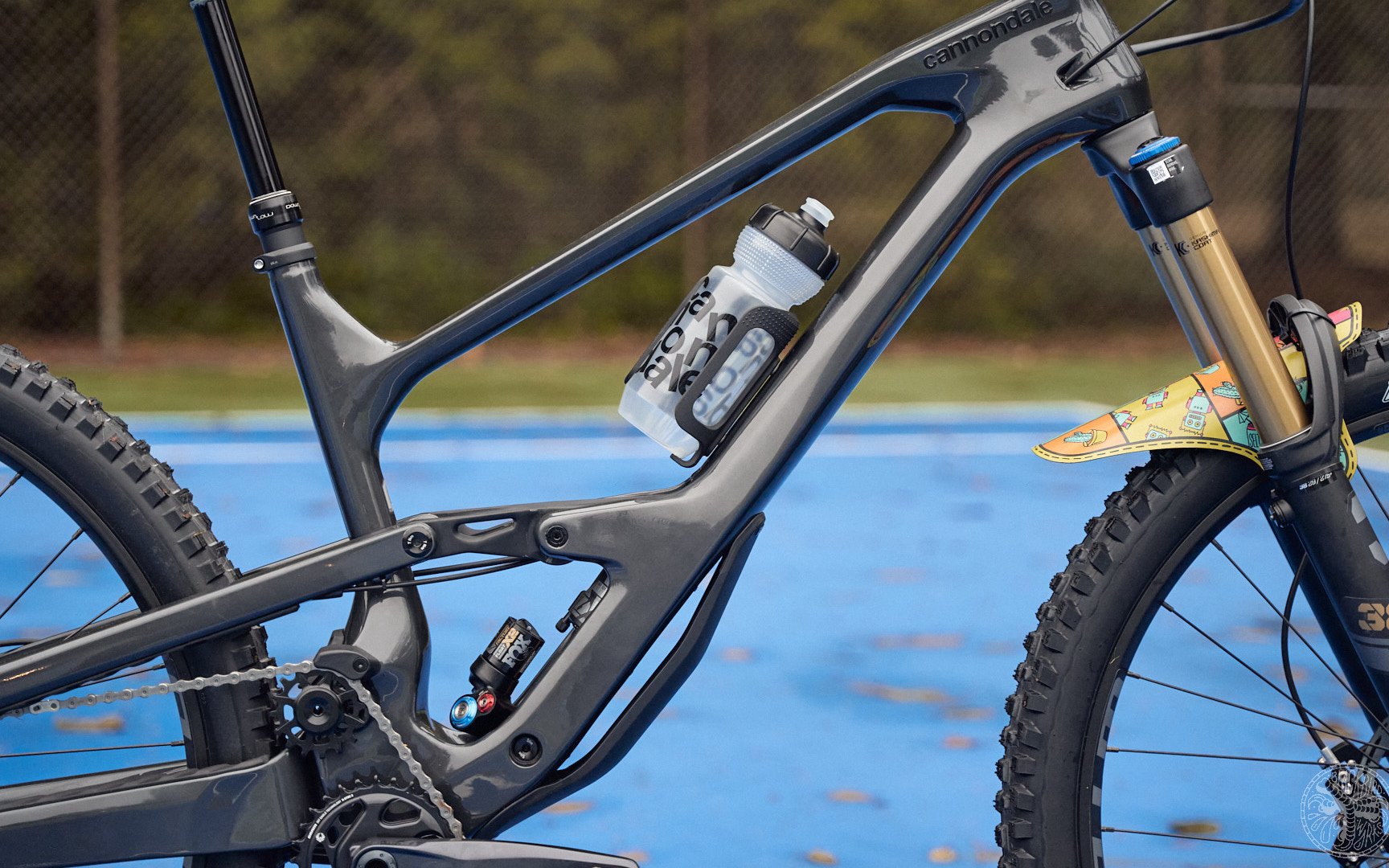 Review
2023 Cannondale Jekyll 1 First Impressions
Back in business! That's how I felt when I heard I was getting a chance to test the new Cannondale Jekyll.
This design is an entirely new approach by Cannondale and is a commendable return to the high performance Enduro bike game. The reason I say I am back business is that the last few testers I have been on have all been mullets (Santa Cruz Bronson, Canyon Strive and Canyon Torque). Whilst everyone says Mullets are more agile and fun, I don't agree that fun is fun. To me a bike that carries the maximum amount of speed down a rough and gnarly trail is the most fun. So I was really looking forward to getting back on a full 29er. This 29er is not messing about either. Lots of travel at 170mm front / 165mm rear, high pivot, very low slung weight and relatively long chain stays. Crumb-buckets it even comes with a a very DH 220mm front rotor and 165mm cranks.
There are two models of the Jekyll. The lower priced Jekyll 2, and the Jekyll 1 which is being tested here. The cool paint colours on both are immediately noticeable. Both models come in a graphite colour but the Jekyll 2 comes in a striking Purple Haze while the second option for the 1 is a shimmering green. The green bike is so good looking that the news of my incoming test bike instantly created discord and envy amongst other NSMB testers, although the envious got the last laugh when my tester turned out to be the less glorious graphite colour.
Component Overview
The Jekyll 1 comes with excellent Fox Factory level suspension; no cost-saving black stanchions here. Everything is full Kashima. Up front is a Factory 38 and the rear is a Factory Float X2. Brakes are also top of the line with SRAM Code RSC. The drivetrain is the very respectable SRAM GX Eagle which I was happy to see. My one concern is the wheels. Rims are WTB KOM i30 Trails which I have ridden before. These rims are too soft for a bike of this pedigree and in my experience do not live a long life. The seat post is a 170mm Cannondale-branded DownLow which we will talk about more later.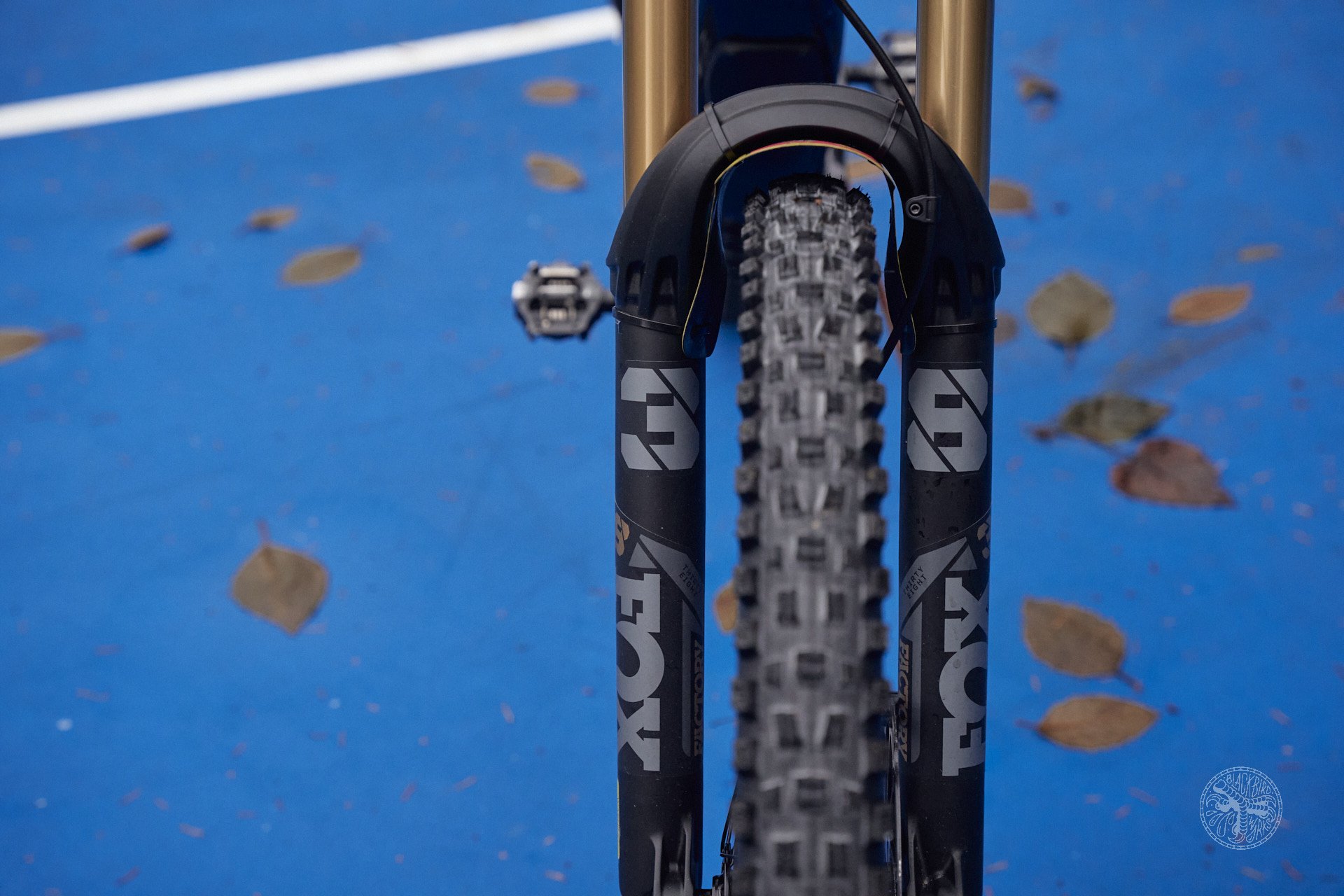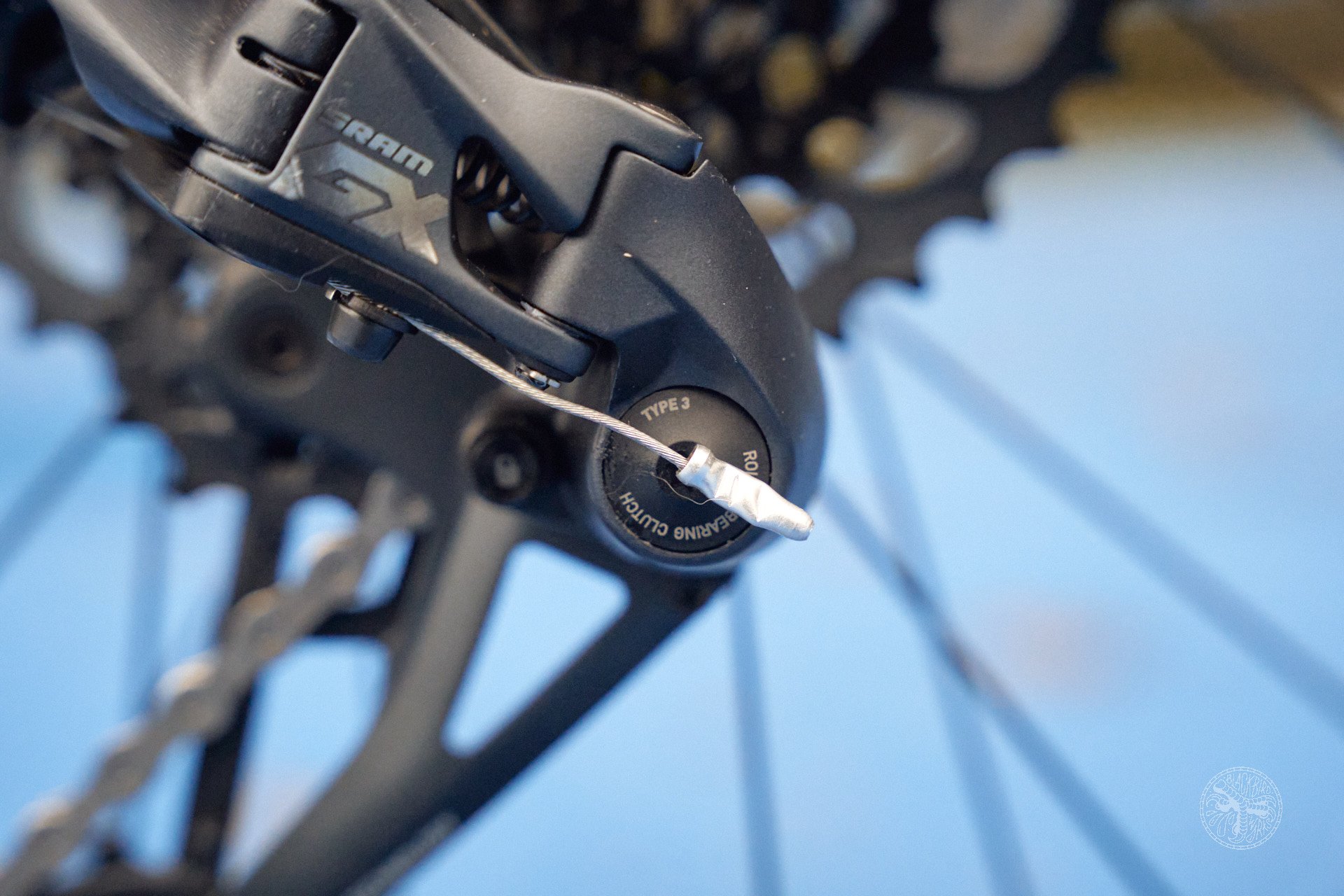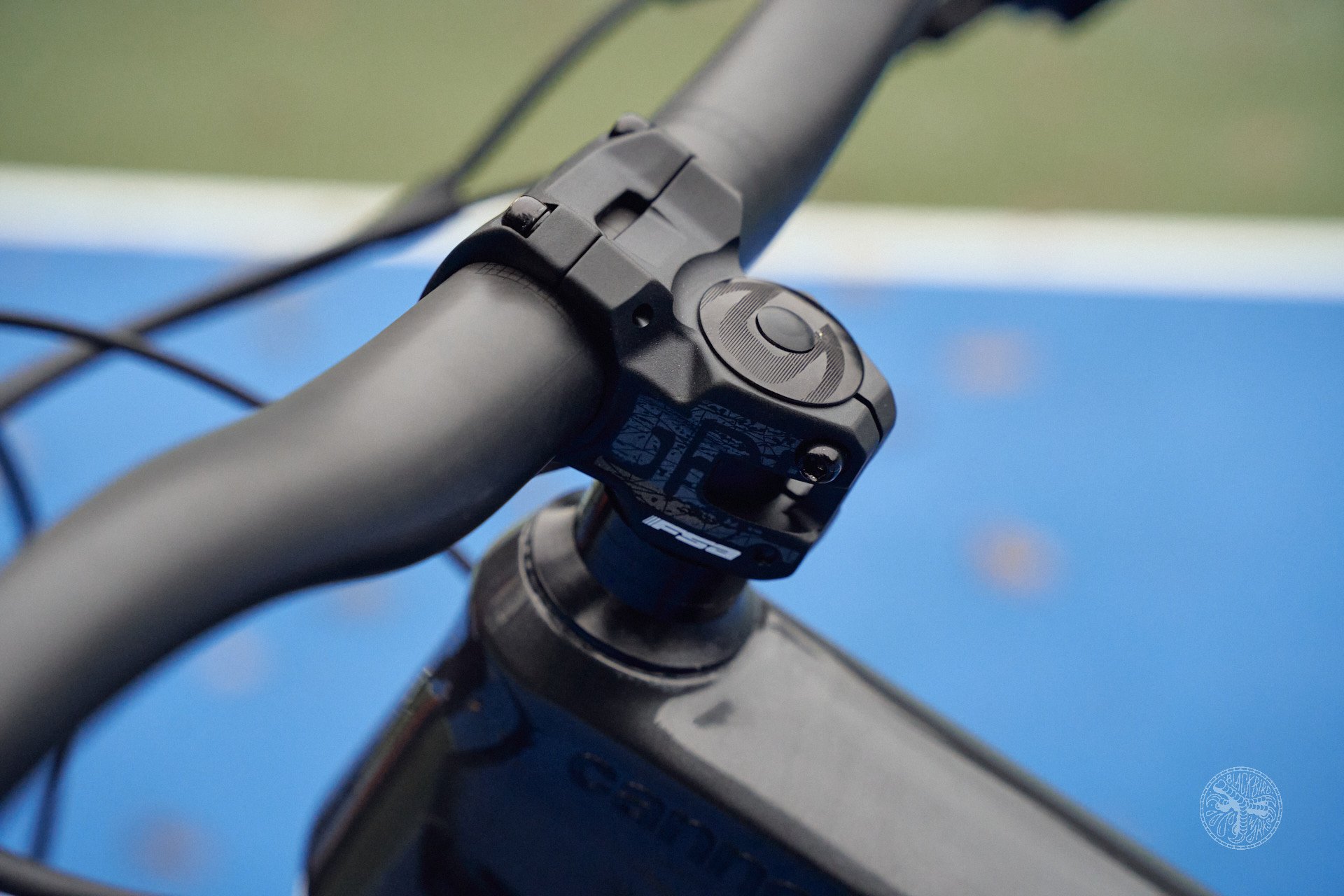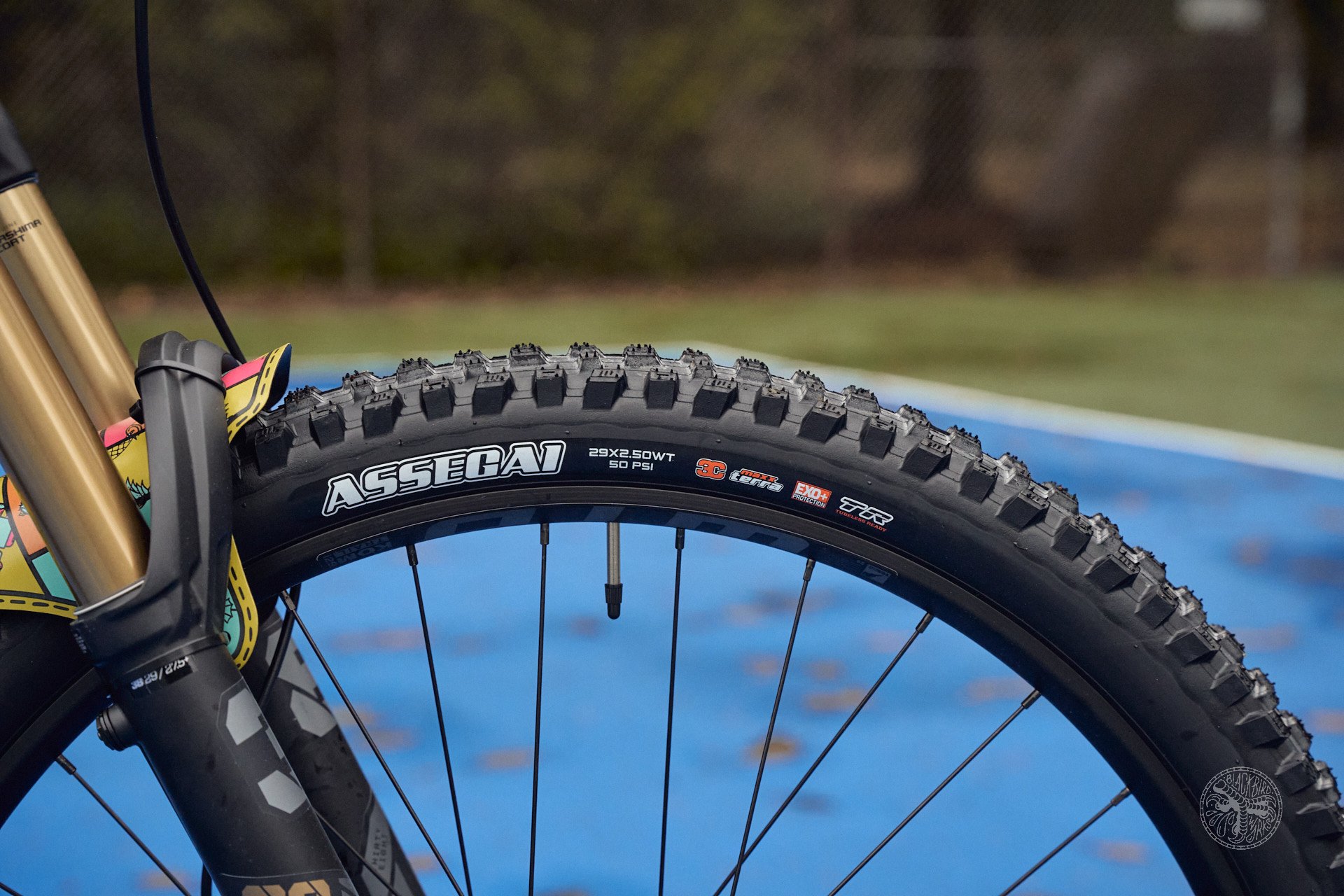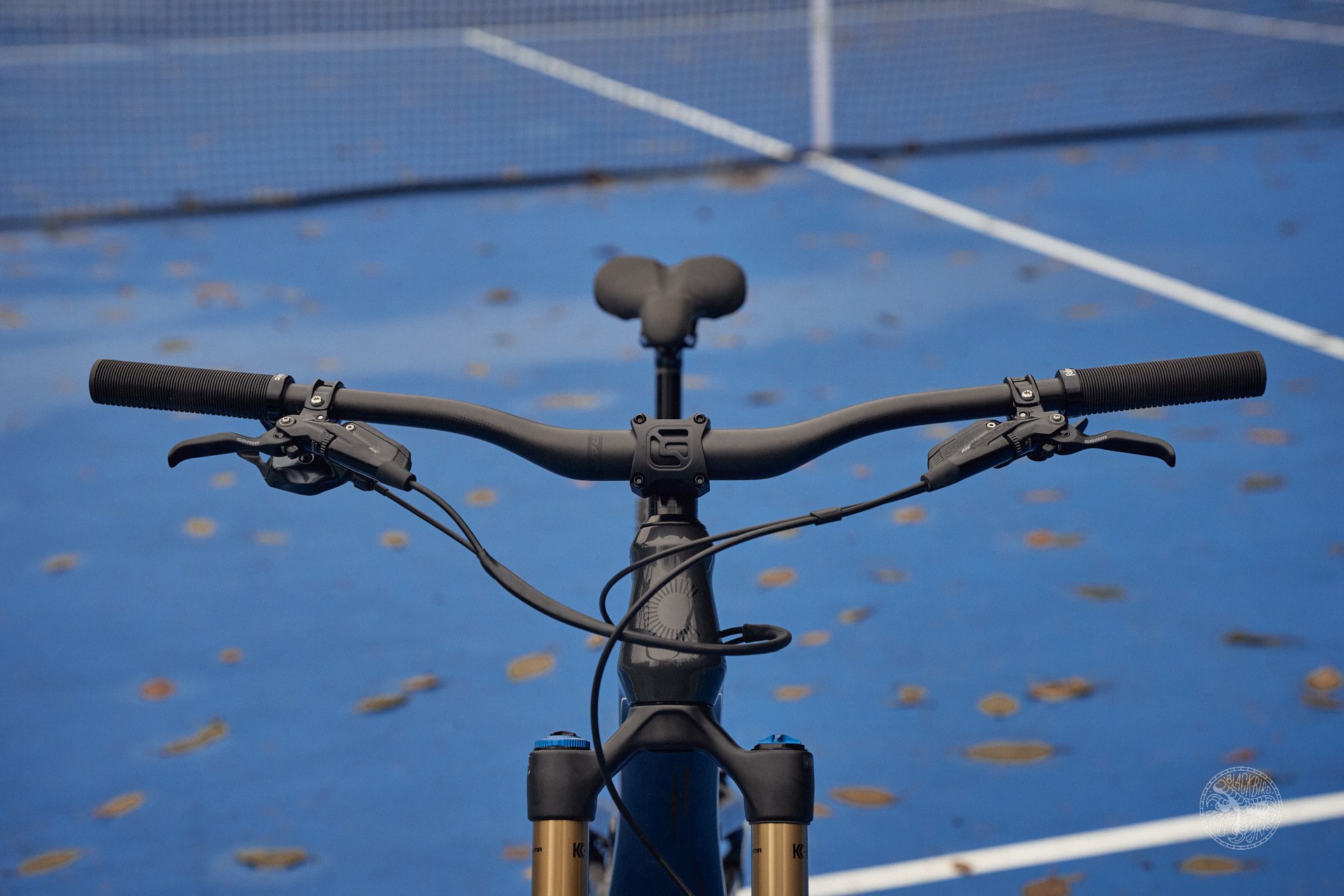 Frame and Suspension
The Jekyll definitely does not have any extreme geo measurements. The wheelbase (1264mm) and reach (475mm) are actually on the shorter side for a size large full Enduro bike. Head angle comes in at 64 deg which again is fairly conservative these days. Here is a quick snapshot to give you some reference.
The suspension design is a Horst Link with a high pivot and idler pulley. The frame design element that really stands out is the rear shock being enshrouded in the Gravity Cavity. This is basically a large diameter split down tube with a bolt on cover to protect the shock. It will be very interesting to see how this design stands up to rocks and debris but there is no doubt it allows for a very clean looking design while lowering the centre of gravity. The build quality of the idler pulley, guide and pivots looks fantastic and again is very clean looking for an idler system.
Set Up
The stock Cannondale carbon handlebar comes at 780mm so I left it uncut. I did change the 35mm stem out for a 40 as I have a longish upper body and wanted to add a little length to the 475mm reach. As it is winter time in North Vancouver, I swapped the front Maxxis Assegai from a MaxTerra to a MaxGrip compound. In the rear I left the the MaxTerra DHRII on but I put in a Tannus Tubeless insert to try and prolong the life of the WTB aluminum rim.
At 6 ft tall, I really don't like 170mm seat posts. I started out with it however and it was as bad as I remember so I am now running a 210mm. Being able to get the seat further out of your way on descents really makes a huge difference to your riding.
For initial suspension pressures I set the front to 90 psi and the rear to 215 psi. For the other settings, I simply followed the recommended starting points on the Fox online set-up guide.
The Jekyll was extremely comfortable to ride at speed right away. I was bragging to Cam and everyone that would listen that I must have become very good at setting up bikes but I really only think that is a small part of it. The combined Horst Link/high pivot rear suspension design combined with the excellent Grip 2 Factory fork up front makes for a very calm and settled ride. My first meaningfull observation was that traction in the corners felt really good and definitely contributed to some early riding confidence. Part of this could be having not been on a full 29er for a while but the suspension design would contribute as well.
Coming off a string of mullet trail bikes, I was also expecting to need to put more input into the start of my turns but I didn't really find that to be the case. This bike readily tips over into the corners.
I still have a ways to go on rear suspension set up. I started quite firm with just under 25% sag and I am slowly making changes as currently the shock is ramping up too quickly and I am not using all the travel. I will write about how this works out in the long term review.
The idler pulley and potential extra drag has not been noticeable on the climbs although to be fair it's been mostly cold and wet winter riding so far. I have had one ride where I definitely noticed some chain noise but the jury is still out on this topic thus far. I was a little worried the high pivot design would make the bike an unwieldy beast but that hasn't been the case. High pivot bikes are known for their rearward axle path and wheelbase growth under compression. More riding will tell the tale but I expect the combination of high pivot and a moderate wheelbase makes a lot of sense for a bike that is meant to be pedaled instead of simply tossed downhill.