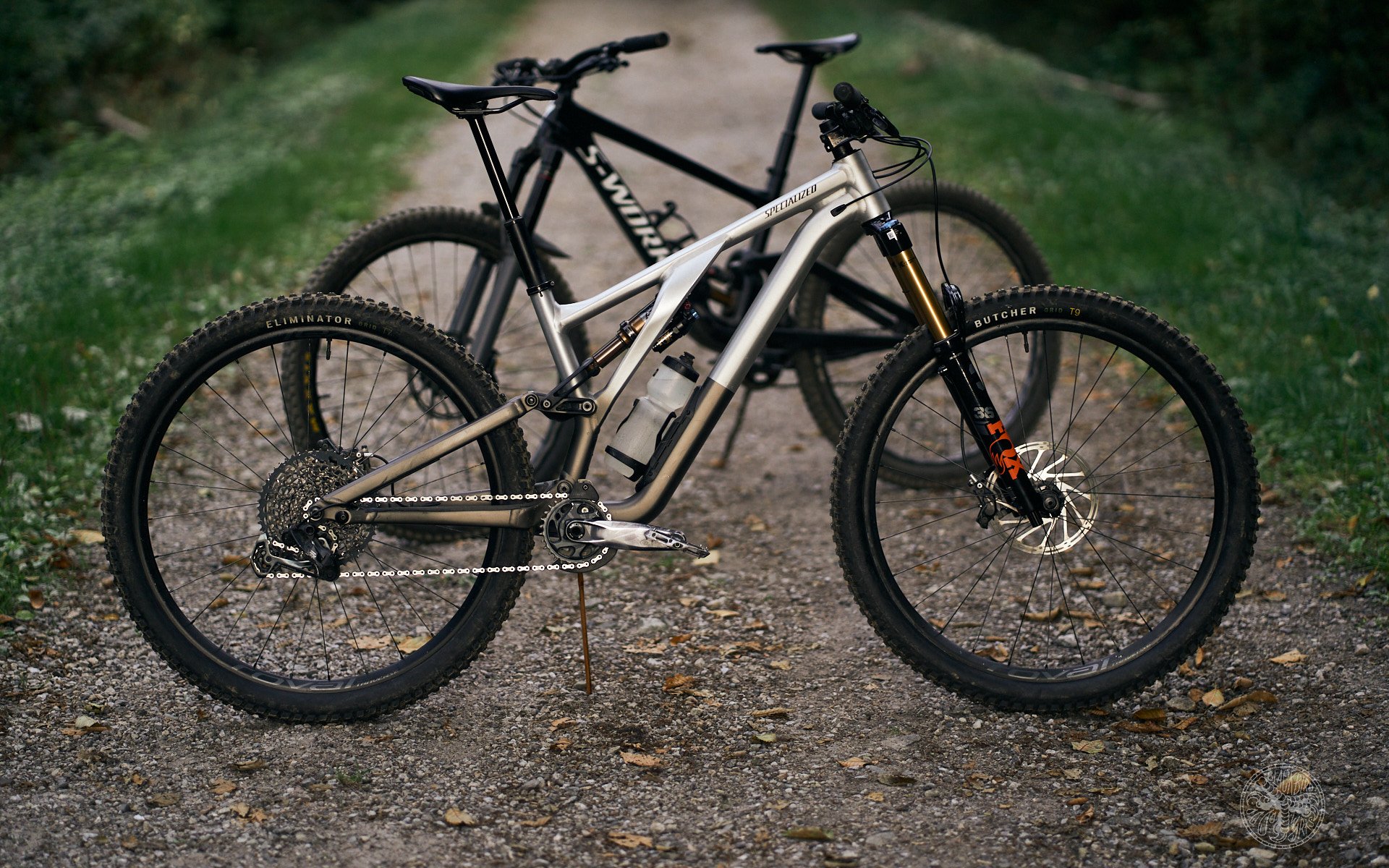 LONG TERM REVIEW
2022 Specialized Stumpjumper EVO Elite Alloy
A tale of two Specialized bikes.
Well, OK - this is really just the tale of one bike, and that bike is (take a deep breath in) the Specialized Stumpjumper EVO Elite Alloy. In the interest of not going batshit crazy, I will truncate this run-on-sentence-of-a-bike-name to "Stumpy", or "EVO", or maybe even "Stumpy EVO" throughout this review. These shortened nicknames shall not be confused with any of the myriad other flavours of Stumpjumper in the Specialized catalogue.
The second bike in our tale of really just one bike is my daily driver - the Specialized Enduro - a bike whose intentions and capabilities fit me so well, I haven't yet found a bike to equal it. Naturally, I figured what better way to review the Stumpy EVO, than to draw some comparisons to its slightly bigger and badder brother?
Before the EVO came up for review, I was asked point blank by the NSMB boss types: "Are you only interested in reviewing monster bikes?" My initial reaction was a chuckle, followed by a slight pang of existential worry. Am I that obvious? Am I only interested in riding big travel sag-wagons? Wannabe DH bikes with dropper posts and 500% range? After quickly realizing that I was definitely OK with my penchant for big bikes, I started to wonder if it was a loaded question - was I about to get roped into reviewing a bike that said "SID" or "32"? While this prospect worried me, I decided to keep my options open, and I warily answered: "No".
I'm glad I kept my options open, otherwise I might not have had the chance to spend a few months on the Stumpy EVO, a bike that is decidedly not a monster bike. It just likes to act like one. Sometimes.
First introduced in 1981, the Stumpjumper was the world's first mass-produced mountain bike, and while it has seen plenty of change and innovation over the years, Specialized has always had a Stumpy in their catalogue, making it the longest running mountain bike model in history. The first half of the Stumpjumper story was that of the hardtail, and it wasn't until 2000 that Specialized started offering full suspension models, sporting early versions of their ubiquitous FSR suspension - the Horst Link design that Specialized held under lock-and-key until the U.S. patent ran out in 2013.
Today, the Stumpjumper family rolls almost exclusively on 29" wheels, and is further broken down into two variants - the regular, and the EVO. Specialized uses the EVO moniker to denote a bike that is a little bit rowdier than its non-EVO kin. Increased suspension travel, sturdier components, and descending-focused geometry are the characteristics you can expect from an EVO labeled bicycle from Specialized. In addition to the Stumpy EVO Elite Alloy reviewed here, Specialized offers several other carbon and aluminum models - from the truly eye-watering S-Works edition that can be had for a cool 16,199 CAD, all the way down to the Comp Alloy version which is less than one-third the price of the S-Works at $5,299 CAD. If the OEM builds don't do it for you, carbon and alloy framesets are available as well.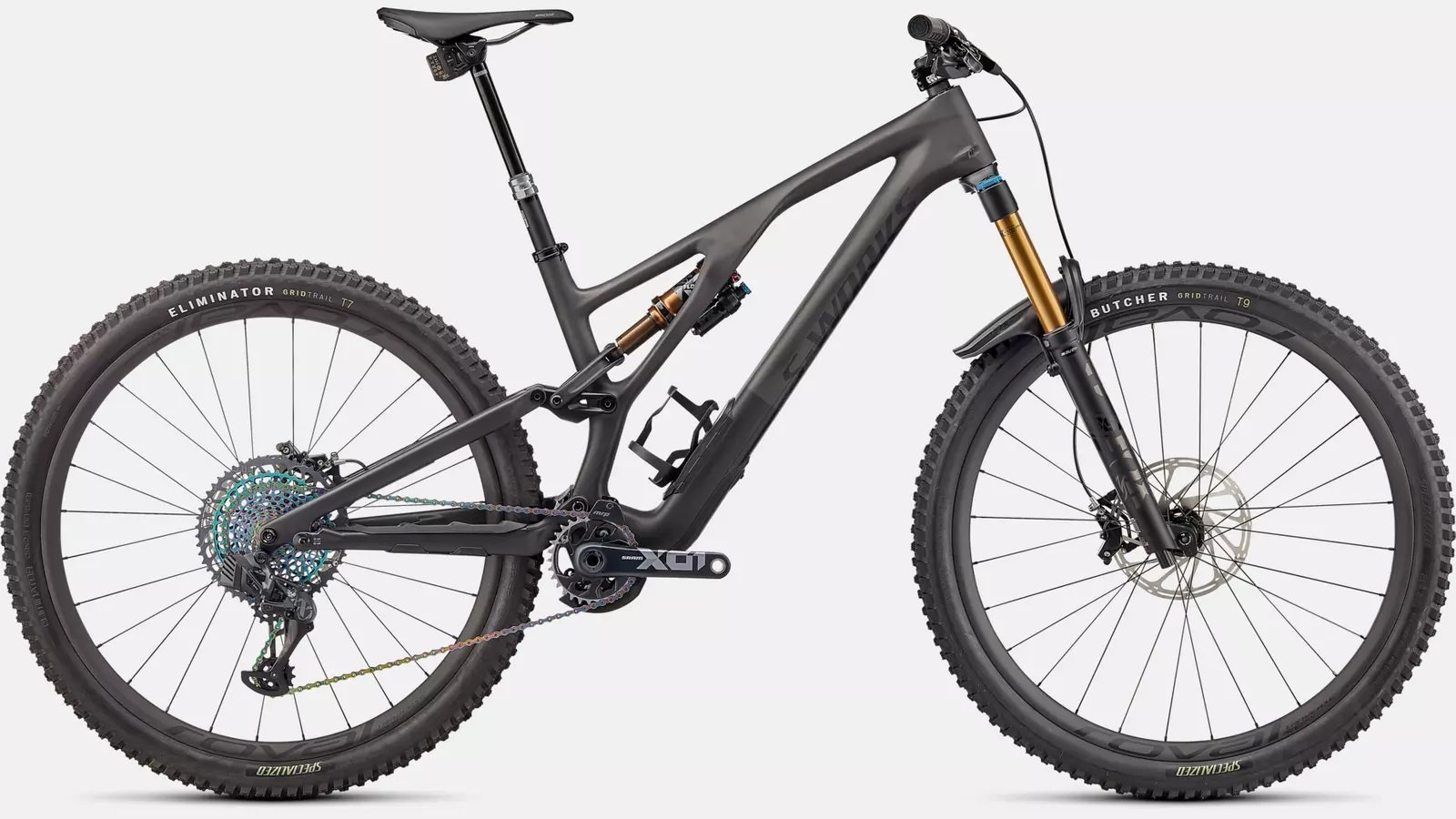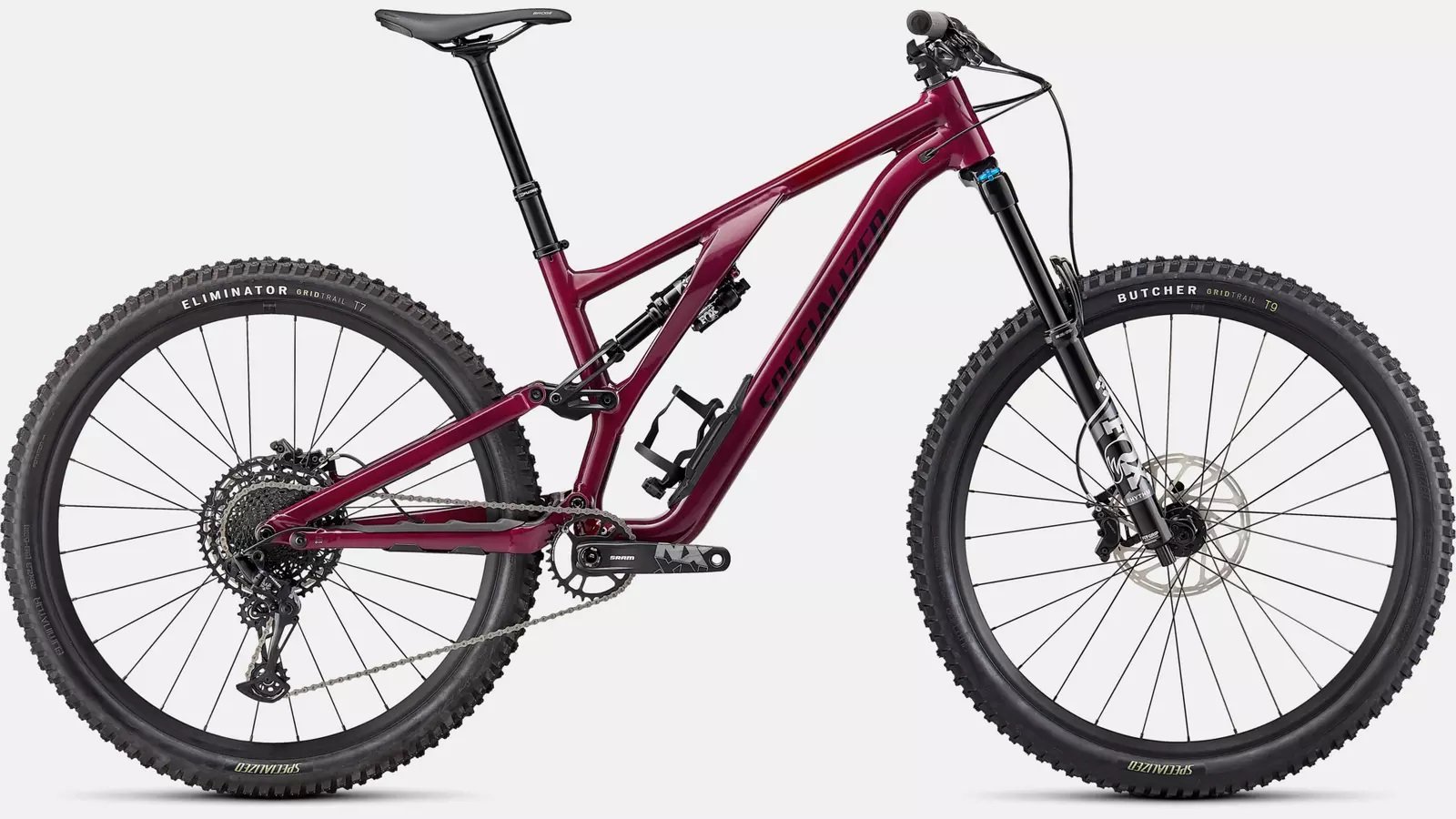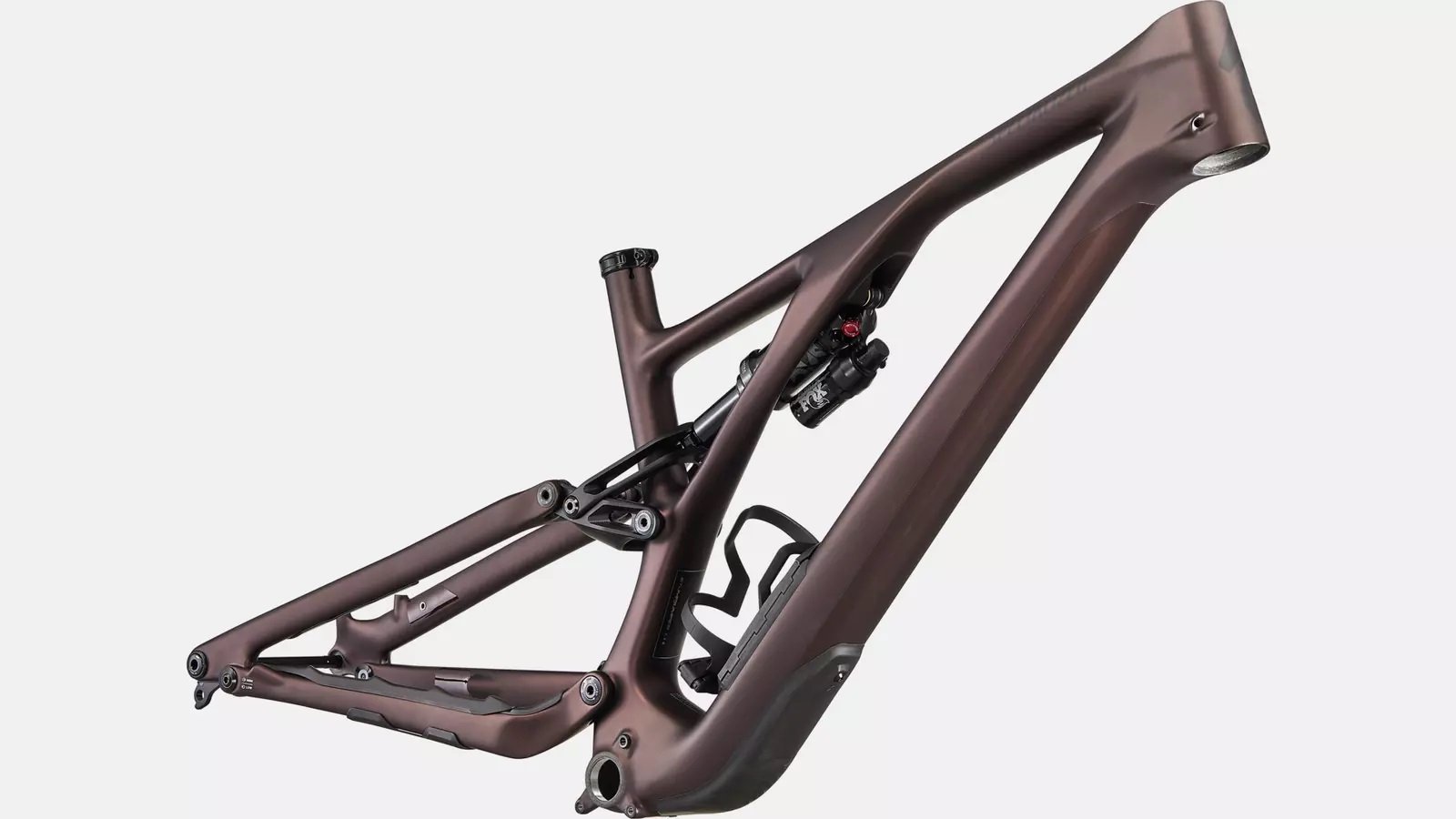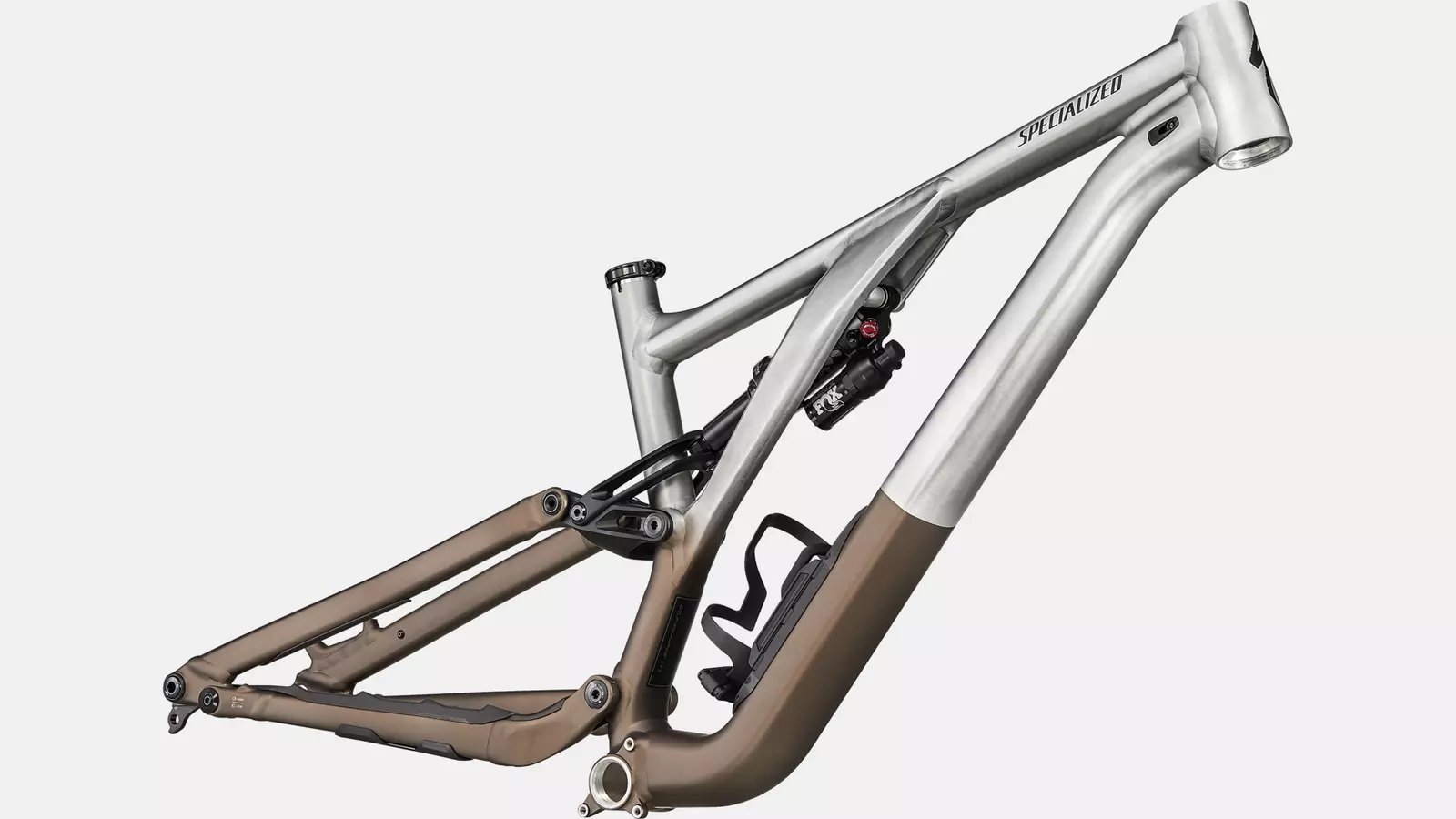 This particular flavour of Stumpy, the EVO Elite Alloy, has a solid spec, and I gotta hand it to Specialized for making this machine happen at a truly competitive price. With nary a wisp of carbon fiber to be seen, the $7499 CAD price tag might seem steep to the untrained eye, but look closely at the components, and you'll see that Spesh has put those dollar bills to good use. In the age of bike companies increasingly spec'ing their aluminum bikes with junk components, it's refreshing to see an alloy frame that isn't merely an ugly afterthought to the carbon fiber circle jerk. Don't get me wrong - I love me some carbon fiber, but there's something incredibly liberating about not giving a single goddam about scratches, scrapes, gouges, rock strikes, crashes, tailgate pads or spilled fluids (bodily, or otherwise) that your bike may encounter in the pursuit of a good time on two wheels. Long live metal.
Notable bits in the parts spec include: Fox Factory suspension at both ends, with the front sporting a 160mm travel 36, while the rear end bounces out 150mm on a Float X, SRAM Code RS brakes with 200mm rotors, and a strictly GX working-class Eagle drivetrain . Wheels are Specialized's own Roval Traverse alloy hoops, featuring 30mm bead width, and a DT Swiss 370 freehub body.
The Specialized house-brand streak continues on to the tires, and we are now in an era where we can legitimately say that's a good thing. Specialized have recently reformulated their tire casings and rubber compounds, and the industry response has been overwhelmingly positive. The Stumpy EVO sports Grid Trail tire casings front and back, with a soft compound T9 Butcher up front, while the harder compound T7 Eliminator handles rudder duty. The Grid Trail casing features 60TPI single-ply construction, with a butyl wrapped, foldable bead, putting it somewhere in the realm of an EXO+ for all those readers who compare tires in Maxxis branded units.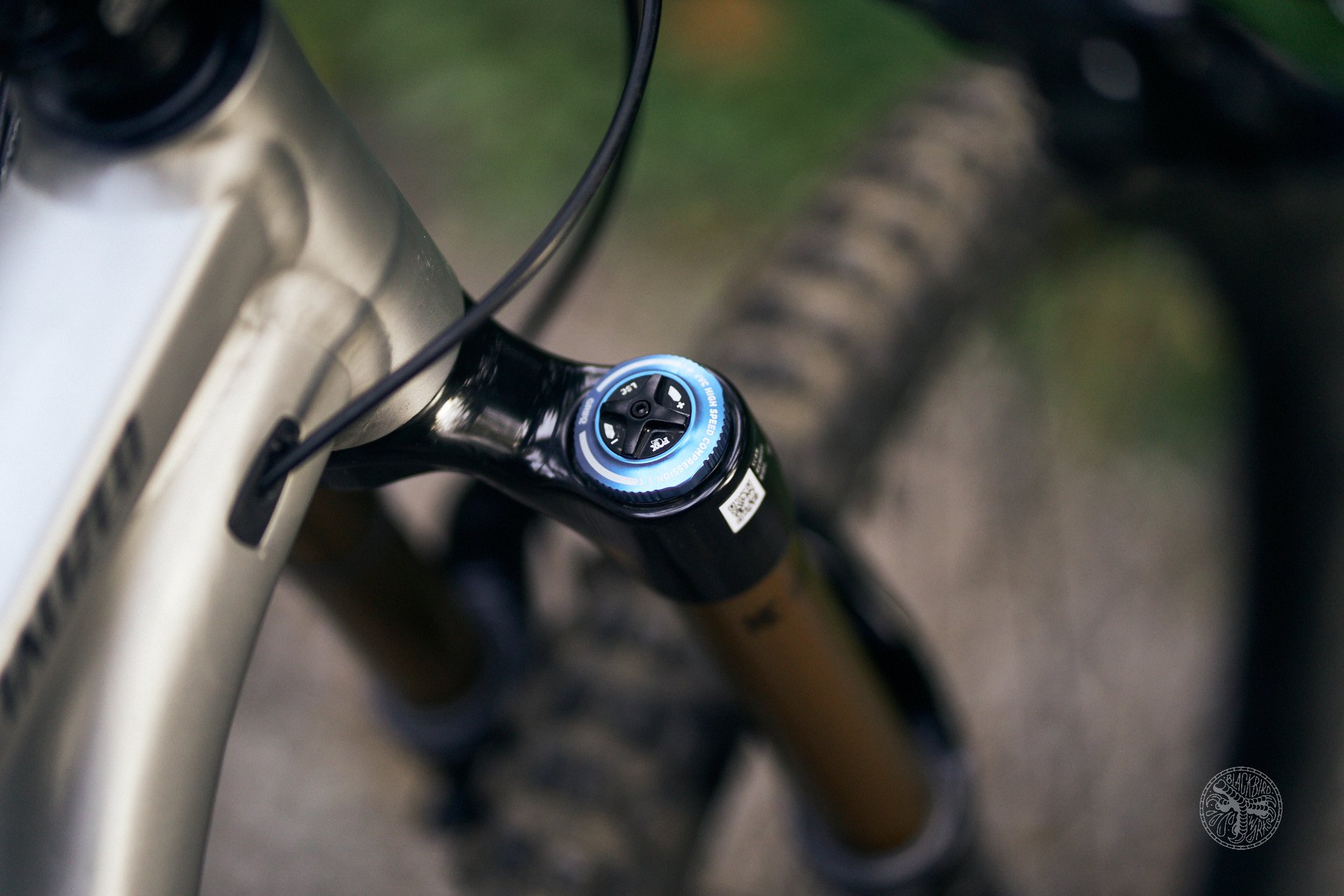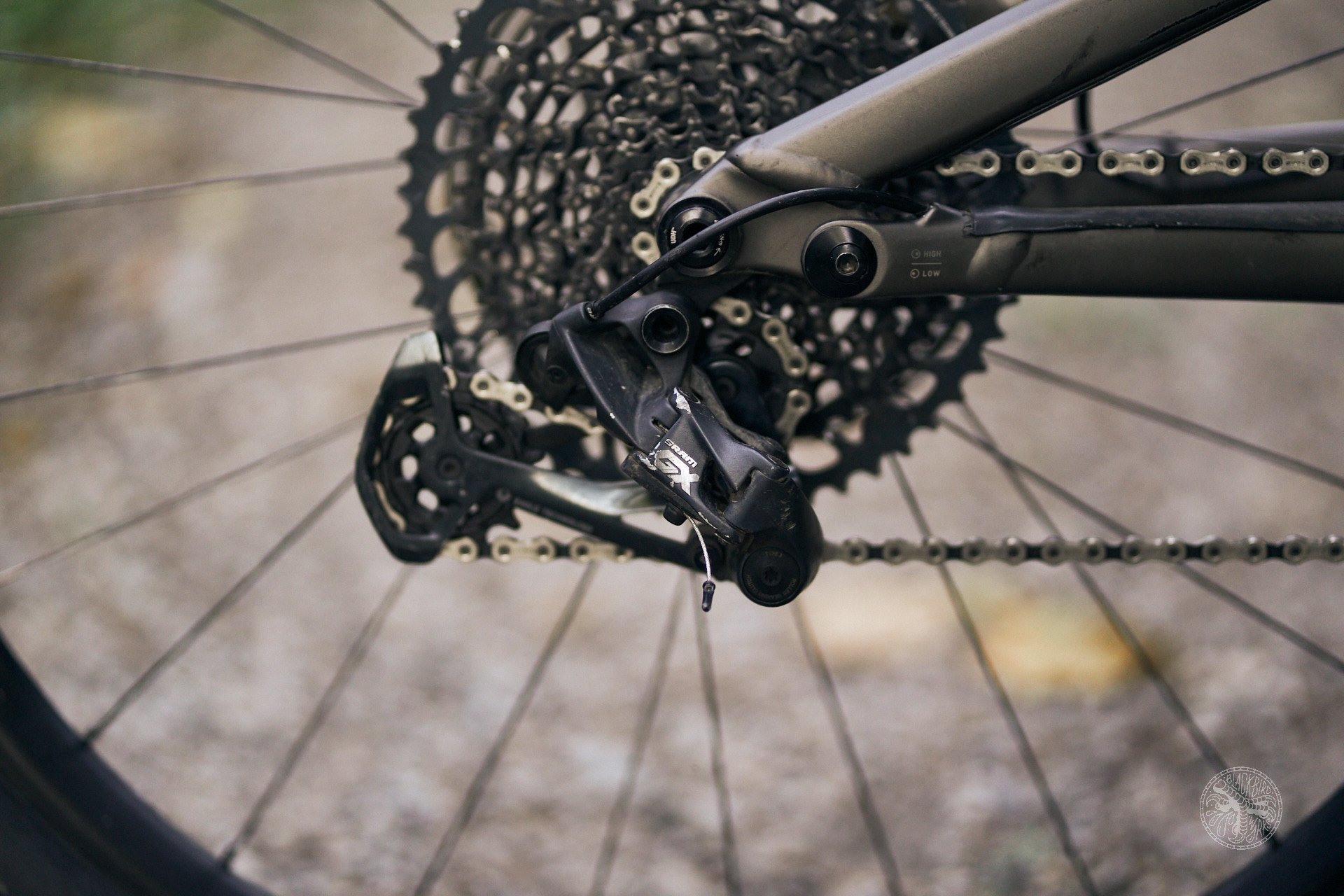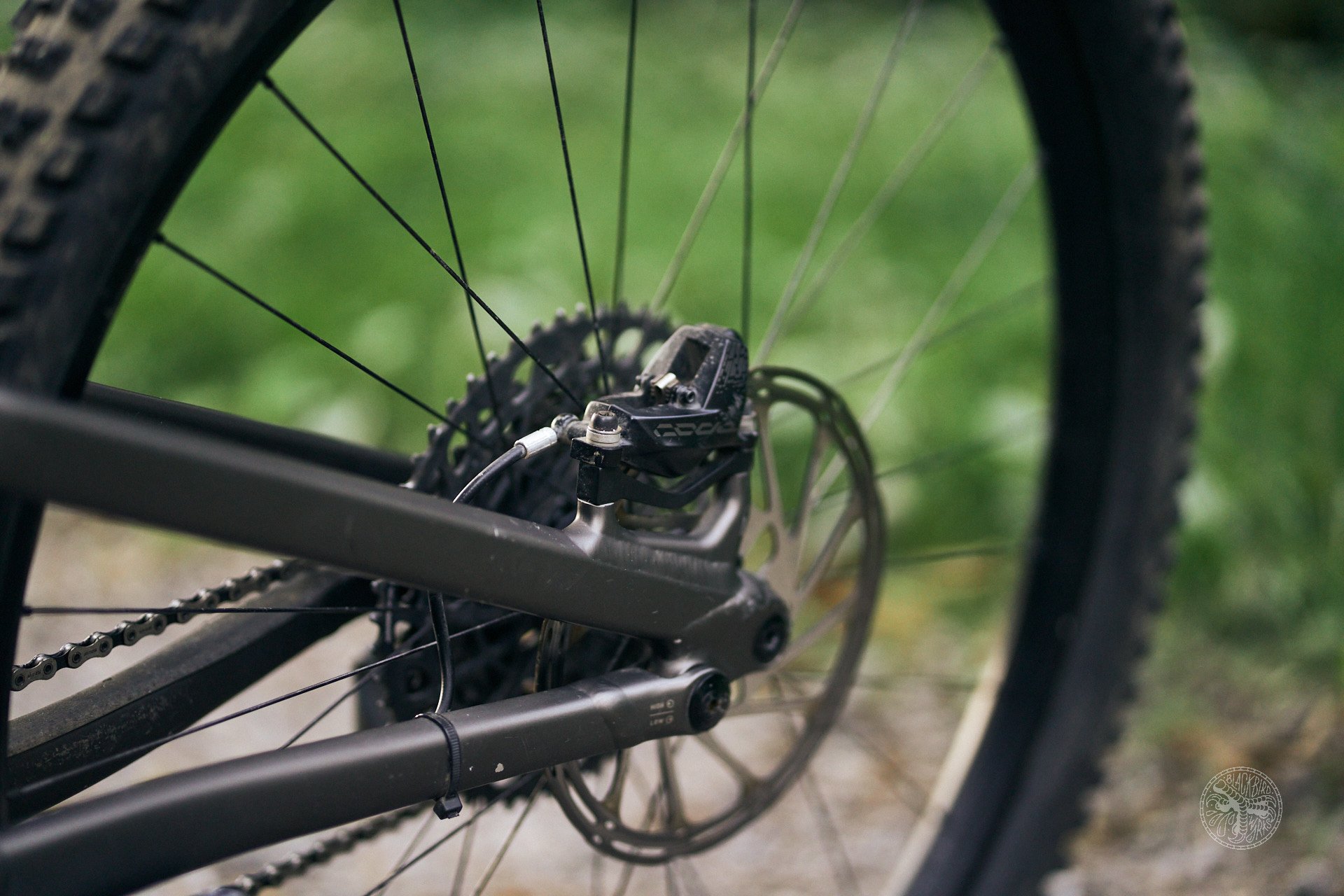 The M5 alloy frame is truly a thing of beauty, with massive, reassuring welds at all junctions, an asymmetrical sidearm design, threaded BB, and yes - you also get that one feature the fanny pack lobby has been trying to shut down for years - the SWAT box. My "previously enjoyed" review bike arrived without a SWAT pouch of any kind, although I'm fairly certain all new SWAT-equipped bikes ship with a pouch to keep your small stashables from migrating down into the BB shell.
The chainstay pivot features a reversible chip that adjusts the BB height by 10mm, while the headtube houses a clever swappable cup that allows for +/- 1.0° head angle adjustment, a feature so obvious and so simple, it would be a tragedy if it wasn't included on the next Enduro.* I could see the adjustable head angle proving particularly useful for riders wanting to experiment with different fork travels on this bike. As if all that adjustable geometry wasn't enough, Specialized was even gracious enough to include their blessings should you wish to party in the back - the Stumpy EVO is mullet compatible.
*Dear Specialized: Just make this happen, ok?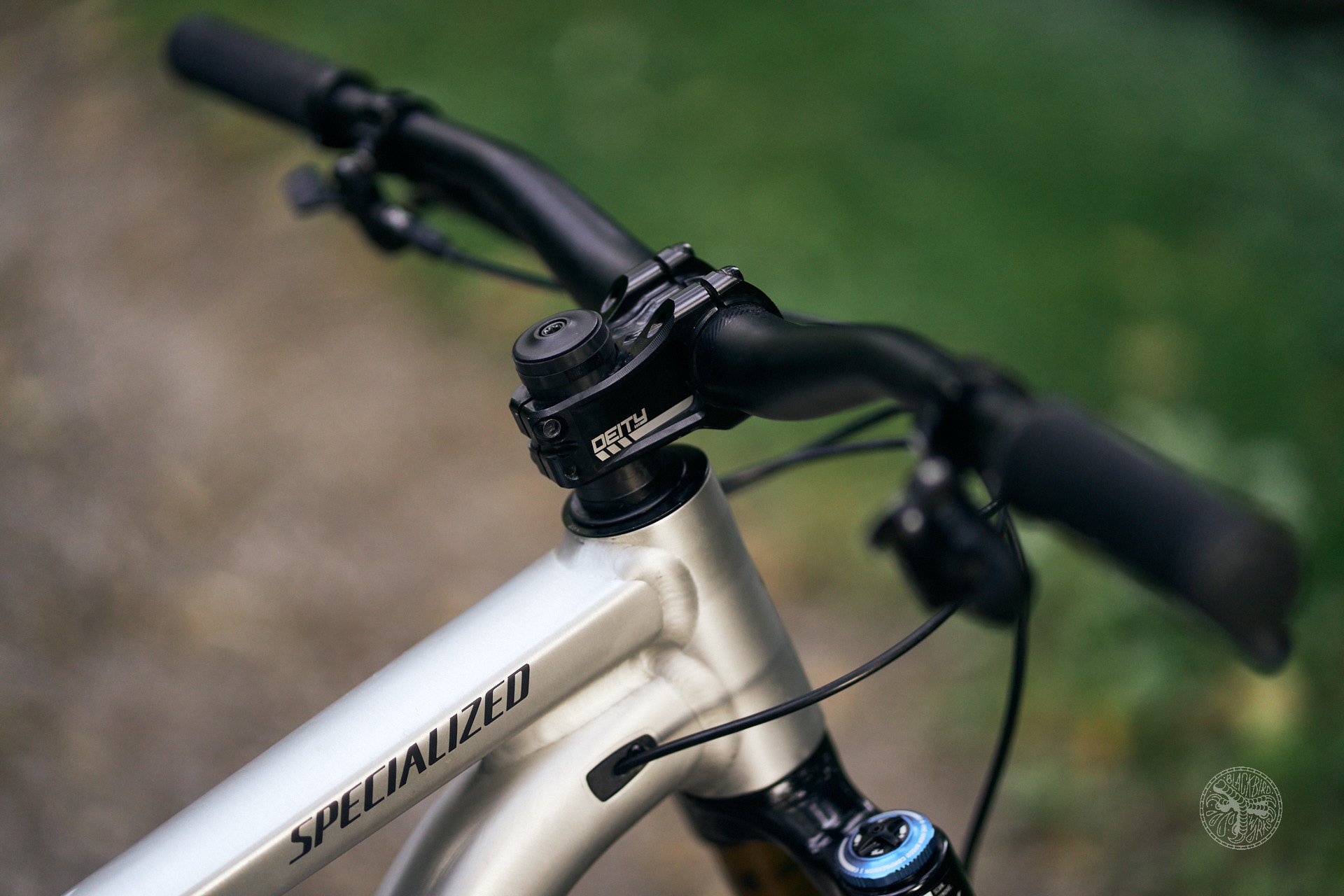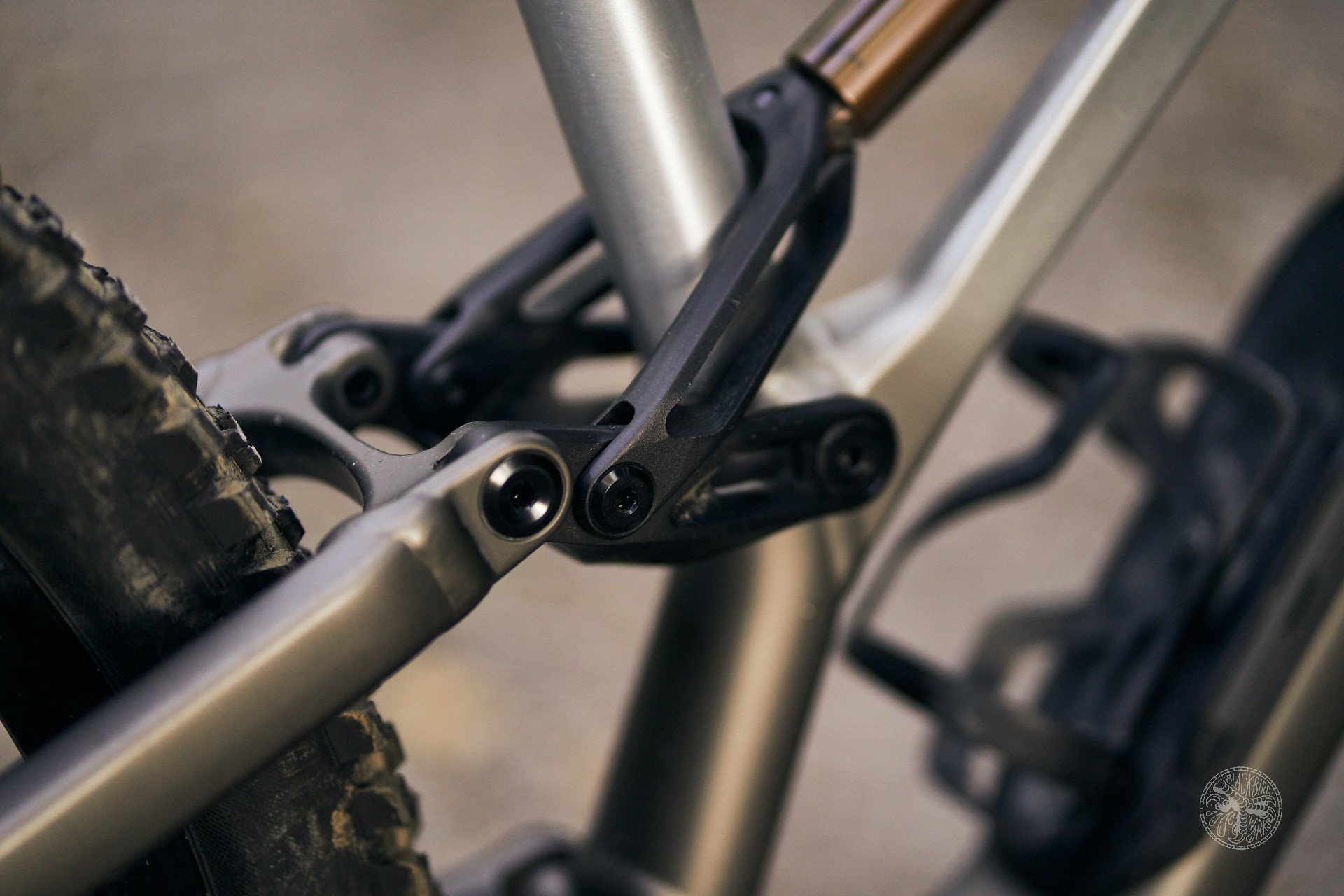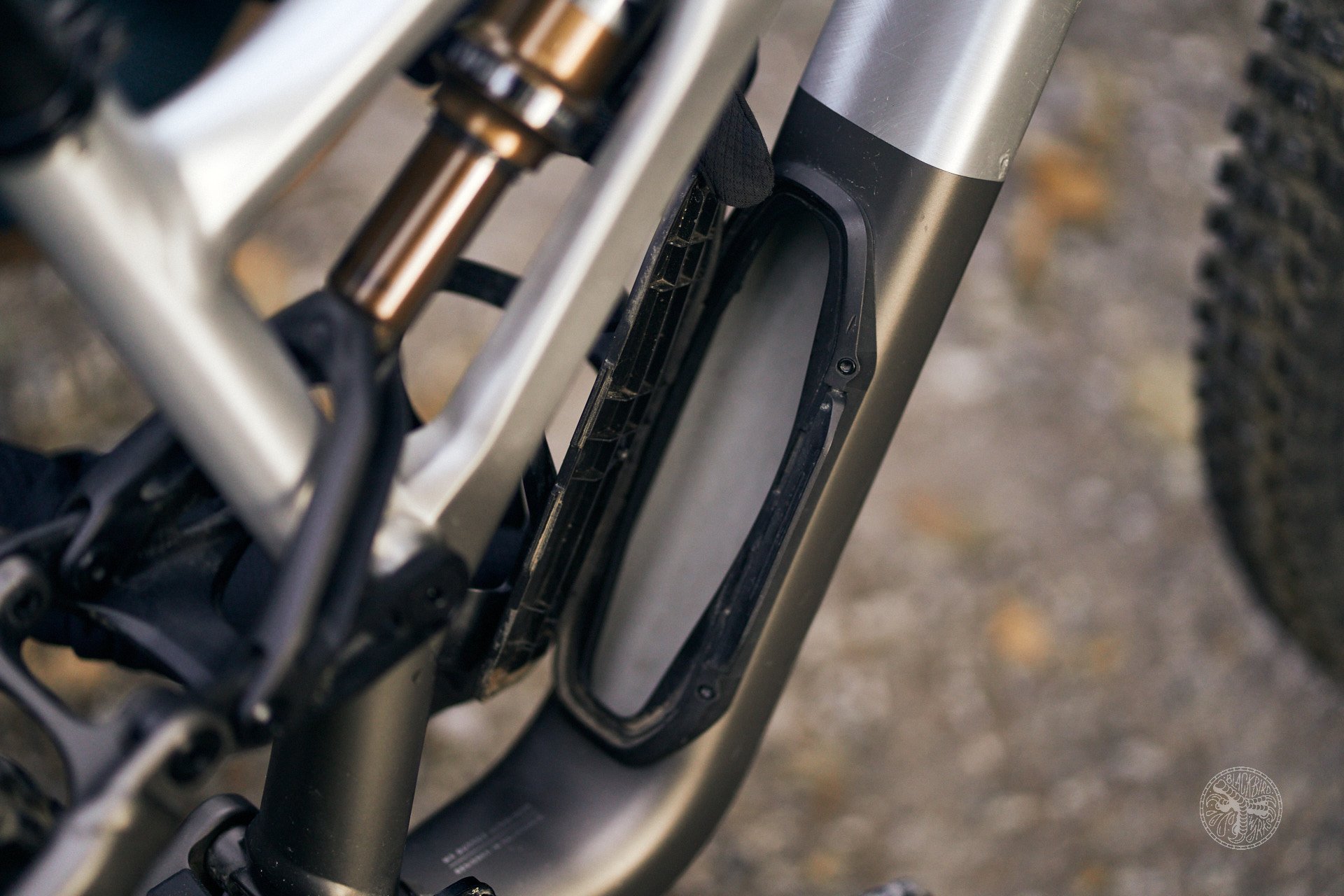 EVO: Longer, lower, slacker - pick all three.
On paper, my S4 Enduro has very similar geometry numbers to the S4 EVO, with the biggest differences found in the reach and wheelbase measurements. With a reach of 487mm and a 170mm travel fork, the Enduro bangs out a wheelbase of 1274mm. Compare that to the EVO's reach of 475mm and 160mm travel fork, which adds up to a significantly shorter wheelbase of 1249mm. But close your eyes and sit on both bikes in the parking lot, and you'd be hard pressed to tell them apart. My Enduro sports a 35mm stem length, whereas the EVO has a 50, putting the effective total reach within millimetres for the two Speshies. At only 15mm difference in stem length, steering manners between the two bikes aren't terribly different, with the Enduro inspiring more confidence at the bars when piloting at scary speeds. The EVO certainly has that "go-fast" button, it just hits redline a few notches earlier than the Enduro.
Considering the geometry and suspension travel, it's not hard to understand why the EVO is easier to navigate on climbs and slower, low-angle trails. The EVO is easy to snap around and change direction, whereas the Enduro can feel awkward and wallowy on mellow trails. One of the EVO's best traits seems to be its ability to make every trail super fun and exciting, whereas the Enduro needs a steady diet of gnar to be happy.
Final Suspension Settings - Rider weight = 190lbs (all clicks out from fully closed).
Fox 36 Factory
100psi with 3 volume spacers
HSC - 3
LSC - 6
HSR - 5
LSR - 3
Fox Float X Factory
240psi with .8" volume spacer
LSC - 7
LSR - 7
Being a Horst Link bike, I expected the EVO to be a lackluster climber, but I was pleasantly surprised to have missed that mark completely. The EVO climbs incredibly well for a 34.5lb trail bike with geometry numbers approaching those of a DH race machine. My Enduro comes in at about the same weight as the EVO, and is even a touch steeper in the front end (with EVO set to slack mode - where I spent most of the review), and is nowhere near as good a climber as the EVO. While I don't have specific numbers, it's clear that the EVO is designed around a much higher anti-squat value than the Enduro, leading to a firmer platform while pedaling. The 30t stock chainring found on the EVO further contributes to the anti-squat value, while also making you feel invincible when you realize you've been climbing in 4th gear for over an hour. The EVO's Float X shock is equipped with a climb switch, but I honestly never felt the need to use it, even when grinding up miles of asphalt.
When I received the EVO, the chainstay flip chip was set to the "high" setting, and after a few exploratory rides, I decided to try the "low" setting to see if I was missing out on anything. I mean, is a mountain bike even rideable if you don't have it in the lowest setting possible? What would my buddies think if they found out I was riding a bike in the high setting? My goodness, the embarrassment! Low is stable. Low is cool. Low is good. Well, you know how they say you can have too much of a good thing? Well with the EVO, you can definitely have too much of a good thing, and that good thing is a ground-scrapingly low BB height. I know there are locales where the fully slammed EVO will handle like a dream, but North Vancouver is not one of them. With rock strikes a-plenty in the low setting, I found I had to focus too much on choosing lines that wouldn't smash my pedals clean off the crank arms (an incident that happened only once during the review period, but had nothing to do with the low bottom bracket, and everything to do with rider hubris). Clipless pedals may have an easier time clearing trail obstacles in the low setting, but wide platform pedals don't stand a chance. With a BB drop of 35mm, the "high" setting is still plenty low, and far more Shore-friendly. But no one will care, because the "high" setting is always wack, and low is always moar betterer.
When the suffering is over, the EVO is a giggle factory on most trails you could point it down or across. They call this bike the Stumpjumper, but you could substitute "stump" with any noun found in the forest, and the name would still be applicable - this thing just loves to be airborne all the time. Side hits are usually features I seek out in the snow on a waxed base, but the EVO is a bike that makes its own side hits out of seemingly innocuous trail features that you might not give a second thought on another bike. At 441mm, the chainstay length on the EVO is fairly average for this segment, but they feel short and snappy when playing around on trail features. It's 2022, and I've caught myself unironically describing a 35lb 29er as "jibby". What a time to be alive!
I think I have to credit the sporty rear suspension for the EVO's playful manners, and credit Fox as well for what just might be one of the best performing air shocks I've come across. The Float X is "the little shock that could" - simple, reliable, and perfectly matched to the EVO's playful character. All too often, I've found that shocks with fewer adjustments have a hard time running fast rebound speeds without topping out, but the Float X impressed me with its ability to rebound quickly, without a hint of top-out. Quiet, consistent, and dead easy to set up - the Float X is a wonderful little shock. Loading the EVO's suspension for a jump is second nature - it just feels right, and you're rewarded with a satisfying pop off any sized lip. Compare that to the Enduro, which is no slouch when jumping - you just have to supply a little more elbow grease.
Digging a bit deeper into the suspension, the Enduro's 170mm of travel is fairly progressive at 25%, while the EVO's 150mm is only 19% progressive. On the trail, this translates to the feeling that the Enduro is more eager to "sit" into its travel, and its initial stroke is much more supple. The EVO's suspension, on the other hand, feels more linear, and you really need to increase the air pressure (or add volume spacers) to keep the Float X from bottoming out on big hits. At those high shock pressures, what the EVO lacks in suppleness, it makes up for in mid-stroke support, and huge pop. This is not to say that EVO is an uncomfortable ride by any means, but you really need to lean into it to make it work, and it's a bike that rewards a very engaged riding style.

It's 2022, and I've caught myself unironically describing a 35lb 29er as "jibby". What a time to be alive!
If there's a zone where the Enduro quite literally leaves the EVO in the dust, it's in the bike park. This should surprise exactly no one, and while the EVO can certainly handle Whistler days, it's bike park speeds and terrain that can quickly overwhelm this "little" bike. The sub-64° head angle might fool you for a minute or two, but you're soon reminded that the 36 is not a DH fork, and even though you're still having loads of fun, it's much harder to get away with murder when you're bringing a knife to a gun fight. On The Shore, where speeds are slower, and terrain and bumps are often loose and crumbly, the EVO manages to squirm through just about anything you can throw at it. But in the bike park, where the speeds are much higher, and bumps might as well be cemented into the earth, riding the EVO becomes a bit of a game of pinball - mostly fun, sometimes frustrating.
While it performed admirably throughout the test, the GX drivetrain was particularly clanky in the bike park, and I suspect the derailleur clutch just wasn't up to the task of all that violent shaking. Even as shifting performance remained reasonably intact, I could almost feel the life getting sucked out of that poor derailleur over the course of several top-to-bottom runs. In the drivetrain's defence, it never once dropped a chain in the bike park - even after a spectacular 50ft cartwheel through the brambles. Speaking of rider errors and how best to survive them, Specialized spec'd proper brakes and rotors on the EVO, and in spite of sometimes riding outside the EVO's design parameters, I never once felt under-braked.
The best brakes in the world are meaningless without tires to match, and there is much industry hype surrounding Specialized's new rubber. My experience on past formulations of the Butcher and Eliminator left something to be desired, but whatever's going on in the new T9 and T7 compounds, Spesh has certainly moved the needle in the right direction. While the review period didn't include any terribly wet weather, it was obvious through back-to-back laps against the big M tires on my Enduro, the T9 compound was right up there with MaxxGrip in terms of stickiness on rocks and roots. I loved the shape and trail feel of the Butcher - chunky, widely spaced knobs felt predictable and familiar, while the alternating centre paddle knob maintained traction while straight-line braking in loose dirt.
The T7 Eliminator out back was a fine tire, but given the choice, I think I would have preferred another Butcher back there. The Eliminator was composed and predictable while cornering, but the centre knobs were too wimpy for my taste, looking dangerously close to a semi-slick in appearance. The Eliminator was a bit too eager to lose traction on steep chutes, and the resultant skidding further compounded the issue by quickly eliminating the Eliminator's already too tiny treads. Where the Eliminator shines is on mellow grades and compact dirt and rock, where its lower rolling resistance becomes a blessing rather than a curse. While I would have preferred a double Butcher setup, I can just as easily imagine double Eliminators given the right terrain and rider - such is the versatility of the Stumpy EVO.
The impressive performance of the Specialized house-brand components didn't end with the tires either, as the Roval Traverse wheels required zero maintenance throughout the review period. While I did have Tannus tire inserts installed most of the time, I half expected the 28 hole Roval rims to resemble rotating stop signs after plenty of abuse. And while they certainly are showing the typical cosmetic battle scars from time spent in the mountains, they are basically straight, with the rear rim showing maybe a millimetre or two of wobble - hardly enough to bother getting the spoke wrench out. I can't remember the last time I rode an alloy rim that required no truing whatsoever over several weeks of rough riding. Rounding out the wheel package are Roval branded hubs, with the rear hub sporting a DT Swiss freehub body. DT's star ratchet system is typically more reliable than the standard pawl mechanism found on more basic hubs, and it's a nice feature to see at this price.
The Stumpy EVO is more than the sum of its parts - a collection of parts that are well curated to bring out pro-level performance at a less-than-pro-level price. When considering the ingredients that make for a great mountain bike, I personally place very high importance on suspension, wheels, brakes and tires, and the EVO Elite Alloy delivers on all of these fronts. The aluminum frame leaves little to be desired when compared to the lighter and slightly sexier carbon version, and given the choice between the EVO Elite Alloy, and a lower spec'd carbon model, I'd take the Alloy in a heartbeat. Specialized offers a lifetime warranty on carbon and aluminum frames, so there's no advantage to be gained there, and yeah - the EVO Alloy is a bit heavier, but who cares? The EVO rides much lighter than the scale admits, and realistically speaking, the weight-weenies are more likely interested in a Stumpy that doesn't say EVO on the tin.
Is the EVO a bike that could replace my Enduro as the ultimate fun machine for The North Shore? Well, the EVO is more than enough bike for most of the terrain in my backyard, and indeed, it has the ability to turn even the sleepiest of trails into one helluva good time. Ultimately, it's that last 10% of gnar where there's no replacement for displacement, and it's then that I'm glad I have the Enduro to save me from myself. The Enduro is a bike that excels at picking up the slack when the rider gets tired/sloppy/stupid. The EVO on the other hand, has a narrower margin for error - the geometry encourages very aggressive riding, but you need to bring your own strength and quick reflexes to the dance floor.
All things considered, the Stumpy EVO just might be the most well-rounded "aggressive" trail bike I've ridden in recent memory. The Elite Alloy model is burly but rides light, and for $7500 you get a spec that doesn't require any upgrades before you leave the shop. It's a bike that seems to be the jack of all trades, and possibly the ideal quiver-killer for riders in the PNW. There are certainly better niche bikes to be had, but as far as doing everything really well, it's hard to beat the Stumpy EVO.
Specialized Stumpjumper EVO Elite Alloy
$7499 CAD / $6100 U.S.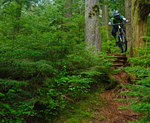 Ryan Walters
Age : 40
Height : 1803mm
Weight : 86kg
Ape Index : 1.03
Inseam : 787mm
Bar Width : 780mm
Preferred Reach : Pretty comfy at 487mm these days.