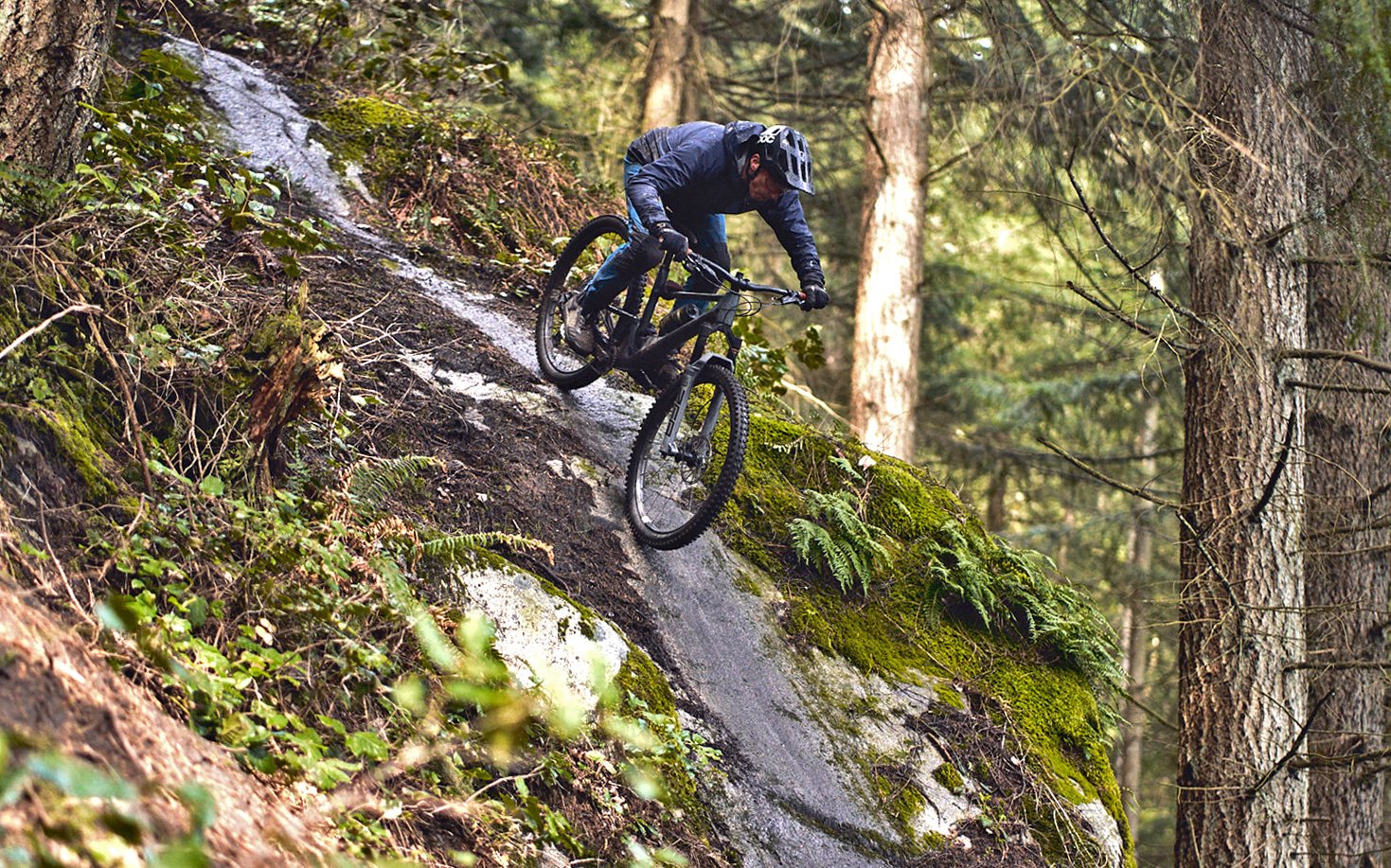 LONG TERM REVIEW
2022 SCOR 4060 LT NX Full Review
This would have been a disastrous review if I'd only had this bike for a month, as was initially proposed. In the end it was mostly my fault, or at least my fault for not figuring it out, but often it takes time for me to sort things. And with the SCOR 4060 LT there was a big issue that kept me from mining the bike's true potential. It puts me in familiar territory because it's embarrassing, but more on that shortly.
After struggling in a bunch of ways on this bike early on, even after making some component swaps and far more suspension tweaks, I couldn't get it to feel great in three distinct situations. The first and most noticeable was riding at high speed through rough terrain. Lots of velocity, on trail sections without many roots and rocks, worked out fine and steep and technical situations, with one exception, rode very well. In contrast to these experiences, it felt like the fork was spiking when the trail speed ramped up and got too lousy with medium to large-sized impacts. I sped up the rebound on both ends and that helped a little but not everywhere. Another issue was on very steep sections, often rock faces, where braking control and subtlety was needed. I allocated blame to the SRAM Code R brakes (VS Code RSC) in my head but I'd used these brakes previously without complaint. The other noticeable dead spot was getting the bike off the ground, and this was the detriment that, in retrospect, should have tipped me off about the source of my struggles.
SCOR Alterations
Through all of this I had been meaning to swap the seat post on the SCOR for something with more drop than the stock 170 mm X-Fusion Manic. I wasn't noticing massive issues with the post's length; there was simply an awareness of the widest portion of the saddle higher up between my legs more often than I was used to. It felt a little awkward but not so much that I was desperate to swap it out. I thought the issues laid elsewhere.
I had a 210 mm OneUp dropper (one of my faves) in 31.6 waiting until some other parts for a build and I figured it would be as easy as swapping out the post itself while leaving the cable, lever, and housing in place. What would you call that? A ten minute job? And yet I'd given myself a solid hour before I needed to leave for a ride, which is rare for me.
I removed the stock post and then took off the saddle. That was when things started to go sideways because it turns out the X-Fusion Manic seatpost requires the cable end, rather than the cable clamp, at the lever, unlike most posts I've used. While I'm no engineer, burying the adjustable end of your cable inside your frame doesn't seem to make good sense. Despite this hiccup, it should be a reasonably quick pivot, I thought to myself.
I dug through a box and found a cartridge-bearinged Bike Yoke actuator - with an integrated cable clamp no less. The first task was reversing the cable. This is the point when things pivoted from sideways to a slow death spiral. Removing the cable was easy, despite the previously-clamped end of the cable being a little nasty. Once it was out, I used my sidecutters to clip the cable cleanly. I seated the cable end into the post and began to feed the cable into the housing, when it became stuck. I used an old trick and rotated the cable in the direction of the wind, so as not to fray it into a bouquet strands, but it wasn't cooperating. I pulled the cable out and it appeared my cut wasn't as clean as it should have been, which may mean it's time for new cutters. Cutting the cable again meant I was going to have to cut the housing as well.
And then it seemed things were starting to fall into place. The housing was a little long but the clock was ticking so it was time to wrap things up. I hooked everything up, careful to wind the barrel adjuster out to take up any cable slack, and then depressed the lever; nothing, and the lever felt spongy. There was no obvious explanation so I pulled the post, with the cable still attached, to inspect the mechanism. Everything seemed fine at both ends so I detached the cable to ensure it was running smoothly within the housing, which it was.
I decided to try the same thing again to see if I could get a better result (the definition of insanity) so I pulled the housing back out of the frame from the headtube to get the post back into position but failed to remember that I hadn't reattached the post, and I'd pulled it too far. SHITSHITSHIT. The housing had pulled far enough down into the seat tube that it was unreachable. Anyone who has dealt with internal cable routing knows this was a potential disaster because it's not always possible to push a cable through from one end, and at that point I didn't own a magnet system to ease this process.* Once I realized the seat tube was open at the bottom, I breathed a premature sigh of relief. I then attempted to push the cable from the head tube end. Instead of sliding smoothly toward the opening, the housing would get caught as the diameter of the supports below the seat tube narrowed to 31.6, and the excess cable would push out toward the rear of the bike. Solving this issue proved to be frustrating.
*This would have only solved my problem if I pulled the entire housing out and started from scratch but this was the last straw anyway and I picked up a cheap amazon set
I was stumped. I couldn't get my fingers in position to guide the tube into the middle of the seat tube opening because the shock lives below that space but I thought I might be able to slide something in, to act as a ramp. I pushed my late mother's yardstick into the tube from above but it took up too much of the void to be helpful. Initially I had considered removing the shock but I feared unforeseen consequences. As I looked around the shop, and then at my watch, it was clear I had no choice. Pulling the shock was easy but getting my fingers into the bowels of the bike while simultaneously pushing the cable from the head tube was not. I reached from the front and the back of the space below the seat tube to gain access and neither seemed effective. Eventually I got two fingers into position and, while simlutaneously pushing from the head tube, I used my digits as chopsticks and edged the housing over the hump. After 15 minutes of trial and error I was successful.
Dropper Salvation
My initial issue with the longer post was in fact length. With the OneUp post inserted to what I guessed would be full extension, the housing didn't have enough room from the opening of the guide to the post head to be run without aggressively sharp direction changes, which was my problem with the first install. And so I realized why the bike came with only a 170 mm post; there isn't much length for anything longer because of the short insertion depth. The top model 4060 LT in size XL has a slightly longer 185mm post, likely for the same reason; a consumer should expect that a bike with a 185 mm dropper can be run with the post bottomed out to take advantage of all that travel. Luckily, most of us who are long of leg need more extension, which is why I could make the 210 mm OneUp work adequately, despite the routing making the lever pull feel as firm as warm sushi.
This wouldn't be the case for everyone, but my body geometry performs best with a post dropping at least 200mm, and preferably 210-220. I suspected the post-length might have been slightly impairing my ability to provide a lucid declaration of the bike's merits, but little did I know it was ruining the experience. Once I got back on the trail with the longer dropper, the issues I was having with the bike completely disappeared. My braking woes, my ability to pop, and my high speed chunk struggles disappeared and the bike started to disappear beneath me. It went from being a perfectly serviceable bike to a real beauty and more of the platform's merits began to reveal themselves.
The SCOR 4060 LT NX on the Dirt
Considering the shorter-than-modern-enduro stays, it's not surprising the 4060 LT rewards an aggressively forward stance. Getting your elbows out and heels down is important on most similar platforms but it's even more vital here. Once you get some weight on your hands the bike really starts to sing, assuming the saddle is out of your way. The bike did very well in highly technical terrain that required a lot of body english; the sorts of trails that call on many of your skills.
SCOR's company mandate is about building bikes for fun, and for me, the most fun you can have on a bike is when you are popping off roots and rocks and finding unexpected downsides to land on, and this is another area where the SCOR scores. I wouldn't say it's as lively as my Yeti SB 150 with the EXT Storia rear shock and identical 433 mm stays, but it dusts quite a few others in that department.
This is a particularly adept cornering bike that likes to be tipped steeply. It holds lines very well, even on uneven surfaces or those covered with kitty litter. Actually the SCOR feels a little like a mullet in the twisty bits, perhaps another benefit of the shorter stays. Similarly, swapping from one side to another hastily is one of the joys of riding the 4060. It's manoeuvrability is pretty remarkable for a bike with this much travel, which is another way it lines up quite well with the Yeti SB150.
About the only time when the bike felt a little less stable than some of the competition (Santa Cruz Megatower, Norco Range 29, WeAreOne Arrival 170) was at full gallop in challenging and rough terrain. The upside is that both the Range* and Megatower* need more speed to come alive, while the SCOR feels pretty lively at almost any speed. The Arrival isn't a fair comparison because it's an XL but it based on my limited data set it also prefers full sails.
*My comparison here is the previous generation of both of those bikes but it's certainly even more true of the current gen. Range
The bike's climbing strength revealed itself even before the post had been swapped out. The Lower-Link-Driven Instant Center Linkage proved very stable and capable of resisting pedalling forces efficiently. I rarely use any sort of climb switch so this is an important consideration for me. When things got a little rougher, the bike continued to pedal very well, both up and when stomping on the pedals out of the saddle on the way down.
Component Spec Revisited
I was a little unsure about the Rockshox Zeb Select (rather than the Select +) in the beginning, thinking it was to blame for a portion of the conditional woes I explained above. In the end it proved to be a dependable and capable fork, despite paling compared to the 2023 Zeb Ultimate (with Buttercups) that I tested for part of my time on the bike. Support and ride height were decent but the vibration reduction of the Buttercup-equipped fork couldn't be matched in high speed chattery situations and more energy made it to my hands undissipated. I also found it less able to adapt to changing situations, like going from low speed jank to high speed chunder. The settings on the new Ultimate would handle both but the Select forced me to compromise with my settings. It was possible to feel a difference in most situations between the two forks; responsiveness, big hit bottom out resistance, support, and particularly small bump sensitivity. At the same time, for a bike with a retail price of 4500 USD/4300 €, the Zeb Select is a hell of a fork.
The RockShox Super Deluxe Select rear shock did its job extremely well and I easily found the sweet spot. The brakes were excellent once I sorted my body position; powerful, predictable, and with deep modulation. I managed to smack the SRAM NX rear derailleur to the point that it would mis-shift much more often than usual (compared to even a GX Eagle) but it was easily knocked back into alignment. Based on long term reports of NX durability, this may be one of the low points of the spec, but not as low as the X-Fusion Manic Dropper. It worked okay but the lever feel wasn't great (likely more related to cable routing than the post) and the drop of 170 mm was inadequate for a a bike with 485 mm reach, and way too short for me in the end. The part I disliked most was the cable clamp inside the seat tube, attached to a long and primitive looking mechanism.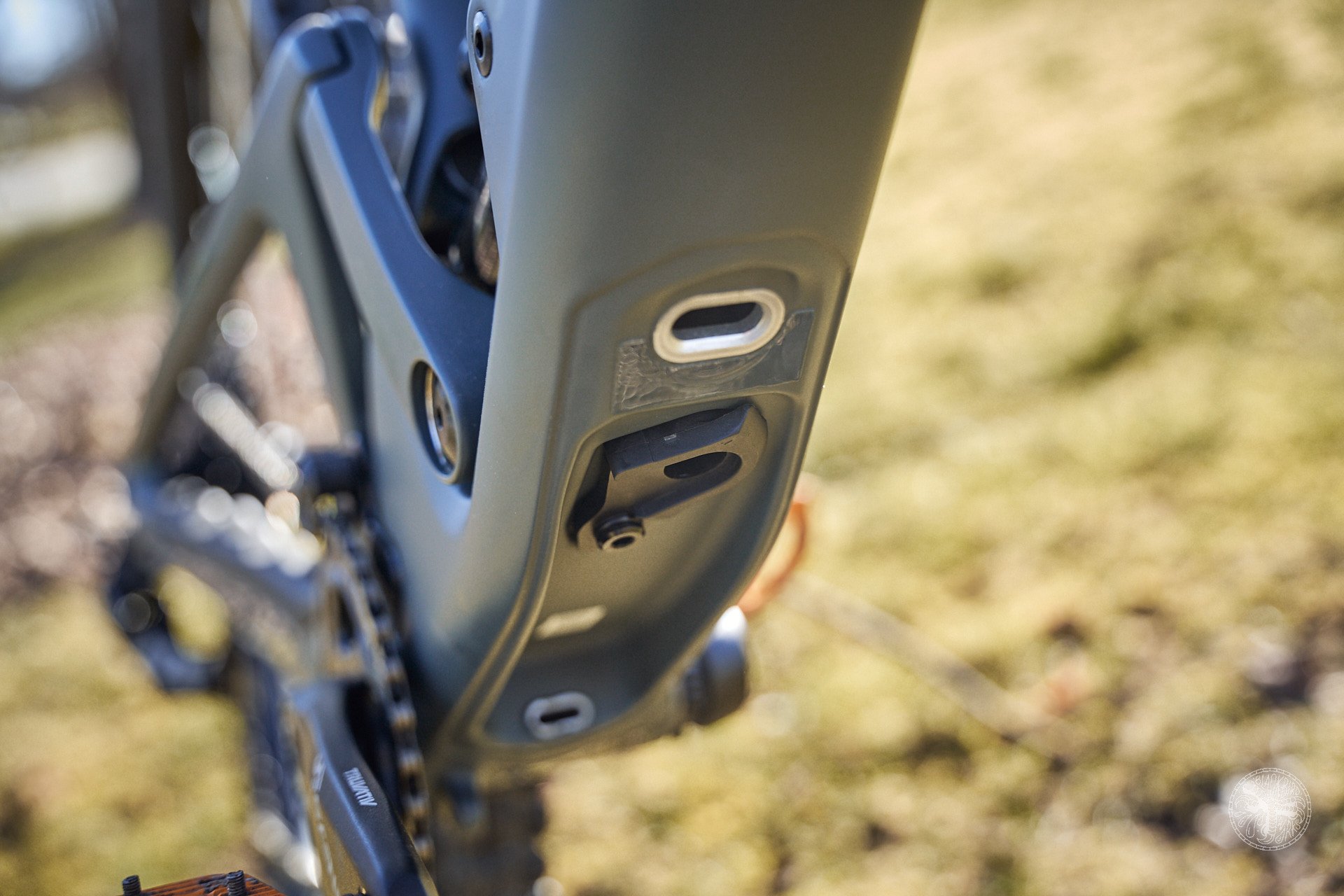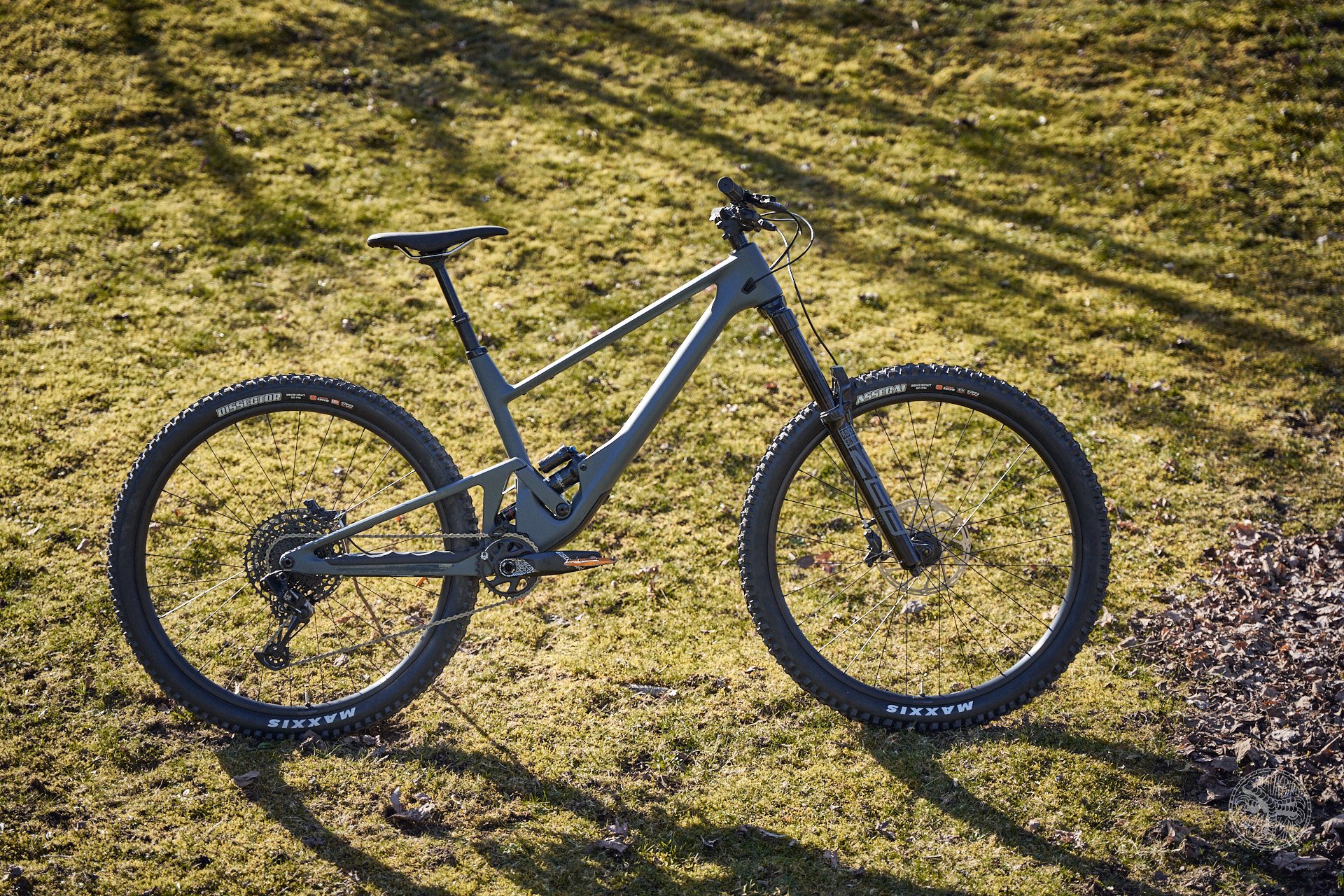 The virtually no-name wheels (XDX) did very well and weren't too heavy while the Maxxis Assegai EXO +/Dissector DD MaxxTerra tire spec. would have been spot on, if it had arrived as advertised. The front Assegai MaxxTerra I received was actually supposed to have been a MaxxGripp. A downside to the NX drivetrain spec. is that it may be a challenge to upgrade your cassette. NX cassettes run on Shimano's HG freehub system so you won't be able to upgrade to XD or Microspline unless you can find a driver for that XDX rear wheel, which sounds like a supply chain nightmare. An option would be one of Rotor's beautiful cassettes, which fit on the HG free hub and play more nicely with the current generation of Eagle derailleurs. When I tested the Rotor cassette initially, SRAM changers were only capable of a 50t max largest ring.
It was refreshing to discover the SCOR aluminum handlebar was a 31.8 and it hit the flex sweet-spot nicely. The unbranded stem was fine, and a great place to save money. All in all, the creatively puzzled together parts on this bike make it incredible value, particularly when compared to the frame only price of 3800 USD. That $700 gets you some very well-thought out components that you could easily build upon.
40 mm to Paradise
Every time seatposts have increased their drop I've declared no use for those extra millimetres. And then I try them and discover what I was missing. Lower saddles have become more important as bikes have gotten longer. It used to be relatively easy to hover behind the saddle while descending but now I find myself hovering above my perch in most situations. Aside from the SCOR, the other bikes I've been riding lately have 210, 220, and 225, mm of drop respectively. It seems I'm an addict. This coincides with a recent boost in my downhill confidence and ability.
At first I was likely riding worse on the SCOR with the 170 dropper than when I was used to riding with a 170 mm dropper, hampering my ability to enjoy the bike. For most people, without disproportionately long legs, this won't be a problem at all, but some riders opting for the XL frame size might encounter similar issues. Anyone with longer legs than I have should be fine but I had the 210 mm post as low as I could push it and I couldn't raise it to the point where the cable allowed the post to function normally. This data leads me to believe that most riders should be able to find their sweet spot, in terms of pedalling extension and adequate drop, as I did, but many will need to swap the stock post.
TBD
A few unknowns remain. I can't comment on how well the pivot bearings have fared and, despite a nice amount of fender coverage, the loam shelf where the the linkage lives seems a little susceptible to the weather. I don't have any reason to doubt either of these factors but I'd prefer to be able to communicate more about this considering SCOR is new in these parts and I have never seen a BMC on our trails.
SCOR 4060 LT NX Highlights
Weight (size XL) without pedals 32.15 lbs (14.6 kg)*
170 mm travel front, 160 mm travel rear
RockShox Super Deluxe Ultimate + rear shock, RockShox Zeb Ultimate fork
Full carbon frame w/guided internal routing and frame protection
Stash Box below bottom bracket
4500 USD/4300 €
Adjustable head angle (via pressed in proprietary angleset)
Mullet and coil shock capable
432 mm Chainstays (all sizes)
63.8º stock head angle (can be adjusted to 65.3)
76.0º seat angle at 750 mm
Convertible to ST model with shorter shock and flip chip
*This is actually lighter than the 33.5 lbs/15.2 kg listed on the SCOR website - and I weighed it twice
Verdict
After pulling me head out of my ass, and the 170 mm post out of the frame, I got the SCOR 4060 LT exactly where I wanted it – and in the end the bike exceeded my expectations in terms of both performance and value. The SCOR frame is the highlight of the package and it is thoughtfully finished and very well made, right down to the durable paint. I also love the details like the concealed pivots and well placed frame protection. None of this should come as any surprise considering parent company BMC's reputation for quality construction and precision engineering.
The slightly short stays might miss the sweet spot slightly for some riders, but for our tight and steep local trails I rarely noticed a downside, while the cornering, manoeuvrability, and liveliness of the bike are likely enhanced. The suspension kinematics provide a nice pedalling platform but without going overboard on anti-squat and compromising DH qualities. This is a bike that likes to get busy on challenging trails but I wouldn't call it an all out rocket. If high pivot bikes like the Norco Range are your jam, and going in a straight line like a bat out of hell is all there is, this may not be for you. I'll gladly take that trade. Like SCOR, I'm all about having a good time on the trails rather than pursuing KOMs.
The value of this version, considering the mere $700 premium on a frame-only (albeit with a Fox X2 Factory rear shock), is pretty remarkable when you consider the excellent suspension and brakes and serviceable wheels. The SCOR LT GX for 6600 USD might make even more sense than upgrades for many riders and again presents the sort of value the land of Rolex and Patek Phillippe is known for(!)
In the end this is a bike I could live with quite happily and with some targeted component upgrades, (or the GX model) it could be an absolute slayer.
Frameset Prices
4060 FRS LT  - Fox Float X2 Factory : 3799 USD
4060 FRS ST  - RS SDLX Ultimate : 3599 USD
4060 FRS LT Limited – Öhlins TTX22M/RXF 36m.2 Coil :  4999 USD (fork included)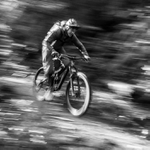 Cam McRae
Height - 6'/183cm (mostly legs)
Weight - 170lbs/77kg
Inseam - 33"/84cm
Ape Index - 0.986
Age - 57
Trail I've been stoked on lately - Lower Digger
Bar Width - 760mm
Preferred Reach - 485-500mm (longer with 27.5 wheels than 29)