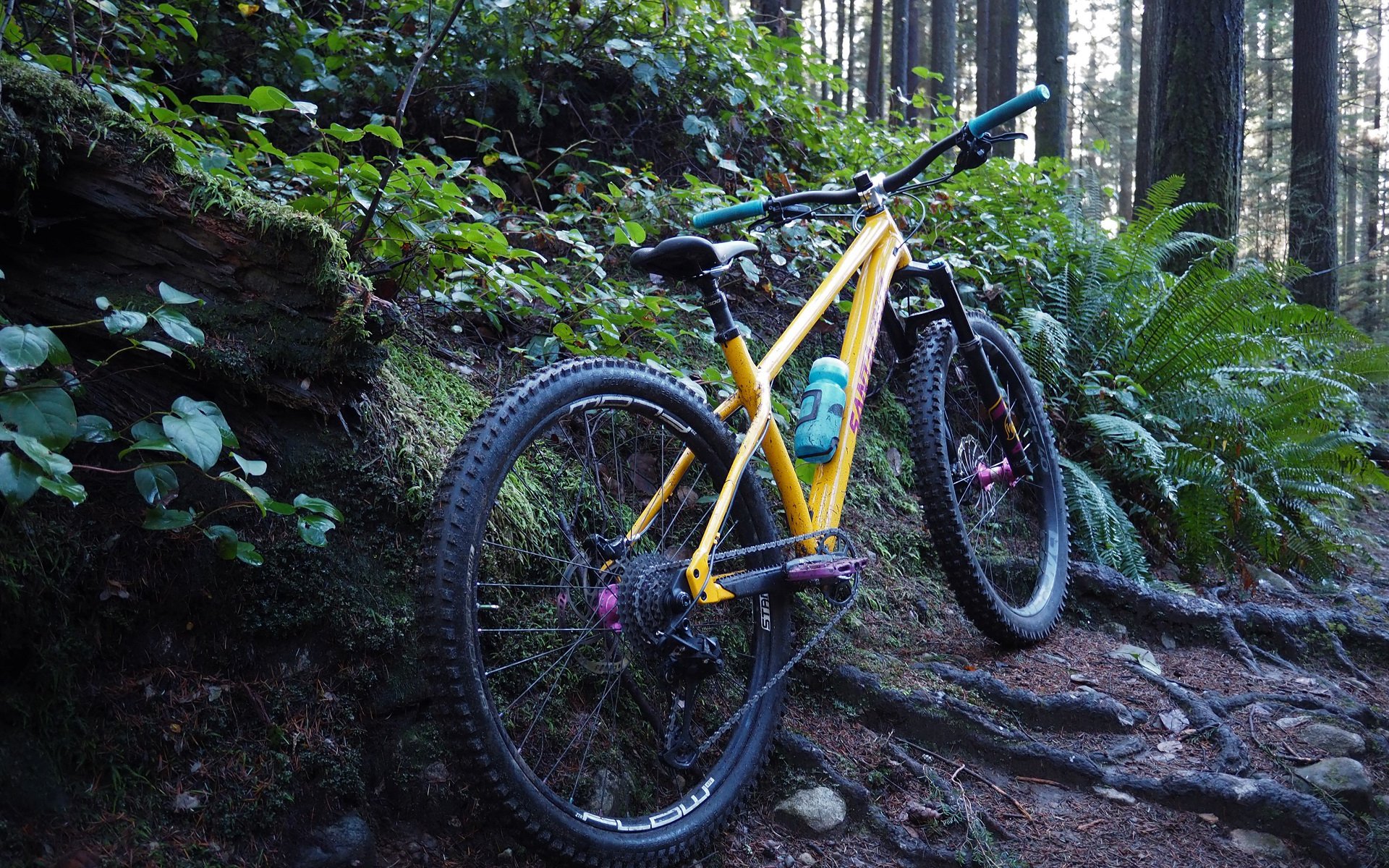 SECOND IMPRESSIONS
The 2022 Santa Cruz Chameleon MX Part II (Finally a Great Ride)
Not For Mullet?*
I was sat on one side of the trail. The Chameleon MX was on the other. We were just looking at each other. If this was a quick getting-to-know-you we'd be ending the first date with a handshake whilst thinking about all the laundry we could have done instead. Chemistry? Zero. At this point I had accomplished two things with the bike. First, a reinforcement of my opinion that a short parking lot or trail test ride doesn't tell you much other than if a bike is the correct size. Second, the large Chameleon was indeed the right size. It's smaller than the last few test bikes I've ridden, and my personal rig, but a good mix of climbing comfort and fun-focused fit.
Our problem, having already been joined together for this review series, wasn't fit or pedaling position, or angles, or wheelbase. On the first pavement and gravel climbs the Chameleon felt lively. On the first blue descent, I was instantly shocked at how, inexplicably capable the Guide-T brakes were compared to significantly much more expensive examples of the model that I've ridden. I could tell right away that I was going to have to go up in fork pressure from the recommended and the 35mm cockpit and the lock-on grips were not my cups of eggnog.
*If you missed them, here are Andrew's 2022 Chameleon First Impressions
All the performance issues showed up as soon as things became more aggressive. Big technical uphill moves I've cleaned many times on a whole range of bikes - short travel, long travel, hardtail - had me dismounted and walking. Despite the relatively short wheelbase I was failing to find lines on skinnies and log rides that I could ride on the Banshee Titan in the long-wheelbase setting and with an angleset installed. As soon as I started down the first aggressive descent that required some body English, I felt like the smaller rear wheel was getting hooked up on everything. In short, it was a very rare ride where I wished I was doing something else.
My first reaction was to send an e-mail to Santa Cruz requesting a pair of 29'er dropouts. Let's test this frame the way I would have chosen it. I'm absolutely #HotForMullet when it comes to full suspension bikes, and my previous hardtail experience - on my personal Kona Explosif - was actually quite good as well. There had to be some deeper reason we weren't making a connection.
I didn't have much time before my next ride, so I started by targeting things I knew I was going to change. First, I pushed the wheelbase out to its longest position, which puts the chainstays at 437mm. It's a very intuitive process though the price paid for the very clean appearance of the sliders is a longer adjustment time compared to my benchmark, which is Kona's simple sliding dropout system. I also added another 10psi to the fork at the same time.
The second thing I did was swap out the cockpit. In order to run my preferred 16° backsweep SQLab bar with the Chameleon's top tube length, I needed to bump up to a 50-60mm stem. This reinforces for me why I like companies to spec good-enough stems, bars, and grips, but not to waste too much time or money choosing something that's reflective of a bike's price. A single centimetre of stem length can make a huge difference in fit and handling. Alternative bar sweeps to the standard 7-9° back actually work quite well for, at least, a minority of riders. Don't get too attached to what came with your bike just because it's expensive or pretty.
For the next ride, I had a more comfortable position for seated or standing pedaling and a better position descending those smoother blue trails. But once again, I was entirely unsatisfied with my performance up, across, and down any time terrain became technical. Had my preferences changed that much since the last time I'd ridden a hardtail with a 27" rear wheel? I've ridden some truly budget bikes like the 1500 USD Marin Hawk Hill in 2017 and the 1000 USD Rocky Mountain Growler 20 in 2020 on the same terrain with zero struggle-fest.
Now I know you might laugh, or judge my admittedly limited riding abilities, but I did come to a solution. I was thinking about my own Explosif mullet with its Chris King rear hub, and the previous generation Chameleon aluminum frame I rode with dual 27" and a Hope hub. Indeed, while I've ridden a number of budget bikes, with budget hubs, with large rotations between hub engagements, these have been either full-suspension bikes or 29" wheeled hardtails where it was much less work to maintain momentum over generously janky ground.
So, I took my Project 321 mullet wheelset and plugged it into the Chameleon, and immediately it was like I knew how to ride a bike again. I'm positive I would have been happy with my 5° King, but going from the stock SRAM hubs with a very wide 17° of engagement to the P321 at 1.7° was a stunning turn of events. The next ride I was pumping through sketchy roots and finding my footing with complete confidence on any greasy woodwork. The difference in engagement swallowed anything negative I had to say about the smaller rear wheel.
Suddenly I was enjoying the Chameleon MX to its fun potential. So much so that if I was buying a complete Chameleon MX of any level, I'm positive my first upgrade would be a quick engaging rear hub. I think the 4° Industry Nine 1/1 probably has the best balance of speed, quality, and price but I'm open to arguments otherwise. If you have the money, why not P321, Chris King, or Hydra?
I scored some other upgrades at the same time. I installed a larger front rotor, or rather it was already attached to the matching front wheel that I added next. That gives me the ride quality and traction advantages of inserts front and rear and also the upgrade to WTB's excellent 2.6" Vigilante High Grip as a front tire. In the rear, the Specialized Butcher is considerably better in wet greasy terrain than the Maxxis Aggressor it replaced and I'm quite happy with my 8-spd cassette block mated to the remainder of the Eagle drivetrain.
I know that a lot of folks don't care about, or don't care for, hubs with fast engagement but I wonder how much of that is situational. I always prefer ≤5° but where I often can live with 10°-20° hubs and still comfortably clean sections, in this case I found it to be a barrier to enjoying the MX version of the Chameleon. Either way, problem solved. The Chameleon is very fun to pump around smoother trails and with the long wheelbase, inserts installed, and the suspension firm it tackles more technical riding as well. I'm looking forward to many more great rides.