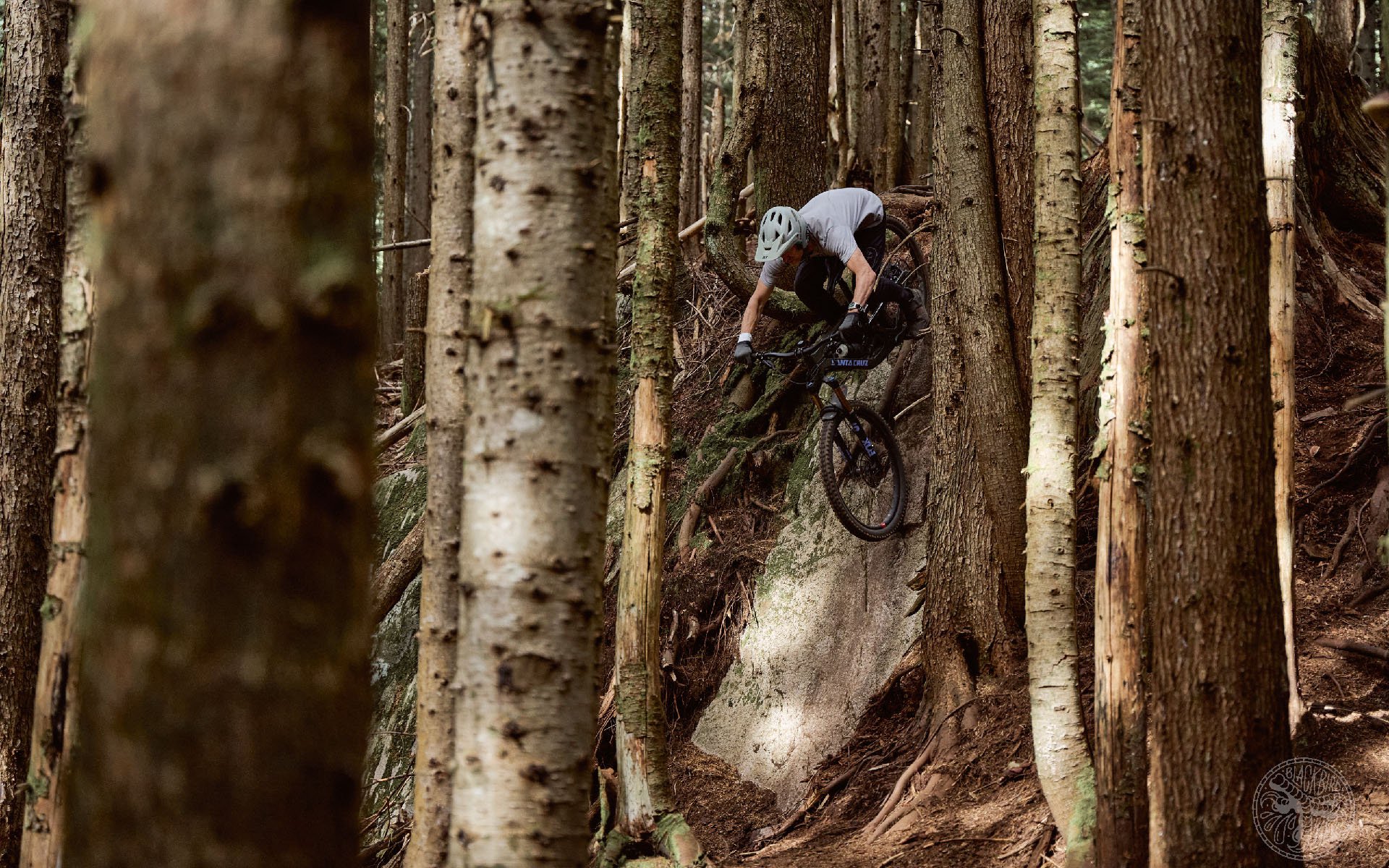 Review
The 2022 Santa Cruz Bronson CC XO1 AXS
The 2022 Santa Cruz Bronson CC X01 AXS is very much a modern mountain bike. Most everything that is new and innovative and currently cool is on this bike. From the long front center to Boost spacing to the mixed wheel, MX/mullet set up to the carbon frame, the carbon wheels and compliant carbon handlebar and electronic shifting. The list goes on with the 200mm dropper, low center of gravity and downhill brakes (Code RSC) on a trail bike. For those of us who understand these are life changing developments, you can understand why I was truly down to test this bike.
The previous generation Bronson was a full 27.5 machine and this new bike is often compared to its predecessor. I never rode the previous generation and it seems to me the number of riders wanting a full 27.5 bike is tiny. It makes much more sense to be comparing this new mixed wheel bike against full 29ers.
The new Bronson would be considered an aggressive trail bike in this part of the world. It fits solidly and nicely in between a Santa Cruz Hightower-type trail bike and a full bore Enduro bike. I hestitate to say how it fits compared to the Santa Cruz Megatower as I don't quite understand what that bike is about.
*For more spec. details and some preliminary ride impressions check Cam's First Impressions Review
The 2022 Santa Cruz Bronson CC X01 AXS comes very well-equipped with high end Carbon CC frame, Fox 36 Factory fork, RockShox Super Deluxe Ultimate rear shock, and SRAM XO1 Eagle AXS drivetrain. The test bike we had also came equipped with Santa Cruz's own Reserve 30 V2 carbon rims. The Reserve rims have been a big hit here at NSMB as they seemed to have found the right amount of stiffness. These ones are mated to Industry Nine 1/1 hubs which have that recognizable, quality freewheeling buzz. Brakes are Code RSC and the seatpost was a nice long 200 mm Reverb Stealth. The tires are a Maxxis Minion DHF, DHR II combo, both with EXO casing. The bike also came with Santa Cruz's new more compliant carbon handlebar which, according to SC, has a "dialed amount of stiffness".
The Bronson is designed around the mixed wheel size with 150mm travel rear and a 160mm travel fork. The head angle in the low position is 64.5º and size large reach is 472mm in low position. The 472 mm isn't particularly long for a large and we actually went with an XL for the test with a 497 mm reach. For a quick reference the Kona Process X that I recently tested was a size L with 490mm reach.
The frame has a nice angular business-only look. The large diameter downtube strangely reminds me of an e-bike and I never quite got used to it. As per usual with Santa Cruz, the frame oozed quality and just made you want to keep it clean and well-looked after. Somehow Santa Cruz always makes you feel like you spent your vast amount of money wisely.
Looking at the chart below you can see a nice bump up in gnarlability compared to the super popular Hightower. I think (and I have absolutely no insider info on this) that a quick review of these numbers indicates that the current Megatower model is not long for this world.
Set-Up
I found this bike to be relatively easy to get sorted. The RockShox Ultimate rear shock seems to me to require less tweaking than a Fox X2, for example. I ran the pressure at 188 psi (I weigh 170 lbs) from quite early on and didn't find myself chasing any more performance. The Fox 36 (which I ran at 89 psi) seemed easier than the Fox 38 to set up. Likely as you don't have as much air volume to manage. The Grip2 damper is excellent and again I didn't find myself chasing more performance. I cut the bars to 765mm. My only first world struggle was finding the correct bar height as the front end felt very tall. I was a bit frustrated by that at first and wanted to take out all the spacers and slam the bar but instead I took out some of the spacers and then got used to the somewhat taller feeling.
Cam had already set both front and rear tires with Tannus Armour Tubeless inserts which was good insurance for the EXO casings.
Climbing
The Bronson only weighs a half pound more than a similarly spec'd Hightower and it climbs like it. The bike was a treat to climb compared to some of the full Enduro rigs I have ridden lately. The bike was calm and composed while seated and I often didn't bother with the climb switch. Cam had the seat quite far forward which is normal for him with his long legs and his high seat post setting. I didn't need the seat quite as far forward to feel like I was in a good pedaling position. I found that overly curvacious WTB Volt saddle wasn't comfortable but Santa Cruz also gives you the choice of a WTB Silverado. One significant observation is that I really felt like I didn't have the same level of climbing traction as I do with a full 29er and the resulting increase in rubber out back. There are lots of considerations here like tire choice, tire pressure and conditions but I felt I needed to be a little more gentle on the pedals. It definitely is easier to spin up hill slowly without having to turn over the big 29" wheel on the back. A more XC-oriented friend (who is currently riding a new Hightower) took the bike for a lap up Harper Mountain in Kamloops and he commented right away how easy it was to spin up and around tight switchbacks.
Descending
Going downhill is the best part of mountain biking and it is also the most fun to write about. The new Bronson is very very composed. The unique looking carbon frame is stiff and combined with the excellent carbon wheels, compliant handlebar and top level suspension this translates into a calm and fast feel. My very first ride was on Fifth Horseman on Cypress Mountain. There are some fast and rough sections with no room to get bounced around and off your line. Right away I felt like I could stay off the brakes and 'let 'er run.' The level of control the composed ride delivers instantly gives you confidence. And here I'm referring to straight line type riding where technically two 29" wheels should be an advantage.
On less steep trails, the lightness and stiffness meant the bike could be pumped and aired over objects much easier than a larger Enduro bike. In other words, the bike was a real pleasure to ride even when not pointed directly down.
Santa Cruz states that "Next generation VPP uses a longer stroke shock for lower overall leverage while still offering a progressive, linear rate. Lower leverage makes for a familiar, but more composed evolution of VPP". I would say that SC have stayed true to their message on the new Bronson. The top end and middle felt smooth and reactive on low angle terrain and the bottom end handled high-G situations with zero surprises.
It was only on the gnarliest high speed, holed-out, rough terrain, which I managed to find on a couple of big mountain Revelstoke laps, that I missed the full-blown Enduro bike sub 64º head angle with the big burly Fox 38 or RockShox Zeb up front. These underbiked situations were rare, though. The versatility of the Bronson was impressive.
Cornering with the smaller rear wheel is definitely easier however I didn't find a night and day change in riding experience over a regular 29er. Where I most noticed it actually was on the tight berm trails in the Whistler bike park and out of the park on Creekside. It was easier to dig in and carve later into the corner. While this was fun it didn't make me any faster. When alternating between this bike and my full 29er DH bike it only took a few minutes on the DH bike to get used to initiating the turn a little earlier.
There is a lot of room behind the seat to move around thanks to the smaller rear wheel. And when doing a janky drop on steep terrain or in situations where you need to move to the back of the bike it was great not getting any tire to butt buzz.
Mostly Good Observations…
The Santa Cruz carbon Reserve rims were strong and completely trouble-free. I didn't exactly take it easy on them. I rode this bike on the Shore, in the Whistler bike park, and on some big mountain excursions in both Revelstoke and Nelson. The I9 hubs seemed to spin forever when the bike was in the stand.
Also as expected the Minion EXO casing was inadequate on the rear with the sidewall suffering a hole and a quick death while riding the awesome Martha Creek downhill in Revelstoke. I ended up running a DH casing Minion DHR II in the rear while the EXO casing with an insert worked well in the front.
The 200mm Reverb Stealth dropper post was awesome. Hydraulic posts are excellent when they are working well and not in need of service. I believe these longer posts actually make you a faster rider as (along with full extension) you can really get the seat down and out of the way on the descents.
The AXS electronic shifting was flawless although it does sound like you have a small squirrel chirping in your pocket every time you shift. The derailleur is strong. I whacked it hard enough to make me cringe while riding the Paper Bag trail in Nelson and there was zero impact on the shifting. This was a real treat after spending so much time recently trying to keep new Shimano XT derailleurs running well.
Conclusion
The 2022 Santa Cruz Bronson is an incredibly well-built, high quality bicycle. There is no component on this bike that isn't keeping up with the Joneses. The new Bronson is going to be suited to a very wide range of riders as it works well as both a 'trail' bike and a near Enduro or aggressive trail bike. The combination of lightness, stiffness and the VPP 150/160mm travel means the bike feels composed and fast with enough trail feedback to make pedaling hard still relatively efficient.
The slightly improved cornering of the 27.5" rear wheel was good but not a game changer for me. In fact I kept wondering how good this bike would be as a full 29er, knobbies in the butt be damned.
The Bronson V4 is available in models from 5049 USD/ 6649 CAD while this model will lighten your wallet to the tune of 9,849 USD/ 12899 CAD. For full spec info and pricing hit up santacruzbikes.com