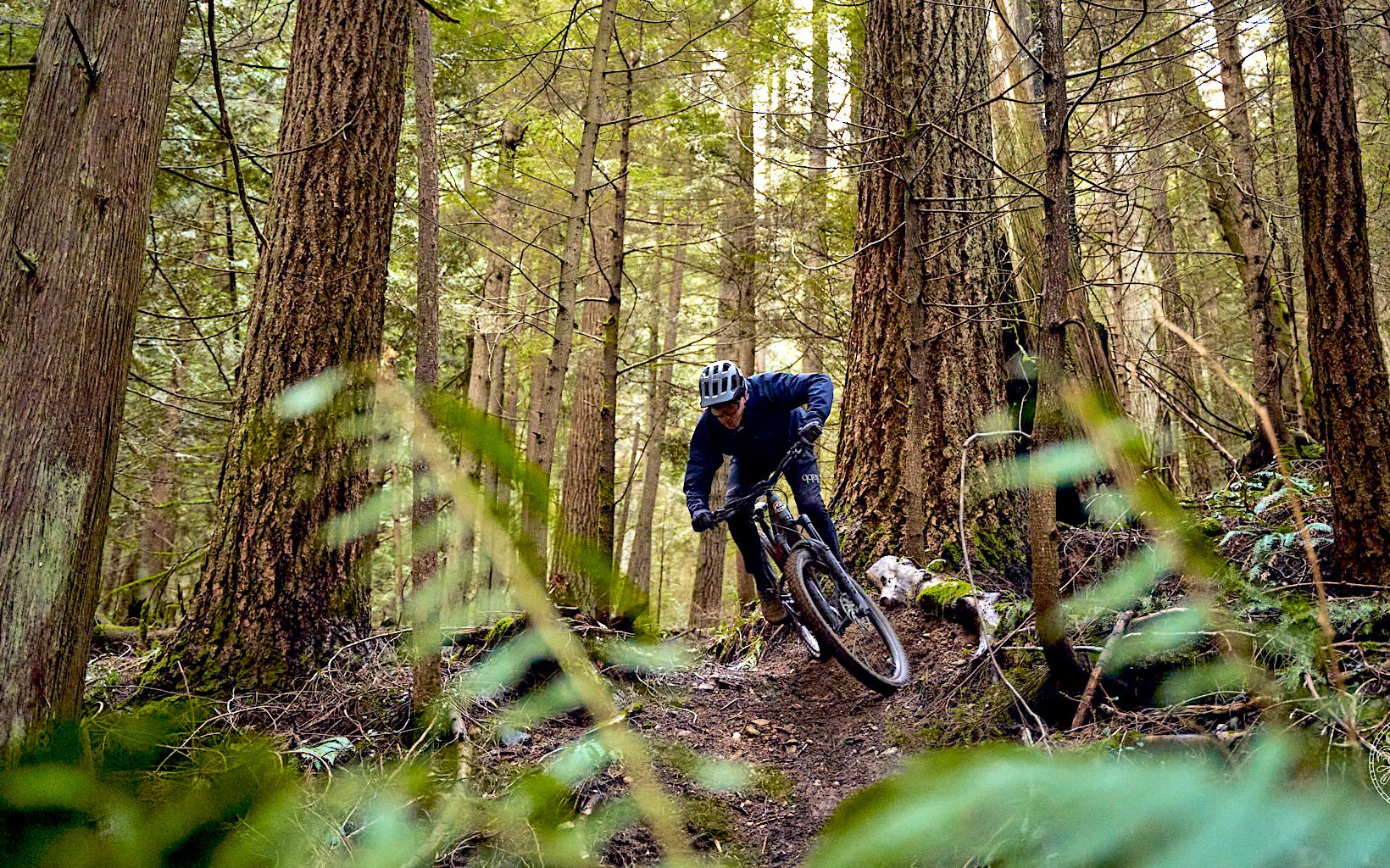 Long Term Review
2022 Rocky Mountain Altitude Powerplay Review
Tell Me what You Want
As the eMTB market develops and splinters, mimicking the evolution of the venerable pedal bike, it's becoming more important to know what you are after. After some riding time, I believe I have narrowed my focus to a few elements. I feel quite certain I'm not interested in the lighter end of the eMTB spectrum; bikes like the Specialized Levo SL or the Orbea Rise (which TBF I have not ridden). These bikes have smaller motors and batteries which limits both their range and speed. I can understand the appeal, but if going a little farther and a little faster was my goal, I could ride a bike like the Altitude, with its powerful motor and 720 wh battery, in a lower power mode, which is something I only do on rare occasions when I'm riding with someone who is slower than I am. Otherwise I'm looking to climb as quickly as possible to get lots of vert in a short period of time, or even more vert in a larger window, which means all boost all the time, or ludicrous in this case. This also explains why, while riding the Norco Sight VLT, with the choice of 540, 720, or 900 wh batteries, I almost always went for most beastly of the three. I'm not saying I wouldn't enjoy those more spritely steeds, assuming I wasn't riding with someone on a more powerful eMTB that is, rather that if I was voting with my dollars I'd vote for heaps of power and battery life.*
*I have limits as well though and I am not drawn to other classes of ebikes that don't require pedal input from the rider and that aren't limited to 32 km/h
I also know that I want a bike that is capable of getting me down the hardest trails I ride. These are generally steep, always have rock faces with some pucker factory (for me that is) and they require my full attention and my best skills. I'll happily ride a pedal bike that is less capable and choose different trails, but with only one eMTB, I want to make sure it covers all the terrain I want to access. I also know that even a bruiser of an eMTB, like the 170/160mm Rocky Mountain Altitude Powerplay C 70, is a ball on lower angle trails, janky techfests, and even high speed berm trails, so there is very little sacrifice required if you choose a bike to unlock the steepest and most terrifying trails.
How the Altitude PP Carbon 70 Matches
The good news is, the Altitude Powerplay matches my Tinder profile perfectly. It's long, slack, and low, particularly in the lowest of the four-position Ride9/4 geo adjust system, which is where I rode the bike. Despite this seemingly downhill-focussed attitude, I never found myself on a trail or in a situation where the bike felt unwieldy, too heavy, or too slack. If there's a less dorky expression for quiver killer that applieds to riders of aggressive terrain, eMTBs like this should get that label. It's a 51 lb sled that's a great all-rounder. If you haven't ridden an eMTB, that's likely a little tough to imagine, but those were indeed my findings. Perhaps not surprisingly, it climbs well, but I'd go further and say it gets up better than any eMTB I've ridden.
Altitude Powerplay Carbon 70 Features, Improvements, and Highlights (info from RMB)
Dyname 4.0 drive system w/ 700w power and 108 nm torque (peaks)
Quieter operation
Improved un-aided pedalling
170mm, 44mm (FOX) or 42mm (RockShox) offset fork - rear travel of 160mm with
Max tire clearance is 29 x 2.6
Sizes: SM - XL
Weight - 23.53 kg (51.9 lbs), size LG
Ride-4 adjustment system
Modular Shock Mount for future proofing
Dual bearings at seat stays and chain stays
Integrated Jumbotron display
720 Wh battery (up from 672) and up to 1034 with the optional Overtime Pack 2.0
Smaller remote
Mid-high main pivot
10mm chainstay adjustment
More rearward wheel path and increased progression in shock rate
Improved small bump performance
The Dyname 4.0 Motor and Controls
Rocky's new Powerplay models have a secret weapon to use on most other large brands competing in the eMTB sphere; their Dyname 4.0 power plant. Most brands choose motors from either Bosch or Shimano, with Specialized being another exception because of their use of the Brose motor. Working with Brose has allowed Specialized to have design input as well as to use their own software, batteries, and controls. This is trickier with Shimano and Bosch, and discouraged by those brands. Rocky Mountain went a step further, controlling the design and manufacture of the motor, software, and control hardware. The company that produces these components, Propulsion Power Cycle, presents itself as a distinct entity but a little research reveals it shares an address with Rocky Mountain Bike's parent company in Saint George, Quebec. Formerly named Procycle, the parent company is now, confusingly, also called Rocky Mountain. All this means that the motors are proprietary to RMB and that Rocky and Propulsion Power Cycle are two branches of the same tree.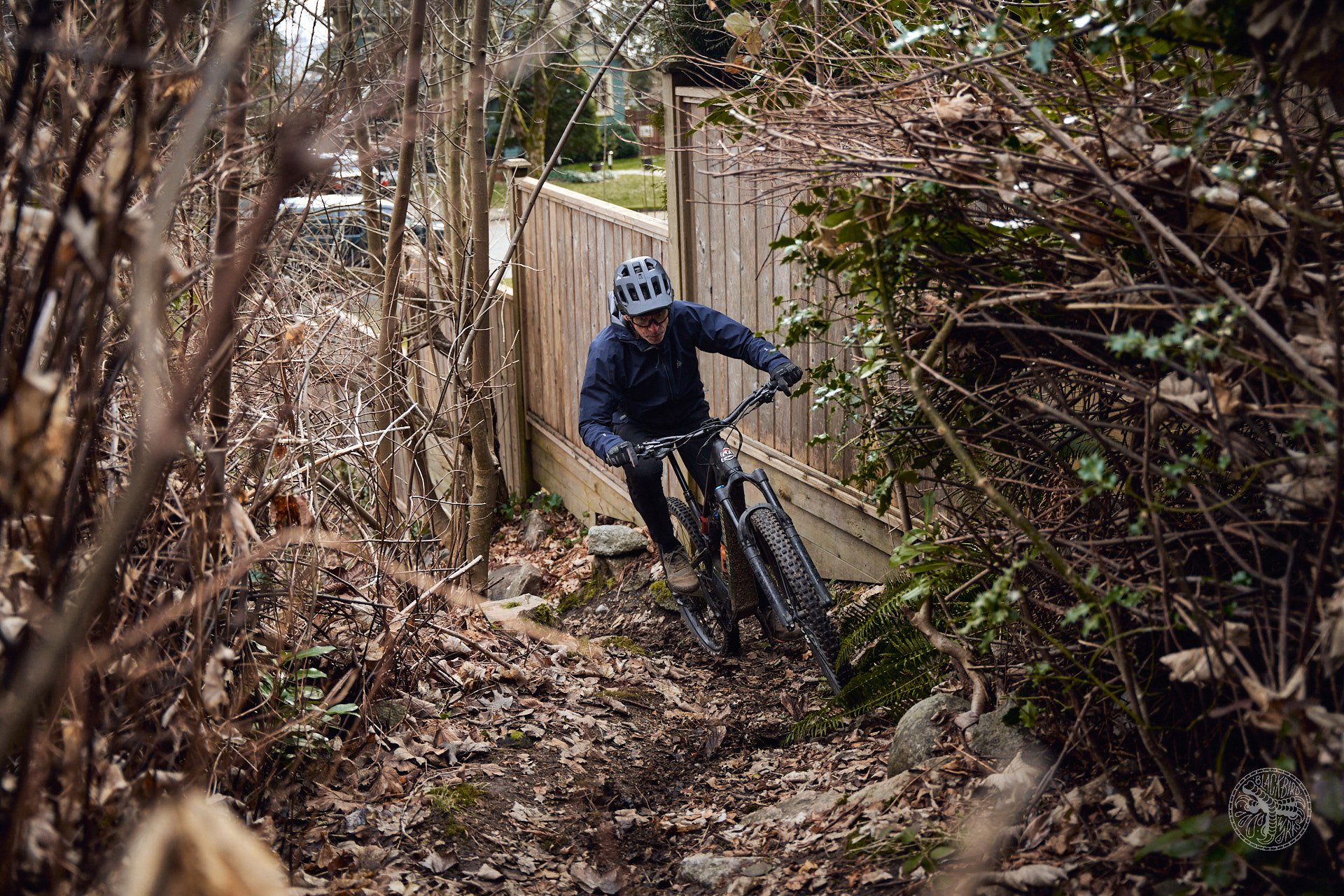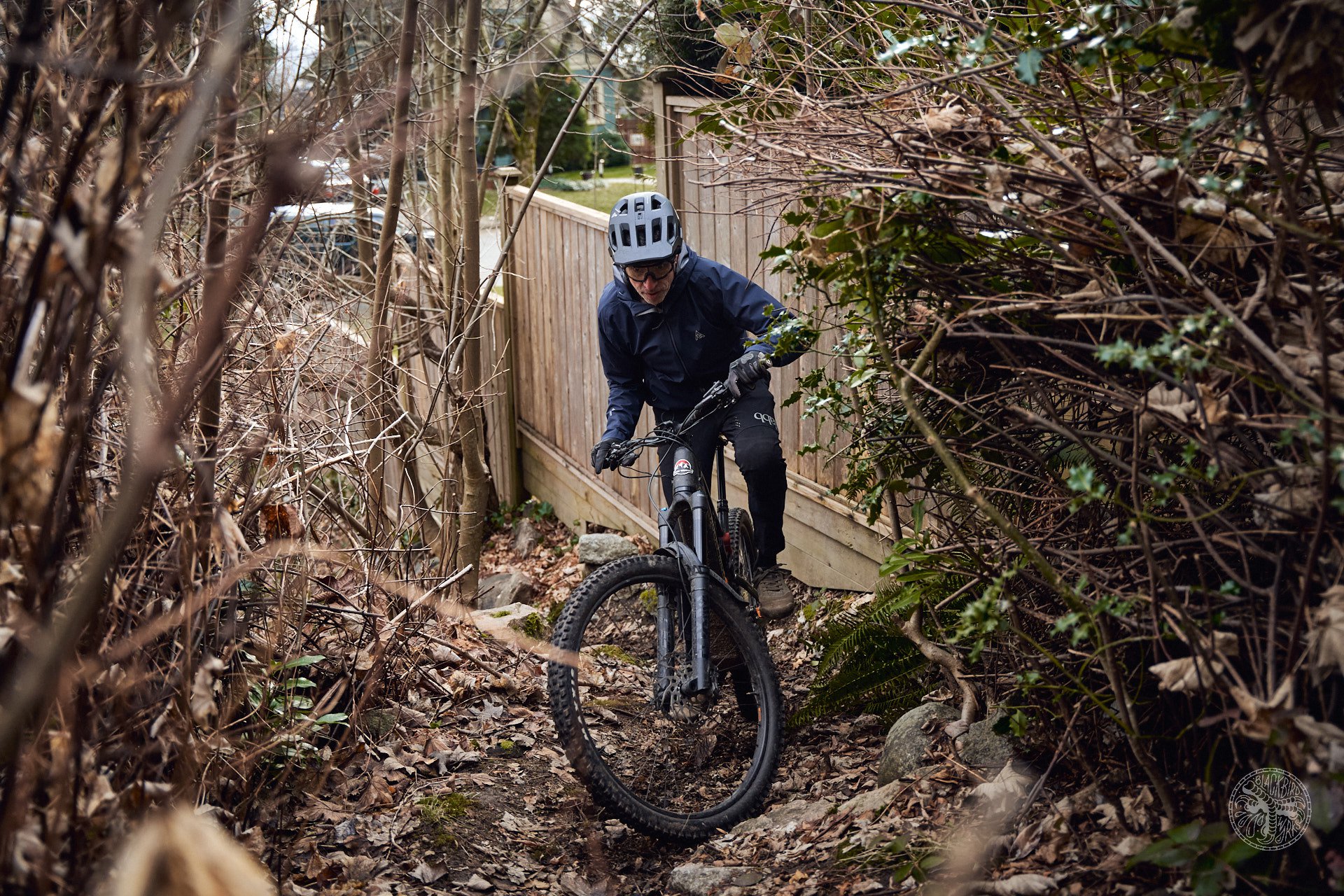 If a bike manufacturer chooses to use a Shimano or Bosch motor, they must make the bike fit the drive unit while having little control over how it performs. Rocky is able to design the motor and frame together and engineer every element to their liking. Bold strategies like these, where smaller companies go after the big dogs, are risky, and my first experience on a Rocky Instinct Powerplay, using the Dyname 3.0 motor, was less positive. While the motor itself operated at lower RPMs than the competition, producing less high pitched whine, I found the chain noise a little grating, even when the bike was well lubricated. The earlier bikes were also tougher to pedal without power than either Shimano or Bosch because of the convoluted chain path which travelled through two tensioned pulleys* and the drive pulley on the way from the cassette to your chainring. Pedalling is not a pleasure once the battery has expired with the Dyname 4.0, but it's significantly less unpleasant.
*these were an upper chainguide, which has been removed from the new motor, and the torque sensor which remains
The end result is a fantastically integrated motor that responds more intuitively and with significantly more power and torque than the competition I've experienced. This is particularly evident climbing very challenging singletrack lines. I find the Shimano motor more likely to bog down when an obstacle slows or stops my progress, while the Dyname 4.0 deals better with low cadence moments and allows me to push through. I tend to ride in Boost mode most of the time because fast is fun and generally this is the case with my buddies as well. On the Altitude PP I've had much fitter riders than I, struggle to keep up, both on the way to the trails and once we'd hit the dirt. The top speed is still limited by government regulations, to 20 mph or 32 kmh but you can get there more quickly on the Dyname 4.0 with its peaks of 700 watts of power and 108 nm of torque. This compares to 85 nm for the Shimano EP8 and Bosch Performance Line CX and the Brose at 90 nm.*
*these figures are from the manufacturers and have not been verified by nsmb.com
There are some other bonuses about the Dyname system. Unlike most of the competition, Rocky's motor is paired with a conventional bottom bracket rather than one that is integrated into the motor itself. I haven't had to replace a BB on an eMTB but apparently it can sometimes involve sending your motor away for service which isn't likely to be convenient or efficient. Continuing on the simplicity theme, the computer that controls the Dyname 4.0 is not integrated into the motor as with most others, meaning if one of the two goes bad they can be replaced individually. With a Shimano or Bosch the CPU and motor apparently live in the same housing.
Simplicity is a theme that recurs when examining the Dyname approach The system doesn't 'smooth' riders input like some others, nor is there is the run through feature that Bosch has, to give you a little extra push when you stop pedalling. I think I prefer this more-natural feeling power delivery; if your legs aren't pushing the motor doesn't either. This makes the bike easier to control in tech terrain and on tight switchbacks because the motor stops instantaneously when I stop applying power.
The power application feels more natural to me as well compared to other systems. Shimano and Bosch have a more on/off feel than the Dyname, with its inline torque sensor. On a Shimano or Bosch, when I put more pressure on the pedals it quickly feels like I have reached the maximum assist percentage but with the Dyname 4.0 it feels proportional for much longer. This motivates you to pedal harder because you are rewarded with more power amplification.
Battery and Charging System
Rocky offers a 2 amp or 4 amp charger, the latter apparently charging much more quickly, but Rocky claims that even the 2 amp version is faster than the competition. I don't often ride an eMTB on consecutive days and even more rarely do I sneak in two in a single day, so charging times are of little importance to me. If they are for you, the numbers above may be helpful. I had a few issues with the charging plug. Early on I was unable to figure out how it plugged in. It's a cloverleaf design but, unless you look very closely, it looks symmetrical. Or it did to me. When I eventually got it to fit, I'd actually aligned it wrong. This was all made more difficult because, being an early production bike, the battery inside wasn't plugged in so it never worked at all until Rocky had a look at it. It turns out this was particularly troublesome when the plug and receiver were new, but even last week I had a moment mating the two. It's not the worst at all, but it having it mate easily would be ideal for those dark corners where bikes are often stored.
Aside from during our cold snap, when the bike was stored in an unheated shed which stopped it from charging, it has charged without a single incident, unlike the Norcos Trevor and I recently tested. The charging door on the Norco is however magnetic and idiot proof while the rubber leash for the port cover on the Altitude broke and then fell off during a cold weather ride.
The 720 wh battery distilled energy reliably and for long periods, aside once again from a subpar performance in sub-zero temperatures. For probably 95% of my rides 720 wh is ample, but there are times when I like to go a little bigger. Luckily the Altitude has the option of the Overtime Pack 2.0. The unit bolts onto your water bottle mounts (which is slightly less than ideal, and provides an extra 314 wh, boosting the total to 1034, for only 869 CAD. That feels a little outrageous to me, but currently it seems things just cost what they cost. Still, it's a nice option to have.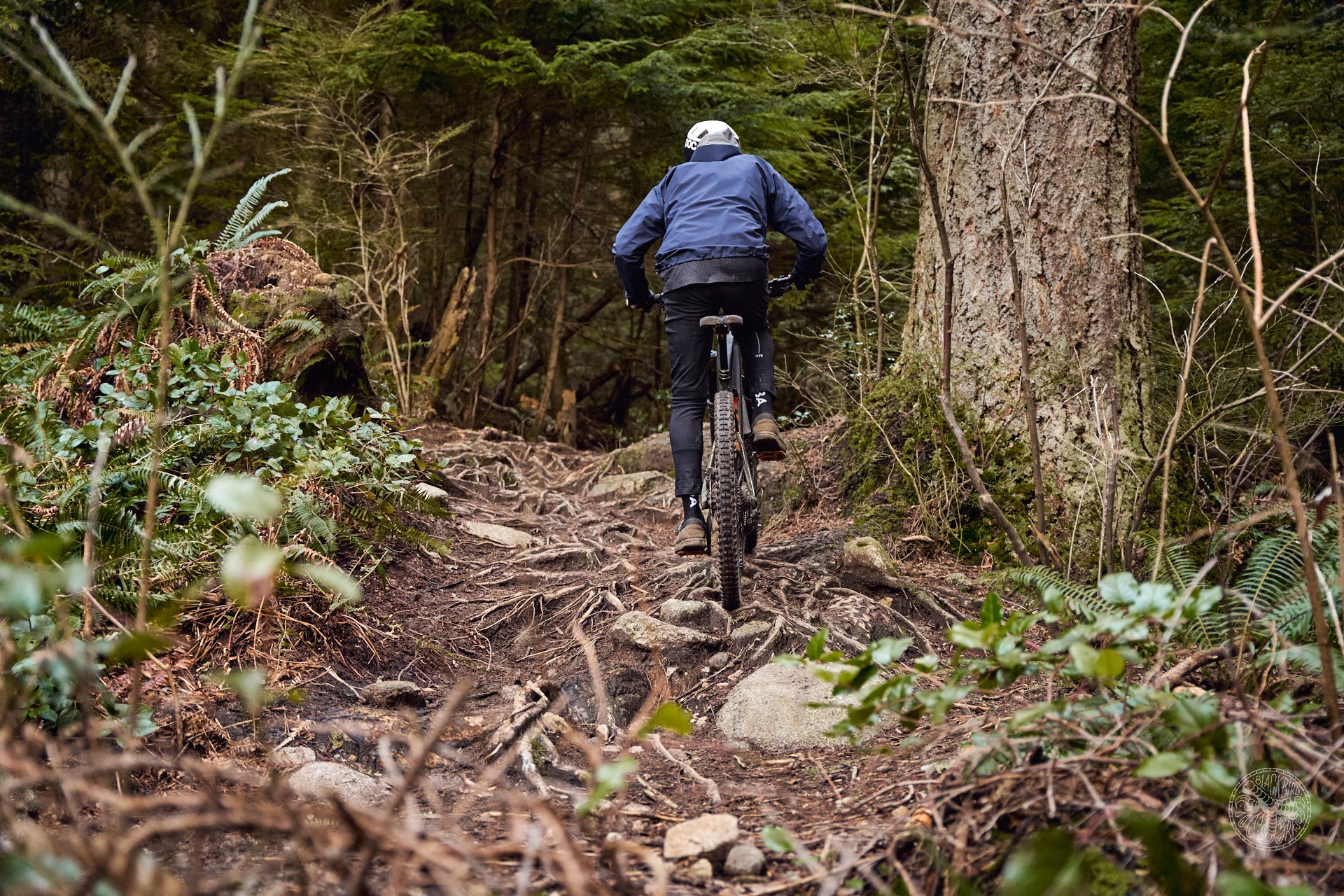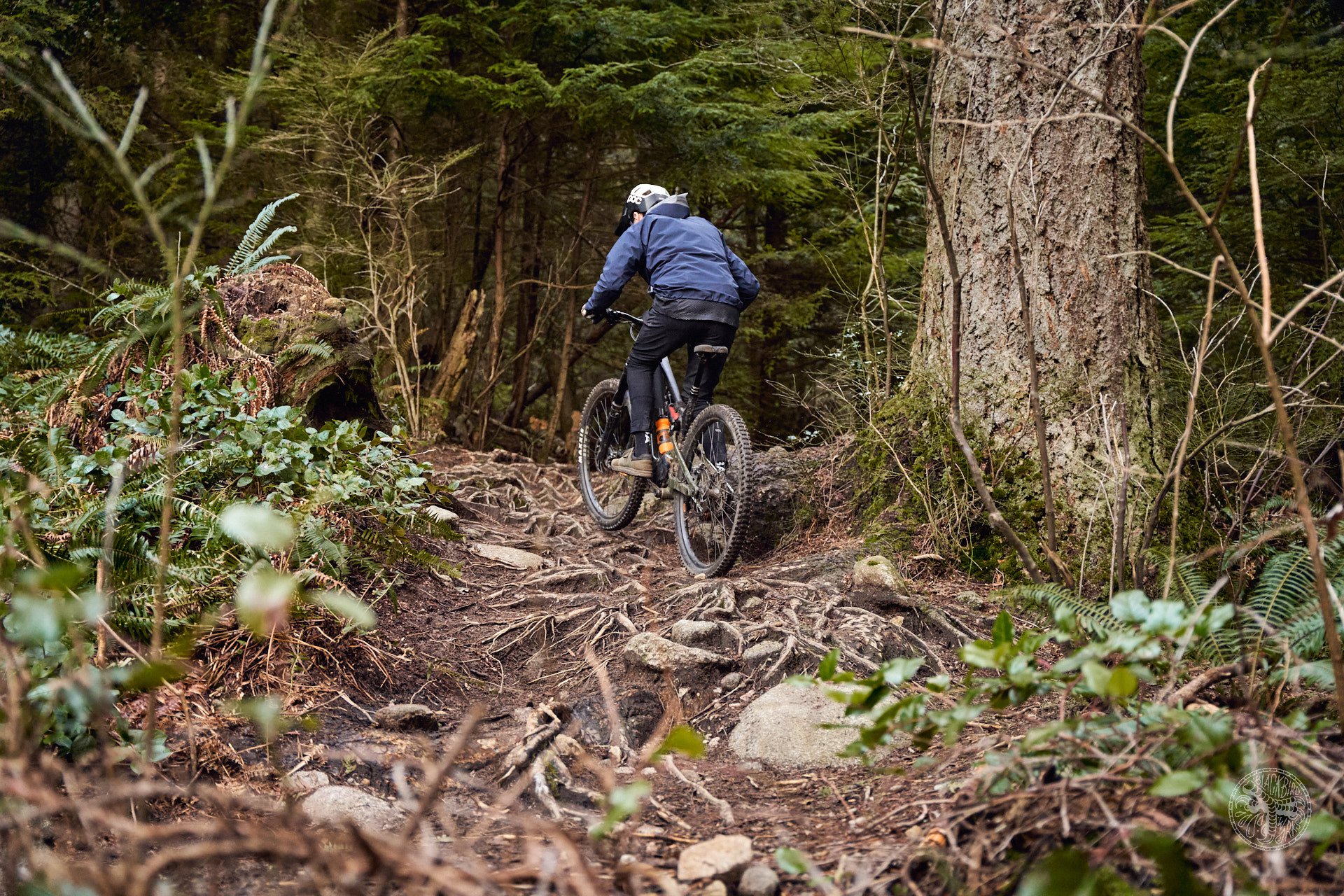 My best frame of reference would be the few times I rode the Norco Sight VLT with the 720 wh battery. Without getting technical about this at all (or accurate), my experience was that I could get similar range and time on the Altitude, but cover more ground because of the more powerful motor. Which suggests my totally unscientific opinion believes the Altitude is slightly more efficient. The take-home is, a 720 wh battery will give you lots of range with this machine. I recently did a 26 km adventure with 950 metres of climbing, all in boost, and arrived home with 20% left in the tank.
Jumbotron
While the erlier Dyname 3.0 system had a few weaknesses, the most troublesome for me was the battery level indicator that was meant to replace the lack of display. This may sound like hyperbole, but I'm about to accurately describe how it worked. A colour-coded LED light system with five different colours (6 counting red and yellow together), three different blink rates, and other indicators that were identified by the number of blinks rather than the rate, were used to identify 6 battery levels, 4 assist settings (including off) and another to let you know you are in walk mode. I almost forgot. The power modes were further identified by vibrations; no vibration and 4x white blinks for off, one buzz and 4x red blinks for eco, two buzzes for trail... You get the idea. To ice this confounding cake, once your battery got to 25%, the lights turned red, then between 10 and 5% they started to blink, and at 5%, when you're feeling totally mellow about the range you have left, they turned red, and blinked even faster. If you can believe it, the Jumbotron is even better that this system.
Despite the cheesy name, I like the Altitude's little screen, the information it allows you to access, and the settings you can change. Unlike any other eMTB I've ridden, your power settings can be adjusted from the saddle. And I don't mean sitting still; you can be pedalling along and decide you want more or less boost in "Ludicrous mode" (Did Elon buy Rocky?) entirely with your left thumb. You could even mess with your friends by giving Eco mode as much power as boost; "I swear I'm in eco dude, check it out..."
*I want to apologize for the quality of the display photos and assure you I am responsible rather than Deniz. When I shot on a dull overcast day, it was easy to capture clear images, but both at night and on brighter days proved difficult for different reasons. I learned a lot however and will do better the next time I need to take 21 images of an illuminated LCD screen.




The new screen is easily visible in the dark and in bright sunlight but my old man eyes would prefer larger type (I've even heard young gals and fellers say that). One of the best features of the Jumbotron is that it will keep you in control if your remote explodes. From the main screen, which comes up when you power up the unit, showing a selection of data, you can tap the power switch to change your power mode (the button must be held for a couple of seconds to power the bike up or down). This is another clever development I haven't encountered on other eMTBs.
Going Up
In case seeing a record number of climbing photos hasn't made this clear, the Altitude Powerplay is a masterful ascending machine. The immediacy of the Dyname's torque sensor's response, the smooth application of juice, and the advantages in peak torque and power the Altitude Powerplay has over the competition all contribute to some mind-blowing capabilities. I've stopped judging sections with prior knowledge after being continually surprised by what I've been able to get up on the A/PP. My eMTB climbing skills are also improving over time but there have been several moves I managed easily on the Altitude that I wasn't able to accomplish with the Sight (I've also learned the Sight, with its Shimano EP8 motor requires a different technique that seems more dependent on higher cadence/lower gears, making back to back comparisons problematic).
I find the saddle up climbing position to be nicely stretched out and comfortable and the 75.5º seat tube angle puts my legs in a powerful position without pushing me forward excessively. Long road climbs and bony creek beds were equally comfortable and traction in every situation was excellent. I wouldn't want to be in one of those eMTB enduro races against the Altitude Powerplay.
When Gravity Takes Over
When I first rode an eMTB I would turn off the engine for the descent. This is entirely doable and often sensible, but I've abandoned this habit unless range anxiety is creeping in. If you aren't pedalling you are using very little battery power and when you do need to get on the gas, anticipating boost-level power and getting a mediocre (in my case) human power-levels can be a little dodgy. Now I just leave things on and if I want any extra speed it's at my disposal.
I was mostly pretty happy with the suspension system on the Altitude PP. Both shock and fork are quality Performance-level pieces which sensibly omit the expense of Kashima. If it had stopped there, as it does with the Fox DHX2 in the rear, I would have been tickled fuchsia. Unfortunately Rocky saved a few dollars (or took what they could get on this supply chain) by bumping the compression damping in the fork down to the Evol Grip, rather than the more adjustable and higher performing Grip 2. I managed to get it feeling pretty good most of the time but there were occasions when I was about to reach for an adjustment, only to realize it wasn't there. Still, 90% of the time or more, it did a great job of taking the bite off the bumps.
Aside from the Dyname 4.0, the suspension system is another high-water mark for the Altitude PP. High pivot bikes with an idler pulley, situated in vertical alignment with the pivot, are currently all the rage. Rocky realized they could approximate this system without adding any complexity to the chain path. In fact the changes involved one fewer pulley than the Dyname 3.0. Rocky calls it a medium high pivot but the kinematic wins are easily felt; a more rearward axle path to sail over square edges, but with a feel that is progressive enough to feel bottomless.
The bike liked serpentine singletrack as much as bombed out straight lines, but I found the Sight VLT to be a little more nimble and eager to get off the ground, despite giving away 4 lbs to the Altitude the way I rode it. Overall though, the Altitude was a descending demon, eager to tip into the steep, while still being responsive enough to be enjoyable on both lower speed and lower gnar trails.
A Few Issues
After I had been riding the Altitude for a few weeks, a few glitches began to appear. One was a little unsettling. I was out on a friend's yearly Devil's Night ride (as the only e-biker!) and I laid the bike down on its side to take a photo. The bike apparently thought it was still being ridden and began to 'Hesjedal'* as it rested in the gravel. The rear wheel began to turn at an increasing rate and I had to power it down. Around this time, the assist would sometimes cycle on and off mid pedal stroke, emitting a clack during each cycle, unless I was putting down a lot of power at high cadence. The last glitch was that it would power off, or at least power to the motor would disengage. The display looked normal but there was no power until I cycled the unit off and on. Rocky performed a service, which included a calibration, a user friendly operation, and it was back working perfectly afterwards.
*I'm not saying Ryder was e-doping - just that my tester did the same thing as his race bike
It's All in the Details
Based on my (admittedly limited) knowledge, Rocky Mountain is the only eMTB maker currently making the brilliant decision to include Cuschcore Inserts as original equipement. Electric mountain bikes have conventional wheels and, while the bikes are heavier to wrestle, changing a flat isn't prohibitively difficult, it's just a little more of a pain in the ass. And with all that power at your disposal, it makes perfect sense to use serious inserts, which for me means ones that allow you to continue your ride, like Cushcore. There are some very good inserts that don't work nearly as well as Cushcore in the run flat category, but they wouldn't make sense in this application. On top of run flat ability, fewer punctures, and rim protection, you can access the benefits of lower pressures without losing edge control, straight line precision, or cornering performance. Let's say I'm a fan of this spec. choice.
Most of the other elements which distinguish the Rocky Altitude Powerplay from the herd relate to the Dyaname Motor and the accompanying hardware and software. It really does perform spectacularly well on top of feeling more natural and providing more power in a way that is more intuitive than the others. Add the conventional bottom bracket, de-integration of CPU and motor, access to next level diagnostic detail, the inspired Jumbotron, and the ability to control your drive system after your remote goes offline, and you arrive at a next level machine.
The 2022 Rocky Mountain Altitude Powerplay Carbon 70 costs 11,399 CAD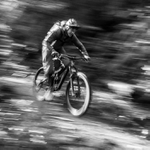 Cam McRae
Height - 6'/183cm (mostly legs)
Weight - 170lbs/77kg
Inseam - 33"/84cm
Ape Index - 0.986
Age - 57
Trail I've been stoked on lately - Lower Digger
Bar Width - 760mm
Preferred Reach - 485-500mm (longer with 27.5 wheels than 29)