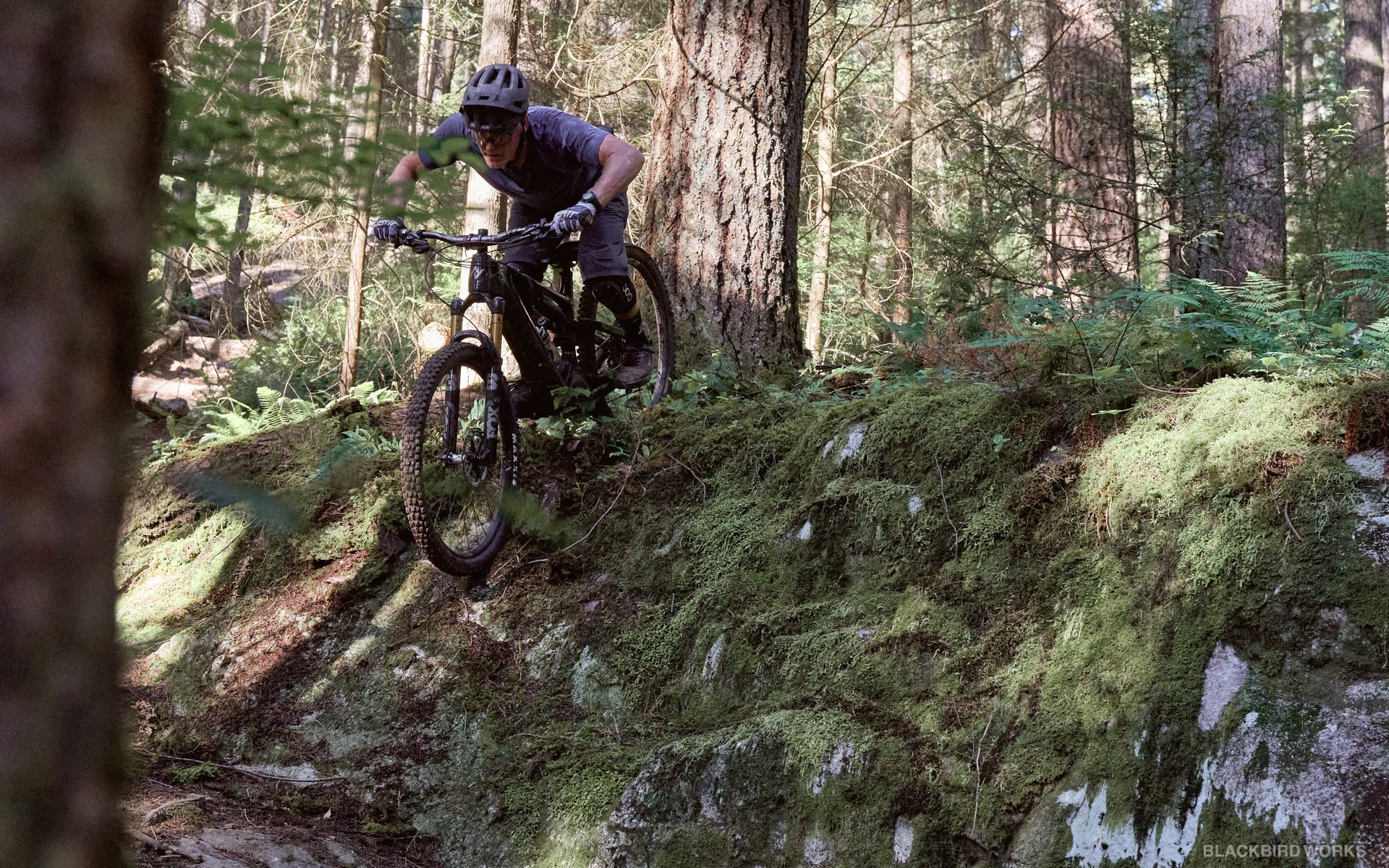 First Impressions
2022 Norco Range C1 VLT eMTB
Initial thoughts
When I first learned that I would be testing the new Norco Range VLT I was excited because I had seen some spy shots of the new Range with its high pulley and great looking design. When I eyed the electrified Range I was a bit disappointed that it did not look anything like its cousin without the electricity. Speaking of spy shots, I was testing the bike and I completed the ride near the infamous location of another spy shot that caused a bruhaha. One of my riding buddies said something to me as I attempted to hide the Range, "E bikes are ugly and nobody cares about the design of a new E bike enough to spy shot it." Kinda harsh but that may be true for these parts when compared to mountain bikes. I think it's best to view an E bike as a separate entity on and off the trail, however I still cannot help comparing an E ride to a ride. The Range is a fun machine that rides well on all the terrain the North Shore has to offer. The ride is a great one but still a different one from a mountain bike. As E mountain bikes go, and I have only ridden 3 other models, this one is easily the best. It is at this point that I should quote from my Norco Range C2 my "long term review - sort of" about how I and NSMB.Cam feel about ebikes:
I love mountain bikes. I don't love e-bikes. I enjoy riding eMTBs because of what they offer; more speed climbing and more range, and sometimes rides that take less time so I can shoe-horn one in as a bonus. I am a mountain biker who sometimes likes to ride an eMTB, but mostly I prefer riding under my own meagre power. I reject the prediction I've seen in some other publications that eMTBs are going to make mountain bikes obsolete. I'll be turning the pedals with my own power for as long as I'm able, but I may continue to occasionally ride an electric bike off road.
If you don't like eMTBs, I'm fine with that. I only like them sheepishly anyway.
Speaking, er writing, about Cam, he is currently testing the new Sight VLT. Like him with that bike, I'll give my initial impressions of the Range, its highlights, specs and pricing.
I have had about 10 rides on it ranging (see what I did there?) from quick under an hour rips to rides up to build/maintain trails then rip down to a full two mountain ride burning the giant 900 Wh battery out and having to push the beast up a big hill (it was a small hill - Ed.) to get back home (woe is me).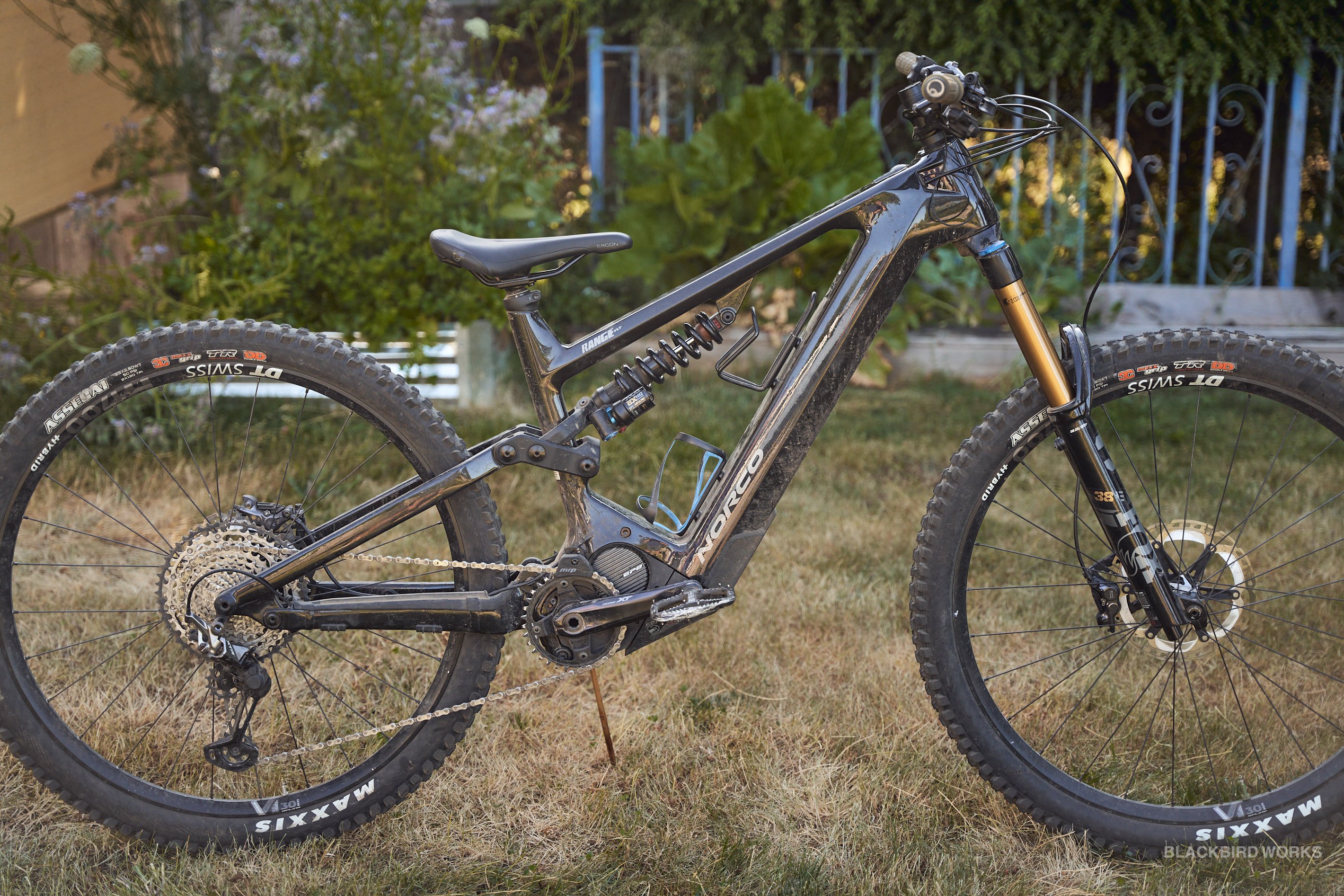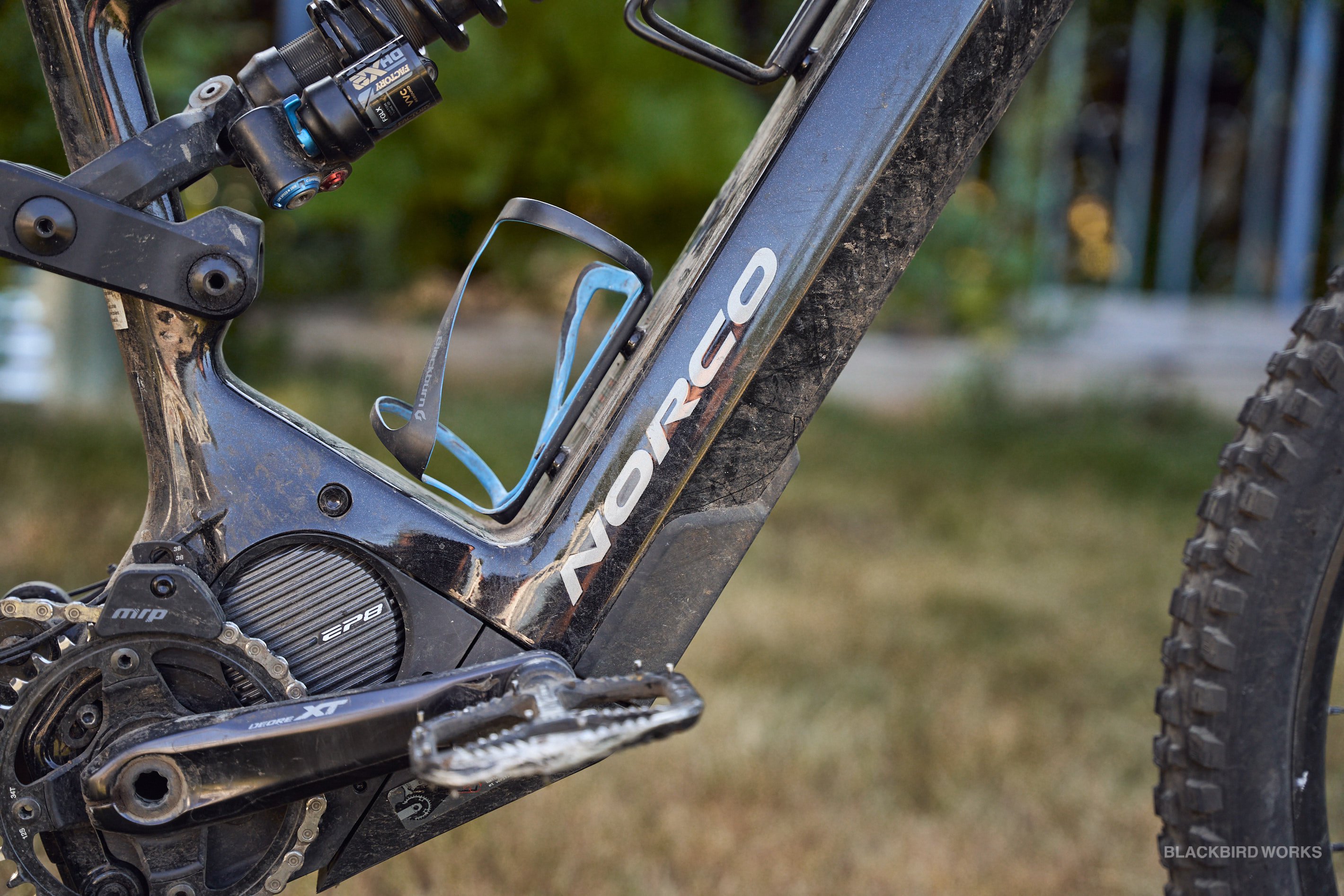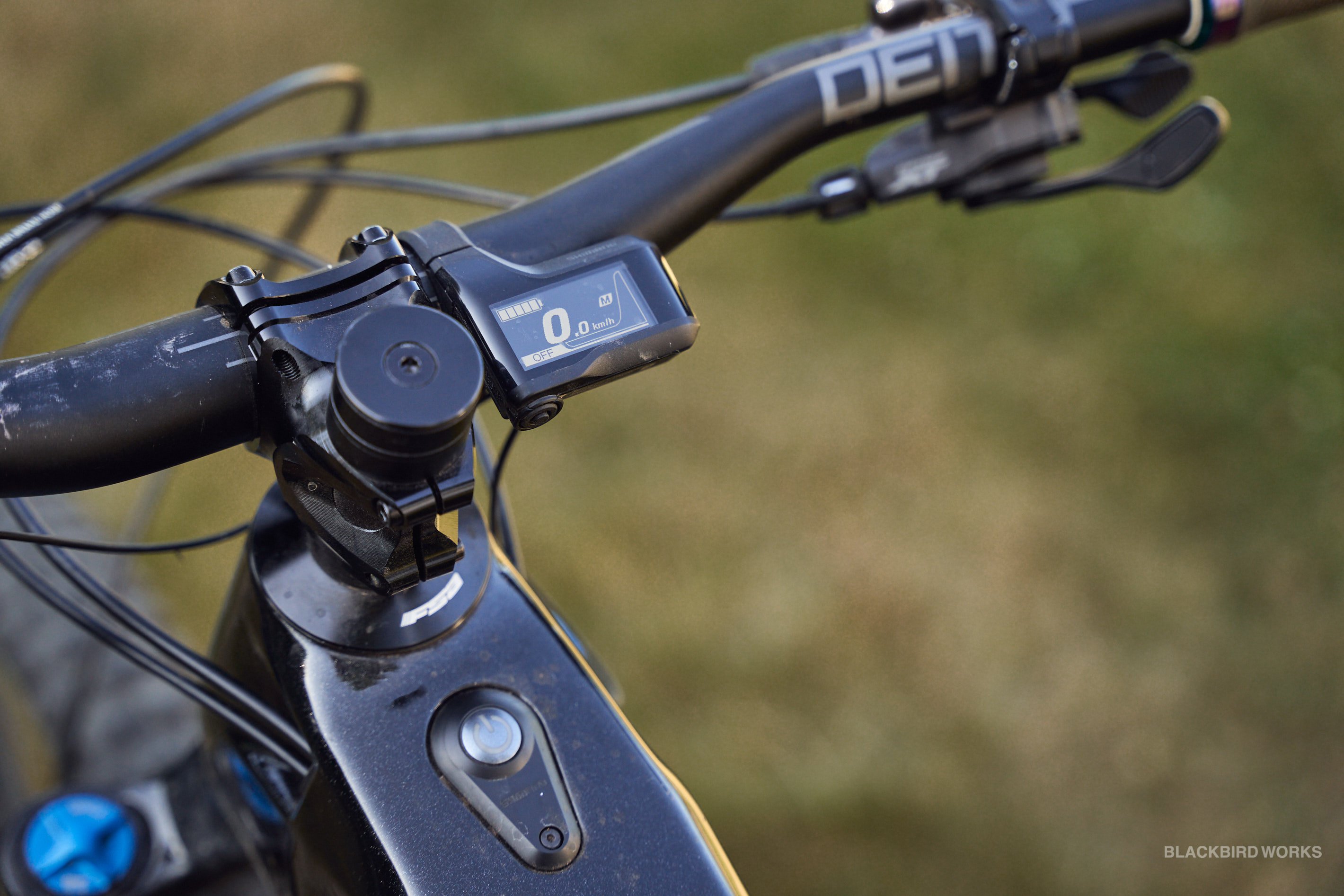 Highlights
FRAME MATERIAL CHOICE available in Carbon and Aluminum
180mm Fox Factory Float 38 and 170mm Fox Factory DHX2 coil
BATTERY CAPACITY CHOICE With three proprietary battery options available: featuring future-proof 21700 lithium ion cells for maximum energy density, allowing you to custom-select your ideal capacity from 540Wh, 720Wh or massive, industry-leading 900Wh.
EASILY-REMOVABLE BATTERY Proprietary batteries remove and install in seconds with a single onboard tool.
SHIMANO EP8 DRIVE SYSTEM Shimano's most advanced EP8 drive system is spec'd through the entire Gen 3 VLT lineup. It's 380g lighter than previous models, features 85Nm of torque with increased efficiency, and is rider customizable using the E-Tube Project app.
E-OPTIMIZED COMPONENTS Every VLT is spec'd for the rigours and added mass of E-mountain biking, including E-certified forks, oversized 4-piston XT disc brakes, robust 29" wheels with reinforced spokes and freehubs, and grippy Assegai DD tires featuring supportive sidewalls.
RIDE ALIGNED™ Norco's exclusive Ride Aligned™ Design System matches each VLT E-MTB to the human who rides it. Rider-first geometry and suspension kinematics combine with custom fit and suspension tuning using the Ride Aligned™ Setup Guide to provide personalized performance. Range VLT: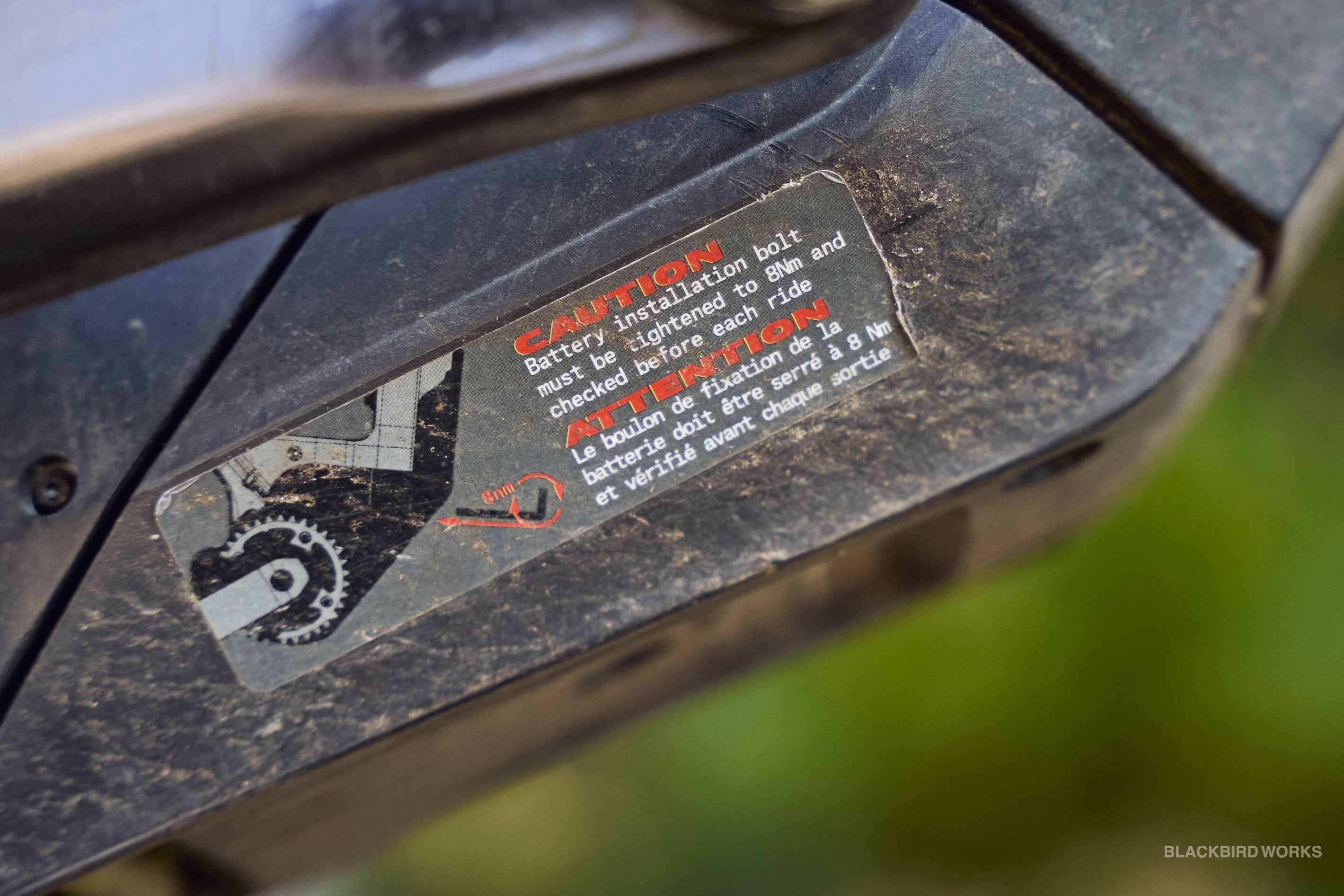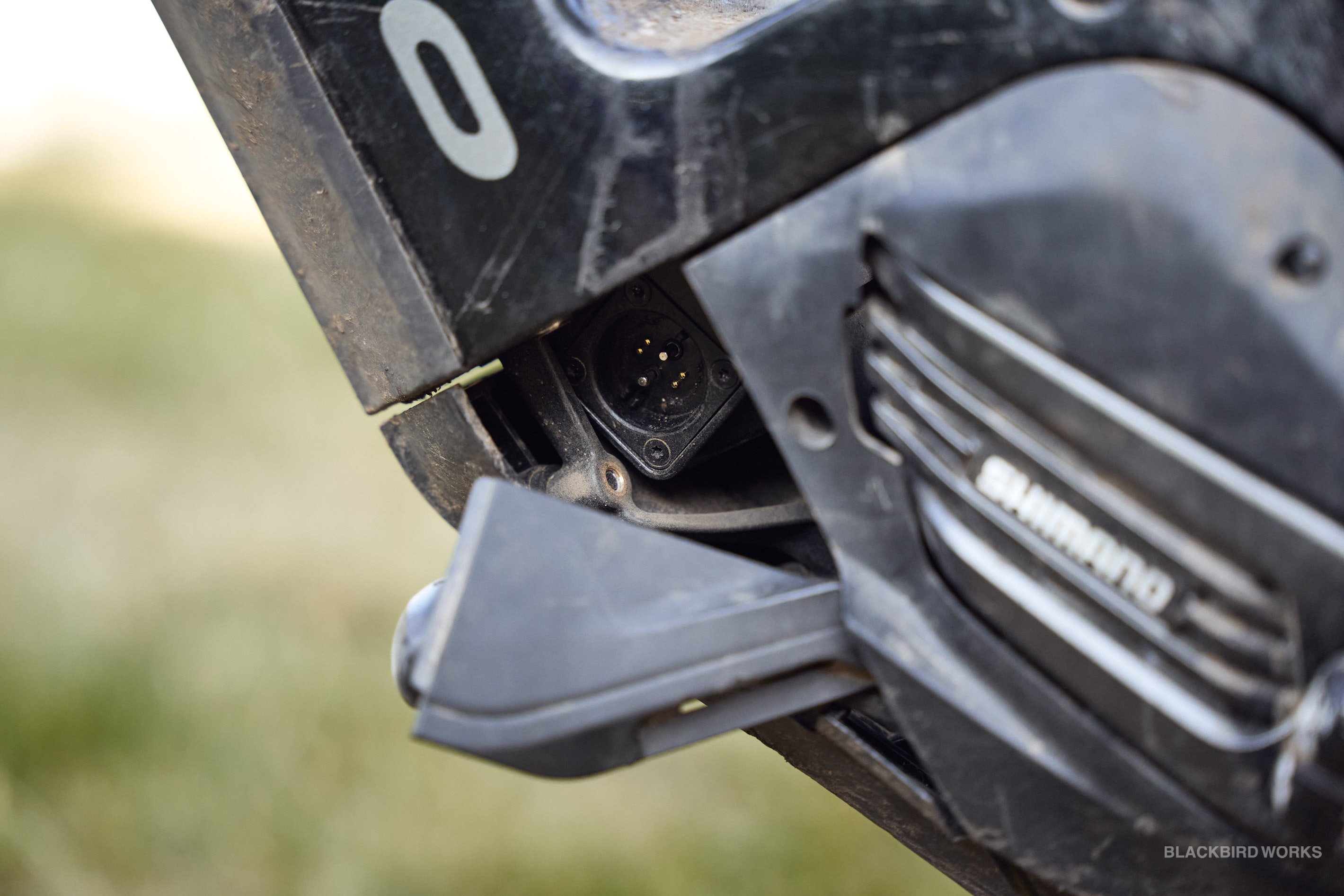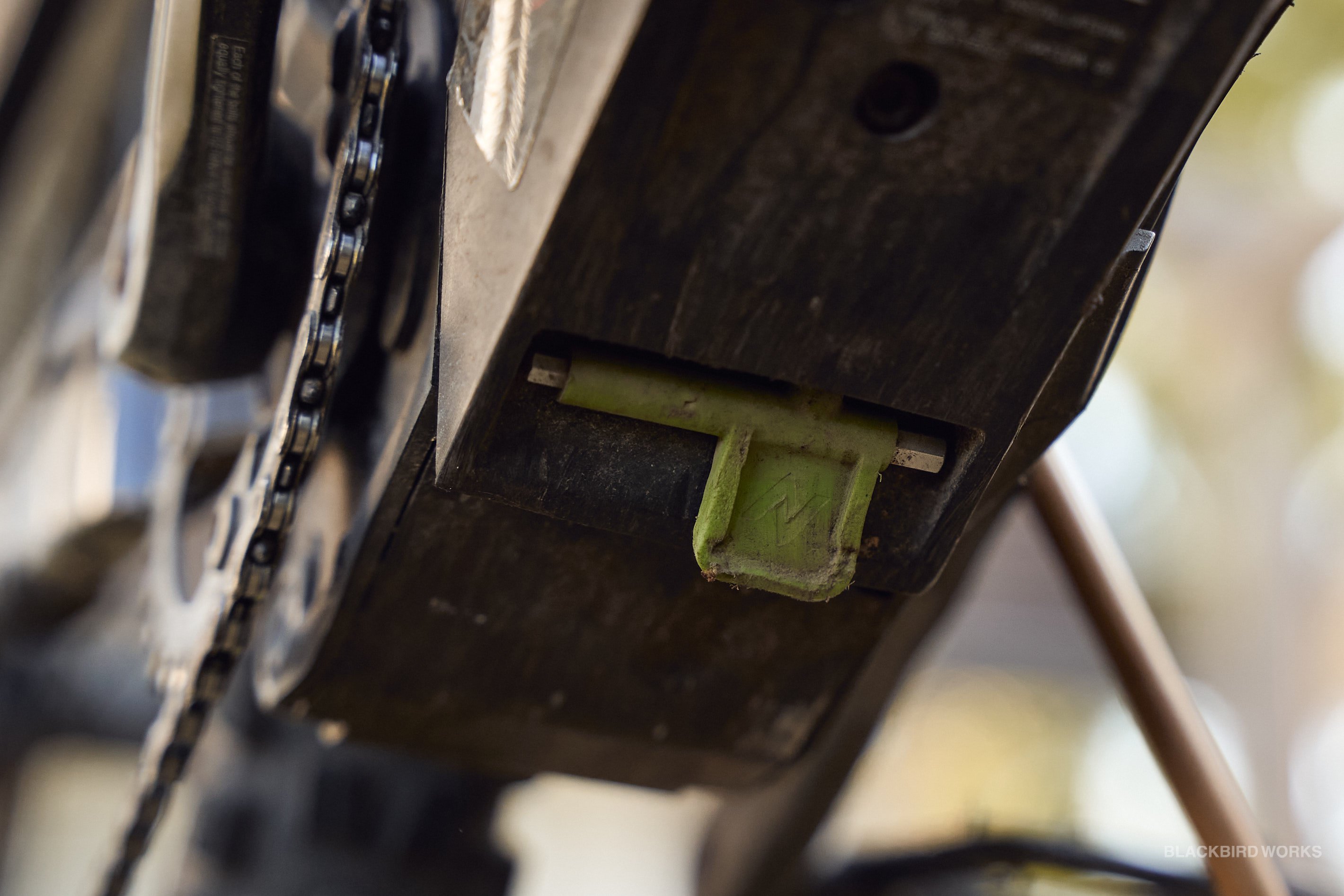 Removable batteries
One of the most impressive aspects of the new Range is how it is engineered around removable batteries. The engineers were able to make it easy to turn an 8mm bolt using a built-in removable tool and have the battery slide out for easy swaps or charging. The latter was handy for me when I wanted to charge the battery in my place while the bike stayed locked in my storage shed where there is no power. I have not had a chance to try the pack a battery for extra power feature but I will definitely try various ways of doing this during the long-term test.
One idea I want to test is to stash a spare battery at the base of the mountain so I don't lug the extra 7 pound beast with me. I have an image of riding with the spare battery in a Baby Bjorn while I am writing this and another from 1997 of me with a homemade headlight with a 9 pound lead acid battery in my Camelbak that caused me to fall backwards on a wheelie drop because of the weight. I could take Norco's copy and the information I gleaned from a product knowledge meeting with all the main players in the Range VLT development and turn it into my own words but whoever wrote these next sentences did it so well I do not want to change them:
"To make the battery removable without compromising the integrity of the downtube, we rotated the front of the EP8 motor up. The rotated mount also provided additional ground clearance, drastically reducing the likelihood of impact damage. The re-positioned motor allowed us to re-think the suspension layout and kinematics from previous VLT rocker-style designs, resulting in the updated horizontal shock configuration, while further optimizing suspension kinematics. This new configuration also creates clearance for 2 water bottle mounts on the frame."
I will comment on it though. Yes, the two water bottles came in handy, yes the removable battery works great but the reduced clearance and impact damage? Well I can tell you I was smashing it a fair bit during the first few rides, so much so that I broke the bottom protector plate causing the battery to pop out. Two or maybe three things caused this. One, according to Norco, I had the suspension set up too soft, two, the protection plate was a 3D printed makeshift plate made for the test whilst waiting for the proper alloy ones to come in and three, it's still low and under-protected. I would think a proper chain guard from One Up would help with that. After adjusting the suspension, I also changed my riding style when I came to sharp "up and overs" unweighting more than I usually do on my Enduro and that seemed to help. I have only smashed the new plate a few times.
Initial ride impressions
After 10 or so rides I can say this is a fun bike and it has me shifting away from sheepish e bike like toward unabashed like. In other words my E guilt is almost gone and I am beginning to appreciate this new style of riding and the potential it has. The Range does well on steep terrain, rock slabs, high speed bumps, flow trails, jank trails and even double track gravel connector trails. The bike's design and weight allow it to stay planted and create confidence on steeps, loose corners and slippery roots. At first, I was a little worried dropping into a super steep trail I like. I feared the bike might get away from me or not be able to turn quickly but that was not the case. The only trails that it does not perform exceptionally well on are those with tight corners and those with jumps and optional side hits. Yes, it will go over all the jumps but it is an effort and it doesn't feel as fun and poppy as my Enduro or the Nomad I tested. But this is where a paradigm shift is necessary; this is a different ride and a different kind of fun than the usual bike ride. I am hoping that with more time on the bike I will learn new ways to get some of my old ways working with the hefty weight of this thing.
Specs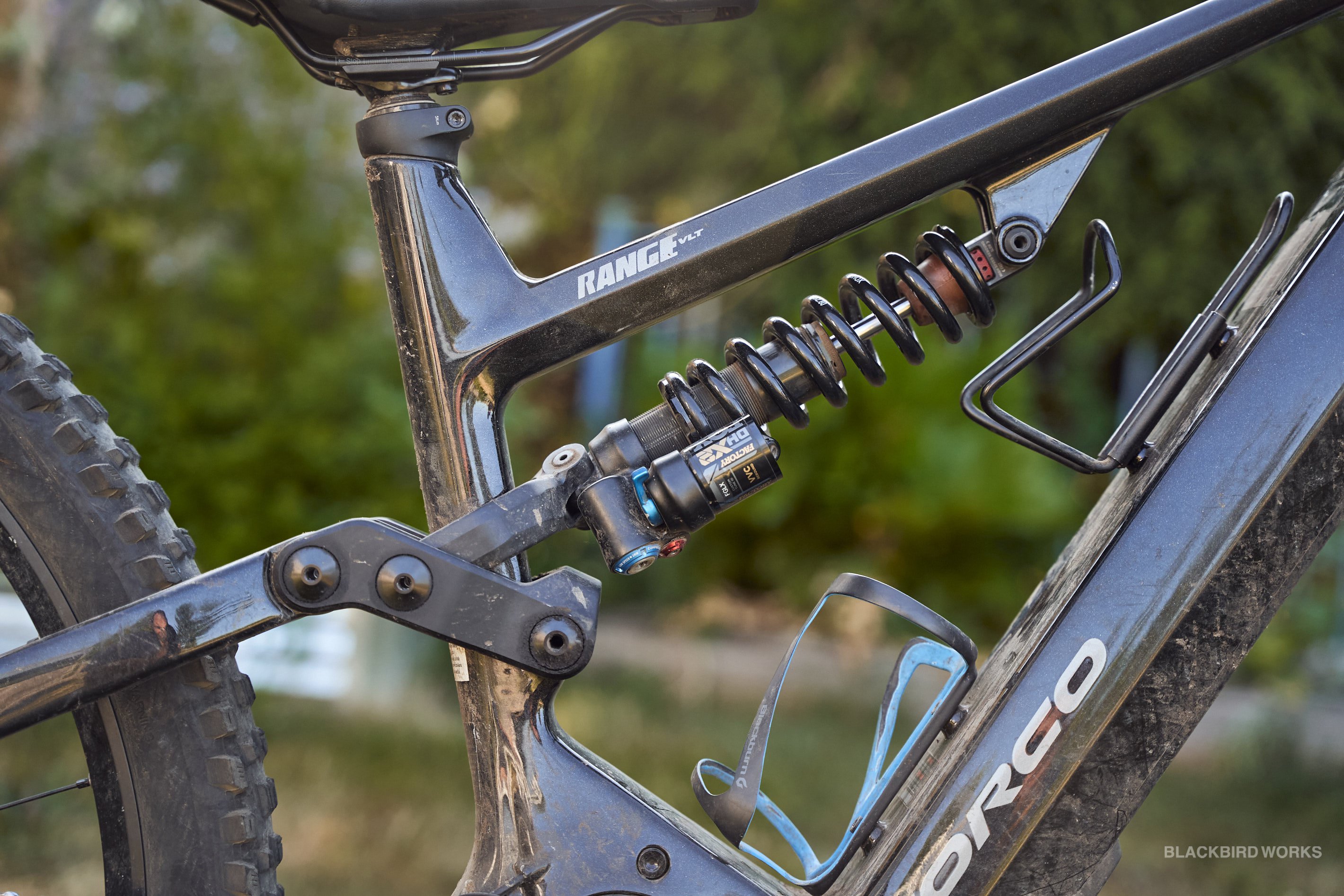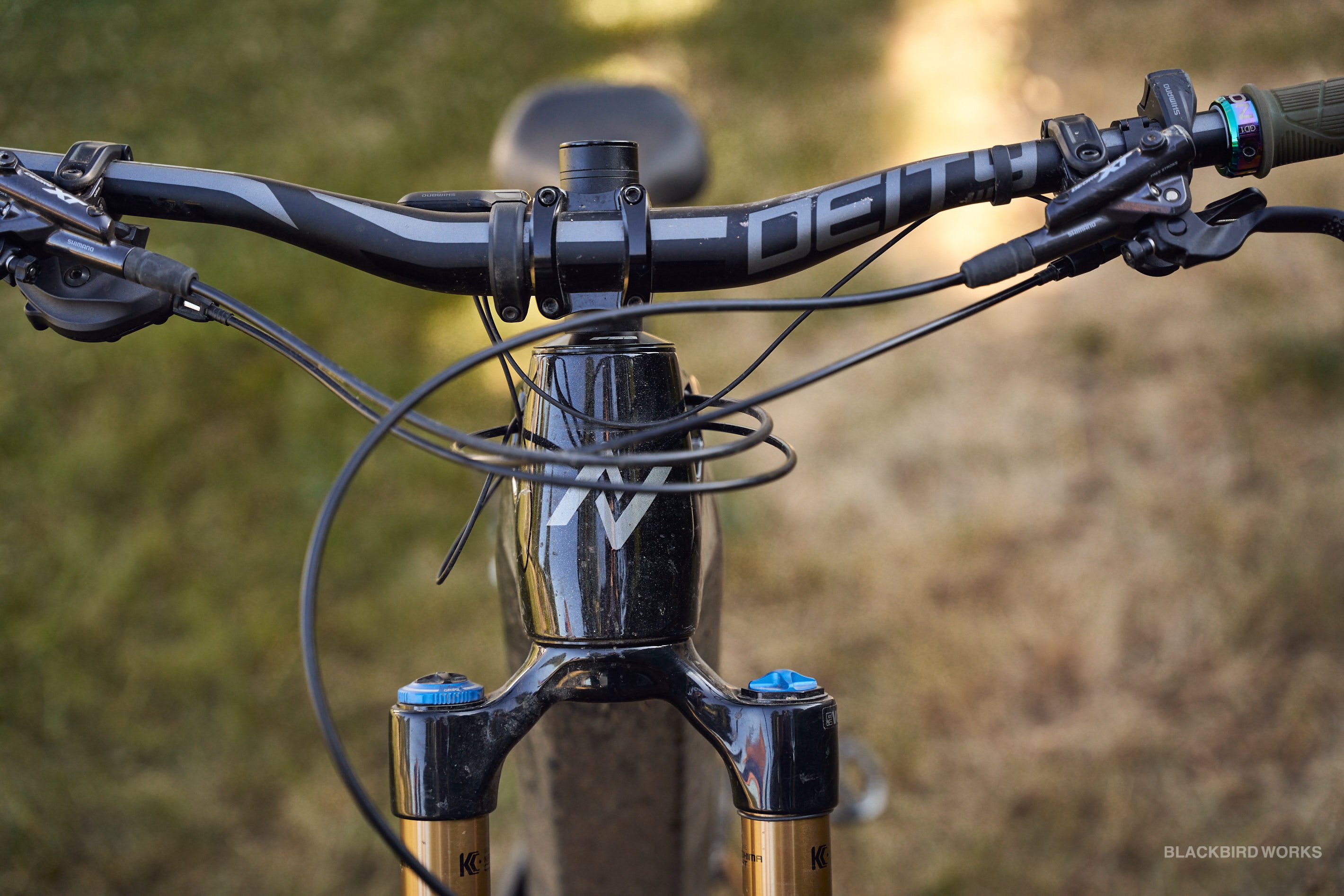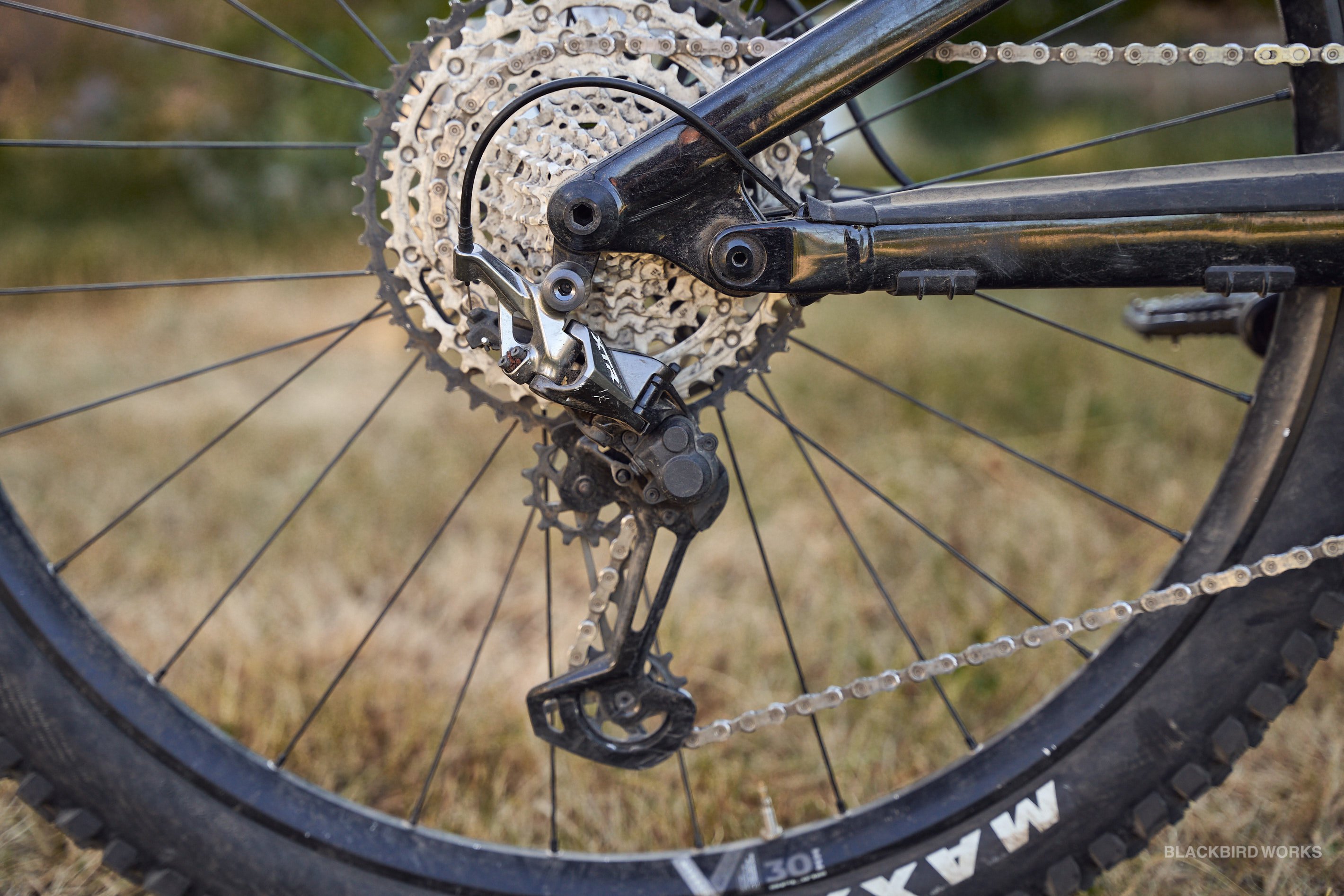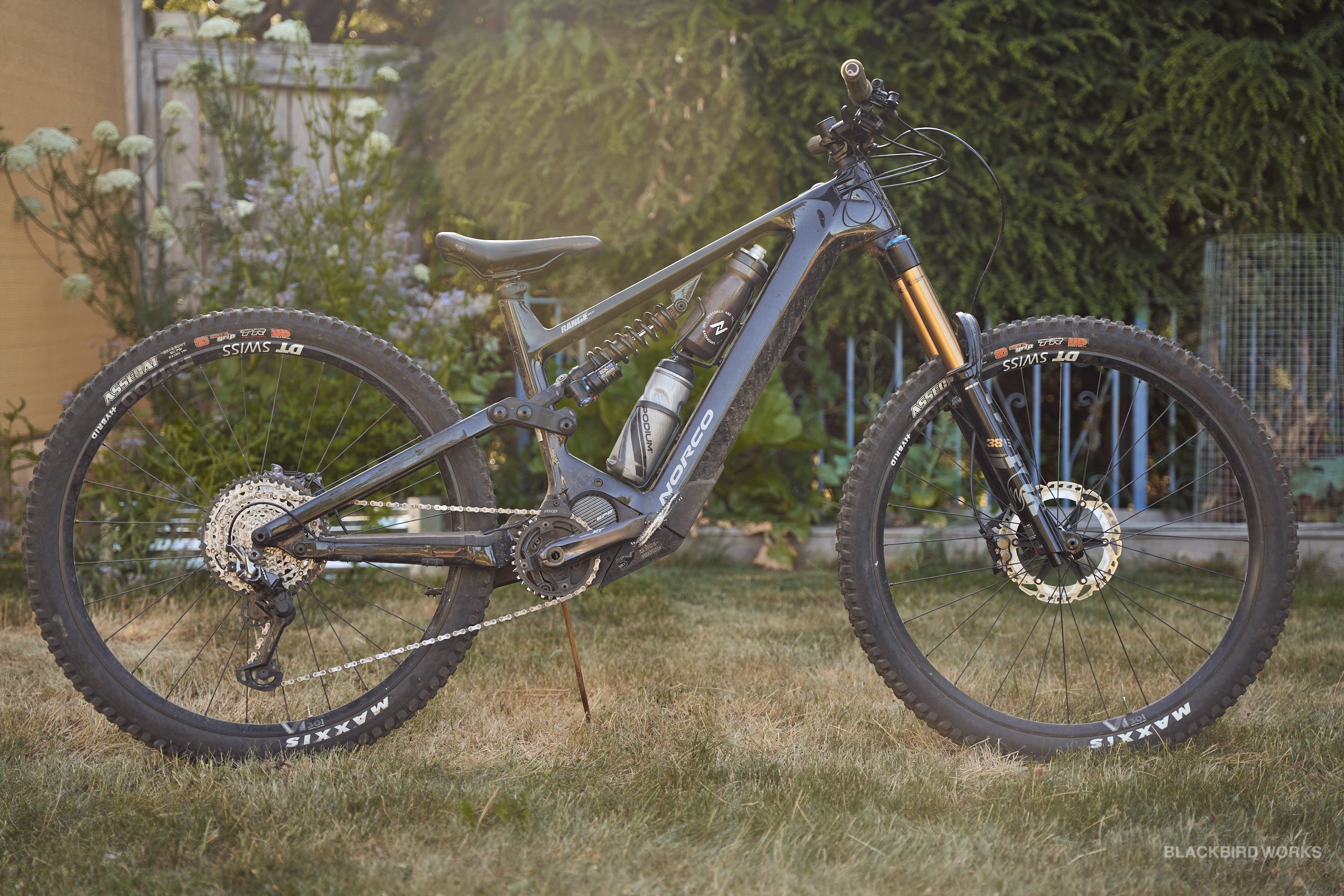 I am looking forward to really getting to know this bike by giving it a thorough testing over the long term. I have not had enough rides on it to make adjustments and to see how it performs on all the regular trails I ride but also what trails it will open up for me with the extra range. I plan to ride the Range exclusively for 30 days to see if I could be an N=E (only owning one bike for the mountains) kind of rider. More on that later this year.
Geometry
Pricing
RANGE VLT C1 BLACK/SILVER 10,999 CAD 8,399 US
RANGE VLT C2 ORANGE/BLACK 8,499 CAD 6,499 US
RANGE VLT A1 GREY/BLACK 7,799 CAD 5,999 US
RANGE VLT A2 GREEN/ORANGE 6,799 CAD 5,299 US
Norco Range, Sight and Fluid VLT's will be available to select Norco dealers in Canada by the end of July and around the world later this fall. More info here.
Trevor Hansen
Age - 57
Height - 5'9"
Weight - 175lbs
Ape Index - 0.992
Inseam - 31"
Trail I've been stoked on lately - Bukwus
Bar Width - 780mm
Preferred Reach - 465-480mm