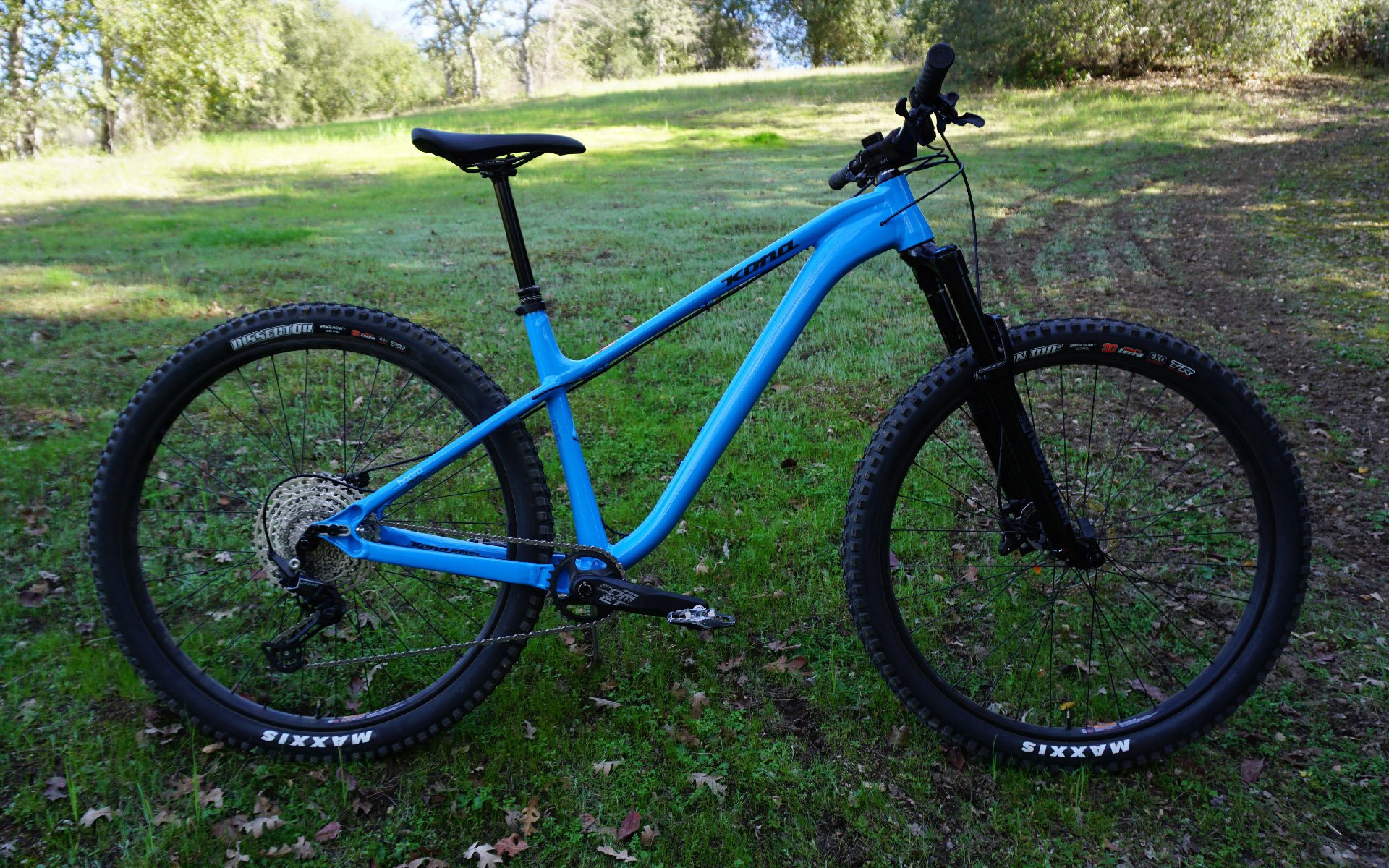 First Impressions Review
2022 Kona Honzo DL
MSRP: $2499USD
I first met the Kona Honzo in Squamish, at a Kona media launch in 2016. In the particular guise of that first meeting, the member of the Honzo family I met was the Big Honzo CR DL – a plus-tire, carbon frame, new school geometry hardtail. I was smitten. This was a bike, I thought, that would breathe new life into an entire category, dragging the overlooked hardtail segment back into relevance thanks to aggressive tires and fun-hog handling.
I liked it so much that since then I've had two steel hardtails built in homage to that geometry and versatility of purpose, and my current go-to yellow 29" hardtail is not a whole lot different by the numbers to that original 27.5+ beast. SO, when the opportunity presented itself to get some saddle time aboard the latest variation of the Honzo line, I raised my hand without hesitation.
Kona's latest twist on the Honzo is this $2499, smurf-blue, aluminum-framed sled. Forking over that money gets you an aluminum frame that pushes burliness into burlesque with some of the most overbuilt and heavily sculpted chain and seat stays that I have ever seen, a mostly Shimano Deore build, a quite nice RockShox Revelation RC 140mm fork, and a commendable Maxxis Dissector 2.4"/Minion 2.5" tire combo. Gone are the 27.5+ tires of the bike I once swooned over, and there's no swank carbon fiber option. It's all 29" and aluminum, and the blue bomber hits the trail at a meaty 31 pounds five ounces (wearing Shimano XT clipless pedals).
A decade ago, every aspect of the above description would have made me choke. Nobody would in their right mind want a hardtail that weighs as much as most 140mm travel trail bikes. Nobody would want a hardtail with a 140mm fork and a 66 degree head angle. Nobody would want a hardtail. Right?
Wrong. It's 2022 now, and apparently everyone is radder than me. By the numbers, the Honzo DL is just another status quo trail hardtail, and there's a pretty big scrum of brands clamoring to mine this vein. This is where hardtails are now. Big, burly, tough, battleship stable, adaptable, and insanely fun. I'm conflicted.
This is a first look, with only two quick rides under the belt so far. I've got a whole spring and summer ahead to get my head around not just this bike, but the state of the union as far as hardtails are concerned. So here's the initial view from the cheap seats.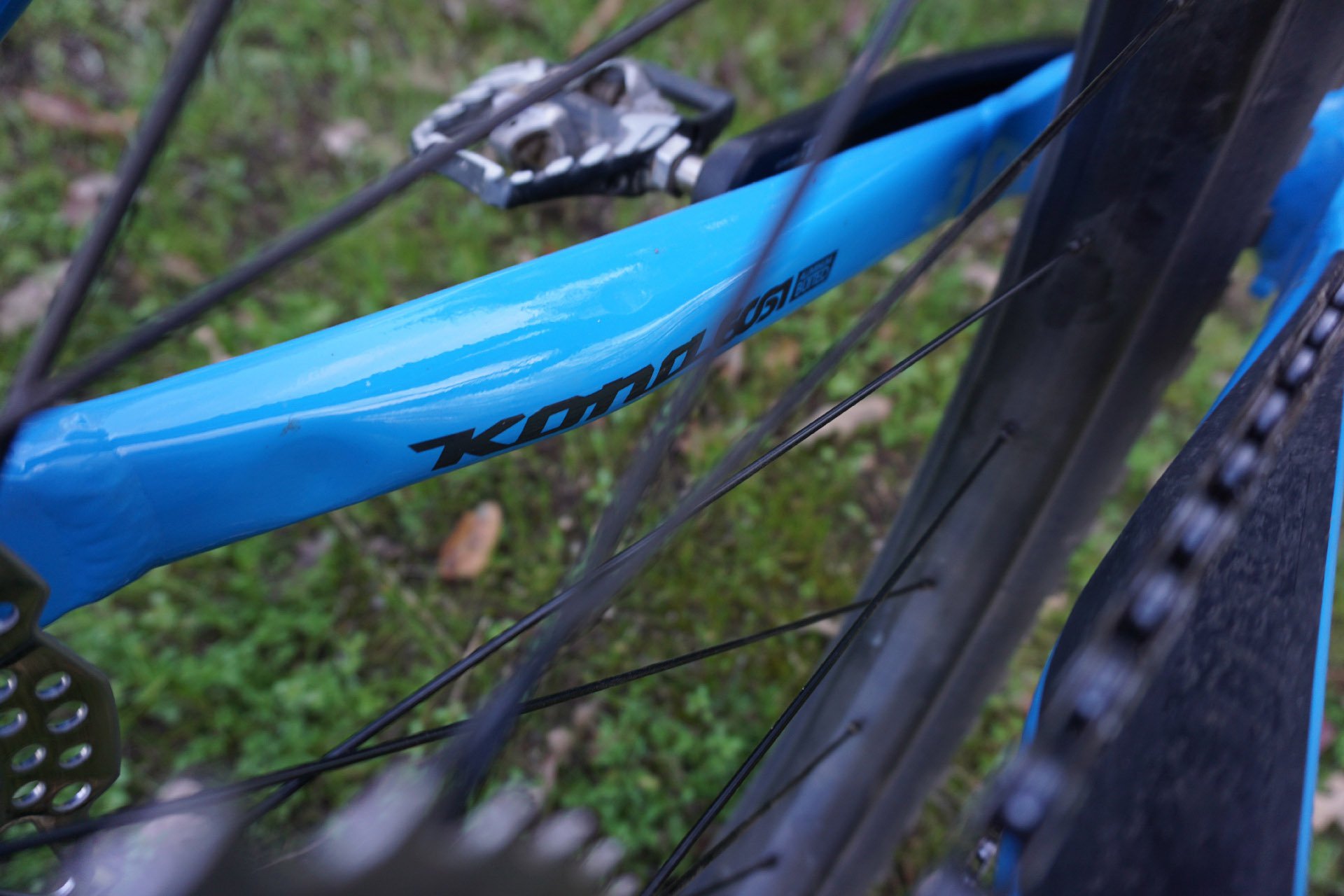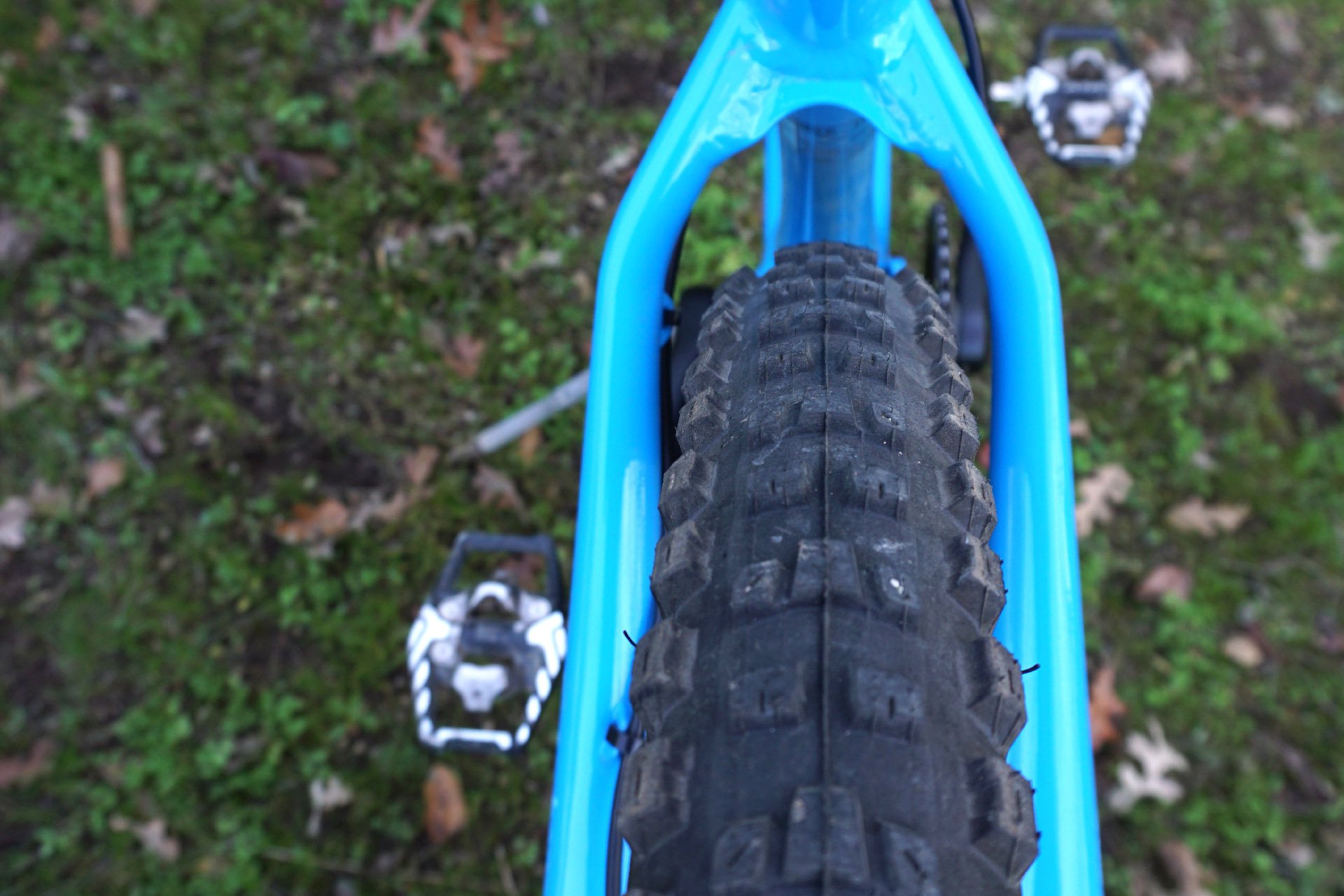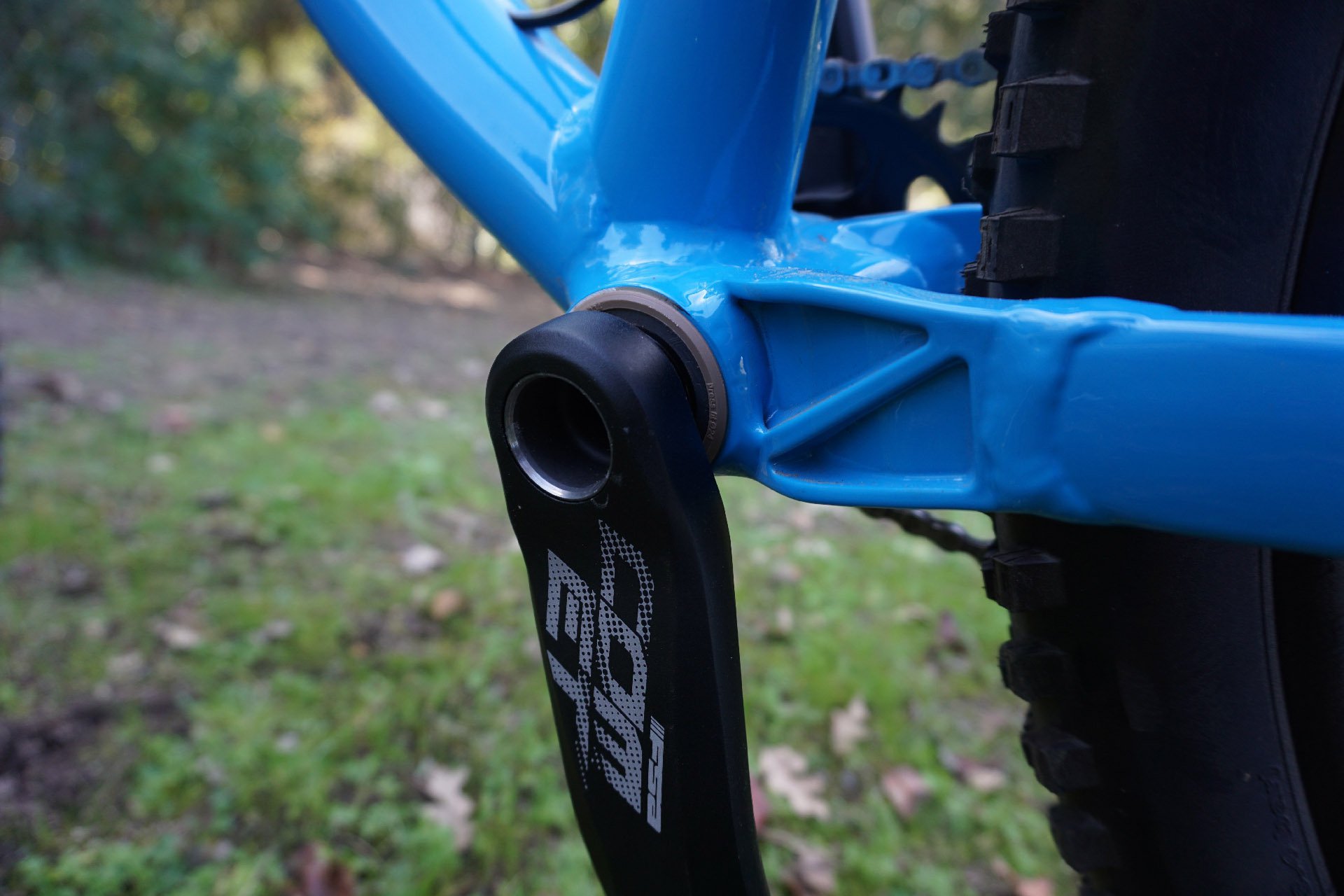 Hardtail Hardcore
The Honzo's 6061 butted aluminum frame has some neat touches, and a few nods to the absurd. The modular sliding rear dropouts are well thought out and cleanly executed. Two big pinch bolts per side, along with forward mounted adjustment grubs, clamp down on a dropout that carries a 12x148mm axle and allow for about 13mm back and forth slide. The shortest setting yields a VERY short 417mm chainstay. These dropouts sit at the rear of a set of chain and seat stays that bulge and flare either sensuously or obscenely - depending on your personal aesthetics and/or parochial sensibilities - before meeting a slightly more reserved main frame. The standover is super-low, with the gusseted seat tube jutting up but still remaining short enough for a 200mm Tranz-X dropper to be fit in place (although, my dwarfism dictated that on this size Large test bike the travel on the dropper post had to be reduced to 170mm. Thankfully that is super easy to accomplish on the Tranz-X post. For the record, I run about 29.75" inches from bb to saddle, and don't really know what to do with a 200mm dropper post anyway).
66-degree head angle, 76-degree seat angle. For a hardtail, that seat angle almost feels a little bit too steep. I know it's all the rage these days on the squishy bikes, but on a long travel bike you're sagging at least a degree, sometimes two, into the geometry when you sit on them. On a hardtail, the only thing that may sag will be the fork, in which case the effective seat angle actually steepens a touch. But I digress… First couple rides, with the dropouts slammed all the way back, I would have sworn the bike was at least a degree slacker up front than it is. It's real stable. Like, battleship stable. Like, don't you dare call it flickable. The FORTY EIGHT inch wheelbase might have something to do with this sense of unflappable stability. Just maybe… Anyway, I'll be playing around with sliding the chainstays around and seeing how the handling responds as we get more saddle time.
Spec Speculation
So, almost 2500 bucks for a hardtail, with Deore? Yep.
Deore is actually a pretty rad drivetrain. I think the shift performance and "feel" of Deore is amazing for what is ostensibly "budget" componentry. So that's good in my book. The brakes are another story. They're okay, if you like kinda gentle brakes that don't bite hard. Slapping in a set of metallic pads would do good things, as the MT-410 calipers are decent enough. Buuuut, the RT-54 rotors have the words "resin use only" stamped on them. Which means they're likely to get either eaten alive or cooked to death by non-resin pads. I'll see how this goes, so far they are tolerable but some more bite would be nice.
The tires and wheels are a mixed bag. There's easily room to slam a 2.6" tire in the rear of the Honzo, and the Maxxis 2.4 Dissector that the bike comes with is sized nicely for most people in most places. The 2.5 Minion DHF up front does the usual Minion things - rolls and sticks and corners with total predictability. Both tires are 3C MaxxTerra compound, which probably strikes fear in the hearts of my northern brethren searching for grip on frozen or slippery steeps, but which works pretty well down here in the blown out sandscapes of the Western Desert Apocalypse. They'll do fine for around here. The wheels, 30mm wide WTB hoops on Shimano hubs, are solid and should be dependable. But dear lord, they are not light. I suspect there's an easy pound to shave by going to some similarly strong mid-grade wheels, and about two pounds if I want to really bleed money on upgrades. That's a chunk of rolling mass.
The Revelation RC fork is proving to be something of a … revelation? In this price range it's basically a choice between this or a Fox 34 Rhythm, and so far this Revelation is feeling surprisingly good. The Tranz-X seatpost is also scoring high marks for being super easy to adjust travel and for not having a ton of slop – yet. The Shimano dropper lever, well, that's not winning me over. If I mount it where I want, the lever actually catches on the handlebar grip and gets stuck. So, unless I file some metal off the top of it, it has to currently sit inboard a bit further than I want to reach. The rest of the stuff – cranks, seat, bars, stem – all does the job without getting in the way.
It may sound like I am nitpicking components. Maybe I am. I'd like it if the headset had cartridge bearings instead of teeny little caged balls, because I don't feel like those should be found on any bike worth more than a grand. But that's because I am a jaded old burnout bike mechanic. Realistically, this is a bike anyone can get along with easily enough right away.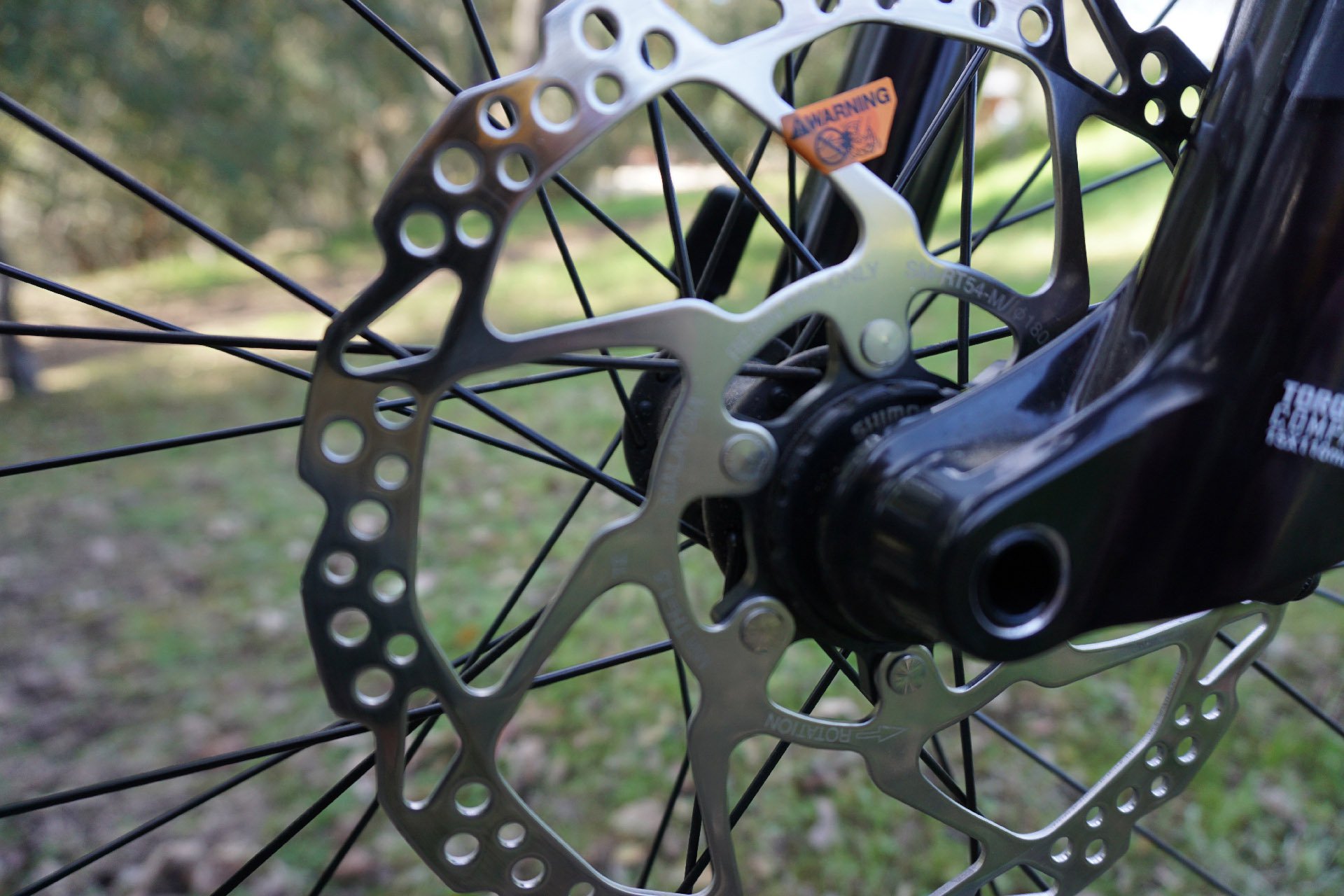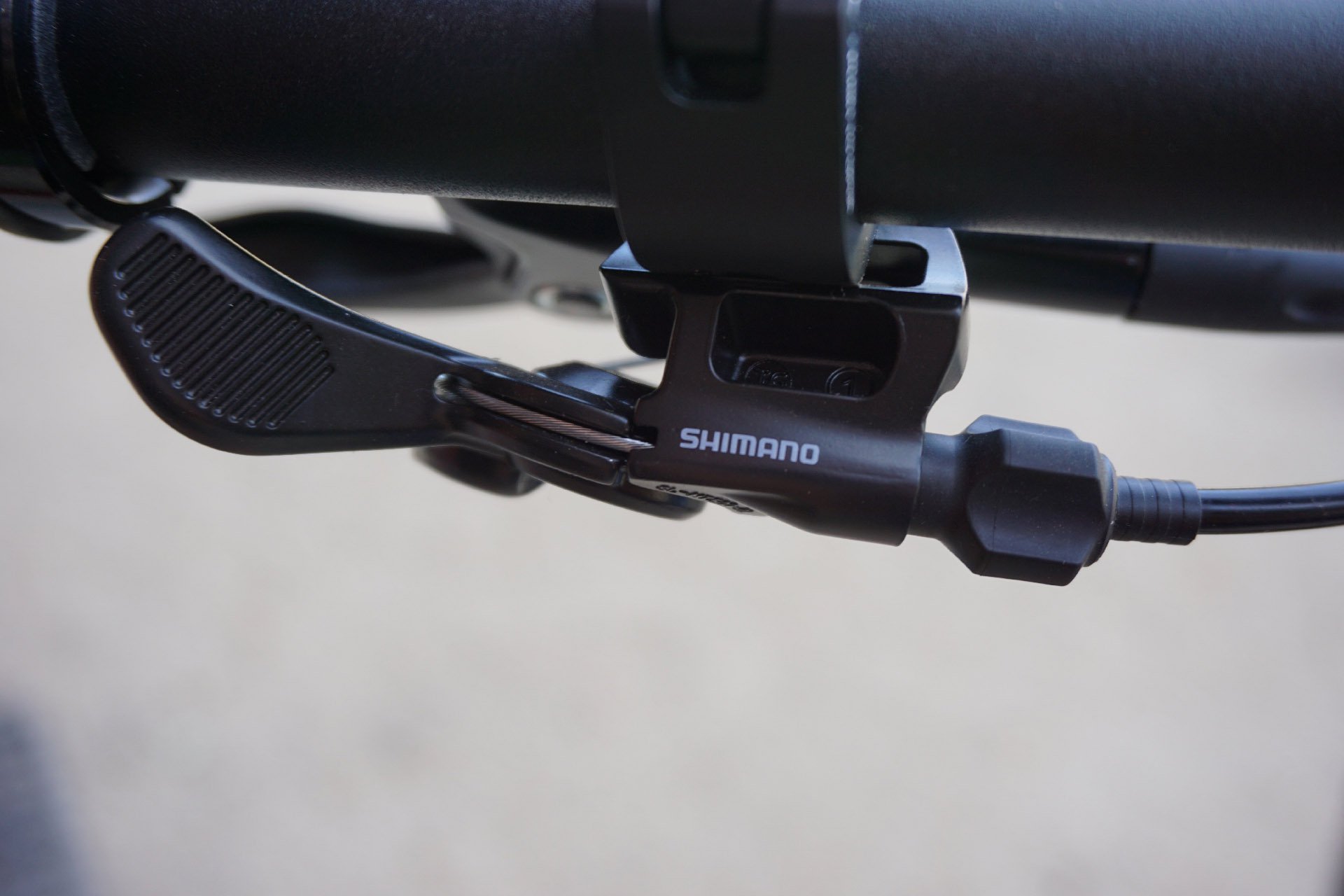 Contentious Contenders
That's about it. The plan is to ride the Honzo for a few months, see what works and what doesn't, and maybe futz around with some parts to alleviate or enhance certain traits. Right now, we're eyeballing each other, and I suspect the Kona is thinking I'm not hardcore enough. Meanwhile, I'm wondering if maybe I should keep the beer and donuts out of reach. For both of us.
So, back to my earlier comments regarding how bikes like the Honzo are becoming hardtail 2.0. Or maybe 3.0, or whatever rebirth version you want to go by. Kona's own Honzo ESD does it in steel and really pushes the geo way out there. Kona still has a Big Honzo as well, but it doesn't have the adjustability of the big wheel Honzo. Rocky Mountain's Growler 50 is aiming straight at the Honzo, in geo, spec and price, but doesn't have the slidey dropouts either. Salsa's Timberjack is also directly targeting the Honzo, right down to the dropouts and a SRAM GX build that retails for $2499. Canyon Stoic. Specialized Fuse. Marin El Roy. Devinci Kobain. Trek Roscoe. It's like you can't swing a cat without hitting an assertive geometry, long forked, short stayed, mid-$2500 priced hardtail with some rowdy tires on it. The word is out. Some of those bikes mentioned offer very similar spec and price to the Honzo. Some of them leave a bit to be desired. A couple of them might be setting a new bar for performance and price. We'll get into that later.
For now, there's a Smurf that needs to get dirty.