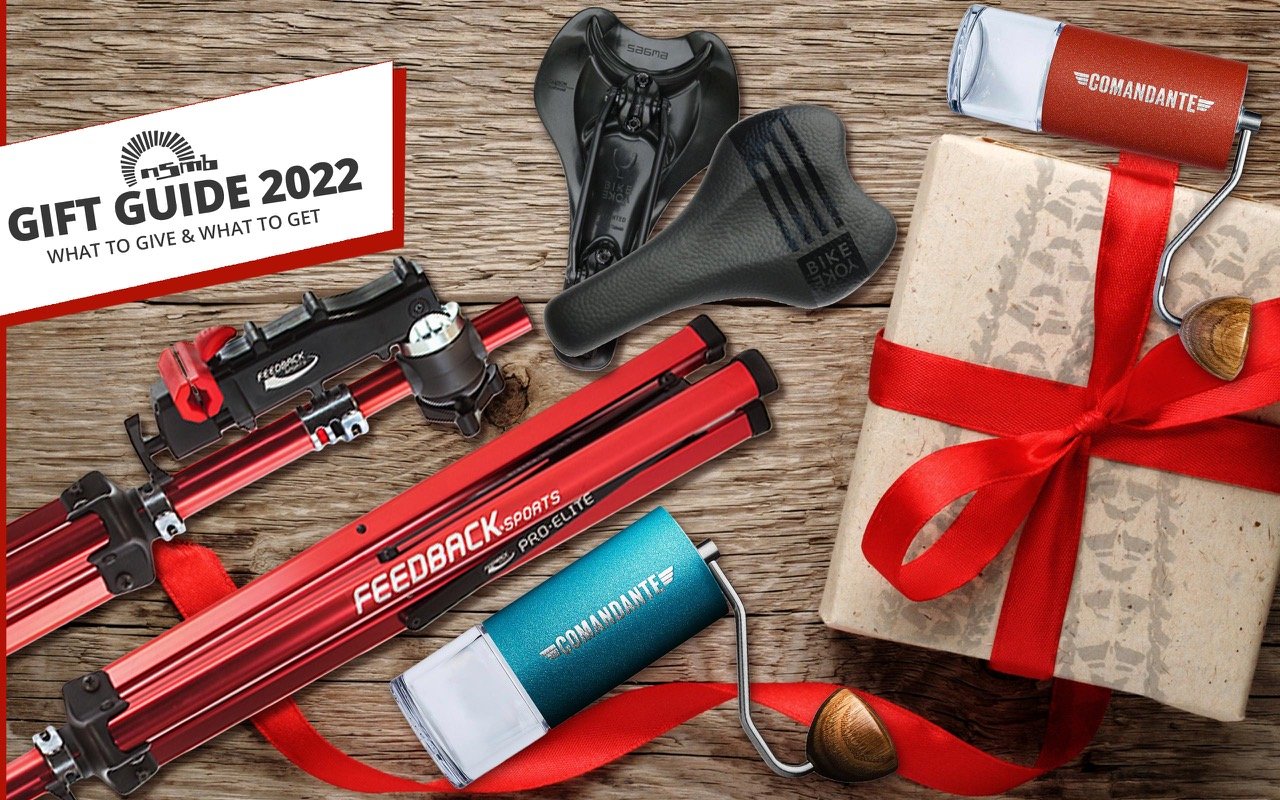 Get Some Goodness
2022 Gift Guide - Week 4
It's week 4 already! We've got a bunch more recommendations this week, and although these weekly guides don't always follow a theme, the coffee lovers will find a few things to get excited about in this one. In case you missed them, here are the Gift Guides from earlier this year:
Feedback Sports Pro Elite Repair Stand
I may have teased coffee, but let's talk about home mechanics for a sec (and let's face it, every mechanic we know has a healthy appreciation for coffee). Feedback Sports have been making high quality tools for years, and their new Pro Elite Repair Stand continues that tradition. It's lightweight and compact, so it's easy to put away when not in use, but it also makes a good travel stand for those road trips you're all planning for Spring, right? Don't be fooled, though, this is a premium repair stand that is extremely stable and durable. The advent of e-bikes means the stand you've been using for your trail bikes may not be as happy or stable while holding on to a 50-lb e-bike. So, if you're shopping for someone who's got a new e-bike or two at home and likes to work on their bikes, this stand may be a great idea.
Rated for bikes up to 85 pounds or 39 kgs and covered by a 3-year warranty.
330 USD at Feedback Sports (or check with your local dealer)
---
Comandante C40 Mk4 Grinder
No matter how much you love coffee, you still may not be a candidate for a hand grinder. Grinding your beans fresh right before you make coffee does make a big difference, and the rotary grinders we all had growing up are terrible at that job. I don't have time here to go into it, but it's gotta be a burr grinder to do it right. If efficiency is your jam, there are plenty of decent options for palatable prices that plug into the wall and grind beans quickly and with good consistency, which is what we're going for here (and what blade grinders fail at - spectacularly). Hand grinders, though? They're for special use cases, starting with people who appreciate a good ritual, like hand-grinding a pre-portioned amount of fresh beans while the kettle boils, and then going through the steps to make a truly excellent cup. Or maybe you're up early sometimes and, like me, you need a stealthy grinder option so you don't wake up the house while fixing a 6 a.m. cup of coffee before catching F1 qualifying. I fit into those two categories above, plus one more: when I travel, I take an Aeropress with me, as well as a hand grinder (and fresh beans). It's not that I can't stand a mediocre cup - I can and I will without complaint - it's that for the sake of a few extra things to bring with me, I can ensure total control and no need to worry about where my coffee is coming from (ie. not a Nespresso machine) and how it'll be made.
My hand grinder journey started years ago with a cheap unit which did an admirable job for a long time, but eventually I started to cast my attention to other options, higher quality, and more control over the grind. COMANDANTE is a small, family-run company in Bavaria that designs and produces everything in house (including the burrs, which is rare - many companies source them from factories overseas). It is all done with the precision you'd expect, but also an appreciation for beauty. There are many colour options but my favourites are the wood finishes, which are crafted by hand and designed to last and develop a bit of character over time. Everything is very high end and well-made, and Comandante grinders have been used to win World Barista Championships, but are also appreciated by coffee lovers everywhere, whether they use them to grind beans for espresso, pour over, French press, Moka pot, or Aeropress. This is more quality than my coffee palate needs, however the same appreciation I have for a beautifully machined bike component extends here. The care that went into designing the C40 is no different than the craftsmanship we highlighted in our Makers Series of videos.
If there is a coffee nerd in your life that appreciates a good ritual as well as high quality CNC'd parts and the look of quality on their countertop, let me suggest the Virgina Walnut, but no matter your tastes, you really can't go wrong.
Comandante doesn't sell direct, so go here to find a dealer near you.
---
Two Wheel Tampers Coffee Tamper
Hand grinders aren't for everyone, and neither are tampers, but if you have an espresso machine at home, you already know that a tamper is a requirement. You also already know that buying a machine was just the start - next you gotta get a (good) grinder and, at the very least, a tamper. Anyone else remember the Chris King tamper? Well, I do, and so does Nanaimo-based rider Rick Fawkes, who reached out recently to tell us about Two Wheel Tampers, which he builds in his garage. The CK tampers were beautiful, but also expensive and, sadly, no longer available. Rick thought he could do something along those lines but with a custom option, and Two Wheel Tampers was the result. He sent one to me and it's been gracing the top of my espresso machine with way more flair than the one it replaced ever since.
Rick's tampers are made from headset top caps and spacers, which makes them easy to customize and even change around if you like. Want some Chromag spacers? No problem. Cane Creek headset top cap? Yep! Or maybe you're a Wolf Tooth lover. Whatever your style, he can accommodate it.
Two Wheel Tampers is Rick's side gig, so he doesn't have a website set up, and you might have to be patient (he runs batches twice a month). Get in touch with him directly at @TwoWheelTamper if you're interested in ordering one.
---
BikeYoke Sagma Saddle
There are a lot of people that give gift cards every year, because it means you don't have to worry about getting the wrong size, or the wrong colour, or the wrong thing. I like a gift card as much as the next hard-to-buy-for person, but it's also fun to open something that someone got you, even if they knew there was a chance it wasn't perfect. Sometimes, it turns out, other people's taste IS better than your own, and you may end up wearing a sweater in a colour you'd never buy, but that really works out. But the other school of thought is this: when you buy something from a good shop, and keep the receipt, the person opening it is effectively opening a gift card that is, instead, an actual gift. If it doesn't work out, they can exchange it. It's the whole reason Boxing Day exists!
I say all that because saddles are a tricky gift: they're super fit dependent, so it's easy to get it wrong, but there are some designs out there that are more polarizing than others, and based on what we know so far, BikeYoke saddles fit a lot of people very well. They also come with a lot of thoughtful design cues and technology (BikeYoke make some of the best dropper posts on the market based on really well-engineered designs), so if you give one to someone, they're going to be impressed. If they suspect it doesn't work for them, they can always exchange it. Caveat out of the way, let's just admire these stubby Sagma beauties from BikeYoke, replete with idbeads foam that uses low speed rebound for comfort and, should you opt for it, an elastomer shock absorber-equipped version that is tunable and makes pedaling that much more comfortable. The Sagma comes in two widths, three rail materials, and lots of different trim colours.
139 Euros // BikeYoke
---
Haf-Clip
Need something small and easy for the rider in your life? Not exactly sure what they 'need' but want to find something a bit different and useful? Let me suggest a Haf-Clip. Devised by Hafez Panju as a way to carry a full face on the front of his bike, it also works great as a lash point for a jacket, pads, or anything else that will fit. Hafez recently released it in an aluminum version, and colours are now in play, but you can read Trevor's review of the original unit here - everything still applies.
The Haf-Clip will cost you 27.99 CAD and is available in black, blue, and gold.