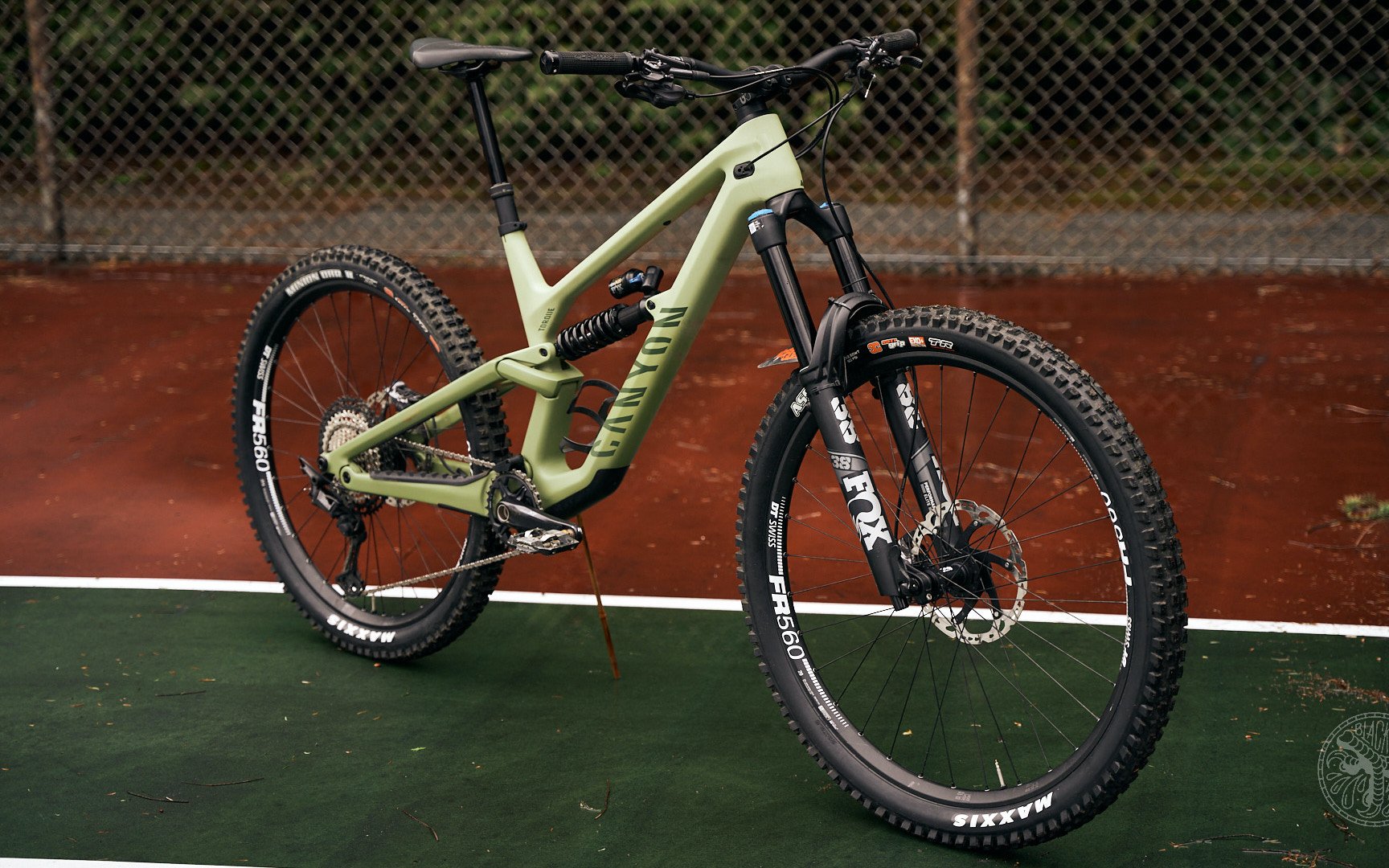 First Impressions Review
2022 Canyon Torque CF8 First Impressions
Canyon just keeps on delivering. The latest generation of Canyon trail and enduro bikes are handsome. The lines are aggressive and the pivots,  paint and decal schemes are very sharp and clean looking. Their Trail and Enduro bike line ups are very impressive with the Spectral, Strive and Torque all available in multiple models including 27.5", 29" and mullet versions at extremely competitive prices. The Spectral and the Torque have recently been updated while the Strive, which could be described as their dedicated Enduro race machine, has been updated for 2023.
Currently I am reviewing the Canyon Spectral CF8 CLLCTV and the Canyon Torque CF8. They are both mixed wheel bikes, or as Canyon and many others say, they are mullets. In this first look article I will focus on the longer travel Torque CF8. I reviewed the 2019 Canyon Strive here.
Component Overview
The Canyon Torque Mullet CF 8 really does come out of the box ready to rip. Considering the relatively decent price for this bike, the build is quite impressive. The carbon frame is 'extra-robust' as Canyon says and was ridden by Thomas Genon with a dual crown fork at the 2021 Redbull Rampage.
Unlike the Spectral mullet, which comes with the Fox DHX Factory trail rear shock, the Torque comes with the full DH-intended Fox DHX2 Factory shock.  Both, however come with the two position open/firm lever which is excellent. Rear travel is 175mm. The fork on the Torque is a 170mm Fox 38 Performance Elite which means you get the mighty Grip2 damper, which you want if you like to push hard on the bike.
Drivetrain and cranks are the fancy workhorse Shimano XT.  Brakes are also Shimano XT.  Power is adequate but as per usual I will say that right away I had wandering bite point issues on the rear brake.  Maybe Shimano should only make front brakes and we can buy our rear brakes elsewhere.
Wheels are DT Swiss which is always a good thing and very nice to see at this price.  Rims are the very strong aluminum FR 560's and hubs are the DT 350's. Tires are perfect in my opinion with a Maxxis Assegai 3C MaxxGrip EXO+ up front and a Maxxis DHR 2 MaxxTerra DD out back. No need to immediately do the tire insert grumble and dance with that combo.
The seatpost is a Canyon G5 which although not too exciting is fine.  What is great about the Torque size L seat post though is that it is 200mm while the Spectral size L comes with a 170mm post. At exactly 6 ft tall I am much happier on a 200mm dropper. Getting your seat further out of the way has an effect on your confidence and speed that cannot be overstated. Well maybe it can be overstated, but I loved going from the 170mm to the 200mm seatpost.
The Angles and Lengths
Below is a comparison chart with few other bikes. It's quite clear the Torque fits well in the 'I want to pound the mountain into submission' category. The front center is nicely on the long side but the rear center is on the shorter side and as a result there are several bikes with a longer wheelbase. The Torque defintely wins the rear travel contest amongst this list but that isnt necessarily a good thing when you still have to pedal.
Set-up 
After 3 rides on the Torque my set up is; bars at 775mm, fork at 91 psi with 2 tokens, 450 lb rear spring with both the high and slow rebounds set at 2 clicks faster than recommended on the Fox website. My weight without riding gear is 174 lbs. I also ditched the usual Shimano XT trail pedals and put on a pair of Saint DH. If you run clips I think these pedals really make sense. On a bike like this the extra support whilst smashing is noticeable.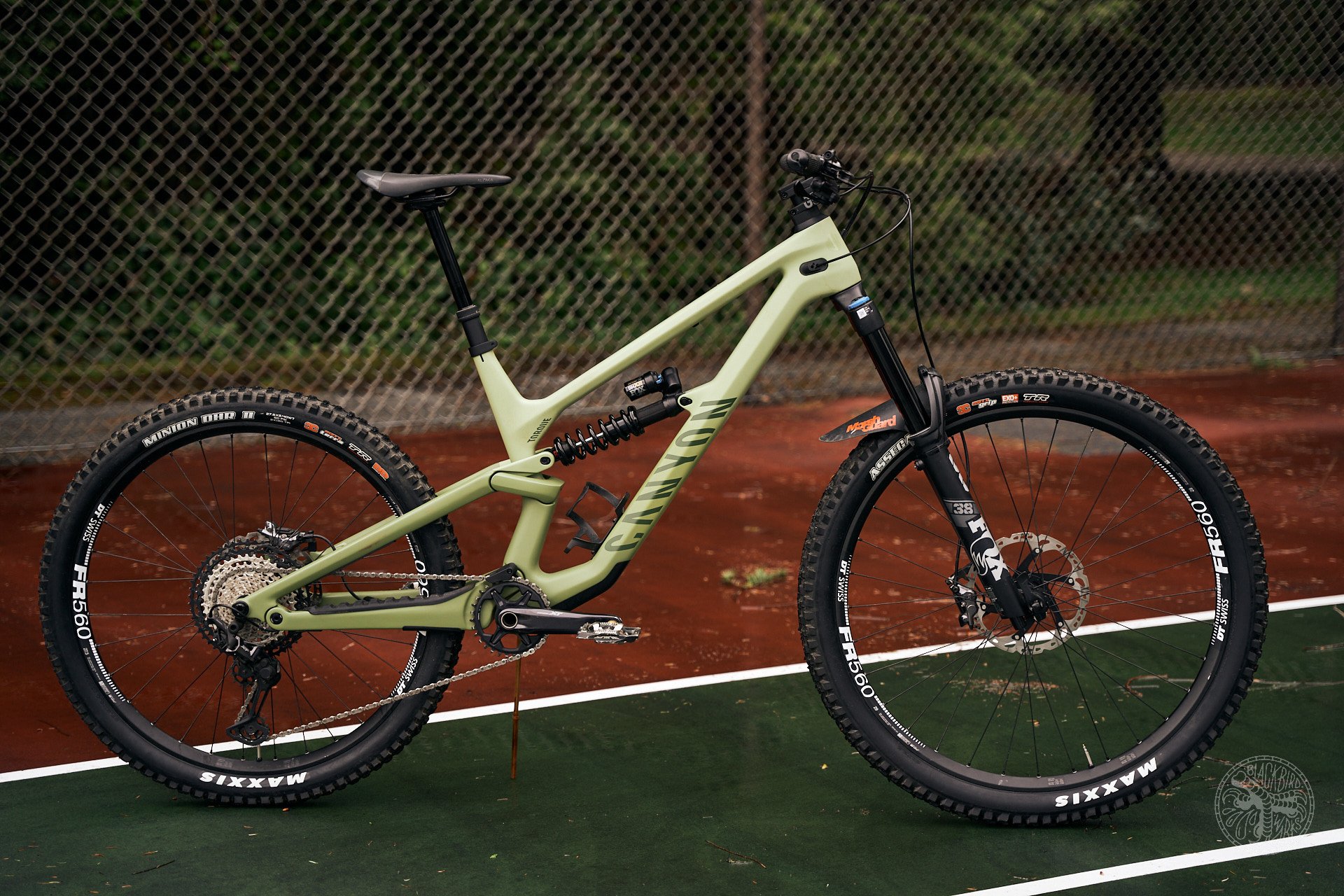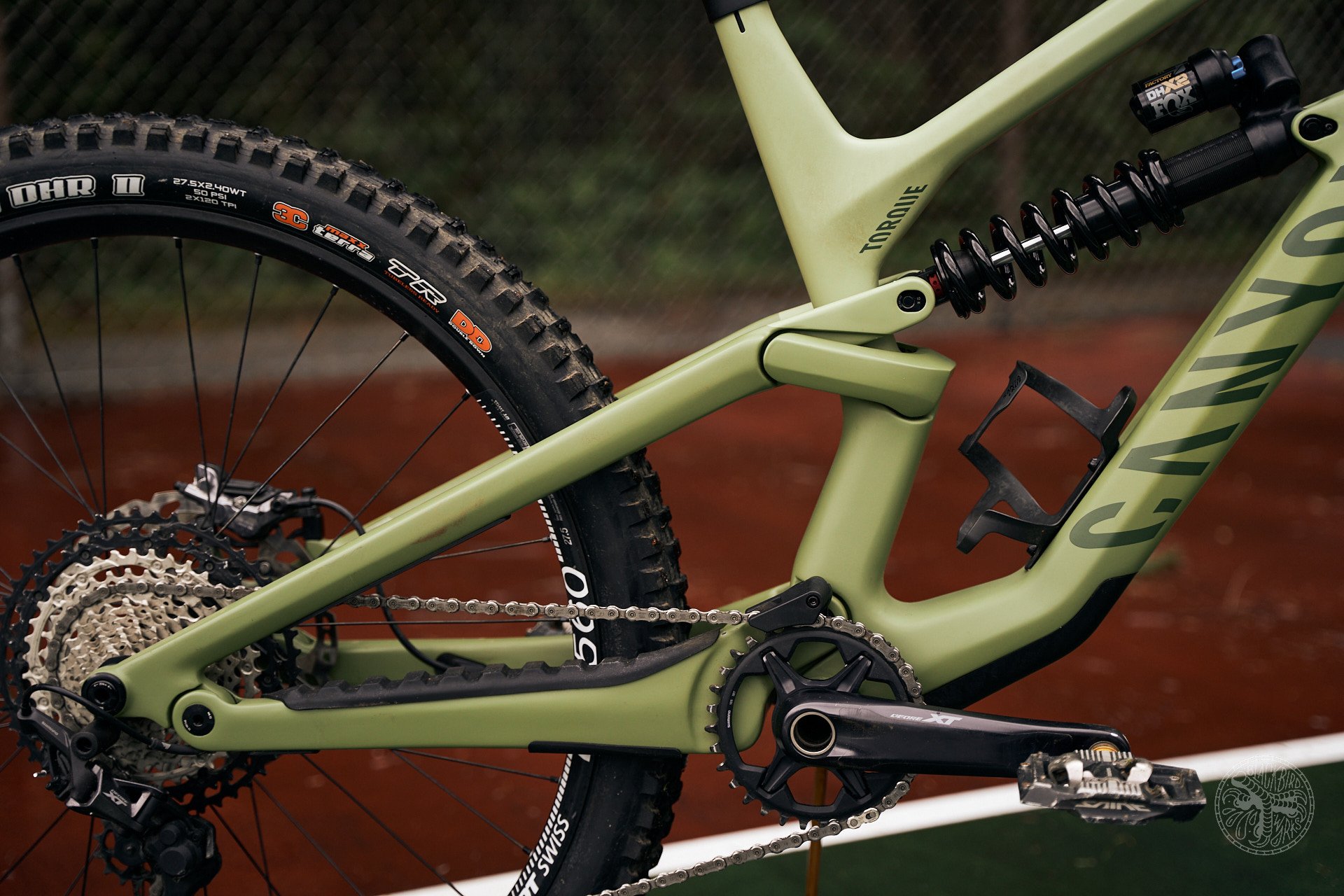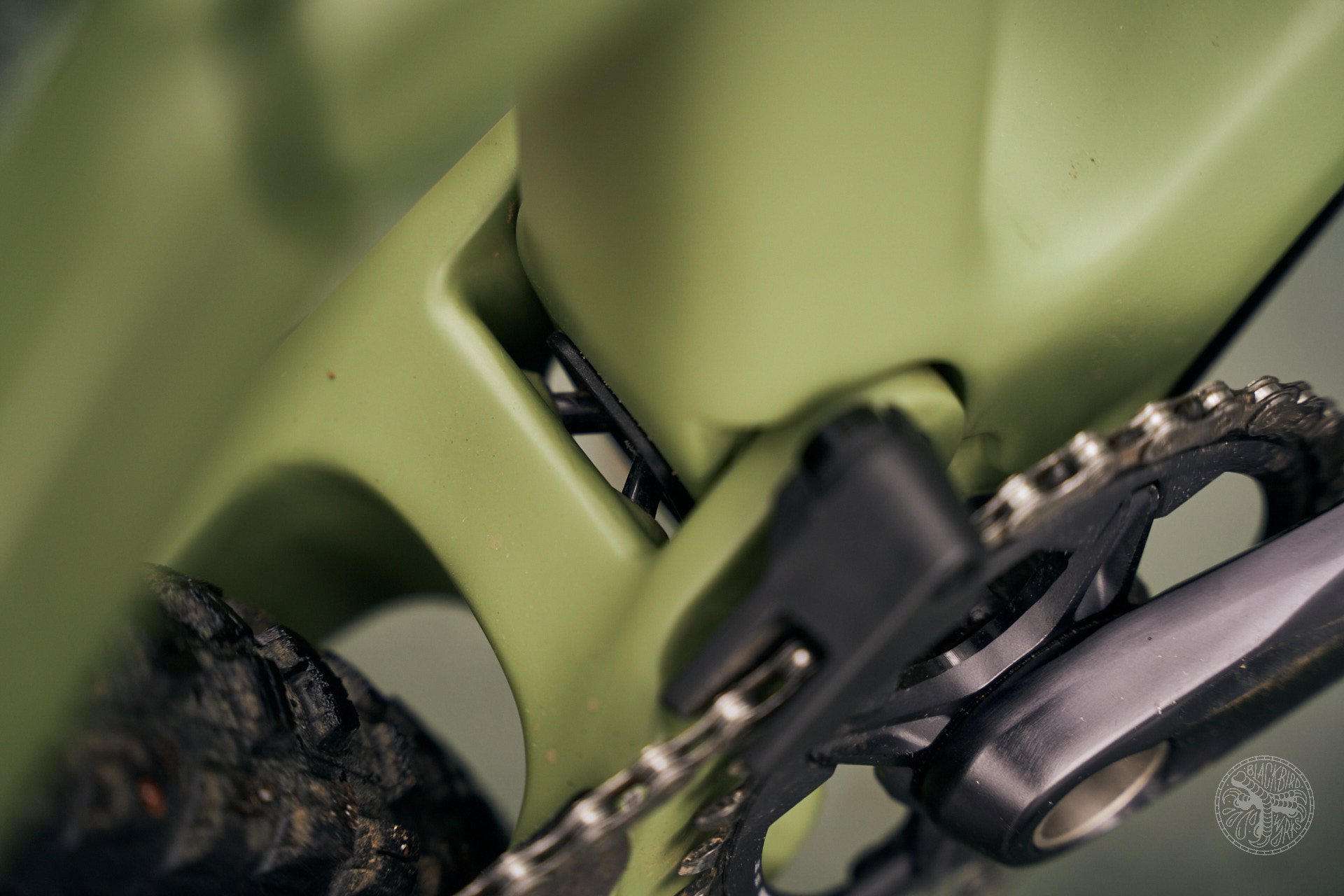 Initial Impressions and Thoughts vs Spectral
As mentioned I have also been spending time on the 2022 Canyon Spectral CF8 CLLCTV.  This Spectral is an aggressive trail bike with 150mm rear travel and 160mm front. The bikes look identical from a distance.
The difference in the ride and how you need to pilot them is massive however, and really interesting to anyone who is a big enough bike nerd to read this article. The Spectral is a very supportive, agile bike that can be ridden fast on even harsh terrain if you are willing to hang it out there but for more average terrain and trails the ride is exactly where you want it to be.
The Torque on the other hand is a full-on, head-down, charger. The bike always wants to take the shortest distance or most direct route from A to B. I joked with Deniz that one of our favourite trails somehow became shorter and seemed to be over much sooner.  Even at a good pace, the Torque makes almost everything feel easier. Pushing through rocky gullies on Cypress Mountain or coming off an awkward launch on Seymour, the Torque feels planted and stable. It did take a while to set up the rear shock. I was getting some harsh feedback on medium size hits until I sped up the rebound. So far I havent seen any negatives with the quicker rebound settings but it is early days. 
In the low setting, the Torque is a pedal smasher.  I have hit my pedals several times now not only while climbing and decending. So much so that at first it was a bit unnerving. Although I have now gotten used to the low pedals, I will try the Flip Chip and the 8mm higher bottom bracket setting soon. This would have been a good bike to ship with 165mm cranks.
Stay tuned for the full review.