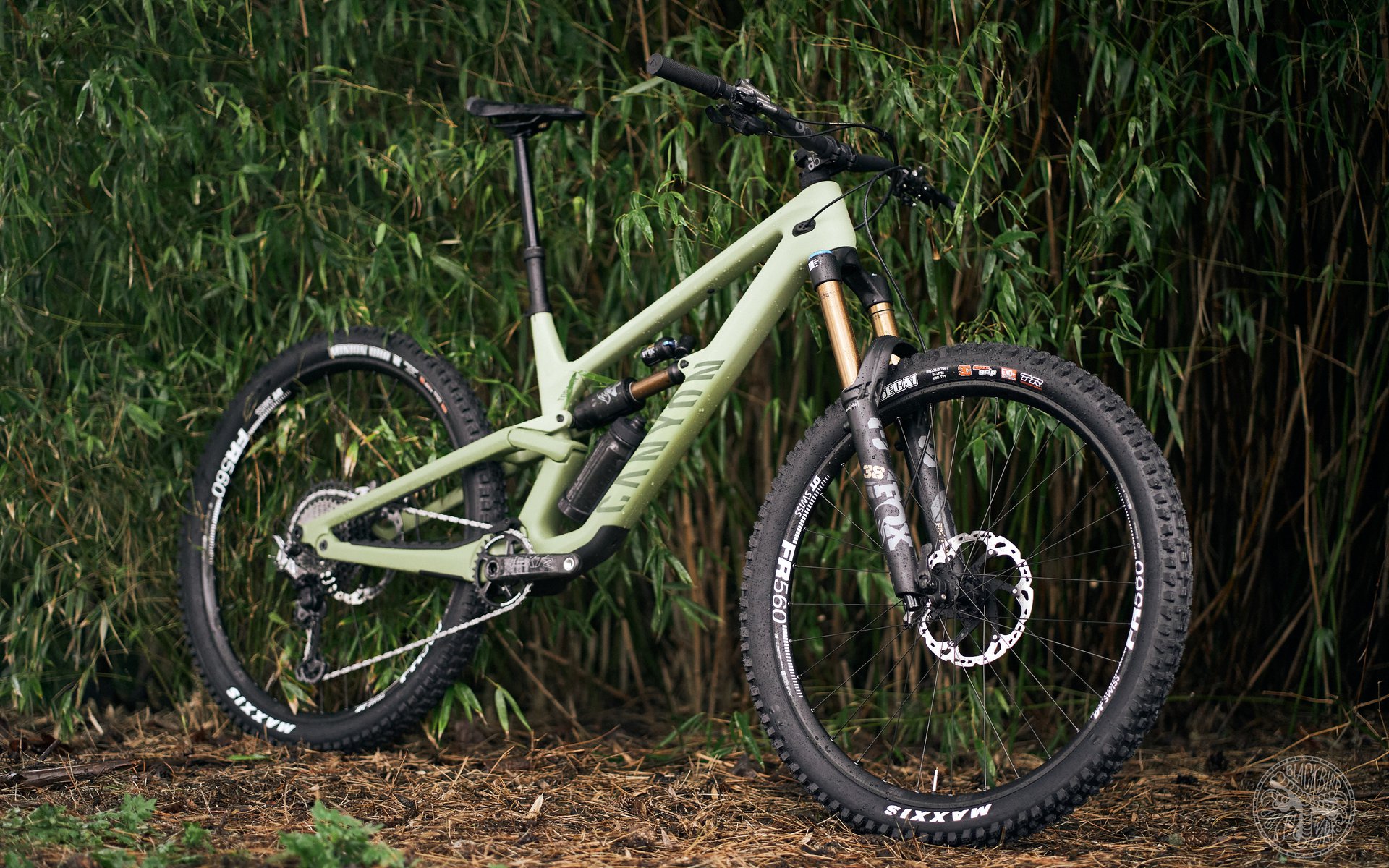 FIRST IMPRESSIONS
2022 Canyon Torque 29 CF9
Canyon's Torque is an Enduro+ bike. To be clear: I'm not attempting to create a silly category moniker such as "slopeduro" or "downcountry," but the Torque is a "big" bike. A 29"-wheeled, 170mm rear travel bike. Until very recently, most enduro rigs have hovered around the 160mm zone. The long, slack, and low Torque hits a little different; as a bike capable of enduro racing, spending (or sending) lift-accessed days in the bike park, or pedalling twelve laps of your hidden-in-plain-sight 100m vertical drop, 79º slab line.
Without alienating my loved ones, let it be known that New Bike Day and Christmas are nearly synonymous.* A few evenings prior to Christmas Day, Cam assumed early Santa Claus duties for this 36-year old man, and alerted me there was a new steed waiting to be unboxed. After a night of restless sleep, I ripped over to the Shore and pulled the wrapping paper off the Torque CF9 - Canyon's top spec 29" beast - with its gold and pewter tinsel of Fox Kashima and Shimano XTR glinting in my pupils. "You'll shoot your eye out, kid" Cam wryly rattled. Hang on. He absolutely did not spew any holiday-themed nonsense, but he did speak of the geometry values very much aligning with his wish list/preferred numbers. So, as fast as I'd arrived, I got the hell out of there.
*To be clear, in this case it's new test bike day, although that is indeed a pretty good day - Ed.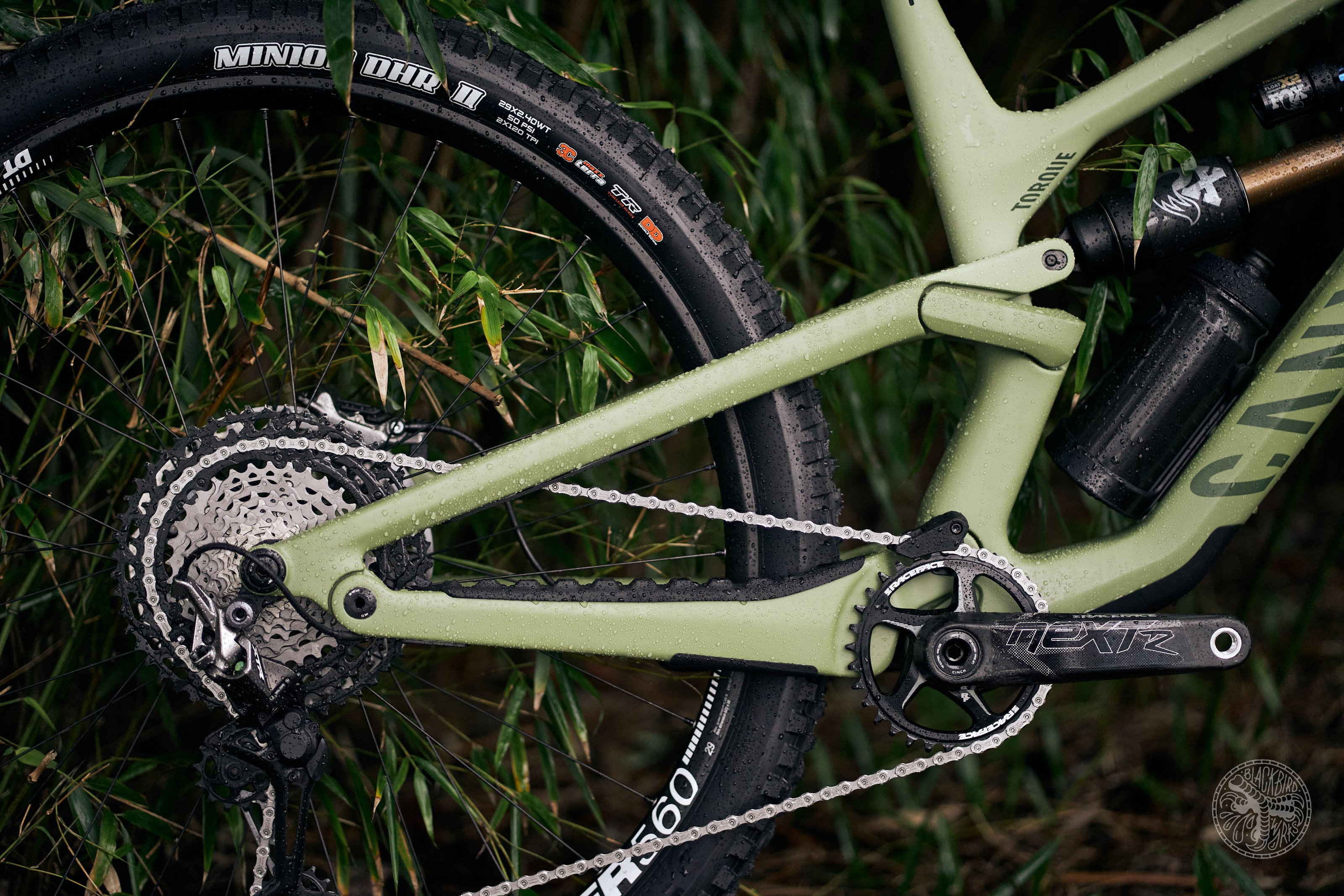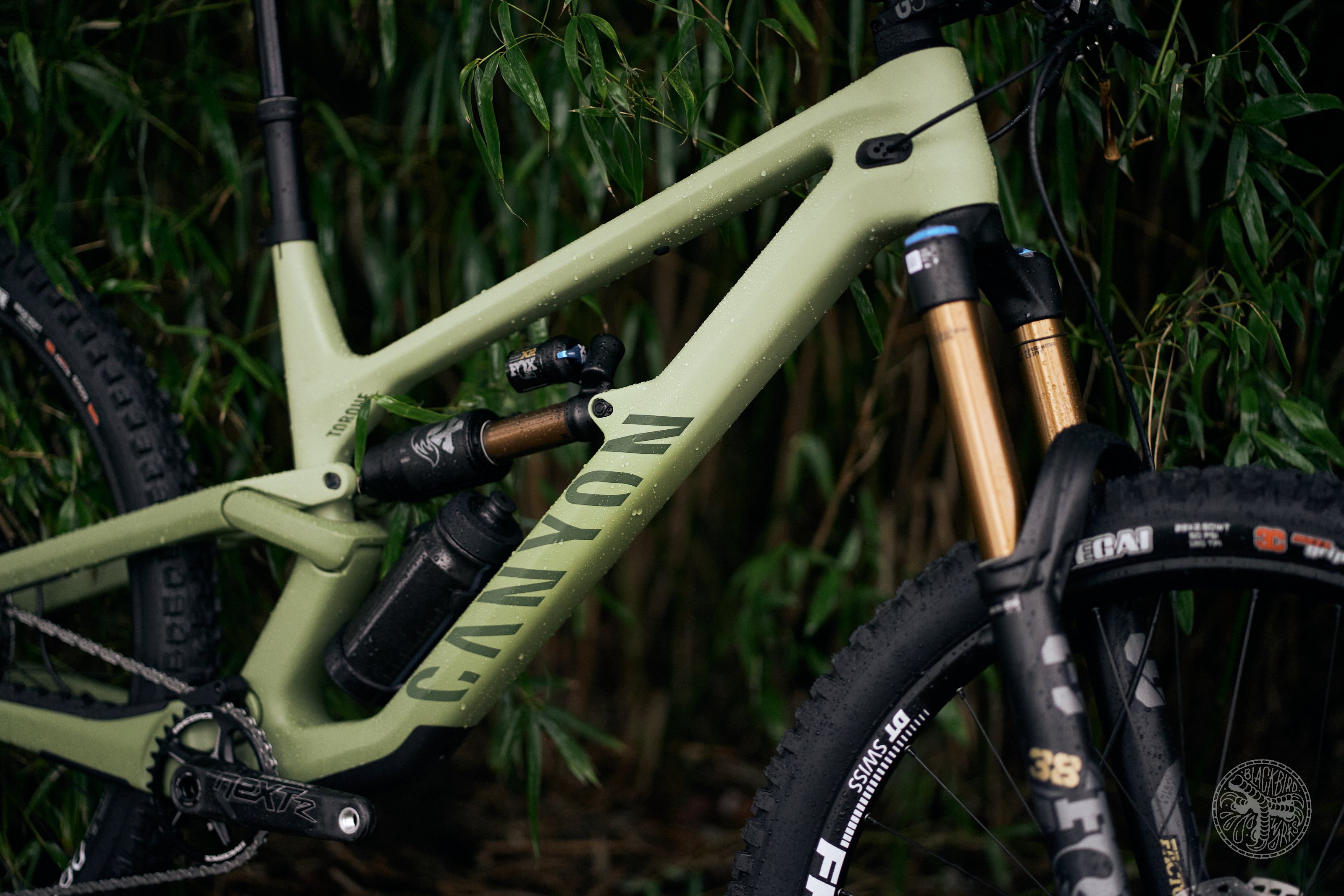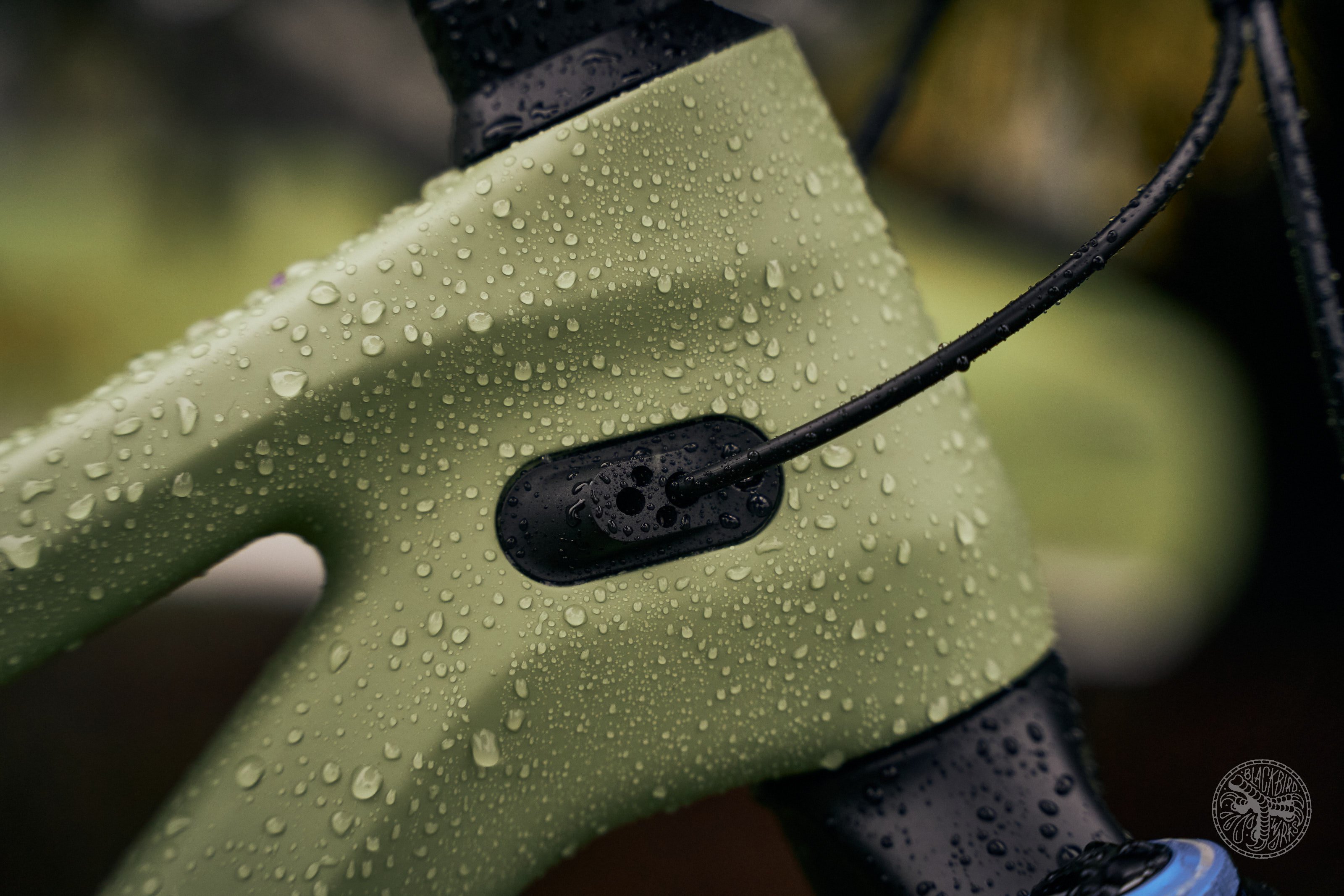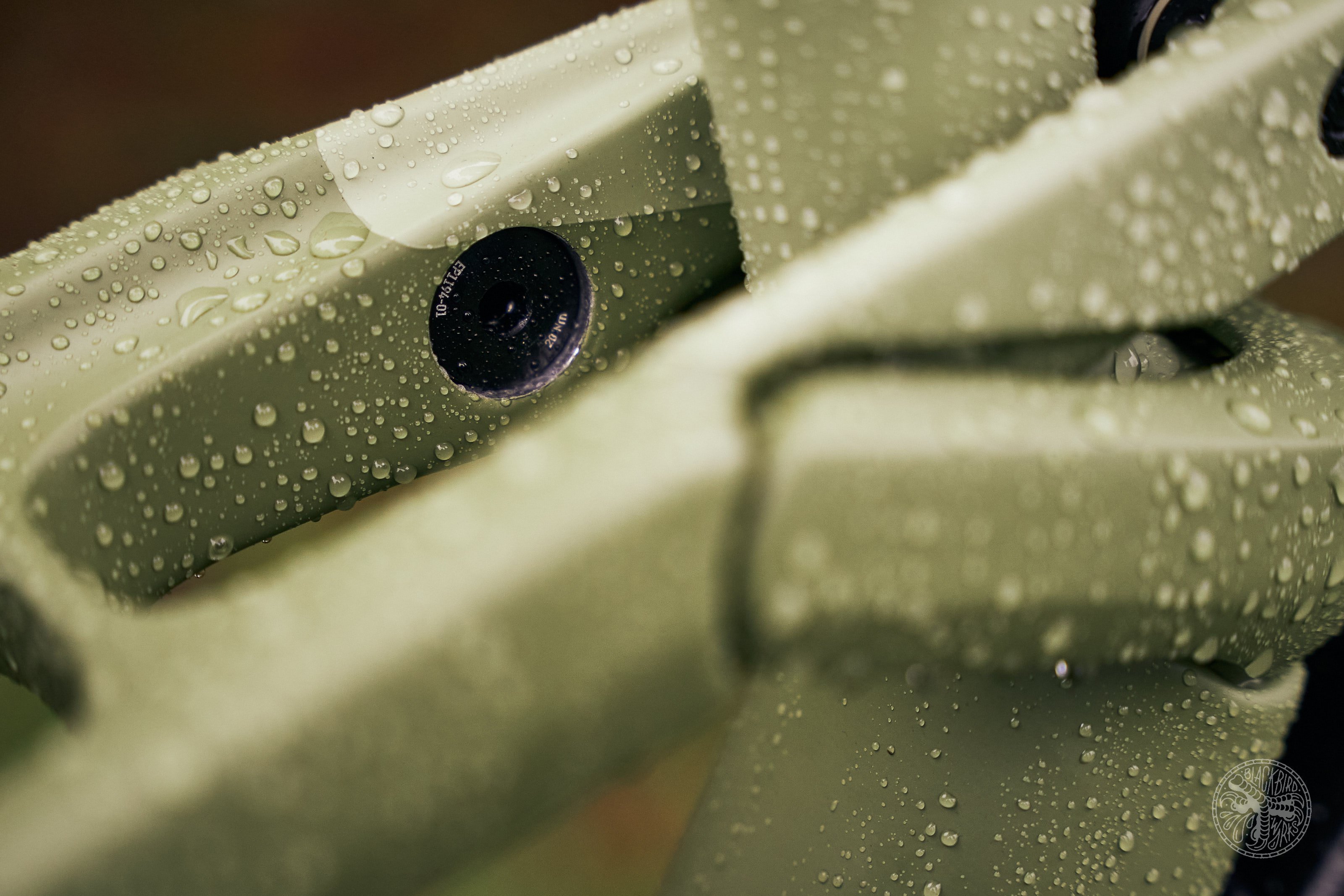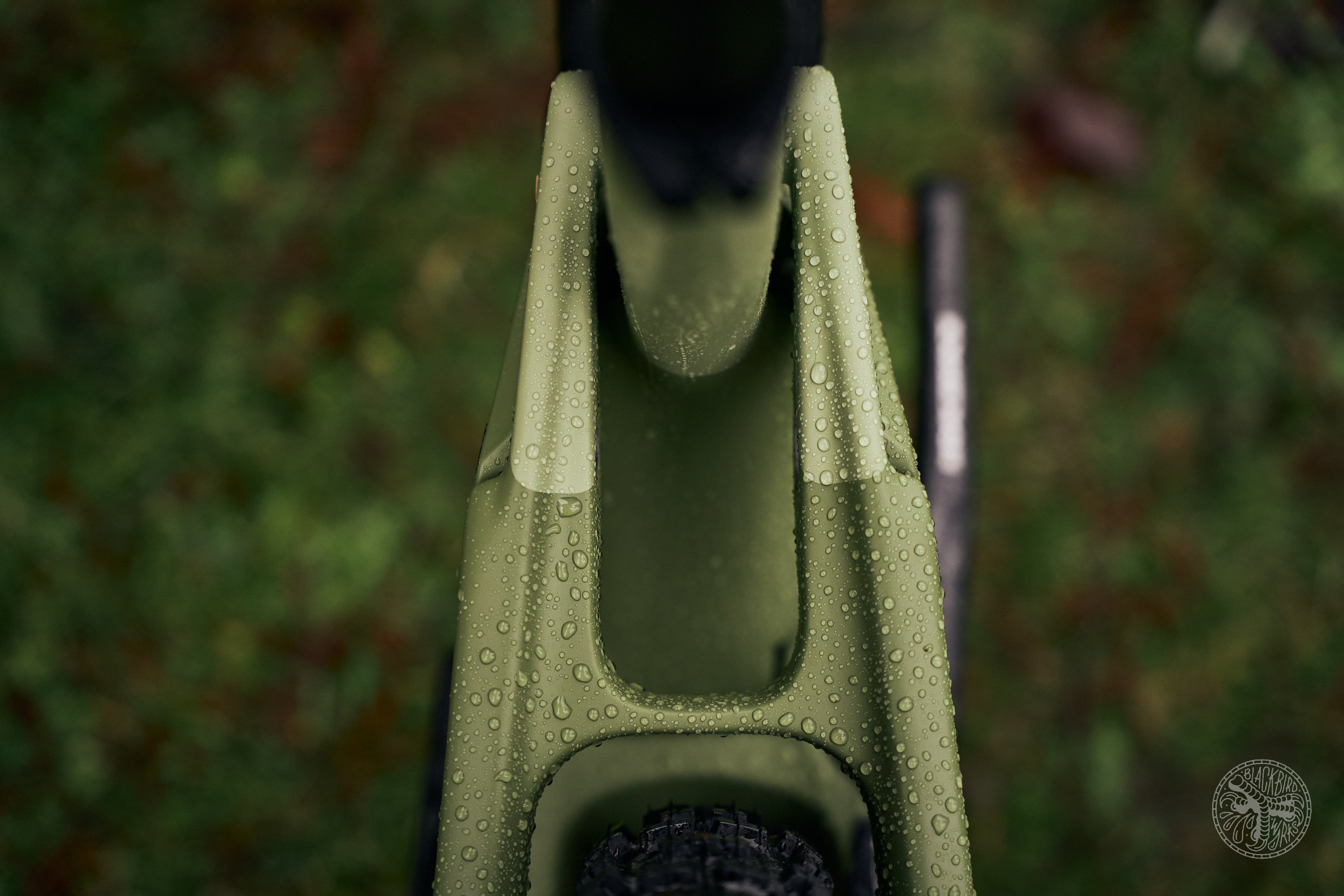 Maybe Canyon is cryptically encouraging chain replacement at the first sign of wear, to preserve the Neapolitan ice-cream XTR cassette of aluminum, titanium and stainless steel.
The Torque CF9 will set you back $7599 Canuckistani dollars. Yes, that is a lot of scratch. However, there are few carbon bikes available for the same price which sport Fox Factory suspension, nearly a full Shimano XTR groupset (I'll be lenient and accept the Raceface Next R crankset), and a DT Swiss 560/240 Wheelset. With direct-to-consumer pricing, one forgoes support from the local bike shop in exchange for cheaper prices. Your mileage may vary, so pull the trigger wisely.
The Frame
The Torque CF9 features full carbon construction, with impact strength rated at Canyon's designated Category 5, - a layup shared with the Canyon Sender DH bike. To paraphrase, Category 5 denotes intensive usage in bike parks, downhill courses, along with big jumps. While burly construction is paramount, the weight of the Torque frame is a relatively feathery 2.65kg/5.84lb (without shock). This frame was ridden by Thomas Genon at Rampage in Oct 2021 - not a small feat for a fairly lightweight bike.
It seems that most of the NSMB.com folks are aviation nerds, or at least appreciate the aesthetic of wild looking supersonic aircraft. The matte Big Bamboo paint makes the angular tube aesthetic pop, leaning toward the aesthetic of radar-defeating jets. All frame lines are exceptionally sleek; devoid of nooks and crannies for detritus to hide, sparing you from a jawing bro waxing poetic about axle deep loam adventures. The headtube junction is burly, as is the industrial seatstay yoke. Bearing and shock hardware is tidily hidden in the backside of rocker links. The moulded downtube, seatstay and chainstay protectors are clean, and will hopefully keep the Torque relatively rattle-free. A Canyon-branded 600ml water bottle with cage live atop the bottom bracket junction. A sold-separately ISCG 05 modular chainstay mount is available - and I will request one, so I can bolt on a bash guard to slide over rocks.
Canyon's Triple Phase suspension platform aims to deliver a supple ride off the top, support through the mid-stroke, and shrug off harsh bottom outs. The 250x70mm Fox Factory X2 shock uses a standard eyelet mount on both ends, instead of the popular trunnion mount.
Akin to Canyon's Spectral update, the Torque's geometry has been tweaked to optimize descending performance. On the large frame, which I'm testing, the stack height sits at 638mm, reach at 490mm, head angle at 63.5º, with a seat angle of 77.5º. The wheelbase runs long at 1282mm. For pilots who prefer a touch more handling snap, a flip-chip at the aft shock mount increases the H/A to 64º, SA to 78º, and BB height raises by 8mm. Have a look at the full geometry chart below.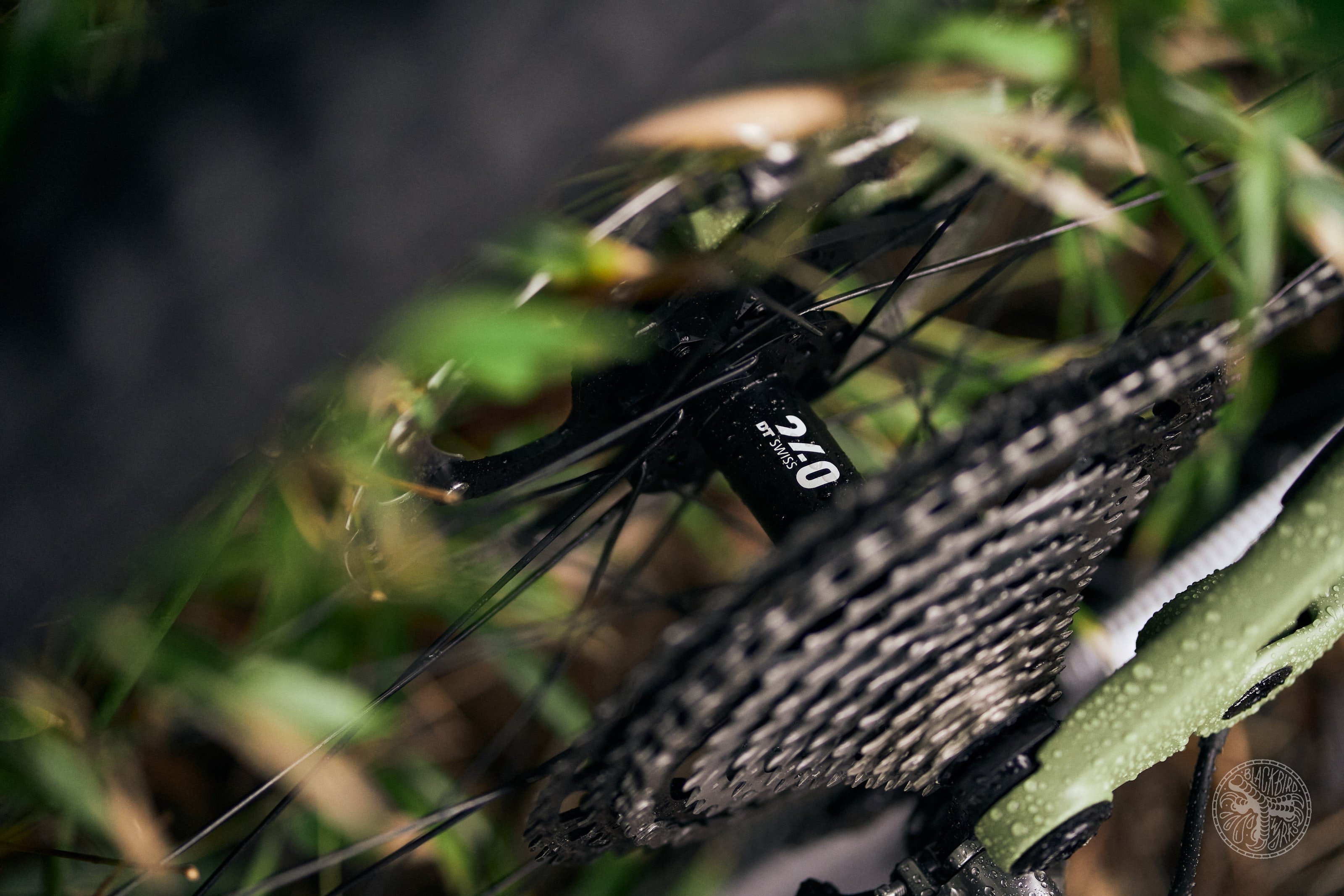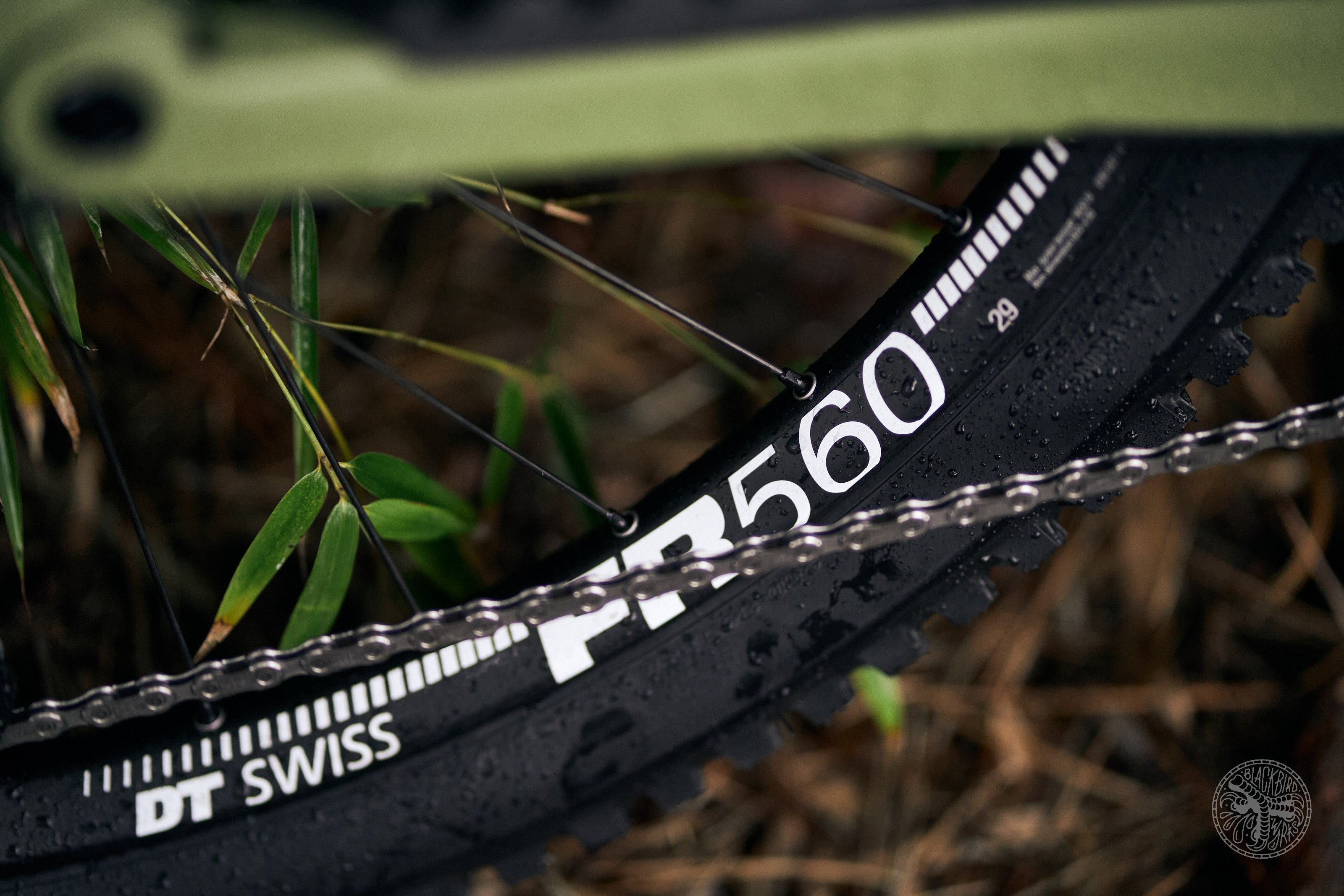 The Build
The Torque CF9's suspension is handled by the steamrolling 170mm Fox 38 Factory up front, and a X2 Factory out back. Both fork and shock feature high/low speed compression AND rebound damping, along with end-stroke ramp tuning via volume spacers. There's not much to lust after with these suspenders.
Shimano's flagship XTR takes care of the entire drivetrain, minus the carbon Raceface Next R cranks, and the strangely spec'd Shimano Deore M6100 chain. Maybe the lower-grade chain is the result of global supply link issues. Maybe Canyon is cryptically encouraging chain replacement at the first sign of wear, to preserve the Neapolitan ice-cream XTR cassette of aluminum, titanium and stainless steel.
Past the drivetrain, XTR four-piston brakes with resin pads clamp down on 203mm Shimano RT86 6 bolt rotors. Again, perhaps supply chain issues explain the resin pads, but sintered are the only sensible choice for the Torque. I'd love to try a 220mm rotor up front, as switching to one on my personal ride has bought me an extra iota of braking power and modulation with the front tire.
The wheel spec. is tremendous. DT Swiss links their 148 boost/15mm 240 hubs with J-bend spokes to 560 rims. These are DT's strongest alloy hoops - a smart choice for a bike-park brawler. Finally, the wheels are wrapped with my personal favourite Maxxis combo: 2.5 Assegai Maxxgrip Exo+ front, and 2.4 Minion DHR2 Double Down rear. Uncle Dave, it turns out we have indeed made at least one stride in the OEM tire department. A heavier rear casing is the only sensible choice for a bike of this stature.
The Torque has a Category 5 rated G5 stem and carbon 31.8mm (Thank you Canyon!) G5 handlebar. The 4-bolt bmx styled stem was nearly rendered useless by an improper bolt torquing, but this ham-fisted hero prevailed and all is fine. A Shimano dropper lever controls the house-brand 200mm dropper post, and is quickly adjusted to a shorter length using stepped shims. Finally, a Fizik Alpaca seat lives atop the dropper post.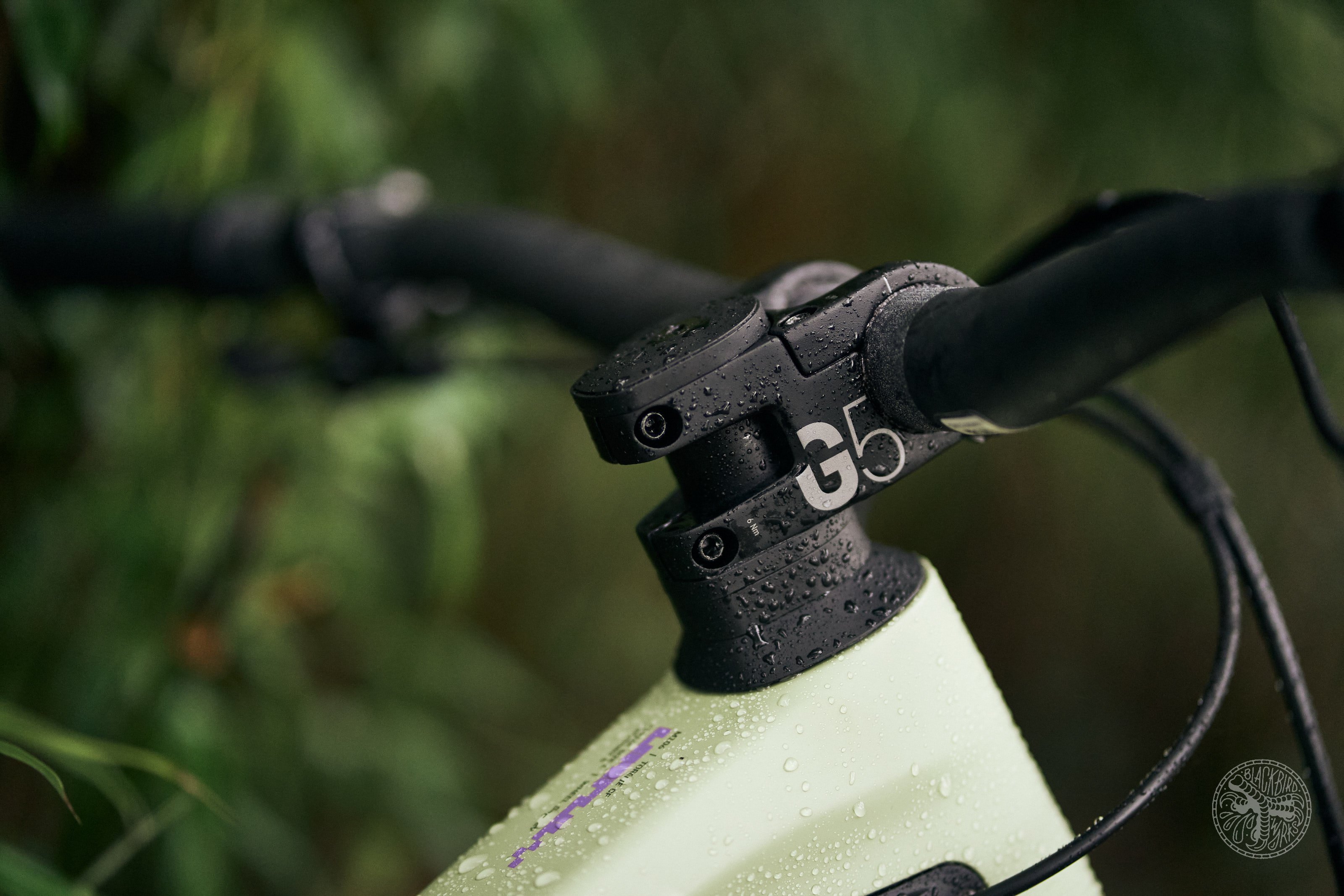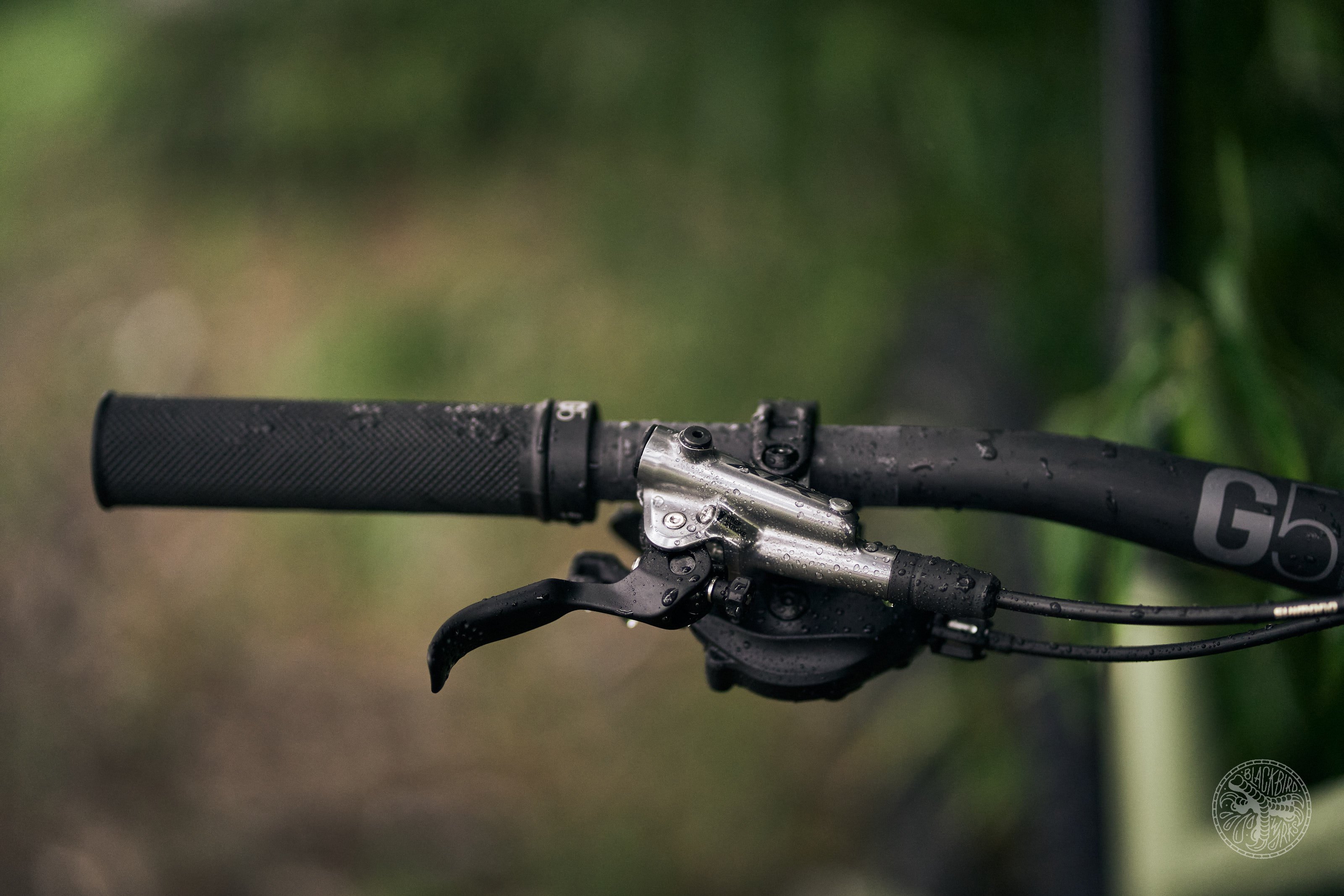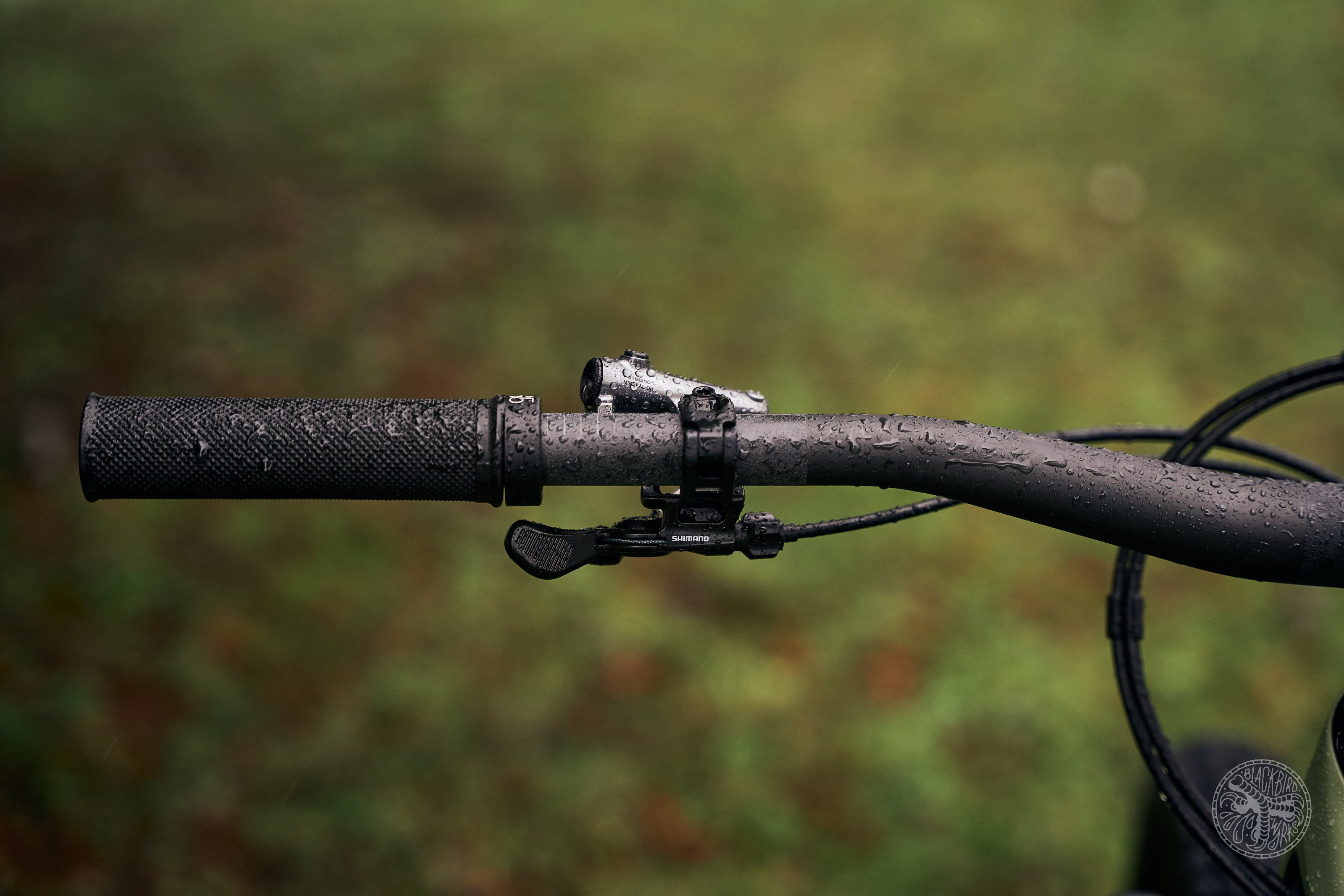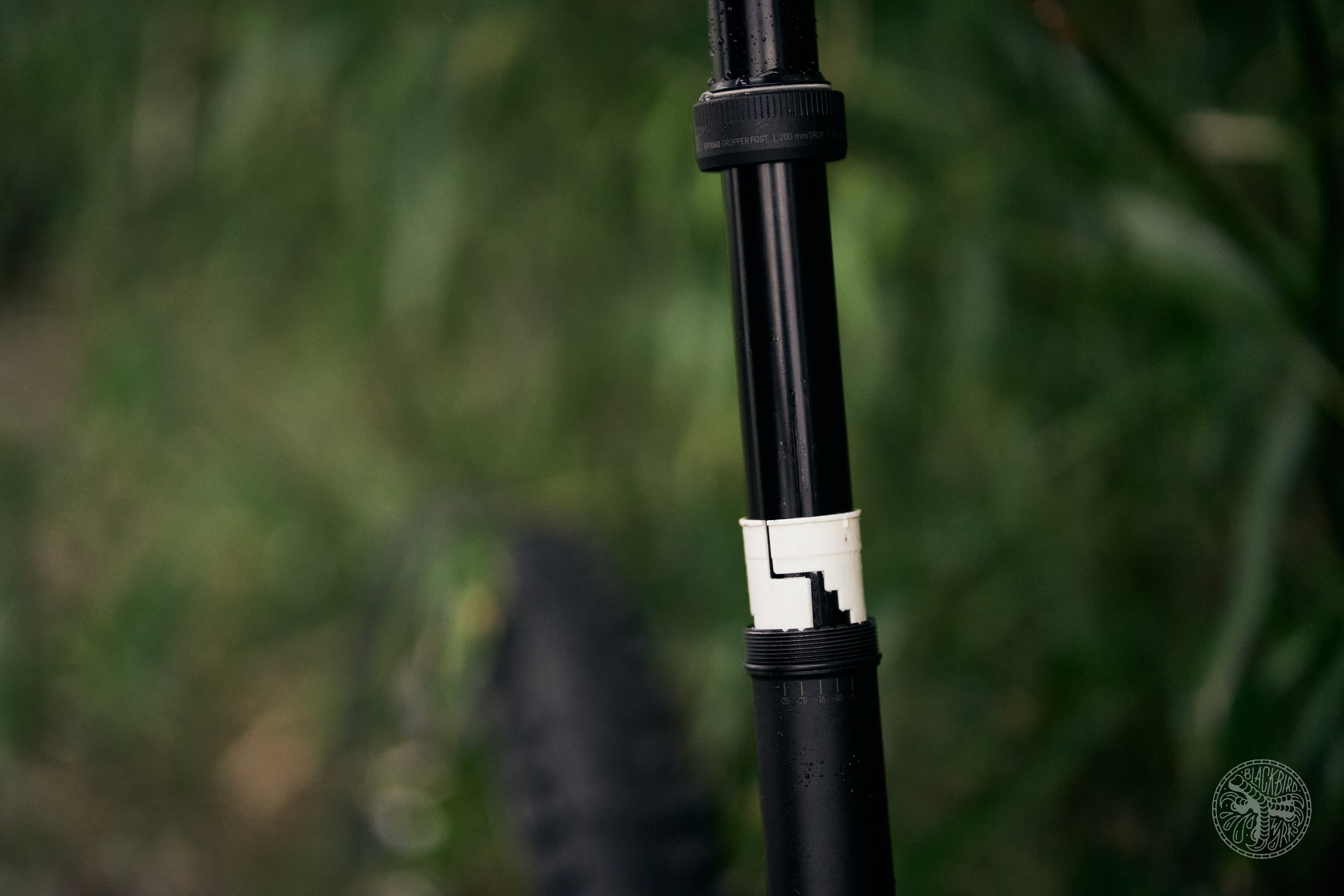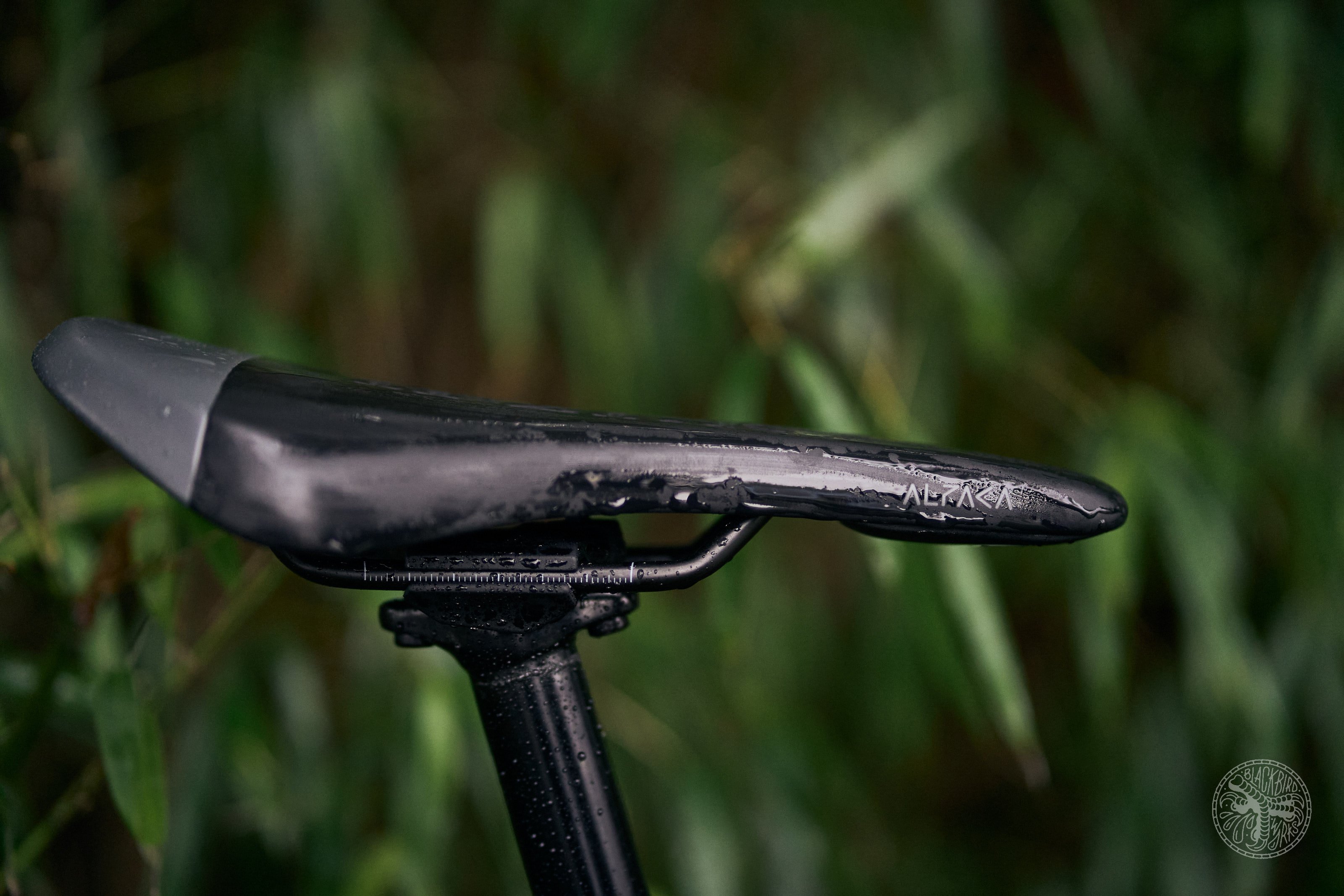 First Ride
The Torque set-up has been relatively painless. I inflated the fork, shock, and tires to recommended pressures. The 38 dials are vast, but running a 38 on my personal bike gives me an idea about where I want the fork to be. Following Fox's tuning guide on the X2 shock is easily done, but I'd like to investigate whether I can alter the character between a faster, poppy, supportive platform to a full goo octopus tentacle that doesn't want to leave the ground.
My initial "ride" consisted of trudging through 30cm of saturated snow punctuated by fleeting dirt and sheets of pure ice. The lone clear pitch happened to be at the Piledriver zone of Boogeyman. I would have loved to link together every feature, but my nerves were shot from sliding on ice and launching over the bars multiple times as I buried my front wheel in deep snow. Nonetheless - the CF9 feels balanced, without the rear end feeling like an 18 wheeler. The 490mm reach is longer than my personal ride, but doesn't feel too stretched. This is likely due to the very upright and comfortable 77.5º seat angle. My weight feels as if it's directly over the pedals. The small drops I was able to link together let the suspension do it's thing, which felt supportive and vast, but not overly piggy.
Rain is currently eating away the local snowpack and clearing lower trails, and I hope to give it a proper shakedown soon. So far, the Torque CF9 is very promising as a beastly steeps machine, and I'm hoping it'll get a chance to fly at an actual bike park in the coming months.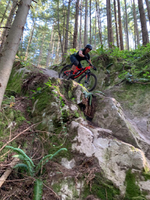 Graham Driedger
Age - 35
Height - 182cm/6ft
Weight - 92kg/205lb
Ape Index - 1.035
Inseam - 32"/81cm
Trail I've been stoked on lately - Pleasure Trail, Lower Digger
Bar Width - 780-800mm
Preferred Reach - 470-500mm