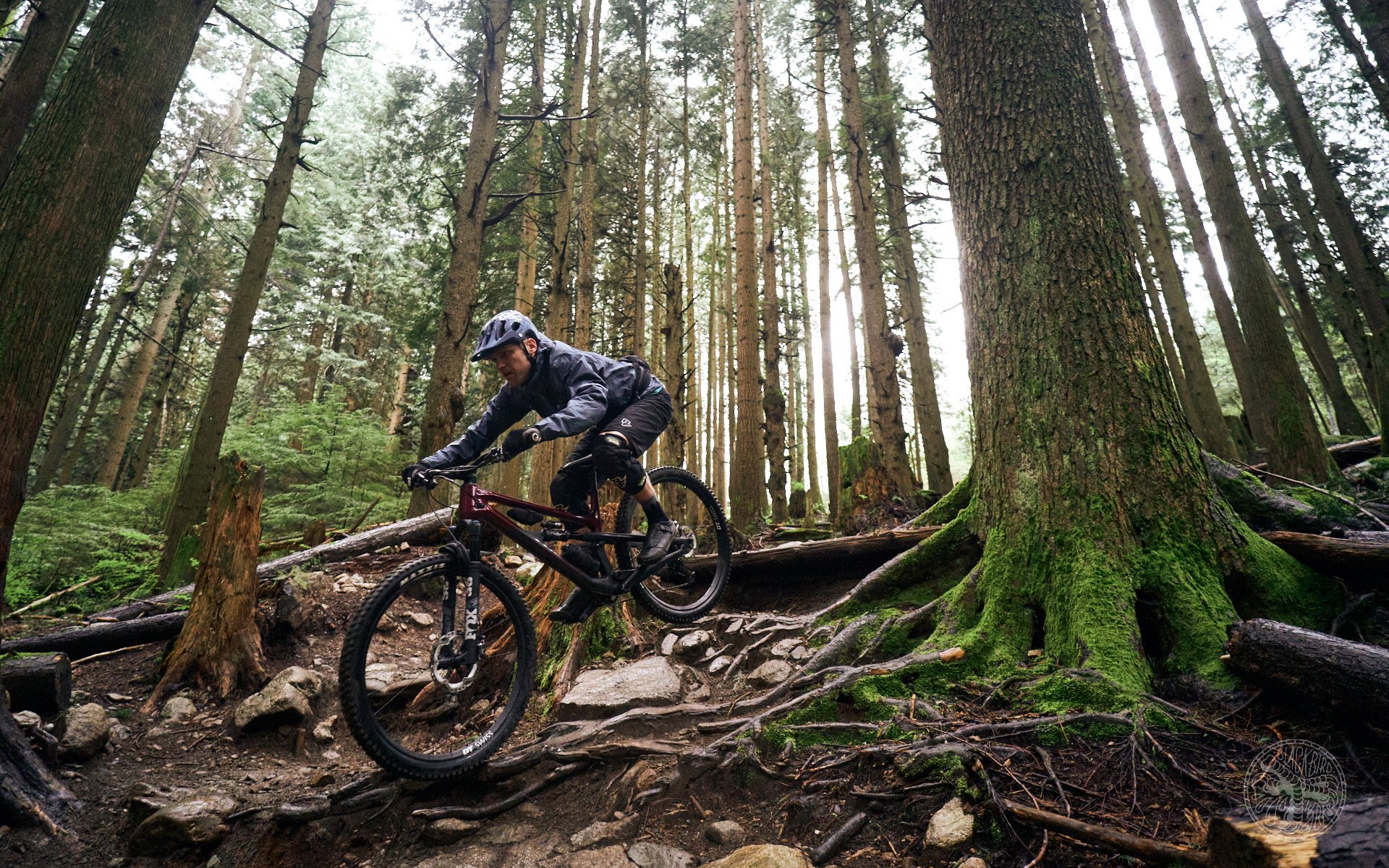 Trail Bike Review
2022 Canyon Spectral 125 CF 8 Review
"A small bike to get rowdy on." That's how Cam introduced the Canyon Spectral 125 in his first impressions review. This spirited little German offers 125 mm rear travel and a 140 mm Fox 36 up front, paired with an aggressive geometry more commonly found on longer travel enduro bikes. The first impressions article has all the details including specs and geometry numbers so I won't repeat those here.
Summarizing, Cam's first riding impression was that the Spectral 125 certainly seemed capable of any trail he would throw at it but the shorter travel's narrower margin for error initially had made him approach challenging trail sections a bit more cautiously than usual. The hypothesis was that more time on the bike would take away that mental barrier and let him ride the Spectral 125 without reservations.
Long story short, time was scarce for Cam and eventually it was me, after taking the Spectral 125 out for a few rides and finding myself intrigued by it, who was tasked with testing and reviewing the bike. One thing I can say for sure is that I was never able to test the limits of the bike, and I never expected to. The rider was the limiting factor in this case. However I think I've been able to get familiar enough with it to grasp what the Spectral 125 is about and how it wants to be ridden.
Setup
Canyon suggests 25% sag for the rear shock and after some experimentation with up to 30%, I eventually found myself in agreement with Canyon's recommendation. Although at 125 mm it isn't exactly plush, the rear suspension is very active. It does ramp up quite progressively and I typically didn't use full travel except when I needed it to compensate for a botched move. That's fine by me, intuitively it felt like I found the sweet spot for my riding.
Up front I settled on about 20% sag for the 140 mm Fox 36. I normally prefer to run my (longer travel) forks relatively soft with very light damping, relying on a fast rebound to keep it composed. On the Spectral I needed a bit more air and rebound damping to make up for the shorter travel and match the feeling of the rear end.
The geometry of the Spectral 125 is very close to what I'm familiar with on my personal bike (a 2020 Giant Reign 29) so in terms of fit and cockpit setup I was able to feel at home very quickly. At my height (6' 2" / 187 cm) some would prefer the extra reach of an XL but for my body, which comes with some history resulting in reduced mobility around my hips and lower back, the L felt spot on.
Riding Impressions
Climbing
On the way up the Spectral felt slightly lacklustre for a 125 mm bike. Don't get me wrong, the Spectral climbed just fine, especially in technical terrain where its active rear end provides plenty of traction. It just lacked that energetic feel that some other bikes have when pedaling uphill - in some cases bikes with significantly more rear travel. I fully admit that I'm far from an expert on suspension design but the consensus in the NSMB group chat seemed to be that my impression is consistent with most Horst link bikes (like the Spectral) typically being very active under pedaling while the dual link designs of the bikes that made up my frame of reference (like my personal Giant Reign 29) typically have more anti-squat.
I had no issues navigating steep uphill switchbacks on the Spectral 125 but some may find the slack geometry a bit unwieldy in those situations. I'm used to climbing on slack bikes so I don't know any better.
Bottom line, the Spectral 125 is not optimized for climbing but it got me up without too much trouble.
Cross Country
The Spectral 125 felt least at home on rolling and meandering XC-style trails where the slack geometry sometimes made the ride feel downright boring. Pedaling harder and attacking corners helped but it still wasn't an XC bike. If you ride this type of terrain a lot you may have more fun on a bike with a more nervous geometry.
Descending
Descending on fast, flowy, moderately technical trails the Spectral 125 really came to life. The bike is made for this type of terrain, the geometry encouraged me to let the brakes go and lean into corners aggressively. The sharp ramp-up of the short travel resulted in a nice amount of positive trail feedback and just begged to pump every indentation in the trail and look for opportunities to get some airtime. Every single trail in this category that I rode on the Spectral 125 resulted in an exhilarating descent.
Steep, slow tech, a trail style we have a lot on the Shore, was just fine on the Spectral 125. The geometry instilled confidence and with reasonably careful line choice I felt the bike generally had sufficient travel in this type of terrain. There was less margin for error when I screwed up but at the slower speeds this didn't really make a significant difference.
On fast and rough trails things got more complicated. I found this the hardest type of trail on the Spectral 125 but also the most interesting. The geometry encouraged speed but the travel initially felt like it came up short when plowing through rough terrain. The Spectral 125 quickly exposed some carelessness that had crept into my riding after being on longer travel bikes for so long. I had to either slow down and be more careful in my line choice or be much more proactive and use more body English to work with the terrain and maintain speed and composure. As I got more accustomed to the Spectral 125, I started getting better at it and towards the end of the test I felt like I was getting real good at it. I had to work harder but, compared to a long travel enduro bike, this way the Spectral 125 really made me feel more one with the bike and the terrain on fast chunky trails.
Technical Report
The Spectral 125 felt solid the entire time I had it in my possession. The only minor issues I encountered were occasional creaking noises.
I tracked one creak down to the rear axle having loosened itself, a problem easily mitigated on the trail using the axle's pull-out lever and, once back home, solved by a good clean and torque to spec.
A different creaking noise coming from somewhere around the bottom bracket and main pivot area was too minor and intermittent for me to be annoyed enough to track it down.
To be fair, the Spectral was served a menu of rough trails and a wetter-than-usual BC Spring with the associated overdose of post-ride hose downs. I feel like in such circumstances it's not unreasonable to expect a rider to frequently check all bolts and axles are tight and if necessary treat the bike with a thorough cleaning and some fresh grease and treadlock in the right places. With the threaded bottom bracket and user-friendly looking pivot hardware, the latter shouldn't be too much of a chore.
It's great that Canyon was able to create space for a bottle mount in the frame but due to its low placement I found it a bit awkward to reach while riding and the bottle tended to get covered in dirt. The special fit 600 ml Canyon bottle was fine although I would have preferred to be able to fit any regular sized bottle.
Components
The Spectral's component spec worked perfectly fine for me and what little I would change is entirely location-dependent.
The full XT drivetrain was my first experience with Shimano 1x12 and I really liked the gear ratios of Shimano's 10-51 cassette. With SRAM's 10-50 I prefer a 30T chainring but Shimano's shorter steps between the largest cogs meant the 32t chainring on the Spectral worked well for me.
The tire spec - a Maxxis DHR II 2.4 EXO MaxxTerra in front and Dissector 2.4 EXO MaxxTerra in the rear - worked surprisingly well for me despite the wet Spring conditions on the Shore. I'd still prefer the softer MaxxGrip compound in front. The EXO casings held up but I ran the rear tire with a bit more pressure just to be sure. More aggressive or heavier riders may want to upgrade to a sturdier casing or run inserts.
The Canyon-branded dropper post felt a bit crude compared to higher end options I've been spoiled with but it worked flawlessly for the entire duration of the test and the 200 mm drop was much appreciated.
The Fox fork and shock, the DT Swiss wheels, and the Shimano XT 4-piston brakes are all components I could have chosen myself and they did their jobs as expected without any issues.
Final Words
I had a blast riding the Spectral 125. With its familiar geometry I felt comfortable on it right away but it took a good few rides to recalibrate myself to the shorter travel and sharpen up my riding. Once I figured out how to ride it, the small Canyon returned the favour by giving me a feeling of being more in tune with the trails I rode and being more rewarded for the effort I put in.
On the flipside, on those rides where I wasn't able to bring my A-game, the Spectral 125 unapologetically told me to go fuck myself, resulting in being bounced around on the trail like an out-of-control beginner who is way out of their depth. This is not a bike I would want to ride all the time. Even on my best days riding the Spectral 125 and nailing the most challenging trails I took it on, fatigue did set in noticeably faster than I'm used to. For the riding I like to do on the Shore, I find around 20 mm more travel front and rear to be ideal, basically splitting the difference between the Spectral and a full on long travel enduro sled.
So who is this bike for? I can think of two types of riders who the Spectral 125 may be perfect for:
The first group would be those who predominantly ride fast, sufficiently steep but moderately technical trails who are looking for a bike that encourages an aggressive riding style while at the same time bringing out the moderate tech on the trail rather than filtering it out.
The second group would be strong expert riders who ride steep challenging terrain but tend to get a bit bored on their long travel enduro sleds. I imagine the Spectral 125 (perhaps as a second bike) could offer such riders a more engaging ride by challenging their skills and creating a more interactive connection with the trail without going all the way to a hardtail.
Even if you are not one of these types, I hope this review provides enough clues to help give you an idea whether the Spectral 125 may work for you. It is definitely an interesting mountain bike and one that I can recommend checking out to anyone looking for an aggressive short travel trail bike.
--
More information: https://www.canyon.com/en-ca/mountain-bikes/trail-bikes/spectral-125/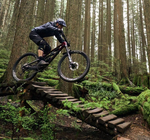 Niels van Kampenhout
Height: 6'2" / 187 cm
Weight: 172 lbs / 78 kg
Inseam: 35" / 89 cm
Ape Index: 1.005
Age: 42