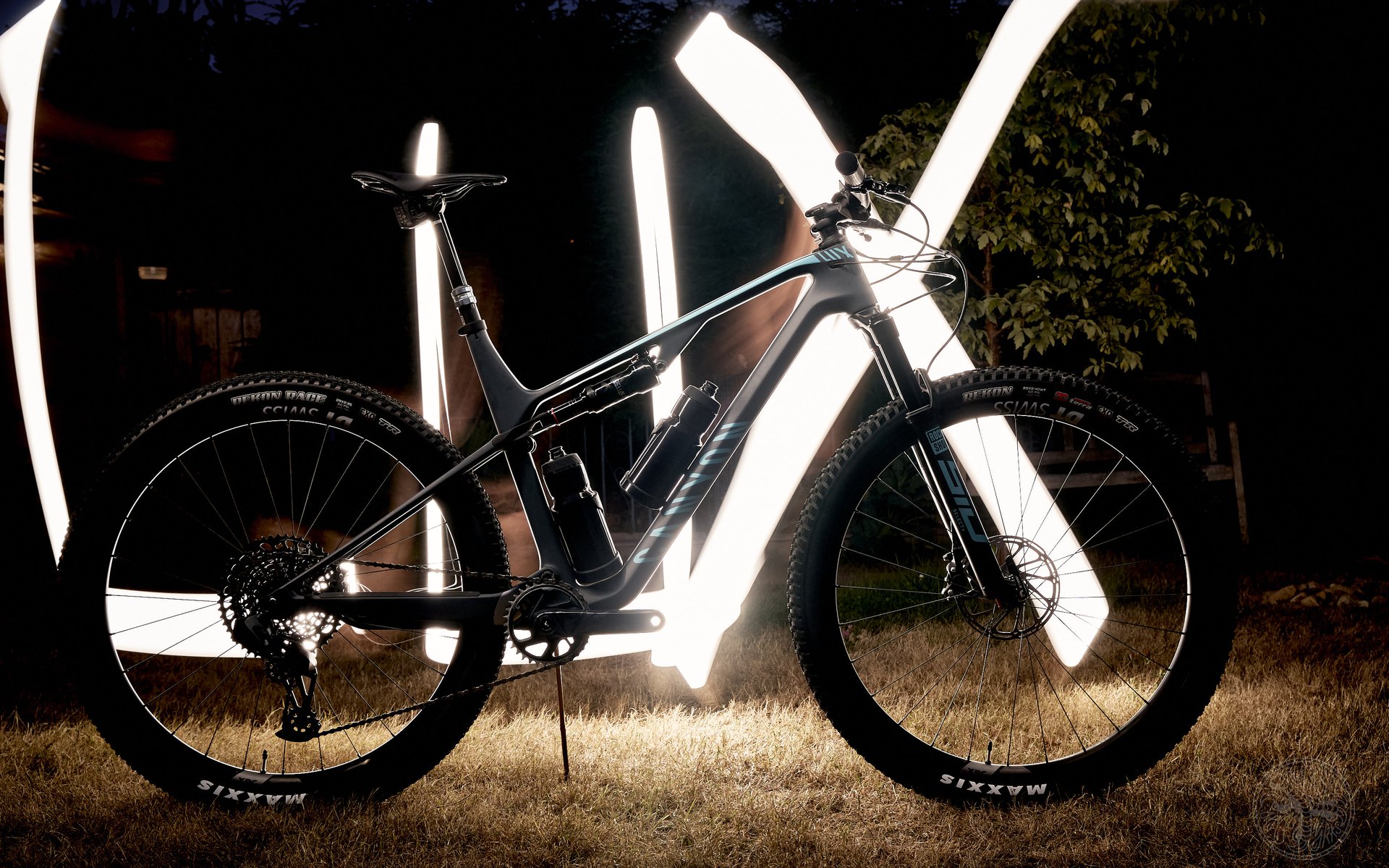 FIRST IMPRESSIONS
2022 Canyon Lux Trail
De Lux
Despite the descent-focussed marketing, the Lux Trail is Canyon's XC-friendly trail bike, or trail-friendly XC bike. The World Cup XC courses now feature somewhat technical trails, and it's genuinely faster to race a lot of them on a full-suspension bike, and Canyon has a purpose-built bike, in the Lux CF for that application. The bike I've signed up to review is the new Lux Trail which takes DNA from that bike, lengthens the Reach, slackens the head tube angle a bit, and beefs up the components to survive a more daily-driver, jack-and-jill-of-all-trades, riding style.
In my mind, this is the mountain biking of my youth. You could race it XC, you could race it DH, (though a few purpose-built DH bikes were starting to show up) and you could ride it anywhere and any way you wanted. As long as you changed the tires.
My goal for this review is to take a bike that's billed as "Light. Fast. Capable." with a claimed focus on descending prowess, and change the minimum number of components to add 'Fun!' to that list, specifically for riding "Tech-C trails" here on the North Shore.
The Lux Trail comes in four trims, headed by the Shimano XTR-equipped, 24-pound, CF 9 Emily Batty Edition. The base is the Shimano SLX-equipped, 27-pound CF 6 while the CF 7 is an XT build. Each of those bikes feature 120mm Fox 34 Step Cast forks, 100mm drop Fox Transfer SL posts, and a Schwalbe 2.4" Wicked Will in front and 2.35" Racing Ralph in the back.
This CF 8 is the one SRAM build in the lineup. It swaps out Fox suspension for RockShox SID Select+ fork and Deluxe shock, while a 125mm RockShox Reverb AXS replaces the 100mm Fox Transfer SL dropper, and of course the drivetrain switches from Shimano to SRAM. In this case, the SRAM setup is the relatively new GX AXS platform. The tires are switched over to Maxxis with a Rekon front and Rekon Race rear.

It looks like a hardtail"
Geo Gymnastics
You can only tell so much about a bike from its geometry chart but my first impression is that the Lux Trail wears its numbers as accurately as any bike I've ridden. There's also an incredible similarity in handling, numbers, and fit between Kona's iconic Process 111 bikes and the Lux T. The Reach on a large Lux Trail is 20mm longer than the 2014 Process and the head tube angle (HTA) is half-a-degree slacker while the seat tube angle (STA) is half-a-degree steeper.
The Canyon has significantly less standover, is designed to carry two more water bottles, has 5mm longer stays (435mm v. 430mm), but the stock travel is essentially identical with 120mm forks and 110mm rear travel. I think that Kona's first 1x specific trail bike is the most unique and interesting full suspension bike they've ever made - not to mention a great riding machine - so for me, this is all excellent.
I love messing around with a bike's geometry, and I know an ever-increasing number of fellow nerds who are trying +/- reach headsets and anglesets in their bikes but that's not an option with the Canyon due to the combination of a ZS44 (internal) upper headset cup and an IS52 (integrated lower bearing). It's hard not to assume the headset mix was intentionally chosen either to prevent that type of modification or to dissuade that, admittedly tiny, percentage of riders from buying the bike. Most the Process 111 bikes I've ridden were over-forked 20mm and if I have a chance to ride the Lux with a 140mm front end I will.
There may be two red flags on that geo chart for some North Shore riders, and riders of aggressive trails everywhere, the first being HTA. I think that every company would do well to aim for a 66° HTA on bikes of this travel and for this usage. I've already hit some aggressive descents on the Canyon and it's very rideable at 67.5°, I just think they could go a bit slacker without giving up anything in terms of climbing prowess or suspension performance over less steep terrain.
The other number that has folks shaking their heads is the STA. Personally, I love it for this application. The 74.5° seat tube angle is fantastic for creating power on most climbs and when the going gets truly steep the Lux Trail is efficient out of the saddle with the shocks wide open. It also has the option of the on-the-fly fork and shock lockout. The static position of a bike that rides this high in its travel on climbs also means that compared to many bikes with steeper STAs the actual rider position relative to the bottom bracket is going to be much more consistent on the Lux Trail.
Sizing
The Lux Trail presented the hardest sizing decision I've had to make, including my custom single-speed frames. At 5'9", I'm nowhere near a large on Canyon's size chart. On the other hand, I haven't ridden a medium that felt big engouh since I start writing for NSMB. If I had a third hand, I'd also note that the reach and effective top tube on the large Lux Trail are pretty much spot on my Waltworks V2. With the option of adjusting Reach thrown out the window due to the turducken headset, it came down to a simple choice. Be the reviewer whinging about the too-small frame that a company recommended or be the reviewer eating humble pie after choosing a bike that was too big.
In the end, I think we were both absolutely right. If was going to ride the Lux Trail with the stock 60mm stem I would have been on a medium. With a 40mm stem and a 45mm ride SQLab 16° bar however, the bike feels absolutely perfect. Canyon manages to put enough money into the bar and stem that they're rideable while not wasting a bunch of dollars on high-end cockpit parts that many riders will swap out.
With the large frame the 505mm seat tube length doesn't leave me a lot of room for a dropper post. I have about a centimeter of adjustment to spare running a 125mm AXS Reverb. This is something to consider if you have a longer torso-to-leg proportion and are deciding between sizes.
AXS
AXS wireless shifting works great. And frankly, if you don't have a scale I think the AXS GX stuff works just as great as the higher-end versions. I'll give a solid tip of the helmet visor to the weight and longevity of the XO1/XX1 cassettes but that's a large part of the price difference, isn't it?
I find the beeping the derailleur makes every shift annoying for the first five minutes of every ride but I don't notice it again until the next time. The shifter ergonomics always take a bit of brain retraining but again, after five minutes it's smooth sailing. Nothing has changed from my previous impressions of AXS drivetrains though. They work great.
Anyone who says AXS shifting is a 'must have' or 'experience changing' is full of of sh*t. On the other hand, if you don't think that wireless shifting is cool, or at least 'I'd never own it but it's cool' you may want to check your pulse. I ran it through my coolness testing protocol - also known as my seven year old - and AXS passes muster. Garbage trucks? Cool. Seabus? Cool! Skytrain? Cool! AXS? Très Cool!
Personally, I'd more than happily trade the GX AXS groupset straight across for a full X01 cable-shifted setup. Without a second thought.
The AXS dropper post on the other hand is delicious. I'm a bit ashamed at how badly riding one makes me pine for my own 170mm travel version for my single-speed. No cable means easy removal after a rainy ride to let my frame breathe, the action is so, so light, and the absence of a dropper cable makes everything clean. I could never justify the price over my favourite cable-actuated posts but that doesn't dull my lust.
The CF8 sports carbon SRAM Eagle GX cranks and I can think of a few places I would have invested the price jump over aluminum, but then a lot of potential customers might be more surprised by the lack of a carbon bar rather than the addition of carbon cranks.
Wheels-First Philosophy
I love the idea of spending extra money on the parts of a bike that most riders won't likely be replacing hastily. It's min-maxing at any budget. While I'm a bit surprised that Canyon chose to go with i30 rims for the lineup, given the tire sizes they spec, it's pretty impressive to see DT 240 hubs and carbon rims on the Lux Trail.
DT Swiss is obsessed with direct-pull spokes, where I'd prefer J-bend, but everything else checks out. They use 6-bolt hubs instead of Centerlock with a 6-bolt adapter and this is a spec choice that I love. The XRC 1501 wheels use 3x cross lacing, the spokes are DT Competitions, and the Squorx aluminum nipples work great. The wheels have a 110kg | 242lb weight limit which corresponds to the weight limit for a rider and gear that Canyon publishes for the bike. I will find out if that's a weight limit for the frame or if the weight limit for the wheels sets the limit for the bike.
Canyon lists the max recommended tire size for the Lux Trail as 2.4" and in my experience 2.3" and 2.4" tires generally work great on rims with a smaller internal diameter which would also drop a few grams and possibly protect the rim better. Interestingly, the 100mm travel Lux CF race bikes are also running i30 rims, so it may just be that I'm ahead of, or behind, the curve in thinking i25 rims are great for <2.4" tires.
This is the first bike I've ridden with DT Swiss' new RATCHET EXP freehub system, in this case, mated to some 240 hubs, and my first impression versus other DT Swiss hubs is that it is loud, loud, loud. I run my Industry Nine Hydra's with Dumonde Tech Freehub Grease to quiet them but even with the Hydras run dry, the RACHET EXP is screaming ahead by many decibels. It's actually a bit antagonizing, which is surprising given they have a rather broad 10° between engagements. It's early days and the system may need to break in a bit, and I may need to read up on warranty-approved lubrication options.
Spec Crimes
"Sweet, I didn't know that NSMB tested gravel rigs" -anonymous
Sometimes there are really bad spec choices. These are the decisions a product manager has made that are going to cost customers money, ruin the reception of the bicycle, they deserve to be called out hard, and often, for making them. Keep in mind, this is not the Lux CF World Cup XC race bike, but rather a machine that Canyon claims is a bike with "a calm feel at the controls when you are barreling down steep trails."
That's bullshit as the bike currently sits, but it's probably a surprise that Canyon's crime numero uno is not actually their choice of horrific SRAM for-Level-ground-only hydraulic flat-bar road brakes, but rather the guillotine that's branded as a Selle Italia SLR saddle. I'm a long-time fan of the SLR and have owned a few of them for both road and mountain bike riding, but this specific model is absolutely not a mountain bike saddle with the wicked plastic blade at the back. In general, it's a weird choice because there are at least as many riders who don't get along with them as do. It's very hard to imagine anyone riding legitimate offroad trails anywhere choosing to ride this saddle.
If this Lux was a full-blown XC-Race superbike with XO1, and German-carbon everything, maybe some TUNE hubs, a Syntace cockpit, and some deadly race rubber front and rear then I could excuse the choice to spec SRAM's two-piston Level brakes. They're lighter than SRAM's other options and when you're running micro-knobbies there's only so much braking traction to be delivered. But a GX spec level of bike, even with cross country intentions, is not a dedicated race machine, and the Level brakes are absolute theft. I cannot imagine a rider buying the Lux Trail for its stated purpose and being happy with these. At 190lbs I don't even like riding it down semi-steep gravel trails in North Vancouver. Trying to maintain control, never mind stopping on steep terrain, is absolutely terrifying.
The flat-mount brake mount on the Lux Trail doesn't limit Canyon to running flat-bar road brakes, there's an adapter for that. And if it simply has to be two-piston flat-mount brakes, do the German thing and spec some Maguras. Actually, some Magura MT Trail Sport brakes would be a great choice for this bike. I couldn't force myself to do another 'real' ride on the Level front brake so if you're wondering why there are only 1/2 cockpit shots from now on it's to hide the fact that I'm running mix-matched brakes so I can use systems I already own.
I also am going to file a complaint about the stock 34t ring. This isn't necessarily Canyon's fault but rather my main beef with the current version of SRAM Eagle. Frankly, the new 52t cassette cogs make product managers lazy. They see a 10t high gear and a 52t low gear and they choose a ring size that they assume makes the most effective use of that range for the most locations the bike will be sold at. Unfortunately, while probably suitable for a Lux XC race bike, the 34t ring that comes with the Lux Trail means the average rider anywhere with hills is going to spend a lot of time in that 52t cog. That cog is aluminum instead of steel and also has such an awful chainline that I can feel the extra drivetrain wearing as I pedal. With the 34t, I'm either buying a new ring on day one or wearing out a chain and a cassette way faster than I should.
Limited Shore-ification
My philosophy for this Canyon is to do the bare minimum to make it fun for Tech-C riding while leaving the bike as stock as possible and keeping the weight light while preserving the trail bike intentions.
For the saddle, I'll be playing with running a couple of different favourites, the BikeYoke Sagma and SQLab 60X, for the chainring I'm planning to pick up a 30t oval, and I have a four-piston Formula Cura 4 brake that has a similar enough lever blade ergonomic to the Levels that I think my brain will be able to overcome the mix of manufacturers.
I've also made some cockpit changes, swapped some rubber around, and installed a pair of my go-to push-on grips so the bike feels like it's mine.
The first bike changes I made were actually in the rubber department. I moved the stock Rekon front tire to the back, put the Rekon Race tire aside in case I want to go extra spicy in the future, and I put my own 2.4" Maxxis DHRII EXO+ MaxxTerra tire in the front. The DHRII has never been my favourite front tire but shortages have me currently running the MaxxTerra version on the front of both my bikes and I appreciate the consistent braking, for reasonable rolling resistance, in our current conditions.
I'm surprisingly comfortable on the 125mm dropper post on every trail I've taken the Lux Trail down. This is fortunate since I'd need to drop to a medium frame to run a longer dropper than stock. As with the headtube angle, or my proposed 66° HTA update, I think the dropper post is a good limiter for me in terms of keeping to riding terrain where the Lux Trail will be fun. I'm planning to stick to the traverses and the steeps that I'm used to.
But Weight
I am going to post a scale shot of the Lux Trail, but this photo is the way I'm riding it. On top of my other changes, I added some OneUp Composite pedals. I removed the water bottles but left the cages, and then I came up with a total weight of 28.06lbs for a size large.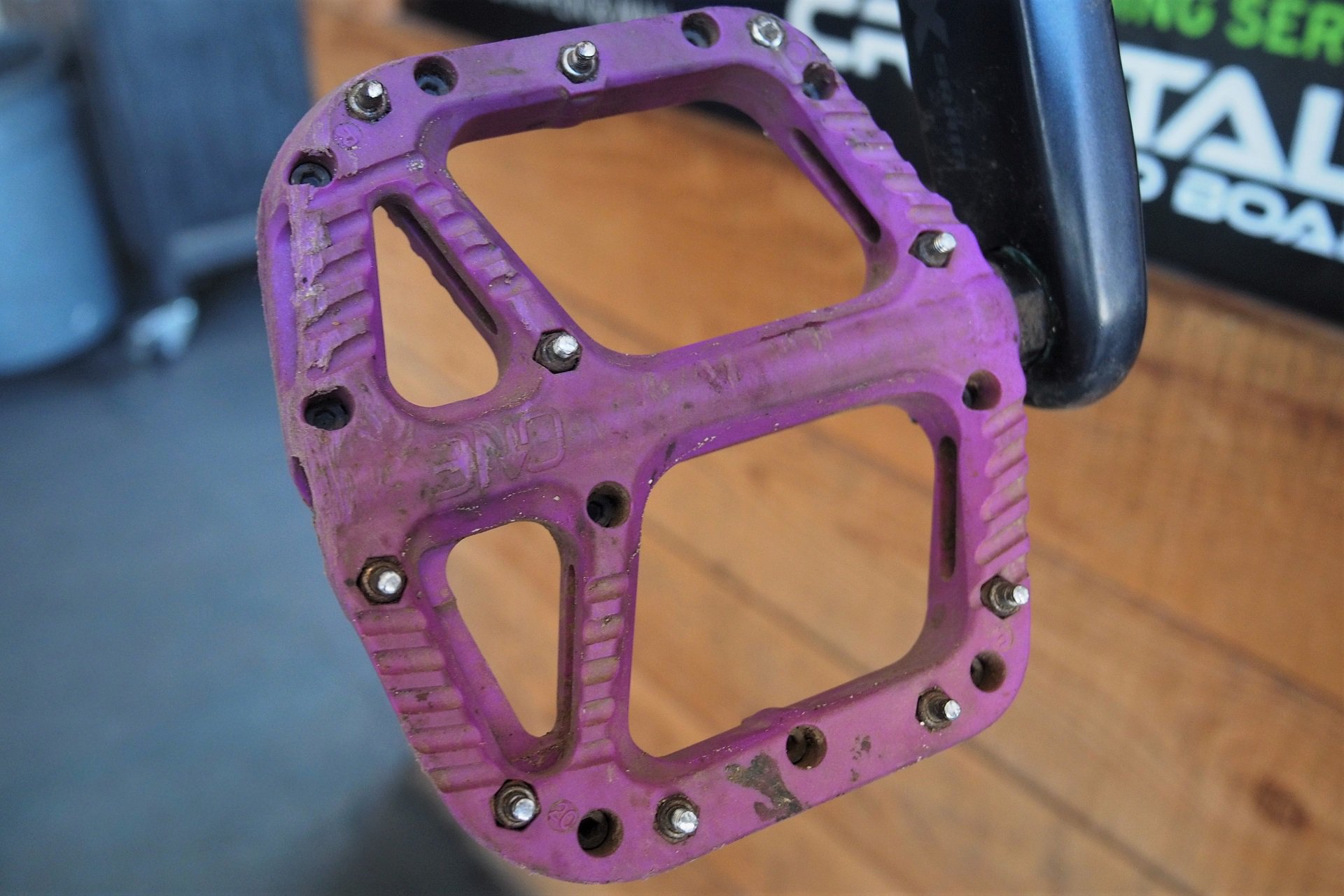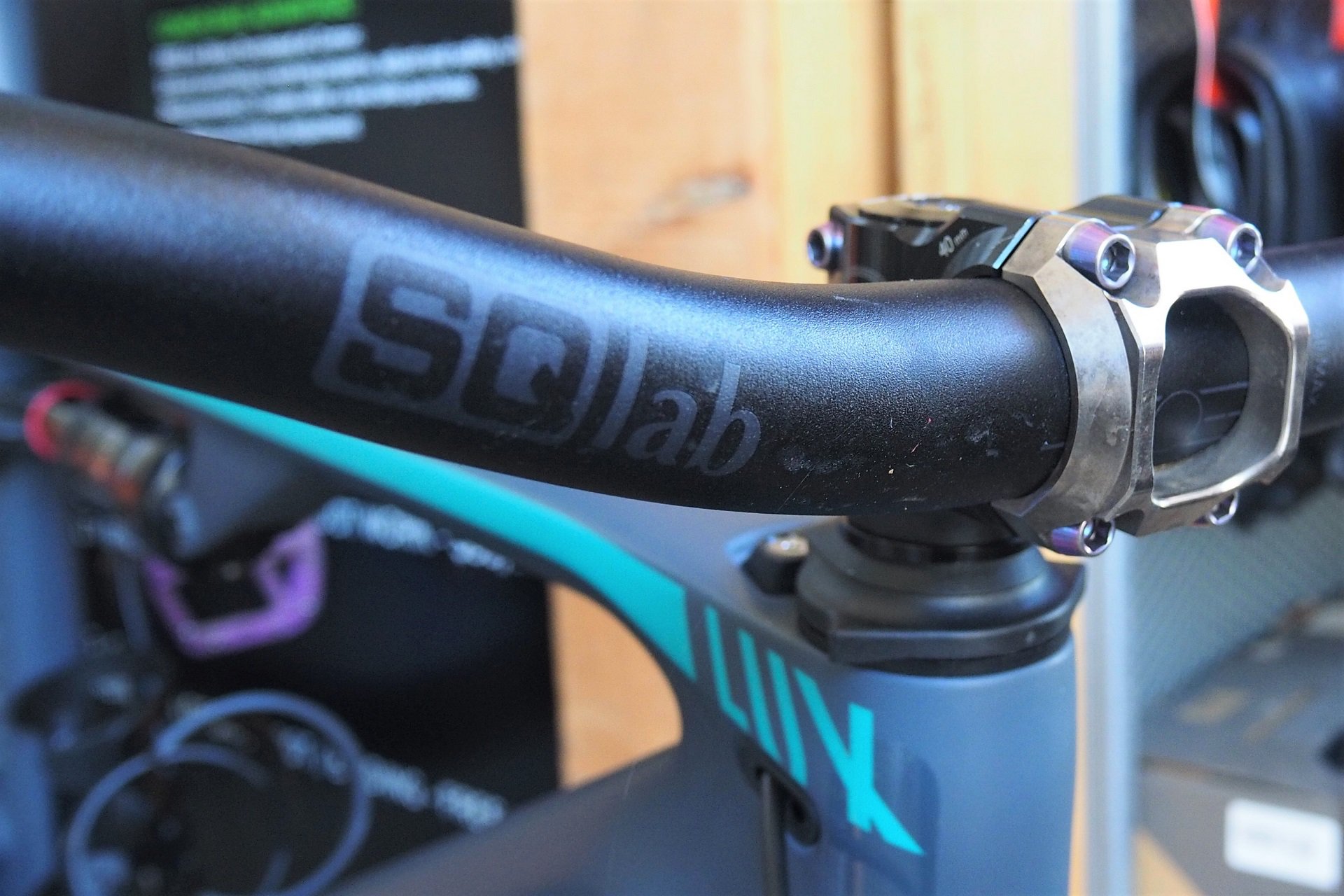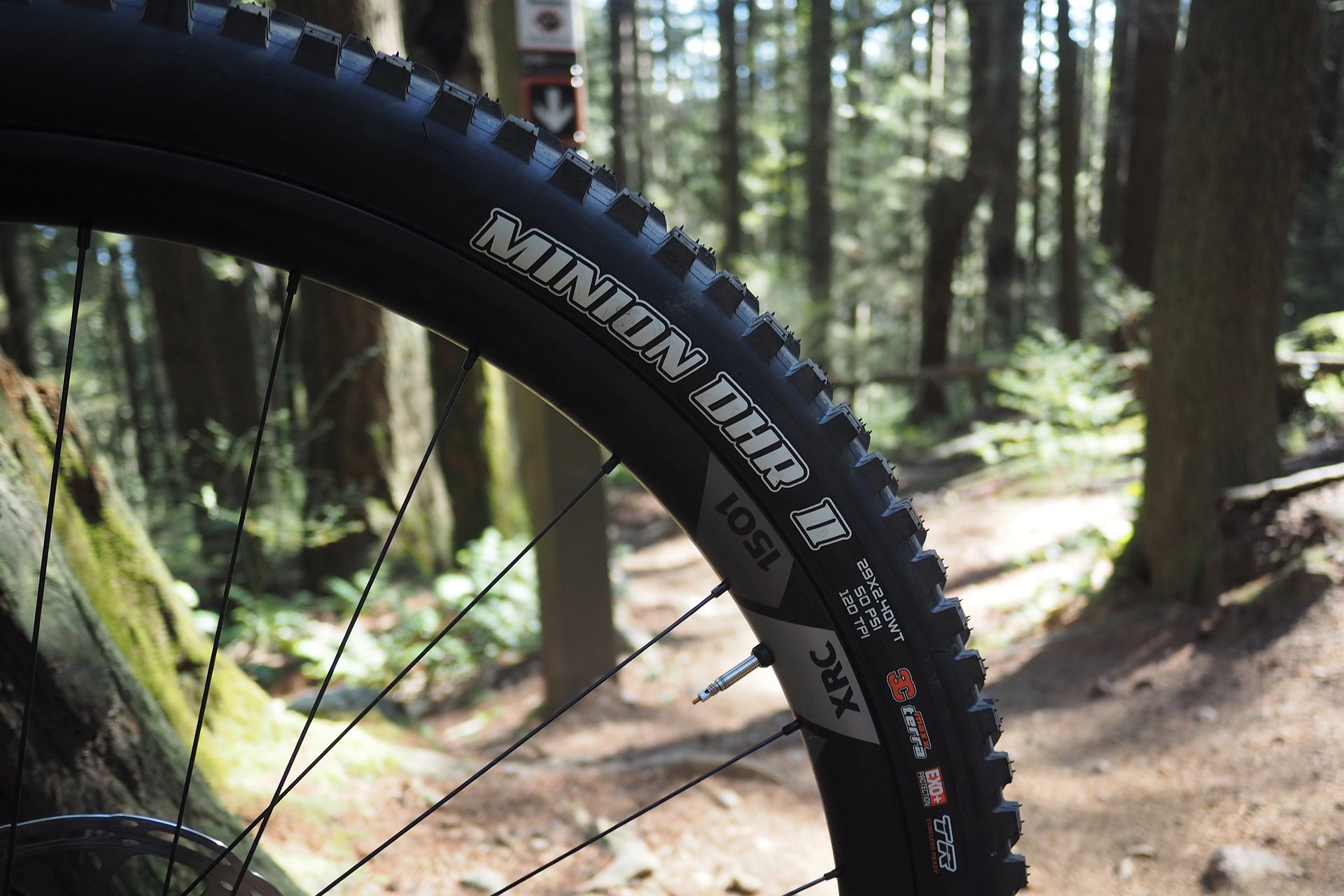 This Lux Trail really does fly. The pedaling position is great for delivering power to the pedals and on really steep climbs, where a steep seat tube angle may be great on an Enduro bike, I'm generally up out of the saddle anyway. My couple rides so far have included plenty of pavement and gravel, technical singletrack climbs, and then hard-enough descents that I feel I am getting the full measure of the complete package.
Lock Out SID
A lot of thought and effort went into making the Lux Trail a double-lock-out bike, whether in its Fox or RockShox suspension guise. At least with the AXS version, there are still the cosmetically correct four cables. On the other models of the Lux Trail there are going to be six housings - add the shifter and dropper - going around the headtube and that's busy.
The carbon front triangle is specifically shaped so that the shock lockout clears in an orientation that looks clean from either side. And that's why, unlike the ThunderVolt, I didn't just pull the lock-out cables and housing and ride the bike open for the duration of the test. I have used the dual-lock system on the road a bit and it adds to out-of-the-saddle efficiency on pavement. Anywhere else the combination of support and traction that the SID fork and Deluxe shock deliver is excellent.
The SID spec initially struck me as a bit strange - why not a Pike and a Deluxe? This suspension setup is heavily damped compared to any RockShox products I've ridden but on the trails, the performance-to-weight ratio is impressive. It's very early days so we'll see what the performance longevity is like but I'm surprisingly happy with the lightweight RockShox package.
Boundary-ies
I'm very down with the aesthetic of this bike. Bumping into my friend Kim, riding up No Quarter on Fromme, she took a look at the bike, nodded, and said "it looks like a hardtail." It's a very classy, looking mountain bike that happens to deliver 110mm of travel in the rear. It also puts pedal power into the ground as well as any full suspension bike I've ridden. Now my goal is to maximize the descending experience without unduly affecting those ascending chops.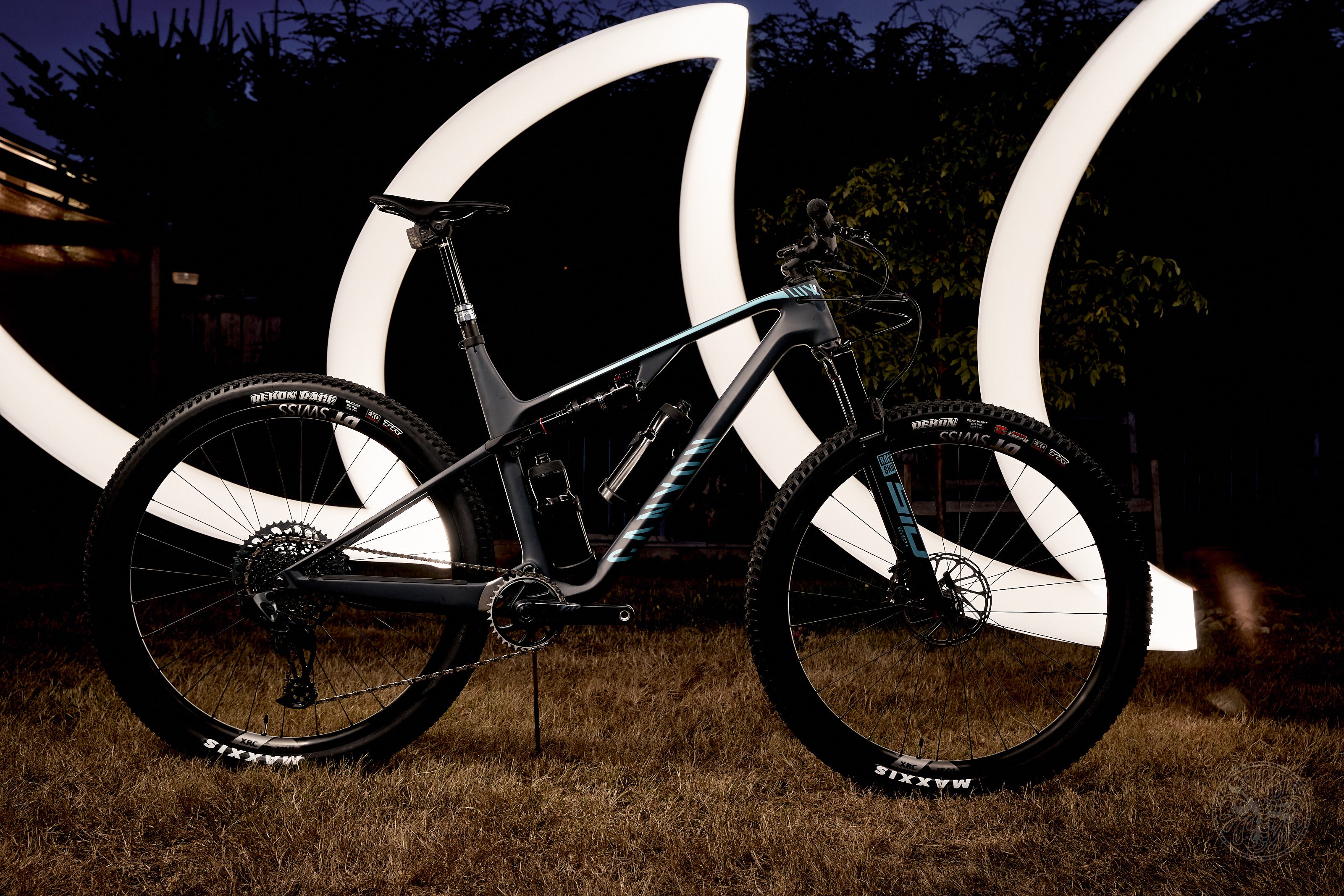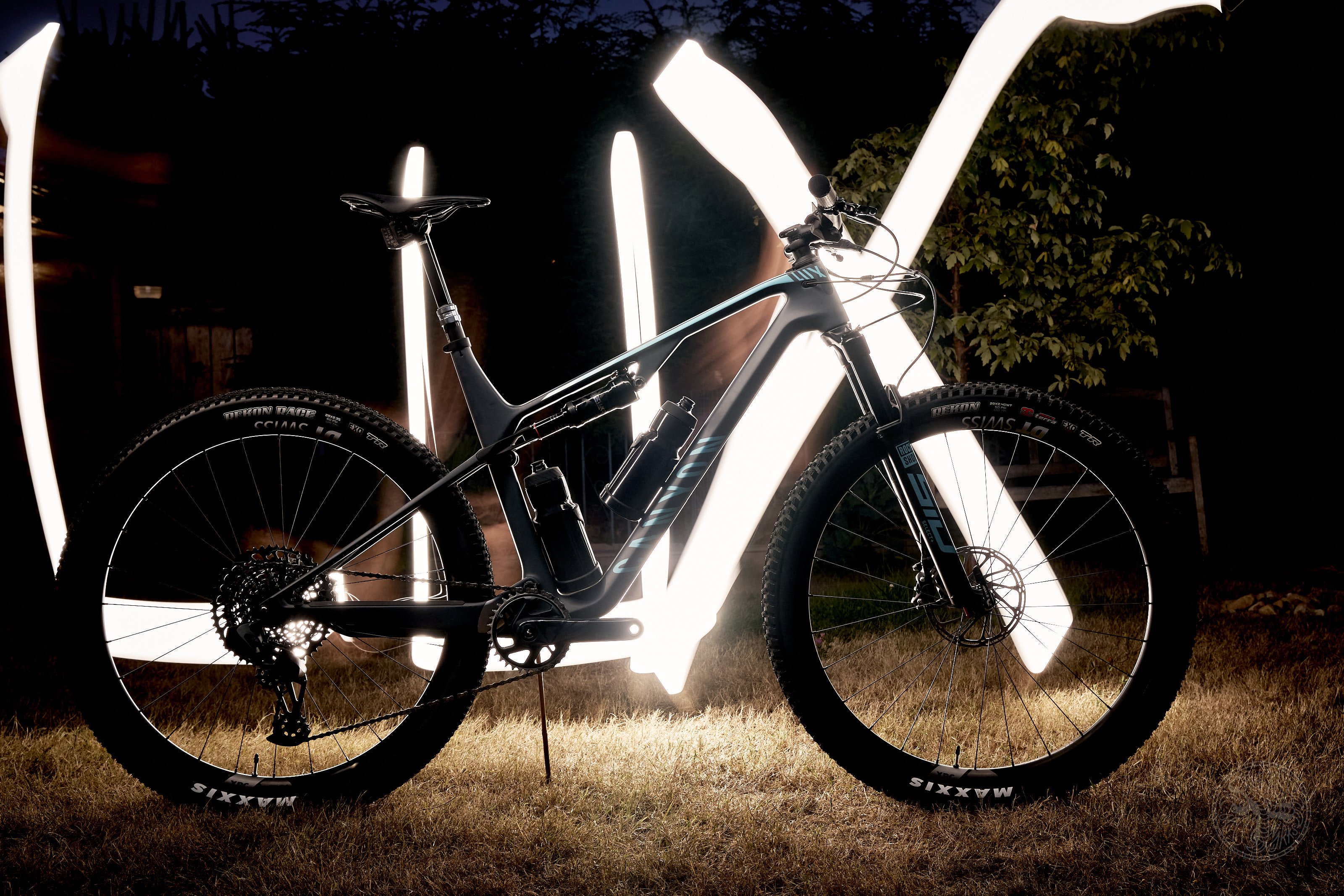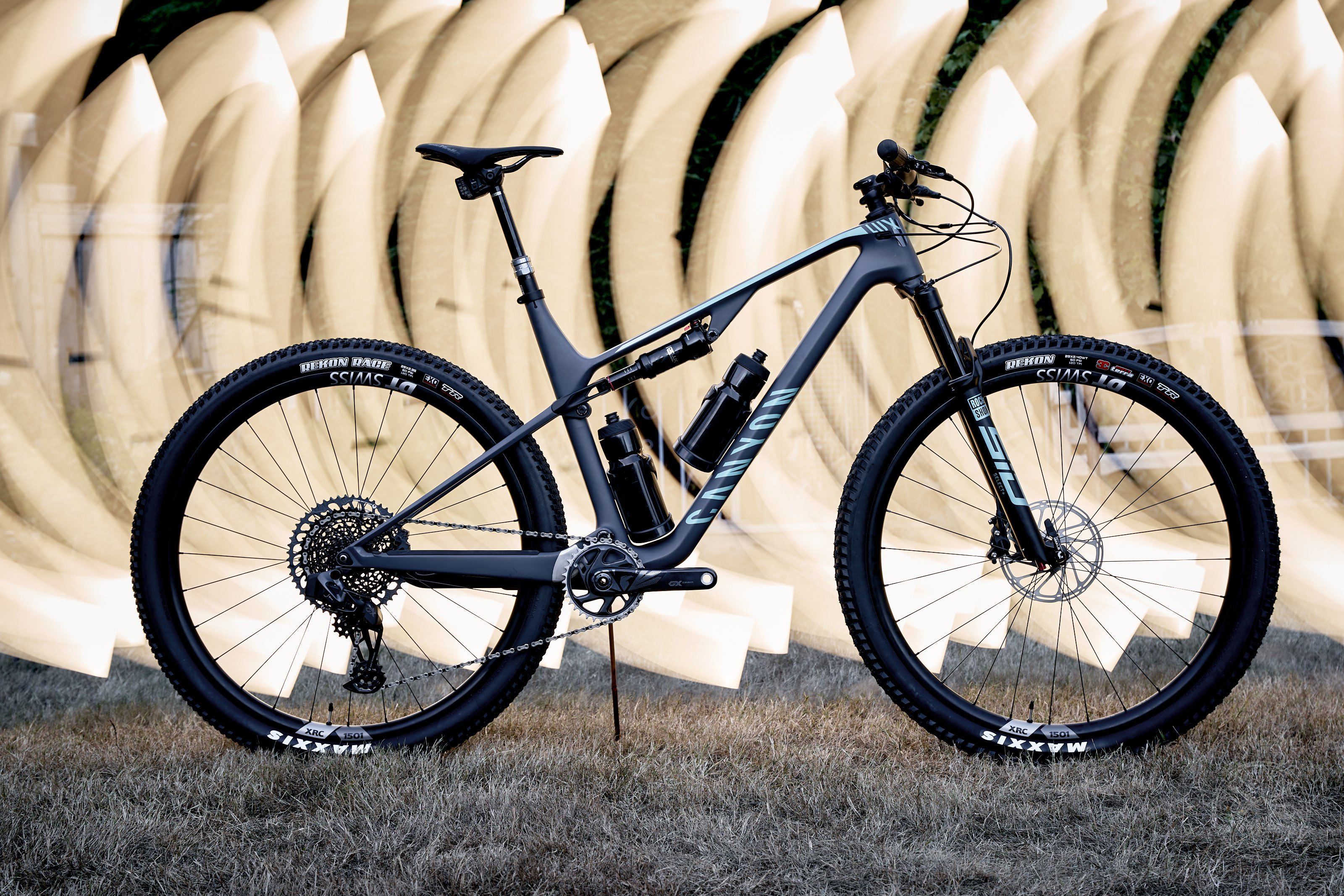 For my very first ride on the Lux Trail, with those Level brakes still installed front and rear, I rode up from sea level to Fromme on a mix of pavement, gravel, and single track and then took it down Boundary Trail. It was great and I learned a lot of stuff right away. It wasn't my fastest or most competent effort but truly the brakes were the only thing holding me back. That's pretty impressive for a 110mm/120mm trail bike with a serious XC-lean and I'm looking forward to coming back once or twice and discussing where the bike and I have gone from here.
This Lux Trail is a hell of a bike for 7K CAD, about 5550 USD, especially considering the SRP of the DT Swiss XRC 1501 wheels represents about a third of the price. If you aren't decently handy with the tools then also add the cost of having a shop build it for you. It doesn't make sense to cut corners when buying a really nice machine you'll hopefully have for years.