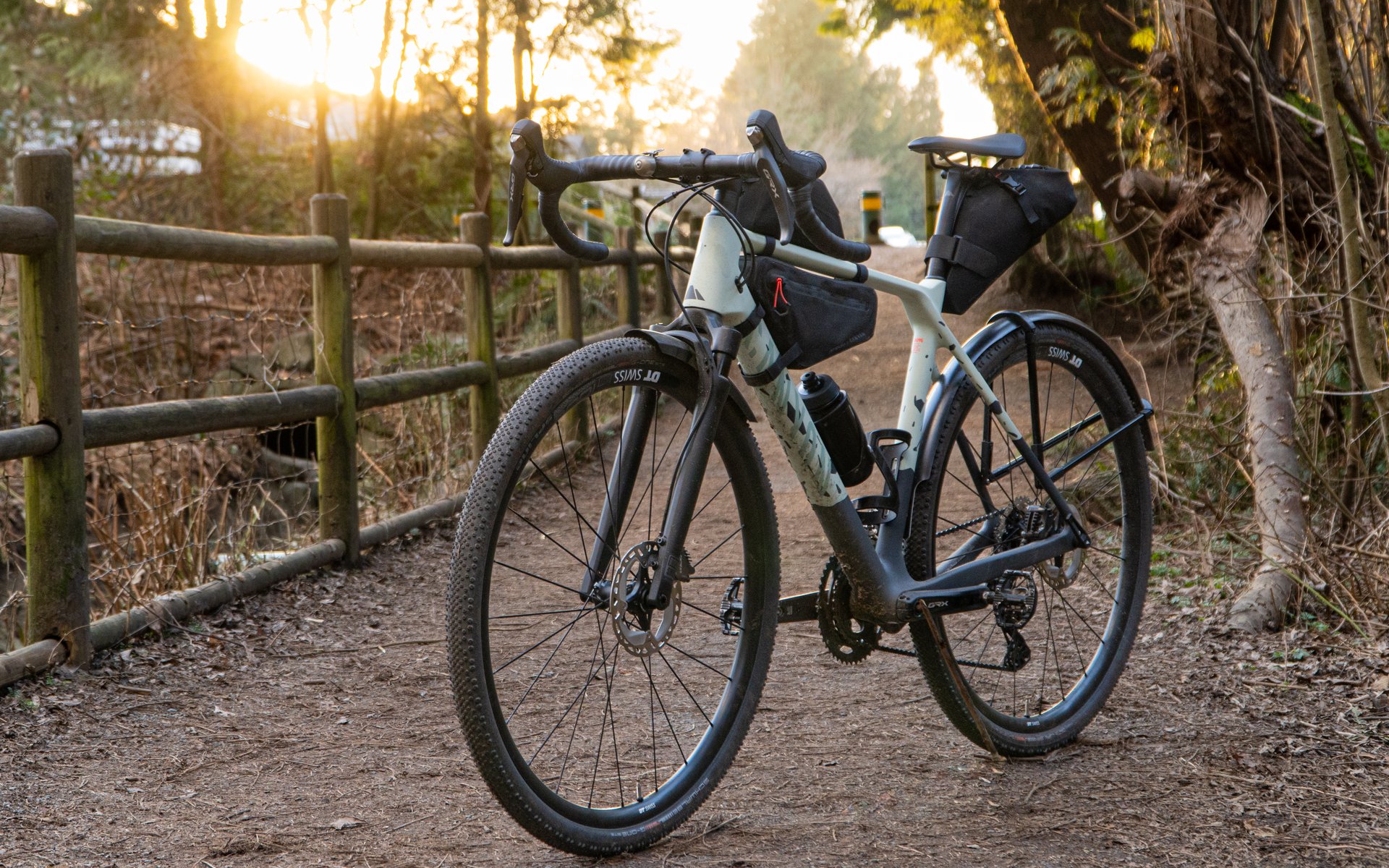 Long Term Review
2022 Canyon Grizl CF SL 8 Suspension (Gravel)
What makes a mountain bike a mountain bike? As you think about your answer, go back 18 seconds ago before you typed NSMB.com into your URL bar, hit enter, and clicked into here. By now, you've seen the title image, all your subconscious biases have kicked in, and it's too late to think objectively. But I'll bet you're thinking, "That is not a mountain bike."
And you'd be right.
Despite front suspension, knobby tires, a dropper post, hydraulic disc brakes, a wide range 1x drivetrain, and being perfectly adept on a reasonable amount of mountain bike trails, no. Even if you put really wide drop bars on it, the Canyon Grizl is not a mountain bike. It's not a mountain bike in 2022 and it;s not a mountain bike from the 90s (or 80s, either.
I'd argue it's not the drop bars that are the differentiator, either. Because this was a mountain bike way back when, and this is a mountain bike now. It's not tire size – look at all the emerging genres (or perhaps just assigning category names to bicycles that already existed) like monstercross. You could make an argument we've come full circle and reinvented the ATB in some cases, but I'd say pretty definitively that most folks will agree the Grizl is a gravel bike pure and simple.
*Click here for Cooper's First Impressions of this Grizl of a bike.
What then makes a mountain bike a mountain bike? Or in this case, a gravel bike a gravel bike? In my mind there's no clear singular defining characteristic; bikes exist on a continuum and there are large amounts of overlap between geometry, componentry, and usage. But we must assign labels. It's human. While I contend this is a gravel bike, the only method I can use to say why, is to paraphrase United States Supreme Court Justice Potter Stewart's description of hard-core pornography.

"I shall not today attempt further to define the kinds of material I understand to be embraced within that shorthand description ["gravel bikes"], and perhaps I could never succeed in intelligibly doing so. But I know it when I see it, and the bicycle involved in this case is that."
Defining who a gravel bike is for is less difficult. If there's a Venn Diagram of bicycle riders, gravel exists at the overlap point of many circles – mountain bikers, road riders, cyclocross, casual and hardcore tourers… the list goes on. It's easy to explain the popularity when you look at what customers are well suited to a strange road/mountain hybrid bike with some of the best attributes from both worlds. They're efficient at covering long distances at a good clip, more comfortable than their dedicated road-going cousins, don't mind rough surfaces or mixed conditions, and are capable of reasonably technical trails as well. This jack of all trades and surfaces nature suits most cyclists (it should go without saying that a gravel bike isn't likely to replace your mountain bike, but most cyclists – even offroad cyclists – aren't necessarily mountain bikers in the NSMB.com sense.). Lycra, baggies, jorts, flat bars, flat pedals, drop bars, clipless pedals, 1x, 2x… gravel cares naught, there's a space for you.
Which brings us in a roundabout way to the Canyon Grizl: it's time to follow up on our First Look.
Changes
After much whingeing by yours truly in that first look, the front derailleur is gone and at the back of the bike there's now an 11 speed, 11-50 tooth cassette by Garbaruk mated to a 42 tooth front ring – there's a full review on that here.
I've swapped the handlebars to something with a bit more flare. I wanted to keep this bike a bit racy, so the new Easton EC90 AX adorns the front of the bike in a non-Ferrentinoish 42 cm width. These aren't much wider than the stock Canyon bar, however they're much lighter and have significantly more flare which I find more comfortable. This bar has been a good upgrade – comfortable amounts of flex and vibration damping, and the shape works well for me.
I've also switched the saddle to my personal favourite – the Reform Seymour. These featherweight (197g), made-in-Vancouver carbon saddles feature internal wiring (a whopping 7 grams of it) and can be custom molded to your tuchus via a plug that re-heats the carbon resin just enough to temporarily soften it and conform to you. Think ski boot fitting, but for your bike. Sure they're spendy, but pinching pennies for an uncomfortable saddle is like cheaping out on a mattress. The only fool is you.
Just below that saddle is an important change as well, the Fox... er… sorry, the EASTON EA70 AX dropper post. The astute among you will notice the similarities between this post and the Fox Transfer SL, because they're the same thing. The post is controlled by Easton's very clever dropper remote, accessible from the hoods and drops.. You can run the cable either way through the seatpost, which comes in handy for various activation methods. The post is ridiculously light, the action on it is smooth and light, it only locks at the top and the bottom, and I'd put one on my mountain bike if they made it longer.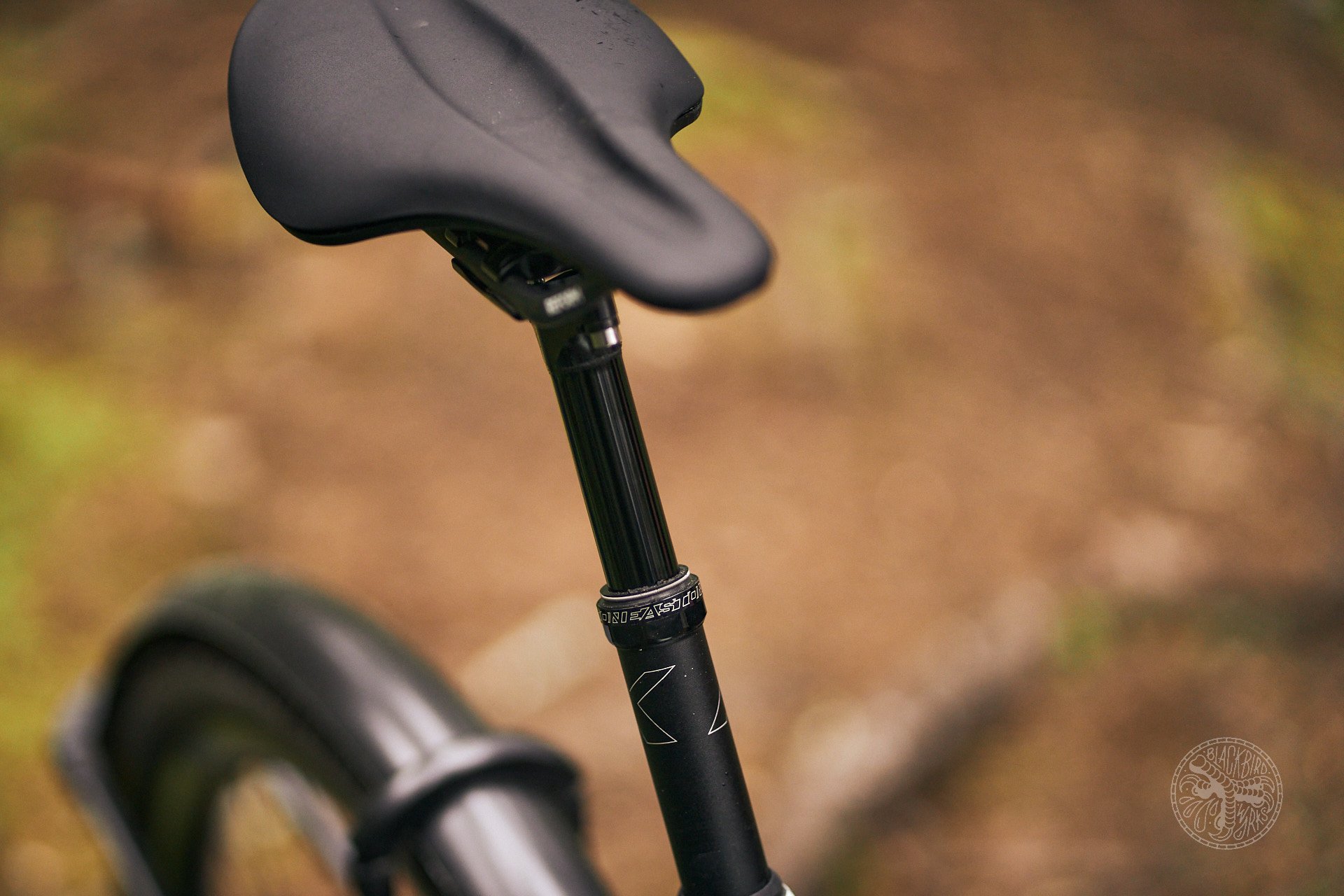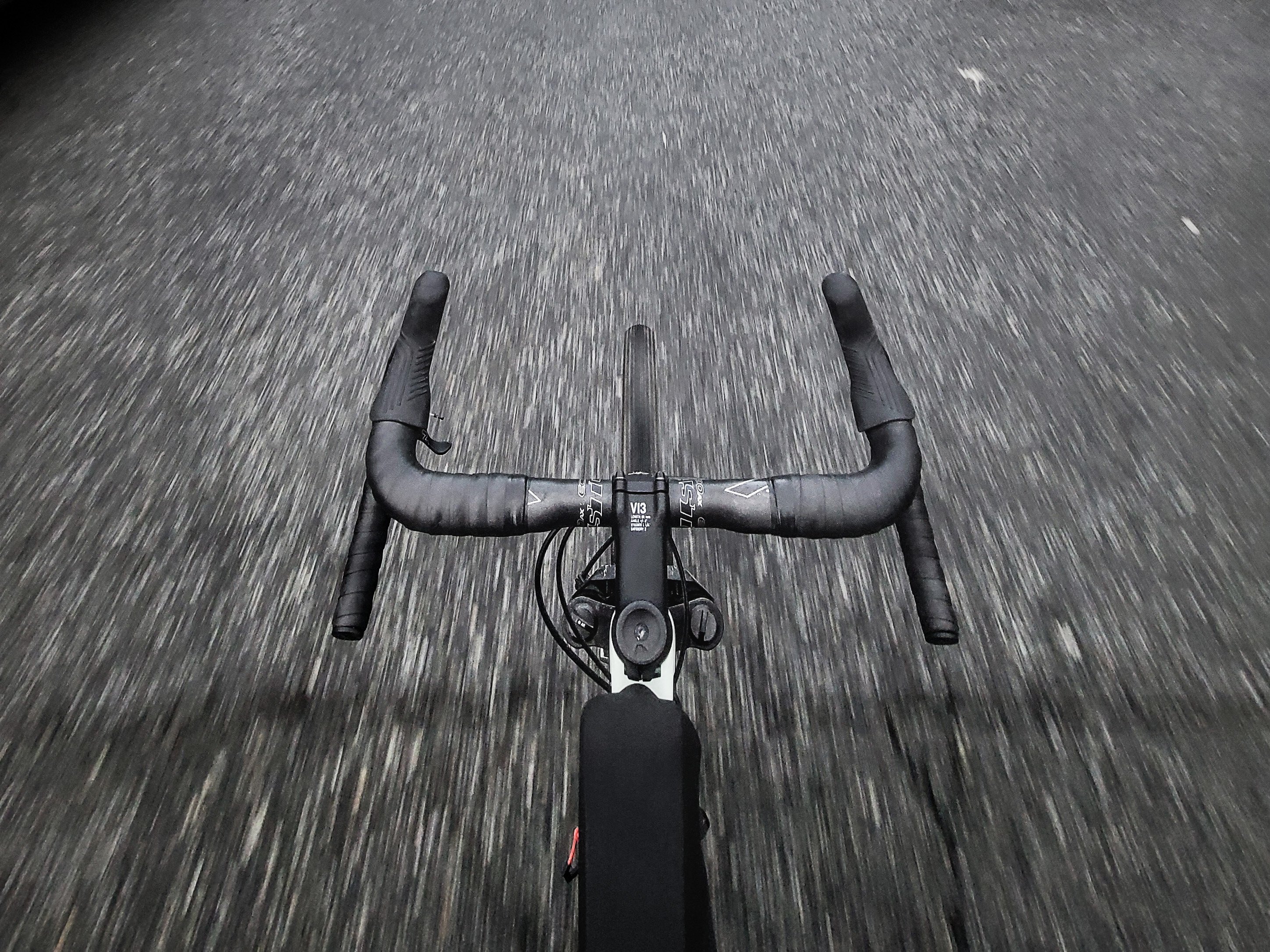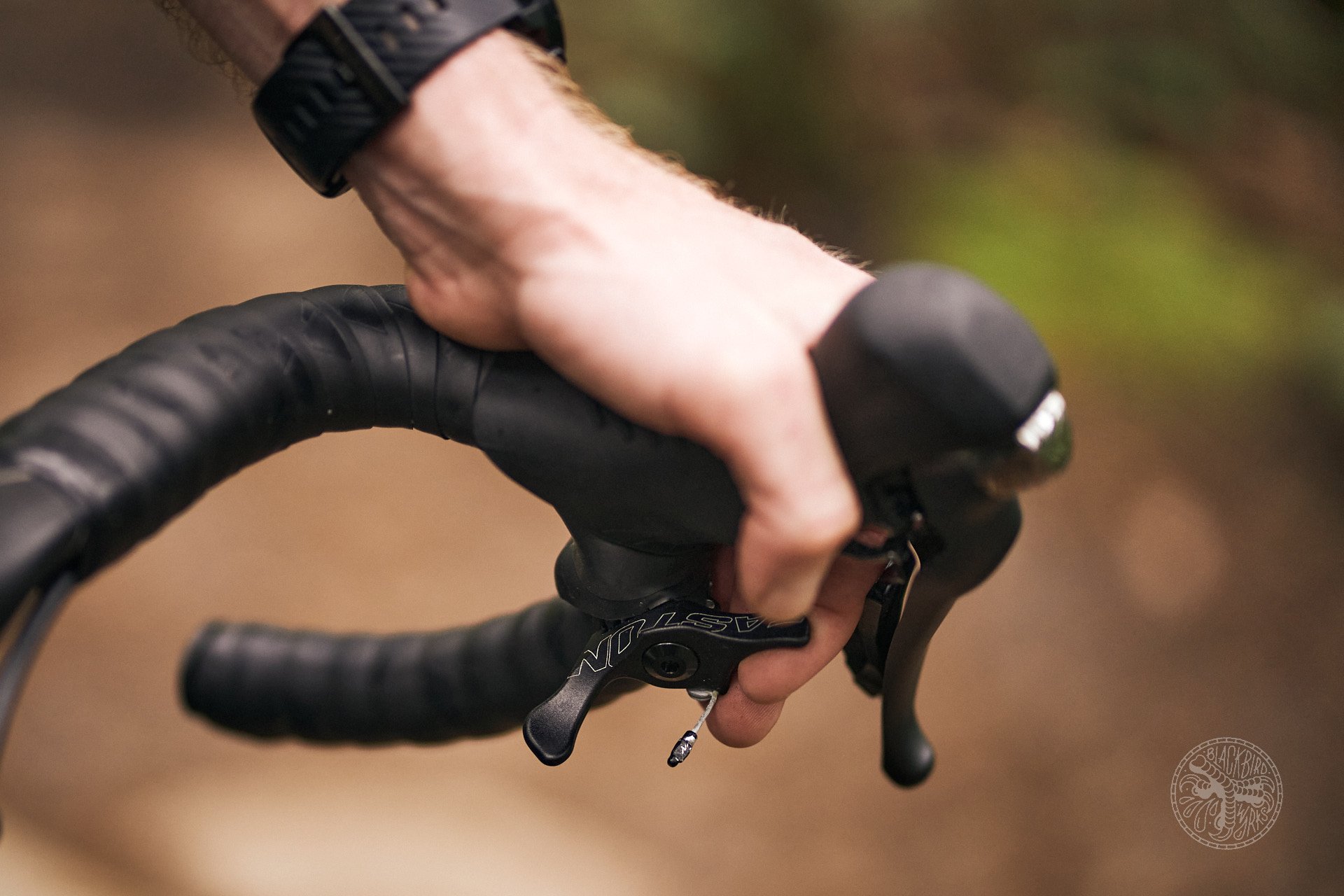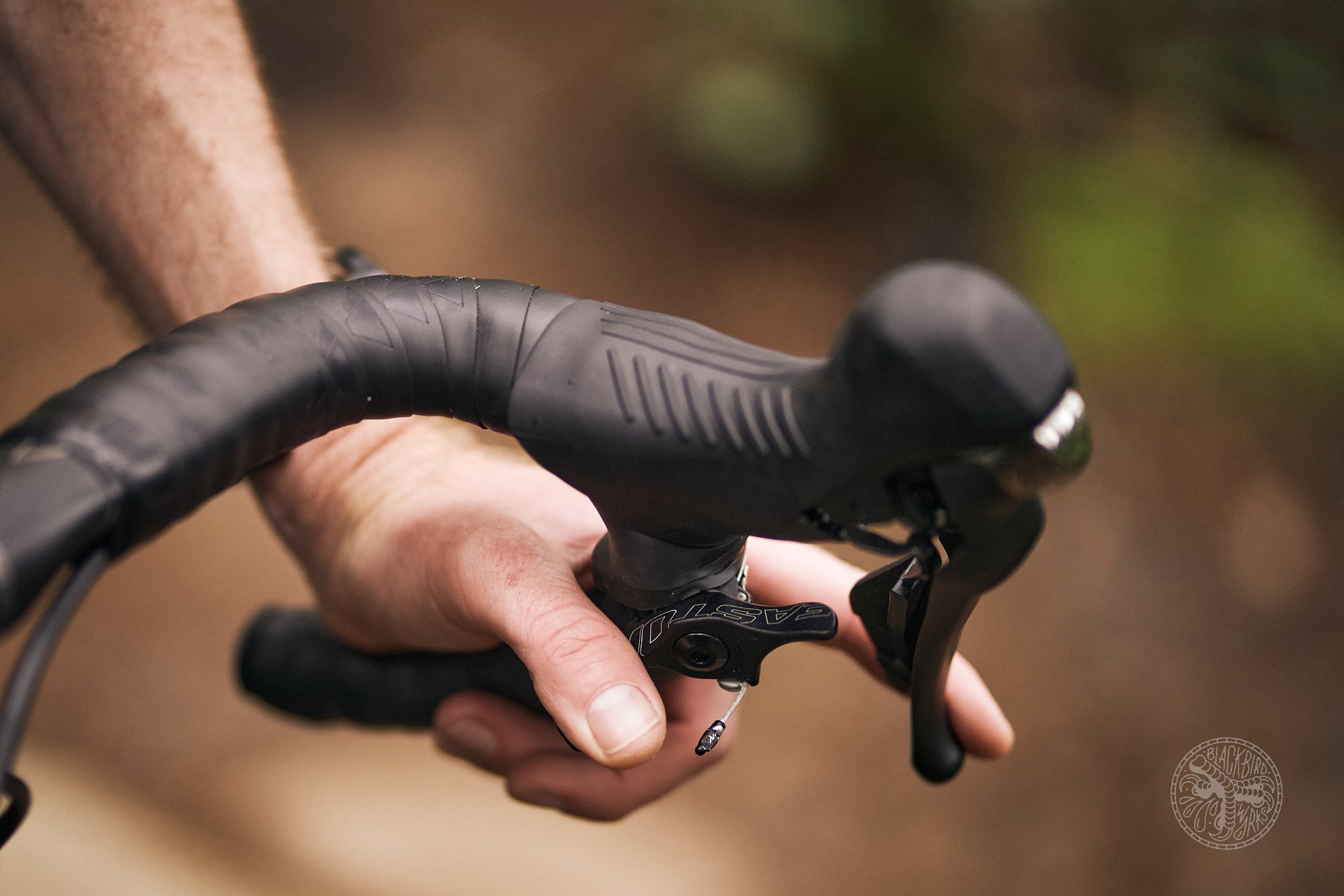 Goin' Grizlin'
I've got a lot more miles on the Grizl now than my first look; some impressions have changed and some have stayed the same. Overall, I still really like this bike. It's comfortable, fast, and generally a bit of a riot to rip around on. It's a bike that's stable on high speed road descents as well as traditional gravel, and the geo is friendly enough to get technical if you like. I've had it on a mix of pretty much everything, and where the Grizl really excels is exactly where you'd expect – mixed surface paths and gravel trails. I realize that may sound like a silly thing to say, but it's right at home ripping around on dirt.. Power transfer is excellent, and I'd say the next big upgrade I'd look at would be some lighter wheels to accent the acceleration.
That's not to say you can't get rowdy on the Grizl – its geometry means it's capable here, too. If you need to duck around traffic on the multi-use path by chucking yourself off a three or four stair set, go for it. If you're underbiking, mountain bike lite-ing, or generally riding rough technical trails, the party post is an excellent addition (Canyon also has several Grizl models that include a dropper) and makes steep and technical terrain much less "ohgodohgodohgod" and closer to something approaching "wheeee", but probably said with apprehension.
In my initial review, I didn't quite 'get' the 30mm travel Rudy suspension fork. I wasn't sure if it was for me; by my estimation the fork was geared towards folks out there on enormously long days, and built to add a measure of comfort. And while I still think that's still probably true, I was wrong. It's also great when things get up to or beyond where you should probably be on a gravel bike. It takes the edge off surprise hits, rough terrain, small drops, cute little jumps and the like. I'm running significantly more pressure than recommended for my weight in an effort to reduce bob at the expense of small bump compliance. I'm using the Rudy as something to save me when I'm stupid, not to save my hands after 16 hours. It's still heavy, complex, and expensive, but it's also very fun.
Gone Grizlin'
I covered the Apidura x Canyon bags in my first look, and they're holding up well. I haven't had an opportunity to get out for any overnights yet (the weather up here in the PNW has been particularly PNW-y all spring), but the frame bag and fuel tank bag see extensive use, in fact I've never taken them off, and I'd recommend them as an easy add on to your purchase. Snacks, camera, and clothing have all remained dry. Apidura also has a great program for repairs, and I'm all for companies that stand behind their gear and will repair – or teach you to repair - instead of replace.
Conclusions
Should you buy a Grizl? If you're looking for a gravel bike and there's a Grizl in your budget (there's builds from $2,149 to $6,599 CAD) it's a great, flexible platform. It's not too racy but it's fast, it's good for adventure and comfortable going slow, and there's build kits to suit most folks. Which is who gravel bikes suit; most folks, even if they don't know it yet. Certainly you don't NEED a Grizl - your mountain bike can cover all the same terrain, but it'll be slower, harder, possibly more uncomfortable, and will just be a less enjoyable experience on the same ride. If you do get one, just skip the Canyon water bottles and cages, ok?