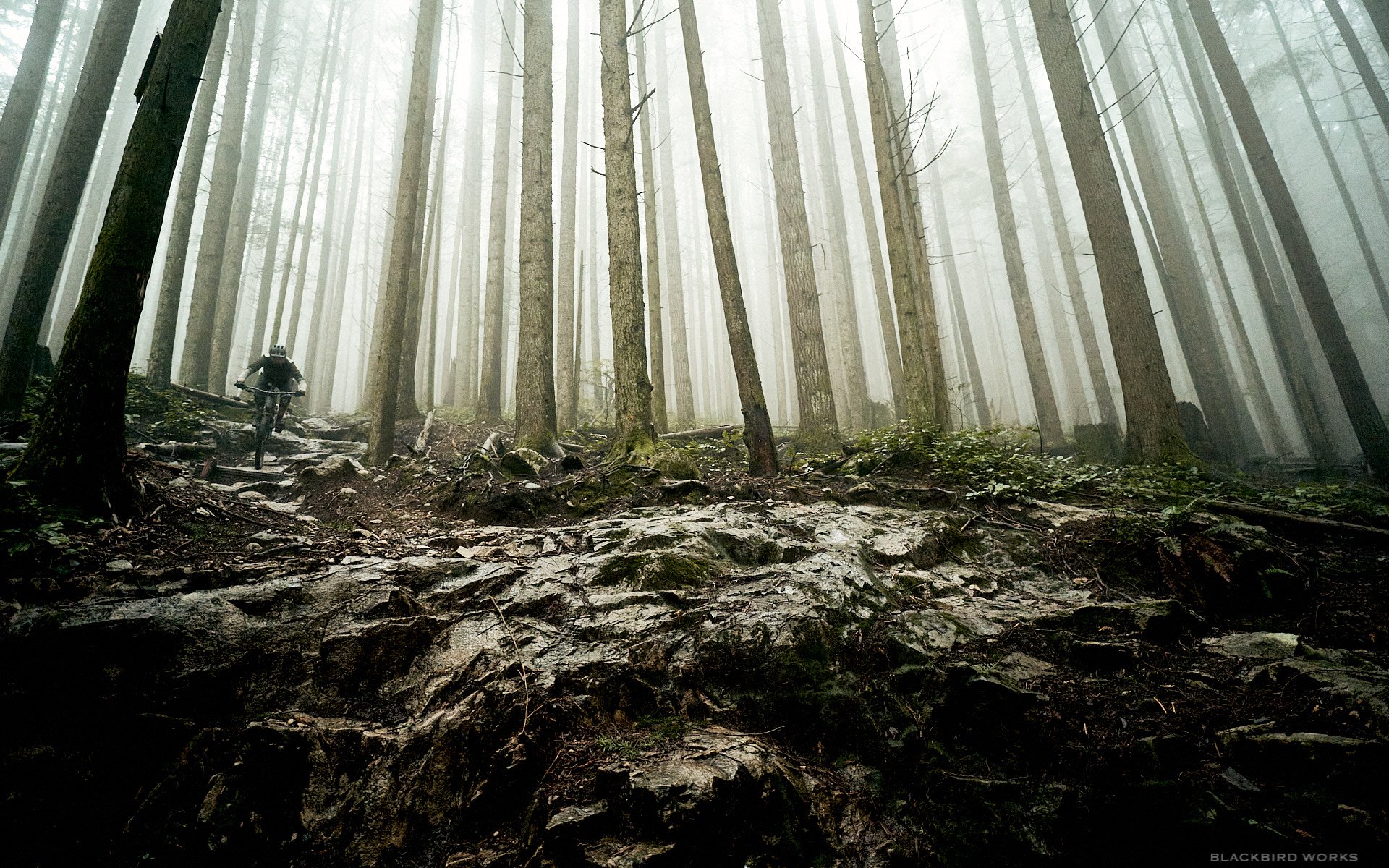 Full Review
2021 Norco Shore 1 - Review
In the world of bicycle reviewing, there are 3 kinds of bikes. The first, and easiest, are the bikes that work well for your riding style. All a reviewer needs to do is come up with a half dozen similes, shoot a few photos and call it a day.
Next, you have the bikes that don't work so well for your riding style. Then you have to work a bit. Is it your problem, or the bike's? Is it fixable? Or does it just need a totally different set of terrain, conditions and attitudes to turn a wheelbarrow full of lemons into a nice pitcher of lemonade.
98% of bike reviews fall somewhere on a spectrum, book-ended by these two types of reviews. Very occasionally, you wind up with one that doesn't, and it turns the review process into a bit of a doozy. What happens when you find a bicycle that changes the way you want to ride? What happens when you find one that all of a sudden has you bugging people for shuttles and thinking about a bike park pass once again? What happens when a bicycle tells you that you've wasted the last 12 years of your life riding up the damn hill when you could have just been hauling something like this to the top in the back of your pickup truck? What happens then?
On Setup, Break-in and Adaptation
For a number of reasons, the Shore is not a bike on which you start kicking asses, first ride.
First off, that 38 needs to break-in! Speaking with Tim Coleman, he experienced something similar with the 38's he has tested, so that shit is pretty much gospel, in my books. Until that break-in happens, you're more-or-less just guessing at settings. I started at the stock recommended Norco settings and struggled to use even 2/3 of the travel. I dropped pressure and tokens...then more pressure and tokens...and then it started to feel okay. And then as the fork broke in I found myself adding pressure...and a token...and a bit more pressure. Eventually, I got to almost right on the recommended settings from Fox, but with the slightly lighter damping suggestions from Norco. The "all of the pressure and all of the tokens" recommendations from Norco would probably work in the bike park, but were a bit stiff for my regular riding. Honestly, I probably would have taken that token out, but somebody at Norco mentioned that perfect set-up for my average after work ride shouldn't be my ultimate goal, so I left it in.
The rear end was the opposite. Well, not quite the opposite, but a whole lot easier to figure out. Before my first ride I plugged in the recommended Norco settings and the Fox Factory DHX2 coil, and the only change I made was to add a click of both LSC and LSR to try to reduce pedal bob a bit. Other than that, there was no fiddling required. It just worked, everywhere and anywhere.
Let's go back to that first ride for a second (and our first look preview). I ended up hitting the deck twice on that ride! They were both of the slowly-riding-into-things variety, but one put a nasty bruise on my thigh that took a few weeks to disappear and upset me a little bit. Getting used to the gigantic wheelbase took a bit of adaptation. Generally speaking, I can hop on most bikes and feel pretty comfortable, pretty quickly, but this was not one of those times. Indeed, halfway through my first ride I thought I might just hurl the thing into the woods and give Norco a rough idea as to where they could find their bike. But things did get better.
As well, surprisingly, it was no big deal to come back to the bike after spending time on others. I experienced something similar with the Yeti SB5.5. The first few rides were comical as I adapted to the bike, but once I had "slack, longer travel 29er riding" encoded into my DNA it was never a problem again. It was the same phenomenon here. Hopping back and forth between bikes also seemed to be a part of the key to realizing that there's something a bit special going on here.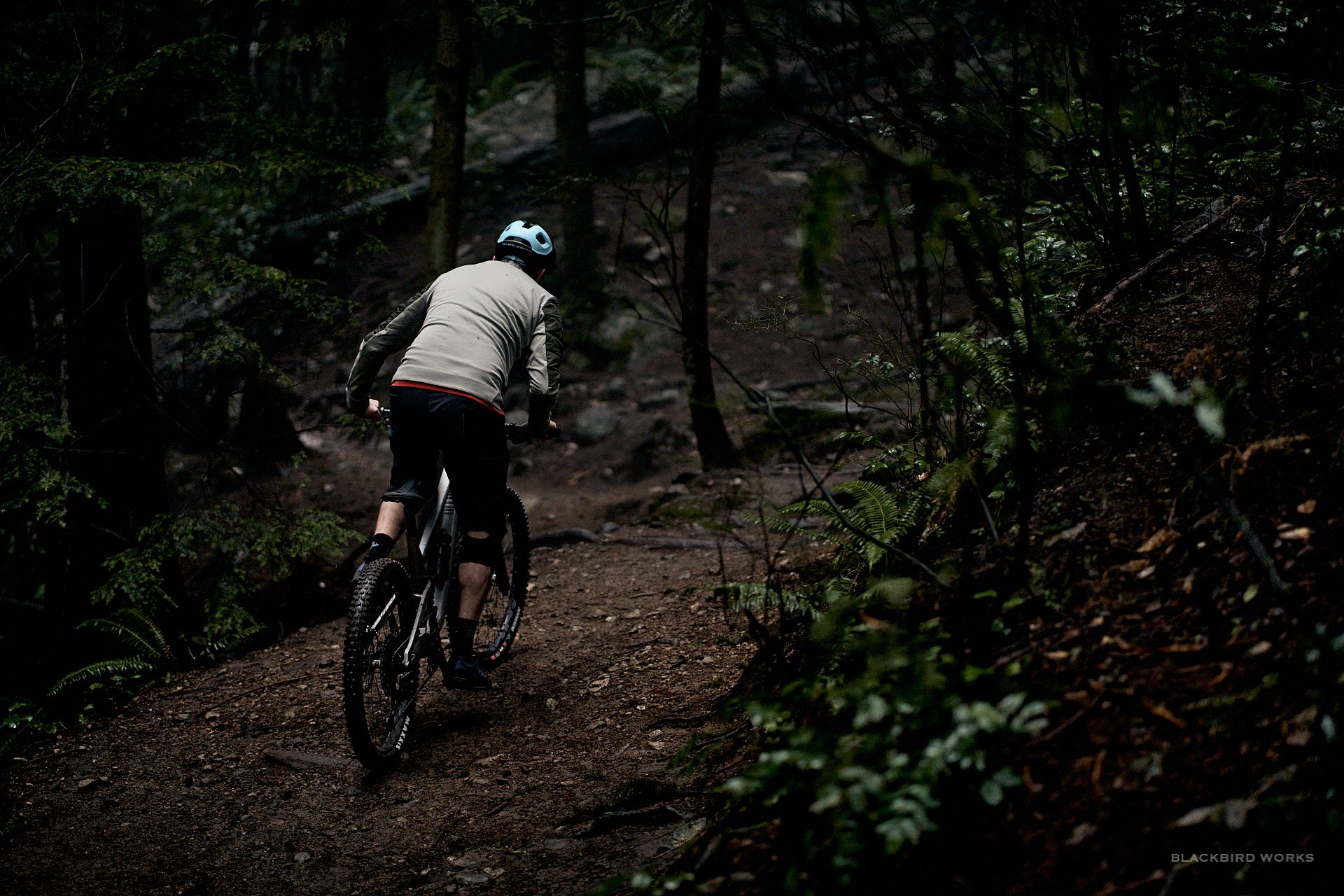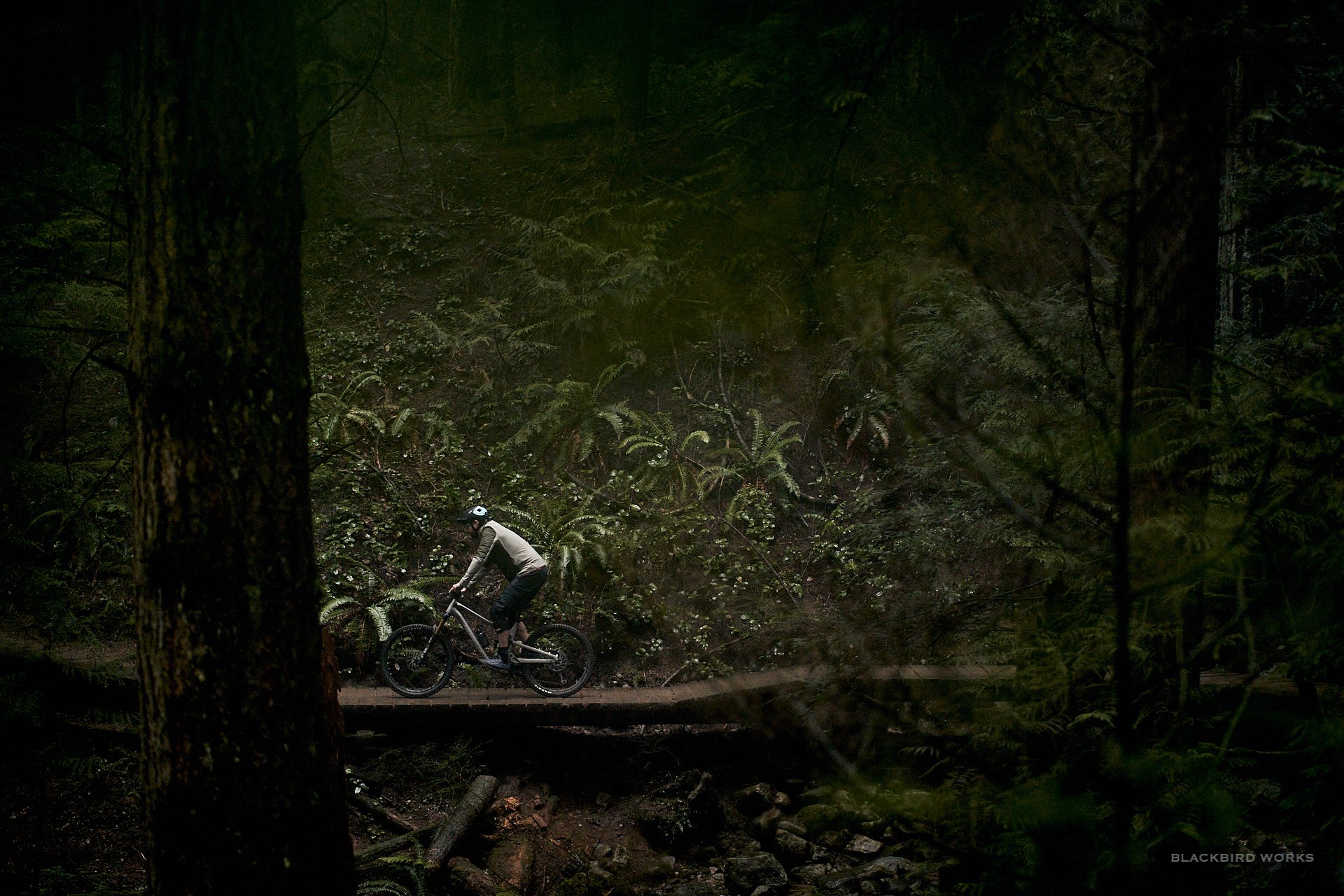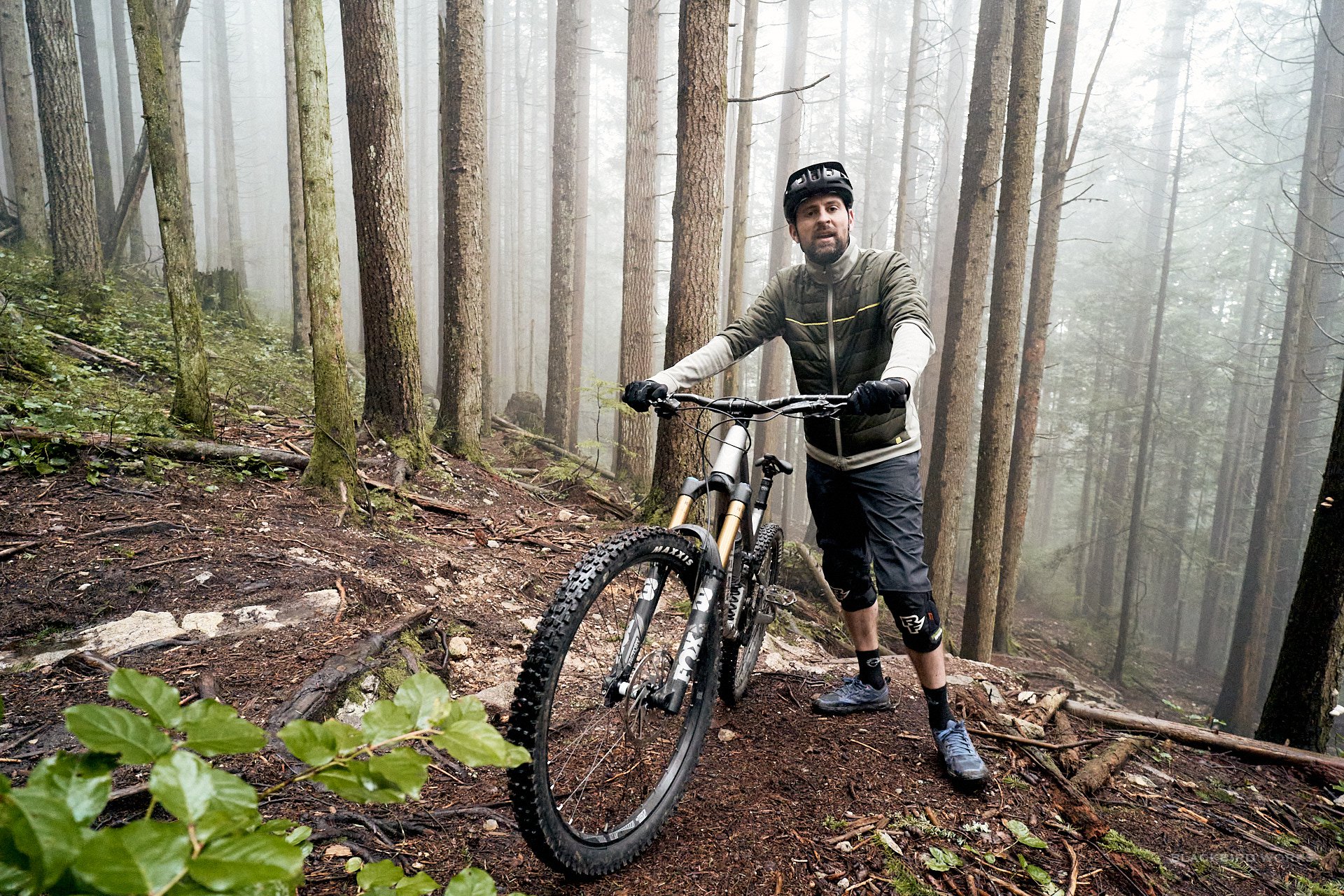 Upwards
I think I said this already in the preview, but I'm going to say it a few more times here. The Shore is definitely not a bike that you dream of having underneath when you ride uphill. I've had a few people contact me to wonder if this bike could be the ultimate long travel one bike quiver. It could, but the climbing performance is something that can't be ignored. I'm not quite to the point of calling it a "bad climber." It does pedal fairly well, but you would certainly need to add an incredible quantity of asterisks to any description that referred to it as a "good climber." It did get better as the test wore on (fork breaking in, new idler bearing, 32 tooth ring, rear tire wearing down, etc.) but it still took a lot of energy and a fair amount of time to get to the top of a mountain. It climbs technical trails well, and the heft almost seems less noticeable in these situations. Just stay seated and spin like crazy and it will go up most things.
No matter the terrain, I spent way, way more time in the bailout cog of this bike than I have with any bike before it. And of course I did! It's a bloody 180mm travel bike that weighs a tonne. Can you climb with it? Absolutely. Does it offer far more versatility than a full DH bike by adding a dropper and steep seat tube angle? Indubitably! But if you are the kind of person that puts a 180mm travel bike through to work, and that rides with other people that put similar bikes to work...you are not going to want to be hitting group rides that involve long climbs on this bike. No problem if you have 10 minutes of pedaling to link a couple of trails together, but if the ride revolved around climbing, I found myself reaching for another option when one was available. In my eyes it's more of a DH bike that climbs a bit rather than an Enduro bike that descends really well, if that makes sense.
There are things that you could do to make it a bit more uphill friendly. First, I don't really understand why Norco didn't put a climb switch on this bike. It doesn't move a tonne while pedalling, but it does move, and I felt like I could use any advantage that I could get to make things easier on the way up. I asked Norco specifically about this (a few times) and it seemed to come down to pure hubris - they felt they had designed it well enough that a climb switch wasn't necessary. When I pressed them on this - does the rear shock work better/differently without the climb switch box checked, for example? Nope, they just felt they didn't need it.
I also felt like the bike climbed better once I installed a 32 tooth ring, and swapped in a production spec idler. For the first few rides, I would describe pedalling in the top cog as pedaling a guitar string. There seemed to be a tonne of tension when the chain was at the top range of the cassette. This got better, but the idler still felt a bit rough until I swapped it out. You shouldn't have to deal with this on the production bike. From this experience though, I think that the idler provides more resistance as your chain angle increases, and swapping to a 32 tooth let me drop down a cog or two and kept things closer to the middle of the cassette and off the 52-tooth. I think a 34 tooth chainring is too much if Norco honestly feels like people are going to pedal this bike uphill and the only reason I didn't run a 30 was because I couldn't track one down.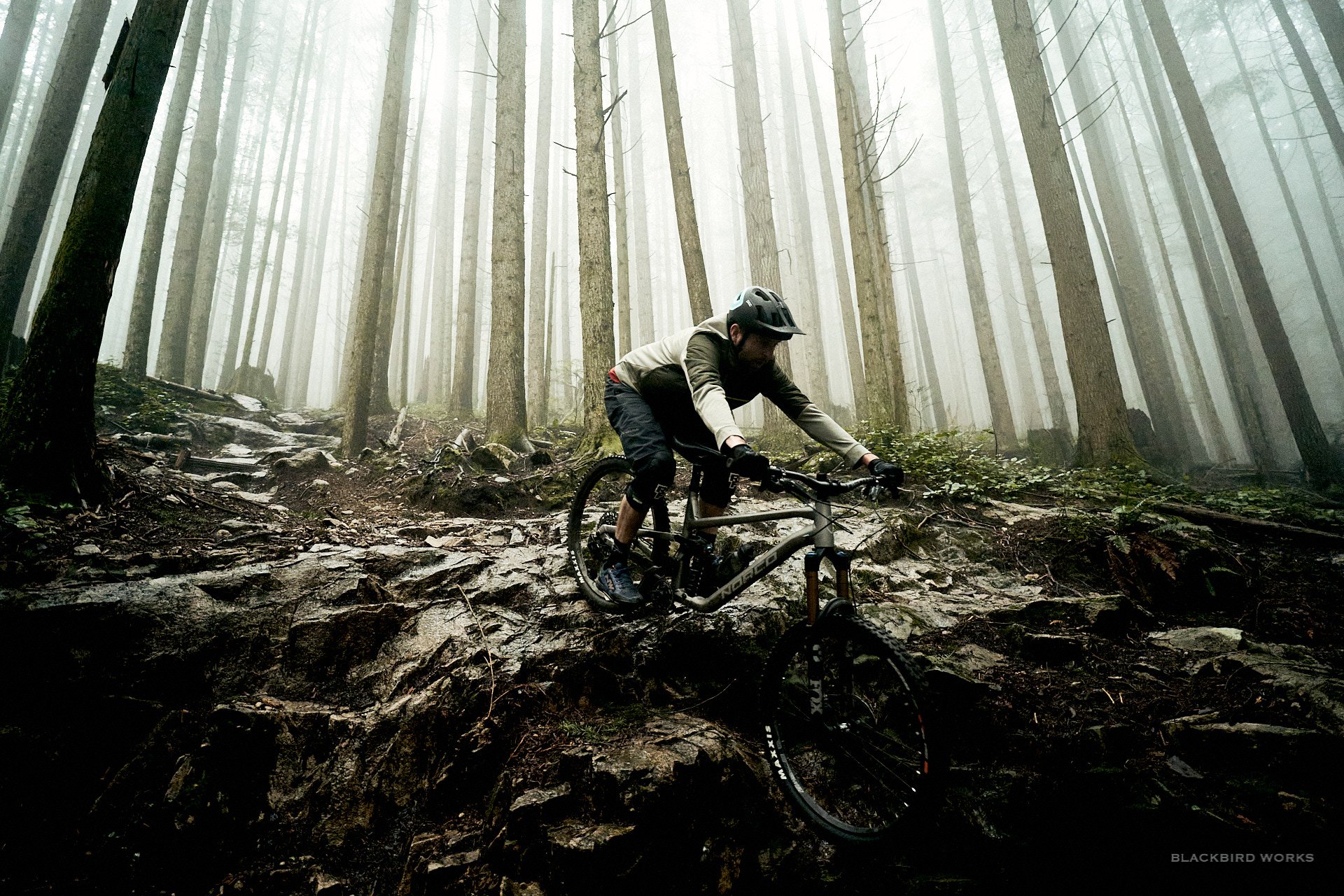 Downwards
So, if you wind up owning this bike, you're going to want to focus on going down. Let's talk about why that is. First off, is that buttery smooth rear end. It's not uncommon to hit a bump, feel it through your hands and arms and then just have it disappear as the rear end rolls over it. At times I found myself riding along on relatively smooth pavement, looking down in fascination as the rear shock moved and absorbed every tiny little detail. Where were the bumps coming from? What were they? How did it know? I wouldn't assign all of the credit to any one of the high pivot, the coil spring or the rear damper, but in combination, they seem to produce magical things.
While soft and absorbent, it never seems to run out of travel either. It's a coil shock, so sag measurement is more of a ballpark than a definite, but even at 32%, I never felt myself bang off the bottom. Using the trusted slide-the-bottom-out-bumper-up-the-shaft-and-see-where-it-ends-up, I could see that I was, at the very least, putting the bottom out bumper nicely back into position on most rides. Norco wouldn't divulge any of the numbers behind the suspension, and I certainly wasn't going to get all Autocad on this thing to figure it out myself, but I'm guessing there is a healthy amount of progression in the rear end of this bike, and this produces ample support through the middle and end of stroke. It's plush off the top without wallowing and without ever getting overwhelmed.
The rear end feels so nice that sometimes it felt like the front end was getting overwhelmed when it wasn't. This feeling was most prevalent through successive small hits taken at fast speed. These types of bumps would disappear under the rear but produced the expected bump through your arms. This isn't to say that the 38 isn't plush, and one could probably tune it a bit softer if one wanted, it's just that the rear is exceptionally great at making bumps disappear. I was pretty happy with the final settings I ended up with on the 38, and it provided a nice balance of absorption and composure, which let me ride the bike wherever the hell I wanted.
The Shore proves to be a bike of moments. Moments where you clean something you don't usually. Moments where you don't touch the brakes where you usually do. Moments where you find yourself carrying far more speed than normal, and of clearing the thing that you usually don't.

Wrapping this review up, I can't help but think of the Shore as an episode of The Littlest Hobo
One of these moments took place on Fromme. There are a few corners scattered about that are about as close to a bike park as you'll get on the North Shore. With all the COVID traffic, they've been fairly bumpy and blown out. Riding the Shore, I'd tap my brakes and carve through these corners where I'd normally brake hard and grit my teeth as I bounced around them. These sorts of corners convinced me of the extra oomph that the 38 brings to the party. There is no bouncing around and no question that you're going to hold your line. It just goes where you point it.
Another moment came while I was following Pete down a pretty gnarly Seymour trail. He was re-mounting after checking out a fairly significant rock roll. I caught up to him just as he was disappearing over the top. Normally, when I roll up on somebody who has just gotten off their bike to make sure they aren't going to kill themselves on the thing that follows, I would mimic their actions by stopping, having a look and then contemplating things from there. But not this time! "If Pete can do it, I can do it!" I hit that sucker blind and it was just fine. It was a long and steep-assed rock roll with a bit of a g-out at the bottom, but no problem. This is a fabulous bike for exploring new trails, or chasing people down things that might otherwise scare the crap out of you.
On Braking
People asked about braking in the comments of the preview. I had 500 words written, but most of them were just about why you shouldn't fall for the high pivot/brake jack myth. I asked Norco if the Horst Link rear end did anything to improve braking compared to a regular high pivot. Their response? "Yes." So, we'll leave it there.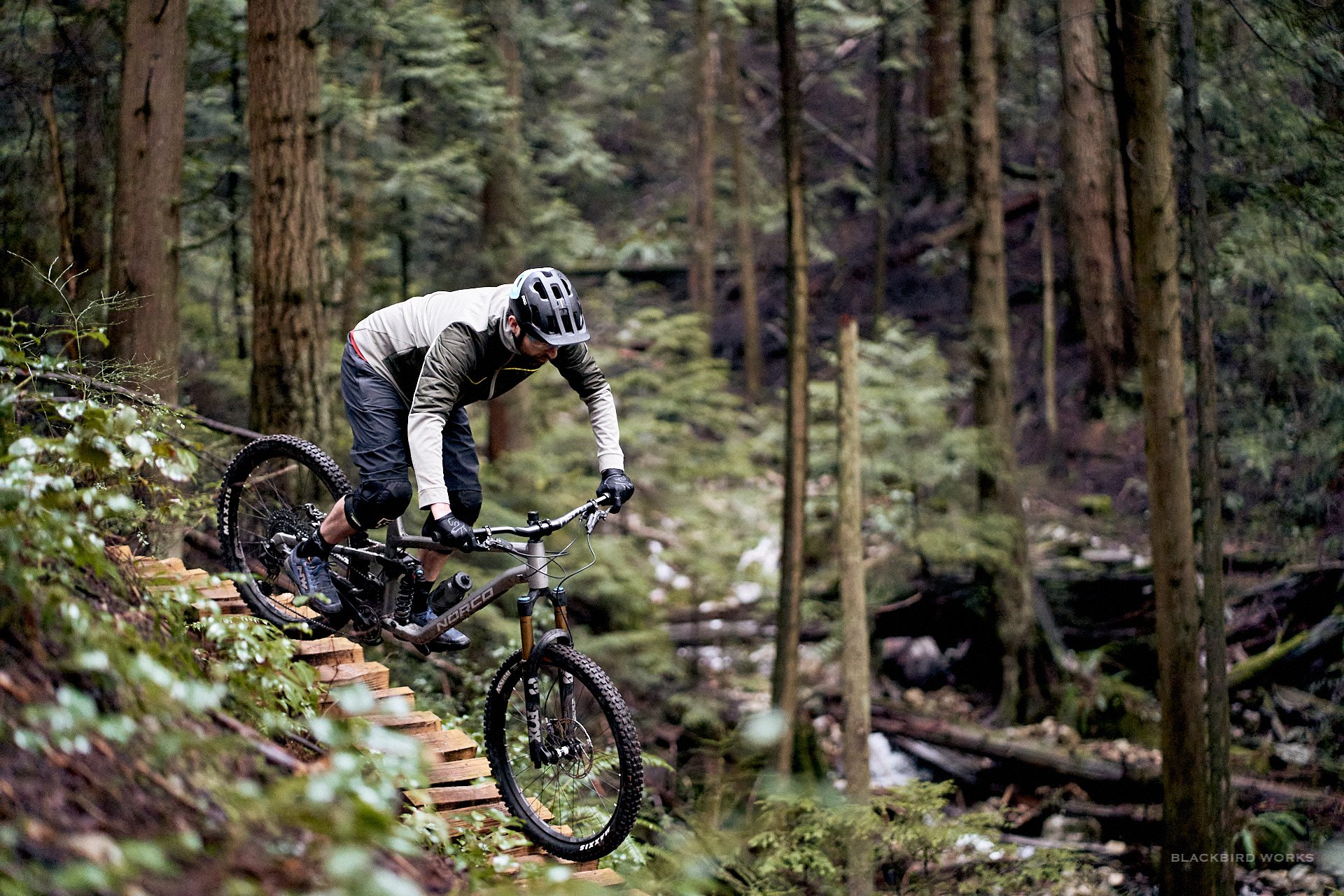 Where doesn't it work?
So, it's not perfect. We've established that already with the climbing. The thing about this bike is that it prefers to be stimulated. It's like the smart kid in a class that is moving too slowly. If you don't give them anything to do they wreak havoc on those around them. Or become chess champions and develop substance abuse problems. Either way, what they need is a good challenge where they can rise to the occasion. As long as the trail is serving you a portion of either speed or steepness, it's happy days. I spent 2 days having a blast on Hornby Island on this bike and, on paper, this would not seem to be the case. But it was fun! You could keep your speed up and this bike loves to be cranked into corners, and if a little gap shows up, you jump it.
But haul this thing into mellow North Shore trails, and it's potentially not as much fun. I did have a good time on a greasy lap down Expresso, on a wet day when a stadium full of people showed up to try out this whole mountain biking thing for the first time. It let me shoot down full pull while I tried to stay two steps in front of the teaming masses setting up camp at certain points on the trail. It's a good bike for that. But another time on Expresso I really struggled to get it working underneath me. Flat bits like those you encounter on the way over to John Deer, Severed Dick and C-Buster on Mount Seymour are just not fun either. As soon as you need to pedal to maintain your speed, all that weight and active suspension travel makes your life a bit miserable. Which is no surprise, really. Once again, it's a heavy-assed bike with 180mm of travel! But I mention this because you need to be honest with yourself about whether or not you need a bike like this. If you don't have the trails to support its gnarliness, you're both going to be a bit sad.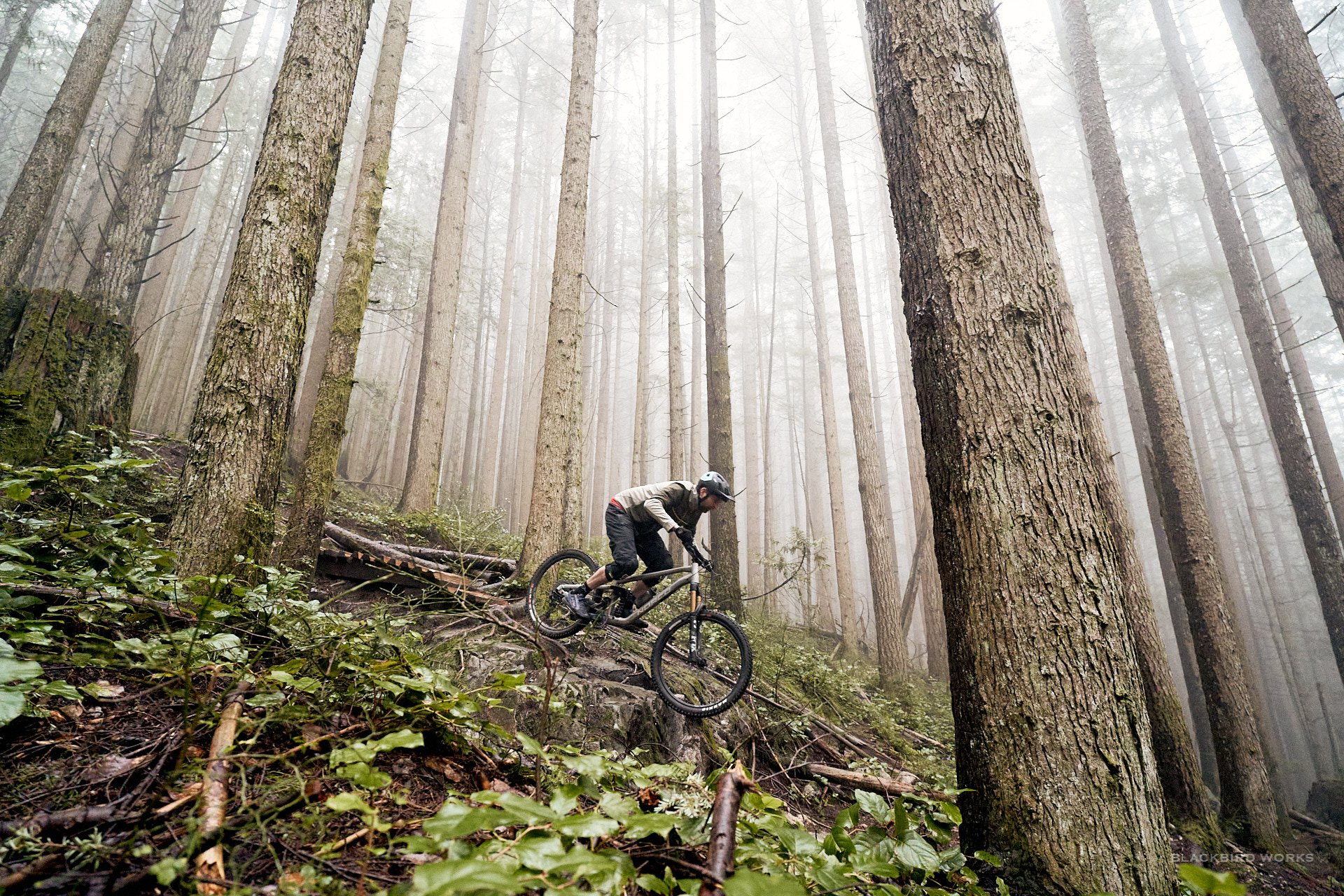 Parts
The GX drivetrain is the latest from SRAM, with that 52-tooth FU to the folks in that fishing reel company. I spent a lot of time in that 52-tooth! Thankfully, the derailleur shifts really well up into that gigantic manhole cover, especially considering the colossal difference in teeth counts between that and the cog below it. As well, the GX shifter feels fantastic. I wish Shimano would follow SRAM on their shifter feel. This is how it should be. It feels wholly mechanical and predictable, compared to the dead spots and artificial feeling clicks and clacks that is Shimano. However, beyond that, Shimano wins out in almost every other category. I had the pleasure of riding an SLX adorned bike in parallel to this one and it is no comparison. SLX just bangs out perfect shift after perfect shift and I didn't have to even turn a barrel over the length of the test. With GX I got periods of great shifts, but it never seemed to be perfect across the whole cassette. It feels like the window of cable tension is incredibly narrow, and a half turn in either direction can throw things off a bit. And, again, I really, really, really wish Norco didn't spec this thing with a 34 tooth chainring.
Brakes SRAM Code RSC brakes with 200mm rotors front and rear were great. They stopped me every time I wanted them to, and I never felt like I was running out of power.
The tires were a bit of a dilemma. The Double Down carcass was great. The Maxx Grip Assegai up front was great. The Maxx Grip Assegai on the rear was a pleasure on the trail, but I think I would trade some longevity and rolling speed and seek something a bit more subdued for the rear. The Maxx Grip held up better than I expected through the test, but it would be too rich for my blood to keep going like that. Still, it's hard to argue with the results. Maybe running millionaire rubber is just a sacrifice that you need to make on a bike like this?
Nothing else stood out through the test. The Tranz-x dropper worked fine (though that steep-assed seat angle makes it a bit awkward to get to full height). The E-thirteen/DTSwiss wheels were fine, although a million people on the internet complain about these rims so that's something to consider. Everything was just fine.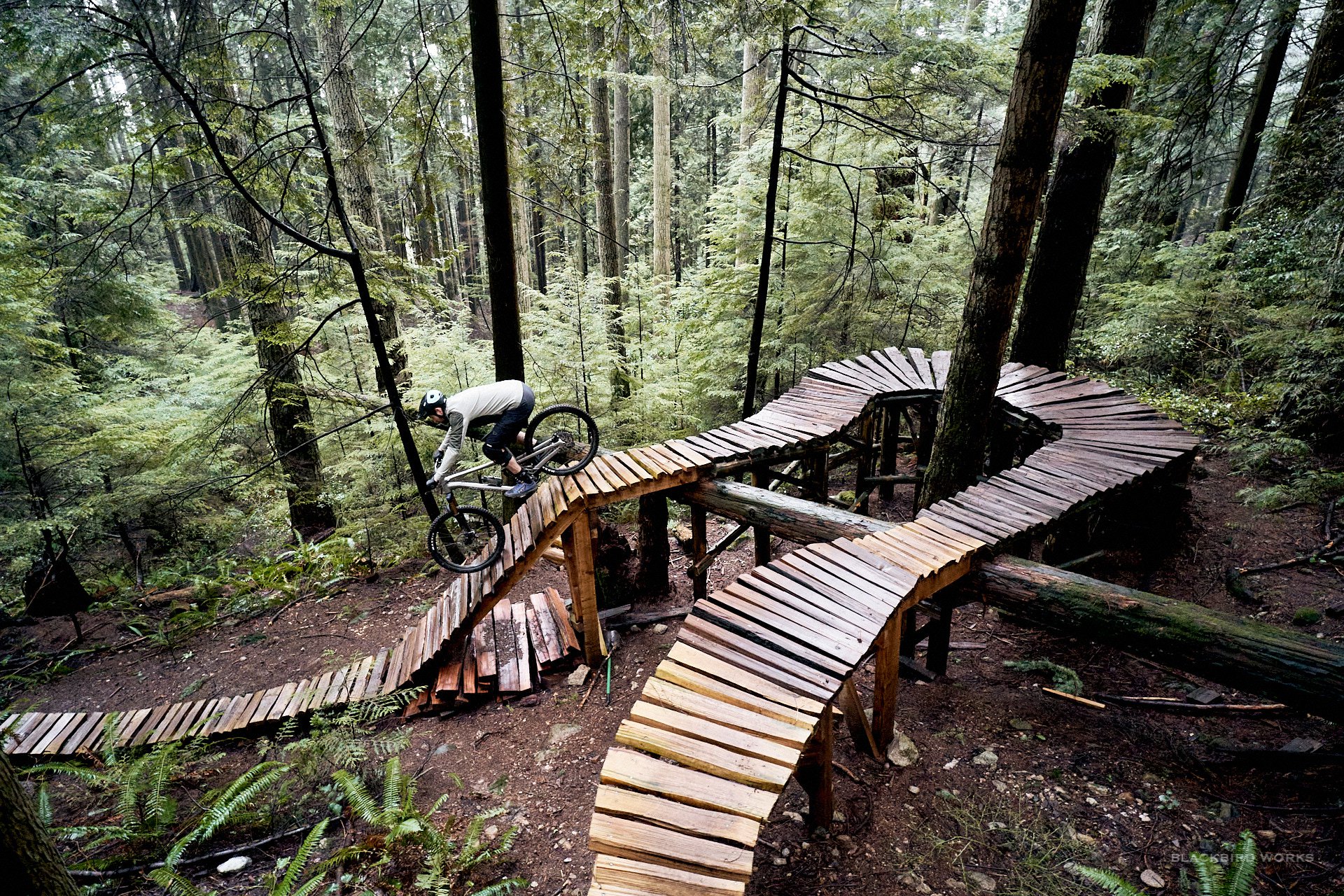 Conclusion
The Shore is a bike that I want to own, but probably won't. Just like a pair of super wide, super long powder skis, they're the tool that you wish you needed all the time, but really should only be pulling out for special occasions. A few lucky souls can get away without any other skis in their arsenal, but for most of us, we're better served by something with a bit less girth. It's the same story here. For a few months I was constantly bothering people to see if they were shuttling. It took me to trails that I haven't hit in years and left me no excuses for not trying things. It reverted to the shuttle crazed imbecile that I was through the mid 2000's but that wasn't sustainable for my current lifestyle.
In addition to the shuttles, I spent a good chunk of time cranking out climbs to the top of Fromme and Seymour. It got me there, and I had a tonne of fun on even mellow trails as a result. Riding this bike on trails that I knew back-to-back with lesser bikes really showed me what it is capable of.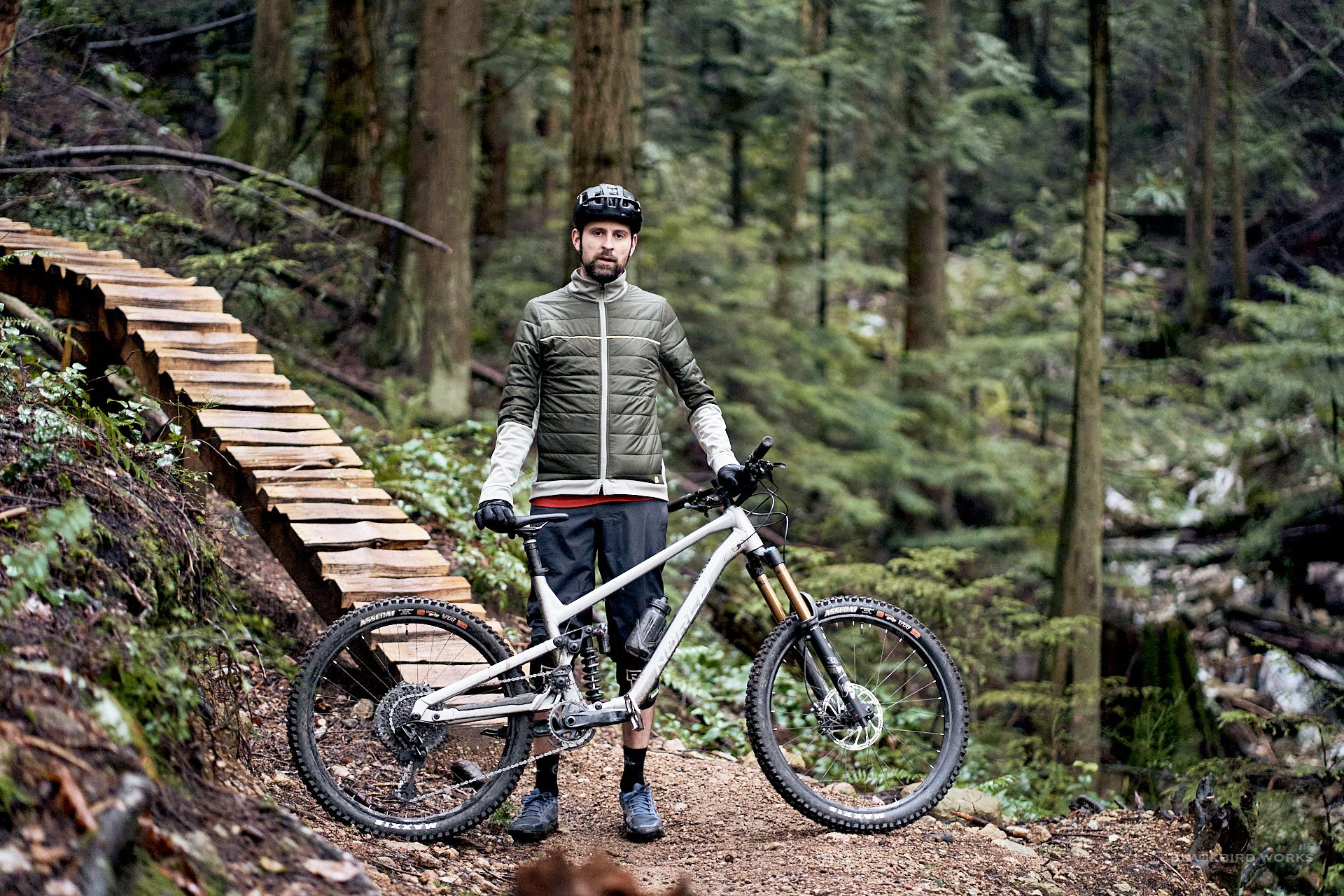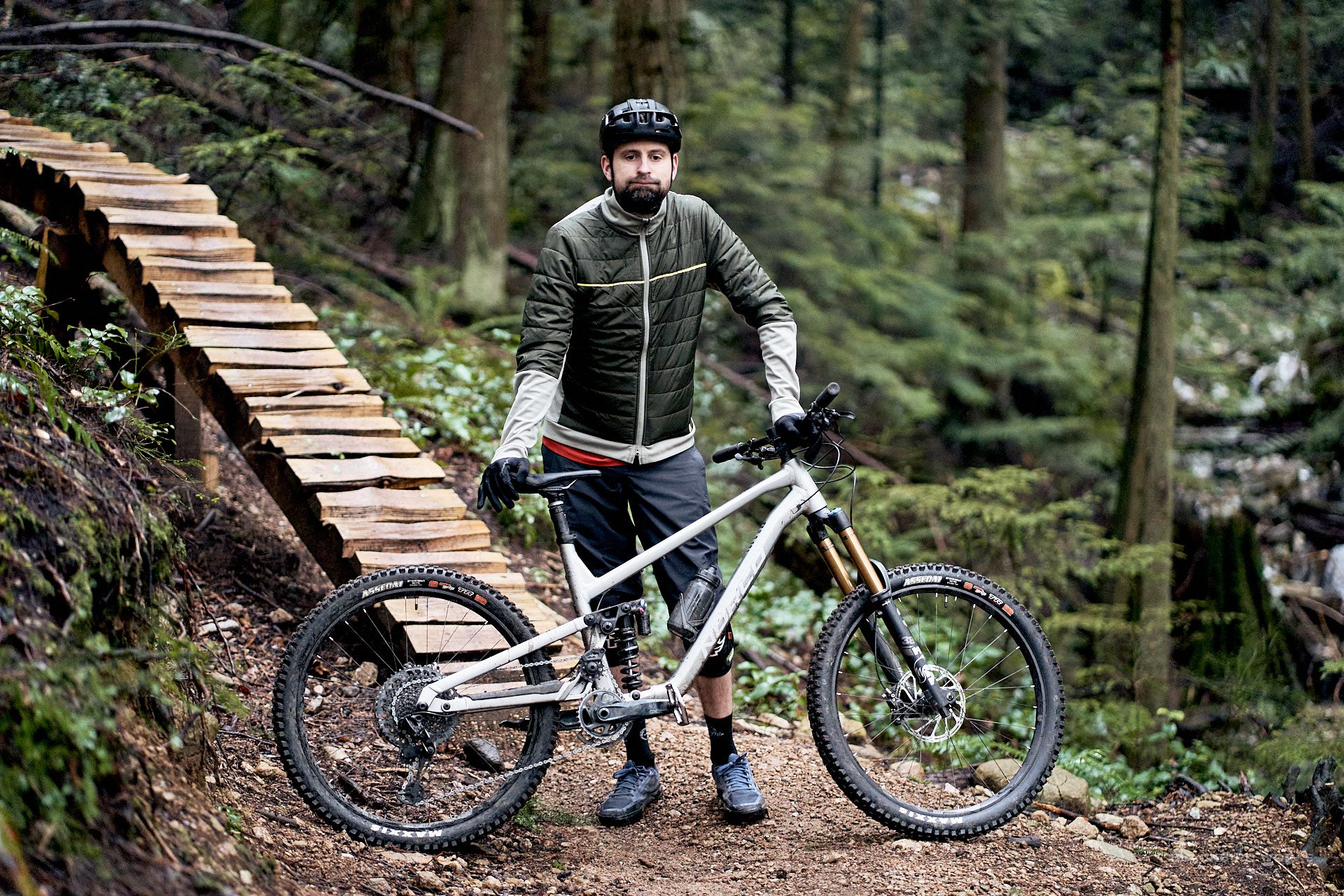 If I were to own two bikes, there's a good argument for this being one of them. If you ride a lot of park, or shuttle gnarly stuff, but also want something to cover off the occasional climb between trails, I can't think of a better option. Couple it with a nice pedally 140/150mm bike (or less) and you have all your bases covered.
Wrapping this review up, I can't help but think of the Shore as an episode of The Littlest Hobo. Much like our favourite German shepherd, the Shore showed up one day and annoyed me a little bit. I hoped it would go away, but it persisted. As it followed me around, it ended up getting me out of more than a couple of pickles, and I found that I enjoyed having it around. I realized that I owed many of my recent good times to it being in my life. But then, just when I had learned to respect and appreciate this visitor, it was gone! With hardly a look back, it was off on its next adventure and I was left behind, crying and waving into the distance like an imbecile. Yes, I was sad that it was gone, but also comfortable with the realization that there were other people out there that needed its help more than I did, and it would be shameful for me to prevent it from living true to its nature. Godspeed, Littlest Hobo. Godspeed.
For more on this bike - norco.com