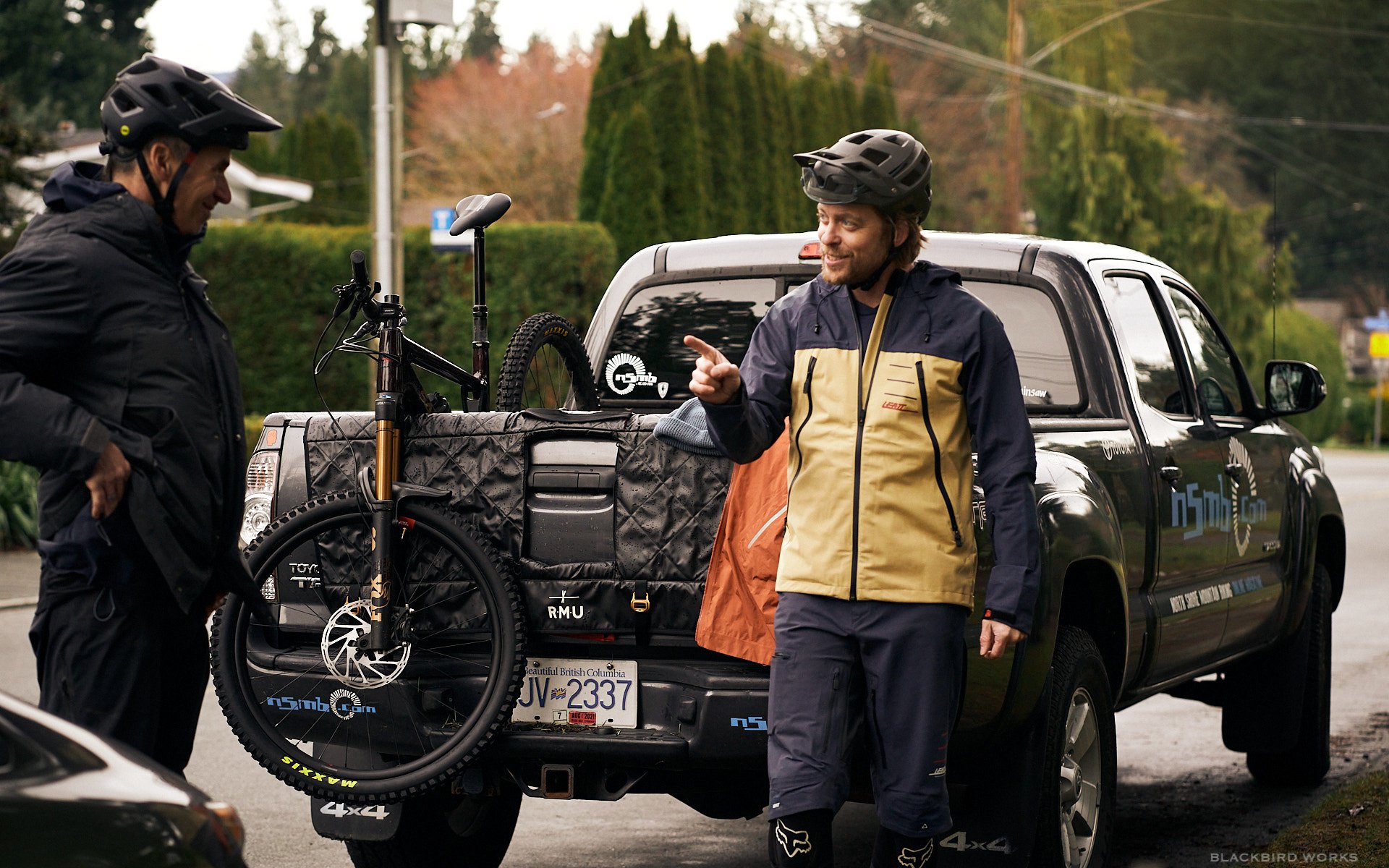 REVIEW
2021 Leatt Winter Apparel
Leatt may still be known as the brand that brought neck braces to MTB, but they expanded into apparel and protection not long after. Whether it was a prophetic decision or simply a logical line extension, it turned out to be a fortunate one because as neck brace adoption might have slowed somewhat*, riders will always need helmets, shoes, and apparel. And while the brand certainly has its share of Moto-inspired graphics and style - not that there's anything wrong with that - there's enough variety in their lineup that fans of colour without too much chaos should also find some pieces that appeal to them. Looks aren't everything, though - especially when it comes to wet and cold weather apparel - performance is the primary consideration in our current conditions in the upper hemisphere, and that's what we'll focus on here.
Good thing, then, that Leatt's making some really nice stuff these days. I wanted to check out some of their winter gear, so I asked them to send a smattering of stuff with the 5.0 designation which, in their apparel line at least, means the highest degree of durability and protection from the elements. Leatt's line is very deep - many categories have 1.0 through 5.0, with each numeric increase designating more protection from the elements or durability.
*Plenty of park riders and downhill racers still use neck braces, but gone are the days where it seemed like at least half of everyone in those categories wore one.
Leatt Jacket MTB 5.0
Trying to say 'Leatt Jacket MTB 5.0' is a bit like trying to hold a grape in one side of your mouth while biting down on a clump of sunflower seeds in the other: you can do it, but even if you succeed, you have a mouthful of seeds and grape. I'm not trying to take a potshot at Leatt here, though, just setting up the fact that I'm going to refer to products as '5.0 jacket' from here on in. It's a word saving excuse, or something. Bad for SEO, but good for my deadline. What I will say is that Leatt's numbering system makes sense and helps understand intended use. The 5.0 jacket is for nasty weather and max protection, so you won't be surprised to know that it doesn't fold into a napkin-sized pocket - that's what the 2.0 jacket is for (not tested here but maybe in Spring). And this is one burly mother of a riding coat, in a good way, but you need to know what you're dealing with.
As opposed to the svelte and spendy 7Mesh jackets Cam and I recently reviewed, Leatt's Jacket MTB 5.0 is heavier, thicker, and also has more zippers, pockets, and features. There are two unique features to the 5.0 jacket: the first is the ClimbVent connector, which holds the two sides of the jacket closed even if the zipper is pulled down for ventilation (this is surprisingly useful) which, when combined with two vents on either low side, works to move air from front to back quite well. Neato feature number two are the magnets in the hood and collar that allow you to keep the hood pinned to the collar, or to your helmet (the jacket comes with a magnet you can stick to the top of your helmet to make this work). I don't really find that a hood that fits well needs the magnetic help to interface with a helmet, but I definitely hate a hood flopping around my shoulders when not in use. Once again - quite a useful design feature that I appreciated.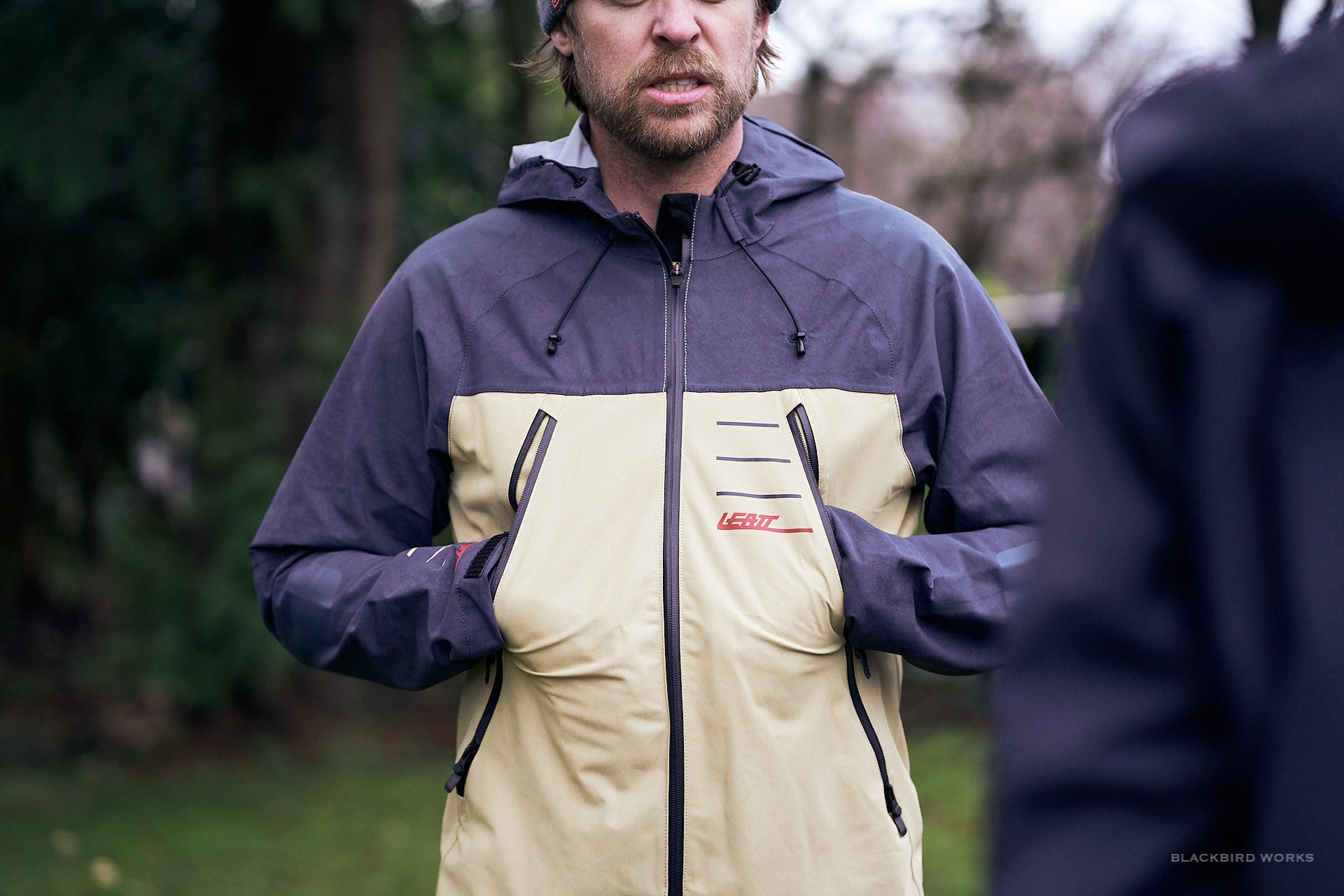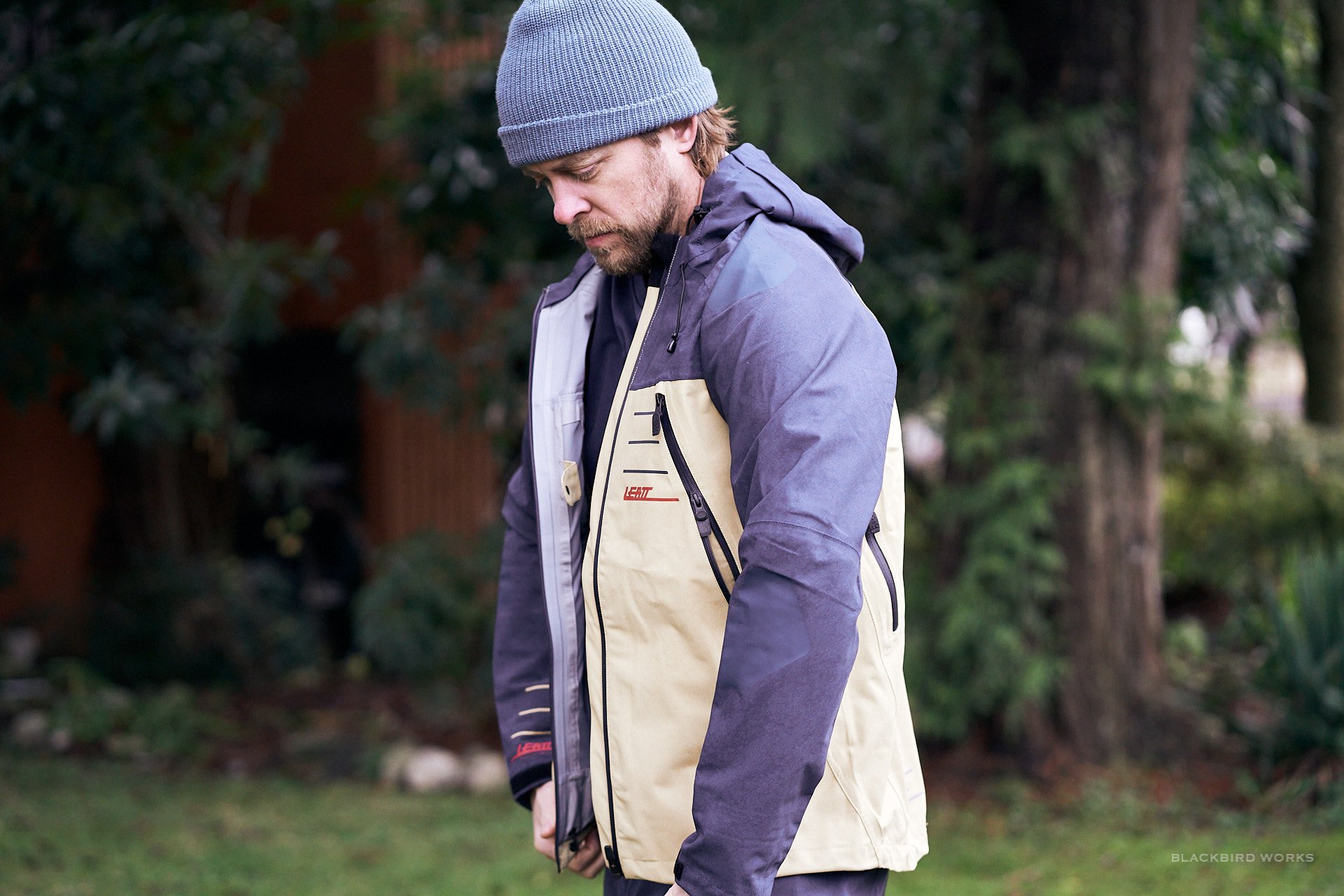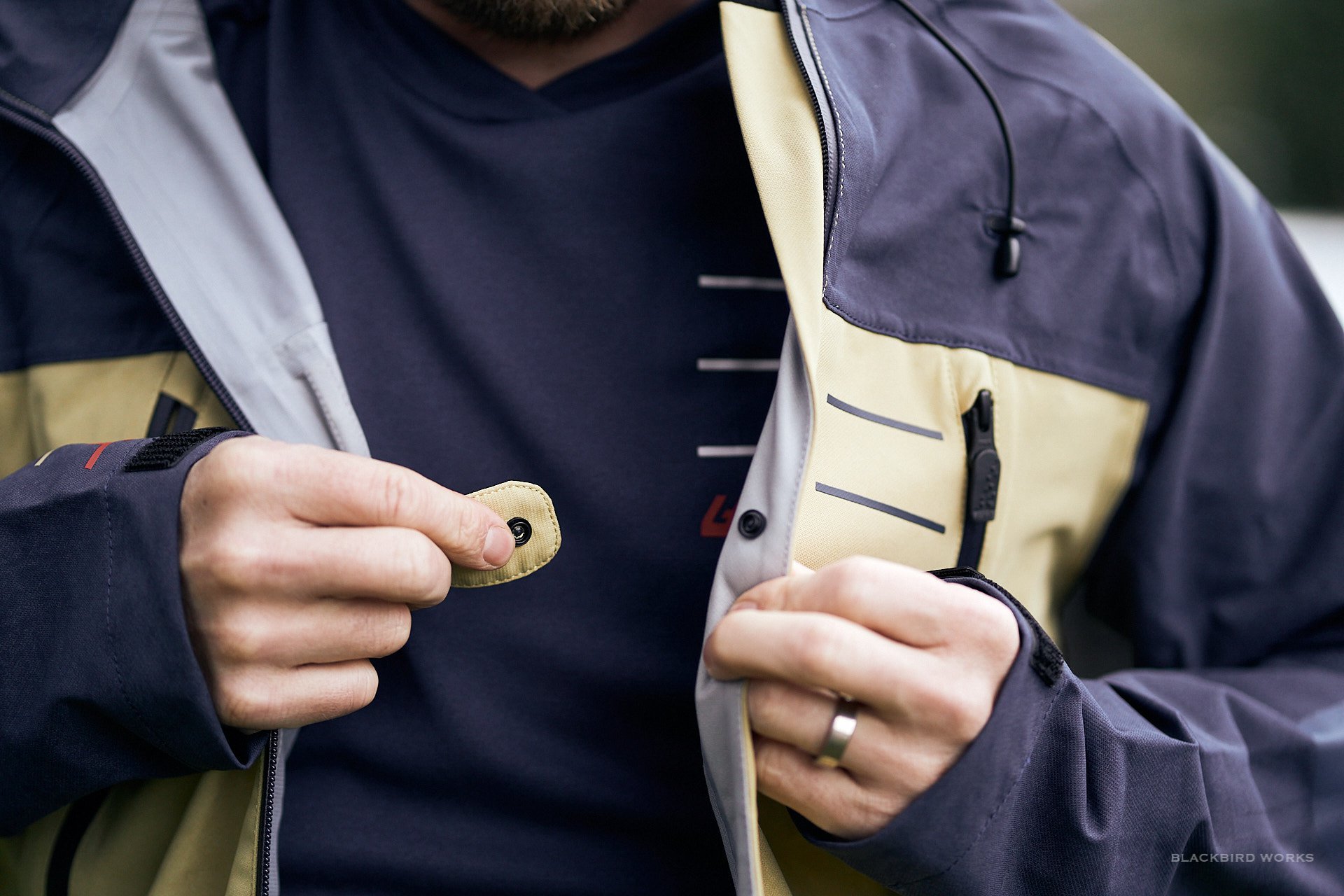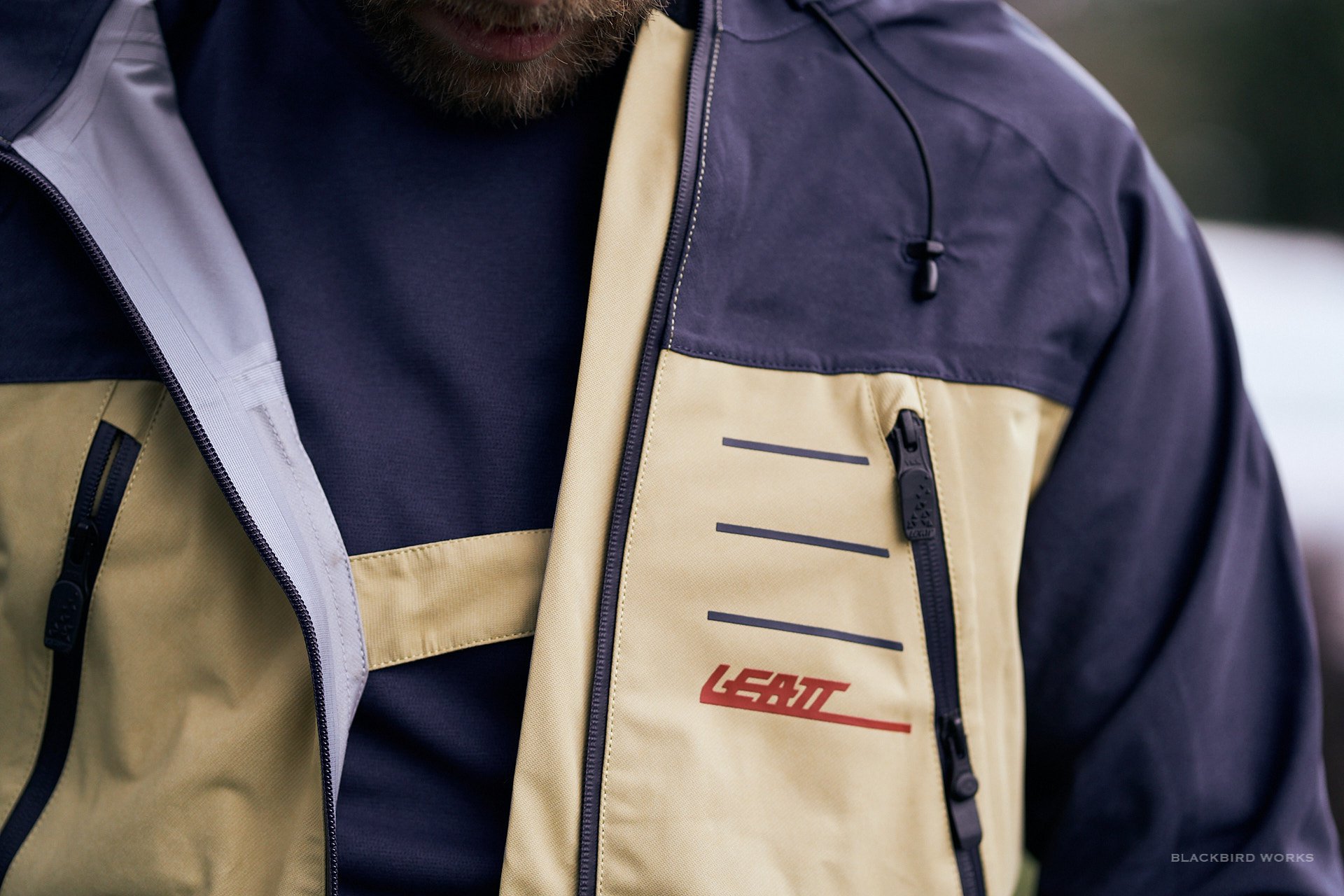 Other things worth noting: the two main pockets are accessed using two-way zippers - this is something I greatly appreciate in a jacket like this, and it makes it more likely to be used (and useful) when off the bike as well. Given the 5.0 jacket's intended use for DH-leaning purposes, you can expect to be wearing it when off the bike: lift lines, back of a truck, milling around a trailhead, après-ride and tailgating (aka dumpstering). One of those pockets contains a goggle shammy, and a third pocket on the left sleeve is shaped to accept a pass for easy lift access. Hook and loop cuffs are augmented by lo-profile silk storm cuffs that are waterproof - very nice touch, Leatt - and zippers are water-resistant as well. Finally, gripper material on the shoulders helps keep a pack in place, and it's also along the inside of the rear hem to keep the jacket from riding up. It's a long list of features that are well thought out and well-executed.
The waterproof/breathable rating numbers look pretty good on paper (that's 30.000mm/23.000g/m² waterproof/breathable shell and three-layer membrane that Leatt calls HydraDri if you're keeping score), but I have it on good authority that numbers like those are not all that useful in real world applications. Sure, they will help you understand how the jacket should perform in general terms, but I can't look at those numbers and then translate them into words that my grape-and-seed-filled mouth can spit out at you. So let's try it the usual way: this jacket is very good at keeping moisture out, but it's not one I'd choose for a long, intense ride, because it simply doesn't move vapour to the outside as well as a lighter, Gore-Tex equipped option would do. But that doesn't mean this isn't a sweet piece, just that it's one to reach for if:
you don't intend to climb or pedal too intensely, or for too long at a time, or
you're riding the bike park or shuttling in shitty weather, or
it's cold and/or windy and you need protection from rain or snow, and are able to manage your output and sweat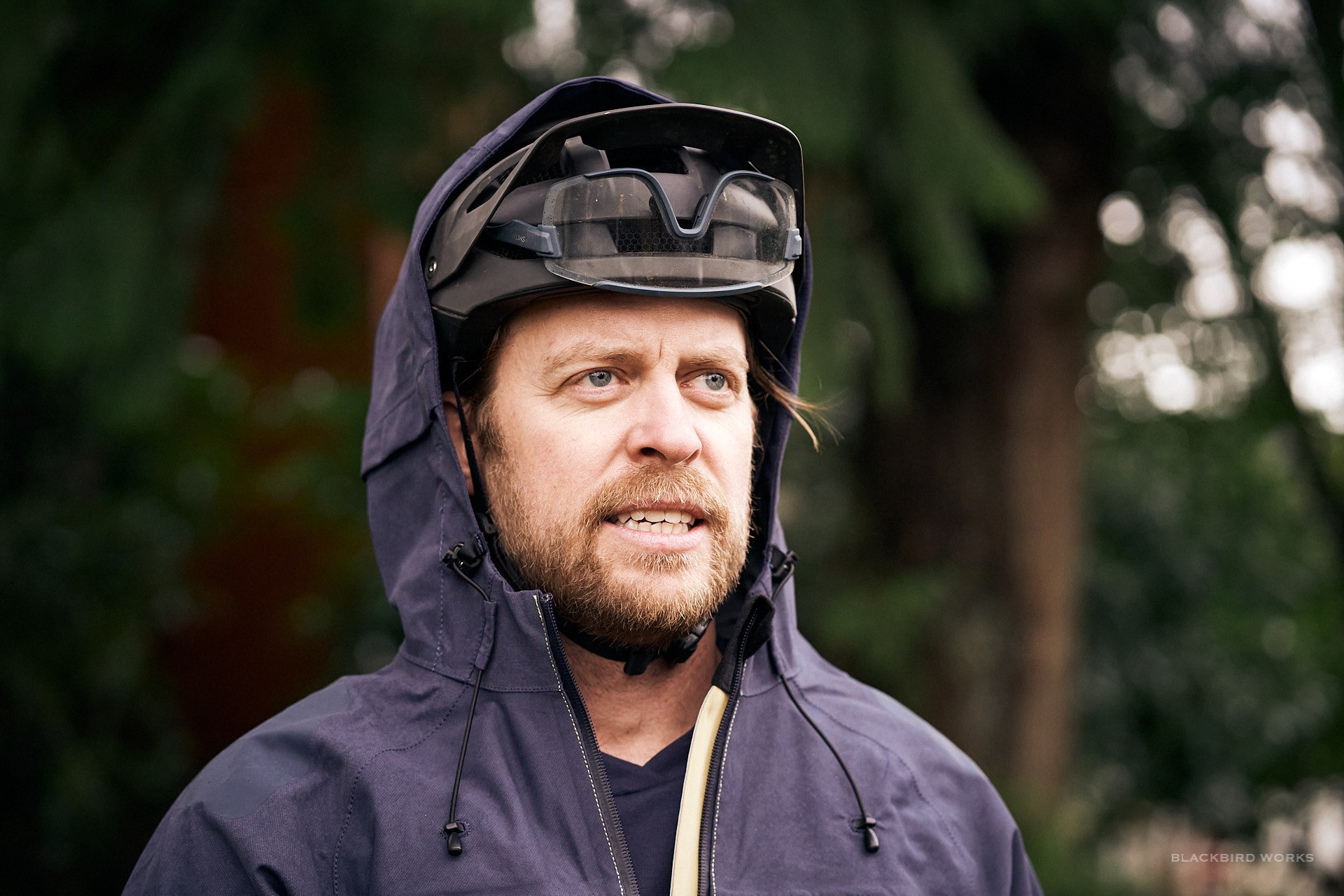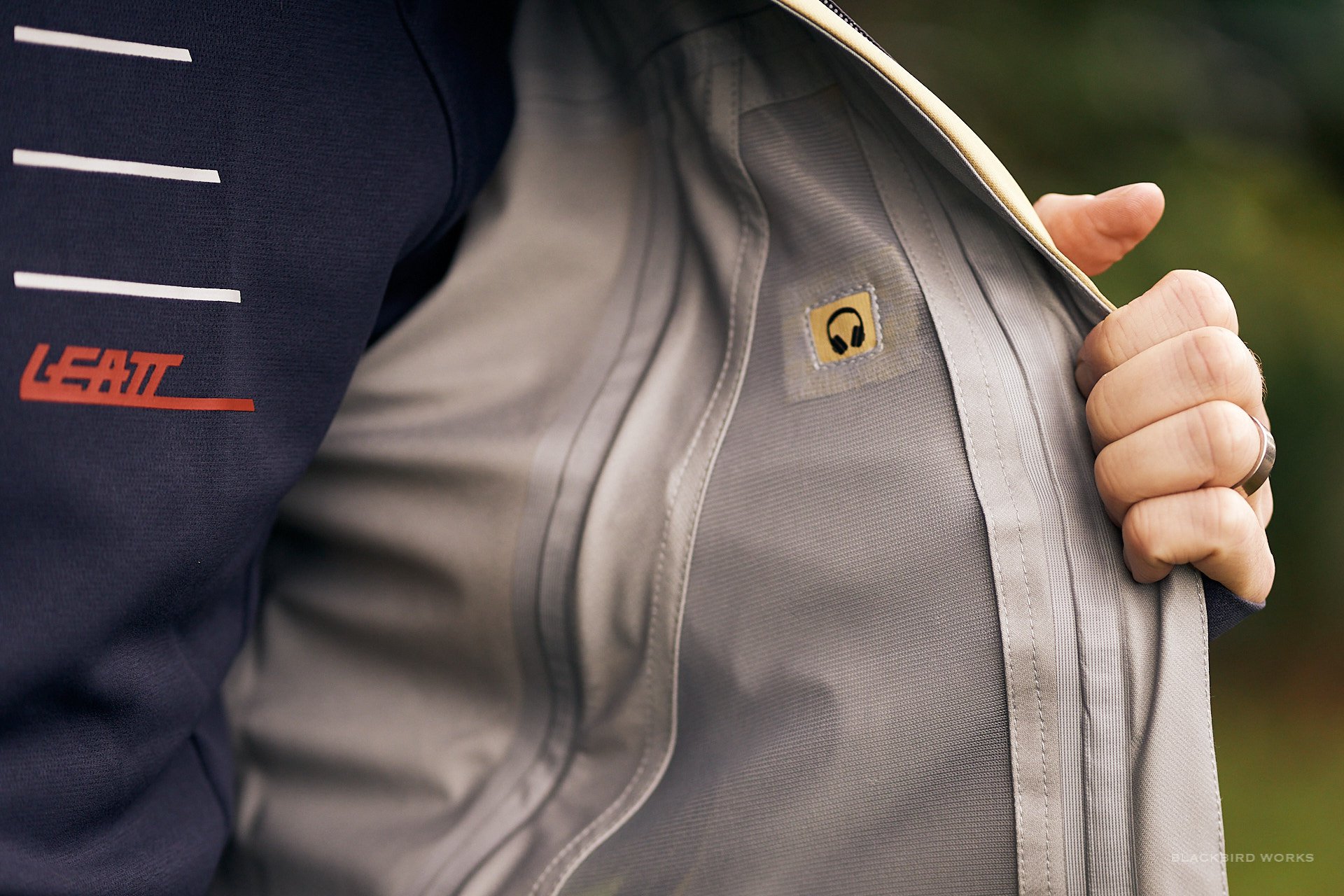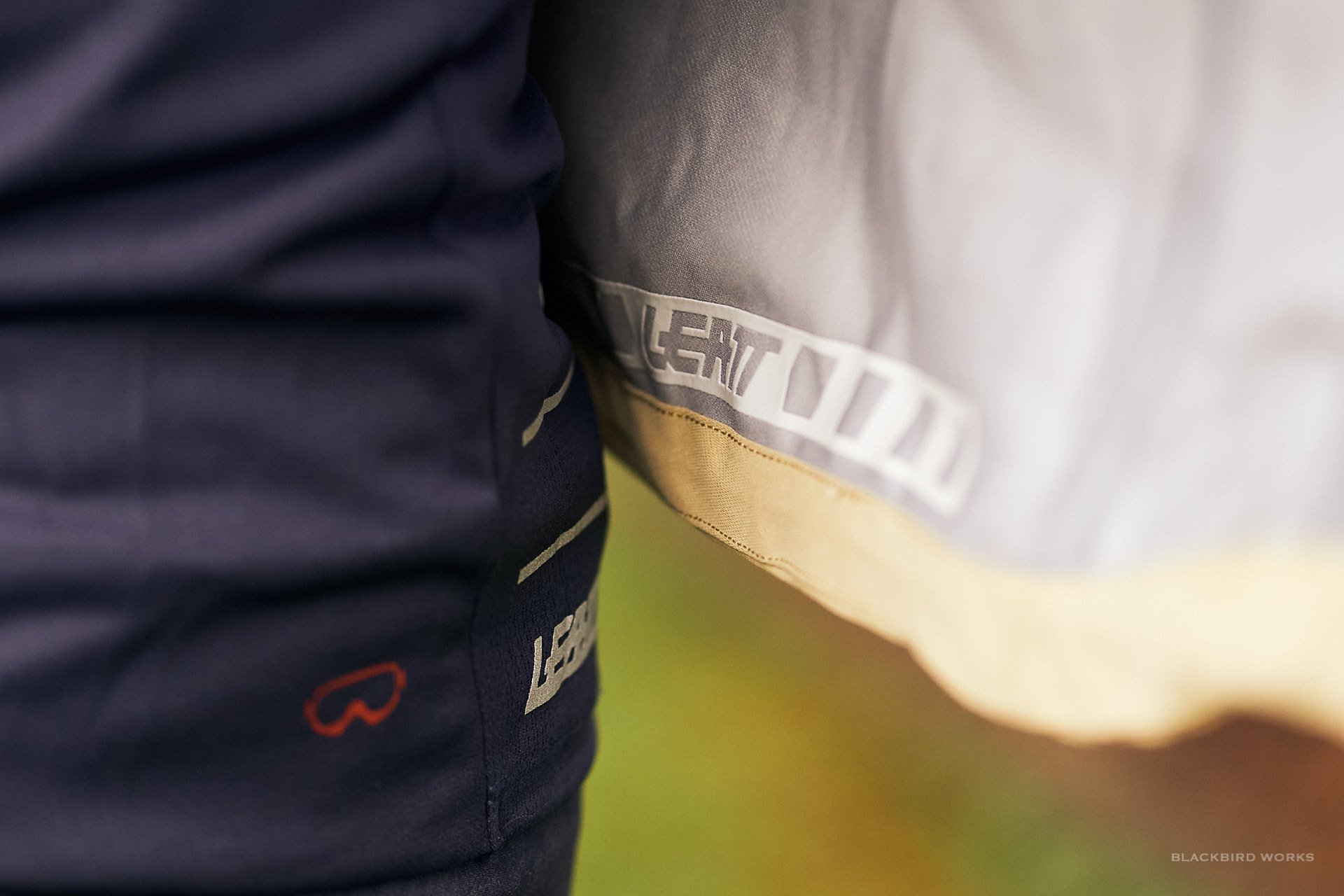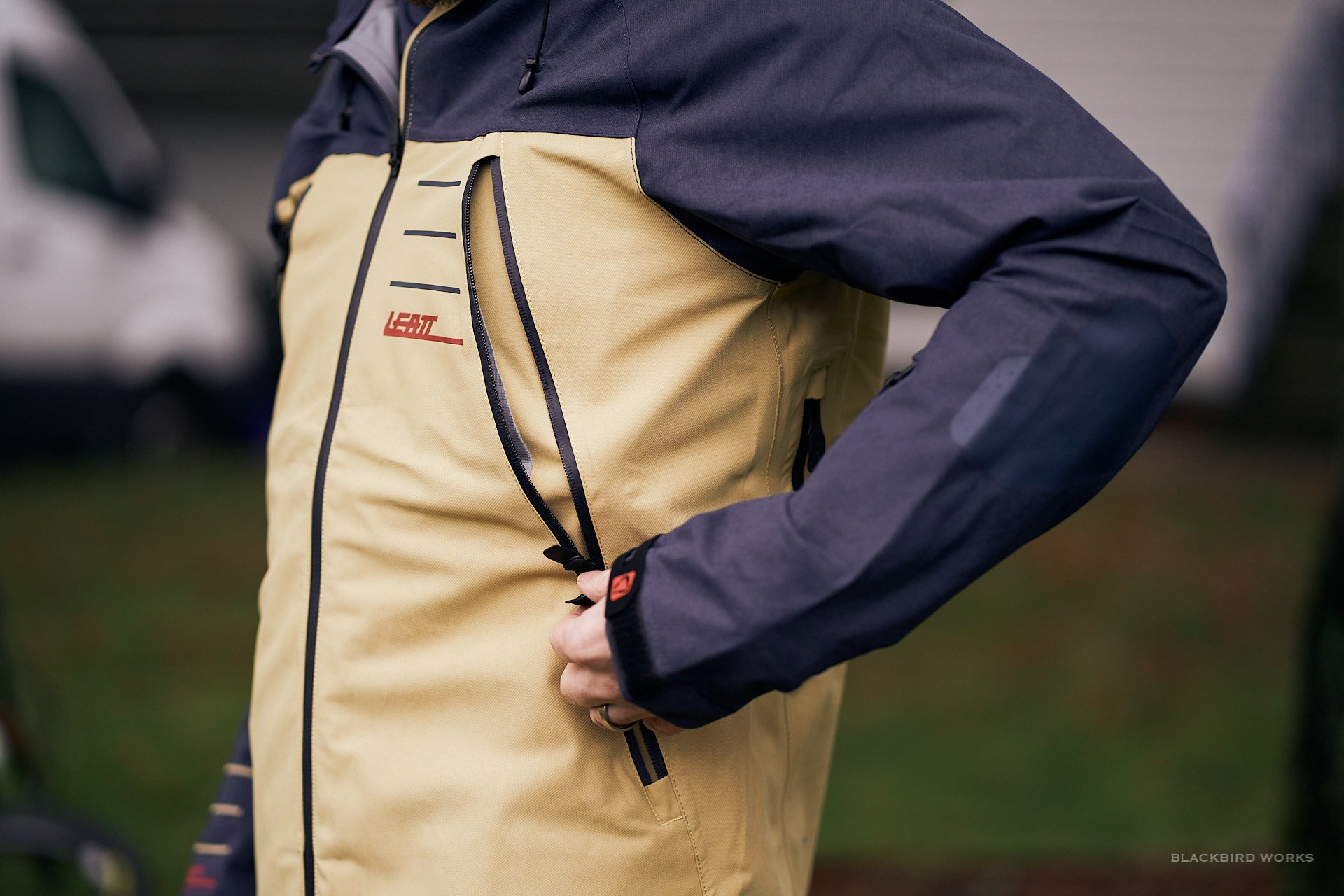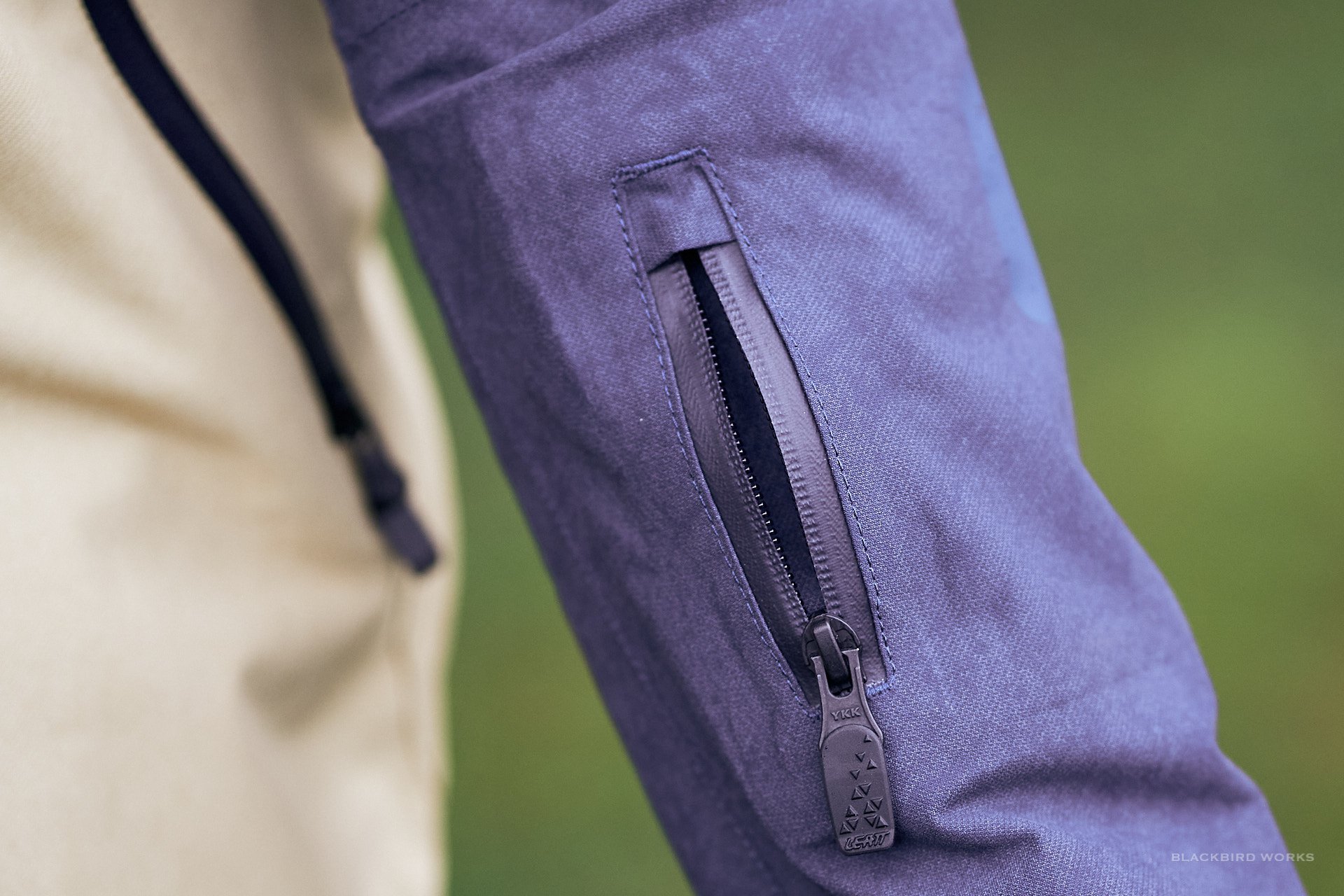 This is a winter jacket for wintery conditions, but I'd also be very happy to have it on for a day of shuttling on Cypress or bike park laps at Whistler in May, June, September, and October. The Garbanzo and Peak chairlift rides are very cold in anything other than perfect summer weather, and frankly the 5.0 feels as up to the challenge of keeping out the alpine elements as many ski jackets I've owned, which is what you want for that use case. In use, I've found the Jacket MTB 5.0 to be both comfortable and effective at keeping me warm and dry, and while it isn't my first choice for intense rides, when the weather is truly bad, I'm usually happy to step back the effort level just a bit and stop a bit more often for a pull from the flask. If you can relate to that sort of attitude, it's likely you'll be very happy in the Leatt Jacket MTB 5.0.
Size S-3XL // $229 USD
Leatt Shorts MTB 5.0
If the Shorts MTB 5.0 were a stock, they might be GameStop the day after the bubble burst. Such high expectations and a heavy buy rating, but just a day late. Then again, I am ready to admit that I've fallen for the riding in pants trend hook, line, and sinker, but was more than happy to ride in shorts for more than 20 years without complaint. Maybe it comes from playing soccer in shorts for years in Vancouver's wet winter weather, but bare legs aren't an issue in rain, mud, or even snow. Pants, though? Cleaner, warmer at the end of the ride, maybe even help you hide your 'dirty mountain biker' look, even though that's basically equivalent to a 3-piece suit in North Van. Anyway, all due respect to the Leatt 5.0 shorts because they are my current faves, they just have the unfortunate luck of coming into my life in the year when I became a full-fledged fan of the riding trouser.
The fit is great, with preserved knees that are longer at the front for a right proper drape over your knee pads (anti-gaper gap). No belt loops, but hook and loop closures on either side and anti-slip material across the small of the back keep them in place really well. For a burly, downhill-oriented winter short, the 5.0 doesn't feel bulky and stiff - the material isn't the quietest, but has a softer hand than most waterproof shorts, but doesn't sacrifice waterproofness. All seams are fully taped and apparently there are fewer of them, although if there's one place the shorts could fail, it's in the butt, which has some reinforcement, but also where seams all converge and are vulnerable to being ground into your saddle as you pedal. If this happens, I'll update the review, but nothing leads me to believe these shorts are anything but well-made and ready to take a beating. Two hip pockets are positioned well and not too small to be useful.The waterproof thigh pocket has gripper material on the inside - which I think is intended to keep a wallet or phone in place when you pedal even though it's not a cavernous pocket. There is a fourth pocket for your phone in the small of the back - it fits my iPhone 12 in a case without allowing it to move around, so I'd say they got the size just right.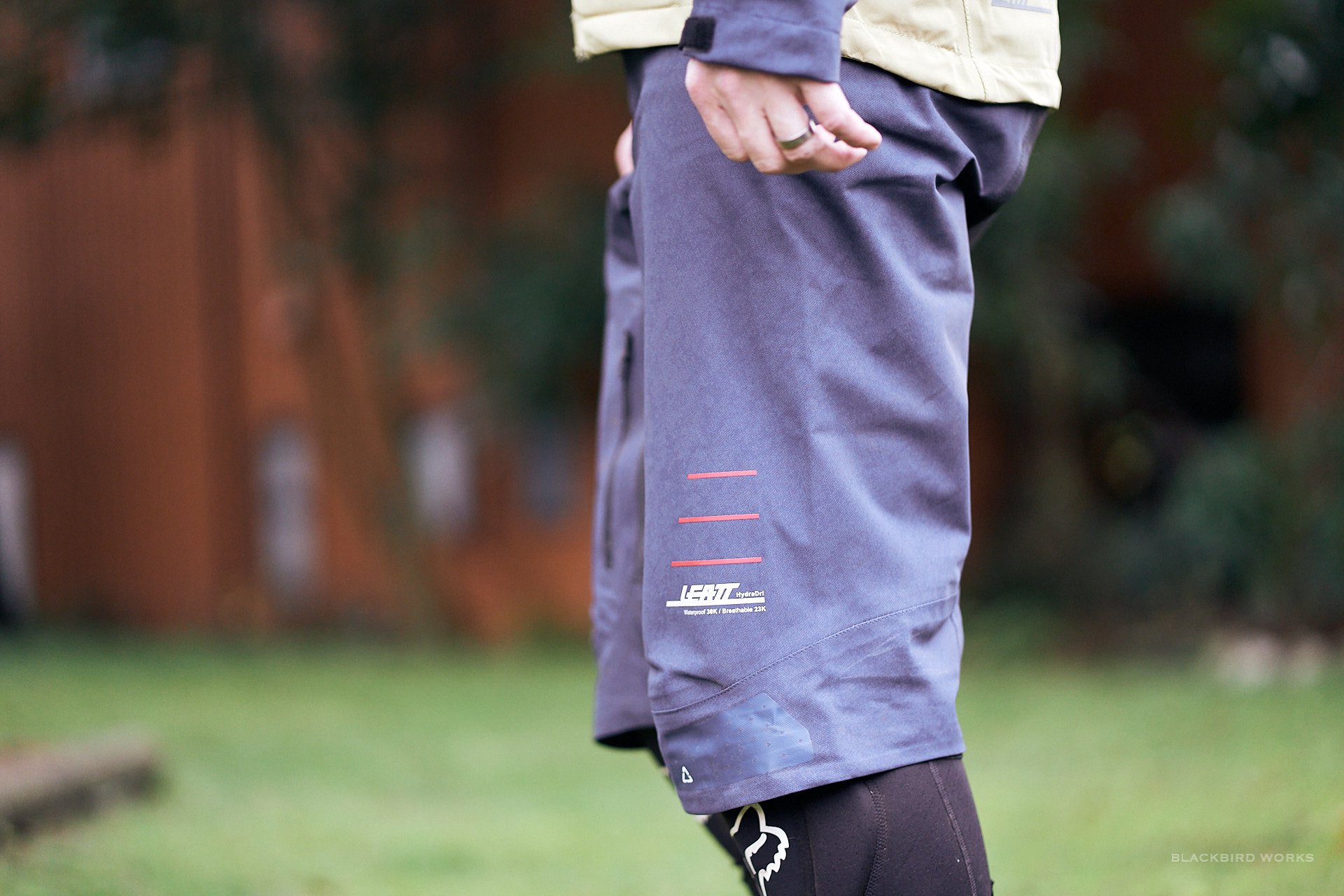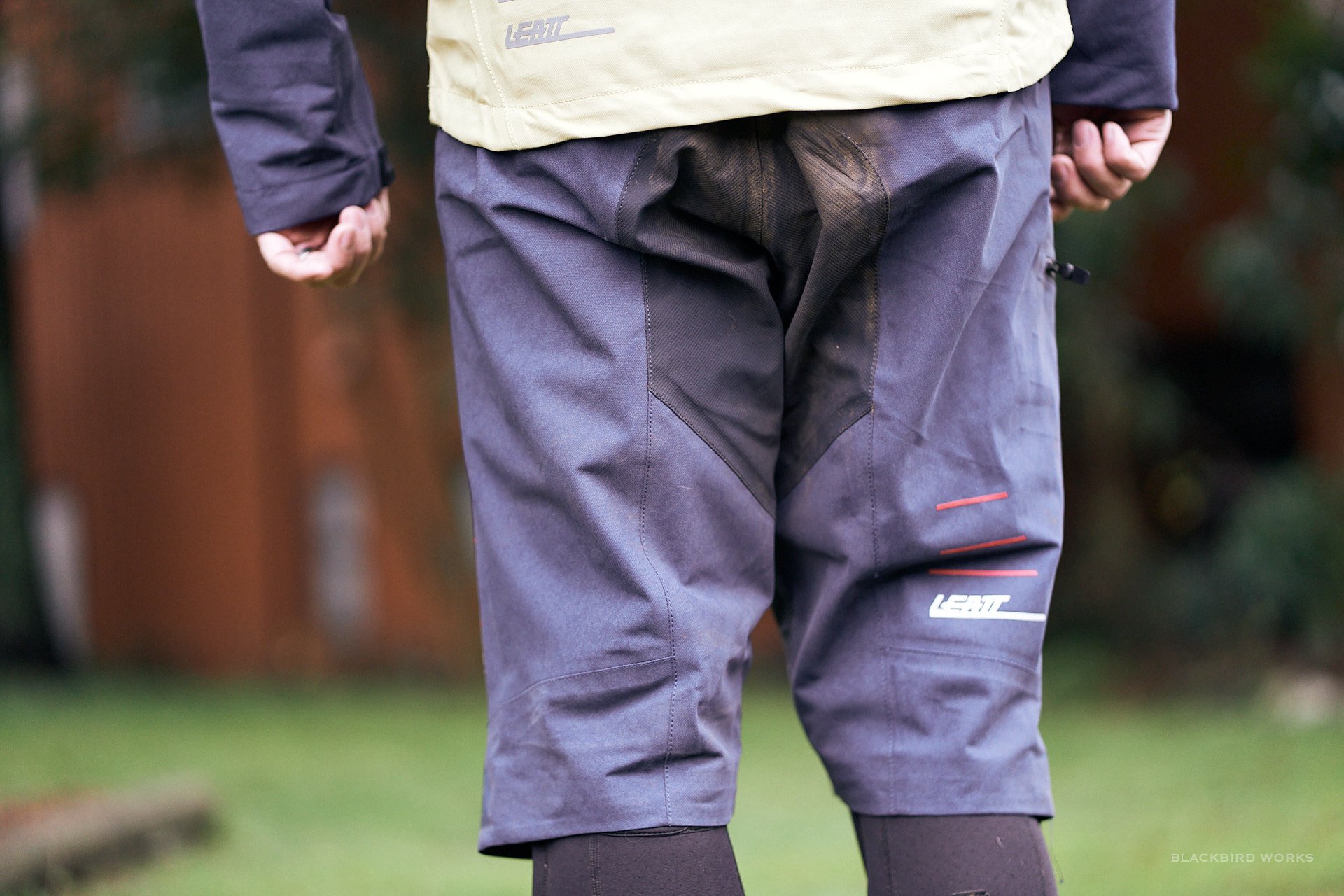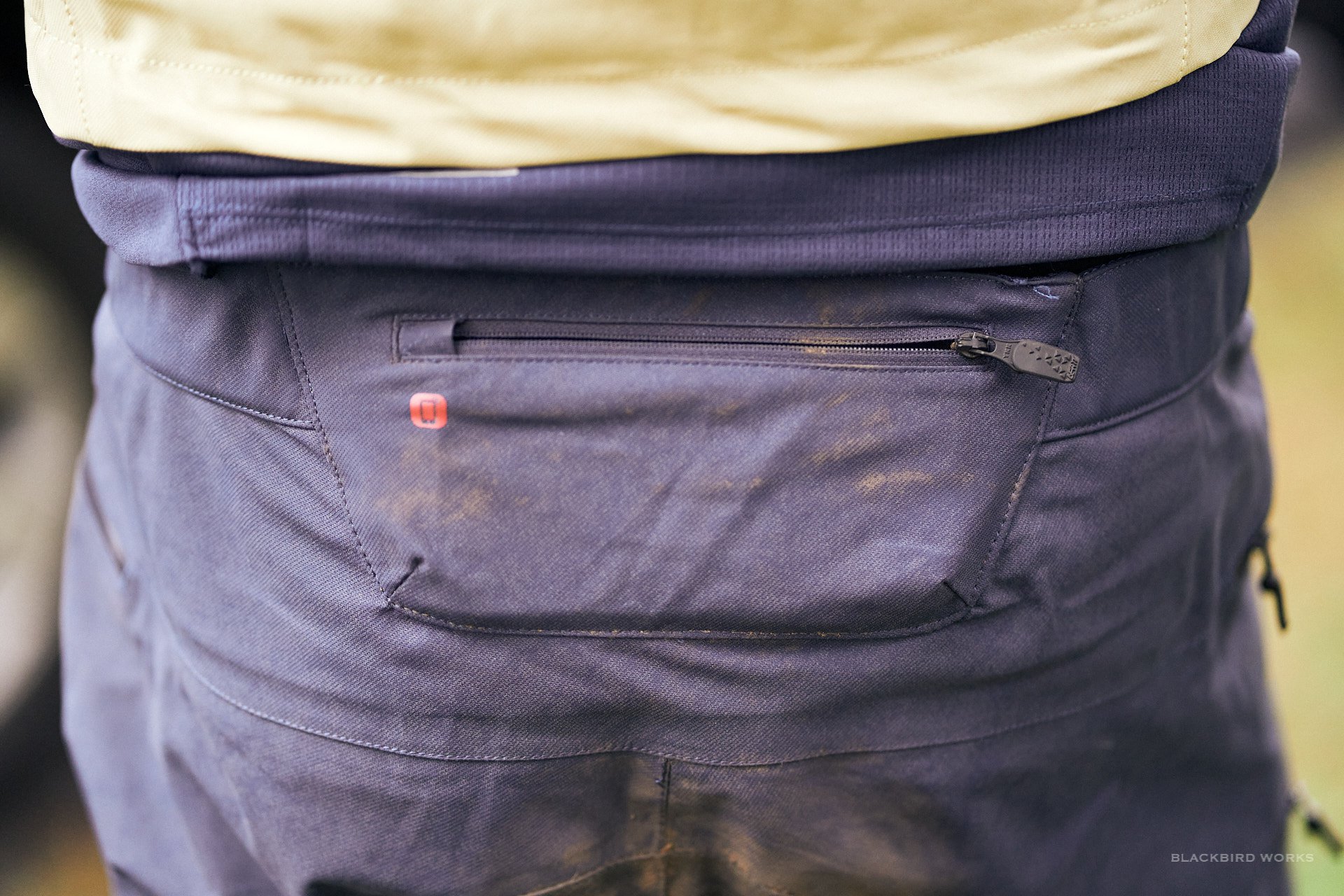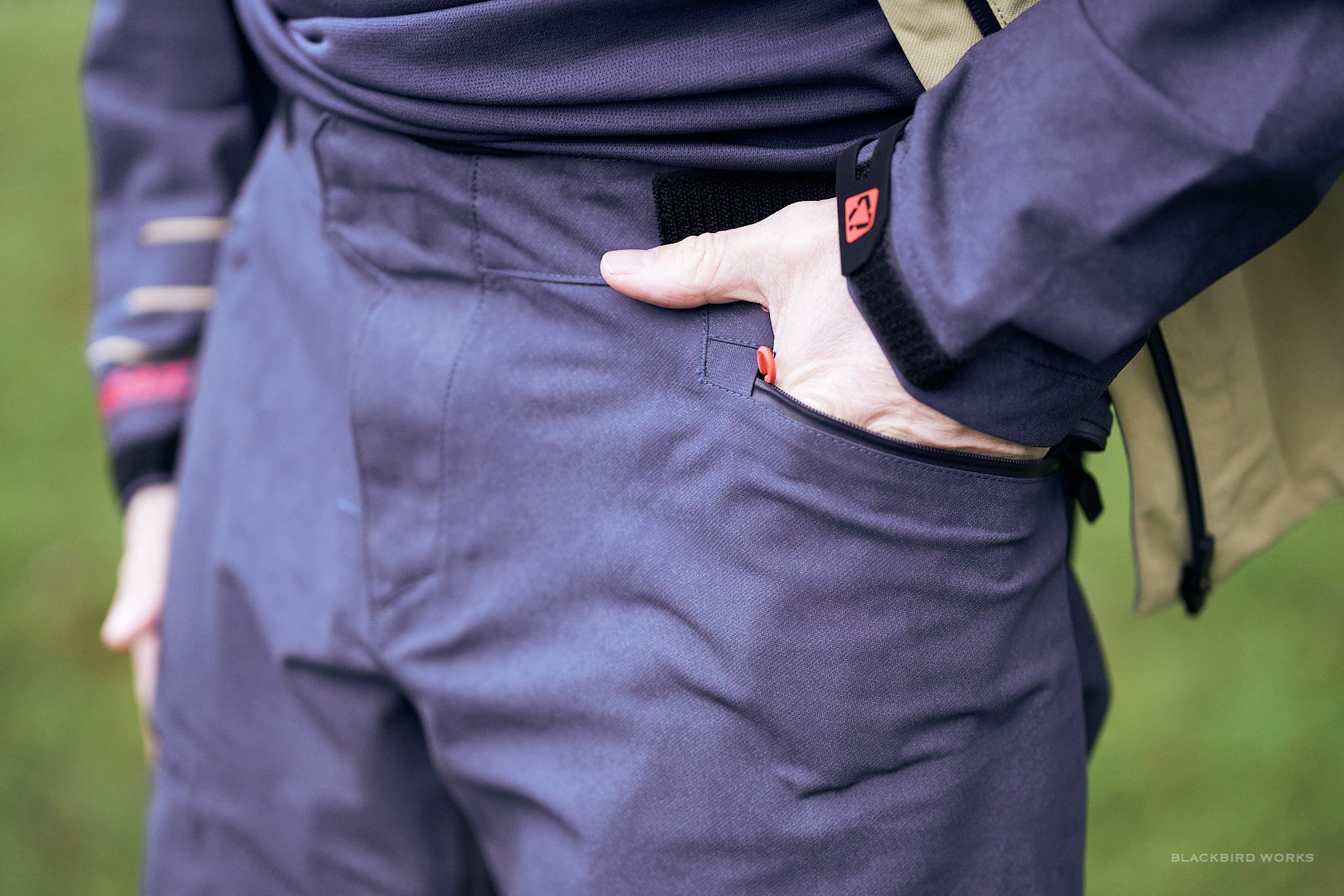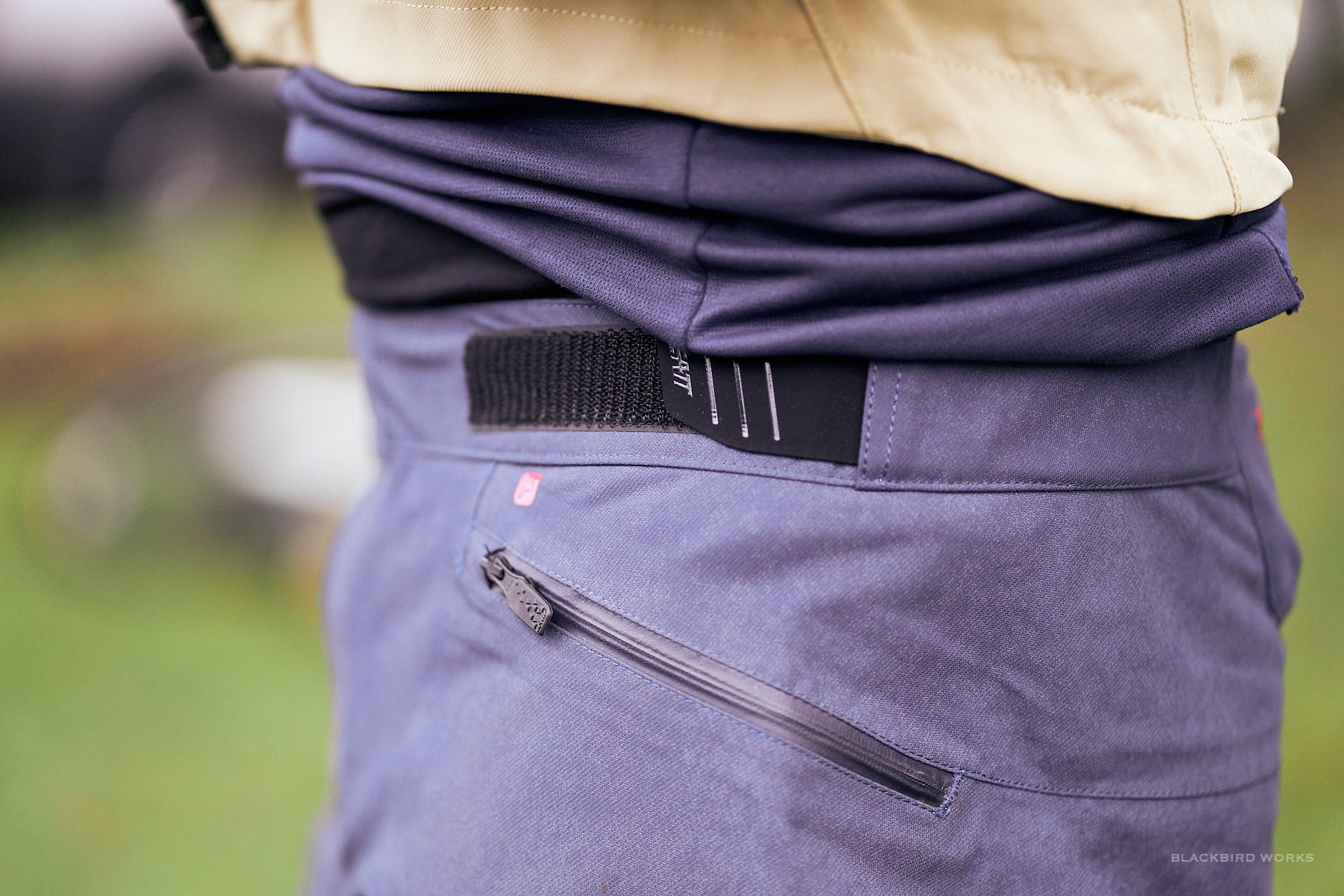 Like the 5.0 jacket, the shorts feature four-way stretch fabric, and a 30.000mm/23.000g/m² waterproof/breathable shell and a three-layer HydraDri membrane and taped seams throughout. Like with the jacket, I'm just going to use words instead of numbers: these suckers are waterproof and breathe well enough not feel like you're wrapped in a four-way stretch sauna, but the shorts fit the same bill as the jacket - more suited for heavy duty riding (shuttling, bike park use, and lower-intensity pedaling OR any intensity in truly crappy conditions). I'm less fussy about breathability on the bottom, and everyone knows that inner-thigh clamminess that comes from riding through puddles like a 6-year old. So, no discomfort to report, but also an admirable amount of protection from these shorts. They're not as stiff feeling as a pure downhill race short, which is good, and yet they offer barrier-like protection from the elements. If you're after a barrier like that and don't want pants, or if you're riding in wet but warm conditions, Leatt's Shorts MTB 5.0 are feature-rich, fit very well, and are built to last. Solid buy rating - unlike GameStop.
Size XS-3XL (28-40'') // $139 USD // $190 CAD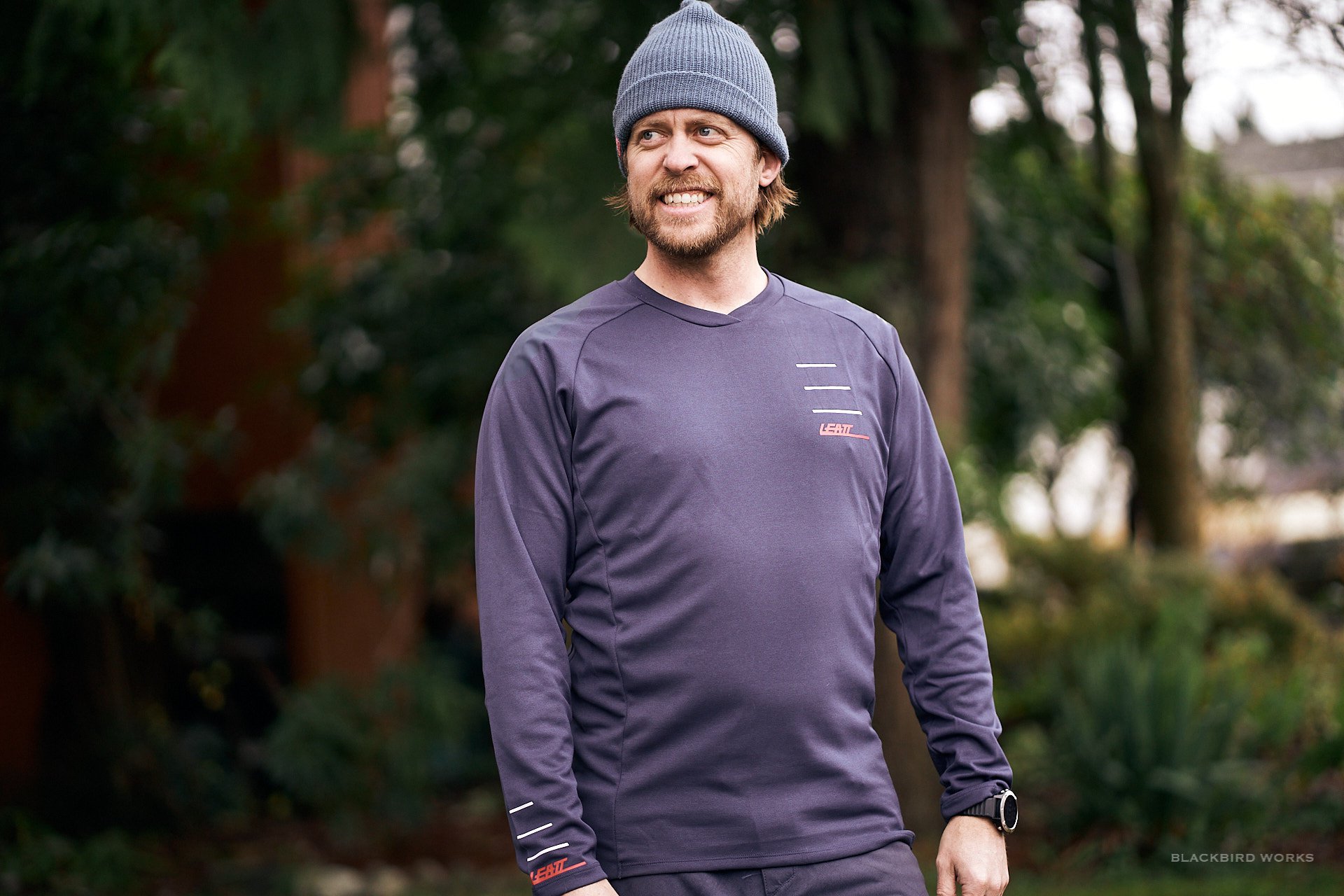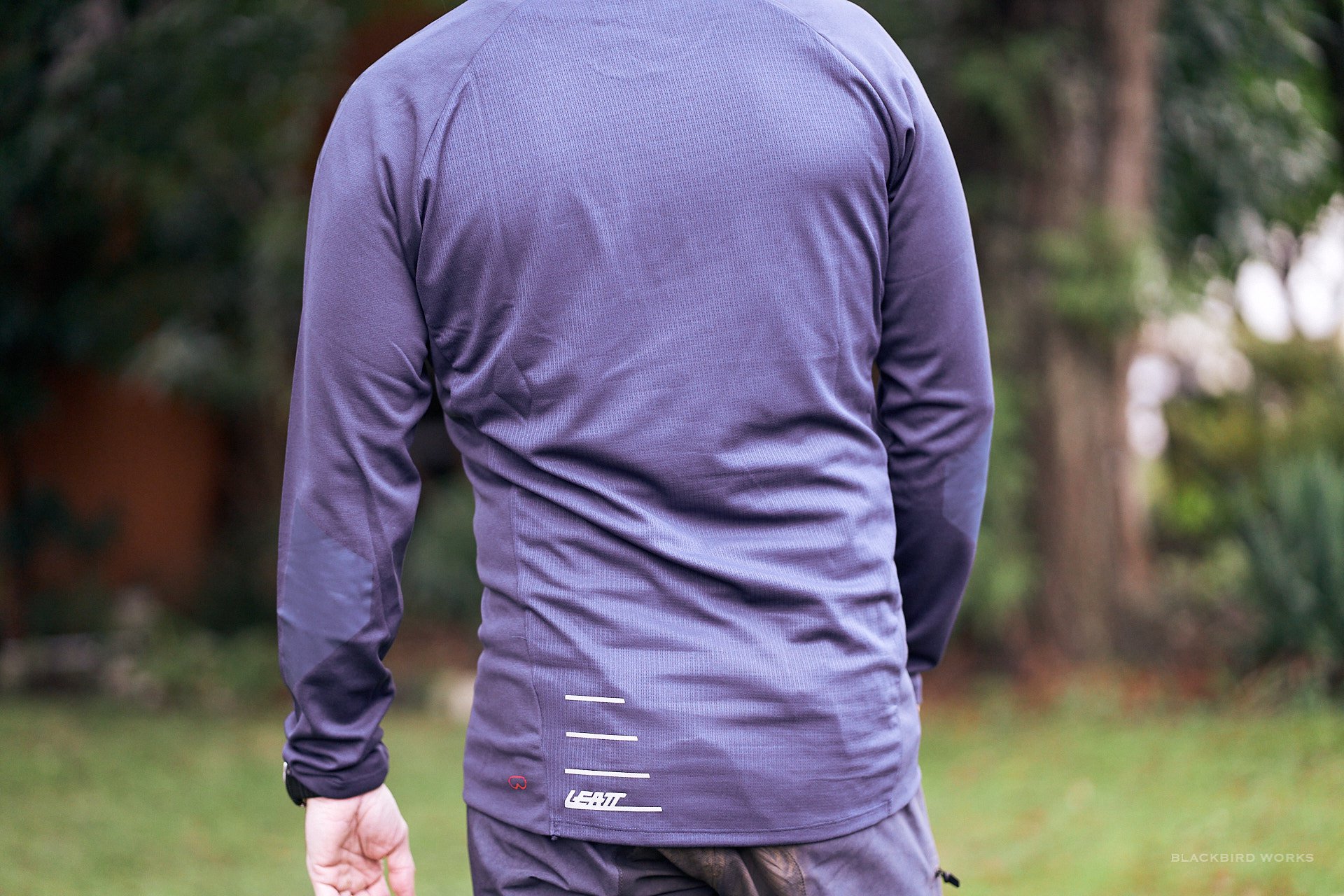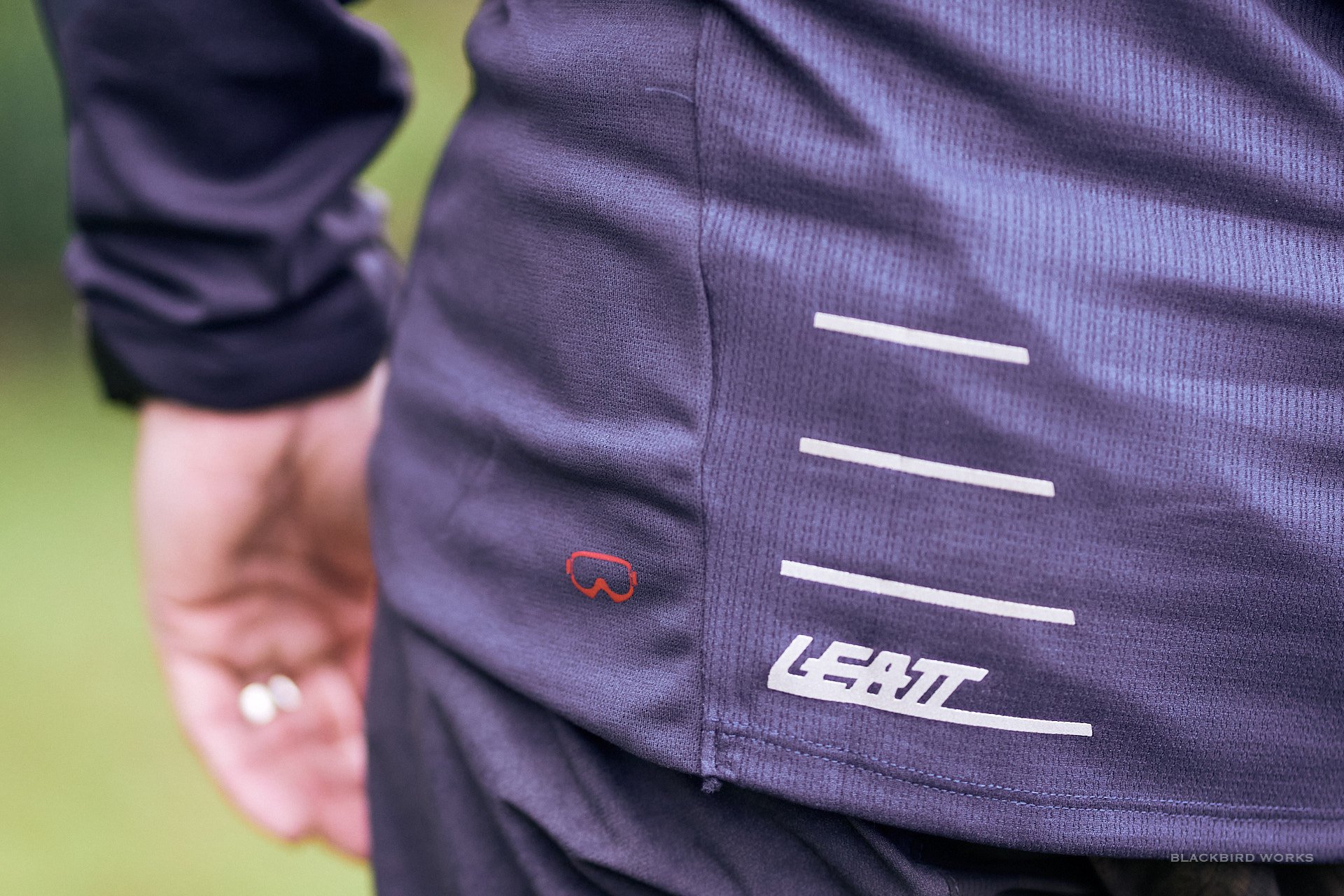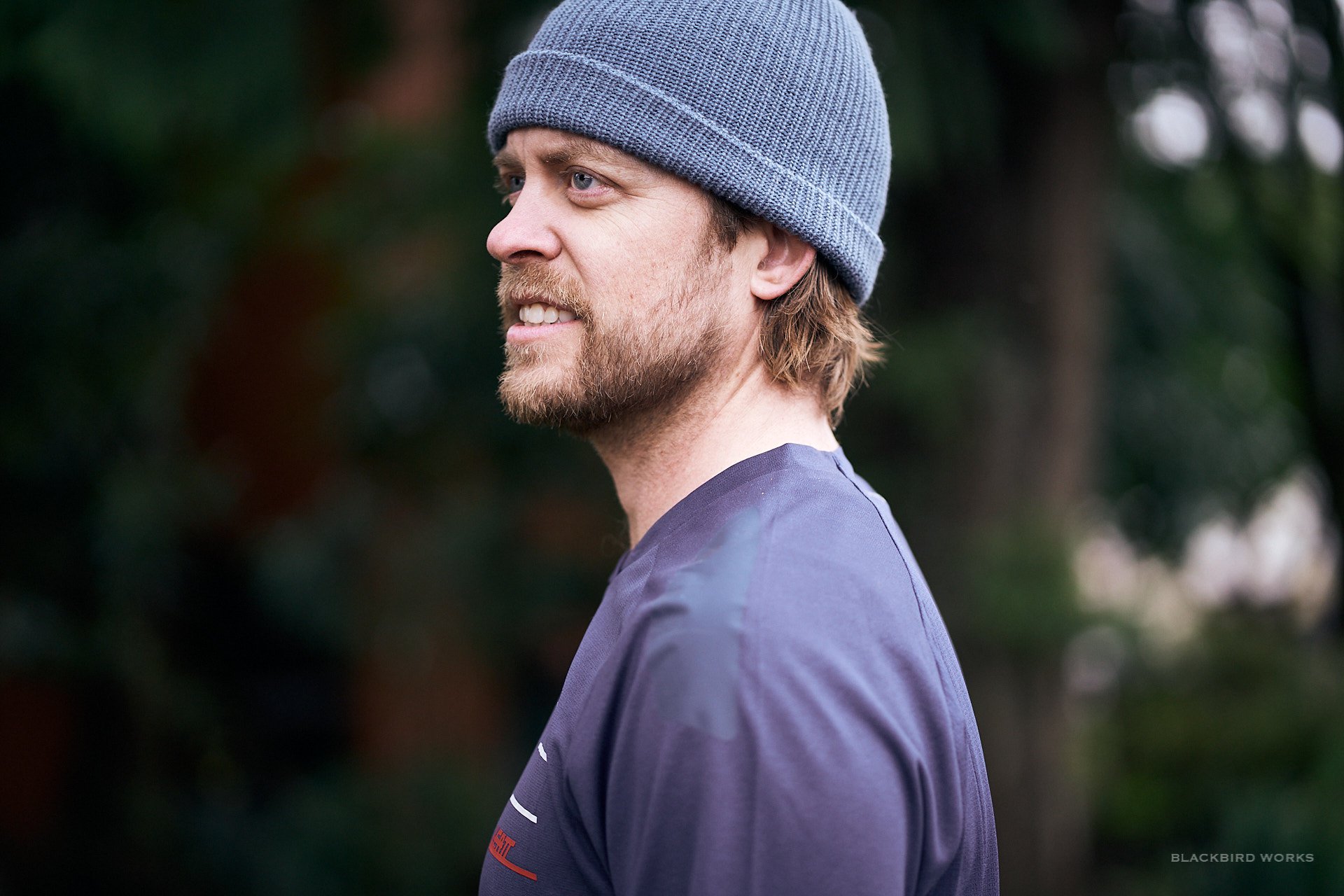 Leatt Jersey MTB 5.0
I dislike reviewing jerseys, mostly because I don't find much to talk about with most of them. I'm not a Moto guy and that style doesn't generally appeal to me, but the main reason is that for most of the year, what works best for the weather I ride in and the amount that I sweat is a merino base layer and then some combination of merino or fast-wicking mid layer(s) or a jacket that repels water like the ass end of a duck and breathes like a free diver that pushed their luck.
So, most jerseys are not that appealing to me, and unless you want to nerd out on fabrics, there's not much to say about them. The Leatt Jersey MTB 5.0 is, therefore, getting a little play here because it's unique, and I quite dig it. Like the other two 5.0 pieces I've written about above, it's meant for winter use, with WindBlock fabric on the chest, arms and sides, but a mesh back panel to allow your body to eject vapour out the back end. It's made by a brand that makes lots of Moto-inspired gear, but the graphics are understated (that's a personal preference issue but worth noting). Brush guards on the shoulders use anti-slip to help keep a pack in place (and I do wear a pack in winter - sometimes); there's also brush guard protection on the elbows. Of course it's made from a wicking material. There are two side pockets on the inside - your wrist has to get gymnastic to access them but I suppose they'd work for a bar or small set of keys. I've never used them but I like knowing they're there, and there's no added bulk. There's also a goggle wipe section, which should be something incorporated on all jerseys, frankly.
And that's about it. It's warmer than a regular long-sleeved jersey. It looks good in an understated way. Like every other Leatt piece I've seen in recent years, it has thoughtful features. At $79 US, I think the Leatt Jersey MTB 5.0 would be considered a premium jersey, but it seems fairly priced for what you get. I've worn it a bunch this winter, and anytime something unseats my preference for all things merino, it's a winner.
Size XS-3XL // $79 USD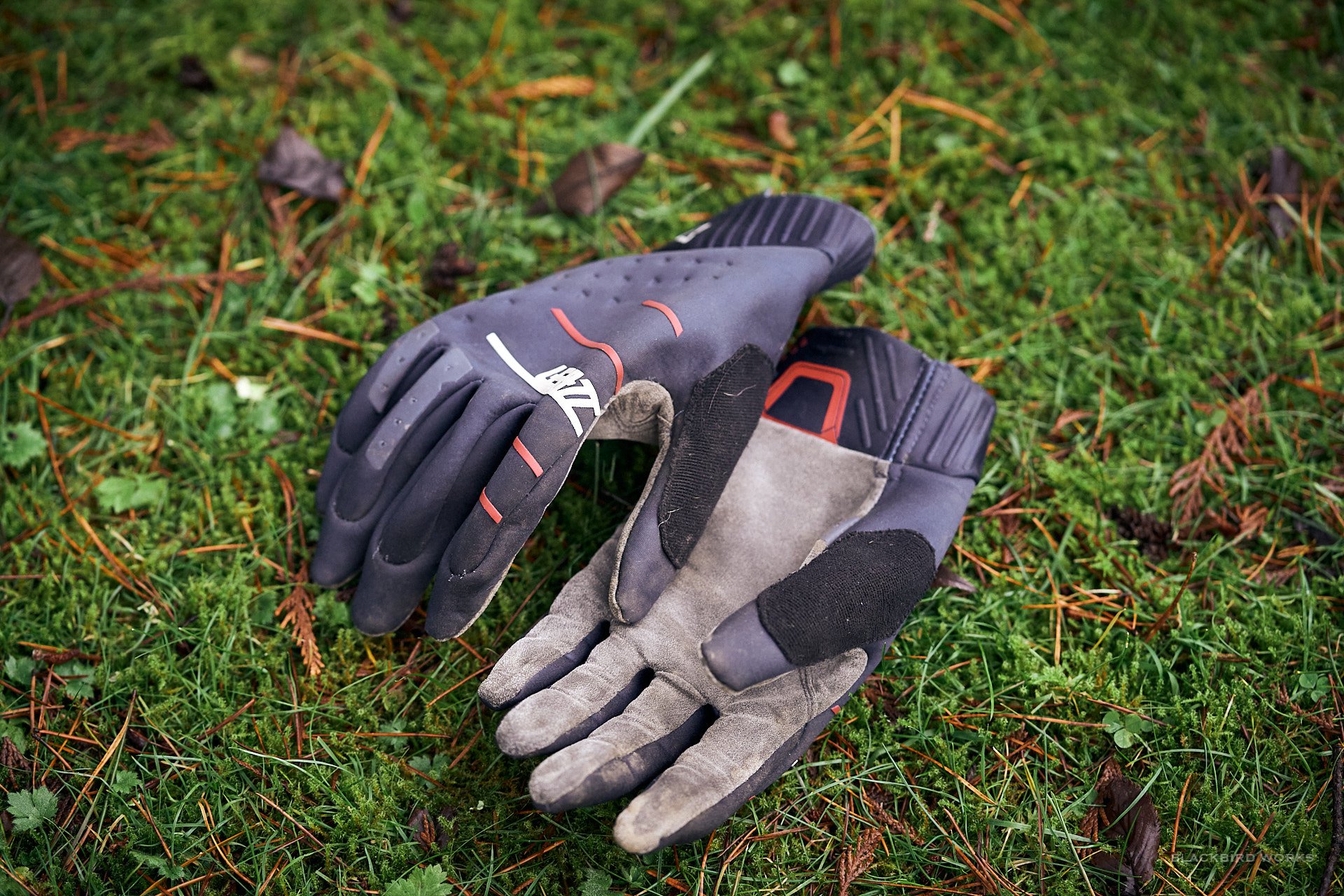 Leatt Glove MTB 2.0 SubZero
Leatt's naming convention is a bit different for gloves, where 5.0 is the max amount of protection, and 1.0 the least. In this case, then, the 2.0 isn't all that protective against impact, but its SubZero designation means it is insulated against the cold. As with all winter gloves, the trick is nailing the combination of insulation and (if applicable) water-resistance without giving up too much in the way of finger dexterity and bar feel through the palms. In this regard, the MTB 2.0 SubZero is basically perfect.
The aforementioned SubZero insulation covers the back of the hand in thin but effective protection against the cold. It also somewhat adds water resistance, but there's no membrane or shell doing that work - if it's truly raining or wet, your hands will bear the brunt eventually, but there is more protection from moisture than your average riding glove. The answer to truly wet conditions is generally still carrying 2 or 3 pairs of gloves and swapping out as needed, but if you're not getting absolutely battered, the 2.0 SubZeros are a one-pair solution for most riding conditions I've encountered this winter.
The fingers and palm are pre-curved and a MicronGrip palm gives a bar feel that is every bit as good as any non-insulated riding glove. They also grip well in the wet: on a recent ride we stopped to move some logs - and by 'some' I mean three water-logged monstrosities. My palms were soaked but I didn't lose any stick at the grips. The palm is seamless and I can't stress enough how close to regular gloves these feel. I've worn them in snowy conditions and they were just warm enough as long as they stayed dry - metal brake levers or handlebars will still give you trouble in below zero temps and on today's ride in -5º Celsius I needed more hand protection, but for most of my winter rides, the Leatt Glove MTB 2.0 SubZero are the ticket.
Size: S-XL // $36.99 USD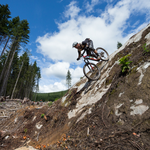 Pete Roggeman
Age: 43
Height: 6'1 // 185 cms
Weight: 195 lbs // 88 kg
Inseam: 32" // 81 cm
Bar width: 780 - 800mm // Reach: 475 - 500mm // Dropper: 170 - 190mm
Flats or clipless: both, but mostly flats right now
Trail(s) of choice: Dreamweaver, Boundary, Lower Digger, Ladies Only, 5th Horseman