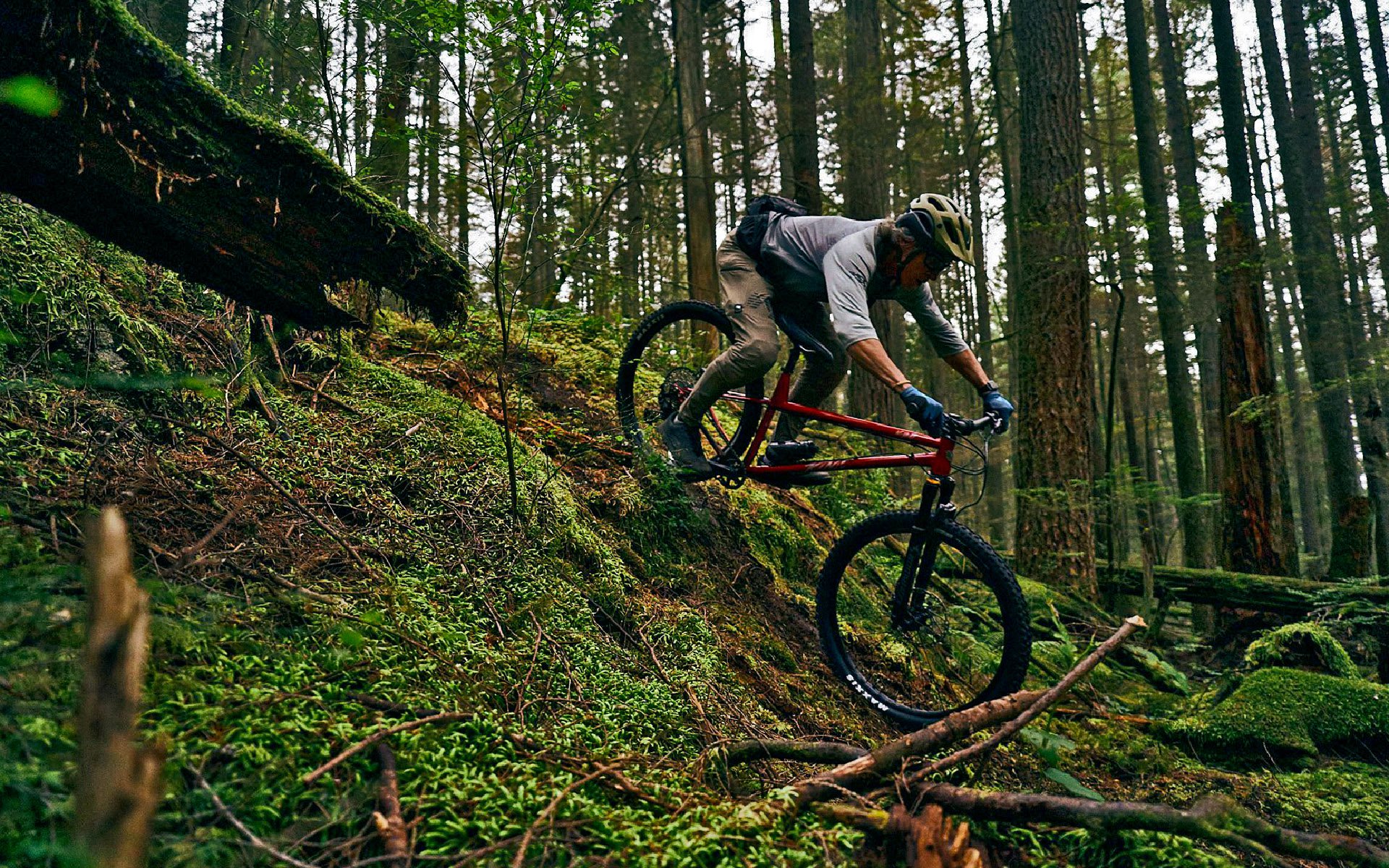 First Impressions REVIEW
2021 Kona Honzo ESD
The speed, those weightless feelings, the terrain you can ride; oh how I love thee full suspension mountain bikes! There's not much that can match that feeling when the bike gets light underneath you and seems to disappear. There was a time when I was a card-carrying Luddite and while I haven't swung all the way to early-adopter when voting with my own dollars, I have fully embraced the march of mountain bike technology. So much so that I'd largely suppressed my long-held dream of buying a sweet chromoly hardtail with modern geometry and parts.
When my name came up to test the new Kona Honzo ESD, (Extra Slack Dude!) I was fine with the idea in principle, but not very excited in practice. In fact it took me a while to saddle it up for the first time after it arrived, partially because of travel, smoke, and COVID-19 issues, but also because the rides I wanted to join with my buddies were not appropriate for my first real hardtail ride in years. Or so I believed. Eventually I bit the bullet, spun on some pedals, and committed to some steel time.
At that moment rain was on the horizon and my buddy Trevor was on me to ride a trail he'd been working on that can only be ridden, at least by mortals, when it's bone dry. I joined the group of four for the climb but peeled away from the gnarl at the top toward a more civilized descent. I was a little bummed leaving my buddies but I was committed so I climbed a little further and tipped it downward solo, with humble expectations.
After three or four undulating corners and a few small launches, I was hooked. Of course it wasn't as smooth or as easy as the duallies I've been riding lately, but other elements made up for those deficiencies. I was feeling much more of the trail and having to be as dynamic as Batman and Robin put together. My attention focussed with more immediacy on the surface of the trail to avoid square edges that would hang up the rear wheel and kill my momentum, and injure my back. The overwhelming sensation was amplified engagement. My surprise about being so captivated multiplied the experience and like the Grinch, my heart grew two sizes. I was hooked after the first 2-minute descent.
The downside was that at several points on the descent I had to stop and catch my breath because there was no way I was slowing down. My hands and my rear leg were tired and sore, but they recovered quickly and the hilarity continued. I rode a few lines I'd expected to skip and found myself covering ground with surprising speed, even passing a few groups. On top of my actual velocity being pretty good, my perception was that I was absolutely flying down the mountain, further broadening my grin.
The bike encourages speed and rewards an aggressive riding position with weight on the hands. It does relatively well when pace is accompanied by rough terrain, but there's no getting around the absence of rear suspension. It does nicely in berms, holds a line well, and it smoothly switches from side to side. It maneuvers well in tight spaces but the length of the bike makes it a little tricky to get around some obstacles. That may improve with time, as you'll learn below. I've ridden a few steep pitches but nothing sustained just yet, but I'm pretty confident this will be a blast on some of the trails in my regular rotation.
Ride number two was with Pete who was riding a Transition Sentinel, a fast and capable bike in his experienced hands. At the top I let him go first without much sense of whether or not I'd be able to keep him in range. I was again surprised by the capability of the Honzo by staying pretty close to his tail for almost the entire ride. It was hard work with no time to rest or recover, but it was incredibly rewarding to discover what the bike could do. Did I mention fun? It was ridiculously fun.
This experience reminded me that hardtails are fun on their own, but one with progressive geometry and an excellent selection of parts tips the needle past the redline. This is an incredible machine for 3600 CAD or 2700 USD and there isn't a part I felt any need to change. The SLX drivetrain in particular is nothing short of spectacular. I've spent a lot of time on XTR 8100 and I can't say I could tell the difference in a blind test. It shifts so smoothly under load it goads you into doing it more often and the Deore 4-piston brakes are similarly excellent with abundant power and highly sensitive modulation. It makes me think Shimano made the lower-priced groups so good they are likely to cannibalize sales of XT and XTR.
When I first got on the bike it felt a little big and it looked huge. To compensate I cut the bars a little shorter than usual to 750mm and pushed the saddle a little forward. I was a little stretched for seated climbing but the bike felt great on almost everything. I found it a little long in some tight janky corners but it was getting better after each ride, and for my most recent trip I moved the wheel all the way forward in the sliding dropouts to shorten everything just a little.
The word from Kona is that this bike began life as a mule for the newKona Process X. You can see there are a lot of geo similarities, but I wondered how a hardtail can help you figure out how a full suspension bike is going to ride, so I asked Kona Product Manager Ian Schmitt how that worked; "We wanted to check the fit of the geo more than anything. Really that kind of static position on the bike when you're climbing etc. We wanted to make sure that some of the assumptions about how a rider would interface with the bike were actually correct and we weren't getting lost in the weeds. You can definitely learn a bit about how the bike behaves as well, but that comparison between a hardtail and a dual suspension isn't really gospel, more just another data point to make inferences from. Swapping back and forth between the X and the ESD is interesting, the dual suspension is much more dynamic and the way the two bikes behave on the same trail are wildly different and require slightly different riding styles and technique."
I also wondered if Ian had ulterior motives with this project, and it seems that may have been the case; " I have wanted a longer/slacker hardtail for some time and this seemed like a good opportunity to legitimize that plan. The group bought into my idea and now we have a sweet hardtail."
My Top Ten Reasons for Riding a Hardtail (or adding one to your stable)
You can grow a mustache or a neck beard, wear knickers, grumble about standards, and hate on e-bikes and fit right in
Hardtails force you to ride with solid technique and to be more dynamic, making you a better rider
There is very little to break (no rear shock! no pivots!) so it will generally be there when you need it
You will feel a little superior to all the 'sheeple' on carbon duallies
Hardtails make trails you've been riding for years feel fresh and new
Your full suspension bike will feel like you're riding on a cloud when you go back to it - and you'll be ripping
To hear smart-ass comments from your buddies like, "Hey Cam, somebody stole your shock."
A slight handicap keeps things fun when you are riding with slower riders
If you plan correctly, you can use wheels and fork etc. as back ups if something fails on your full suspension bike (if you have one)
Because it's a shitload of fun (particularly on the Honzo ESD) for a very reasonable price
When Deniz was taking these photos I noticed a sticker behind the seat tube where it clearly showed this was an XL frame. I was certain I would have received a large frame, considering the 490mm reach is generally as long as I go. When I got home I pulled out my tape measure and confirmed this was an XL with a monstrous 525mm reach. While it's only 35mm, or about an inch and a half beyond my normal limit, the wheelbase at 1285mm is 40mm longer as is the front centre at 875. I think a little broken telephone is to blame for the size mishap, but we're going to swap it out since another publication wants to get their hands on the XL anyway. Hopefully it won't feel tiny under me and those switchbacks will feel a little more natural, but I don't want anything else to change.
There was a time when I used to see DH racers training by riding hardtails in the winter and the few rides I've done so far make me wonder why that doesn't seem to happen much any longer. Of course you want to get intimate with the bike you'll be racing on, but riding a hardtail gives you super powers when you return to double-ended damping. That alone is worth the price of admission for me.
The next step is to try the ESD on some more challenging trails and really learn how to ride a hardtail again.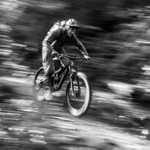 Cam McRae
Height - 6'/183cm (mostly legs)
Weight - 170lbs/77kg
Inseam - 34"/86cm
Ape Index - 0.986
Age - 57
Trail I've been stoked on lately - Boogieman
Bar Width - 760mm
Preferred Reach - 485-500mm (longer with 27.5 wheels than 29)