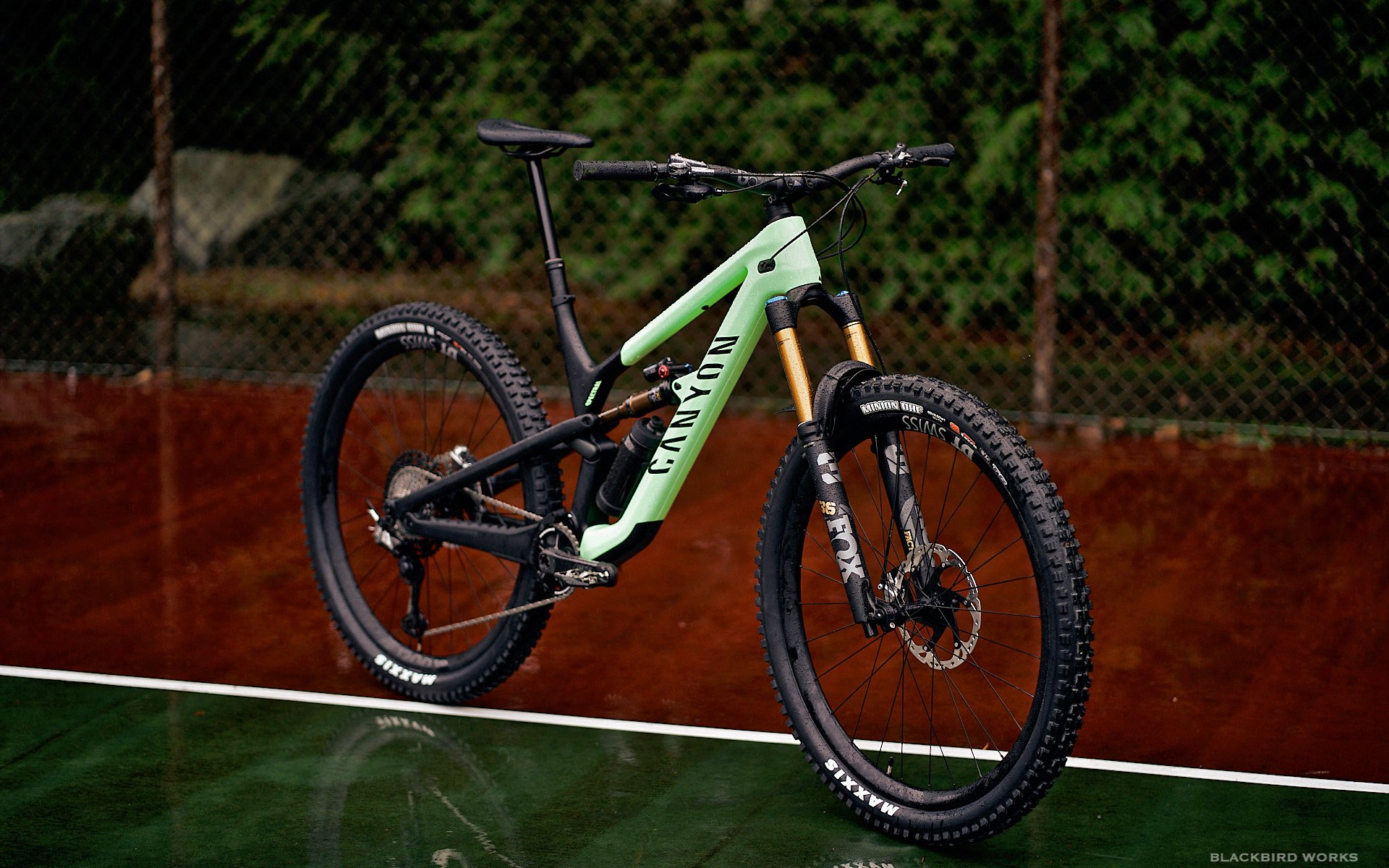 First Impressions Review
2021 Canyon Spectral 29 LTD
When I was asked if I wanted to review the Spectral LTD, I jumped at the chance. Not because I thought it was the perfect bike for me, but because on paper, it wasn't. Oodles of carbon, Kashima and XTR may have also played a role in my excitement. I've recently stopped playing the N+1 bicycle game, and have chosen instead to play N=1. My ideal one-bike-to-rule-them-all is probably closer to a DH bike than a trail bike. This is why I wanted to spend a few weeks on the Spectral - because I wouldn't necessarily have considered it as my daily driver. But what this machine might lack in suspension travel and sledgehammer spec, it makes up for in smart, progressive geometry. This mantra of "let the geometry do the talking" seems to have worked very well for bikes like the Norco Sight and Transition Sentinel (these 3 bikes are so close in numbers, you gotta wonder who was copying whose homework); it will be interesting to see how Canyon executes this winning formula.
Canyon isn't exactly a household name in The Great White North, as they currently don't deliver to hosers. But this is set to change in the very near future - this spring to be exact. Canyon operates under the direct-to-consumer business model, similar to companies like YT. If you're willing to forego the customer service and expertise of your LBS, you can reap the economic benefits of eliminating one or two steps in the supply chain. Saying the words "good value" and "$6,300 US" in the same sentence may cause some heads to spin. But when you consider that the wheels alone retail for $2,780 US(WTF!?), if you're in the market for a halo-level bike spec that leaves nothing to be desired - it's hard to argue that the Spectral LTD isn't competitively priced. I would expect a bike like this from other high-end brands to retail for significantly more Benjamins. Direct-to-consumer is not without its own drawbacks though. Supporting local economies, professional bike assembly, "free" maintenance programs, and knowing that your LBS will have your back if something goes wrong are strong arguments against the direct-to-consumer model. In the end, it's up to you to decide what's most important for you. My 2 cents: If you're not 100% sure about the kind of bike you want, and/or you're not confident in your abilities to service a $6,300 bicycle on your own - then you might not be ready for direct-to-consumer.
With all that out of the way, let's take the tour.
Frame
'Effing gorgeous pretty much sums it up. The fit and finish of the full carbon frame easily rivals that of most boutique brands. Everything is beautifully designed and assembled. From the X-Ray colour scheme, to the fit of the chainstay protector and BB guard - this bike just has perfect lines all over it. It's obvious that a lot of effort has gone into keeping the bike tidy with minimally exposed bolt hardware and ridiculously hidden cable routing. Many suspension frames have all kinds of nooks and crannies for mud and debris to collect. This frame is the exact opposite - every potential debris accumulator is sleek and closed off. As a rider of the PNW, I love this. But if you're the type who judges the success of their rides by the amount of loam collected on the frame, you may just be disappointed.
The frame design does suffer from one glaring issue that may not be an issue at all to some riders: the included 600ml water bottle. While it's a very nice bottle, 600ml is going to be too small for some riders who don't want to carry a pack. The frame design doesn't allow for a bigger bottle to fit. Also, the bottle is positioned very low on the frame - almost impossible to reach while riding.
On the size large frame that I'll be reviewing, here are the numbers that I care about:
-150mm travel (160mm fork)
-64* head angle (low setting)
-485mm reach
-437mm chainstay length
-1251 wheelbase
-76* effective seat tube angle (low setting)
-36mm BB drop (low setting)
And here are the rest of the numbers that you might care about:
Boingy bits.
The LTD spec gets the full Factory treatment from Fox, with a 36 up front and a DPX2 out back. The fork gets the new VVC Grip2 damper with ALL THE DIALS, EVOL air spring, lower leg bleeder ports, and a clever new floating QR axle system. Floating fork axles are a no-brainer and I wish they were more common - they allow the fork dropouts to clamp the axle in a "neutral" state that eliminates any slight misalignments that can lead to bushing bind. This results in smoother fork action and should result in longer bushing and stanchion life. I personally don't mind using allen keys to do up my fork, but the new Fox system allows you to set the floating pinch bolt once when you first set up the bike. After that, you don't need to mess with it again, and removal of the wheel is strictly done with the tool-free QR.
The DPX2 shock is standard fare on a bike like this. You get fewer adjustments than on the fork, but sometimes less is more - particularly when it comes to shocks. Damper adjustments include rebound, compression and 3 ride modes from "open" to "firm". It's worth noting that compression adjustment only affects damping in the open ride mode.
Hyper-exclusive wheels and odd tires.
Wow, these things actually exist! I knew that DT Swiss was making carbon hoops, but I had yet to see any in the wild. Their stratospheric price might have something to do with that. The XMC1200 is their top-tier, all-mountain wheelset. They seem to have a fairly deep radial cross section, which leads me to wonder if they'll be bone-jarringly stiff. Time will tell. 30mm internal width, straight-pull, bladed spokes and ultra-bling DT 180 hubs round out this wheelset. I'm a huge fan of DT hubs, so I'm excited to see how these wheels perform as a complete package.
The tire spec on this particular test bike falls under the "interesting" category. I found a Minion DHF EXO up front with a Minion DHR II EXO out back. The interesting part came when I realized that the front tire is MaxxTerra compound, and the rear tire is MaxxGrip compound. For the uninitiated, you generally are going to want a stickier compound up front for better braking and cornering on slippery surfaces, and a slightly stiffer compound out back will keep your rear tire from getting smudged out too quickly. This bike is rocking the opposite for some reason. Now, I have to think that this combo might be a Covid-era supply chain issue - because it's just plain weird. The Canyon website shows EXO MaxxTerra front and rear, which is to be expected. That said, for a bike with a self-proclaimed "Shred Spec", it would have been nice to see at least EXO+ casings.
XTR abounds!!!
This will be my first real experience on the new superstar from Japan. I'm a bit of a peasant when it comes to equipping my own bike with a means of transmitting pedal power, so I'm expecting big things from this 12-speed jewellery. Brakes on the other hand, are something I don't take for granted, and I've heard very good things about the XTR stoppers. They feel awesome at the lever, even with the trademark Shimano wandering bite point. And yes - the pads rattle. And yes - it's a bit annoying. 203mm rotor up front with a 180mm out back is fairly standard these days, and a welcome sight.
The other stuff…..
The rest of the package is solid, and free from any unwanted fluff. Even the house brand bar and stem are really nice. I'm really digging the fighter-jet-meets-road-bike aesthetic of the Canyon G5 stem, along with the matching headset spacers. So clean! Very happy to find a 180mm OneUp dropper and great feeling Ruffian grips - er, I mean Canyon G5 grips.
I'm almost surprised to find Race Face Next SL cranks on this build. I feel like the slightly beefier (but still featherlight) Next R would be more at home here. On paper, this bike appears to have pretty rowdy intentions, and spec-ing Race Face's lightest crankset is maybe a controversial move. That said, I'm not too worried as I've had nothing but good experiences so far on Race Face carbon cranks. But for the 67g weight penalty, I'd prefer seeing Next R here.
While we're on the topic of the cranks, I ran into issues trying to install my Race Face Atlas pedals on the Next SLs. The pedal body sits quite close to the crank arm, and the protective crank boot severely interferes with the pedal - even with the supplied pedal axle spacer. I had to take the crank boots to a belt sander and sand down the outboard surface to allow more clearance. Seriously Race Face, how is it that your own pedals don't play nicely with your own cranks? Luckily, the boot modification was easy - but not everyone has access to a belt sander. I certainly wouldn't recommend running these cranks without the boots, so this is something you may have to consider depending on your pedals.
So, now that I have my DH pedals sorted out on my XC cranks, time to get this beautiful machine dirty! Let's hope that mother nature cooperates and allows me to spend more time on dirt than on snow.
The Spectral LTD doesn't appear on every national version of Canyon's website, and the Canadian site doesn't yet list prices or... anything really, so you may have to become an honorary Australian (for example) to see more info about this bike. In the land down under the Strive 29 Ltd. lists for 9399 AUD. More info here.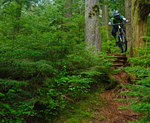 Ryan Walters
Age : 40
Height : 1803mm
Weight : 86kg
Ape Index : 1.03
Inseam : 787mm
Bar Width : 780mm
Preferred Reach : Pretty comfy at 487mm these days.