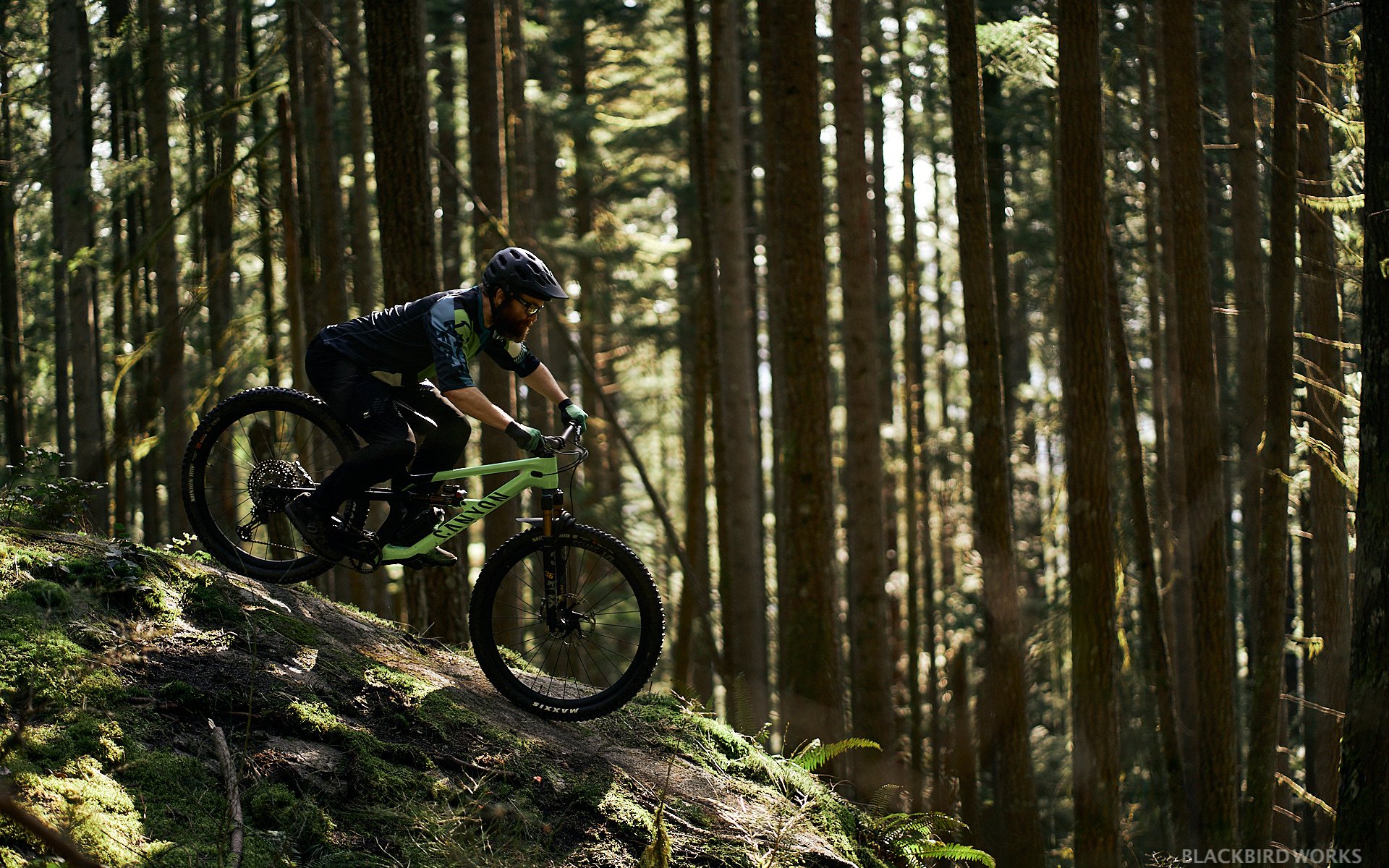 Long Term Review
2021 Canyon Spectral 29 LTD
The Looooong Term Review...
As some of you may remember, several months ago I signed on to take the 2021 Canyon Spectral LTD for a spin around the proverbial block. That was nearly a year ago, the early days of 2021, when we all collectively thought that there was no possible way that world affairs could get any sillier. And yet, here we are in 2022. Hmmmm…..
The past year hasn't been all doom and gloom though. Mountain bikers in particular have so far managed to ride out the Covid era with relative ease compared to most other sports. Getting out into the woods, far from crowds is basically the best thing we can do for ourselves at the moment (or anytime for that matter), so it's fortunate that we were already doing that, way before COVID was even a thing. Yeah, it's been tough finding brake pads, 12 speed chains, and toilet paper - and the local trails are seeing increased traffic that can at best be considered a "mixed blessing" to the sport. But I think we can all agree that relatively speaking, we've had it pretty good.
But I digress - I got to ride a handful of very cool bikes in the last year, and the Spectral was one of them. This review turned out a bit differently than expected, and we'll get into all the juicy details momentarily. If you haven't already checked it out, or if like me, your memory is muddy recalling details from last week, let alone a year ago - I suggest you start with my first impressions of this pretty green machine. In the several months since the Spectral LTD was delivered to the NSMB testing stable, Canyon has replaced it with the similarly Gucci'd-out Spectral 29 CFR. At $8499 CAD, the CFR is certainly not cheap, but considering the eye-watering spec, this bike comes in at a very competitive price - even when you factor in the additional 13% import duty charge. For you SRAM fans out there who want to spend even more money, the Spectral LTD AXS 29 comes with all the bells and whistles and bleeps and bloops for a cool $10,399 CAD. And now that I've got you all properly fired up about automobile-inspired bicycle prices, Canyon also offers the Spectral in a dizzying array of more reasonably priced builds. Available in 29er, 27.5, and even some mullet options if you just can't make up your mind between business and party. You also have the choice between a full carbon frame, or alloy to save a few bucks and add a few grams. With so many build options, it's best that you go straight to the horse's mouth for info on all the Spectral models.
In my time spent riding the Spectral, I've tried my best to get acquainted with this bike in as many riding scenarios as possible. From literally icy rock slabs, to warp speed groomed berms - I've sampled a lot of terrain. Considering the geometry and parts spec, the Spectral comes across as the perfect Sea-to-Sky "all-rounder." Cooper Quinn might be inclined to call this a shore-country* bike, and I've heard that Roggey prefers the term "quiver-killer"**. However you want to categorize it, the Spectral is a bike that is happy to get you into a bit of trouble, but packs enough firepower to get you out of that trouble.
* all hate mail should be directed to the Vice President of the NSMBA (but not NSMB.com)
** please enjoy this bike review - it might be my last
Getting to the Party - Faster than Usual.
My very first ride aboard the Spectral started out with the long and somewhat technical Fromme climbing trail. It didn't take long to figure out that this bike climbs better than most Shore-worthy rigs. Canyon set out to make this bike more efficient while mashing on the pedals, compared to the previous Spectral, and it shows. There is just enough anti-squat at the sag point to keep the bike from bobbing excessively, but not so much that suspension suffers when negotiating technical terrain. With the shock wide open, I found I could billy-goat up technical sections that I've rarely cleaned before, and I do have to give some credit here to the featherlight weight (in my recent experience anyway) of scant over 30 lbs. The Spectral kinematics do result in a barely perceptible amount of pedal kickback when actively pedaling through bumpy terrain, and this is the trade-off you get with anti-squat. Considering the efficiency and intended purposes of the bike, a slight amount of kickback is a reasonable price to pay, and it goes away entirely when coasting. Even with its efficient pedaling manners, the Horst Link suspension remained very active, and laid down impressive traction on even the knobbiest of climbs. The Spectral is by no means an XC race machine, but when you stomp on the pedals, this bike moves forward with an urgency that is uncommon for bikes with this much suspension travel. I'm chalking up at least some of that sportiness to the very responsive DT XMC1200 wheels - more on those later.
Bike sizing can be a polarizing topic, and I feel that getting the right size has as much to do with terrain, riding style, and personal preference as it does rider height. My own 5'11" frame found the climbing position aboard the size large Spectral to be just about perfect. Touch points were all within millimetres of what I'm used to on my own bike, so I felt at home right away. The effective seat tube angle of 76* isn't pushing the envelope these days, but it transfers your weight forward just enough to keep you centred on steeper climbs. I ran the saddle pretty much slammed to the front to get even more forward weight transfer, with the added benefit of getting the saddle further out of the way on the descents. Not much to say about the OneUp dropper post, as it performed flawlessly throughout the test - but I was surprised how I didn't quite get along with the Ergon saddle on this bike. I had no qualms about this same saddle on the Norco Range, so perhaps the less forgiving suspension on the Spectral conspired with the angular Ergon shape for a less comfortable ride. Who knows? Saddles are such a subjective thing that it's almost not worth mentioning, and the Ergon rates highly on other testers' favourites, so it's probably just a case of me needing to HTFU.
There are some purists out there who don't like the "band-aid" solution of a climb switch on their shocks, and I think that those folks are going to be more than happy just leaving the shock wide open all the time on the Spectral. My opinion is that the climb switch is just another tool in the box, and I might as well use it. The DPX2 offers 3 very distinct riding modes, and it was pretty easy to figure out how to employ them on the Spectral. "Firm" position is perfect for asphalt or gravel road climbing - a scenario that I encounter quite frequently. This position is so firm, I would imagine it's not great for the shock to use it anywhere you are likely to see any appreciable bumps. The middle click feels right for most singletrack climbing situations - definitely a firmer platform than wide open, but still soaking up bumps effectively. An unexpected bonus to the middle setting is that it does a fairly good job of reducing the frequency of pedal strikes on technical climbs - the bike sits noticeably higher in its travel, and this is welcome for a heathen like me climbing on flat pedals. And while I'm quite happy riding exclusively on flats these days, the recovering clipless junkie in me couldn't help but imagine this bike would be a weapon on technical climbs while clipped in. And last, but certainly not least, the wide open "party mode" click is reserved for everything else - i.e.: any scenario that can't be described as suffering.
My only gripe about the otherwise beautiful frame is the awkward bottle mount location, and the necessarily small water bottle that goes with it. Canyon includes a 600ml bottle with the Spectral, and you're definitely not going to get anything bigger in there - even on the size large frame. The bottle mount topic is a thoroughly dead horse, but there are basically 2 types of people: those who care about water bottles, and those who wear hydration packs. I personally fall into the former category, so the miniature bottle is irritating, and the hard to reach location just adds insult to injury. I can get by on 600ml of water in the colder months, but I'd definitely need to carry a hydration pack in the summer.

However you want to categorize it, the Spectral is a bike that is happy to get you into a bit of trouble, but packs enough firepower to get you out of that trouble.
Party Mode
When the time came to let gravity do its thing, the Spectral and I gelled quickly. Most of my previous bikes have been Horst Link suspension setups, so I had a good idea of what to expect as far as ride characteristics go. When descending, I'm a brake-late-brake-hard kind of guy, and the Horst Link caters to that style by design - you can brake hard into rough sections, and the suspension stays active enough to maintain traction when you need it most. A few years ago, a bike with the same numbers as the Spectral would have been considered a full-blown enduro bike, and while Canyon offers the Torque and the Strive for heavier duty applications - the Spectral feels like it might be the sleeper in the gang. Here's a bike that you can easily pedal around all damn day, and still shred whatever gnar you happen to find on the journey. It's not a plow bike, but if you commit to the right lines, the stout wheels and top shelf suspension allow you to unlock some very rowdy terrain. As speeds start to increase, the rider position on the Spectral feels well centred, and while the 1251 mm wheelbase and 437 mm chainstay length are perhaps slightly on the shorter side for modern 29er bikes in this category, the bike is still quite stable at speed. The low BB height contributes to this stability, and the Spectral is one of those bikes where you feel "inside" the wheels, rather than over them. The shorter chainstays also mean you can snap quickly out of tight corners, where a larger bike would have to take the long way around. If easy manuals and wheelies are important to you in a prospective bike purchase - put the Spectral on your shortlist. And then, can you teach me to do easy manuals and wheelies?
Riding along on mellower grades up or down is where the Spectral really stands out as a package. This is the terrain where a lighter build and sporty suspension really help to squeeze every last ounce of fun out of the trail. Accelerating, decelerating and changing directions are a breeze on the Spectral. The geometry numbers are not extreme in either direction for a bike in this category, and you'd be correct in assuming the Spectral is neither a nervous whippet, nor a runaway freight train. It seems to perfectly straddle that bell curve of handling traits desirable in a mountain bike. "Flickable" is a cliche that I never thought I'd use to describe a 29er, but I think it suits the Spectral. I found myself trying sneaky little moves that would have been almost impossible on my heavier, squishier daily driver. Trails like Upper Severed, Expresso and Lower Digger can be a chore on meatier bikes, but are an absolute blast on the Spectral. The green machine lives for fast, flowy trails with plentiful side hits. Again, this bike tempted me to fall off the clipless wagon, as its sporty character on mellow grades begs to be attached to your feet.
The limits of the Spectral's descending prowess are definitely pushed when high speeds inevitably mix with technical terrain. On the rowdiest lines, the bike becomes a handful and the planted, stable feeling gives way to a rodeo ride that feels more like deflecting off terrain rather than riding through it. Sketchy lines that involve airing into or out of chunder can definitely get the heart rate going, but the Spectral almost always has your back - even when flirting with double bottom-out events. Keep in mind that anything less than a DH rig is going to struggle in some way in the aforementioned terrain, so the Spectral is in good company.
Boingers
While the 36 has been bumped from its enviable post as the burliest single crown made by Fox, it's still an immensely capable fork. Had I not been hooning around on a Zeb and a 38 for the past few months, I'd likely have a hard time finding anything bad to say about the 36. While it doesn't offer quite the same composure as the new crop of 38mm brawlers, the 36 Factory is no slouch, and it's the obvious fork choice for the Spectral. The GRIP2 damper is fantastic, with all the adjustments you could ask for - and every adjuster causing tangible effects to the ride. This adjustability can be a double-edged sword however, and if you find yourself blessed with plenty of knobs to twiddle - do yourself a favour and take the time to bracket your suspension settings. There are a zillion combinations to make a fork feel terrible, and far fewer to make it feel great. The DPX2 out back has fewer adjustments, and therefore is a bit easier to set up than the fork, but I found myself really having to up the air pressure past recommended sag levels to prevent excessive bottom-outs. There must be a substantial bumper in there, as I rarely felt a harsh bottom-out, in spite of the sag-o-meter telling me I had indeed hit the basement on several occasions.
The Rest of the Jewelry
As I mentioned in my first impressions article, I was really excited to spend some time on the new XTR stuff, and had high expectations. Right out of the box, I found that shifting gears took a bit more effort than I was used to, especially for a brand new transmission. A minor side effect of that inconspicuous cable routing is some pretty kinky moves between the main frame and chainstay, as well as a tight radius bend into the rear derailleur. Suspecting cable friction, I put several drops of lubricant into both ends of the cable housing, and passed the cable back and forth through the housing to spread the lube throughout the length - problem solved. This is a minor issue and an easy enough fix, and I'd recommend it to anyone purchasing this bike. After the cable fix, the XTR affair was crisp and precise - somewhat more mechanical feeling than the other Big-S. Aside from the initial cable fix and lubing the chain every couple rides, the transmission needed zero attention throughout the test period. The 4-pot brakes were a bit underwhelming at first, but after a few rides they bedded in, and pulling the levers resulted in that on-off, "binary" feel Shimano brakes are known for. What the XTRs lacked in modulation, they made up for with incredible power. Now, if only Shimano could fix those rattly brake pads and wandering bite-point…..
Getting back to those DT carbon hoops - I feel they play a big role in defining this flickable 29er. They are possibly the stiffest trail wheels I've ever ridden. "Surgical" is another cliche that comes to mind. They hold an unbelievable line on groomed berms and off-camber lines where a floppier wheel would let go. The trade-off here is that they exhibit a bit of a "pinball" feeling when bombing through rough terrain. You really have to be on your toes with these wheels, and that's not necessarily a bad thing if you know how to drive them. But for lighter and/or less aggressive riders, the DTs are going to be a handful. While the EXO tire spec is not really surprising on a bike like this, it's a small shame that the bike doesn't come with stouter tires to match the wheels. The DTs practically beg you to press as hard as you can into berms, and I obliged on several occasions, often leaving a streak of fluorescent Muc-Off tire sealant up the tire sidewalls. Even with Tannus inserts installed, those poor EXO casings just can't cash the cheques the DT wheels are writing.
I understand why bike companies spec wimpy OEM tires - they're cheaper, lighter, and are often overlooked when a potential buyer is eyeing up all the carbon and Kashima on the bike. And in all honesty, plenty of folks are going to be ok with EXO tires. But if you're an aggressive heavier rider, ditch the wimpy casings in favour of something more substantial. The added expense and weight is easily worth it in my opinion.
JRA.....
My time aboard the Spectral was all going so well. And then it broke.
Well, not really - well, kinda - but not actually.
A few months into the review period, I was cruising into a rough, technical section on a trail that I know fairly well. The section features a log crossing the trail that results in a slight downhill drop into a left-hander of loose rocks and dirt. If I had to guess, the drop can't have been more than 2ft high. There was nothing remarkable about the way I rode through this section on that day, except of course the bang I heard that sounded like a gunshot. It was so loud and startling, I immediately suspected something was amiss on the bike, so I slowed down and came to a stop. A quick glance revealed nothing obvious on the bike, but I soon heard the telltale hiss of air leaking from the rear tire. After murmuring several expletives about EXO casings, I flipped the bike upside down to inspect the tire. I eventually found a small hole - likely a pinch flat, but certainly not caused by an impact that could make a bang like that, and I certainly didn't feel the rim hit anything hard. Nevertheless, I did a very thorough inspection of the rim - it was completely undamaged. I was perplexed and somewhat concerned. A surprise gunshot sound is rarely a good thing to hear - particularly when it comes from a bicycle. Or from a gun.
After some further inspection came up dry, I went about my business of jamming most of Cam's tire plugs into my broken tire. Those plugs do have a shelf life you know, so I was really doing Cam a solid by cleaning out his stock of perishable bike supplies. Halfway through the process of re-inflating my tire with Cam's pump, I remember wiping some mud off of the downtube, and that's when I realized that a flat tire was maybe the least of my worries…..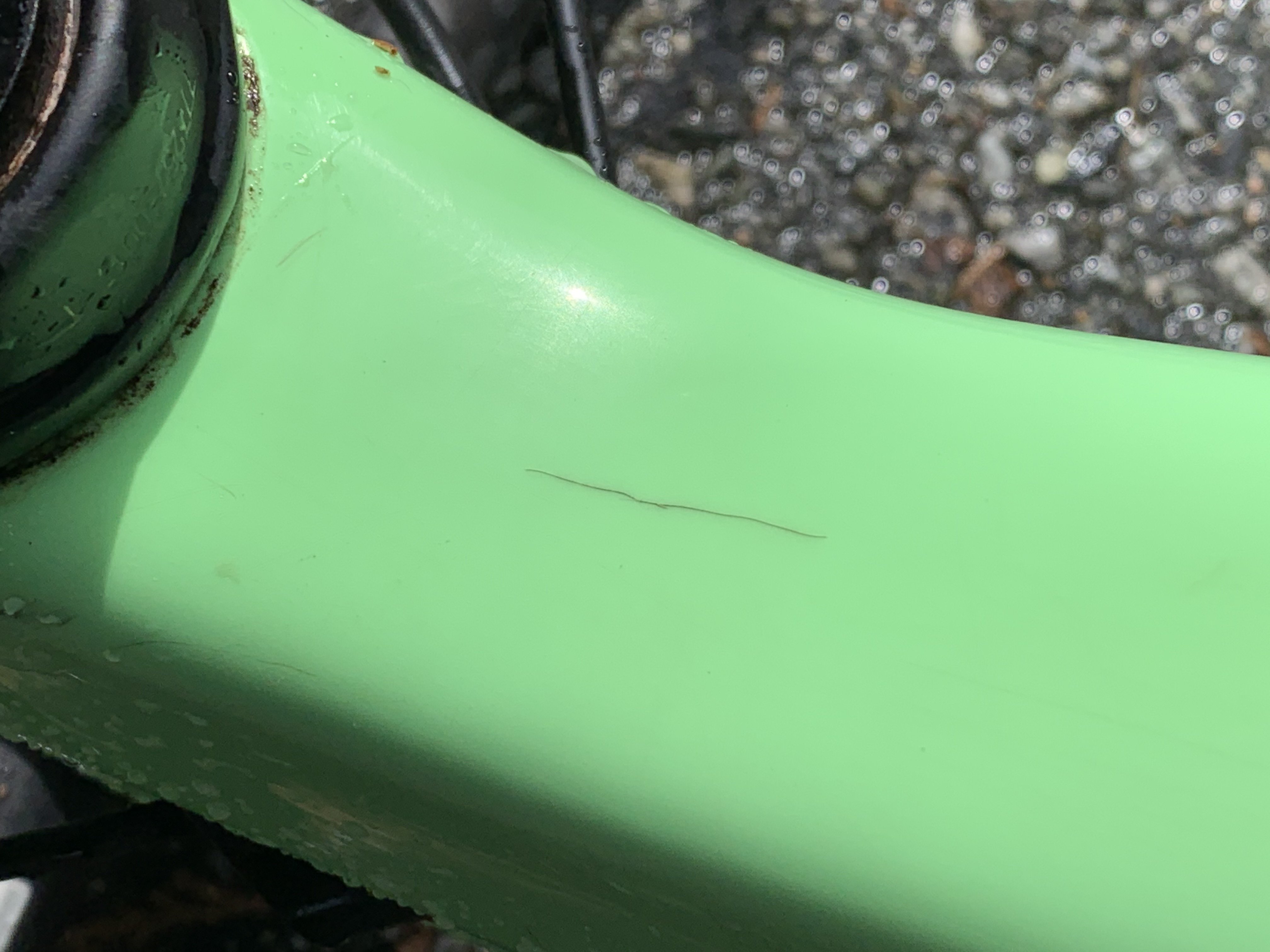 What followed was a very timid ride down the remainder of a fairly demanding trail. At first glance, the crack seemed minor - it wasn't pronounced in a way that you could feel it with your fingers. It crossed my mind that this could in fact be a paint defect, but I was sure it wasn't there that morning, and the frightening location of the crack definitely had me limping the bike out as slowly and gingerly as I could.
The next week was a flurry of group emails, back and forth between NSMB.com and Canyon. Why did this happen? How could this happen? Was this a legitimate crack, or just a defective paint job? It's no secret that Jack Moir and his Canyon teammates have been getting hella rowdy on this exact bike - far rowdier than I could ever hope to be. No one was more surprised than myself, and whether this was a frame integrity issue, or a paint issue, I had to assume it was an isolated incident.
The crew at Canyon were in full agreement as to the isolated nature of this issue. They had never seen anything like this in their lab and real-world testing on the Spectral. As you can imagine, Canyon was eager to get the frame back for inspection. They promised to figure out what happened to our frame, and would have a new frame sent out to wrap up the review. Unfortunately, life commitments, pesky Norco Range product launches, and the reality of a Covid affected world all conspired to delay a timely Spectral follow-up article.
Jack Moir doing Jack Moir things on his Spectral.
The Explanation
While circumstances like this are extremely unfortunate - particularly during the course of a bike review, I have to give credit to Canyon for how they handled the situation. There were no excuses made, and they went deep into investigating the frame, including cutting it up into pieces, and scanning multiple sections under an electron microscope. They similarly inspected other frames from team riders and shelf stock for good measure. It was immediately clear to me that they took this issue very seriously, and wanted to get to the bottom of it as quickly as possible.
Leo Malmeryd is a product development engineer at Canyon, and the Spectral is his baby, so I thought what better way to explain the analysis than to let him take the mic:
"Our conclusion is that the early batches suffered from so called fiber biting/pinch, the effect has many names as it's a common thing to work against when working with carbon fibers. This effect is when the outer layers of the laminate get squeezed in the parting line of the mold when it gets closed. As you can see in the picture, the outer layers have formed a kind of fold in the parting line, which has then been grinded off. This causes "micro flex" locally in this area which causes the paint to crack.
This is not really anything super strange to us, the strange thing is how it slipped through our QC checks in production and why it would occur on the Spectral frames with a very standard and simple geometry in this area, normally you have to take care about this effect in more complex areas during the carbon R&D process.
The good news is that we have a very low number of frames coming back to us after almost a full year in the market and on the race circuits, I don't have an exact number today, but we're still in the single digits. And while it's a nasty area to have defects in a mtb frame, the conclusions from the analysis is that it's really not safety critical, there is always a significant portion of the laminate that looks good below the pinched layers, especially considering all the reinforcements and extra safety margin we always use in this area. Another good point is that we could already implement some quick improvements in June 2021, near the beginning of the analysis which already seem to have a very positive effect, actually no new frames have come back to us from later batches. But we have still spent significant resources in this analysis and while we are confident we have understood this particular area, this analysis will be followed by a Continuous Improvement project led by a dedicated Composite/lay-up Engineer with the goal of creating an even closer teamwork between R&D and production engineering as well as improving designs, processes and production to make it harder to make this kind of mistakes in the first place and even easier to detect any mistake that still happens. CF production is a hands-on process after all and human errors will always be present.
Again, I'm terribly sorry that this happened to you and the few other people who had this issue. This one is totally on us, we take full responsibility, and we have already been and will continue to improve this in the best way possible."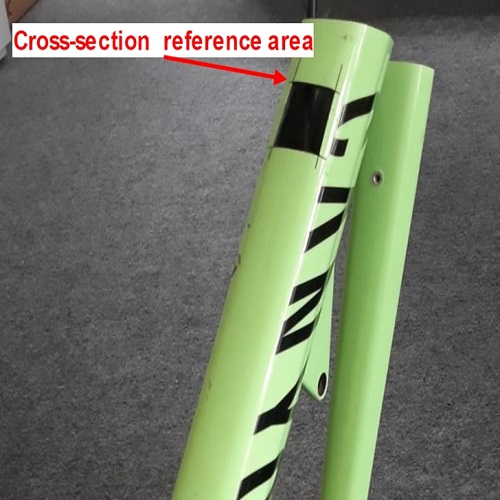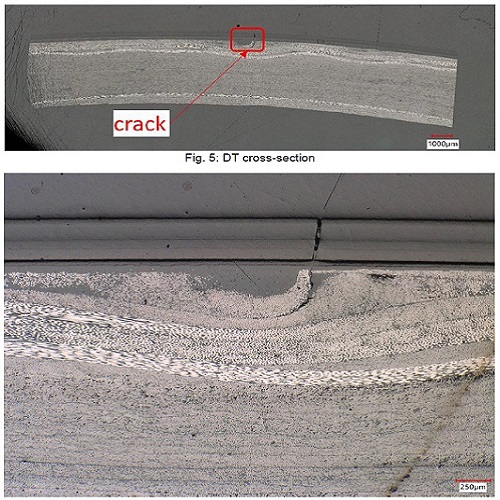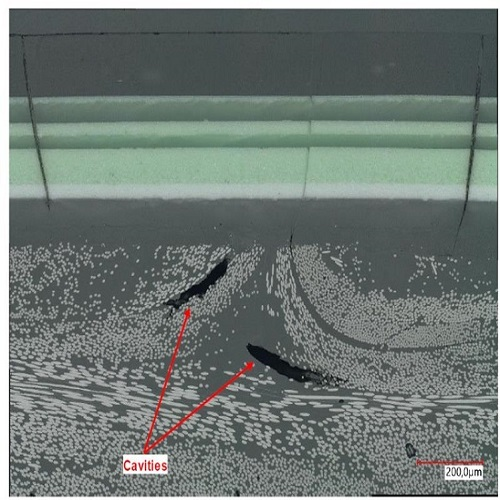 So, that's the explanation, straight from Canyon. If anything, this experience has actually increased my faith in modern carbon fiber structures, as it makes clear that there are redundant levels of strength and safety built into today's mountain bike frames. While I was rightfully very cautious on my ride out after discovering the crack on our test bike, it's reassuring to know that the frame integrity wasn't dangerously impacted. That said, Canyon was very specific in explaining that while this issue was mostly cosmetic, it would unquestionably be covered under warranty.
With that hiccup behind us, I was excited to sneak in a bunch more rides on the Green Goldilocks bike. After several months of riding brutish, freeride bikes, with more length and tonnage than the Ever Given, it was refreshing to ride something light and snappy, yet still eager to party. When I imagine my ideal bike, the Spectral is not necessarily one that I would choose off the shelf - but the more I ride it, the more I realize just how much fun it is. Who is the ideal buyer of the Spectral? Well, I think the best answer to that question is a simple one - a mountain biker. This is truly a bike that can do it all, and it does it all pretty damn well.

---
Canyon Spectral 29 CFR - $8,499 CAD. / $7,499 US.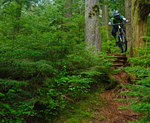 Ryan Walters
Age : 40
Height : 1803mm
Weight : 86kg
Ape Index : 1.03
Inseam : 787mm
Bar Width : 780mm
Preferred Reach : Pretty comfy at 487mm these days.