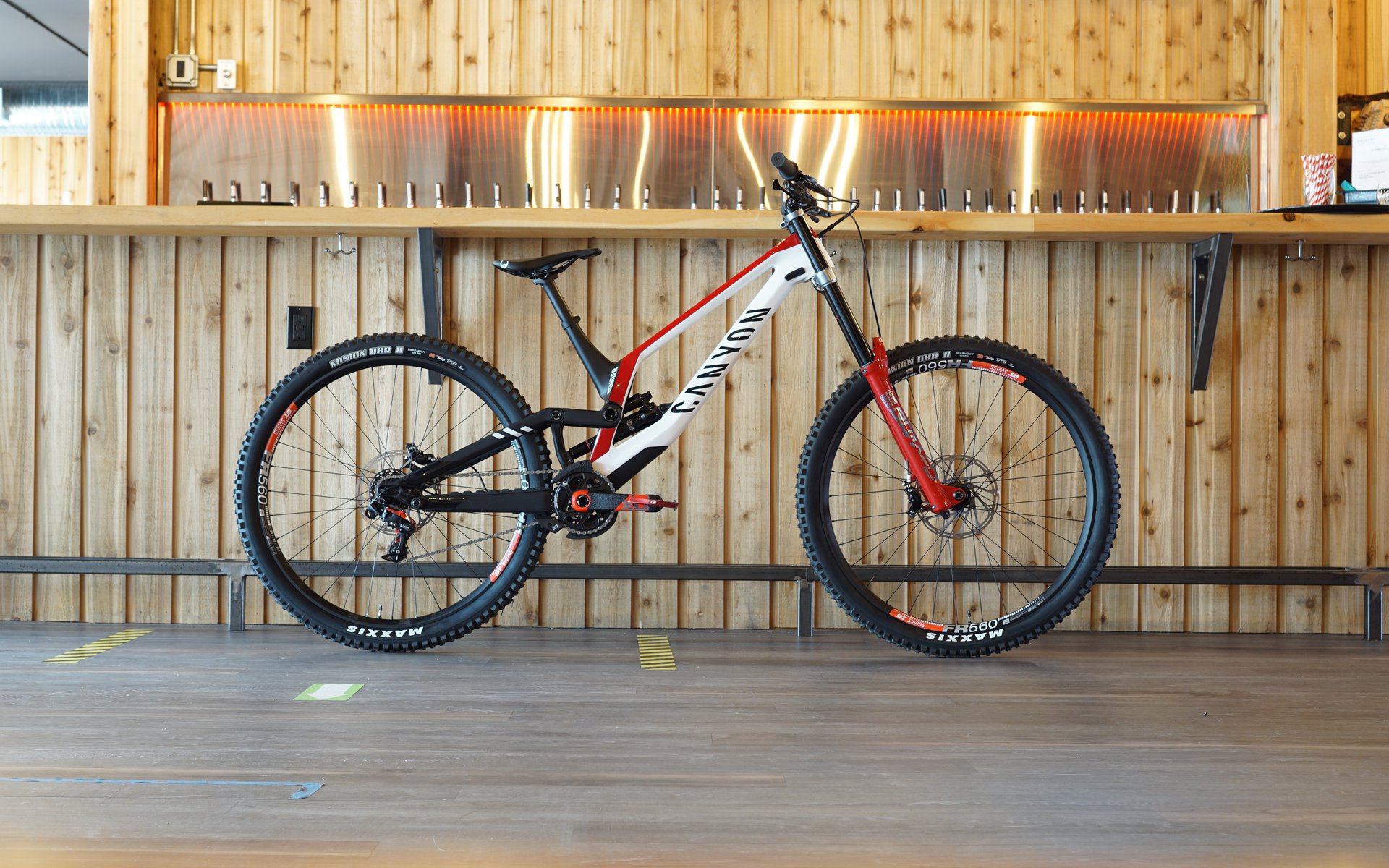 First Look
2021 Canyon Sender CFR
Canyon released the first Sender downhill bike in April 2016. Since then it's proved a handy downhill race bike that has racked up a tonne of success on World Cup tracks around the globe. Canyon set out to develop the new Sender with one goal: build the best race bike possible. That was the driving force behind everything Canyon did with the new Sender CFR. It's a zero-compromises racing machine.
Overall Design
From far away the Sender CFR lends much of its design language and silhouette from the old Sender. I think that's a good thing, the old Sender was a beautiful bike. With Canyon's focus on speed they have implemented a number of changes for the new Sender CFR, which got its name from the significant involvement of CFR (Canyon Factory Racing). This is more than a marketing three-letter-acronym. The team was apparently involved in the development of the bike from carbon lay-up to the leverage curve, the suspension tune, and the Sender's geometry. Canyon wants us to know that the Sender CFR was born from competition.
Coleman's Notes on the Sender CFR
29er Wheels for size Large and X-Large, mixed wheel for size Small and Medium.
Full carbon frame that is over 600 grams lighter than the previous Sender.
200 mm of rear travel.
Head angle is 63°.
Wheelbase for size Large: 1305 mm (+10 mm adjustment).
Chain stay length for size Large: 445 mm (+10 mm adjustment).
Reach for size Large: 485 mm (+/-8 mm adjustment).
The most obvious of these changes are the introduction of the big wheels and the longer wheelbase. With World Cup DH courses getting faster and more open this makes sense. Canyon also pulled 600 grams out of the frame by optimizing the first generation Sender, adding carbon seat and chain stays, and lowering the upper shock mount to the down tube. The linkage is more progressive with less pedal feedback. Adjustable geometry remains, which allows riders to alter reach and chainstay length.
Builds and Availability
The Sender CFR is available for purchase now. Currently only available in a carbon-framed complete with two build kits. There is no frame-only option at the moment. Unfortunately Canyon is not yet selling to Canada, but it is in the works, albeit with no defined time line.
CANYON SENDER CFR €5,799 / $5,799 USD
RockShox Boxxer Ultimate 200mm
RockShox Super Deluxe Ultimate 200mm
SRAM X0 DH drivetrain
SRAM Code RSC brakes
DT Swiss 240 /FR560 wheelset
CANYON SENDER CFR FMD €4,699 / $4,699 USD
Fox 40 Performance Elite 200mm
Fox DHX2 Performance Elite 200mm
Shimano Saint drivetrain
Shimano Saint brakes
DT Swiss350 / FR2020 wheelset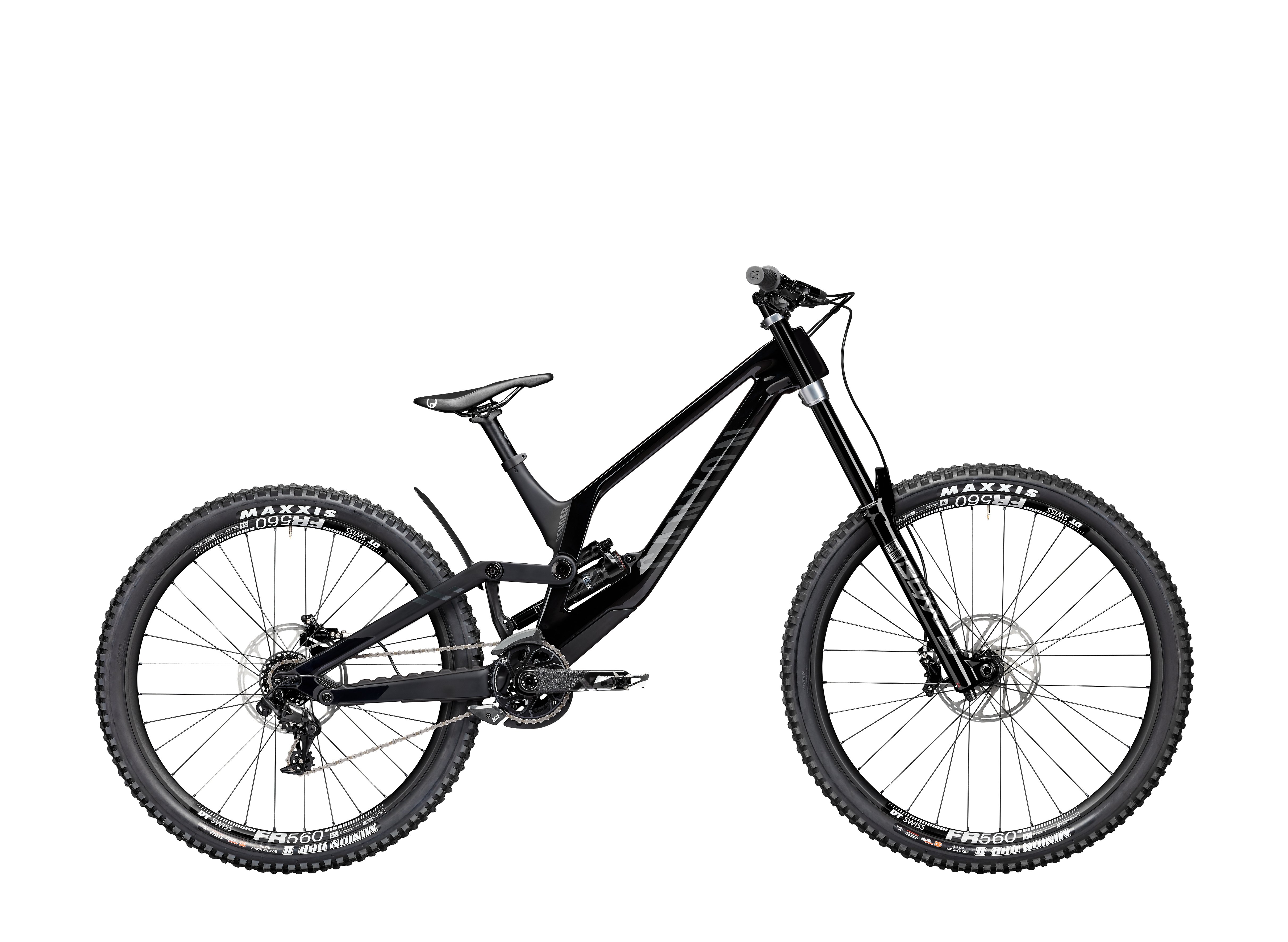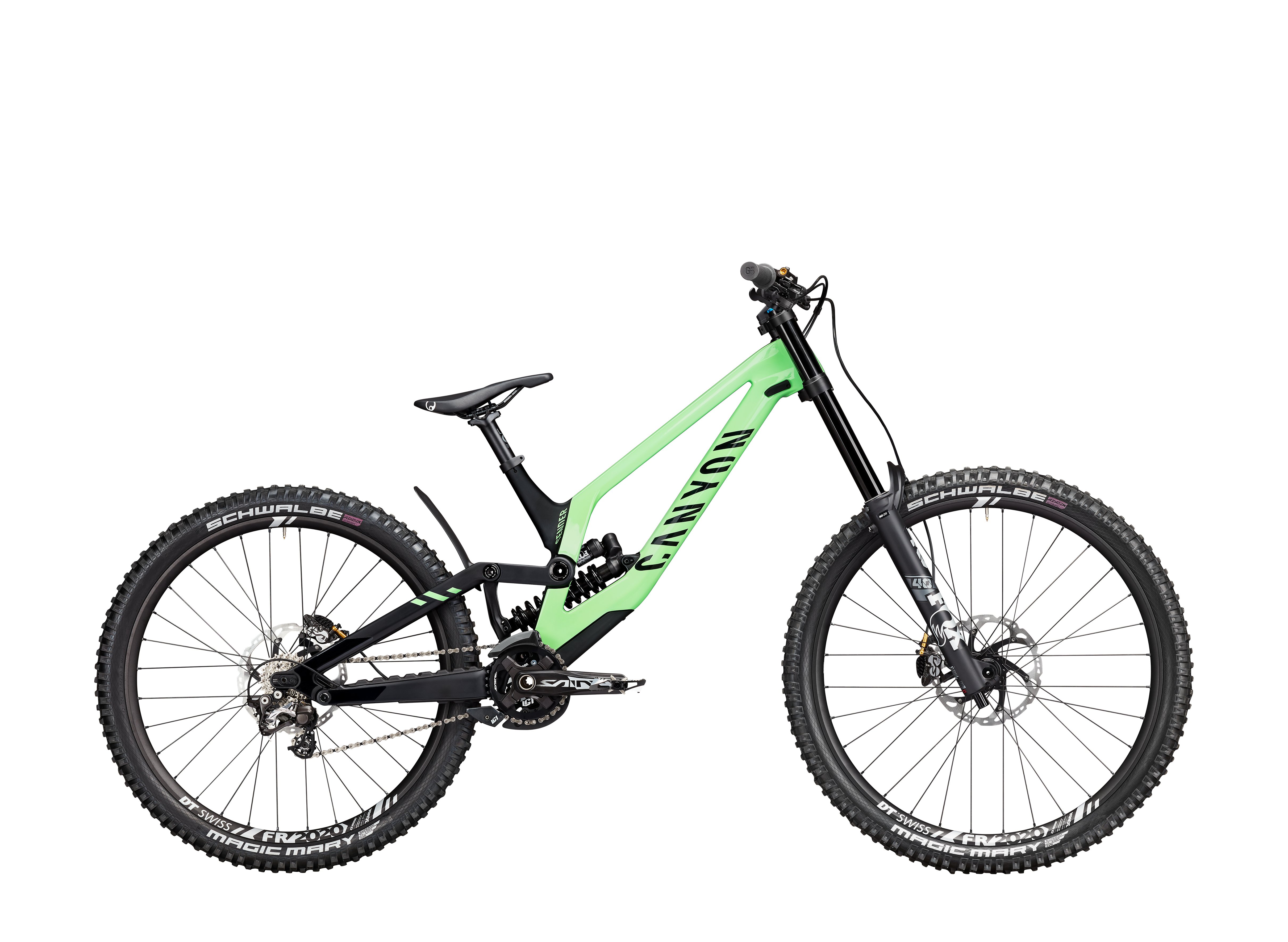 Sizing and Geometry
Canyon has taken an interesting approach with the new Sender with sizes Small and Medium getting a mixed-wheel 27.5" rear with a 29er front wheel. The size Large and X-Large get 29ers front and rear. I think this is an interesting solution that make a lot of sense. Vernon Felton from Canyon told me this decision was made because shorter riders were getting their butts buzzed by the bigger 29er rear wheel. The mixed wheel size offers the front end grip, easy rolling and stability of the 29er wheel, but removes the butt buzz issues. Smart!
Suspension Updates
Suspension kinematics on the Sender CFR have apparently changed in two main ways. The Sender CFR is said to be a little more progressive than the existing model and to give less pedal feedback. I was told Canyon moved the pivots around to reduce pedal feedback, which also resulted in a less rearward axle path. I haven't ridden the old Sender, but I suspect this will make the new Sender feel a bit more sporty and snappy, but with the compromise that it might not eat square bumps quite as well as the old model. So some testing is required *rubs hands together* ...
Frame Design Details
A world class DH bike shouldn't sound like a box full of bolts being tossed down the mountainside. Canyon told me the bike was designed to run silently. Over-the-top chainstay protection, ample clearance between chain and chainstay, and rattle-free, internal cable routing keep noise to an absolute minimum so you can focus on the trail. Canyon's World Cup race mechanics were apparently involved in designing a bike that is simple to work on and will endure years of hard racing. Double-sealed bearings, replaceable thread inserts, fully integrated, internal cable guides, and easily accessed pivots are just a few of the smart features inspired by Canyon's team mechanics' years of wrenching in the pits.
Build Kit Details
Both build kits on the Sender CFR look well thought out. Some details on the version I'll be testing are as follows:
Canyon Sender CFR Gettin' Sent
Not only am I struck by the gorgeous paint on the Sender CFR, I'm staggered by the value for money. I can't think of a better equipped carbon downhill bike for less money. And it certainly doesn't look or feel like Canyon cut any corners on the Sender CFR. Did I mention it's beautiful? It's hard to deny the value proposition as one of the primary stories here. But the Sender CFR looks like so much more; big wheels, great build, modern adjustable geometry, all implemented into a race-hardened chassis. As I mentioned earlier, we can't order the Sender CFR here in Canada, but Canyon is working on getting things set up for us overly polite Canadians. In locations where Canyon is available, the Sender CFR looks like a fantastic option for an all-out downhill race bike. I'm keen to get some time in on the Sender CFR in the Whistler Bike Park. Keep checking back for updates, and a final review later in the year.