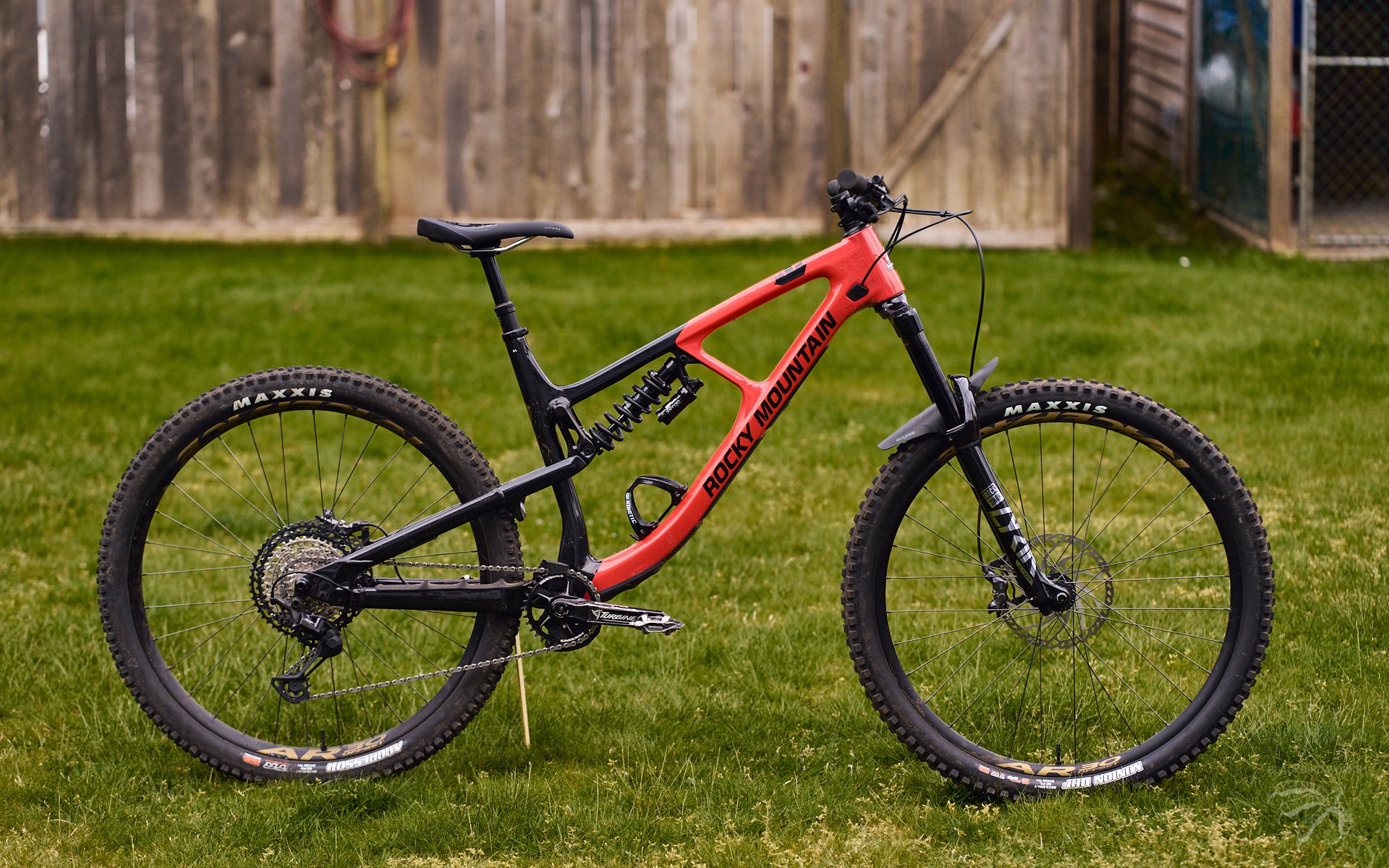 FIRST IMPRESSIONS
2020 Rocky Mountain Slayer 70
First introduced to the Rocky Mountain lineup in 2001, the Slayer has morphed over the years into one of Rocky's burliest platforms. As downhill bikes become specialized race weapons, bikes like the Slayer are attracting riders looking for an aggressive, big mountain bike that can smash bike park laps, and still be pedaled to, from, up, and down local trails.
The 2020 Rocky Mountain Slayer was launched in August 2019 and comes in both 29 and 27.5" wheel options. The front triangle can be had in carbon or aluminum while the back end is aluminum on all versions. All Slayers are spec'd with coil shocks, proper forks, beefy tires, 4-piston brakes and 203 mm rotors. Travel-wise the 29ers are 170mm front and rear, while the 27.5" bikes come with 180 mm at both ends. The 29er comes in Medium, Large and XL, while the 27.5" version is available in Small, Medium, Large and XL.
Key frame features
The RIDE-4 adjustment system allows riders to quickly fine tune their geometry with a pair of Allen keys.
Size Specific Tune ensures that riders of all sizes get the appropriate rear shock tune.
Tuned kinematics for better small bump compliance, increased mid-stroke sensitivity, and increased end stroke progression.
Updated geometry, including longer reach, steeper seat tube angle, and slacker headtube angle.
Carbon fiber front triangles use tube in tube cable management in order to easily route the shift and seatpost housing, and brake hose through the front triangle.
Alloy front triangles feature large headtube ports and internal foam tubes to keep shift housing and rear brake hose quiet and easy to manage.
Revised chainstay, shuttle guard, and downtube protectors all included.
Integrated "Spirit Guide" chainguide.
All sizes fit a water bottle in the front triangle.
2.6" tire clearance.
Rocky Mountain Slayer Geometry
Geometry on the Slayer is complicated because there are two wheel sizes, four different frame sizes, each with 4 geometry positions. The RIDE-4 setup guide has good charts of all the numbers you'd want. But the quick Coleman's notes are:
Head angle: 63.8° to 64.8° adjustable with RIDE-4.
Chainstay: 442 mm on the 29er and 430 mm on the 27.5 inch version.
Wheelbase 27.5": 1177 mm (S) - 1273 mm (XL).
Wheelbase 29": 1215 mm (M) - 1286 mm (XL).

It's a bike that has opened up some new possibilities for me, I have a lot of fun when I ride it and can't help but feel a bit nostalgic, too. – Thomas Vanderham
The Slayer comes in four build variants and two different frames - Carbon and Alloy. There are 30, 50, 70 and 90 build kits, with the 90 being the fanciest. I'm going to be testing Carbon Slayer 70, which is one step down from the top tier Carbon 90 and retails for $7,699 CDN. There are a ton of variations of the new Slayer, with a well thought out build at almost every level.
Rocky Mountain Slayer Carbon 70 Test Build Details
| | |
| --- | --- |
| Fork | RockShox Lyrik Ultimate |
| Shock | RockShox Super Deluxe Coil Ultimate RCT |
| Brakes | Shimano XT Trail 4 Piston 203 mm front and rear |
| Shifter and Derailleur | Shifter and Derailleur: Shimano XT |
| Crankset | Race Face Turbine Cinch 29: 32T / 27.5: 34T |
| Chainguide | Rocky Mountain Spirit Guide + OneUp |
| Front Wheel | Race Face AR 30 rim on Rocky Mountain hub |
| Rear Wheel | Race Face AR 30 on DT Swiss 370 |
| Front Tire | Maxxis Minion DHF WT Double Down Maxx Grip 2.5" |
| Rear Tire | Maxxis Aggressor WT Double Down 2.5" |
| Stem | Stem: Rocky Mountain 35 AM |
| Handlebar | Race Face Atlas 820mm |
| Seatpost | OneUp Dropper Post |
| Saddle | WTB Volt Race 142 |
I have to commend Rocky on the workhorse build kit. It's not overly flashy, and it's not light, but I think each component offers good performance at a reasonable price. All the small details that many manufacturers miss are considered and well executed. For most review bikes I'll switch tires, replace the brake pads, toss on a bigger front rotor, maybe a saddle, often a handlebar, maybe change the stem and almost always change the grips. This is one of the few bikes I've tested where I haven't changed a single component. The Slayer comes with good Maxxis Double Down tires sporting a MaxxGrip front and harder compound rear; awesome! There are metallic brake pads (THANK.YOU.ROCKY!). There are 203 mm rotors front and rear. The handlebar is a wide 820 mm Race Face Atlas unit that I trimmed down to 800 mm. Even the Rocky Mountain grips work well for me. This speaks volumes. It's clear the folks spec'ing the Slayer ride this bike like it's meant to be ridden, and they care more about how the bike rides than how it appears in a spec sheet or how heavy it feels on the sales floor.
I asked the Rocky folks about how and why they developed the Slayer into what it is today. I particularly liked Thomas Vanderham's comments about the new Slayer:
"The Slayer has long been my favourite Rocky Mountain platform. I feel that it's the bike we can push the limits with a bit, and that was no different with this version. When we started to discuss the evolution of the Slayer, I got pretty fired up when the goal was set to make a 170/180mm travel bike that was a really capable descender but could still be climbed up the mountain. To me it is the evolution of the freeride bike that I grew up riding on the Shore, we used to push our 50 pound DH bikes up the mountain with nearly the same amount of travel. Modern design, materials and geometry have made it possible to make a bike that is more capable and confidence inspiring on the way down at 60% of the weight... very cool. It's a bike that has opened up some new possibilities for me, I have a lot of fun when I ride it and can't help but feel a bit nostalgic, too."
That's a quick look at the 2020 Rocky Mountain Slayer C70 then. To say this is merely a first look is a bit misleading. I've been out riding the Slayer for well over a month now. But I'll save my ride impressions for an upcoming article, filled with some gorgeous photos from Deniz. Besides, I can't spill the beans just yet. Like at any good Scotch tasting ... more research is required!