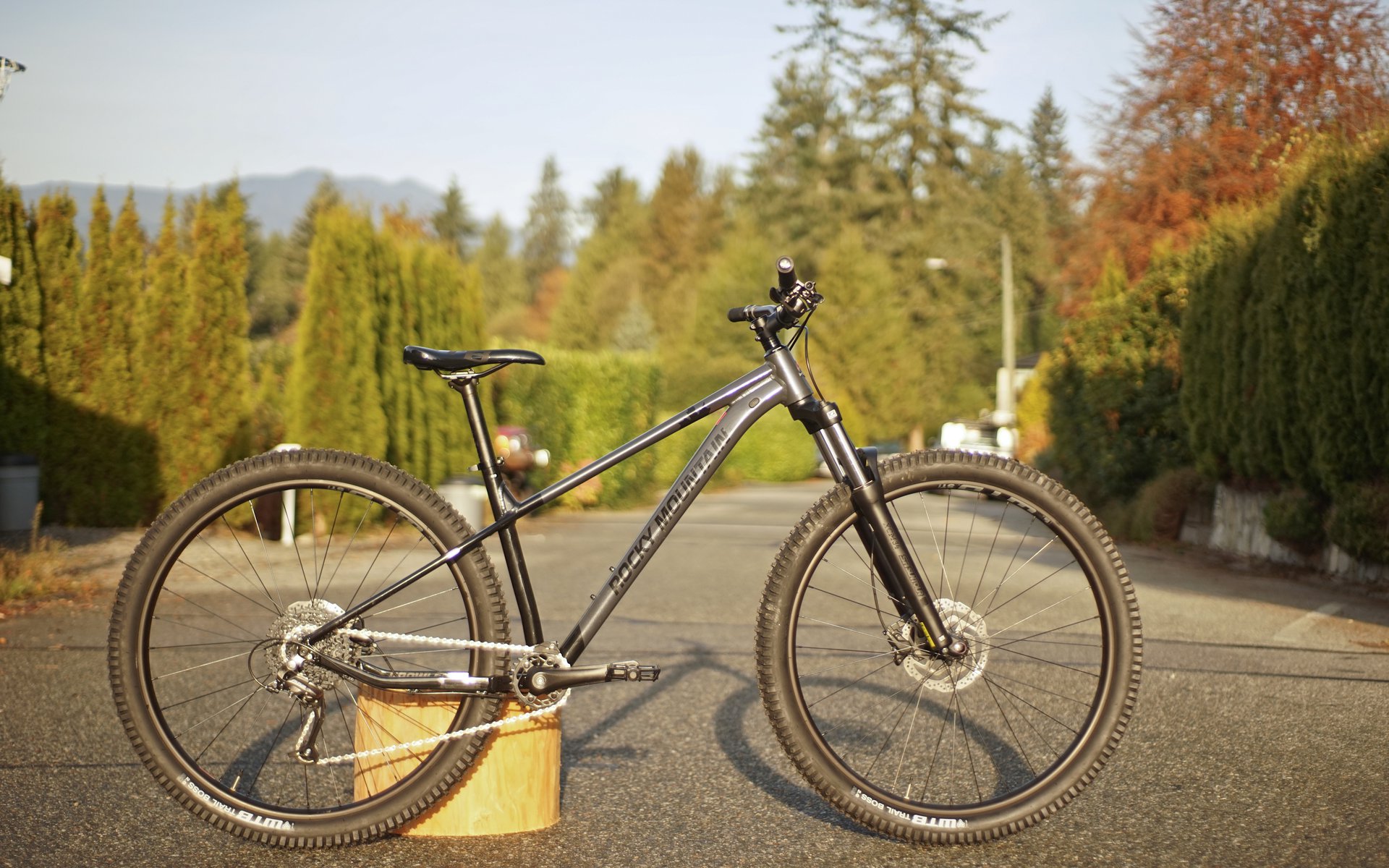 REVIEW
2020 Rocky Mountain Growler 20
Good Geometry Is Free
When I started mountain biking, a solid number of folks were still riding hardtails and most bikes had very similar geometry regardless of price or manufacturer. The difference between an XC fork and a DH fork was 20mm of travel. The difference between a good fork and a cheap fork was negated when the high-end option's damper blew up on the second ride. I knew folks who dumped hundreds of dollars into the fanciest brakes but lost any performance advantage as soon as it started raining.
In that context, the first two solid pieces of bike buying advice I received were:
1) Buy the bike you can afford now and go ride. Replace parts as they break or wear out.
2) Invest in a good frame, it's the heart of the bicycle and you'll be breaking and wearing everything else out anyways.
There have been times over the years, especially recently, where I've doubted both those tropes some. For example, there has been an exceptional progression in geometry that has largely been segregated to more expensive bikes. There are also a lot of advancements in componentry that enter the buying equation at such a pricing level that it's easy to appreciate why many people perpetuate the myth that mountain biking, at least on the North Shore, has a very expensive barrier to entry.
Enter the 1,000 USD Rocky Mountain Growler 20. There are more expensive frame-only options in its use category that comparatively look like they belong in the last decade. The aluminum frame is well put together and full-featured with a Boost 148 thru-axle rear end, tapered internal headtube, and BSA bottom bracket that make it future proof and upgrade-friendly.
There's a sentiment rising that 'good geometry is free' which is to say that with a minimal difference in manufacturing costs between progressive vs. regressive geometry, the real comparison between a $1,000 mountain bike hardtail with a 64° HTA and one with a 68° HTA is that one company gets it. And the other company? We can only hypothesize what's going on there but suffice it to say that their new budget mountain bikes are essentially irrelevant for aggressive riding in real mountains. No other upgrade is going to change how a bike performs like good geometry.
When I say irrelevant, I'm not suggesting trails are suddenly rendered un-rideable on bikes with 'outdated' geometry. Nor am I saying those bikes with older geometry aren't wicked fun. Heck, I'm the guy clamouring for more 1-1/8" fork options.
A Note On Used Bikes
When you are thinking about a bike in this price range, it makes sense to instead consider something used. A quick peruse through some Buy & Sell listings doesn't bring up a lot of bikes at this price that look to be out-of-the-box rideable and none of them give the rider a taste of where geometry has gone recently; and modern hardtail geometry is really good.
Replacing and upgrading parts as you go is a great way to get riding on a budget, whether buying new or used. But, if that's the plan and this is the budget then why not start with a totally fresh Growler 20 and replace parts as they wear out? Some used bikes in the $1,000 range have dropper posts but most likely they need a rebuild - at most of the cost of buying a bargain post. Some of those used bikes have forks that are nicer on paper but unless they are in good shape, they may not match the Growler's Suntour.
There are some fantastic deals to be had on the used market but it is buyer beware and there are also some terrible money pits. Other than the grips there is nothing that absolutely needs to be changed on the Growler 20 out of the box but for most used rigs I can come up with a long upgrade list.
Is That Geo Chart Accurate?
Going back to upgrade potential, the outstanding feature of the new Growler 20 is that it has the same aluminum frame as its more expensive Growler family members; the Growler 40 & 50 at 1,600 and 1,900 USD, respectively. Impressively, I think the two colour options for the Growler 20 look just as premium as the more expensive versions. But what about that shared geometry chart?
It's true that the different fork, suspension travel, and choices between the three levels of Growler make it unlikely that the geometry is entirely accurate for all three models. Does it matter? I'd argue that when your static head tube angle is 64° the difference of half a degree in either direction isn't a huge deal.
I'm a general believer of the theory that a hardtail should be about 2° slacker in the head tube angle than a full suspension bike for similar usage. I like that Rocky hasn't gone too far with the seat tube angles (STA) at 75° static. Keeping in mind that with sag the STA on a hardtail actually gets steeper and the Growler 20 is borderline too-steep for what works for my physiology. I'm running the saddle pushed back and if upgrading to a dropper post I'd choose one with some setback.
Sizing the Rocky Mountain Growler 20
I've been riding a medium and, as with the Carbon Santa Cruz Chameleon, there are lots of places the smaller snappier frame is really fun. That said, I would certainly be choosing to size up to a large if this was my bike. This comes down to personal preference and I'm more likely to be found on a janky single track than a paved pump track. If you are sizing down, do note that the stock post is a touch on the short side for a bike with such a steep seat tube angle.
If the 435mm rear center sounds long then remember this conversation because wheelbase is the new head tube angle. It takes some more effort to get the front end up compared to hardtails with short stays but the difference in stability is excellent. I'd love to see all mountain bikes coming with size-specific chainstays to make for better-balanced weight between the wheels. Throwing out an example, from small to large the Growler could run 425mm, 430mm, and 435mm.
That may be a pipe dream, but size-specific wheel size shouldn't be. I'd love to see Rocky Mountain bring back the XS size featured on the 2019 Growler and split the wheel sizes with 27 x 2.8" for the XS, Small, and Medium, and 29 x 2.6" for the Medium-Large, Large, XL, and XXL. I also added a couple of sizes in there but that's just because I really believe in the product.
Component Notes
The choice of a WTB Volt saddle is solid, I threw on my own pedals, and I swapped out the hard plastic grips. The grips are the only thing on the Growler 20 that I'd qualify as awful and there's a strong case, at this price level, to just glue on some basic rubber grips. If I was selling these in the shop I'd buy a case pack of Race Face Chester Grips and do the swap before I even put the bikes on the floor. Contact points are key!
In the win column, to the point of being remarkable, are the 29 x 2.6" WTB Trail Boss G2 tires. Initially, I was distracted by the spec of WTB's Vigilante tires on the higher lever Growler 40 and Growler 50 models. I love the Vigilante and the choice to go with the High Grip front and Fast Rolling rear compounds make perfect sense on these bikes. Back to the Growler 20, the Trail Boss tires were surprisingly capable even with tubes installed and a bit too much air pressure (I hate flats).
The first upgrade I'd make to my own bike would be to set them up tubeless with Gorilla Tape, basic steel valves, and Stan's sealant but I would ride the Trail Boss tires until they wore out. That's more than I can say about OE rubber on many bikes that are much more expensive. They dig in hard when cornering and braking on loose surfaces, climbing traction is great, and most surprisingly they handled greasy rock armouring with confidence.
Another hit was the basic Shimano MT201 brakes. I've said it before, but I think Shimano's basic budget brakes feel significantly better at the lever than their higher-end ServoWave models. The MT201s have a very positive feel at the end of the long lever blades, consistent bite point, and a nicely modulated power stroke.
I still despise the 'resin only' rotors but it's hard to get too bent out of shape when a bike is 1,000 USD. I wish Rocky Mountain had made upgrading easier by going with 6-bolt hubs instead of Centerlock but I understand it's a package from Shimano that's part of min-maxing the bike. I'd be much less impressed to see these rotors on the higher-priced Growlers.
My one concern, which proved unfounded, was the basic Suntour fork coupled with modern hardtail geometry. Namely, with the HTA so slack would there be notable flexing and binding in less-steep technical situations. Now this fork is as basic as they come with a small range of adjustable preload, coil springs, and an overdamped feel, except in blow-off situations, but thanks to the Growler's geometry and the 2.6" rubber it is quite rideable. It's also a pleasantly simple fork from the viewpoint of basic maintenance.
Rounding out the build is a basic set of square taper cranks, a clean little chain guide, a clutchless Shimano Altus 9-speed derailleur driving the chain on an 11-40t cassette with a 28t ring up front, and a Rocky Mountain-branded cockpit with a 780mm wide bar.
Climbing
The proof is in the pedaling, and the Growler 20 can hold its own very well for a bike that costs less than many suspension forks. The Shimano Altus 9-Speed shifting clicks through all the gears and the 11-40t cassette, mated to a 28t ring, has a wide enough range for effective seated pedaling up any of the climbs on the Shore.
The aluminum frame is stiff under load but in saying that I'll caution we're not back in the 90's comparing a steel Bontrager to an aluminum Cannondale. What I mean to say is that the most desirable production 29er steel frames like the Chromag Rootdown and Cotic SolarisMAX are just as stiff; steel is real and so is aluminum. In all cases, I appreciate the added comfort of big rubber, at minimum a 2.6" tire, on a modern hardtail and here Rocky Mountain delivers.
Despite the on-trend seat position, I found myself regularly up out of the saddle climbing the Growler 20 for a few reasons. One is the lack of a dropper post which meant choosing between hammering along standing or getting off to raise my seat but the bike responds really well to stand up climbing. In these situations, there is a notable but not disconcerting amount of flex in the crankset compared to the frame. Personally, the crankset would be one of the first upgrades I'd budget for as I'm riding all the time and expecting to wear parts out.
A second reason for a lot of standing climbing is that the basic Altus drivetrain does not like to shift under load. It was often much more intuitive to stand and deliver on the gear I was in than let off the power to effect a shift. This was not unexpected with a groupset where a replacement rear derailleur will run 30 USD and was never an issue unless I forgot I wasn't on a higher end drive system.
Descending
Staying with the Altus drivetrain for a moment, I never lost the chain off the front ring - thanks to the included guide - but the clutchless system was as loud as I've ridden in years coming down the trail. It also regularly came out of gear hammering down rough courses and it's always a great idea to soft-pedal back into gear before laying down the juice.
Thanks to the aforementioned great geometry and good tire spec, the Growler 20 is excellent when going downhill. With my brain turned off to drivetrain noise, it's only the limitations of the brakes and suspension that make the Growler 20 start to feel like a budget bike. The basic Shimano brakes feel great but the power is lackluster compared to the systems I'm used to. I'd be looking at upgrading pads and rotors in the future and possibly putting an old 4-Piston Zee or Saint caliper up front.
The Suntour fork is stiff enough to put the 64° head angle to work and quite overdamped, which is better than the alternative, but the damping is not adjustable. This leads to a bit of a dead ride on successive hits but remains very controllable. Until it doesn't. The damper has a blow-off of some kind and there are a few times I put the front end into something hard enough, or from high enough, and it snapped back undamped. This is very easy to work around when I'm expecting it.
The new Growler is a significant leap forward from 2019 and I found the new 20 to be much more capable than the 2019 Growler 40 I tested last year which I put down entirely to the refreshed frame geometry. The thru-axle Boost rear end shows nice attention to detail on a 1,000 USD bike and I really appreciate that Rocky is sharing the same frame through all levels.
Treat yourself to some pedals you like, upgrade the grips before leaving the shop, and then ride the bike. I hit a few of my favourite black trails in wet conditions and while moving slower than on my own bikes I didn't walk anything I would normally ride. Dropper post? Nope, I'd just get a Chromag quick release. Tubeless-ing the tires would be high on my upgrade list, then pads and rotors, and then I'd just ride the bike until parts broke or wore out and replace them. Whether the bike's for your kid or yourself, that's a time-honoured way of progressing in the sport.
I'd challenge anyone to present a better buy at the 1000 USD | 1250 CAD pricepoint. The 2020 Growler 20 ladies and gentlemen.