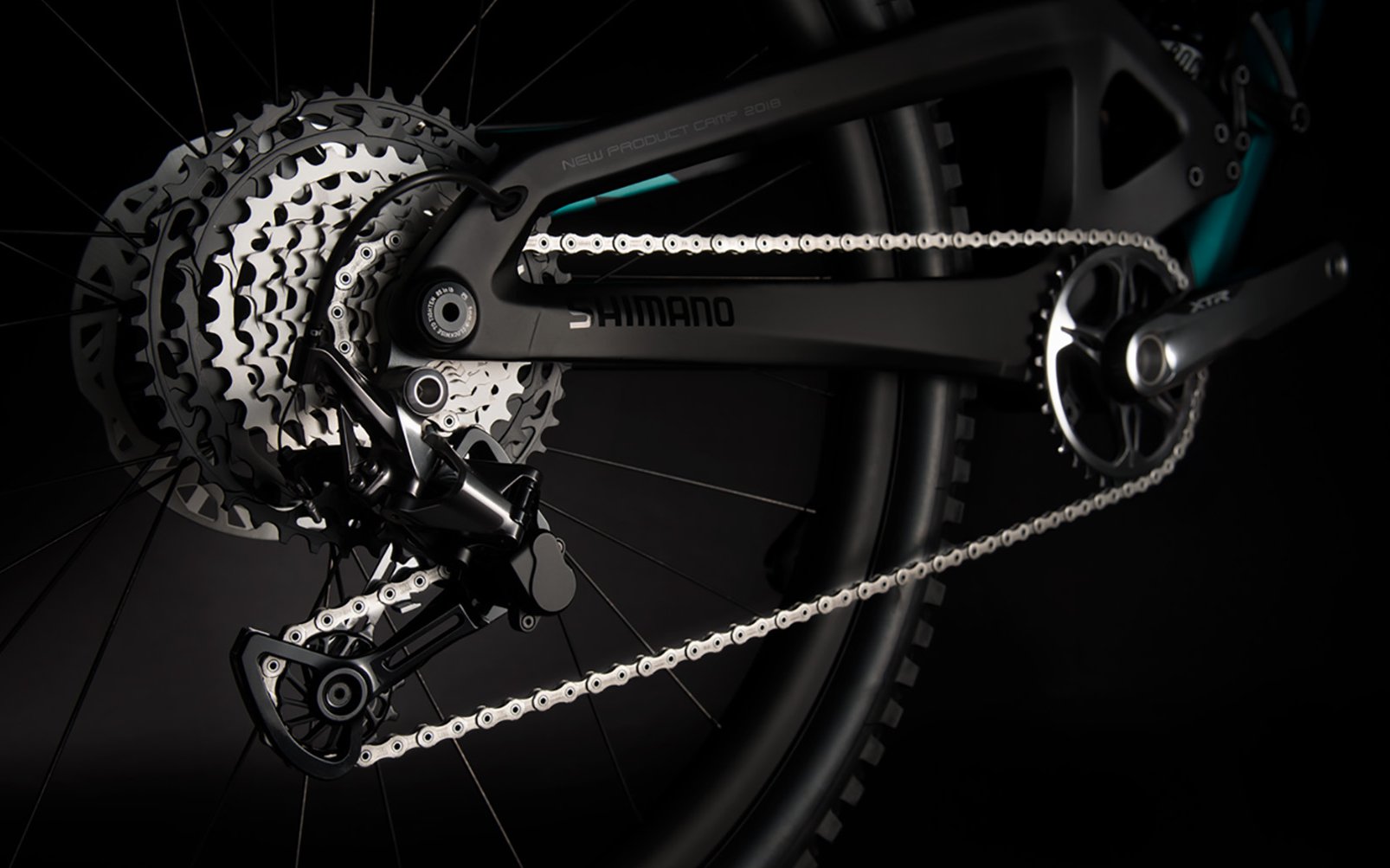 Hands on Product Intro
2019 Shimano XTR 9100: 10-51 12spd is Here
Nick Murdick, Shimano's MTB Product Manager, reminded us from the outset; the R in XTR stands for Race.* Someone** sitting near me muttered, "then what does the XT stand for?" That question never got answered but the tone in the room made it clear that Shimano is serious about regaining lost ground. What was stressed however was that engineering and design decisions were decided with one criterion; "what's best for the racer."
*Race in this case refers to two distinct disciplines; enduro and cross country. The biggest difference between the two component groups is brakes but there are a few other options that can distinguish between the two.
**I think it was Jason Sumner from MTBR***
***Milking the footnotes from the outset
If you have shopped for a new trail or Enduro bike lately, particularly one that is anywhere from middle to top end, there is virtually no chance it was adorned with anything but a version of SRAM's Eagle drivetrain. There are apparently still some Euro brands who spec. 2X drivetrains, and maybe a few choosing to use Shimano's 1X in 11sp, but it seems at this point that those are mostly a rounding error away from nada. Eagle has taken over; it's lighter, easier to use, provides excellent chain retention and durability and the range is more than adequate in most situations. It has been, in short, unbeatable.
Shimano is unaccustomed to playing second fiddle and even less used to being behind in the tech arms race. What I'm getting it is that there is a lot riding on this latest version of the company's flagship component group, which is why seven of us North American journalists were flown to Osaka to tour the factory where these very parts are built, lay our hands on the metal and quiz the staff from both Japan and North America about the new bits.
My XTR crystal ball was a little cloudy. I knew Shimano's response was going to attempt to put XTR back in contention, which meant a wide range 12sp 1x drivetrain was essential, but there were some roadblocks. The first was the XD driver which accommodates a 10t cog to achieve adequate range. I know that Shimano doesn't follow if they can possibly avoid it and that adopting a standard developed by SRAM wasn't in the cards, so I was certain we wouldn't see an XD driver body. The other hurdle was chain retention. Unlike the XD standard, which became open source after the first year or so, SRAM has initiated legal action against several chainring manufacturers who built rings with an alternating tooth profile similar to SRAM's Narrow Wide technology. Building a new driver body is one thing, but I couldn't see an adequate alternative to the effectiveness of narrow wide. It does wonders for chain retention and consistent chain alignment (without narrow wide, chains notch back and forth slightly unless you are in the middle cogs) and it's quiet and durable. Shimano responded earlier with longer tooth profiles but this was only a half measure.

The (SRAM) XD compatible driver body design is an open standard available to any hub manufacturer interested in producing a driver body compatible with the XX1 10-42 11-speed cassette (or current Eagle cassettes - Ed.). This open standard allows hub manufacturer to design an XD compatible driver body that works with their own ratchet design. - From SRAM literature.
Game On
When the curtain was drawn back there were no gasps. Rumours of a 10-51 cassette were accurate and, as expected a brand new driver body makes way for a 10t smallest cog. Micro Spline is Shimano's solution to the 10t problem and we were told there were other obstacles preventing adoption of the XD solution. Shimano doesn't produce a one piece cassette* and I was told it was unlikely Shimano would get permission to use SRAM's intellectual property.** SRAM's literature, quoted below, tells a different story. Redesigning the cassette would have been required, but that it seems to me that would be only slightly more than trivial for a company with Shimano's manufacturing and engineering superiority. But perhaps there are intellectual property hurdles as well.
*the cassette can have more than one piece using an XD driver, as evidenced by e*thirteen's solution, but once installed the pieces must attach and form a single unit because most of the length of an XD driver body is not splined.
**"The XD compatible driver body design is an open standard available to any hub manufacturer interested in producing a driver body compatible with the XX1 10-42 11-speed cassette (or current Eagle cassettes - Ed.). This open standard allows hub manufacturer to design an XD compatible driver body that works with their own ratchet design." From SRAM literature.
So the biggest disappointment of the entire group is that (for now at least) Shimano will not license or open source the Micro Spline interface to allow other companies to develop Shimano-compatible hubs. With one exception, any wheels you own now will be incompatible with Shimano 12spd. That exception is DT Swiss hubs. DT was involved with Shimano's development in some undisclosed fashion (likely on the SCYLENCE freehub - see below) so DT was allowed to develop a driver. In fact DT has an advantage over Shimano because the Swiss hubs will be backward compatible for XTR 12spd while Shimano has no plans to create a kit to retrofit current generation XT, Saint or XTR hubs to allow Micro Spline installation.* This means that, while you could purchase an XTR drivetrain in the after market, you'll only be able install it if you purchase 2019 Shimano or current generation DT hubs or if you already have DT hubs. Otherwise those are some pricy paperweights.
*I was told one reason for this was that Shimano has very little current hub market share - around 2%. It seems to me that number still represents thousands of riders the world over who may wish to get their 12spd on Shimano-style.
Hyper Glide+
Moving on to the XTR 9100 drivetrain, Shimano has made some interesting moves. The first is a significant advance to Shimano's proven Hyper Glide system. HG refers to the ramps that give your chain a boost when you shift into a larger cog (lower gear). This system has been copied by virtually everyone and it makes Shimano drivetrains shift incredibly smoothly - in one direction. This wasn't enough however because Shimano wanted HD to work both ways. Shifting to a smaller cog is generally easier because gravity is on your side and you are likely accelerating, but Shimano has racers in mind and while smoother shifting is nice, keeping the power down longer is the main goal and the rationale for Hyper Glide+.
How does Hyper Glide work?
One factor to consider in order for Hyper Glide to work properly is cog spacing.There will be points in the interface between two cogs where teeth line up perfectly. Hyperdrive won't work here because a gap smaller than the distance between two teeth is desirable for a shift, so ramps have to be aligned at specific intervals. Thanks to gravity holding the chain on the smaller cog, it is virtually always successful moving inboard, unless you decide to override HG by putting more pressure on the shifter (this is particularly important if you are climbing something steep and can't wait for half the cassette to rotate before for your shift.)*
*Rapidrise (aka low normal) was designed to ensure Hyper Glide would work every time because spring tension rather than cable tension generated from your thumb determined how much force was applied to the derailleur when moving to a larger cog. But as mentioned above, there are times when it's desirable to override Hyper Glide and this was impossible with Rapidrise. This was one reason for its demise.
Back to Hyper Glide+
Hyper Glide+ is more challenging and we were told that Shimano has been working to perfect this technology for years. Because upshifts (into smaller cogs) initiate more easily and don't have to grip anything to 'climb' to the next cog because of the pull of gravity, it stands to reason that hitting the Hyper Glide+ down ramps could be more challenging. As a result tooth profiles needed to be modified to resist the shift slightly in areas prior to and after ramp locations. Nick Murdick explained this to me in some detail;
"So to get a nice smooth transfer of driving force from a larger cog to a smaller cog, it's a matter of making sure that the chain doesn't let go of the larger cog until it rotates out of the way. The chain shouldn't be able to follow the inertia of the chain and jump down prematurely. We needed to make certain teeth that could hold onto the chain very well – like the opposite of a shift gate. Not only is that hard to do in itself, but there are many teeth that have multiple jobs. And of course the holding teeth can't stop doing their other jobs or some other part of shifting will suffer."

This was part science and part trial and error involving athletes and engineers working together in the field. Nick went on to explain how this process went:
"Through the rounds of prototype testing our riders would report something like 'I got maybe 20% hyperglide outward shifts.' Through the rounds of prototypes, that percentage grew as we made little adjustments to the tooth designs. Watching our engineers mark a tooth with a marker and then file in a tiny adjustment that you could feel during the next ride was awesome. We all stared in disbelief as he handed it back and it went out for another lap. Upon return though, 'Ok that got me to 50%. Whatever you did worked.'"
Nick took me down the rabbit hole some, talking about which teeth bear the brunt of the load at any given moment but the take home was that this addition to Hyper Drive allows riders to get the power down more seamlessly when it's needed most, and that it works best during the biggest efforts. Rather than having the chain whip to the smaller cog abruptly and with a clunk it stays on the leading teeth of the larger cog until the wheel rotates far enough to release it. Nick thinks we'll be impressed when we get to try it in Crested Butte in a few weeks and I'm looking forward to scrutinizing the system.
Chain and Chainring
One of the real benefits of SRAM's 1x technology has been superior chain retention. While riding Eagle or 11spd SRAM 1x drivetrains I have rarely dropped my chain. In fact I can only recall two times in total over several years - and one was a crash. Shimano knew that to compete with Eagle this chain security needed to be reproduced, and one change made to address this was an alternating tooth profile. By alternating I mean that the tooth that mates with the inner plates of the chain is narrower than the tooth which mates with the outer plates; narrow and then wide. This one puzzled me. I quizzed the blue shirts in attendance about the legal implications of this, considering SRAM has aggressively protected their Narrow Wide design, but was assured that Shimano would never make a move like this if there was any concern at all about a legal challenge from SRAM.*
*Actually I didn't hear anyone from Shimano utter the other S-word. SRAM seems to be Voldemort for Shimano. TBF that seems true for SRAM as well.
Oddly there is no name for the new tooth profiles and Shimano only seems to talk about the new chain with which it mates. In fact there isn't even a mention that the chainrings have changed at all in the press release linked below; simply the image you see below. We were told about Dynamic Chain Enhancement during our presentation in Japan, but this didn't make it into the final release that was sent to all media outlets.
Shimano does however talk about the new chain, which gets credit for the reduced vibration that occurs when the chain alternates from an inner plate link to an outer plate link as it meets the chainring. The inner link plates extend further into the cavity between the outer plates (see graphic above) improving tooth contact in concert with the alternating tooth profile (although this change was given none of the credit). XTR chain pins have been 'chromized' for some time but now the inner link plates are given this treatment for greater hardness and durability. Finally, there is now a reusable quick link. Hooray!
Cassette and Freehub
The cogs for Shimano's new XTR cassette are produced with three different metals. The three largest cogs are made of aluminum, the next five are titanium and the final four are steel. A new anodizing process allowed smaller aluminum cogs to be used for weight savings. The cassette is said to weigh 367g which is comparable to Eagle X1. There is a new beam spider construction, which looks a little like the old beam spider construction. Except this one goes to 12. You can choose between the wide range 10-51 cassette and a 10-45 'Rhythm Step' with ideal steps between gears. There is also an 11spd option, but more on that later.
The biggest change to the freehub is that ratchets and pawls have been banished. Shimano has gone to a system that involves two driver plates that mesh when power is applied but then disengage completely once you lift off the gas, with help of a spring and helical splines. The new system is called SCYLENCE. Who knows why , but the system doesn't make any noise at all when freewheeling.
Engagement isn't going to impress any of the rotation nazis at 7.6º but I'm engagement agnostic. I need those 7.6º of rest. Rolling resistance should be reduced though considering the moving portion of the hub and the stationary portion do not make any contact once disengaged. The driver body is entirely aluminum and we were told the Micro Spline design will prevent the cassette from cutting into the splines.
Hubs
Shimano wants to sell entire component groups to bike manufacturers and it's clear the company put more effort into hubs than usual. There are XTR level hubs in both J-bend and straight pull and MT900 level hubs in both configurations as well for around 250 USD vs. 500 for XTR. You can get boost or non-boost as well. The rear hubs have offset flange widths for more equal spoke tension and the large flange side has smart cutouts to ease lacing of the non-drive side. All the hub details can be found either on the image containing pricing and weights or in the embedded PDF.
Cranks
The new cranks are direct mount for 1x and if you are purist, you can spend more money and buy a double - although the two are swappable. These are good looking components with smooth lines and a 'spider'(which is actually simply the spokes of chainring) that is reminiscent of early Dura-Ace. Racer Q-factor is 162 or 168 for everyone else. There is no longer any pinch bolt for the non-drive crank arm; it's one bolt on and one bolt off. Chainline is 52mm for both 142 and 148 Boost hubs.
Rear Derailleur
There are three rear derailleurs of course. Because Shimano. One is for 2x, one for max 51t cogs and one is a 28mm shorter cage for max 45 tooth cogs. All three are Shadow RD+ keeping them low profile and pulleys now have 13t.
Shifters
The front shifter is kind of interesting, with only one lever to engage or release the front derailleur. It will look great in somebody's museum someday. The rear shifter has more mounting options (14mm slide and 60º rotation) and 35% lighter action than M9000.
Dropper Remote
Now this is exciting. If you could have any company produce your dropper lever who would you choose? I'd choose Shimano in a heartbeat. This tiny lever mounts directly to the left brake lever of course and it pulls 7mm of cable.
Pedals
The trail pedal (now the enduro pedal) has been rejigged to better account for a more rearward cleat placement and sneaker style shoes. The platform has also been widened for stability. They weigh 398g a pair and axle durability is said to have been improved as well. The XC pedals have also have a wider platform and are available in two axle widths for those seeking a low Q-Factor and they weigh in at 310 and 314g.
This One Goes to 11. As well

Shimano polled their sponsored racers to get an idea what was important to them. The lycra set responded with 32% saying ideal gear steps were vital while 68% said range was king. The goggles on the half shell set were similar with a ratio of 34% to 66%. To please everyone Shimano made the rhythm step 10-45 cassette and the 10-51. But there is a third option. The 51t cog is removable and the shifter can be switched from 12spd to 11spd for riders who don't need to drop down to 51t (Jesse Melamed was mentioned). This saves some weight in the dropped cog, 6 removed links and it allows riders to use the shorter cage derailleur, which saves a remarkable 3g. In total you can drop 80g. The swap also provides better ground clearance, chain retention and reduced chain slap. You can also use an 11spd specific hub for a better spoke bracing angle, but this means you can't switch back to 12spd unless you have two sets of wheels.
Brakes
There are two brakesets, a four pot set for enduro and a 2 piston version for XC. The enduro set up is said to generate as much braking force as current Saint brakes but with better modulation. You can use Saint pads or the new XTR finned version.
The brake levers have been smartly redesigned to take advantage of bracing from the handlebar. The clamp moves inboard and the rider facing edge of the lever body rests against the handlebar, significantly improving stiffness. The XC version requires an hex wrench to adjust the reach while the enduro is tool free. Rotors have a new paint surface that reduces operating temperatures by 20% (203mm).
Money and Mass
All in everything sounds pretty damned good. Boxes are ticked and there is some interesting innovation here, particularly Hyper Glide+ and SCYLENCE. The new brake levers and the dropper remote also look sweet and I expect everything will work extremely well. What's not to like...
The lack of an open source freehub standard, with no suggestion it may be offered in the future, is a puzzling decision that will likely seriously reduce consumer demand in the aftermarket.And I suppose it could affect new bike purchases for people who want to know they can replace a wheel easily in a pinch. If Shimano's strategy is to go hard for OE spec and to sell some hubs in the process, they will surely see some success, but in the current climate where riders have invested in wheelsets that cost up to 3000 USD, it's hard to imagine those buyers lining up to have hubs removed from perfectly good wheels to get carbon rims re-laced onto XTR axles.

Maybe we'll start seeing rim manufacturers like ENVE, Reynolds and smaller outfits like WeAreOne offering Micro Spline hubs, either from Shimano or DT Swiss, as options for complete wheels. Or perhaps some of the tinkerers in the industry, like OneUp and Wolf Tooth, will begin making Micro Spline compatible retrofits for existing hubs so riders who are happy with everything except their drivetrains could give XTR a try.

Despite what appears to be a few missteps, from where I sit there is much to admire here, assuming it works as advertised. It's also great to see Shimano giving SRAM a run once again.
Now if we could figure out how to start a price war...
---
If you missed my story on our tour of Shimano's Sakai Intelligent Plant, where these parts are made, click here...
Below you'll find the official press release for XTR 9100.