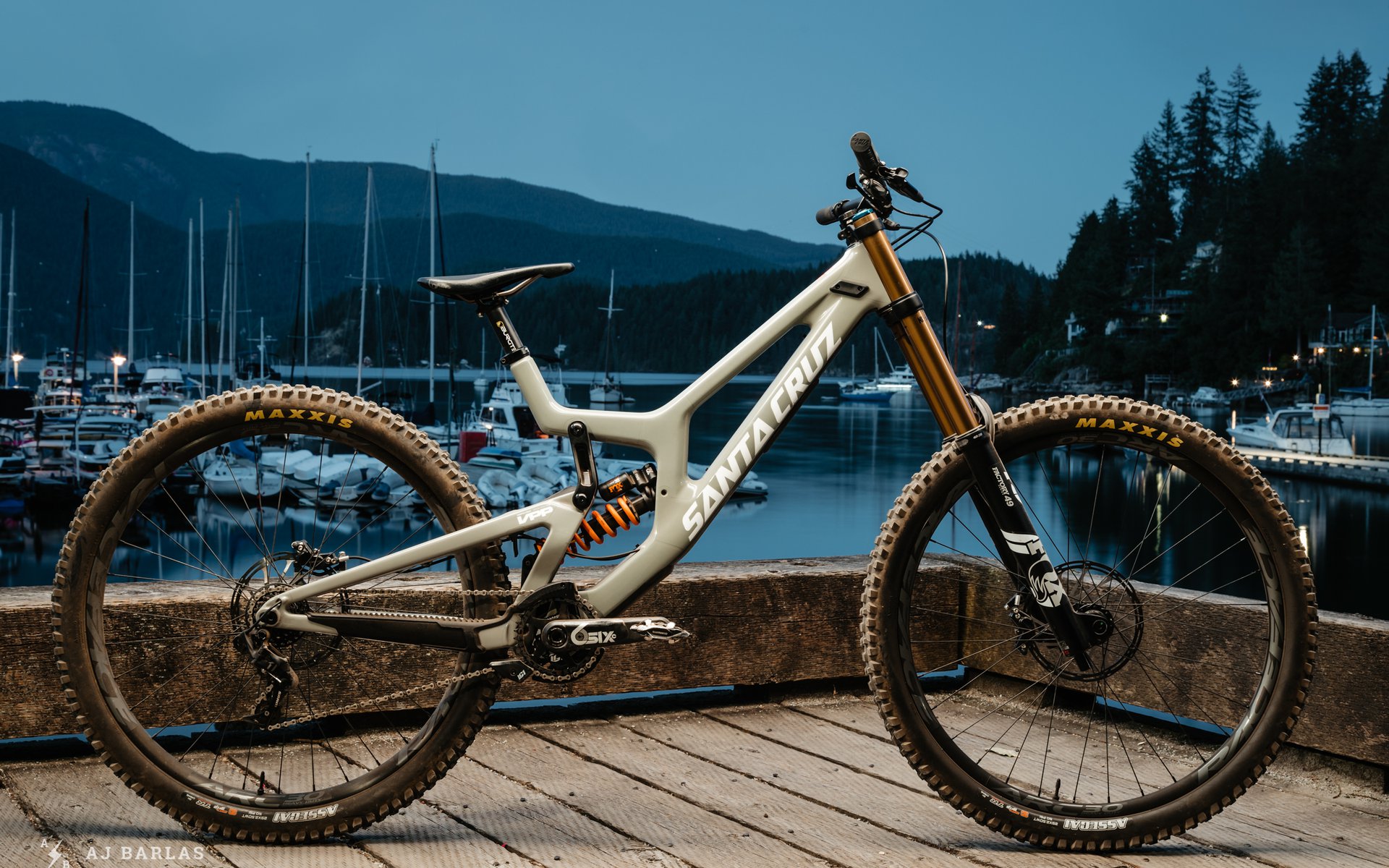 First Look with a Twist
2019 Santa Cruz V10 29er
When Mt Ste Anne was announced as the venue for the 2019 MTB World Championships, Tim Coleman started feeling the pull of gravity, and couldn't resist the opportunity to chase a rainbow jersey (Masters 35-39 category) on Canadian soil. Over the course of the summer, he's going to keep us updated as he prepares his body and mind for the ordeal. And, of course, he'll also get nerdy about the Santa Cruz V10 he'll be riding as he chases glory on August 22nd. Today's article is the first instalment in the series.
The year was 2003. I had been mountain biking for a year. Kranked 5* was released and blows my mind. That segment of Johnny Waddell flowing Groovula and tearing the Sun Peaks DH track to pieces on a candy apple red V10 with the red Dorados released so much dopamine into my brain I still get the shakes every time I see one. The green one in the Super T segment was bad ass too. I NEEDED that bike. I saved all my pennies that summer and there was no question what I was buying. A candy apple red V10 with a set of red Dorados. I don't think the impact the original V10 had on the downhill scene in 2002 can be overstated. The V10 was meteoric. Fast forward to 2017. Santa Cruz shows up to a World Cup with a prototype 29" wheel V10 and breaks the internet. The bike polarizes the pits, and then proceeds to set the timing sheets alight. Keyboard warriors the world over were so riled up, they didn't sleep for weeks. The subsequent anticipation has been palpable, and now it's here in all it's glory. The seventh generation of the Santa Cruz V10.
*Kranked 5 still holds up by the way, I got distracted watching it more than once while writing this piece.
You can't say Santa Cruz has rushed the latest V10 to market. They've painstakingly developed this bike through international competition since 2017. In that time everyone else has been scrambling to get a 29er downhill bike to join the party. It took until December 2018 before Santa Cruz was happy with the details and launched both a 27.5" and 29" wheel variant. Both V10s sport 215 mm of rear travel and available in carbon fibre only.
Coleman's Notes on the V10:
Rear travel: 215 mm
Frame material: Carbon fibre
Sizing 27.5" wheels: Small, Medium, Large
Sizing 29" wheels: Medium, Large, Extra Large
Rear center adjustable by 10 mm
Bottom bracket height adjustable by 5 mm
Head angle; 63.3° in Low and 63.7° in High
Wheel base range; 1199 mm for the 27.5" Small to 1316 mm for the 29" XL (Long setting adds 10 mm)
Reach range; 412 mm for the Small to 492 mm for the XL
Weight; 34.8 lbs for the 27.5" and 35.5 lbs for the 29er
Colours; black or grey
All the details you could possibly want on the Santa Cruz's website here.
I'm going to be testing and reviewing the top end X01 build. There is also an "S" build from Santa Cruz for a bit less money. Retail on the S build is $7,949 CDN and the X01 build will set you back $10,799 CDN. The V10 is available as a frame only for $5049 CDN.
XO1 Build Kit Highlights:
Fork; FOX 40 / 49 Factory
Shock; FOX DHX2 Factory SLS Coil
Drivetrain; SRAM X01 DH 7sp
Cranks; Race Face SIXC
Brakes; SRAM Code RSC
Cockpit; Santa Cruz Bicycles AM Carbon Bar, Santa Cruz Direct Mount Stem, and Santa Cruz Palmdale Grips
Wheels; Race Face ARC HD 30 Rims on DT 350 Hubs
Tires; Maxxis Assegai MaxxGRIP 3C
Chain Guide; E13 LG1+
Butt Support; Burgtec Xpress Carbon Post with Ergon SMD2 Pro Ti
The Santa Cruz website has all the build kit details.
Review with a Twist
So this is where a standard review takes a detour. I'm planning on racing Downhill Masters World Championships in Mount St. Anne this year. I haven't raced downhill in 5 years, and after I heard Worlds was in Canada for 2019, I started putting together a plan to race it. I plan to write and detail my preparation to the big race on August 23rd. This will include suspension setup, tire selection, inserts or not, some preparation races and all of this will be done aboard the Santa Cruz V10 29er. My primary goal is to have fun, and learn along the way. Hopefully it'll be a good read for you too.
The seventh generation Santa Cruz V10 has been hotly anticipated, and I don't think it's disappointed. From where I'm sitting the most successful bike in downhill history shows no signs of slowing down. Its an absolutely gorgeous bike, with very little to critique. The attention to detail on the V10 is almost manic. While the V10 isn't cheap, the pedigree, performance, quality and top shelf build kits go a long way to justify the price. Keep an eye out for updates as I detail my journey trying to get the most out of myself, and this Santa Cruz V10.