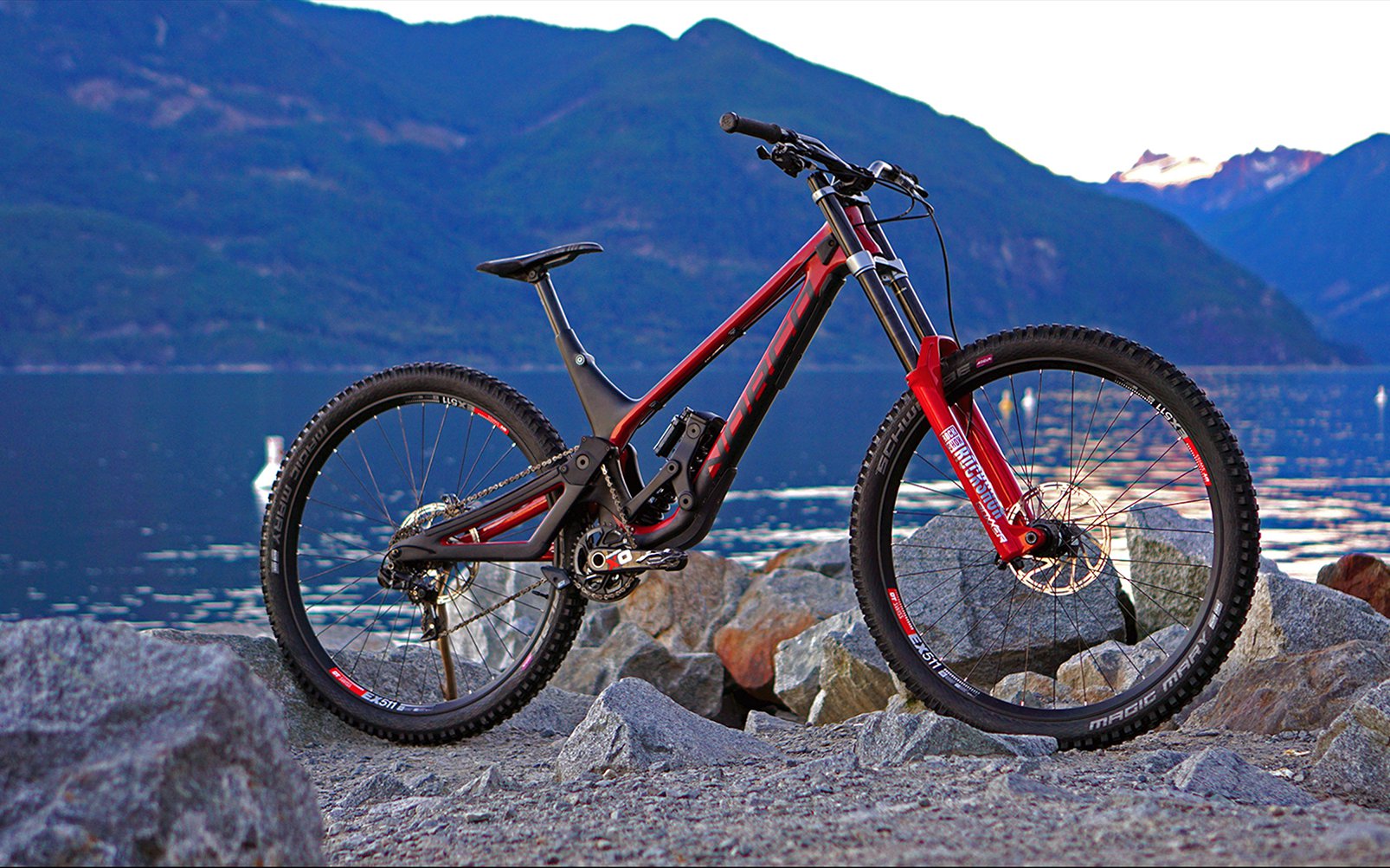 Product Review
2019 RockShox BoXXer World Cup (29) Reviewed
Earlier this year RockShox launched a new BoXXer for the 2019 model year. This is the biggest overhaul of the BoXXer in recent memory. While the 35 mm stanchions remain, just about everything else is new. With big shoes to fill, I was curious to see how the new BoXXer would stack up.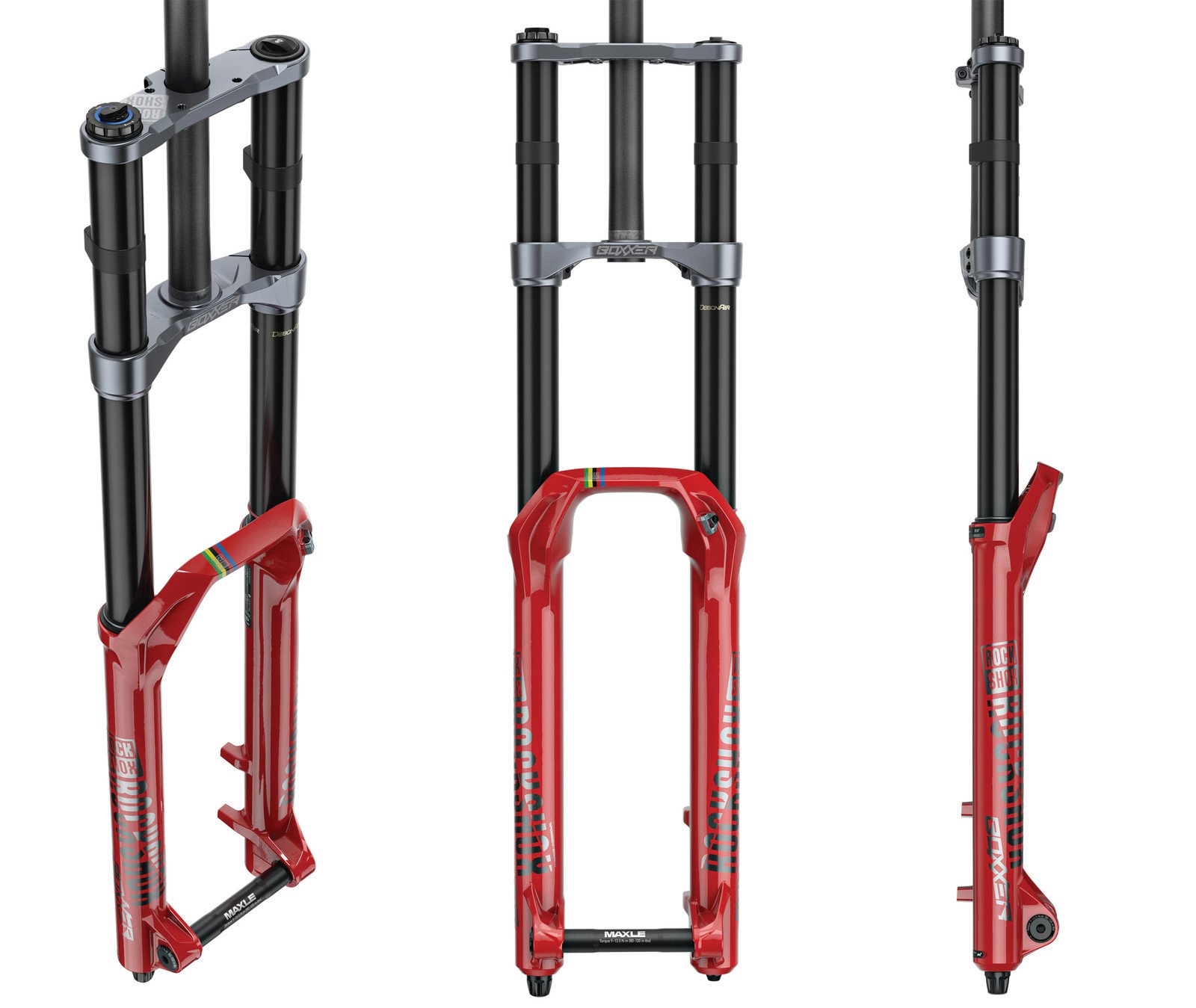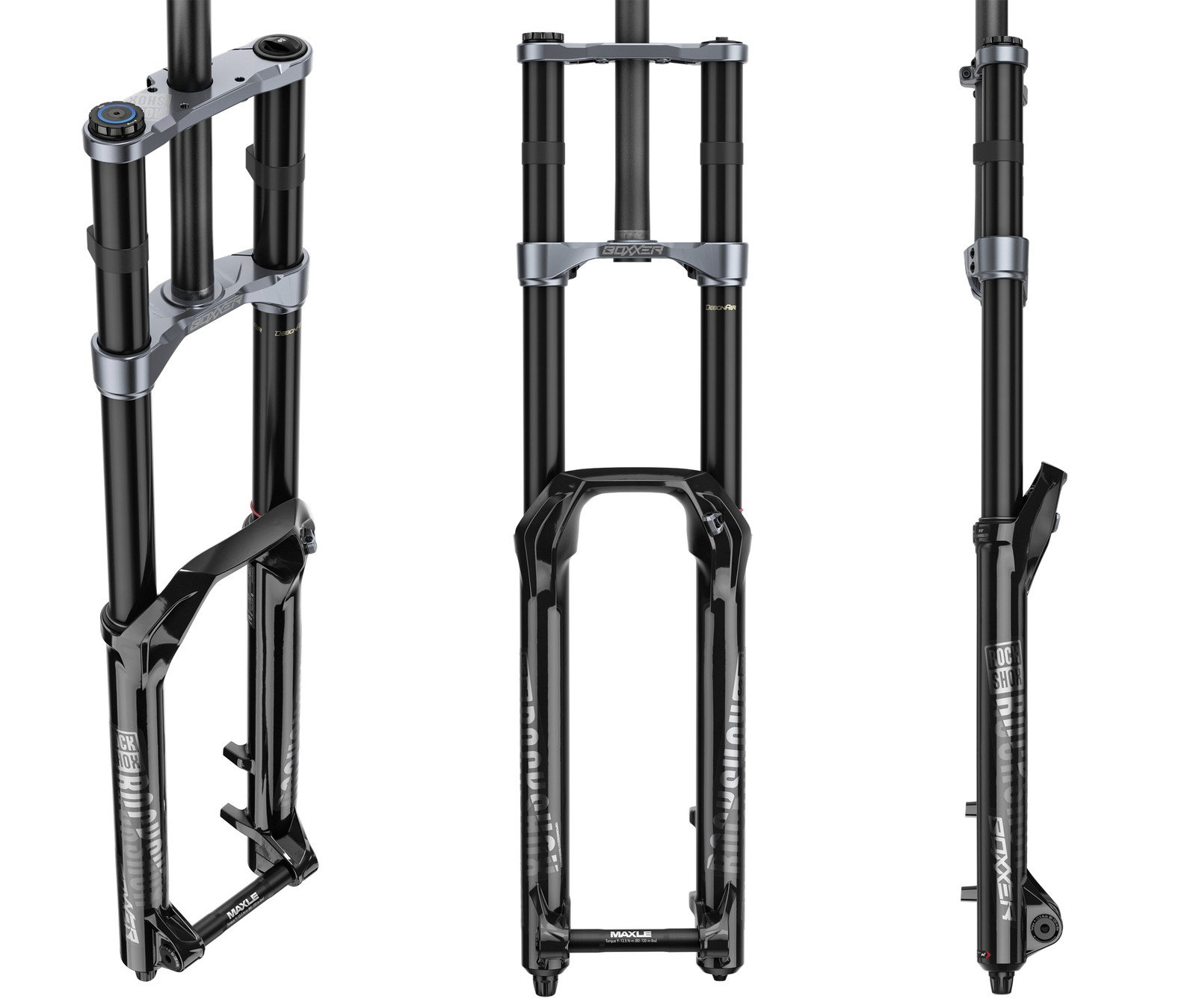 It seems the coming wave of 29er DH bikes was a good catalyst for product development. The MY2019 BoXXer comes in both 27.5" and 29" wheel variants. However the new BoXXer isn't just last year's fork with some longer lowers. The MY2019 is new from the ground up.
Features:
Travel: 200 mm
Wheel diameters: 27.5" and 29"
New Charger™ 2 RC2 damper with independent high and low-speed compression adjustment

 External Adjustments:  begin stroke rebound, low-speed compression and high-speed compression
New DH-specific, friction-reducing DebonAir™ air spring
Steerer options: 1 1/8" Aluminum

Stanchions: 35mm diameter in Fast Black finish
Offsets: 48 mm for 27.5" and 56 mm for 29" wheels
New graphics with a BoXXer Red fork color options, also available in Black
Weight: 2,565 g (5.65 lbs) for 27.5" and 2,615 g  (5.76 lbs) for 29" wheels
My first experience with the new BoXXer came during opening week-end at the Whistler Bike Park this year. I was lucky enough to ride the MY2019 BoXXer for two days bolted to a brand new Intense M29. It didn't take me much time to get the new BoXXer dialed in to my liking, and I felt confident in the front end of the bike almost instantly. I asked a lot of technical questions over those two days, and the one recurring theme the folks at RockShox kept referencing was friction. Excess friction leads to poor bump compliance, and a fork that doesn't react to the ground as quickly and effectively. Many of the changes were aimed at reducing the static and dynamic sliding friction in the fork. 
After two days in the Whistler Bike Park my settings were sorted; 2 volume tokens, 150 psi air pressure, LSC 14 clicks out, HSC 3 clicks out, rebound 8 clicks out. In the bike park the new BoXXer's small bump compliance was excellent, the fork offered great support under braking, and ramped up nicely to control big impacts. All the while the BoXXer seemed to manufacture oodles of traction. Even when leaned over at generous angles the fork seemed composed, consistent and settled. Whether hard on the brakes, slow, or fast, the BoXXer always seemed to respond in a consistent and predictable manner. 
A few months later RockShox sent me a MY2019 BoXXer tester which I bolted to a new Norco Aurum HSP 29er. Not a shabby combo. 
The first thing that struck me from the second test was how good the BoXXer was out of the box. I set the fork to the settings I previously enjoyed, and there was virtually no break-in period. The fork felt very similar to the one I'd ridden on opening week-end months ago. I thought maybe RockShox had done some special tinkering and tuned up the media forks, but I rode a third BoXXer that came stock on the Aurum HSP, and there was no difference. I'm impressed with the quality control, consistency of adjustments, and consistency of performance across the three MY2019 BoXXers I've ridden. 
Let's Get Technical
This is the technical nerd section. I've never loved air sprung DH forks before because I've always felt they were firm off the top, soft in the mid stroke, and rampy at the end. I've always found coil sprung forks more consistent in their rate and, with fewer seals, they have less stiction. The new BoXXer is getting awfully close to coil spring good. This is achieved by tuning the positive and negative chamber volumes to achieve the spring curves below, which are close to the older coil sprung fork. I found I liked 2 tokens in the fork from back to back testing in the bike park and low and behold, that's the setup that most closely mimics a coil sprung fork. The air spring seals are one place were friction is said to be reduced, further closing the coil/air gap. The air piston is now aluminum with tighter machining tolerances, in order to improve fit and again reduce friction. See the plot below for the comparison of various BoXXer spring curves.
On the damper side the new Charger 2 damper offers high and low speed compression. The overall damper feel is similar to the older Charger damper, and that is a good thing. The original Charger damper is an excellent design. The high speed compression adjustment is a welcome addition. I was using 1 out of 4 clicks on the High Speed Compression (HSC) circuit. Each click made a noticeable difference in the damper performance. I was concerned that some lighter riders might find this HSC tuning a bit aggressive, but RockShox was convinced this setup worked for the widest array of people. That said I've always liked fairly open high speed circuits. 
I'm not going to say this has been a long term review. I've had the fork for a couple months now, and it's seen a decent amount of riding in the Whistler Bike Park and on trails near Vancouver. What I can say is that it's seen some horrific conditions. Pouring rain, covered in mud, snow falling, frozen hands, yet the BoXXer still functioned flawlessly. So while I might not be able to comment on how it'll perform after a season of abuse, I can say again that I'm impressed with the consistency of the BoXXer. Even in cold and wet conditions the performance was excellent.
I think with this being a 29er fork I'd be doing us all a disservice if I didn't briefly comment on 29er DH Bikes. I haven't been wild about 29er trail bikes to date. Given my previous experiences I'd expected 29er DH bikes to be long, boring and difficult to turn. Go straight, monster truck, machines if you will, which just isn't my style. I ride bikes to have fun, and I like bouncing around all over the place.
 Aaaannnd all those preconceived notions of mine were flat wrong. I'll have the whole humble pie please. First on the Intense M29 I was blown away by how nimble and fast the bike was everywhere. On my first run I was sliding in to turns, scrubbing jumps, and tossing whips. The traction was impressive, and the bike rolled fast. There seemed to be almost no downside. The Aurum HSP is a completely different beast, the bump adsorption of the back end is something of witch craft, yet the bike remains easy to ride fast, produces gobs of traction, and is just as easy and nimble through the tight stuff as any 27.5 bike I've ridden recently. 
In Conclusion...
So conclusions then. Two thumbs up. On the 29er front, the 29er DH bikes are way more fun than I expected. The big wheels make big traction, and the BoXXer has proved to be a big part of that. The new air spring (insert cliche comment here) is really close to the feel of a coil spring... No for real this time! Friction has been demonized by RockShox and their efforts to rid the BoXXer of evil have resulted in excellent bump compliance and suspension response. The new Charger 2 damper builds on the already great Charger damper with the addition of an external high speed compression adjustment. The Charger 2 provided consistent damping, good low speed compression to keep the fork tall under braking, but a nice open high speed circuit that helped eat small bump. The BoXXer World Cup isn't cheap at $1699 USD, but there is the cheaper RC version that comes with the Charger damper for $1309 USD. Ultimately I feel like the new 2019 BoXXer is a step change improvement in performance, but it's come from countless small improvements. Evolution instead of revolution, and I think it's worked brilliantly.