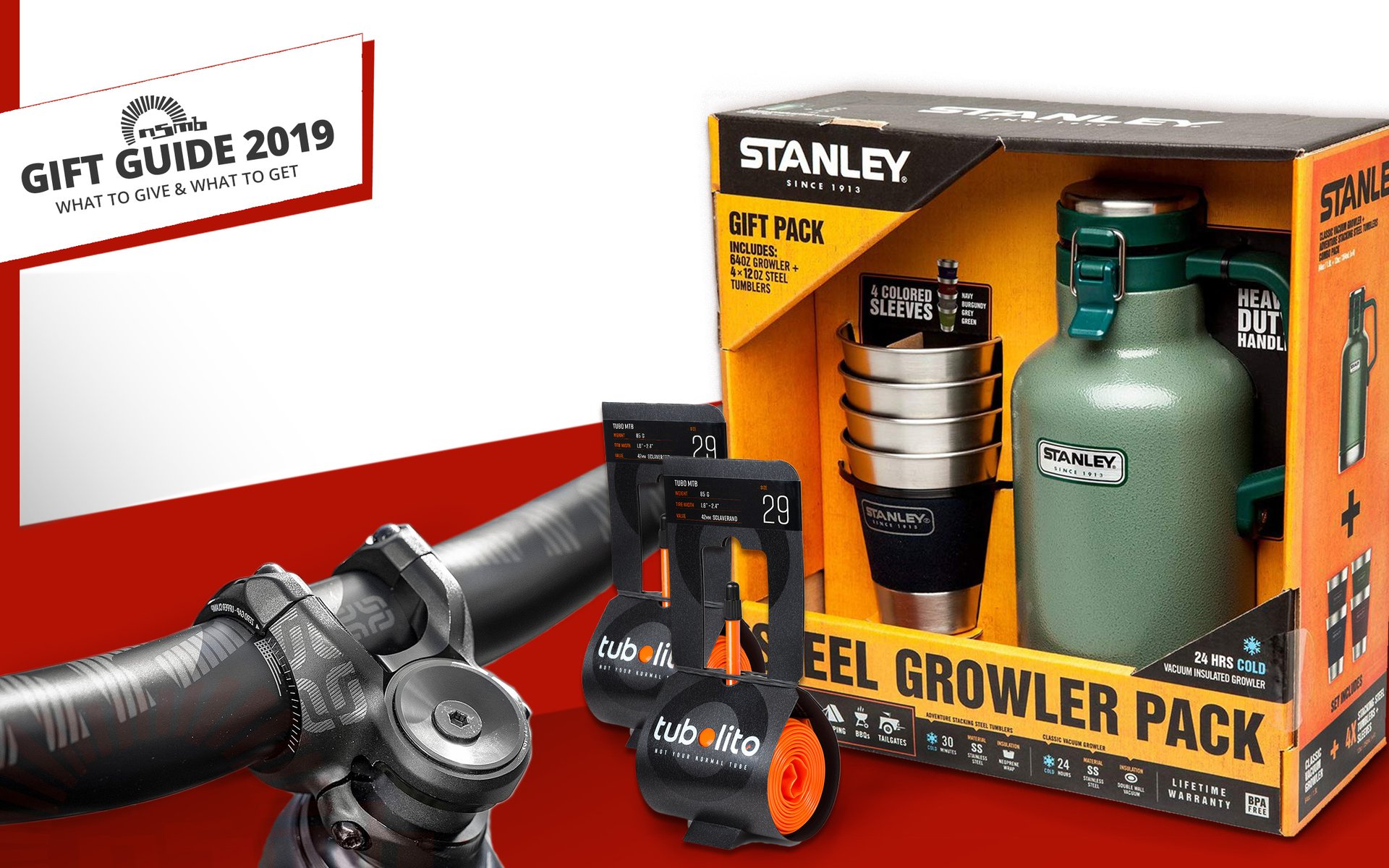 RIDE, APRES, REPEAT
2019 Gift Guide: Week 5
Every Thursday through December 19th, we're presenting a new list of ideas for gifts for the mountain biker in your life. If that mountain biker is you, this is gear we stand behind as ideas to upgrade your ride, or deals on some other sweet stuff we're digging right now. Here's another idea: get something nice for that under appreciated trail builder or trail association volunteer in your life. From a 1/2 pound of coffee to a stealthy 6-pack or anything on this list, I promise you it'll be one of the best gifts you'll give all year, and they'll really appreciate the thought.
In case you missed the first three weeks of the NSMB Gift Guide, here they are:
e*thirteen Race Carbon handlebar and Plus 35 Stem
Remember last week, when we shared the story about e*thirteen's awesome new A/T Enduro tire with super slow/super sticky MoPo rubber compound? Let me remind you that MoPo stands for 'MotionPotion'. Let's just admire that once again. In my opinion it's right up there with Transtion's SBG (officially 'Speed-Based Geometry' but they joke that it stands for Some Bullshit Gimmick). In an industry full of confusing and too-serious acronyms, we need more SBG and MoPo in our daily lives.
So, from the brand that brought you MoPo comes the Race Carbon Handlebar and Plus 35 Stem. They'll plant your hands in the right places while you MoPo your way down the trail.
e*thirteen's Race Carbon bar has an engineered carbon layup and a 35mm clamp for stiffness and tuned ride feel. A swarthy 9 degrees of backsweep and 5 degrees upsweep is standard, with two rise options: 20 and 35mm.
The graphics on this bar feature a full-wrap water decal for maximum visibility in POV footage, and a unique aesthetic.
Width: 800mm
Rise: 20mm, 35mm
Sweep: 9 degrees back, 5 degrees up
Weight: 20mm Rise: 225g // 35mm Rise: 230g
Race Handlebar
Price: $139 USD
Buy: e*thirteen website / on sale for 30% off at Competitive Cyclist
Plus 35 Stem
Price: $81.99 USD (reg. $95.95)
Buy: e*thirteen website (sold out!) / 15% off at Competitive Cyclist
Stanley Growler Gift Set
I asked for one of these a couple of years ago as a part of my Dear Santa list (which doubles as thinly disguised wish lists for those around me). And it worked! There, under the tree, was a Stanley Growler in classic Hammertone Green. And boy, has it been great. I get lots of compliments on it from otherwise semi-staid craft brewery counter staff who must respect the fact that it weighs less than a glass growler, looks rad, keeps beer cold and fresh for way longer, and won't make an enormous mess if I drop it on my way out the door.
In my opinion the Hammertone Green is the must-buy colour, but the black is pretty slick and I understand that some people only buy or wear black things. Whichever colour you choose, the Stanley Growler Gift Set comes with four stackable 12 oz. stainless steel tumblers to the mix. Color-coded so that one buddy we all have will stop stealing your beer already and pretending it's his. I've given these Growlers to three or four people over the last two years and they become highly coveted and appreciated by all who get them. For the beer lover in your life, these are highly recommended.
Price: $80 USD
Buy: Stanley-PMI.com
Tubolito S-Tubo-MTB
We first heard about these funky little orange tubes two years ago at Interbike. Before we checked them out we were thinking to ourselves: "it's all about tubeless now, why would anyone dump dev money into tubes?" Well, pay a little attention to Tubolito's specs and you'll probably see why - likely faster than our Interbike day 5 brains were able to figure it out, too.
No matter how good tubeless is, flats still happen. And even though we carry tire repair tools like the new one from Stan's that came recommended in our Gift Guide last week (and seems to be sold out everywhere), some holes can't be plugged. That's why, whether you're racing XC or Enduro, or just riding, you still must carry a tube. You may carry it for a year or more before it's ever needed, which is why it makes sense for that required deadweight to be light and not bulky. Enter Tubolito.
Available in road and mountain versions, with the latter split by width (1.8-2.4" and 2.5-3.0" versions) in a regular version that will save 100g per wheel over regular tubes, and an ultralight version, featured here, called the S-Tubo-MTB, which weighs half that of the regular Tubolito. Whichever way you go, you're saving a lot of weight and bulk - I mean, it'll take up less room in a stocking than a chocolate orange.
Price: $37.90 USD
Buy: Order direct or search for a dealer orhere for North American orders may be slightly cheaper.
ENVE M7 Mountain Stem 35mm
ENVE's M7 Mountain stem is a little unusual and that makes it a unique gift idea for a discerning enthusiast, or a finishing touch for special builds. In a world full of exotic cockpit options, the M7 stands as one of the only carbon-bodied stems intended for aggressive riding. It has burly proportions intended to look at home while gracing the front of a modern Enduro / All-Mountain bike. Designed to complement the look and ride feel of ENVE M7 handlebars, the M7 stem is extremely strong, light, and expensive, making it exclusive in the figurative and literal senses.
Crafted from carbon fiber, the M7 is available in three lengths: 35mm, 50mm, and 65mm.
Rise: +/- 0 degrees
Clamp Diameter: 35mm
Faceplate Material: Aluminum
Hardware Material: Titanium
Stack Height: 40mm
Weight: 85g (35mm), 92g (50mm), 99g (65mm)
Price: $280 USD
Buy: ENVE.com
Smith Wildcat Chromapop Sunglasses
It's only in recent years that we even started wearing glasses while riding on the North Shore. Our dark canopy and slow riding speeds on janky trails meant it was hard to find something that allowed us to see that also kept from fogging up every time we stopped to session another teeter-totter. Better bikes and trails led to higher speeds. Better riding designs and tech meant it was easier to find eye protection that stayed clear of fog. I've always been partial to Smith's laid-back brand and casual styling, and I love Sun Valley, where the brand originated, so there was always a natural affinity. In recent years I've worn their Attack line of shades while riding way more than any other, but since I got my hands on a pair of Smith Wildcats, they're the ones I reach for the most.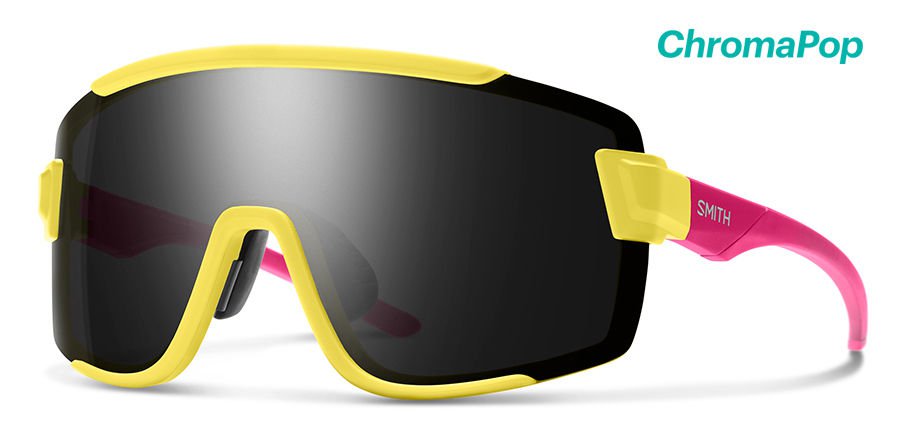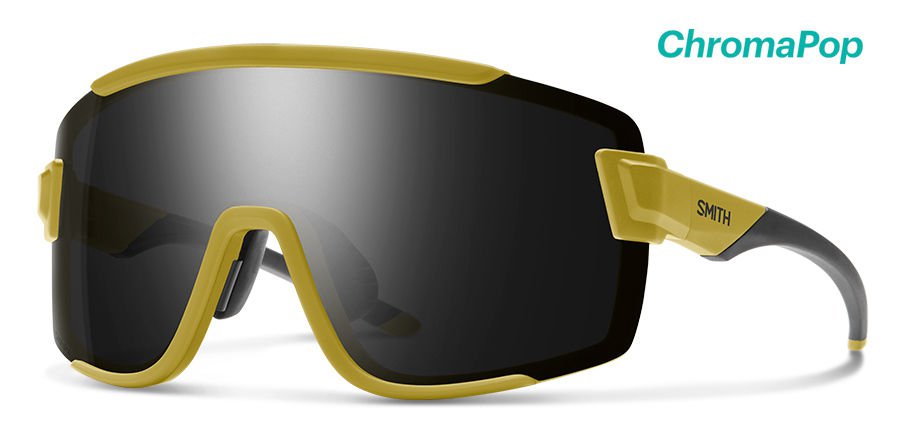 Designed for riding of all sorts as well as running, the Wildcats certainly look like a hybrid between glasses and goggles. Inspired by Pit Vipers? Maybe. Way better looking? Definitely. Plus, Smith lens tech is much more advanced than the new Gaper Day Goon Wear of choice - Pit Vipers may be good for playing dress-up but they're not serious eyewear in my opinion. And riding is very serious business - especially when it's #flaskfriday.
You can get 'em with a variety of tints but they also come with a clear lens and that's what I wear the most for riding on the Shore. I love Chromapop for riding in the sun or mixed conditions, and certainly for driving or patio time, but we need clear lenses when it's darker than the underside of a saloon bar - even at high noon. The best part, though, is the fit and coverage, which isn't so tight that they can't let enough air in to stay clear of fog when you're working hard, but covers the whole upper equator of your face and protects from roost, splatter, and wayward branches. A Hydroleophobic coating resists water, oil, and smudges. All I know is that they're my favourite ever set of riding shades. I thought I lost them a little while ago and was ready to pull the trigger on a new pair until they turned up inside the truck console. Turns out I'd left them on after a ride and only took them off when I caught a look at myself and realized I was about to wear them into the cold beer and wine store. They're not quite that cool.
Price: $199 USD / $210 CAD (sweet exchange rate deal alert!)
Buy: Competitive Cyclist (most available selection) or via the Smith website (limited colours available)
Fine Art Photographic Prints from Sterling Lorence
If you really want to win Xmas for the mountain biker in your life, you can stop right here. The rider on your list, unless he or she is some sort of philistine, will be blown away by a print of one of Sterling Lorence's breathtaking and evocative photographs. Just choose your photo, select a size and order it up. Prices start at 150 CAD and go up for larger sizes. That's less than a pair of tires for a print from the master of mountain bike photography. Prints are produced with archival ink and Below you'll find three examples from the galleries you can choose from, and choosing will certainly be the hard part.
I've never seen that last photo but it makes me want to put in an order myself.
Enjoy being a Christmas hero. And you're welcome. CM
Price: 150 CAD and up plus shipping
Buy: sterlinglorence.com