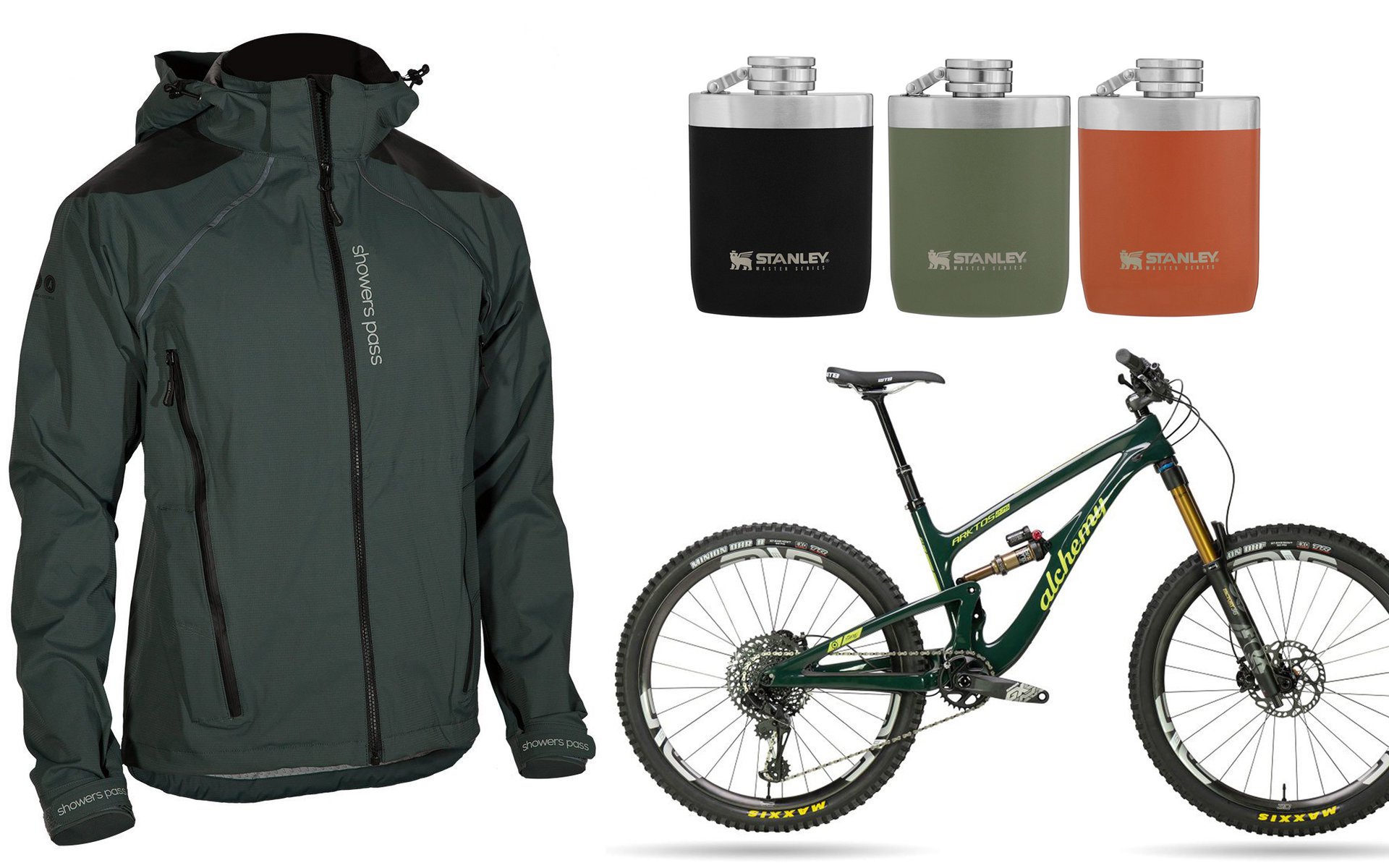 WHAT TO GIVE | WHAT TO GET
2019 Gift Guide: Week 1
Stanley Master Series Unbreakable Hip Flask
This is the big gun I'll be hauling out to the next #flaskfriday ride.
Price: 40 USD
From: Stanley-PMI.com
Riding in the fall and winter requires certain adjustments. Layers, lights, expectations...there are a lot of ways to soften the blow of a wet, cold ride in failing light. However, nothing brings joy on a dank one like a properly loaded flask. It's never a bad time to get your #flaskfriday on, but a wee dram of your choice can be magical on those days when dragging your butt off the couch justifies a mini celebration or three out on the trail.
Stanley has been making kickass products for over 100 years. If your great granddad took a lunch box to work, it was probably a Stanley. Their Master series has a whiff of throwback with a perfect hint of modernity - but the word I keep coming back to is burly. There are lighter flasks, but if you're already hauling a couple of lights and extra layers along with you on the ride, the Unbreakable Hip Flask from Stanley is toughness and style blended perfectly together - just like your favourite whisky. If you're stuck needing a gift for one or more friends, colleagues, siblings, or guys named Pete, then look no further than the Stanley Unbreakable Hip Flask.
Showers Pass IMBA Jacket
Price: On sale today only for 139 USD / 189 CAD - then it reverts to 199 USD / 270 CAD.
From: ShowersPass.com
Showers Pass has built a solid reputation for well-made gear that'll keep you dry in conditions that are too-often referred to as biblical. The IMBA jacket is a full-fledged rain jacket for riders: it is fully seam-taped with reinforced shoulders and long core vents up front, because when it's raining and you're riding hard, you're sweating underneath those 2.5 layers of Artex hardshell fabric. We reviewed it last year and it saw Trevor Hansen through a wet winter and spring with flying colours. Speaking of those, the Showers Pass Men's IMBA jacket comes in Night Ride (a wicked looking olive) or a very bright Green. The Women's version comes in that familiar Night Ride or a scorching Mandarin, that'll light up dreary days on the hill or in traffic.
For every IMBA jacket sold, Showers Pass will donate 5% of net proceeds back to IMBA. We found the Showers Pass IMBA jacket to be a solid value at 199 USD / 270 CAD, but today only it is on sale at 30% off, making it a steal, whether you decide to get one for someone special or keep it for yourself. Hell, buy two at that price.
Alchemy Arktos 27.5 - NX Eagle Build
Price: 3899 USD (discounted from 4899) **edit** this discount is now properly reflected on the site when you add the bike to your cart. You can also use coupon code BF$1000 and you'll see the discount on the product page.
From: Alchemy.com
For a new and relatively small brand, Alchemy produces a lot of different bike types, in a slew of materials. It's an impressive lineup. The Arktos 27.5 features a dual-linkage platform called Sine suspension, named for the shock rate, which looks like a sine wave when graphed. At first the rate is regressive for small bump sensitivity and traction; in the mid stroke the rate is progressive to stand up to big demands from riding at speed and in rough terrain; finally a slightly regressive rate at the end of the stroke to make sure you get all 160mm of travel. We're testing one right now, so stay tuned.
The Arktos 27.5 comes in six different build kits - one for every budget. Shown here is the base model NX Eagle build kit, which brings a lot of party to the table. For starters, that Eagle NX 50 tooth dinner plate will help you heave yourself to the top of the hill even after overdoing the turkey feasting. A Fox DPX2 Factory Kashima EVOL shock will have you wondering whether all that triptophen has you dreaming - sexy Kashima on a sub 4k bike? That's right, Alchemy hacked $1000 off the Arktos 27.5's MSRP, so the cost of entry for this boutique beauty is at an all time low. Up front, the Rock Shox Yari RC is a capable performer, and DT Swiss M 1700 Spline wheels are a helluva lot of wheel on a bike at this price.
Alchemy is a direct to consumer brand with a few nice perks: they'll ship your bike to you for free (other brands often tack on 2-3 bottles' worth of #flaskfriday fuel to handle haulage) and, once you have it, they'll extend a 2-week grace period to make sure you and your new Arktos are getting along well before you're committed.
If I found an Arktos 27.5 under the tree, I promise I'd commit to riding it in all weather - as long as I had a good jacket and flask to help keep the whining at bay.