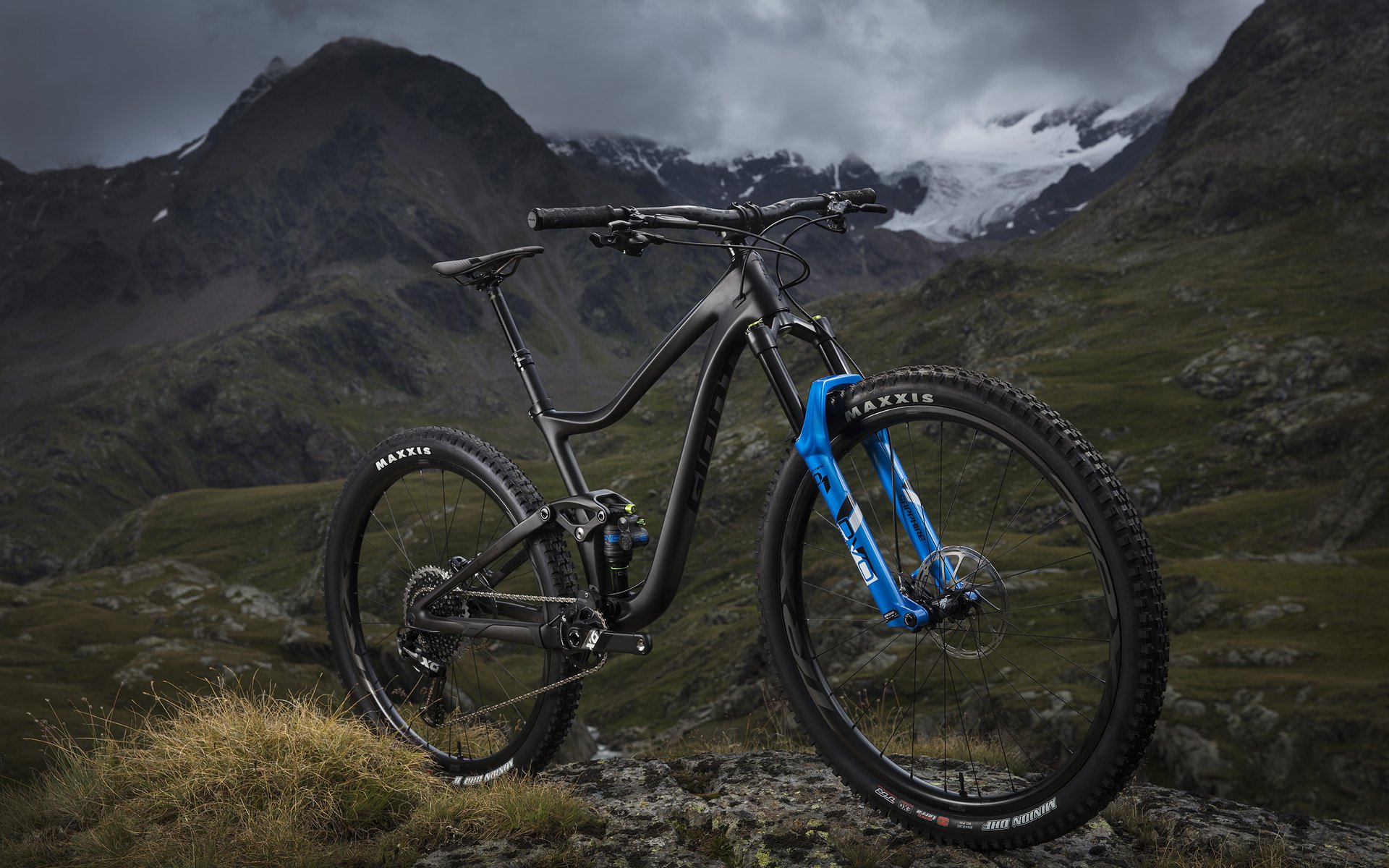 First Impressions/Release
2019 Giant Trance 29 - Ridden in Italy
2019 marks the return of a 29er model for Giant's short travel trail whippet, the Trance. Since 2005 the Trance has been in Giant's range, and this latest model marks the seventh generation. There are many things to get excited about with the introduction of the new bike, which Giant spent two years developing. In North America, four Trance 29 flavours are available; three with full carbon frames at the heart and one alloy. A carbon frame-only option will also be available.
Features
115mm or Maestro rear suspension / 130mm front

29-inch wheels (650b Trance will continue as is for 2019)

Low leverage ratio shock: 165x42.5

Sold with 2.3 Maxxis tires. Room for 2.5 WT 

MSRP: 3,050 USD (Trance 29 2) – 8,300 USD (Trance Advanced Pro 29 0


Trance 29 Models
In total, five models of the new Trance 29 are available.* At the top of the range is the 8,300 USD Trance Advanced Pro 29 0. Giant's nomenclature is getting looonnng, but it makes sense when broken down. Advanced models feature carbon front triangles while the Pro indicates a carbon swingarm. The top model of their range has the lowest number, usually zero. This bike is their pride and joy, and features full custom DVO suspenders to take care of bump-eating duties, Guide RSC brakes and SRAM X01 Eagle gearing. 
*Only four will be sold in North America. 



Below the '0' are the Trance Advanced Pro 29 1 and 2, which will retail for 5,000 and 4,300 USD respectively. Each is fitted with a mix of Fox suspenders, and SRAM drivetrains and brakes. All carbon models are fitted with carbon wheels—that's right, a 4,300 USD bike with carbon wheels. Specified on the top model is the TRX 0 wheel, and the TRX 1 makes its way onto the lower models. Each wheelset's hoops are the same, but the TRX 0 is laced with Sapim Super spokes to a hub with DT internals while the TRX 1 features a regular pawl system hub and is laced with Sapim's Laser spokes.
US Retail Prices
Trance Advanced Pro 29 0: 8,300 USD

Trance Advanced Pro 29 1: 5,000 USD

Trance Advanced Pro 29 2: 4,300 USD

Trance 29 2 (Alloy): 3,050 USD

Trance Advanced Pro 29 Frame: 2,800 USD



Giant's TRX wheelsets focus on an optimal weight wheel. The rim layup is tuned for strength at the wheel's stress points and for this reason, Giant opted for a hookless design. This allowed engineers to reinforce the rim bead for greater impact resistance. Enlarging the corner radius of the rim, reinforcing the spoke holes, and refining the inner rim shape all contribute to what Giant believes is a tough, stiff and light wheel. Their new TRX 0 wheelset will retail for 1,900 USD and the TRX 1 will retail for 1,100 USD. 



Frame & Suspension Design
Giant carbon road frames were among the best before carbon took off in MTB. Giant is so confident in their process that to this day, a limited lifetime warranty is provided on their frames. Carbon frames are created with a mix of raw carbon and what Giant refers to as a proprietary custom-blended resin mix, creating a uni-directional sheet. Like most, the sheets are laid in a mold and subjected to extreme heat and pressure. However, their front triangle is formed in a process that involves one continuous piece, rather than mating two halves together. 
The new rocker link on the Trance 29 is created with Advanced Forged Composite Technology; a high-pressure molding process that enables complex shapes to be created. It's said to be lighter, stiffer, and stronger than an alloy equivalent. The rocker link makes up the more visible part of Giant's Maestro Suspension and houses a trunnion mount shock. A lower alloy link completes the connection. Maestro suspension works off these two links, which rotate in the same direction and provide an active suspension platform that pedals well.   
For 2019, the Trance 29 features 115mm of rear wheel travel and 130mm out front. Giant didn't plan on having exactly 115mm of rear wheel travel when developing the bike but rather were focused on a capable, fun, short-travel bike. Restrictions within the package and specifically the length of the rear end and suspension characteristics saw Giant arrive at the 115mm travel. They feel that the Trance is the everyday trail bike and what the majority of mountain bikers should be riding in their line.



During development, Giant and DVO worked together extensively, perfecting the suspension characteristics for the new bike. Hundreds of tunes were evaluated to get what they feel is the perfect mix for the short travel, but capable geometry of the bike. It features a low leverage ratio, which DVO's Bryson Martin says is vital with a short travel bike and it gave DVO room to work with for the tuning. On the 8,300 model, DVO built a custom Topaz 2 rear shock and a 34mm stanchion version of their Sapphire trail fork. Front and rear the tuning goal was optimal traction with a deep sensation, to grant the bike a longer travel feeling than what it says on paper. 
There's no denying that there was a heavy focus on the DVO suspenders, and the record-setting amount of tunes tried should create one hell of a bike. But rest assured if you're budget or desires lay with a different model. Fox takes care of bump-eating duties throughout the rest of the range and the two also set records in their test sessions. Giant is quick to note that the Fox-equipped bikes are incredible riding bikes* as well and that the tunes are optimized for the aggressive geometry of the new Trance 29.
*We spent our time testing the DVO equipped Trance 0. 


Geometry
It may be short travel, but the 2019 Trance 29 has some aggressive longer travel geometry. Giant sought a bike that was incredibly capable in technical terrain, whether going up or coming down, but it had to be fun too. The bike went through the now cliché longer, lower, slacker process. What's interesting here is the mating of the numbers with a 115mm travel bike. A 66.5-degree head angle on a bike in this travel range is rare—the Transition Smuggler is another option to offer similar geometry/travel—and together with the longer reach, Giant feel they've created something very capable. 
Removing the front derailleur entirely, Giant was able to shorten the chainstays to 435mm. Despite the short length, the bike still has adequate space for a 2.5-inch tire, though stock they will be sold with 2.3-inch Maxxis rubber. The seat tube angle is perhaps the most conservative number of them all and although Giant steepened it, this still only amounts to an effective angle of 74.5 degrees*.
*The Transition Smuggler, which the Trance pits itself against, features a 75.3–77-degree STA, depending on size (and longer reach)


Early in development, the Trance 29 used a 51mm offset fork. When shorter offsets first started to trickle into the sights of its designers, things began to shift. Giant tested with a shorter 44mm offset, and it led them to further lengthen reach and slacken the head angle another degree on what they were developing. Depending on size, the new bike comes with a 40–60mm length stem. 


Initial Riding Impressions
A small group of media squids were treated to two days on the 2019 Giant Trance 29, fitted with DVO suspension. Our time was spent on a variety of terrain in Santa Caterina, in the Italian Alps. It wouldn't be Europe without an assortment of tight, steep switchbacks but in all honesty, they weren't too bad. The trails were excellent, and everything from high-speed, rocky single track to steep, loose DH style trails in the trees were thrown our way. 

A number of the trails ridden on the bike were beyond what would typically be considered suitable terrain for a 115/130mm travel bike. Thankfully the new Trance 29 is an impressive package because it took on everything thrown its way, and it had a blast doing it. On the trail, the focus on suspension was immediately clear. The Trance 29 has an incredibly light top end that quickly firms up to an impressive mid-stroke and bottom end. Support feels sensational, front and rear, providing a very well balanced ride dynamic that encourages you to go harder and with more stupidity into blind sections of trail. 



Traction in chatter and through high-speed, flat corners felt great once the dials were set appropriately. The combination of short travel and supportive mid-stroke provided plenty to push off and encouraged a lively, enthusiastic riding style. In steeper terrain, the balanced suspension greatly improved the feel of the bike. Despite the shorter offset, the Trance didn't exhibit any nervous traits at the front wheel. Choppy corners in these steep sections of trail were less problematic than others ridden with longer travel.   
The bottom end was firm and supportive. When set up correctly, the custom Sapphire fork and Topaz 2 rear shock work superbly together. Full travel is achievable during bigger hits but never reached in a manner that causes loss of control or makes it known to the rider. Overall, control throughout the stroke was excellent.

Although a load of fun to ride, the extra-large bike felt cramped for my lanky 191cm body. Though capable, the Trance 29's demeanour could be improved with a longer reach on the large and extra-large sizes. It would also allow the use of a 40mm stem across the range. The bike also required more aggressive weight shifts to stabilize it on steeper climbs, the result of a conservative seat tube angle and relatively short chainstays.


It was only a couple of days, but the Giant Trance 29 definitely impressed with its capable trail bike attitude. A combination of trails offered and a fun loving bike meant I wanted to do nothing but ride… and stare into space thinking about riding when not. The DVO suspenders were excellent, rounding out the package wonderfully, and Giant claims that the Fox-equipped bikes are set up just as well. 

First impressions of the Giant Trance 29 are that it's a whippet. Even riders looking at bikes in the 130mm travel range should consider it. The bikes are available at your local Giant dealer now, and you can hit the Giant website for more information.

---