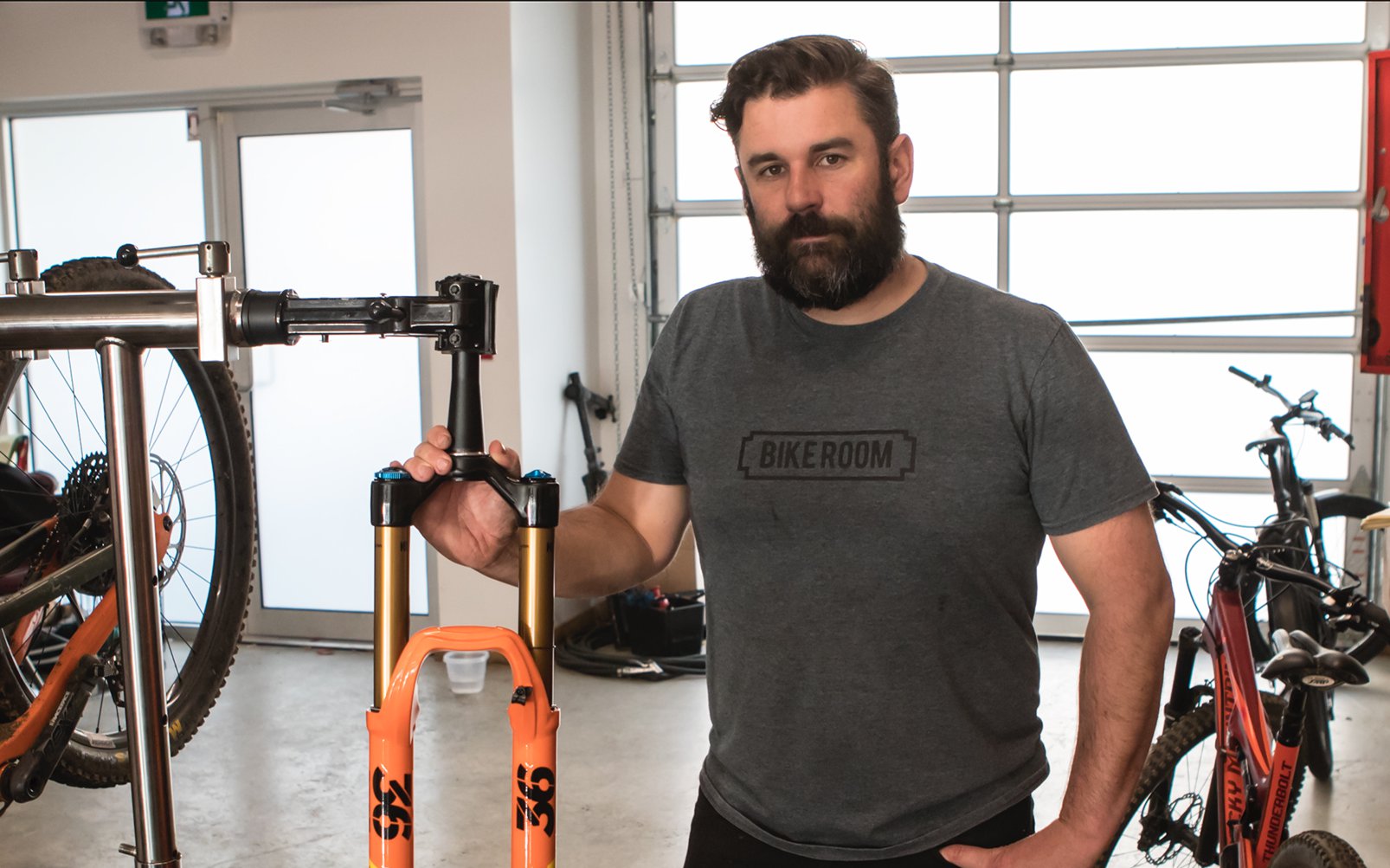 A Pro Service with Jeff Bryson
2019 Fox Float Factory 36 Grip 2 Service
I get immense satisfaction from fixing things. When it goes well. With youtube as my guide, I recently tore apart our non-functional clothes dryer. It was making a noise pulled from a sci-fi thriller, the moment just before a planet is obliterated, and the drum wouldn't turn. On the journey to get it fixed, I took the entire machine apart and put it back together twice and, because it's a steam dryer with a water supply, flooded our basement. Twice. That's the kind of handyman I am. In the end I got 'er done for a total of $17.54 in parts.
Maintaining, cleaning, and any other tasks that prolong the life of the machines in my life are similarly satisfying (and often as fraught with missteps). Maintenance takes a much lower priority than it should however. Going to the dentist is automatic when it feels like an ice pick is stabbing your tooth, but if it aches periodically, or nothing hurts at all... that can probably wait.
Note: this is meant to be an overview of the process rather than a comprehensive how-to guide, but it's probably enough for most of you to get 'er done. Consult youtube for several good step by step guides.
We all know a little regular maintenance will keep forks working better and make them last longer. But if you're like me, if it's working relatively smoothly you probably don't think much about it. Fork maintenance schedules vary, but manufacturers often recommend a lower leg service after between 50 and 75 hours of riding, while a damper service is suggested between 150 and 200 hours, depending on the conditions you ride in. But keep in mind that some auto manufacturers recommend oil changes after as little as 4000 kms...
Because of test bikes and various products in rotation, I don't always need to do regular maintenance on suspension. This time around my Fox 36 seemed mildly grouchy* after what I'd guess is somewhere around 80 hours of riding, so I thought I'd use the opportunity to get a pro lower leg service (without a damper rebuild) from Jeff at Wheelthing and share the results. Beyond the work in his shop, Jeff did a campaign as Jesse Melamed and Rémy Gauvin's mechanic on the EWS circuit, so the man knows his stuff.
*There have been some problems with forks coming from the factory with excess slickoleum in the spring side of the fork, which can block the equalization dimple and cause air to build up in the negative chamber. I've wondered periodically if that was the case with my fork because of intermittent harshness, and indeed there seemed to be too much lube inside.
Jeff disassembled the fork seemingly effortlessly, thanks to years of experience, the right tools, and a dialled workspace. Before pulling the fork apart, he checked my settings so he could put them back once he was done, something I probably would have forgotten. After that he took off the rebound adjusters on the lower right leg and the nut on the air spring side. The pro method, after the nuts at the bottom of each leg are removed, is to thread on proprietary removal tools. If you use a hammer you'll damage the threads and other mechanisms at the bottom of each leg, but an alternative is to use a 15mm socket on the partially removed bottom nut on the damper side and a 10mm socket on the air spring side, and gently tap each side free. It's a good idea to perform this part of the operation with the fork upside down so you don't spew fluid onto your shoes or your dog.
At this point it's useful to have a container to dump old oil in so you can properly dispose of it. Here in North Van, nasty fluids can be dropped off at a transfer station. Because of Jeff's set up he simply pulled off the lowers at this point and let the fluids go down the drain... His drain for nasty fluids that pours into a bucket that is. For the rest of us, after tapping the lowers off using the bridge/arch, you'll likely want to tip the fork downward and and let things drip into a nearby jade or spider plant. An old yogurt container might ruffle fewer feathers.
The fluid came out of my fork remarkably clean. I likely could have gone another 50 hours without having to worry, aside from the possible equalization issue, but the beginning of winter seemed like the right time to get 'er done. At this point, with the stanchions exposed, it's time to clean everything so your new fluids won't be contaminated immediately. Isopropyl alcohol will do the trick but there are commercial grade cleaners that can be used as well.
After this Jeff disassembled the compression dials to clean and inspect them and then removed the damper assembly. He even pulled the ball bearings and springs that produce the clicks that help us make clear damping adjustments, and this made a significant difference . Then he removed the air spring assembly as well. These are not an essential steps when doing a lower leg service but Jeff goes the extra mile. This gave him the chance to inspect seals and lubrication and make sure everything was operating smoothly. He didn't however think a damper overhaul was necessary.
Jeff is a believer in only replacing seals, particularly dust seals, when necessary. If a fork is properly maintained the seals should actually improve over time and friction in the system should decrease over time. New seals are always a little stickier and tighter, which is why new forks generally don't feel great for the first couple of rides. In the 18 months since Wheelthing opened, Jeff has only replaced one set of dust seals.
The foam rings, which sit below the dust wipers, need to be removed and soaked in Fox 20wt before they are resintalled. These keep things lubricated by storing and distributing lubricant continuously while the fork is in use.
Putting things back together went very quickly because Jeff's a pro, but there are a few tricks. Once both assemblies are re-installed it's time to slide the lower legs on. Angling the lowers up and down or side to side will allow you to insert one side of the stanchions first to get over the lip of the dust wipers. If you have trouble pushing the lowers up you may need to let some of that air out.
Once things are back together the fork needs to be tipped upside down (or at least pointing above level) so you can add fluids. These volumes and viscosities/fluid types have changed for the Grip 2 so make sure you consult the fluid chart. The air side takes 10cc of Fox 20wt Gold while the damper side requires 40cc of Fox 5wt Teflon infused. It's a good idea to wear gloves when handling this stuff because it can cause cancer or interfere with your reproductive bits. If either of those concern you that is. Once the fluids are in push the lowers until the damper and air spring rods extend through the bottom of the lowers. If the air side won't reveal itself, some air pressure can be used to push it into place.
New crush washers at the bottom of each leg should be used and then both bottom nuts should be torqued to 5.7 Nm (50in lbs).
And now your fork is shiny and new. After watching Jeff do this I'm confident I could manage it myself, possibly without flooding the basement. Consult support documents for your fork to determine the maintenance interval and take your climate and savage riding habits into consideration. This guide from Vorsprung provides some general guidelines and encourages you to do it yourself. Happy wrenching.