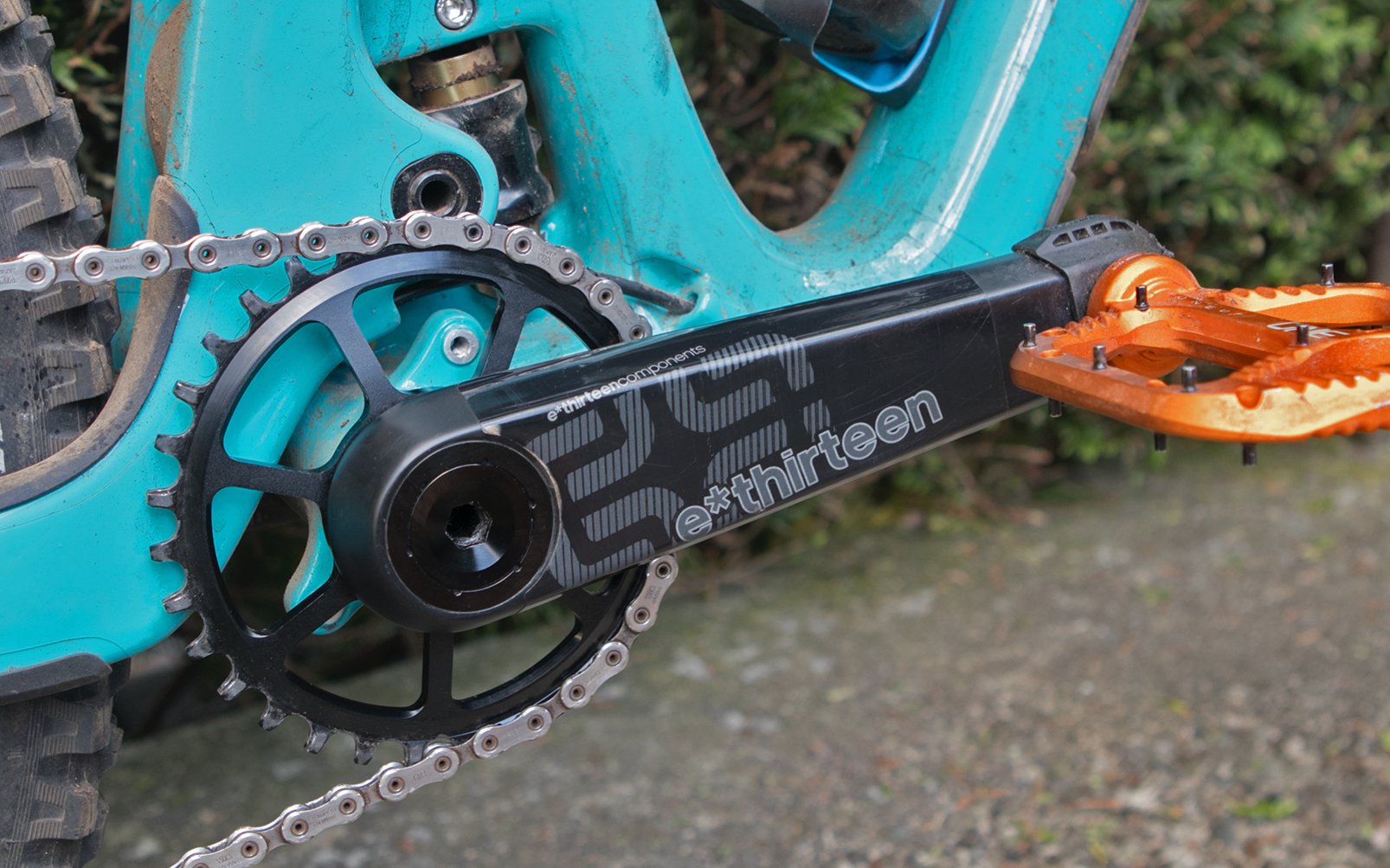 2019 e*thirteen TRS Cranks Reviewed
If you've been on a ride where someone has broken a carbon crank, particularly someone who is your weight or lighter, or if you have broken one yourself, you may be gun-shy. And there's nothing wrong with aluminum arms putting your power down. But if you haven't suffered a break or you've been bitten by the carbon bug (as I have) cranks a great place to shave some weight. I pulled a set of non-series Shimano XT cranks off my test platform and eradicated 150 grams. I almost wept.
And weight is the real story here. I can't remember complaining about the stiffness or profile of recent aluminum cranks. And generally you can save some cash with aluminum - although these are actually priced 20 USD less than the as-yet-to-be-delivered XTR 9100 cranks that are 67 grams heavier. And, at 444 grams without bottom bracket or boots on my scale (170mm arms and 32t ring), the gen 4 E13 TRSr crankset is 37 grams lighter than XO1 DUB and 86 USD cheaper. So there is value to consider here as well.
Installation
Pressing in the bottom bracket was easy thanks to the Enduro BB86/92 Cup Tool (BRT-003) but bolting on the cranks was a snap comparitively. The chainring comes pre-installed with spacers between the chainring and crank arm on the drive side and the new configuration fastens on the drive side. If you have used E13 cranks before you know that the bottom bracket uses a polygon interface, making it more difficult to install your cranks at some goofy angle - like both pointing down.* The polygon interface is also said to be more robust and long lasting than a splined system. I can't verify this but it certainly gives that impression.
*I may have done this
Step one is to slide the non-drive arm, which has the spindle permanently fastened, through the bottom bracket. Make sure the APS (adaptable preload system) adjuster is in its closed position by turning counter clockwise. Grease up the polygon and the threads inside the spindle. I also apply some grease to the entire spindle to prevent corrosion and ease removal. Once that is done you can slide the drive side arm on and tighten to lots of newton metres (40 for the gen 3 version so likely the same) with an 8mm allen wrench. At that point, with your hand only, you can turn the APS until it expands to remove any space between the crank arm and the bottom bracket. Andrew Major would call it a one beer job.
On The Trail
I've ridden these cranks on two different bikes in both winter and spring. Lots of downhilling and uphilling has occurred in that time, jumps have been cased, crashes happened and no care was taken to protect the arms from injury or failure. On bike one, I removed a set of SRAM XO1 DUB cranks and on bike two I pulled a set of 2019 Shimano XTs. I didn't notice a stiffness change in either. I can be a heel rubber, particularly on the non-drive side which is my front descending foot, but there hasn't been much wear to speak of. E13 tells us that after hearing from customers, the volume and profile were altered from the previous version for more clearance. I'd say that was a successful initiative based on these un-scored carbon members.
They Didn't Break Under Me
I have broken some bike parts in my day; both ends of a Santa Cruz Bullit, the steerer of a Marzocchi Bomber Z1, a handlebar, lots of wheels etc. But I used to be heavier and I spent much more time doing 6 foot drops to flat as well. At my current 162 lbs, I haven't smashed anything of note for some time, aside from an XTR trail pedal spindle from the previous generation that was prone to that fate. I have confidence in this crankset, as does E13 who provides a 5-year warranty, but I can't give pertinent data to the clydesdales out there.
Can you put a Price on Beauty?
These are really nice looking cranks. They balance smooth and angular perfectly and I particularly like the perfectly flat inward facing surface. There is a combination of matte and glossy surfaces, thanks to a protective plastic wrap on wear areas, and the branding is clean and relatively understated. My favourite element may be the 7 spoke 32 tooth chainring, which gives the impression of turbine-like efficiency.
It would be silly to pretend our bikes are utilitarian. Most of us like fine workmanship, machining and design, and it can enhance our experience. That is certainly part of the allure for me, because I don't think saving 150 grams is going to make much difference in my performance. And I wouldn't know anyway because I don't do Strava and I no longer race. But if there's a chance it could help me keep up with my buddies on a climb, or pass them with an efficiently executed on the way down, I'm all for it.
Intended Use
I've been cheating a little lately by selecting test product, particularly wheels and tires, that are intended for trail use. Much of the riding I do would fall into the DH category but I feel it's my duty to push products a little farther. Neither the speed or aggressiveness of my riding has endangered any test parts recently and I'm not heavy enough to put them in peril either. Which means testing DH, 'enduro(!)' or even all mountain rated parts don't make much sense. Trail rated parts are right in my sweet spot. They are a little lighter, a little weaker presumably, and I hope to eventually break some stuff for your viewing pleasure.
What I am getting at is, if you are very fast, aggressive or heavy and you ride burly trails, case 30 foot gaps and generally mash parts, I'd step up to the LG1 version. They are only a claimed 36 grams heavier than the TRSr version* at 459 grams and they cost exactly the same - 399 USD without BB.* If you ride with the stealth of a wood elf and you are of similar stature, by all means grab the TRSr, but the dwarves and certainly the Orcs among you should pick LG1.
*claimed weight for the TRSr is 425 grams while my set measured 444 without boots
Crank It Up
I have now used the E13 chainring on both SRAM and Shimano chains without any noticeable loss in efficiency or function and no increase in noise or vibration. Based on a few months use these are certainly a worthy option to consider vs. the big two and they stack up well against other boutique options as well. Overall you can call me a fan.
Gen 4 TRS Race cranks are available in 165, 170 and 175mm lengths and can accommodate 142, 148, and 157mm spacing thanks to the adjustable chainline. Chainrings are 28-38t or 30-42t for super boost frames (Who the hell needs a 42?). The 399 USD price does not include bottom bracket (from 22.95 USD) or chainrings (54.95 USD).