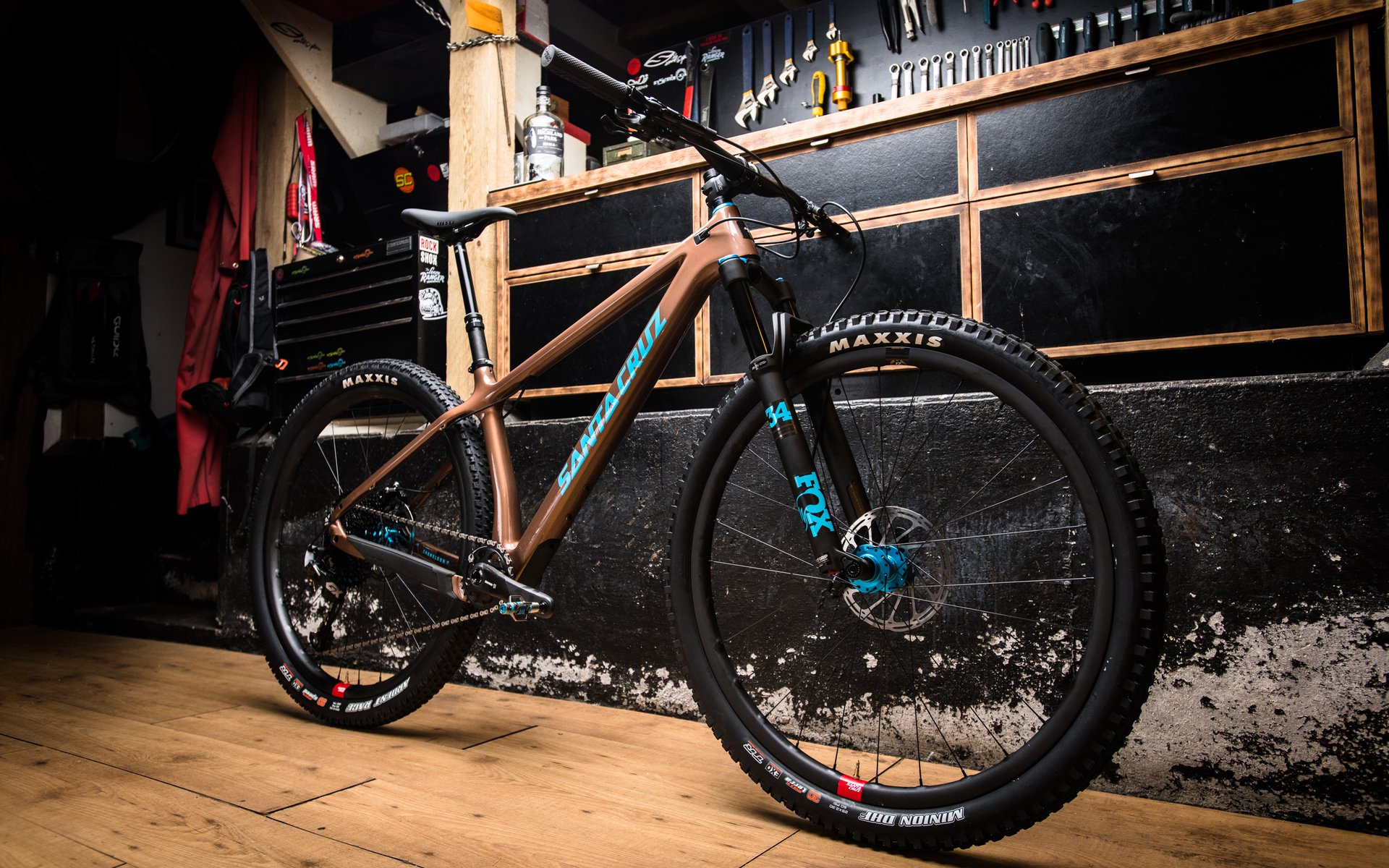 COMPREHENSIVE REVIEW
2019 Santa Cruz Carbon Chameleon - REVIEWED
TL;DR
I've had the opportunity to review some very interesting* takes on the mountain bicycle but I've never found myself wanting to say so much about a bike as pedestrian looking as the carbon Chameleon from Santa Cruz Bicycles.
And yet it doesn't top the charts in any single category. One look at the geometry will tell you this bike isn't for anyone chasing trends. Thanks to the single speed-friendly rocker dropouts and do-anything carbon layup it isn't going to win any hardtail weight weenie awards. The internal cable routing seems like a sad 'industry standard**' afterthought from the only company that makes bikes with internal routing as good as well thought out external routing. The Reserve level spec could comprise an article of its own.
And yet, I look at the entire field and if I was in the market for a carbon hardtail frame this is the only one I'd consider. It combines the solid singlespeed-ability of the carbon Pivot LES*** with the great trail geometry of the carbon Honzo. In a word, the carbon Chameleon has serious potential.
*Think Marin's 'unique' looking Wolf Ridge and Trek's 29+ Stache.
**'Industry Standard' in this case being just putting a few holes in the frame for housing to travel through.
***The LES is the only carbon frame with an adjustable dropout system as good as the Chameleon's.
Single speed or geared, the Chameleon could be a freeride hardtail, gravel grinder, XC race bike for technical courses, bike packing adventure machine or even a dirt jumper. As with the aluminum Chameleon the carbon frame has a ride quality that will surprise riders (including me) whose other frame experiences make steel the default hardtail material.
I'm going to drill a lot deeper here but for folks in the market for a carbon hardtail with just enough time for a two minute bike review - I think this is the one. Build your dream single speed on the 1600 USD frame or pop 3800 USD for the full GX-Eagle, 'S' level Chameleon and upgrade strategically as you go. This modern take on the anywhere, anything, any-trail 'mountain bike' could be just what you need. Just add the meat engine.
Chameleon Sizing
It's my feeling that changing fork offset 7mm is more about personal preference and adapting than any real benefit, but in practice Santa Cruz's decision to spec an on-trend 44mm offset fork means anyone looking at a complete Chameleon will want to go with whatever size frame works best for their body with a 35-50mm stem.
In practice the short offset fork performs best with a shorter stem and handling gets a bit weird trying to jump up to a longer stem - in my case a 60mm and 70mm. I could likely adapt to a bit of front wheel flop with the longer stems, but if I was planning to run one I'd get a 51mm offset fork.
That would put my 5'9" on a large frame if I was buying the Chameleon for my local trails, mated to a 140mm or even 150mm fork and run with the wheelbase as long as possible. But that's only part of the story of a bike, whether purchased in aluminum or carbon, that can be almost anything to anyone.
Frame only, living most other places I've ridden, I'd actually opt for a medium. It actually sounds weird writing that as I've been riding a large in everything for a while now but paired with a short stem and with the wheelbase tucked in, the Chameleon is as much fun as you can have pumping a 29er through smooth, fast trails. A medium frame with a 120mm fork would also be hyper adapatable. A full-dentist carbon 29er dirt jumper with a 40mm stem, all mountain machine with a 60mm stem, and an aggressive XC race single speed with an 80mm stem.
Whether size medium or large, I think the pedaling position is brilliant for delivering power. Where a lot of hardtails are going with comparatively perpendicular saddle positions favoured on current suspension bikes that only work on the steepest climbs.
Then again, the long-legged among us may find that the position is too far over the rear wheel when the 150mm Reverb is at full extension, especially if over-forking the Santa Cruz. As always, test ride - then decide.
1FG
I figured that no one really needed another GX Eagle review, so after a few rides to get the Chameleon dialed in I went single speed for the rest of the test period. The frame is snappy under hard efforts and the dropouts are excellent so it's a very easy bike to recommend for single speed riding as a blank slate bike.
Due to the drive side chainstay being dropped, gearing options are unorthodox. Anyone coming from the '32 x Gear' school is going to have to get their head around running a 34t ring up front unless they're happy with a fairly low 32x22t ratio.
I went into a lot more detail on how the drop outs are adjusted in my first look, and I was not surprised that they presented zero issue with movement or noise in use.
There is a 142 x 12 single speed specific dropout kit available for those wanting to use their existing high-end single speed wheelset, but I'd suggest anyone going from scratch just build up a Boost wheelset and enjoy the future swap-ability.
As much as this sounds like a cliché bit of carbon road bike advertising, it's crazy how well the Chameleon demonstrates the material's unique ride quality when combined with good design. I've ridden plenty of carbon hardtails that are stiff as f*** up and down and the Chameleon is not one of those.
Power transfer was impressive when hammering up out of the saddle. The bike is lively and likes to be pedaled aggressively. At the same time the ride quality both sitting and standing, with my wheels, was at least equal to my custom steel frame in a much lighter package.
On Personal Preference
My personal hardtail is a custom Walt Works which I call a medium. Comparing static geometry, the wheelbase is 50mm longer as it sits and the head tube angle (HTA) is about a degree slacker. It's also a rigid bike, so while the Chameleon is getting shorter and steeper anytime the terrain gets nasty, the Walt stays the same.
I bring it up because if this was 2017, when I rode the aluminum Chameleon, I would be comparing the bike against a Kona Honzo with a similar wheelbase and steeper HTA and I'd be happy with the geometry. In 2019, on local terrain, I couldn't help but wish the Chameleon was a little less snappy and a little more large-and-in-charge.
Going up a frame size would help some, but my experience with the current Honzo ST in a large says that I'd like something longer and much slacker. If this was a custom frame I'd add 20mm+ to the rear centre and knock 2° off the head angle. Unfortunately, the drop-in bearing headset spec means there is no option to put in an angleset or else I could have found my happy place with a -2° headset, 150mm fork, and the stays run full long on a large frame.
I think any complaints I have about the descending prowess of the Chameleon come down to what I'm used to. Anyone happily running a stock Kona Honzo will be very impressed with the ride quality and geometry of the Chameleon.
RESERVE-ations
I pulled the Chameleon out of the box, built it up with my tiny mechanic, and went for a pavement break-in ride. I remember thinking "wow, this thing goes." The 2.3" Ardent Race and Minion DHF combo are the perfect spec for a hardtail that's going to be asked to do everything but still knobby enough that the snappiness was surprising. My first ride up the road from home was easily my fastest trip to the trail. That's where the love affair ended abruptly, and the reason that I find myself recommending either a frame-only build or the basic Chameleon 'S' for a complete option.
I actually shed a tear thinking that Santa Cruz had blown it with the carbon version of this bike. The aluminum Chameleon is easily the best riding aluminum hardtail I've thrown a leg over in terms of ride quality and here I'm having Deja Vu of my 2009-ish Gary Fisher carbon hardtail.
AJ's experience with the Reserve wheels, on a full suspension bike, was that "the strength to comfort ratio of the Reserves strikes an excellent balance, unmatched by the competition" but my experience, on a hardtail, is that they're as stiff as anything I've ridden.
I removed them early in the test in favour of a set of wheels laced up with Race Face ARC aluminum hoops, with similarly sized tires, and the Chameleon frame immediately came alive. I went from dreading having to write this review to having a great experience with the bike with a wheel change that would allow me to buy a slew of other upgrades for the same price.
If it was my personal bike, I'd have two sets of wheels. A pair of Stan's Crest MK3 rims laced up for max comfort at a light weight, while still being a durable rim, for lighter trail action and some Flows, ARCs, or most likely Blunt rims with inserts for when things get dumb.
Over-Forked
Would it be a North Shore hardtail test without over-forking the Chameleon? I rode the bike with 120mm, 140mm, and a 160mm fork and I think the happy place for aggressive riding is going to be a 130mm or 140mm fork (or equivalent A-to-C height) with a 120mm fork for XC-trail action or bike packing adventures.
On that note, being that this is a hardtail I'd really like to see a fork with a sealed damper unit. Whether a Fox FIT, RockShox, or other, a sealed damper makes for faster and cleaner basic lower service for folks who lean on their hardtails over nasty winter months to keep maintenance down on their full suspension bikes. A fork with a sealed damper is also infinitely more field-serviceable when that creek crossing in the Chilcotin is a lot deeper than expected or your bikepacking rig falls off that Long-tail boat in Thailand.
Let's back up for a moment to talk about a frame-up build. If this was my bike I'd be running a 120mm Manitou Mattoc Pro 29+ with an i40 rim and a Bontrager SE4 3" up front for Shore riding. In most other places that would morph into a 140mm fork with a similar axle-to-crown like the Suntour Auron RC2-PCS and a 2.35" E13 TRSr tire up front on an i30. In either case it would be a 2.6" Bontrager SE5 out back for winter and a 2.35" E13 LG1r semi-slick for faster conditions. I know a couple of people talking about doing carbon Chameleon frame-up builds and I think it's one of the more interesting frames on the market in terms of seeing where folks' imaginations take them.
Frame Only
The carbon Chameleon's paint job is surprisingly polarizing. I enjoy the copper-brown and think up close it highlights the organic shapes of the frame. Compared to similarly high-priced carbon frames, the Chameleon's frame flows together on another level, from how the adjustable drop-outs are received to the way the front triangle flows into the rear.
I have to say I'm disappointed that the Chameleon doesn't have the best-in-industry internal cable routing for which Santa Cruz is oft-heralded. Even folks like me who would always prefer external routing have to admit that their in-moulded channels are as good as it gets.
Here we see 'industry standard' internal cable routing for the front triangle. Given the rear brake and derailleur are both routed externally on the rear triangle, I think they would have been best just to route all the cables externally except for a stealthy exit point at the back of the seat tube.
Tire clearance is also impressive for a carbon bike, especially with the option to run the stays at 415mm with a true 2.3" knobby. My 2.6" knobby didn't clear with the stays set at their shortest, but at ~425mm with my single speed setup there was plenty of room.
Wanting to go bigger? There are increasingly great options for 27+ rubber and what's more on-trend that running a 27" rear wheel with a 29" front wheel? Choose a 27 x 3" rear tire, 29 x 3" front tire, Mattoc Pro fork, and away I go. I'd add a 170mm PNW Bachelor dropper post and a pair of Magura Trail Sport brakes to fill out my key components.
When it comes to the carbon competition, I think the Chameleon's strength is in the 1600 USD frameset option and I'd be very curious to know how frame only sales numbers compare to the complete options. Anyone considering building a single speed might want to start from a frame set, but I also think I could min-max myself a geared carbon Chameleon to better suit me for 5700 USD* starting with a frame and working with my local shop. **
*Beating the 3800 USD option would be tougher
**Realistically if I had 3800 USD, or 5700 USD, to spend on a complete hardtail I'd choose something with a lower-end drivetrain and upgrade suspension and brakes. Likewise, with 1600 USD to spend on a frame I'd probably choose custom steel to get exactly the geometry I want.
Sprite Millwright
I hate to call the carbon Chameleon a 'jack of all trades' because it's a fully ticketed master of some of them. It's the only carbon hardtail frame on the market that I'd consider; it's an excellent single speed - period; it's a great Tech-C, Shore-XC, etc frame thanks to more-aggressive-than-XC-race geo and for folks who aren't challenging for the pro podium it would be an excellent XC race bike.
I'd be happy to debate any competitor folks can raise in carbon fibre. On the other hand, the obvious competition for the carbon Santa Cruz Chameleon - especially if we're talking complete bikes - is the aluminum model of the same. It has a similarly surprising ride quality to efficiency ratio without resorting to much heavier steel construction for a similarly durable bike.
If I set out to build the lightest aggressive hardtail, single speed or geared, lived where snappy handling was more important than stability, or wanted to pick up some amateur XC racing days on a bike that was my daily driver, I could make a very strong argument for adding a carbon Chameleon to my stable.
Or, indeed, as my one bike to do it all.