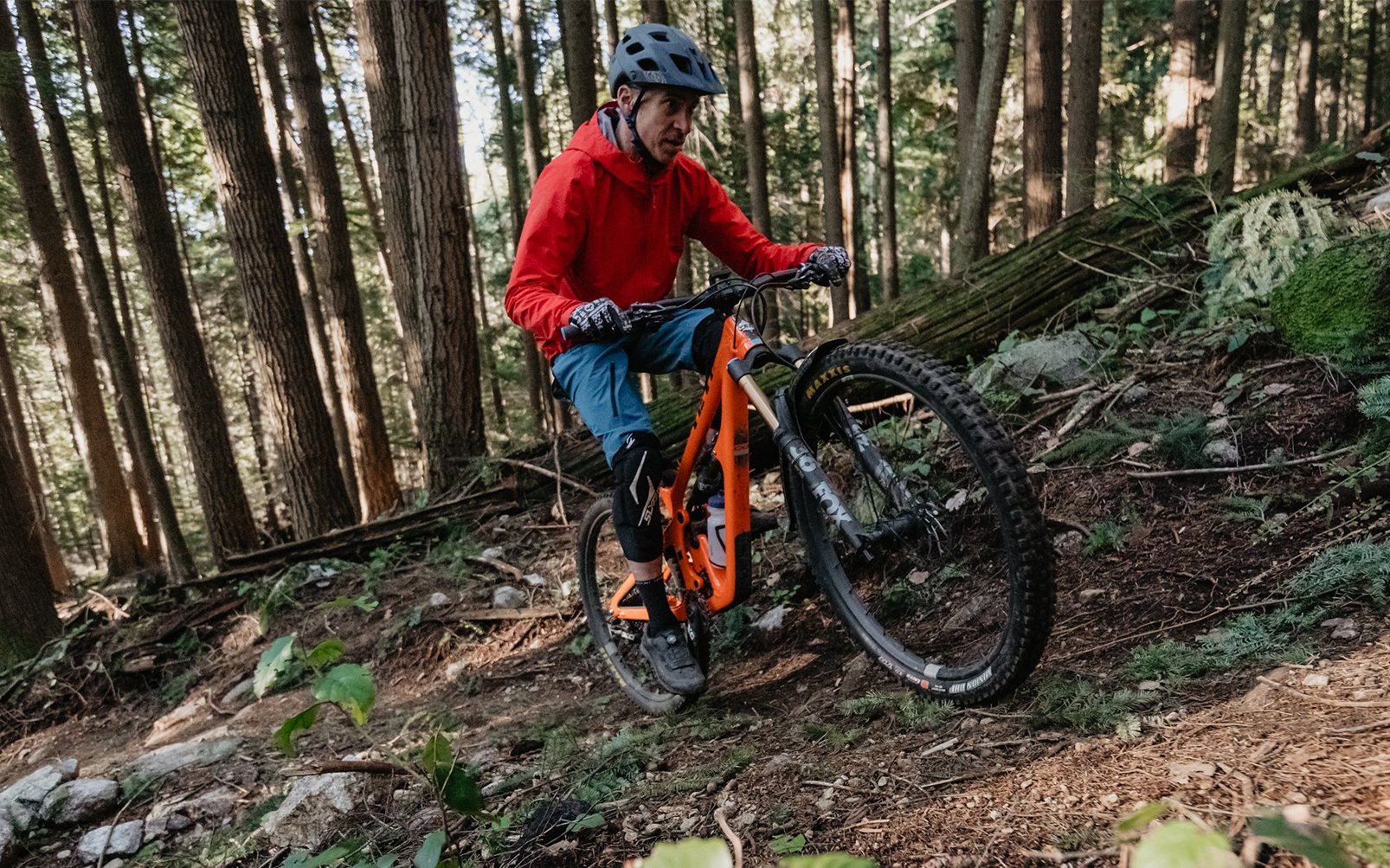 2019 7Mesh Guardian Jacket - Reviewed
Andrew Major reviewed the previous version of the 7Mesh Guardian in late 2017. Normally we wouldn't review a jacket again in such short order, but the folks at 7Mesh assured us a small change to the Guardian has made a big difference. In order to compare, I rode last year's jacket and this year's back to back in weather conditions that were as similar as possible. And the difference was clear. Or differences I should say. 
The basics about this jacket are that it is minimalist without compromising essentials, it is light but designed to be as waterproof as possible, and wind and water tight but aimed at allowing the moisture created by your personal weather system to clear efficiently without vents. Its goals are as lofty and outrageous as its 500 CAD/400 USD price tag. From some other companies I'd be skeptical but I have come to trust 7Mesh's expertise, design and engineering.
Fitting
Many of my impressions are similar to Andrew's, aside from fit. Andrew appreciated the generous cut of the medium for his 5'9", 185 lb rack of bones. I in turn found the medium to be an adequately roomy but relatively tailored fit for my 6'/157 lb mannequin. When I spoke to Brian from 7Mesh, he confirmed after consulting Ian the pattern boss, that there was no change for 2019, and yet when I measure the two side by side, the earlier version is significantly larger in some dimensions. Measuring across the front, from armpit to armpit, at the pockets and at the waist, the earlier version measures an extra 40mm in each case, or a about 1.6". That means in circumference the difference is a significant 80mm or 3.2". So the new version of the jacket may require some riders to size up. Even the 2019 medium is large enough on me that I would probably go down to a small if I was - shudder - a roadie. (I kid - I'd be a roadie, but much less happy, if I lived somewhere without trails). Another difference is the elasticized wrists. The new version has less elastic material and while it fits closely, it doesn't bunch flush around my wrists. I prefer the slightly more relaxed grasp of the new version, which also leaves room for gloves. 
Pocketses
Initially I wasn't sure about the pockets. In fact they are in such an awkward spot, midway up your chest and toward the armpits, that they must be accessed with the opposite hand. They are a pain in the ass for getting at your keys or phone quickly when you are off the bike but they are incredibly well-placed for storing something you want to keep handy and/or dry and safe while you are riding. The size is perfect for a phone, wallet or some keys without getting in your way at all. After some reflection it's a compromise that places riding function ahead of convenience. Sign me up for that. 
Remember to Breathe...
Much of the riding I've done in the Guardian has been on sub zero (Celsius) days, when most riders over dress. I'm generally pretty good about starting a little cold so I don't overheat, but with the Guardian I layered up hard to invoke a sweat. Wearing the earlier version I successfully overheated a couple of times, but wearing the new version I really had a hard time. Long after my buddies had stopped to shed their shells I happily kept mine on, occasionally lowering the zipper a little if it felt like I was going over the edge. Despite my efforts I don't remember a single time I needed to shed the Guardian and discover how small it packs. 
C-Knit Backer
The secret to this improved venting also provides some other benefits. The earlier version used a simple tricot backer and it's not bad at all. It slides well against your under layers and helps protect the Gore membrane. This year 7Mesh decided to go with a newer backer called C-Knit, which improves breathability, lowers the weight of the garment and has a much softer feel. The previous jacket feels crinkly in comparison and it's much noisier to move around in. In comparison the newer jacket hardly feels like you are wearing anything at all. It's soft and pliable and seems to levitate, as though it doesn't make contact. It's actually quite remarkable. It even packs smaller and weighs less - 257g vs 272g - than the previous version. The only jacket I can compare The Guardian to in terms of feel is Gore's rescue shell, which weighs half as much at 126g, is much less waterproof but similarly breathable. 
Highlights
GORE-TEX® Active 3L
30d nylon plain weave / C-Knit Backer
Watertight #3 Vislon Front Zip
257g (actual)Over the helmet hood with adjustable draw cords
Elasticated cuffs
Watertight zippered torso pockets
Drop back hem
Hem draw cord
13mm seam tape
Yep. This jacket rules. There are times when it's particularly gnarly out that I prefer something a little heavier just because it seems wise, but the abilities of this jacket seem to transcend its feathery presentation. It'll mop the floor with anything short of locusts and the plague, and keep you comfortable in the process. And yes, it is pricy (500 CAD/400 USD). In fact the absence of weight and features makes it seem like even worse value. Some people would rather put that cash into riding trips or lift tickets or tires. I applaud those choices, but I always see value in garments that tip the scales and have me remember feeling comfortable in the deluge. That's the sort of investment that gets me out the door and onto the trail.
Click here for more on the 7Mesh Guardian...
---