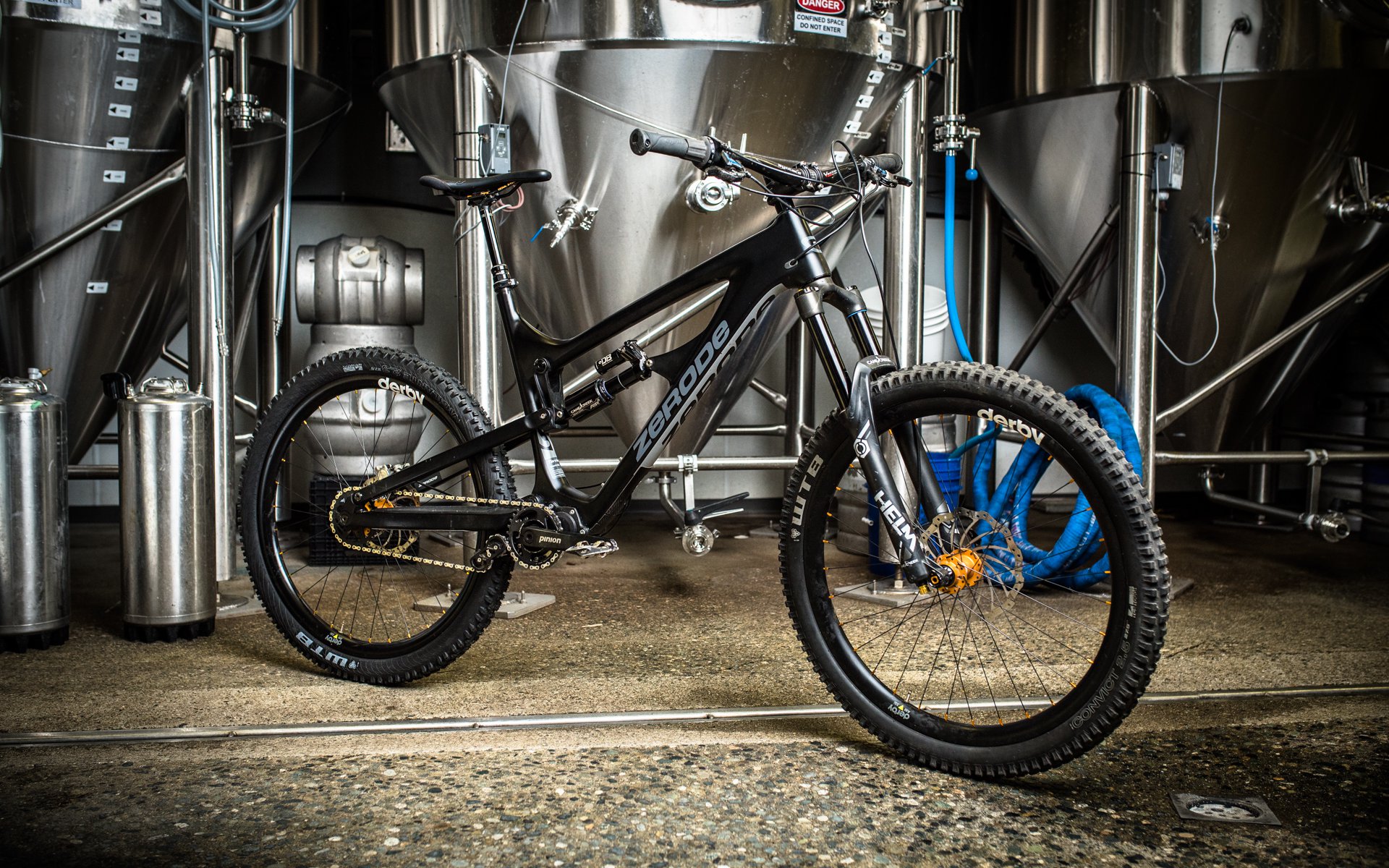 First Impressions
2018 Zerode Taniwha
Kiwis are an enterprising lot, with a strong history of doing things their own way. There's no shortage of two wheeled examples of said ingenuity. In the motorized world, there's Burt Munro's Indian Scout salt flat racer and John Britten's radical V1000 road racer. In the realm of pedal power, we have Aaron Franklin's Lahar M9 carbon DH gearbox bike, and from the Zerode co-founders, James Dodds's (R.I.P.) inboard brake/gearbox high pivot DH rig, and Rob Metz's high pivot carbon Pinion gearbox powered trail bike. These two were also responsible for one of the most successful production gearbox DH bikes, the Zerode G1 & G2. What I have in my hands currently is Zerode's latest output – the carbon framed, Pinion gearbox packing Taniwha trail/enduro bike.
The Taniwha (pronounced "Tanivah" – supernatural guardians of the indigenous Polynesian Māori) has been out in the wild for a while now, but due to small early manufacturing volumes, review examples have been scarce. Production has been ramping up and we were able to secure a sample through the US distributor, Cyclemonkey.  
In addition to distributing to shops, Cyclemonkey offers direct sales options. On the menu are three complete build kits ranging from $6,600 to the $9,500 USD build we have here, as well as a frame/drivetrain kit for $5,000 USD. 
Frame specs: 
Travel: 160mm

Frame material: Carbon Fibre, internal cable routing 

Wheel size: 27.5"

Seatpost: 31.6mm

Rear shock: 216mm eye to eye x 63mm stroke

Headset: tapered (44mm top/56mm bottom)

Brake mount: 160mm IS

Drivetrain: Pinion C.Line gearbox, 12-speed

Rear hub: 142mm x 12mm [singlespeed] with 30t cog

Taniwha Geometry
| Frame Size | M | L | XL |
| --- | --- | --- | --- |
| Seat tube length | 420mm | 460mm | 500mm |
| Seat tube angle | 74.5° | 74.5° | 74.5° |
| Head tube length | 110mm | 120mm | 130mm |
| Headtube angle | 65° | 65° | 65° |
| Chainstay length | 431mm | 431mm | 431mm |
| Wheel base | 1170mm | 1202mm | 1236mm |
| Stack | 588mm | 596mm | 605mm |
| Reach | 420mm | 445mm | 475mm |
| Top tube length | 575mm | 604mm | 637mm |
| BB Drop | 1mm | 1mm | 1mm |
| BB Height | 352mm | 352mm | 352mm |
The numbers are somewhat conventional in the realm of modern enduro bikes. As built, the BB height is a bit lower than indicated at around 346mm. The reach is on the shorter side – at least compared to the newschool superstretch designs – so while I typically run a size large frame, I opted to bump up to an XL. 
Drivetrain: The current Taniwha sports the new Pinion C1.12 12-speed gearbox. This crafty little box of widgets features a cast magnesium case, which saves around half a pound over the original aluminum housed unit. Gear range is an impressive 600% (SRAM Eagle is 500% in comparison). Behind the chainring nests a tidy little chain tensioner, and a singlespeed Project 321 rear hub carrying a 30T cog resides out back. The gearbox freewheels internally (so the chain doesn't move when backpedalling), with a very low point of engagement count ranging between 14–22 points per crank revolution (lower count corresponding to lower gears). On the other hand, said 321 hub is packed with bees, with a P.O.E. of 216. There are no chain retention devices built in – the assumption being that a heavily tensioned singlespeed drivetrain should be somewhat immune to chain derailment. There is a beefy little aluminum chainring bash guard bolted under the gearbox case, however.
Shifting duties are handled via a grip shifter – a fairly robust looking thing, hewn from aluminum, and decently grippy and ergonomic. Shift detents are fairly firm; not much risk of accidental shifting or loss of grip. Of course, grip shifters are polarizing things. I think a good portion of the negative bias is based on experiences with shitty grip shifters of yore. Having lived with a Rohloff equipped bike for several years, I've come to accept the positive potential of these twisty devices, but I still appreciate they're not for everyone.  
Frame build: This is one of the stoutest feeling carbon frames I've laid hands on. Based on my highly scientific tappy-tap-tap testing, there's some substantial thickness to the carbon layups. Unlike many lightweight carbon bikes (even some enduro builds), this is one that I wouldn't fear tossing into the weeds. Of course, I have no real data to substantiate this opinion, but this test bike has seen heavy use prior to myself, and sports its fair share of war wounds, with no (apparent) structural issues. The pivots are all tight and the rear end is quite stiff laterally.   
The cable routing is clean with Pinion and dropper cables routed internally while the rear brake line is zip tied externally – my preferred arrangement. Hardware is nice quality and the chain contact areas on the swingarm are protected with soft rubber protectors – this is a quiet bike. Also of note (praise baby Cthulhu) this frame sports a water bottle mount within the front triangle (though only fits a small bottle). In all, it's a solid looking frame that smacks of bombproofness throughout. 
Suspension: Cane Creek is responsible for damping duties on both ends, with a 160mm travel air sprung Helm fork out front, and DB Air shock in the rear. 
The Helm sports adjustments for low-speed rebound and high and low-speed compression adjustments, as well as internal air volume adjustment (that requires no additional parts), and independently variable positive and negative springs. Said air tweaking is a unique process – air is added to the positive (top) side and the pressure between that and the negative chamber is equalized via a valve located on the bottom of the fork leg. You can then add/subtract air from the top to massage the air spring characteristics. Lots of tuneability on offer.
Similarly, the DB Air shock bristles with a veritable plethora of damping adjustments. High and low-speed compression, as well as high and low-speed rebound adjustments, will satisfy the most neurotic of suspension tweakers. The shock also includes a climb switch which adds low-speed compression damping (but does not lock out the shock). If the prospect of twiddling so many knobs seems daunting, Cane Creek has a comprehensive app (appropriately called "Dialed") to help you dial in settings. It's fun. 

Components: A quick rundown of the bits that adorn this top-tier build from Cyclemonkey:
Cockpit: Syntace Vector Carbon 780mm bar, Syntace Mega Force 60mm stem, Syntace Moto Gripz
Seating:  A SQLab 611 Ergowave Active saddle & Rockshox reverb post (9point8 Fall Line 150mm post is standard).  
Brakes: Magura MT Trail Carbon. 4 pot caliper/203mm rotor front, 2 pot caliper/180mm rotor rear.  
Wheels: 35mm Derby carbon rims on Project 321 hubs. 
Tires: WTB Convict 2.5 front/WTB Trail Boss 2.4 rear
First Ride
The snow has finally started to retreat, and I've had opportunity to get a few laps in. This is an interesting beast at first blush, perhaps a little polarizing. As tested, this bike sits at 35.5lbs (with pedals), and the Pinion is reluctant to shift with any sort of load on the pedals. Coming off a couple light & sprightly Eagle equipped carbon wonderbikes, the weight and shifting idiosyncrasy were initially a bit disappointing. That said, within a couple rides, my perspective began to shift – I retrained my lizard brain to ease off on the pedals prior to shifting, reducing said annoyance, and quickly became accustomed to the additional mass – the bike carries it's weight well. That is, the additional gearbox weight is low and centralized, making this bike relatively nimble and easy to toss about while remaining planted and stable. 

It was quite happy smashing the downs right out of the box, with no handling idiosyncrasies. Solid and confidence inspiring. I'm dialing in the suspension settings and starting to turn up the wick a bit (aka, blowing off the winter cobwebs), and look forward to pounding out a bunch more laps as more trails emerge from their snowy cocoons. Stay tuned for a detailed ride report. 
---